Isn't it a dream of all bakers to have a homemade frosting recipe that not only is tasty, has a smooth texture and is not too sweet but is also a quick frosting because it takes less time to whip? Well this easy vanilla frosting recipe without butter is exactly that!!
Velvety, Smooth, Melt in your mouth, light and fluffy this is a simple and easy recipe that gets done in less than 5 minutes.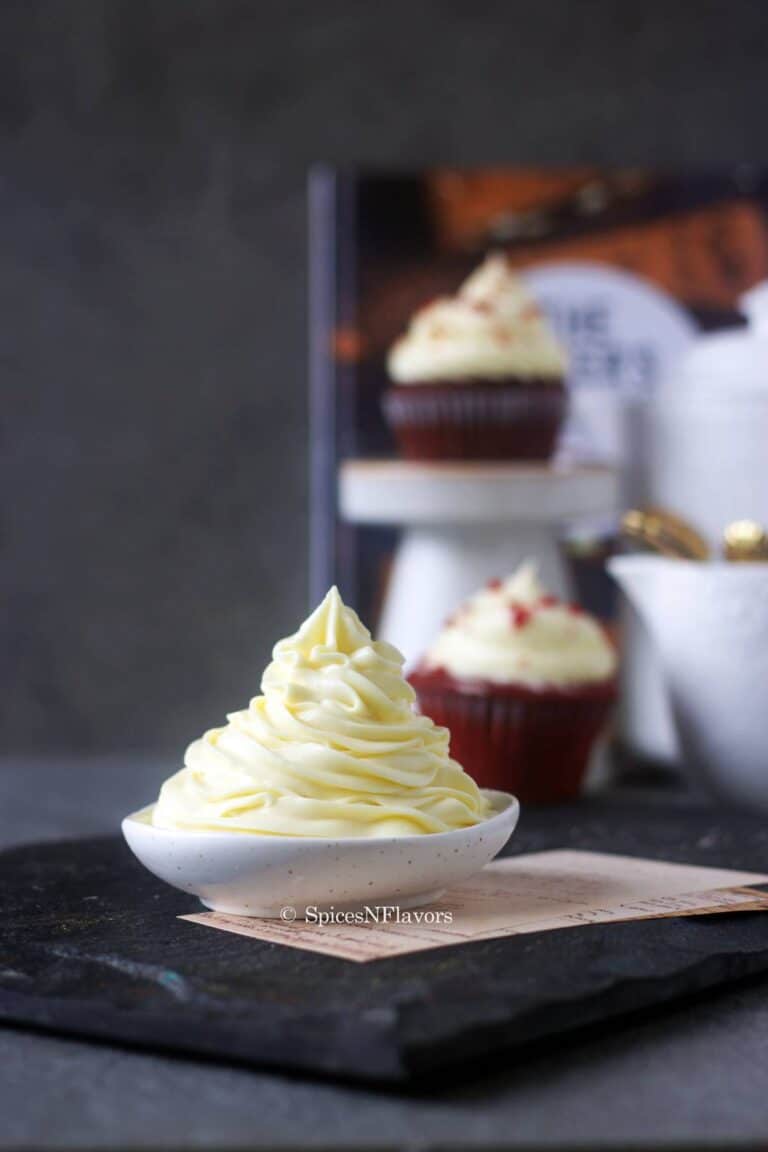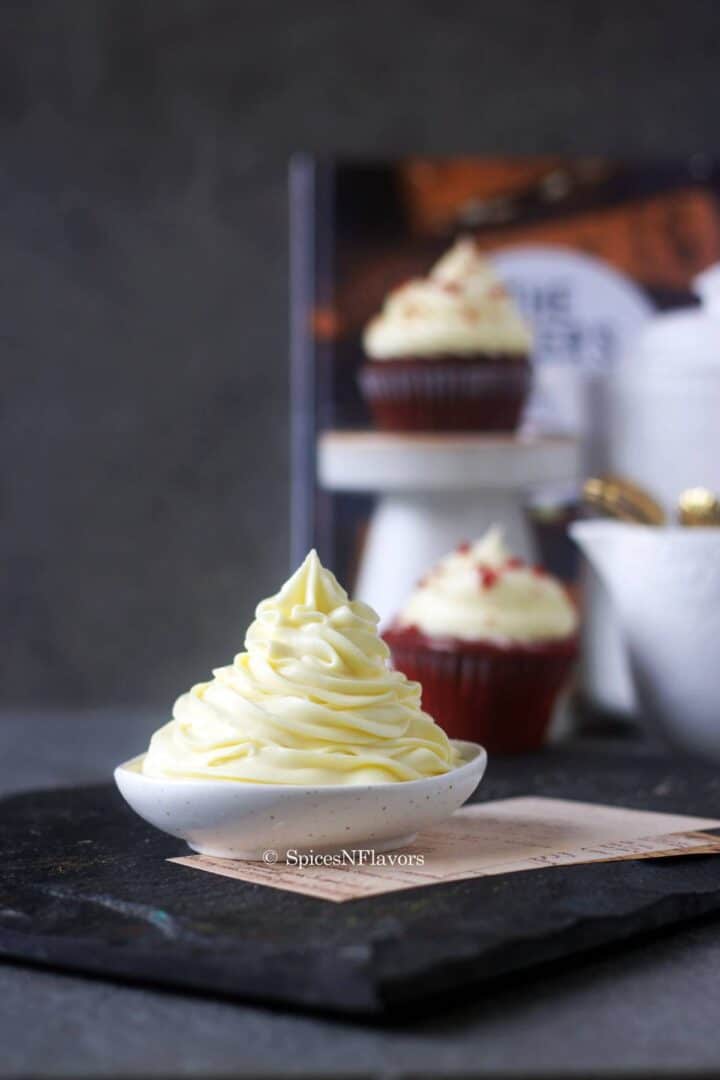 I don't know about you but frosting is one of my favorite parts of a dessert.
Who doesn't love a rich, creamy, vanilla frosting that just melts in your mouth? And if it is made using simple ingredients and easy to follow steps then that is cherry on the cake.
Why you must try this recipe?
My favorite part about this recipe is how easy it is to make. You can whip up a batch of frosting in less than five minutes! Yes, you read that correctly — FIVE MINUTES!
But there are so many other reasons for which you will simply love this recipe.
For one, it has a really fluffy consistency which holds its shape really well.
It tastes better than anything you can buy at the store and it's not too sweet like a regular buttercream recipe would be and definitely a lighter version too.
Doesn't have any grittiness of the sugar.. absolutely smooth and velvety and literally melts in your mouth.
The vanilla extract can be replaced with any other flavoring of choice. Find few variations in the post.
All the ingredients needs to be cold, so you do not have to do any pre-planning so it is also an easy to make frosting recipe for kids to try out who are interested in baking but don't want the hassle of having to deal with complicated steps.
The Secret Ingredient?
Usually a buttercream frosting is made with sugar, butter, milk or cream and vanilla extract.
Butter is the conventional ingredient that gives stability to the frosting after it's done cooking, but today I am sharing a recipe without butter, so what makes the frosting stable enough?
Drum rolls please.. we will be using Cream Cheese instead.
Is this Cream Cheese Frosting then?
No because a traditional cream cheese frosting needs both butter and lemon juice but today we are not using either of the two.
Then is this your Stabilized Whipped Cream Frosting?
No even though both the recipes call for the exact same ingredients the proportion of the two is totally different so yielding a very different taste, texture and flavour which is not even close to homemade whipped cream frosting recipe.
The one thing we all think while making a recipe is that how can we make the recipe quicker and easier? That's the thought behind this post.
Ingredients needed: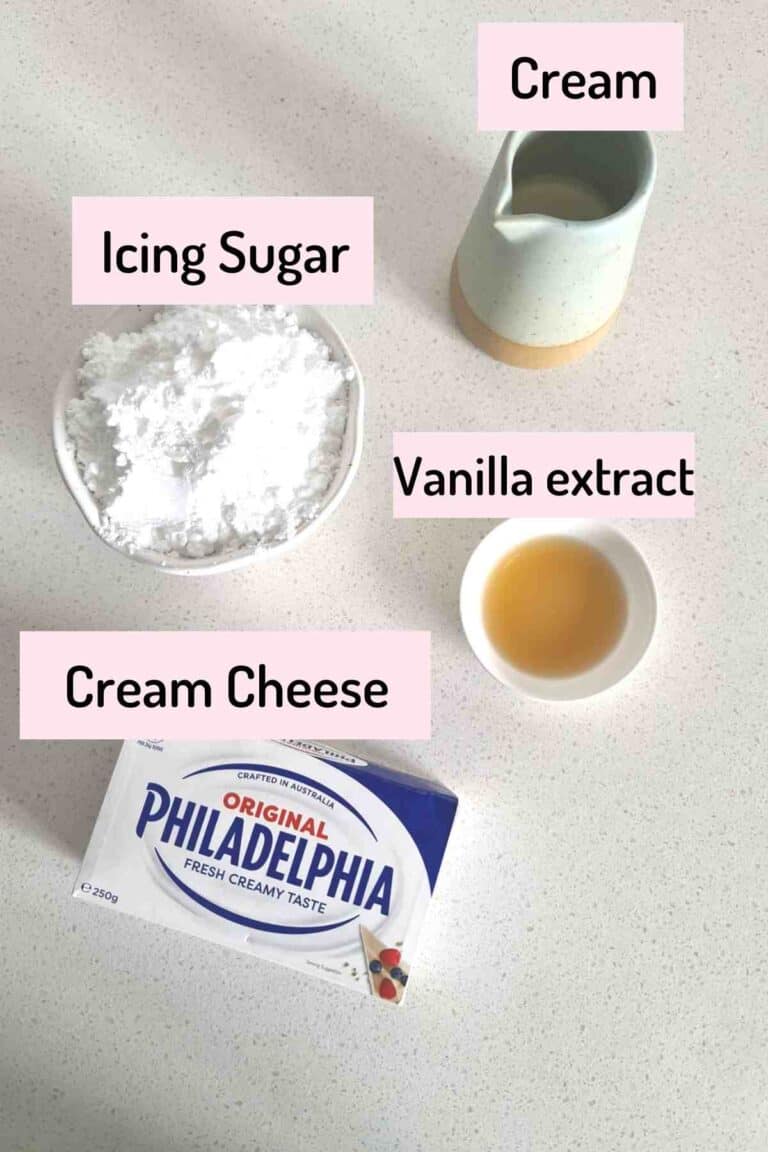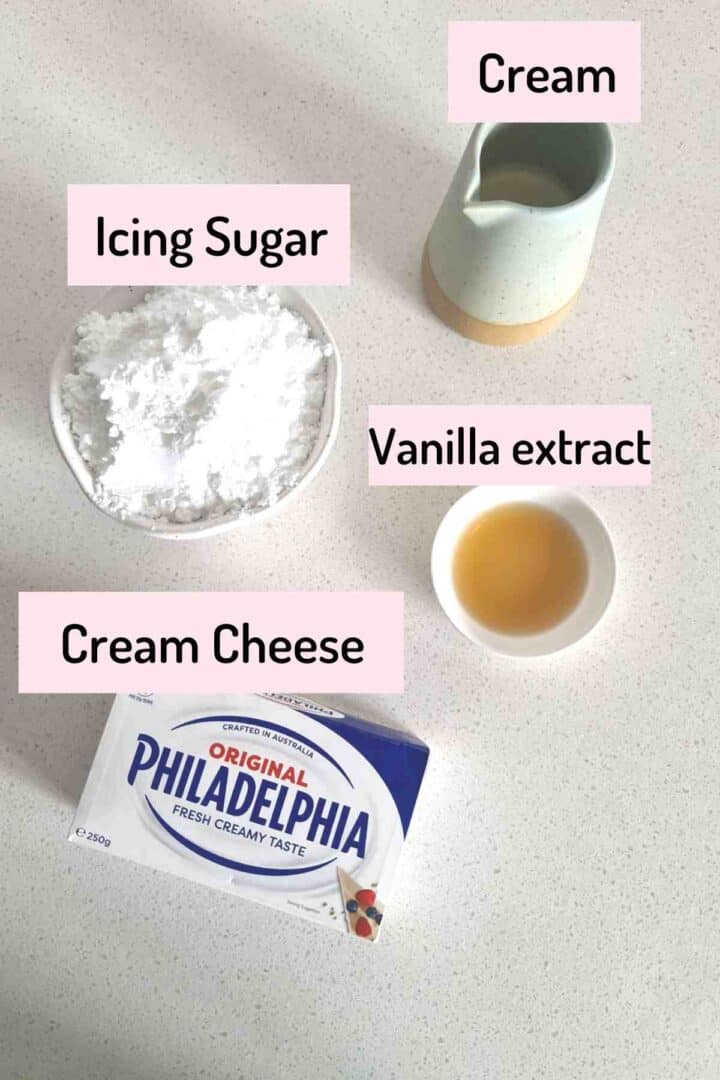 250 gms or 8 ounces of Cream Cheese: I prefer using a block of Philadelphia Cream Cheese (not a sponsored post) for this recipe as it has more fat content that the tub or spread. However feel free to use brand of choice.
1 cup (130 gms) Icing Sugar: I recommend using icing sugar for making frostings because it gets dissolved with the butter/cream cheese easily.
3/4 cup (150 gms) Whipping Cream or Heavy Cream: Adding a little cream to the recipe makes it light and fluffy.
1 tsp Extract: We will be using vanilla extract today but you can use any flavouring of choice.
Step by Step Tutorial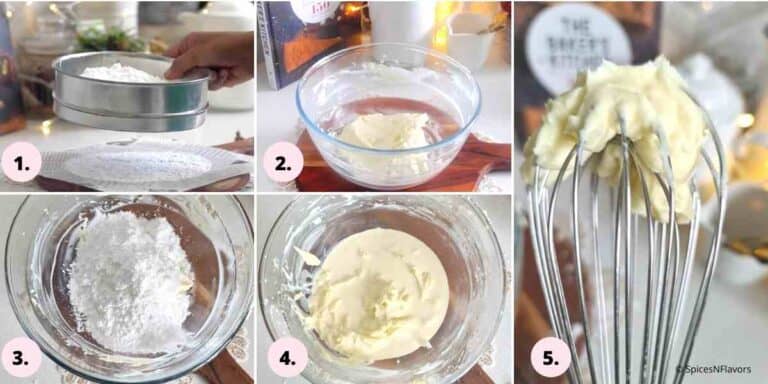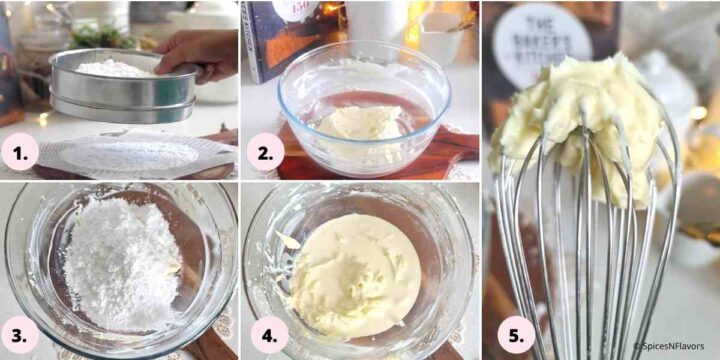 Start by sieving the icing sugar, this step ensures that your frosting is lump-free and also there is no grittiness of the sugar once the frosting is made. (image 1)
Sieve it a minimum of two times and set aside.
In a mixing bowl, take the cold cream cheese (yes straight from the fridge into the bowl).
Using a hand mixer beat it until it is creamy and smooth, scraping once in between. This won't take you more than a minute. (image 2)
Then add the sifted icing sugar and beat again until it combined and homogenous. (image 3)
At this stage, the frosting is actually ready, if you note it will be stable and ready to pipe.
The only drawback is: it is a bit heavy so we add the whipping cream or heavy cream to lighten it and make the frosting fluffy.
So to your bowl, add the vanilla extract and the cream and whip until stiff peak forms, again it won't take you long. (image 4)
And voila easy peasy frosting recipe without butter is now ready to be frosted on cupcakes and also on cakes. (image 5)
Simply transfer it to your piping bag and start making swirls on cupcakes.
You can find it in action on our red velvet cupcakes (below image) without eggs recipe that is coming up next on the blog.
Or feel free to use it on your favourite carrot cake recipe, banana bread recipe or even on cinnamon rolls.. yum!!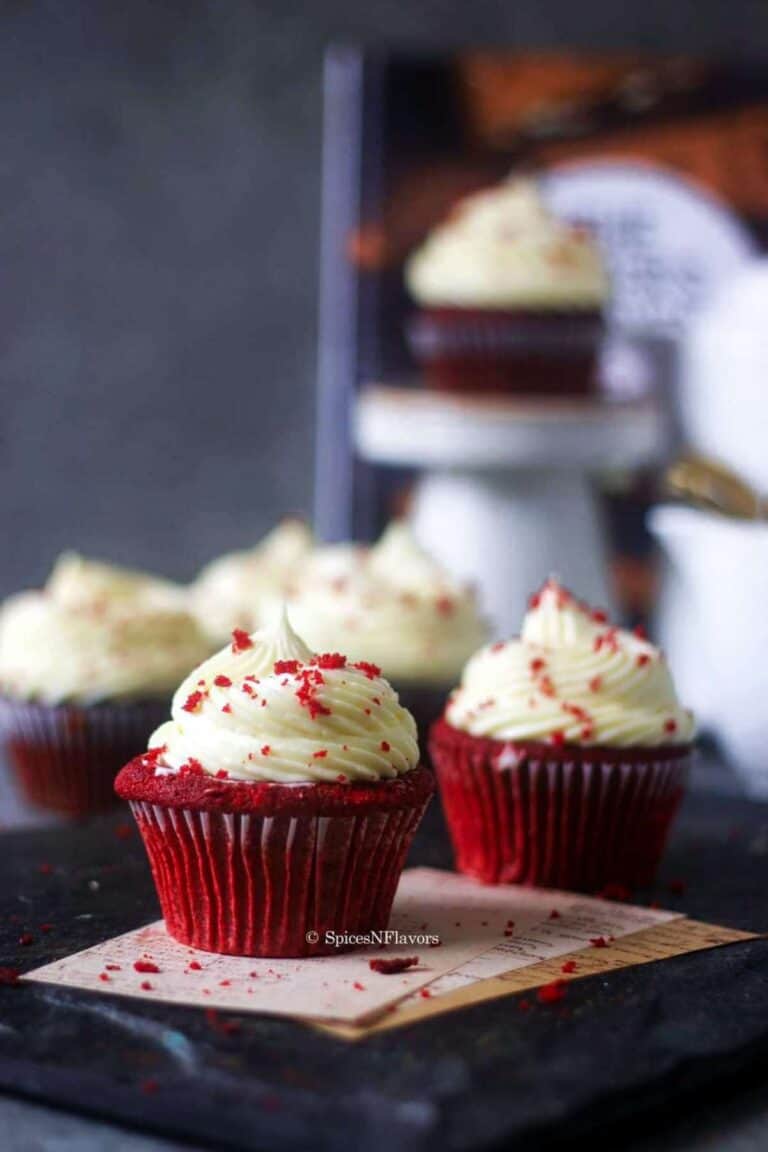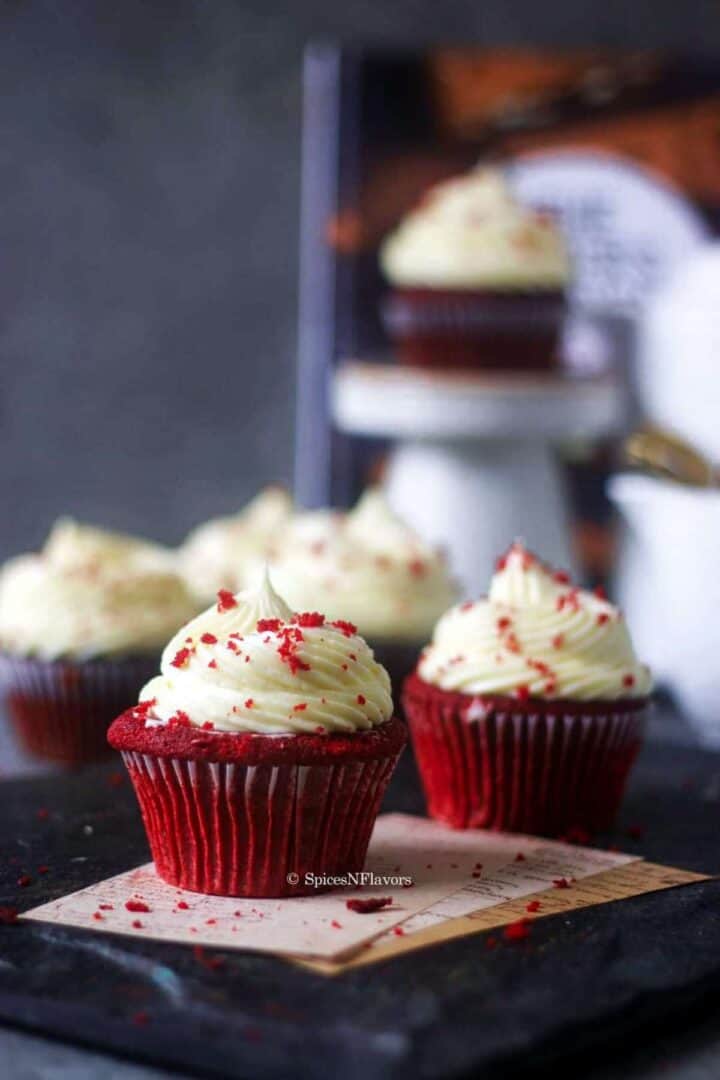 4 mins No Butter Cream Cheese Frosting:
We're sure you love whipping up a batch of creamy frosting for your sweet treats.
We do too.
But did you know that when you whip cream cheese, it incorporates lots of air and becomes fluffy?
But there's one caveat: you might OVERBEAT it!!
And hence I am stressing on the time duration for this recipe.
When you beat the cream cheese at first it becomes fluffy with all the mixing.
But the more you beat it the more volume it will lose and become runny.
So it is important to note that you are using cold cream cheese and also not beating it for long.
Isn't that the best part - homemade frostings taking just 4 mins of your time to get to the right consistency?
More Baker's Tips:
Whether you've got a perfectly fluffy frosting recipe or are trying to figure out how to make your favorite cream cheese frosting recipe better, I've got you covered with these mind-blowing tips!!
Have you ever tried to make frosting, only to find that it has a gritty texture? That's because the powder sugar was not sifted before use. To avoid this in the future, always sift the confectioners' sugar so that it dissolves easily with the butter or cream cheese in the recipe and your frosting becomes smooth and lump-free.
The secret to making this frosting successfully is to use full-fat cream cheese. The fat in the cream cheese works similar to butter and gets whipped up with powdered sugar which results in this wonderful airy texture.
Both the cream cheese and the cream needs to be cold, so straight from fridge to the bowl so that it remains stable for longer duration of time.
A point that everyone misses is that cream cheese is temperature sensitive. Do not beat the cheese for too long, as it warms up it will lose volume and become runny. Instead, place it in the fridge as required.
Leaving the cream cheese -no butter frosting unattended for long on your counter top will make it lose volume and become runny. It is recommended to make the frosting right when you are ready to pipe or keep it in the fridge but not on your counter top
Is this the perfect frosting for cupcakes, cakes or cookies?
Since we are making this frosting recipe without butter you have to take into account that this is going to be a soft icing with a light and fluffy texture.
This makes it perfect for piping beautiful swirls on top of cupcakes or filling and frosting a cake with it.
But we need to remember that this frosting is not stable enough to be used on a fondant cake or as a birthday cake for outdoor events, for which I would say opt for the traditional cream cheese frosting with butter.
How about cookies?
For frosting a cut out cookies, you want an icing recipe that hardens like my eggless royal icing recipe.
But if you are bored of that and want a change then you can modify this recipe ever so slightly to frost on cookies.
How to frost Cookies with this frosting?
Simply omit the whipping cream and increase the quantity of sugar to 2 cups to form a stiffer homemade icing that could be used on sugar cookies.
This frosting would harden easily in the refrigerator. Would take 30 mins to 2 hours depending upon how thick you have spread it.
And then you would also be able to stack them if need be.
Flavour Variations:
Extract of choice: Instead of vanilla flavor switch to almond extract, lemon, peppermint or basically any extract of choice to flavour the frosting.
Lemon frosting: As mentioned above substitute the vanilla with lemon extract and also add some lemon zest to umph up the flavour.
Gingerbread Cream Cheese Frosting No Butter:Substitute gingerbread syrup and 1 tsp pumpkin spice for vanilla extract.
Cinnamon Frosting: Add 1 tsp of cinnamon powder to the recipe.
Chocolate Cream Cheese Frosting - replace 2tbsp powdered sugar with cocoa powder to make the chocolate frosting.
Nut Butter: About 1/4 cup of nut butters like peanut butter, almond butter etc can be added.
Other add ons like nutella or biscoff can also be used.
With so many flavour combinations I do not see any reason for you to not try one of this easy frosting recipes.
Recipe FAQ's
Will this frosting harden?
Even though this is a soft frosting, this is a frosting that hardens upon refrigeration making it easier for you to transport the cakes and cupcakes made out of it. So it is soft and stable enough for cupcakes and cakes and also hardens upon refrigeration for the ease of transport.
How to make this no butter frosting stiffer?
Skip the whipping cream in the recipe and increase the quantity of sugar to 2 cups for a stiffer cream cheese frosting recipe.
What temperature should the cream cheese be at?
Both the cream cheese and the cream should be cold so straight from the fridge to the bowl.
Why did my frosting lose volume?
1. You might have accidentally overbeaten the frosting so it lost all the volume and became runny
2. Your ingredients were not cold. Room temperature cream cheese would become soft easily losing its stability.
3. Cream cheese is a perishable product so as a general rule of thumb it becomes fluffy with all the mixing, and a lot of air is incorporated in the frosting. But over time it is natural for cream cheese to lose its volume when kept outside especially in warmer climates.
4. And hence is always a better idea to make the frosting when you need it or keep it in the fridge until use and not on your countertop.
What to do if your frosting is too runny?
Put the bowl into your refrigerator for 30 mins. After that take it out and add additional 1/4 cup of whipping cream and beat to stiff peaks.
Related Recipes:
Wish to Join US for the love of BAKING? Subscribe to our Youtube channel. Follow along on Facebook, Instagram, and Pinterest for all the latest updates!
Liked this recipe?
Let us know by giving it a star rating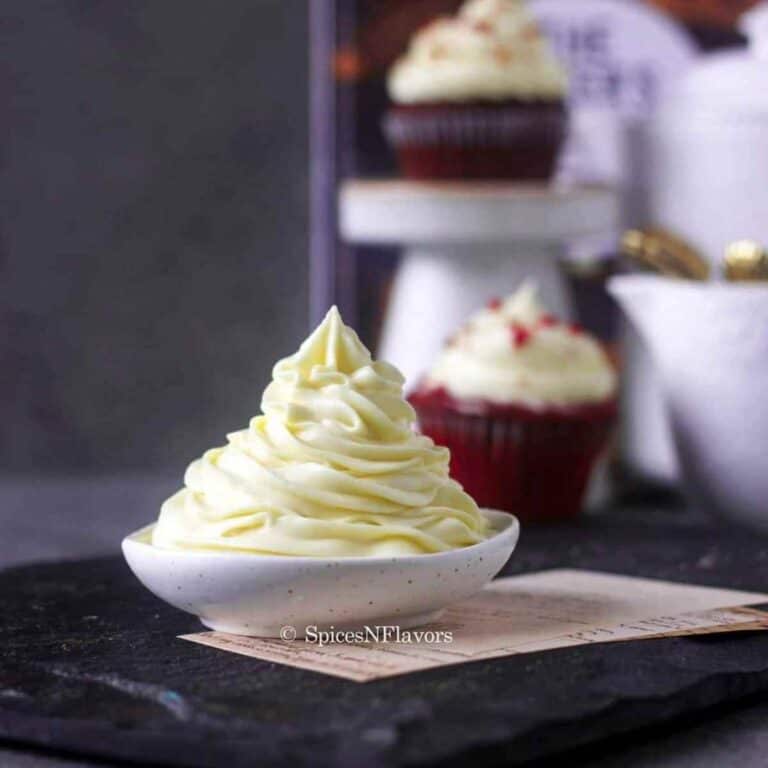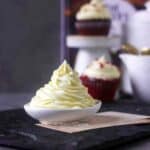 Print
Fluffy Vanilla Frosting recipe without Butter
This is one of a kind not too sweet vanilla frosting recipe without butter that can be made in less than 5 mins with just 4 ingredients; a recipe that every baker needs!!
Ingredients
8

oz

(250 gms) Cream Cheese

cold

130

gms

(1 cup) Icing Sugar

150

ml

(3/4 cups) Whipping/Heavy Cream

cold

1

tsp

Vanilla extract
Instructions
Start by sieving your icing sugar twice. Set this aside

Beat the cold cream cheese in a mixing bowl until smooth and creamy for about a minute scraping half way through.

Add the icing sugar and beat till combined.

In goes the vanilla extract and whipping/heavy cream and then beat till stiff peaks form. (Might take around 2 mins)

Pairs well with red velvet cupcakes or can be used with any cupcakes of choice.
Video
Notes
The recipe yields sufficient frosting to frost 12 cupcakes or can be used to fill and frost 2 layer, 6 inch cake.
Always sieve your icing sugar, no matter what frosting you are making to avoid the grittiness and also to make your frosting lump-free.
Cream cheese and cream needs to be cold, so straight from your refrigerator to the mixing bowl.
Since there is no butter in the recipe, make sure that you are using full fat cream cheese because the fat content in the cream cheese is what makes the frosting stable. I prefer using Philadelphia Block Cream Cheese (not a sponsored post) in place of tub or spreads as it has more fat content than the latter.
Over beating the cream cheese would make the frosting runny. It is a better to time yourself and make the frosting so that you do not overbeat it accidentally.
It is advisable to prepare the frosting when you are ready to use it on cupcakes. As if it sits on the counter-top unattended then it would start losing its volume and stiffness. Or store it in the refrigerator for not more than an hour or so until ready to use. 
This frosting is just perfect to pipe swirls or any designs on cupcakes and also to fill and frost a cake. However it is not suitable to be used under fondant, in which case use the traditional cream cheese frosting recipe. If you wish to frost a cookie using this recipe then omit the cream from the recipe and use 2 cups of sugar in place of 1 cup. 
In place of vanilla, any flavouring of choice can be used like lemon, peppermint, gingerbread, chocolate, cinnamon, nut butters and few others has been addressed in the post above.
The frosting recipe can be easily doubled or halved.
 
Nutrition
Calories:
151
kcal
|
Carbohydrates:
12
g
|
Protein:
1
g
|
Fat:
11
g
|
Saturated Fat:
7
g
|
Polyunsaturated Fat:
1
g
|
Monounsaturated Fat:
3
g
|
Cholesterol:
38
mg
|
Sodium:
66
mg
|
Potassium:
36
mg
|
Sugar:
11
g
|
Vitamin A:
438
IU
|
Vitamin C:
1
mg
|
Calcium:
27
mg
|
Iron:
1
mg
Did you make this recipe? Tag me today!
Tag me @spicesandflavors to get featured on my FB and Insta pages