Eggless Red Velvet Cake as the name suggests is a super soft, moist and delicious cake that is paired with a creamy cream cheese frosting.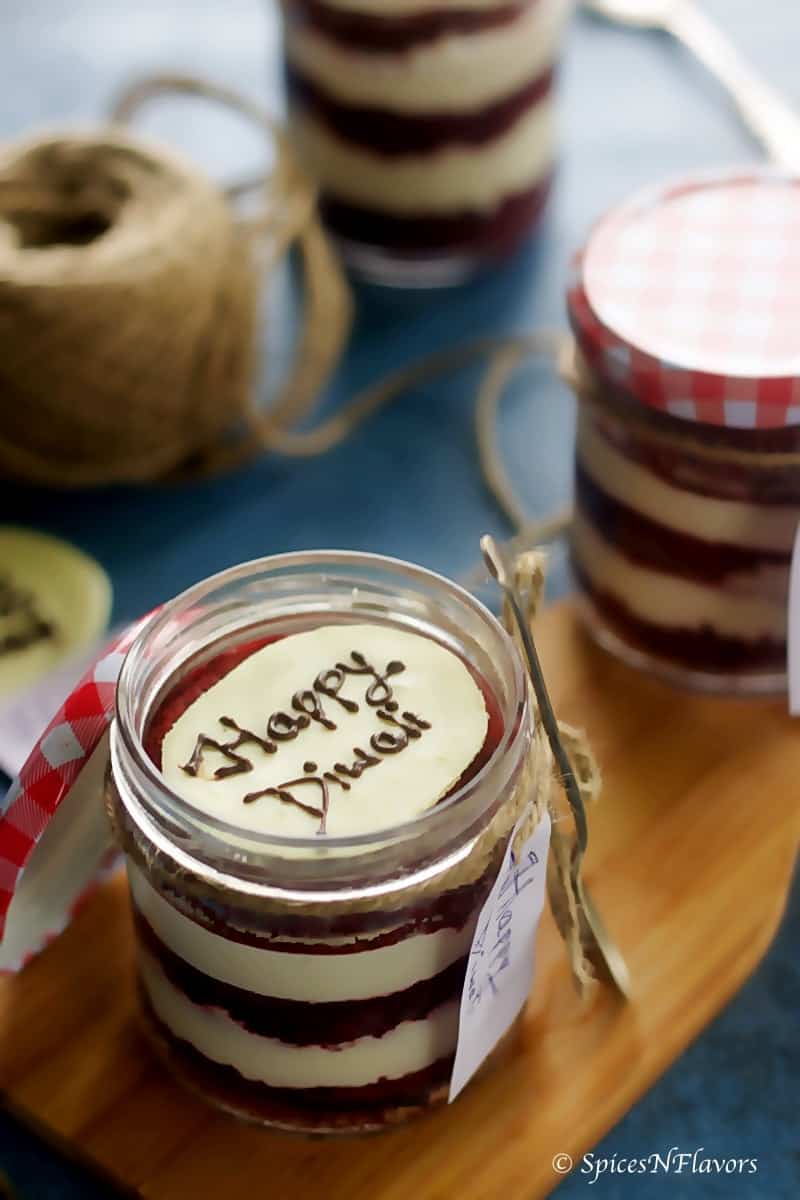 Eggless Red Velvet Cake as the name suggests is obviously eggless. Other than that it is such a velvety, soft and moist cake that is perfect for any festivities or celebrations.
Diwali is right around the corner.
It is one of the most grandest celebration time back in India. You can smell the festivity in the air.
Diwali is my favourite festival too and this is the time when I miss India the most.
Diwali celebration is incomplete without making variety of savoury and sweet goodies at home. And the exchange of gifts and love is incomparable.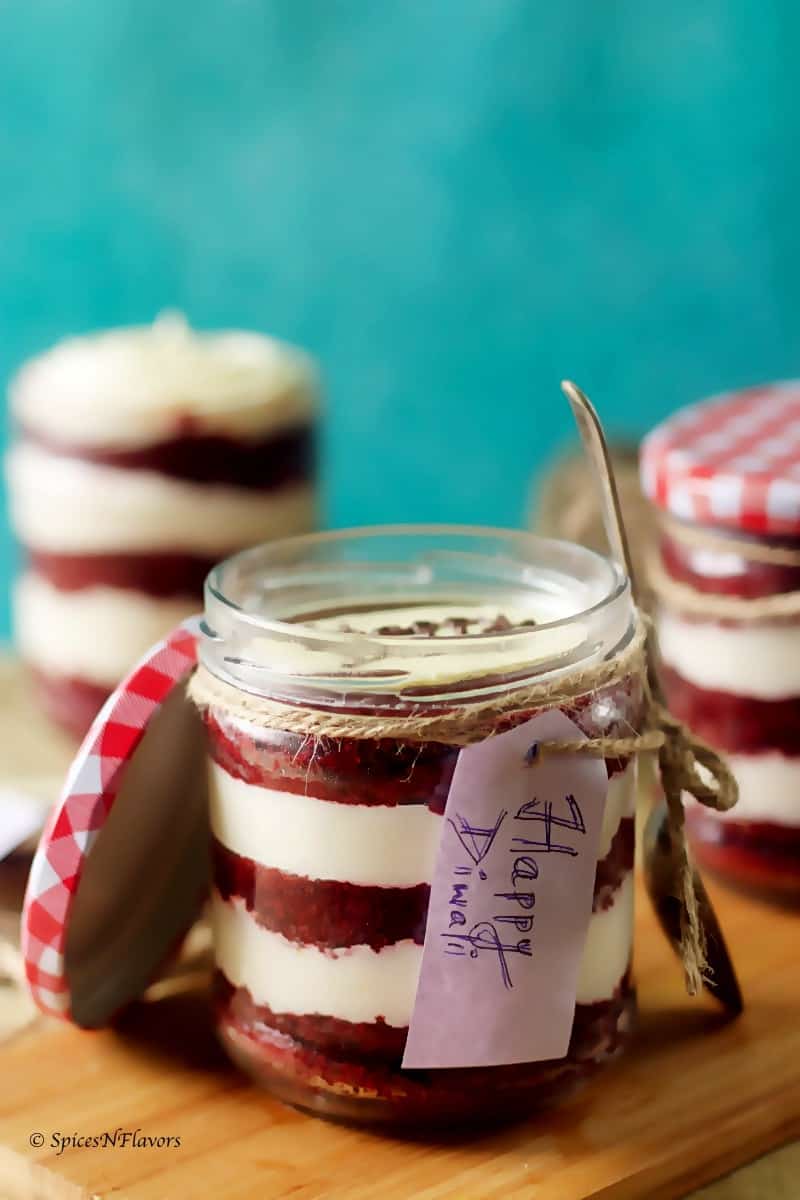 How about gifting a home made goodie this year to all your friends and family?
This Eggless Red Velvet Cake is perfect for such occasion.
The velvety smooth crumbs, the soft and spongy cake, the perfectly balanced sweetness along with the creamy cream cheese frosting is so perfect that your friends will love you even more for this delicious gift.
All you have to do is bake this Eggless Red Velvet Cake, make the cream cheese frosting and the chocolate disc if need be. Assemble everything in a mason jar and gift it along with the jar to your near and dear ones.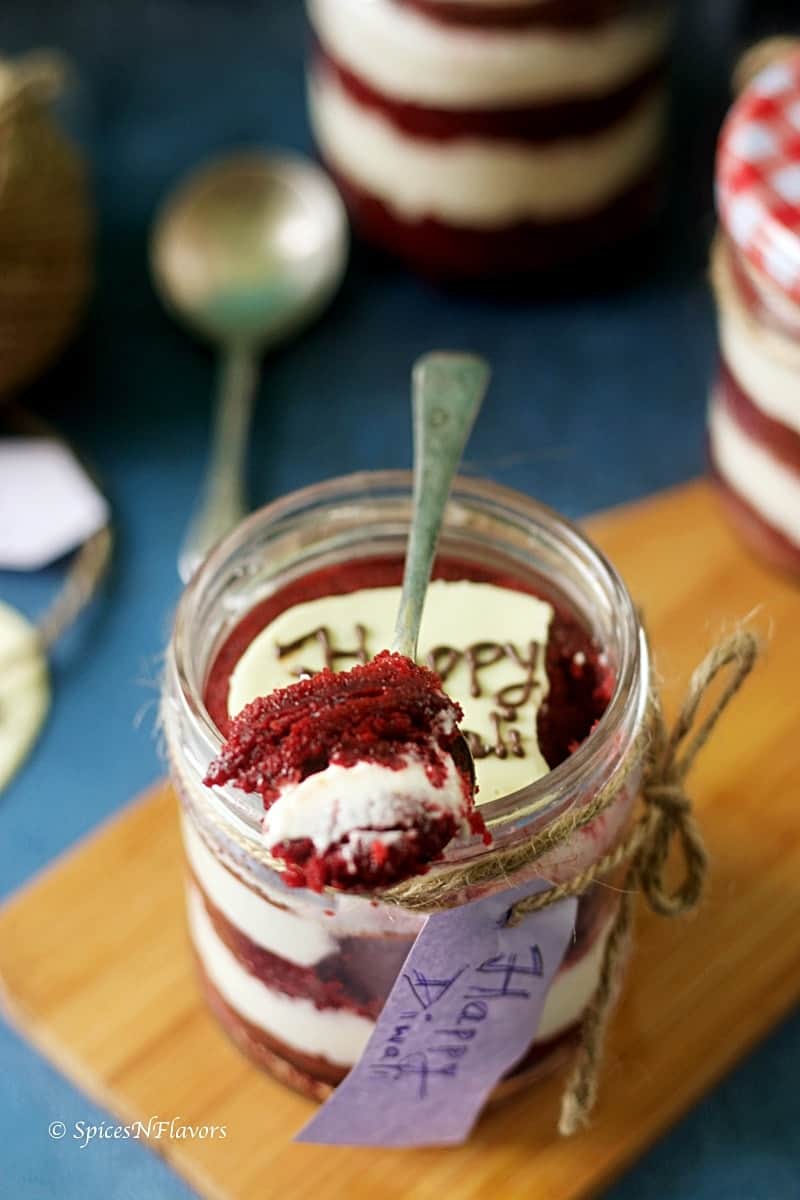 This Diwali you may say I am on fire. hehe..
I am making a whole lot of goodies.. some of which I have already shared.. I will list it for you here so that you can go through it easily if you wish too..
1. No Cook Oreo Laddu
2. No Cook Instant Rose Laddu
3. 15 mins Milk Powder Burfi
4. 18 mins Halwa
5. Rice Coconut Kheer
6. 3 ingredient Chocolate Pudding
7. 5 mins DIY Chocolate Bark
Phew.. And And.. I have loads more planned for you guys next week. So do keep an eye here.. 😉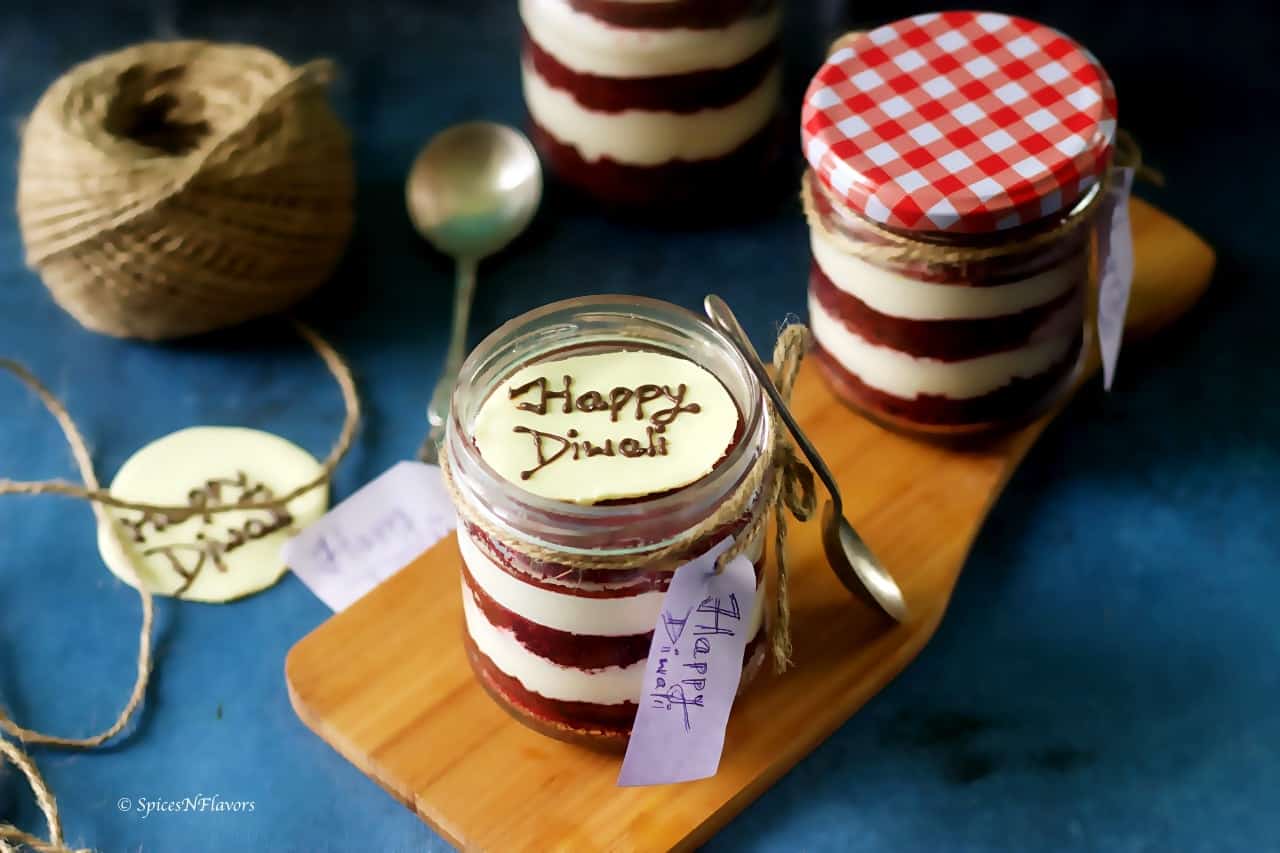 Ain't these Eggless Red Velvet Cake in a jar looking cute?? Its just so adorable.
I would love to receive this as a gift.. 😉
You can ofcourse choose any other flavour here instead of these Eggless Red Velvet Cake. You can also try my Chocolate cake with simple Whipped Cream frosting instead.
Or may be My Eggless Vanilla Cake paired with Italian Meringue Buttercream. Just anything. It is totally upto you.
Just make the cake layer, assemble in a mason jar and gift it with some personal notes.
If you like my idea of this Eggless Red Velvet Cake in a jar then do tag me, tweet me or instagram me. I would love to follow you and your posts.
Liked this recipe?
Let us know by giving it a star rating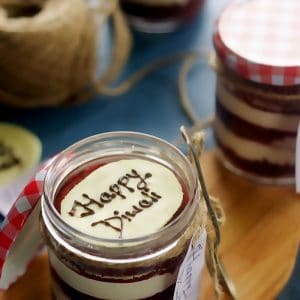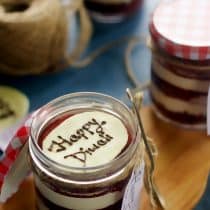 Print
Eggless Red Velvet Cake in a Jar
Eggless Red Velvet Cake is a velvety smooth, soft and moist cake that has a balanced sweetness coming from the cream cheese frosting
Ingredients
For the Red Velvet Cake
1.5

cups

Maida

2

tbsp

Cocoa powder

1

tsp

Baking soda

1/2

tsp

Salt

1

cup

Sugar

1

cup

Milk

1

tbsp

Lemon Juice

6

tbsp

Oil

1

tsp

Vanilla extract

1

tbsp

Red food Colour
For the Cream Cheese Frosting
160

gms

Cream Cheese

softened

20

gms

Butter

softened

440

gms

Icing sugar

sifted

Zest and Juice of 1 lemon
For the Chocolate Disc
100

gms

White Chocolate

melted

50

gms

Dark Chocolate

melted
For the Sugar Syrup
1/3

cup

Hot Water

3

tbsp

Sugar
Instructions
For Red Velvet Cake
Start by making the buttermilk. That is take the warm milk, add the lemon juice, stir and let it sit for 5 mins.

Meanwhile sift all the dry ingredients (maida, cocoa powder, soda and salt) into a bowl. Add the sugar to it and stir well

Combine all the wet ingredients that is oil, vanilla extract, red food colouring and the prepared buttermilk in a separate bowl. Mix until homogenised.

Make a well in the dry ingredients. Add the wet ingredients to it and fold to get a smooth cake batter consistency.

Bake in a 13x9 inch baking tray in a preheated oven for 8-12 mins. It took me 10 mins to bake this. Do the toothpick test.

Once out of the oven, immediately remove the cake from the tray and set it to cool completely.
For the Cream Cheese Frosting
Beat the softened butter and cream cheese until smooth and light.

Add half of the lemon juice and zest. Beat well.

Add the sugar little at a time. Beat to form a smooth paste.

At the end you may want to adjust the consistency. That is if it is too runny to pipe add little more sugar and if it is too thick then adjust with the lemon juice.
For the Chocolate Disc
Take a spoonful of white chocolate and spread it onto the parchment paper. Bang it 3 4 times to get a smooth surface. You can check it out in the video that I have shared. Allow it to set completely.

Take a piping bag filled with some melted dark chocolate and write Happy Diwali on the set white chocolate disc.
For the Sugar Syrup
Take the hot water and add the sugar to it. Stir to dissolve the sugar completely.
To Assemble.
Make small roundels from the baked cake using a cookie cutter in a size that matches your mason jar.

Onto the mason jar add a layer of the cake roundel. Moisten it with simple syrup

Pipe the cream cheese frosting on top.

Add another layer of the cake. Soak it with simple syrup and repeat the layers until you reach the top. The top should always be a cake layer.

Place the chocolate disc. Close the mason jar. Gift it to near and dear ones with personalised notes.
Did you make this recipe? Tag me today!
Tag me @spicesandflavors to get featured on my FB and Insta pages
Variations:
You can use any cake layer and frosting as per your choice.
Also instead of writing happy diwali using melted chocolate you can customise it for any occasion like "Merry Christmas", "Happy New Year", "Happy Valentine's" etc.
Happy Diwali in advance to all of you guys. Please keep an eye on this space for more Diwali special recipes
Pin it for later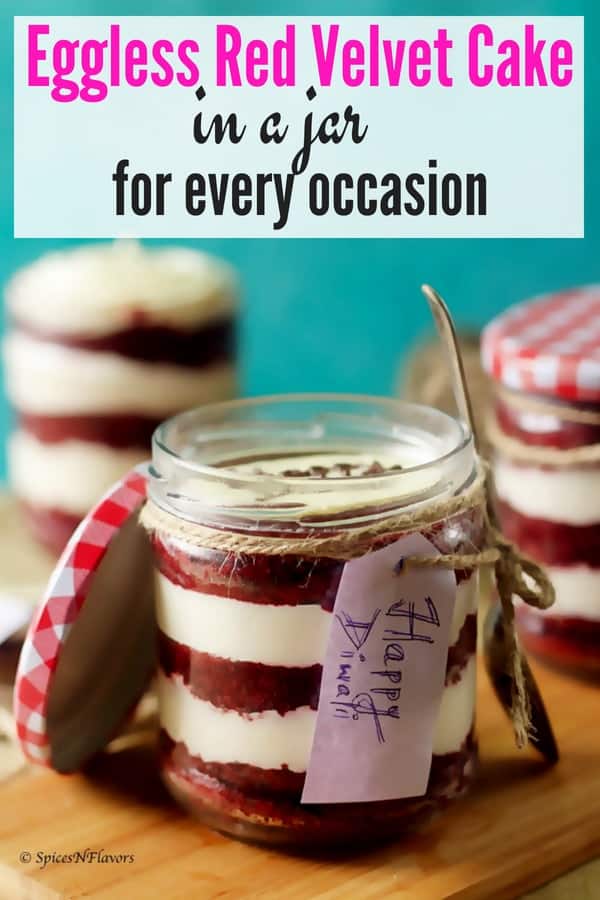 I will see you in my next one.
Until then
Hugs
Sushma