Butterscotch Peda is an ingenious way of giving a little twist to our regular flavour pedas with one of our most favourite one - Butterscotch. Sounds interesting??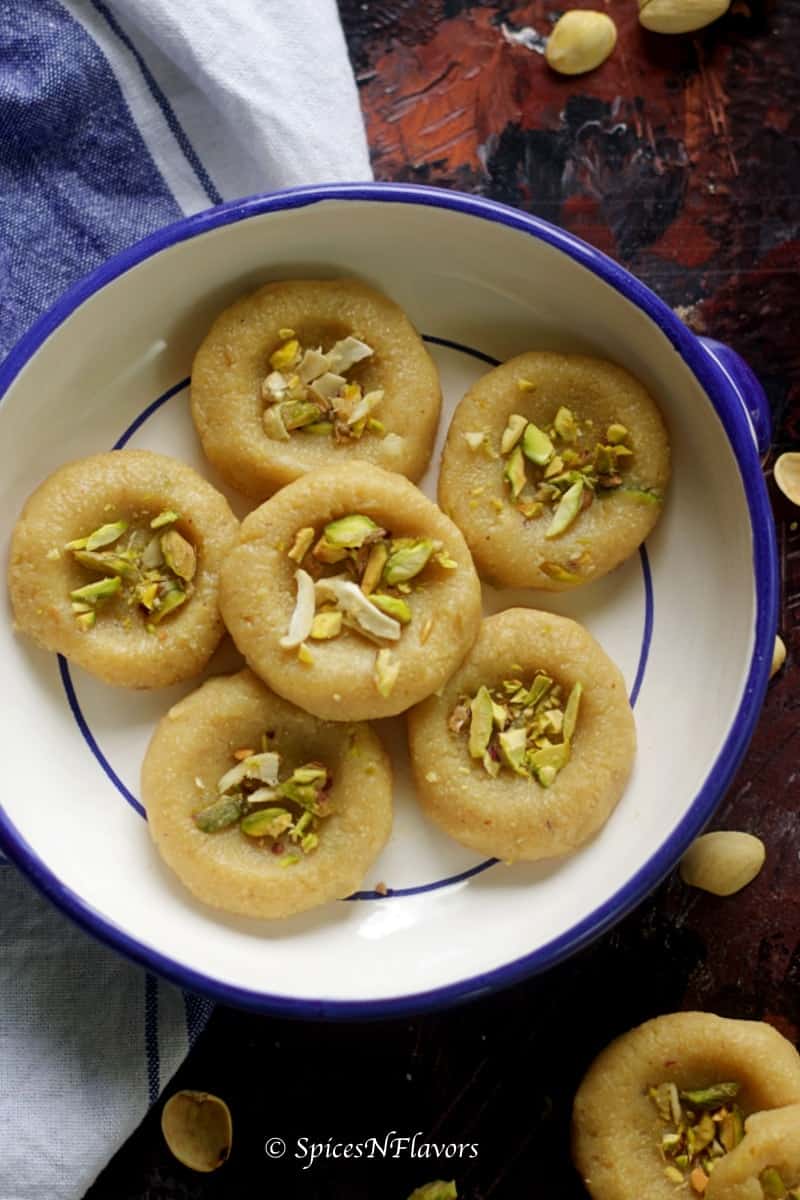 Butterscotch Peda is a delicious, smooth and flavourful peda with a lot of texture play. The butterscotch sauce gives it a more of a toffee kind of taste.
From my posts this week you would have got to know that I love Diwali. Its one of my favourite festivals of all time. By the way which ones is yours??
So to celebrate this festival; all my preparations have begun in full swing..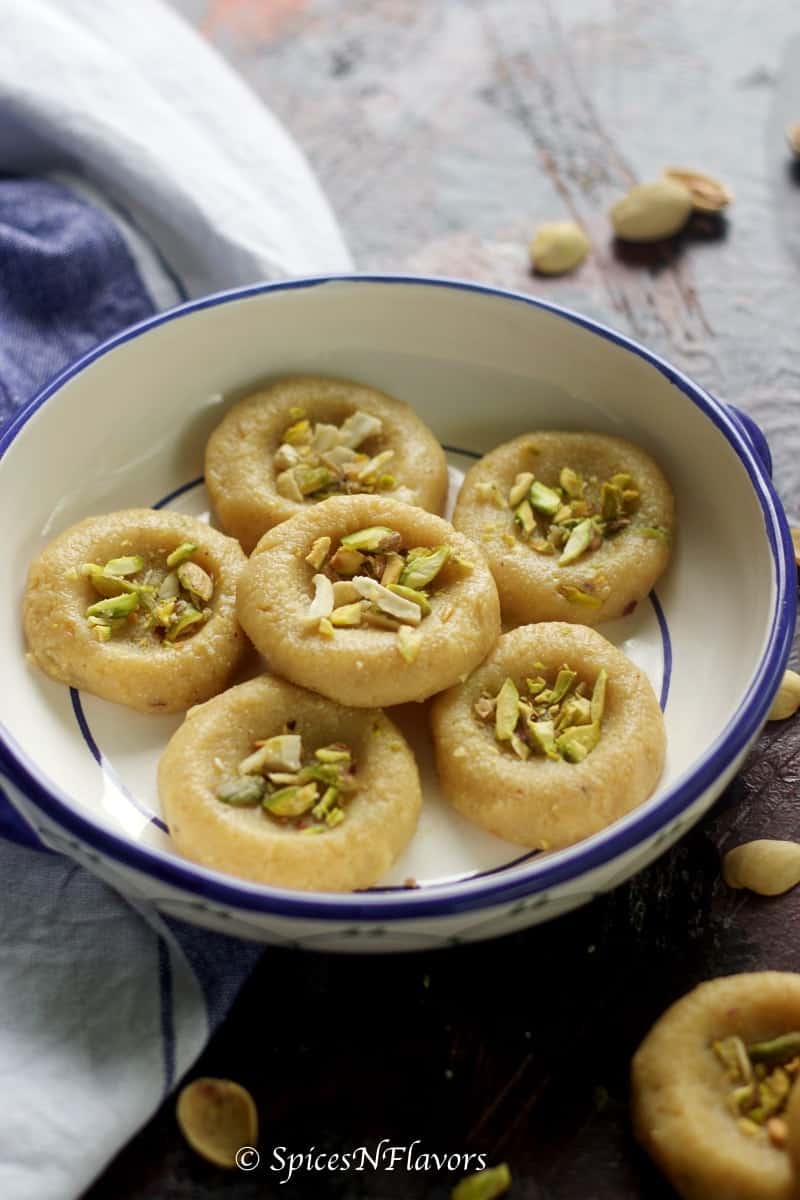 Other than making this yummy Butterscotch Peda (which my mom absolutely loved!!), so far I have also made
1. Milk Powder Burfi - 15 mins recipe
2. Red Velvet Cake in a Jar
3. 3 min No Cook Instant Rose Coconut Laddu
4. Kids approved Oreo Laddu
5. 18 mins Halwa
6. 5 mins DIY Chocolate Bark
And the best thing of all is to try this refreshing Paan Shots..
Wait a minute.. It doesn't end here.. I still have few more recipes planned. And my mom will also be making few goodies. This year its gonna be super special.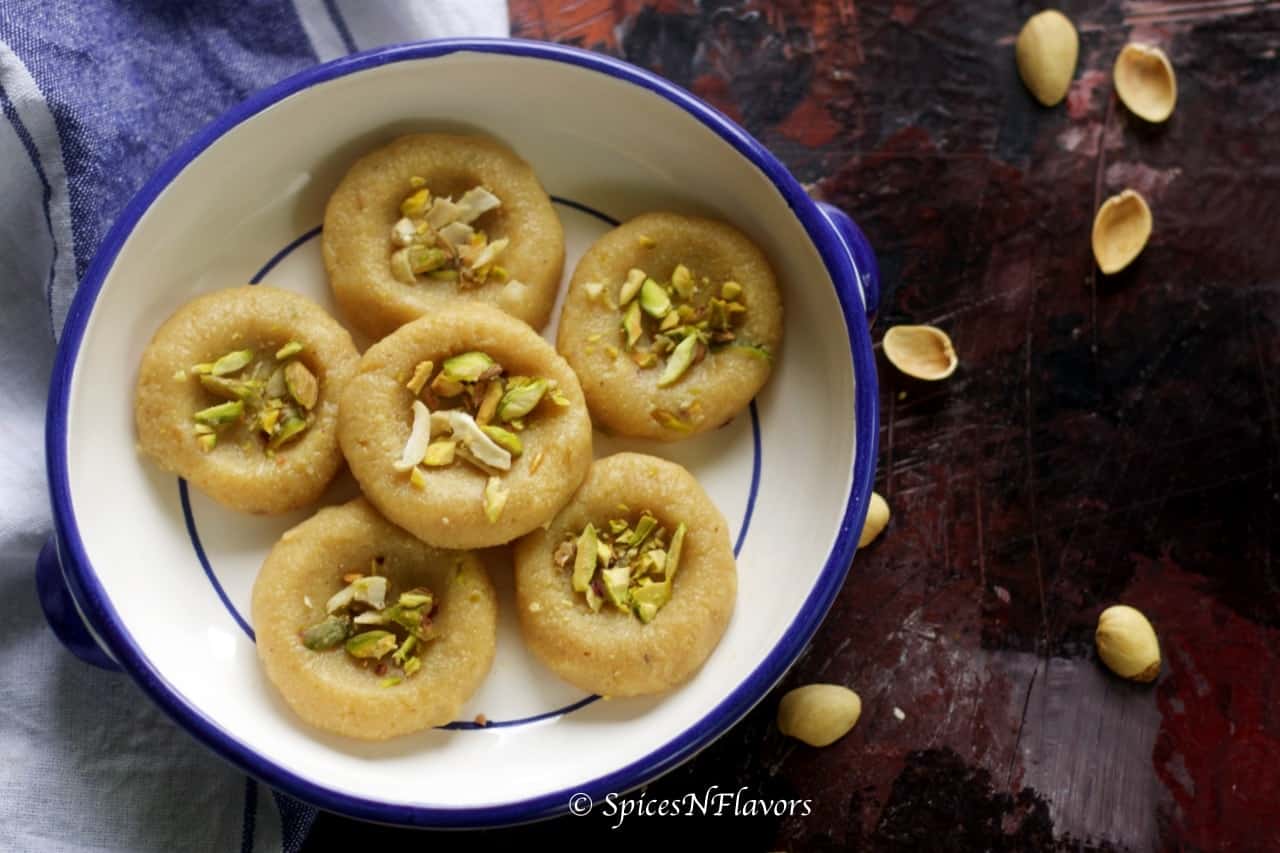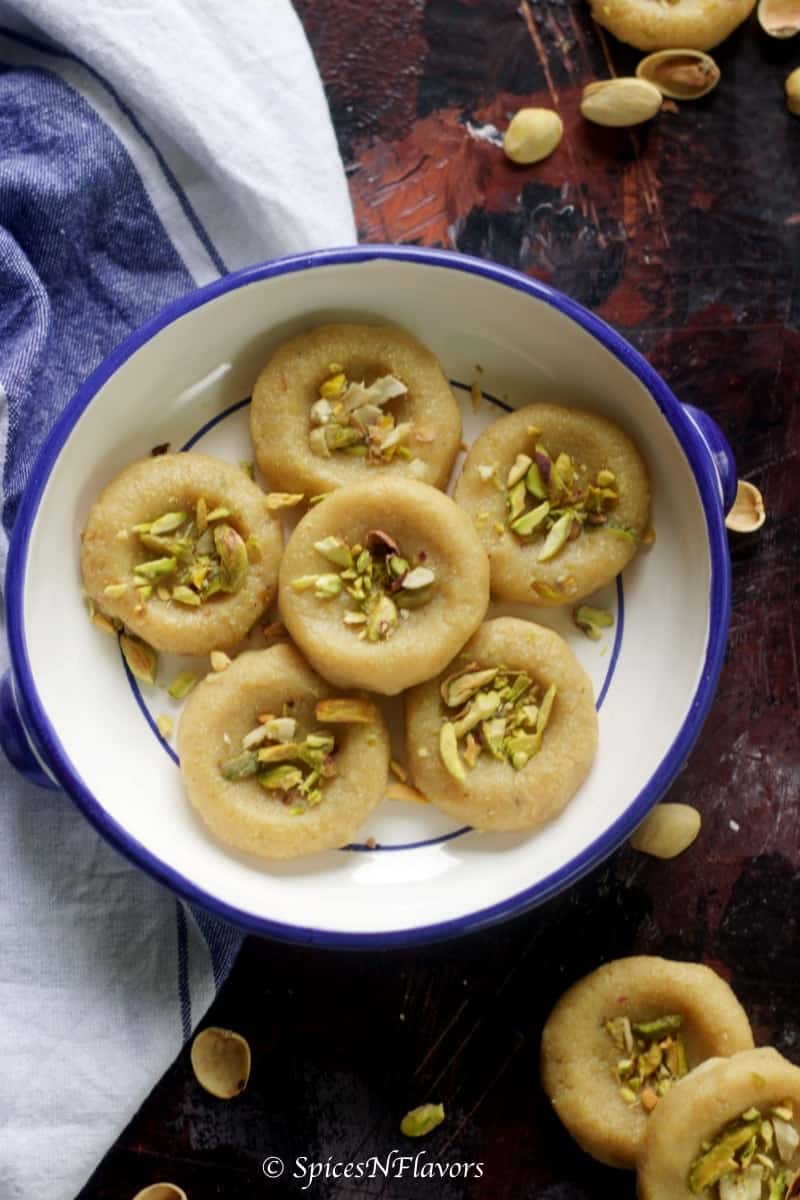 Whats your plan for Diwali?
Coming to today's simple Butterscotch Peda recipe..
Firstly let me tell you all its super simple to make. The addition of roasted rava is the secret. I mean rava absorbs the moisture and thickens it quickly and hence this peda comes together in just 10 mins. cool na..
The other important flavouring agent that I have to talk about is this Homemade Butterscotch Sauce. (Update: The recipe for this super easy Butterscotch Sauce is now up on the blog. Click here to know) You all know by now that I prefer easy and quick method of cooking; the impatient me!! so this sauce also comes together in 5 mins.
You can obviously choose to use readymade butterscotch sauce or butterscotch essence here. Or just comment below and let me know if you would like to know the recipe for the sauce; I would try to post it before Diwali.. 🙂
Hope you try these interesting recipes for this Diwali and make me a part of your celebration.
If you like this recipe then do let me know by tagging me, tweeting me or even instagram me. I would love to follow you and your posts.
Liked this recipe?
Let us know by giving it a star rating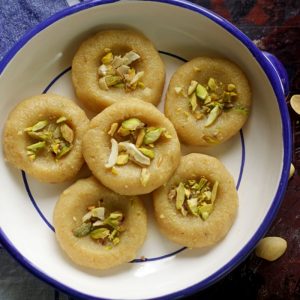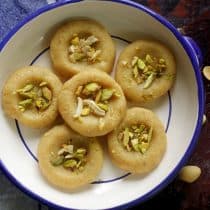 Print
Butterscotch Peda - Diwali special recipe
Butterscotch peda is an unique and different toffee flavoured twist to the regular pedas that we usually make.
Ingredients
2

tbsp

Ghee

1/2

cup

Warm Milk

(Refer notes)

2

tbsp

Roasted Rava

(Refer notes)

1/2

cup

Cashew powder

(Refer notes)

1

cup

Milk powder

3

tbsp

Sugar

2

tbsp

Homemade Butterscotch sauce

(Refer notes)
Instructions
In a pan over low heat, melt some ghee. Once melted switch off the gas and add Warm milk. Mix them and add roasted rava, milk powder and cashew powder. Mix and switch on the gas (low to med flame).

Add sugar and mix till it starts thickening.

Once thickened a bit add in the butterscotch sauce. And combine everything until it has thickened enough; just like a dough. (Refer video)

Transfer it to a greased plate and let it cool for 30 mins.

Apply some ghee on to your palms and start making pedas out of it. (Refer video)

Make some indentation with your index finger and add some chopped pistachios on top.

Allow it to air dry for another 30 mins to 1 hour and enjoy it this diwali.
Did you make this recipe? Tag me today!
Tag me @spicesandflavors to get featured on my FB and Insta pages
Click here for Butterscotch Sauce recipe.
Notes:
1. If you use warm milk then making this Butterscotch Peda would be quicker as the rava will absorb all the moisture faster. You can however use room temperature milk too if you wish.
2. For making cashew powder just grind some cashew nuts coarsely.
3. You can use readymade roasted rava or dry roast rava till it turns pink and use.
4. If you do not have homemade butterscotch sauce then you can use store-bought too. Or do let me know if you would like to know the recipe of this 5 mins sauce recipe I would try to post before Diwali.
5. Since the butterscotch sauce is also sweet I added about 3 tbsp of sugar only which was sufficient and perfect however you can adjust it as per your needs.
I cannot stress on how delicious these Butterscotch Peda turned out to be. Trust me and try it out once; I am sure you all will absolutely love it..
Pin it for later:

I will see you soon
Until then
Hugs
Sushma