Milk Powder Burfi is a delicious Indian sweet that can be prepared in flat 15 mins.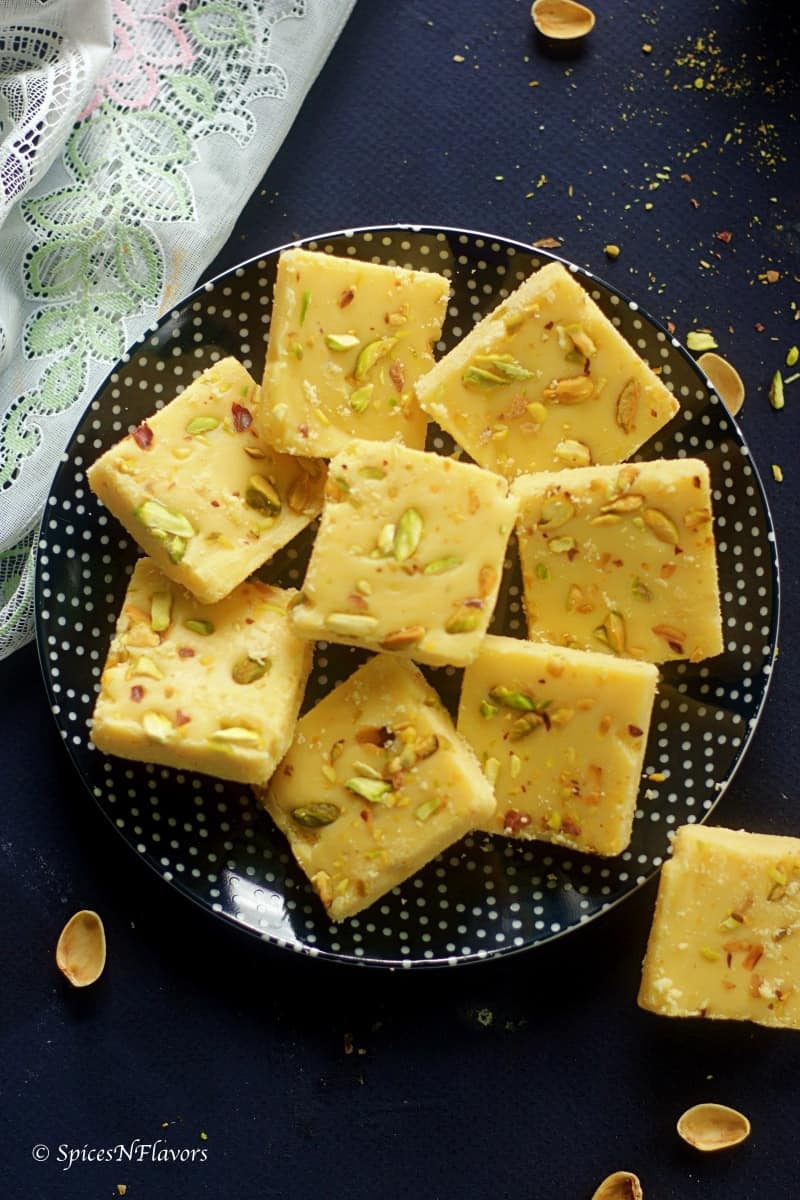 Milk Powder Burfi - the aroma of cardamom and ghee is already giving me the vibes of Diwali.
Feels like Diwali is almost here.
And why not after all its my favourite festival.. <3 <3 Diwali pe mitha na banaya aur khaya to kya jiya.. (Diwali celebration is incomplete without preparing and enjoying Indian sweet) How do you celebrate Diwali at your home? Comment below and let me know.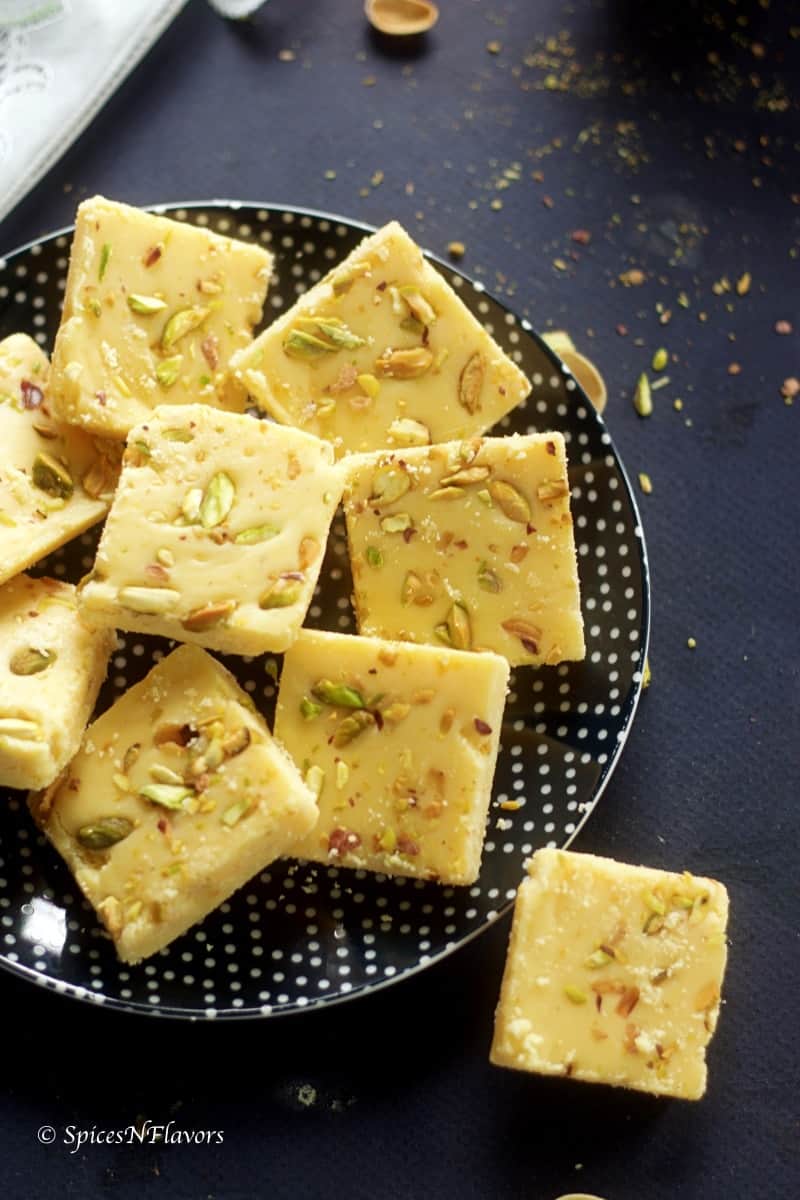 At my home I clearly remember my Mom making Mixture - you know what I mean. And she used to literally make a tub full of it. I am not kidding guys I clearly remember the number of items she made and that too in bulk.
There used to be so many things - Mixture, Shankar para, Karanji, Halwa, Rava Laddu, Murukku (3 varieties) and what not.. Phew the list seems never-ending.
And what all things do I make. To be honest enough; you guys know that I have recently started cooking so the first year of marriage I literally did not make anything as I didn't knew to cook then..
Second year; I was pregnant. 😛 so ofcourse I was not cooking. 😉
Third year I was in India.. hehe enjoying Mom's food again.
Now finally this is the year when I think I will actually make goodies for Diwali.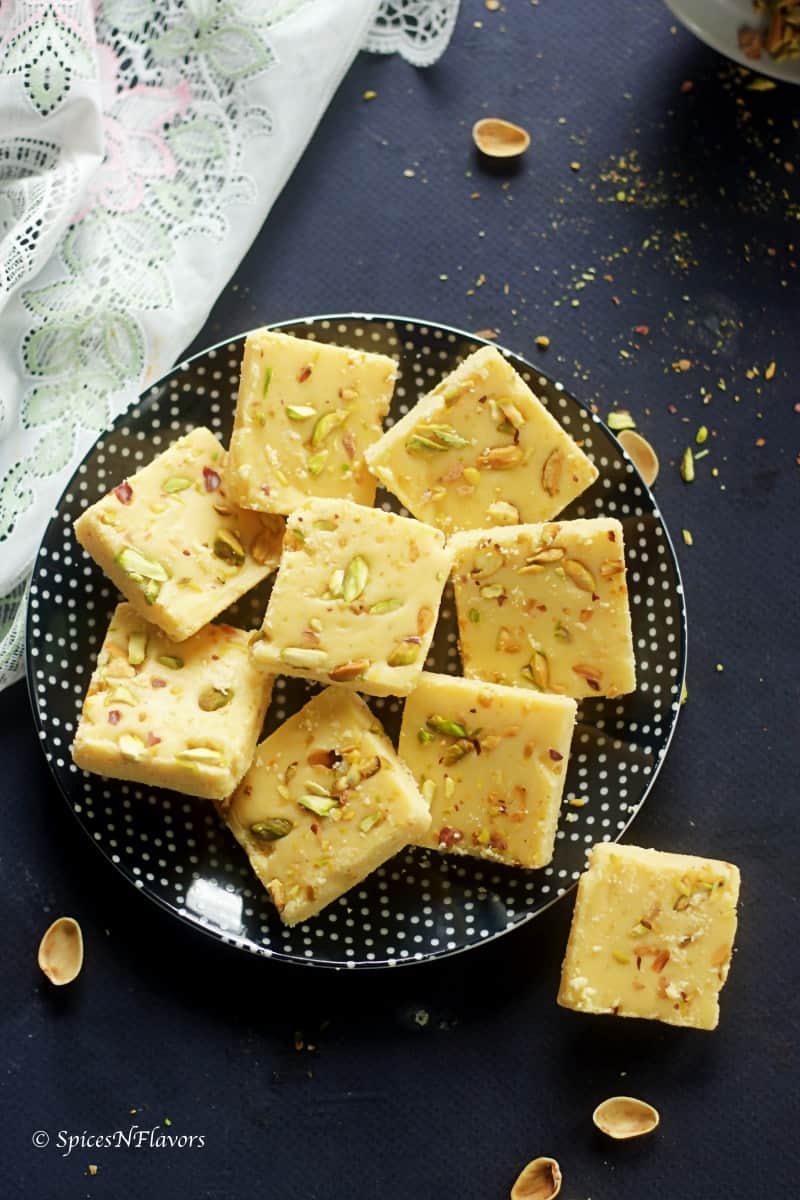 So apart from making this Milk Powder Burfi; I will also make some laddu that I have already shared on the blog like may be No Cook Instant Rose Coconut Laddu or Oreo Laddu (kids favourite).
I also have this No Cook Instant Coconut Barfi that I haven't made in ages.
Or may be I will also make this 18 mins Halwa as it comes together easily.
Apart from our regular Indian sweets; this year I am planning to share some edible gifts with my friends; which I will upload asap. I also have 2-3 exotic cake recipes planned out.
After a great success with Rava Cake; I might do Chocolate Rava Cake as well.
So do keep an eye here for interesting Diwali recipes.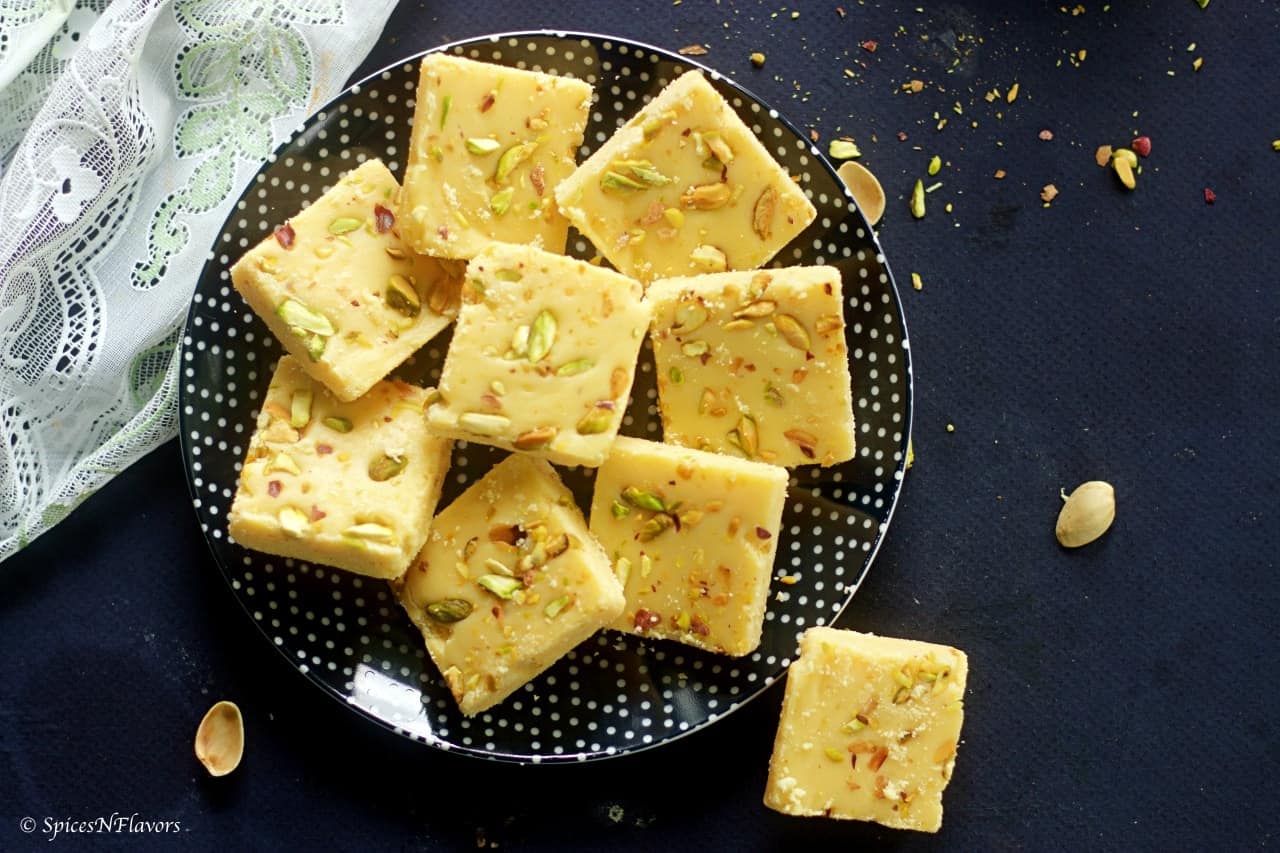 So coming to this Milk Powder Burfi..
First of all you might note that this Milk Powder Burfi is yellow in colour rather than white. And why so? Well the colour here is coming from the ghee and milk powder that I have used. Both had little yellow tint to it.
However this won't be the case as the ones that we get back in India is much different to what I have used.
Even though this Milk Powder Burfi is a beginners level one but all Indian sweets comes with certain key points. And this one is no different:
A. The flame of your gas should always be on low-medium. Do not cook this on high flame.
B. At all times you will have to stir it continuously or else it might burn at the bottom.
C. Once the sugar is added do not cook it for more than 10-15 mins or else it would turn hard and chewy.

This Diwali enjoy this 15 mins Halwai style Milk Powder Burfi and impress your family with your cooking skills.. 😉 They won't come to know that this is actually super easy to make.
If you like this recipe then do tag me, tweet me or instagram me; I would love to follow you and your posts.
Liked this recipe?
Let us know by giving it a star rating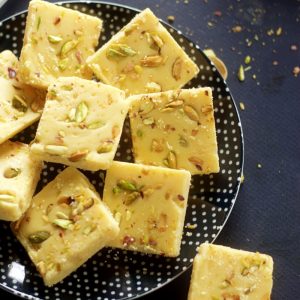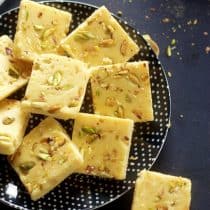 Print
Milk Powder Barfi - Diwali special Indian sweet
Milk Powder Barfi is a delicious Indian sweet that comes together in just 15 mins
Ingredients
1/3

cup

Ghee

1/2

cup

Milk

2

cups

Milk powder

1

cup

Powdered sugar

(Refer notes)

6-8

nos

cardamom pods
Instructions
Start by greasing and lining a pan with parchment paper. Keep this aside. Also chop some dry fruits to garnish. Keep this ready too.

Melt some ghee in the pan on low heat. Once ghee is melted switch off the gas and add milk and milk powder. Switch on the gas and stir to combine (around 2-3 mins)

Once combined; add in the sugar. You will note that the mixture turns thin or runny.

Keep stirring continuously until it thickens and starts leaving the pan around 10-15 mins. (Refer notes for test). After which transfer it to the greased tray. Smooth out the top with the back of the spatula.

Add chopped nuts on top. With the help of back of the bowl press the nuts on top so that it sticks properly. Do remember to grease the bowl with some ghee too. Allow this to set at room temperature for 1.5-2 hours.

Once cold and set remove it from the tray; cut into desired shape and enjoy.
Did you make this recipe? Tag me today!
Tag me @spicesandflavors to get featured on my FB and Insta pages
Confirmation Test:
To check whether the burfi is ready or not simple remove a little onto a plate. Wait for a minute and try to roll it and form a ball. If you are able to form the ball then the burfi is ready. (Check my video recipe for details)
Notes:
1. I mentioned using powdered sugar actually I have used icing sugar here. If you do not have icing sugar at home then simple grind the granulated usual sugar to a powdered state and then use.
2. The flame of your gas should always be on low-medium. Do not cook this on high flame.
3. At all times you will have to stir it continuously or else it might burn at the bottom.
4. Once the sugar is added do not cook it for more than 10-15 mins or else it would turn hard and chewy.
5. I have used full fat milk powder but you can use skimmed milk powder too for this recipe
6. This stays good for upto 1 to 1.5 weeks without refrigeration
Variations:
1. Add some kesar milk and make Kesar Milk Powder Burfi.
2. Add 3-4 tbsp of cocoa powder to make Chocolate Milk Powder Burfi.
3. Or simply take your Burfi to give it a modern look by trying out this Milk Powder Burfi Bars. 
Trust me when I say this tastes absolutely divine just like the ones that we get in Halwai or sweet shop back in India.
Many more Diwali special recipes coming soon.. Until then stay tuned and do check my other festive recipes such as
1. 23 Indian sweets in 30 minutes
2. Diy Chocolate Barks in 5 mins
3. Paan Shots
4. No Cook Instant Laddu
5. Oreo Laddu
Pin it for later


I will see you in my next one
Until then
Hugs
Sushma