Rava Cake in Pressure Cooker is by far the most easiest cake recipe that anyone could ever think of. This Rava Cake is Eggless, has no Maida in it, No Oil and No Butter. Can you believe that?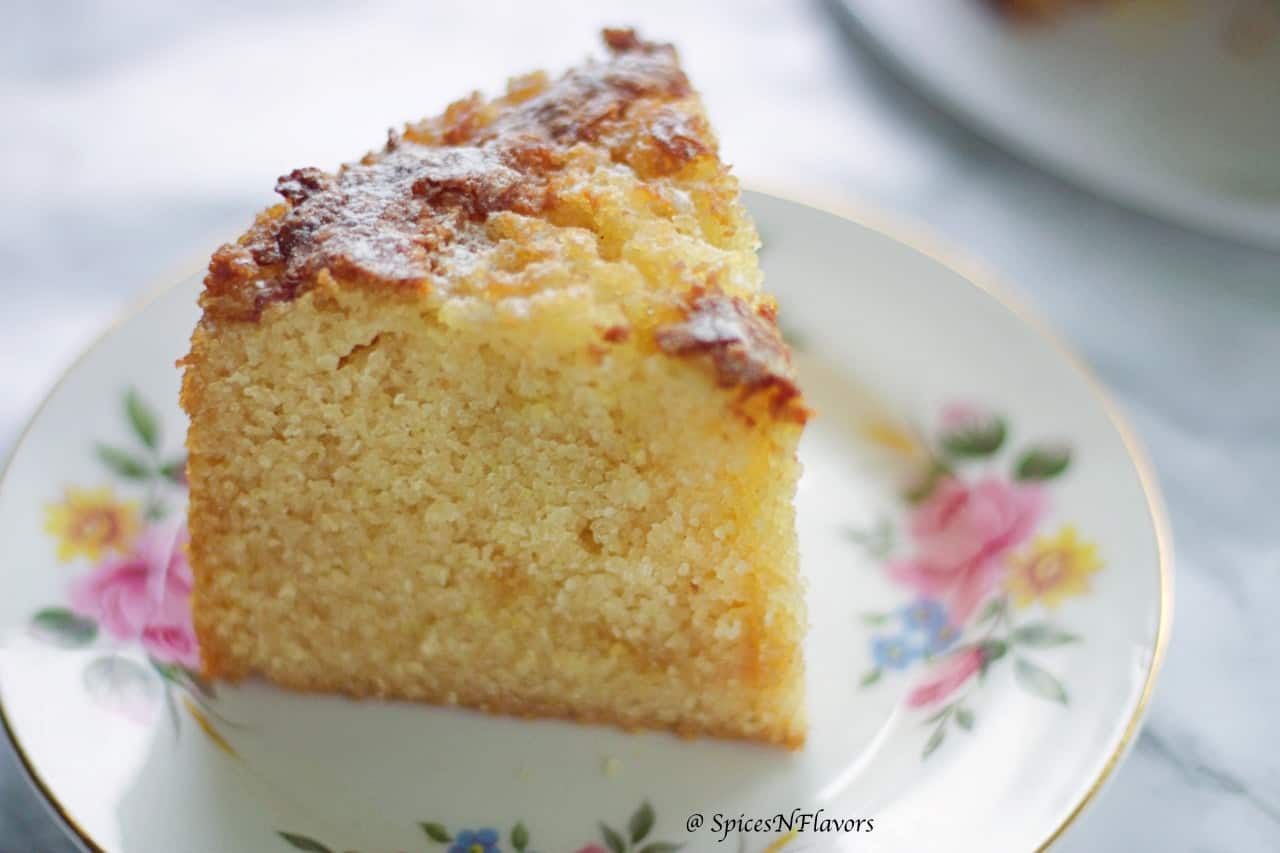 What is the fuss about making this Rava Cake?
A. As mentioned above it is Eggless, No Maida, No Oil and No Butter.
B. It is a simple and easy to follow recipe that even a 5 year old can make it.
C. Today I made this Rava Cake in a Pressure Cooker.
D. A recipe that can be modified by adding flavours of your choice like Almonds, Tooti Frooti, Mango, Coconut you name it and you get that in this cake.
Sigh!!!
Do I need to say more about this cake. I am sure you are as excited as I was when I first made this cake.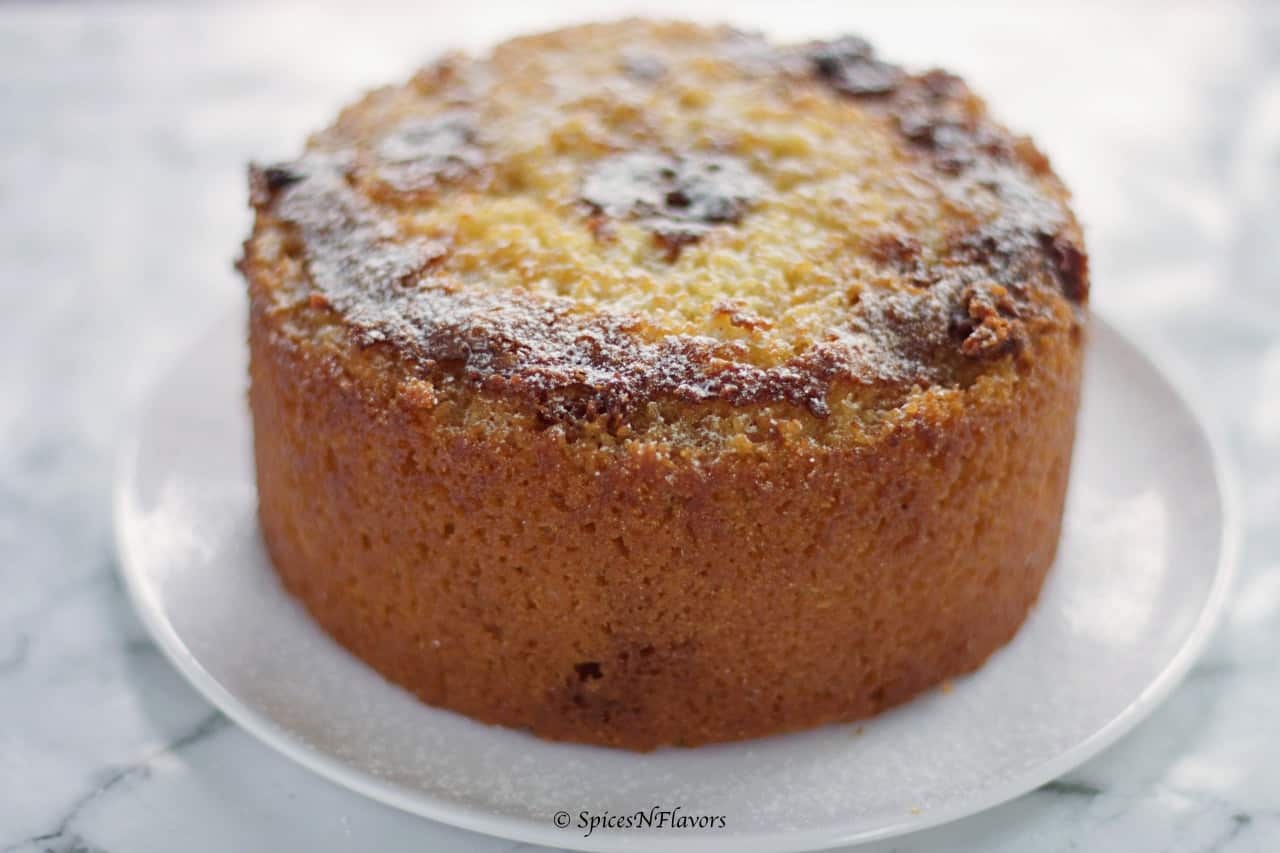 This Rava Cake is one of those cakes with which I started my baking journey 3 years back.
Yes And you will find this recipe on the blog too. Click here if you wish to see my journey from then to now.
So whats the change?
This time I have made this in a pressure cooker and as always a video too.
If you have following me from three years now then I am sorry for the repetition but I promise this post will be useful to you too.
And how is that?
I am sharing my Youtube video here so it would be easy for you to follow. So while you are here I would highly recommend you to check the earlier post too for baking instructions in an oven.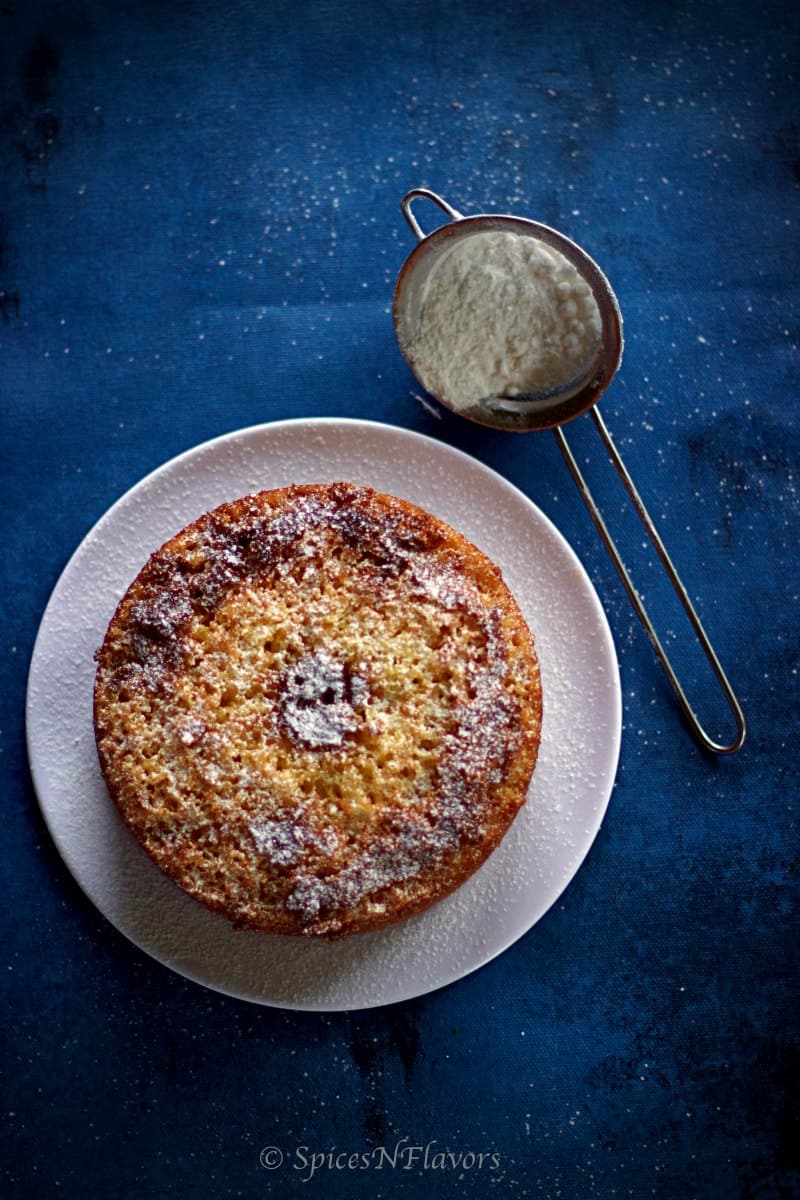 I am wondering how do you guys manage your time?
Ever since I started making Youtube videos I am juggling between my work life and personal life. It seems like I had a lot of time earlier as compared to now.
Since my Mom is here its kinda easy for me to do stuff; like I manage everything related to shooting, editing, photographing, posting and marketing and she takes care of Yo (my daughter) and the house.
I am so blessed.. I know..
But guys seriously if you have any tips to share then just comment below and let me know. I think I am going crazy.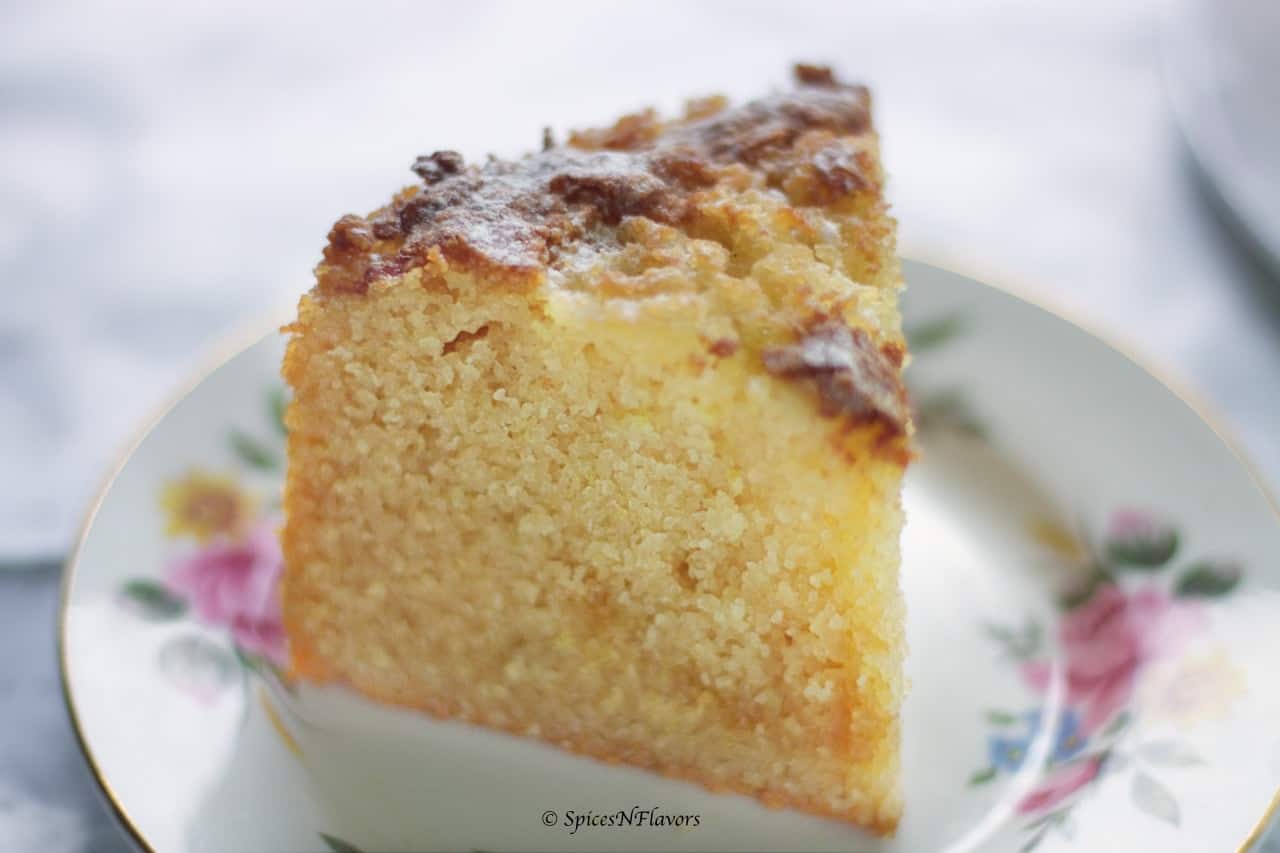 Let me quickly walk you through the flavours of this cake.
Now first of all since this has no Maida in it do not expect this to be a super soft cake. But at the same time you won't be disappointed by the wonderful texture of Rava or Semolina.
This is not too sweet so I would say would be just perfect with your evening Tea or even in your kids lunch box.
Yes it is a moist cake but little bit on the denser side for obvious reason of not having enough butter or oil. You must definitely check my Pound Cake recipe if you are looking for a lighter cake and if you like to learn the science behind baking.
You can add any flavours of your choice if you wish but today I have just kept it simple.
Here I would like to thank my dear friend Pradnya; my bff for sharing this wonderful recipe with me 4 years back. And since then it has always been a favourite.
If you like this recipe then do tag me, tweet me or instagram me and I would love to follow you and your creations.
Related Indian Bakery Recipes:
Here is the video recipe..
And the written recipe..

Liked this recipe?
Let us know by giving it a star rating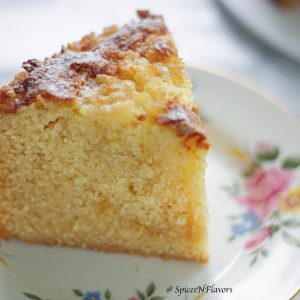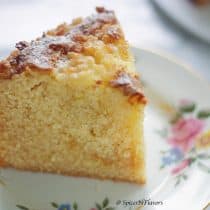 Print
Rava Cake in Pressure Cooker
This Rava Cake in a Pressure Cooker is an easy and simple to follow recipe that is made using ingredients that are easily available in the kitchen pantry at any given time.
Ingredients
2

cups

Rava

1

tsp

Baking soda

1

cup

Milk

1.5

cups

Sugar

1.5

tbsp

Ghee

1

cup

Curd

1

tsp

Vanilla Extract
Instructions
Start by preheating the cooker. For this place a stand inside the pressure cooker and put the lid on without the gasket and no whistle. Switch the gas onto high heat for 10-15 mins. Meanwhile start with your cake mix.

In a mixer, combine together milk, sugar and ghee and blend until smooth.

Transfer it to a bowl and add curd. Mix well. Add in your rava, vanilla extract and baking soda

Combine everything well and pour it into the prepared cake tin. Bake in the preheated pressure cooker for 60-70 mins on medium flame.

Did you make this recipe? Tag me today!
Tag me @spicesandflavors to get featured on my FB and Insta pages
Notes:
1. This cake recipe works fine in any cake moulds and is best suited for 8 inch cake tin. I wanted a pan to fit in the pressure cooker and hence used 6 inch one. Due to which I was left out with some batter which I used in making a cupcake.
2. After 40 mins, check whether the cake is done by lifting the lid on. If not then check in every 10 min interval. Once the tooth pick comes out clean; switch off the gas and let the cake tin be in the cooker for another 5 mins. Remove from cooker, let it cool completely and then un-mould. It took me a total of 65 mins to bake this cake in pressure cooker. Check my earlier post if you wish to bake it in an oven by clicking here. My gas works on electricity hence it took a little long but one that in India I am sure I would take little less time. So please remember to check after 40 mins.
3. You can add any addons like coconut, mango, sliced almonds or tooti frooti.
Pin this for later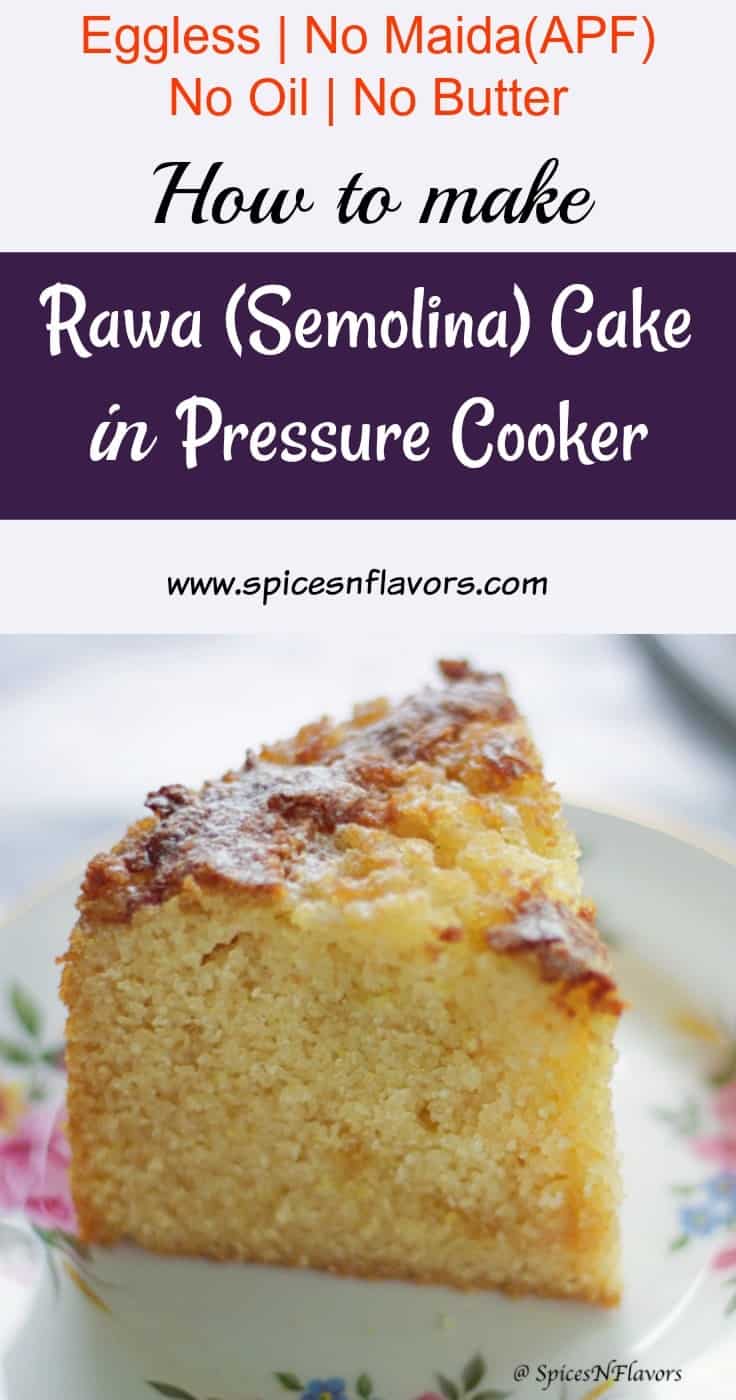 I will see you in my next post
Until then
Hugs
Sushma