Chocolate Rava Cake is just a chocolate version of one of my most popular recipe on the blog - Rava Cake.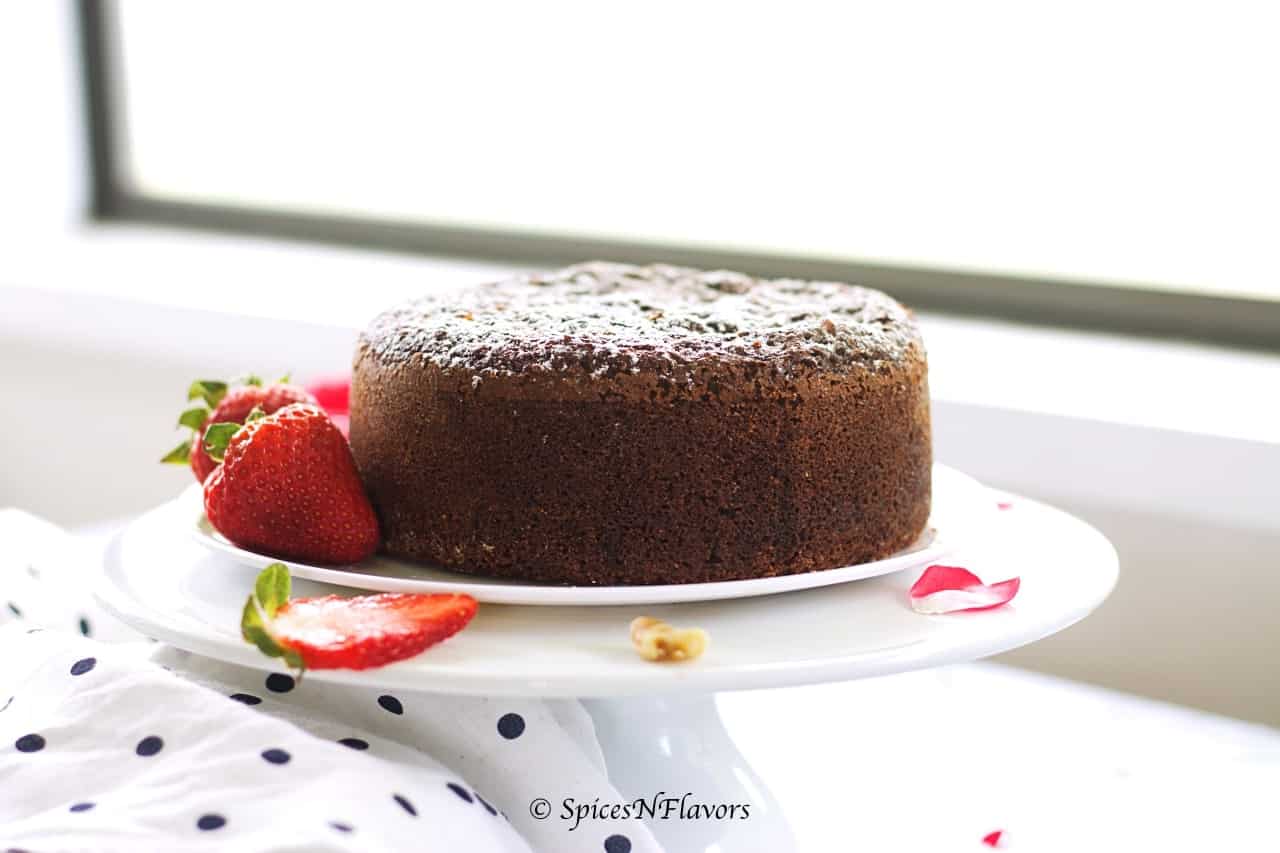 Chocolate Rava Cake is one of the most special bakes of mine.
You know why??
Because we are now a family of 10k subs on youtube. I just can't believe 10,000 subscribers. I am jumping up and down. If you have not yet subscribed to my channel then please do. I would highly appreciate it.
Plus I also have a surprise for you guys in this post..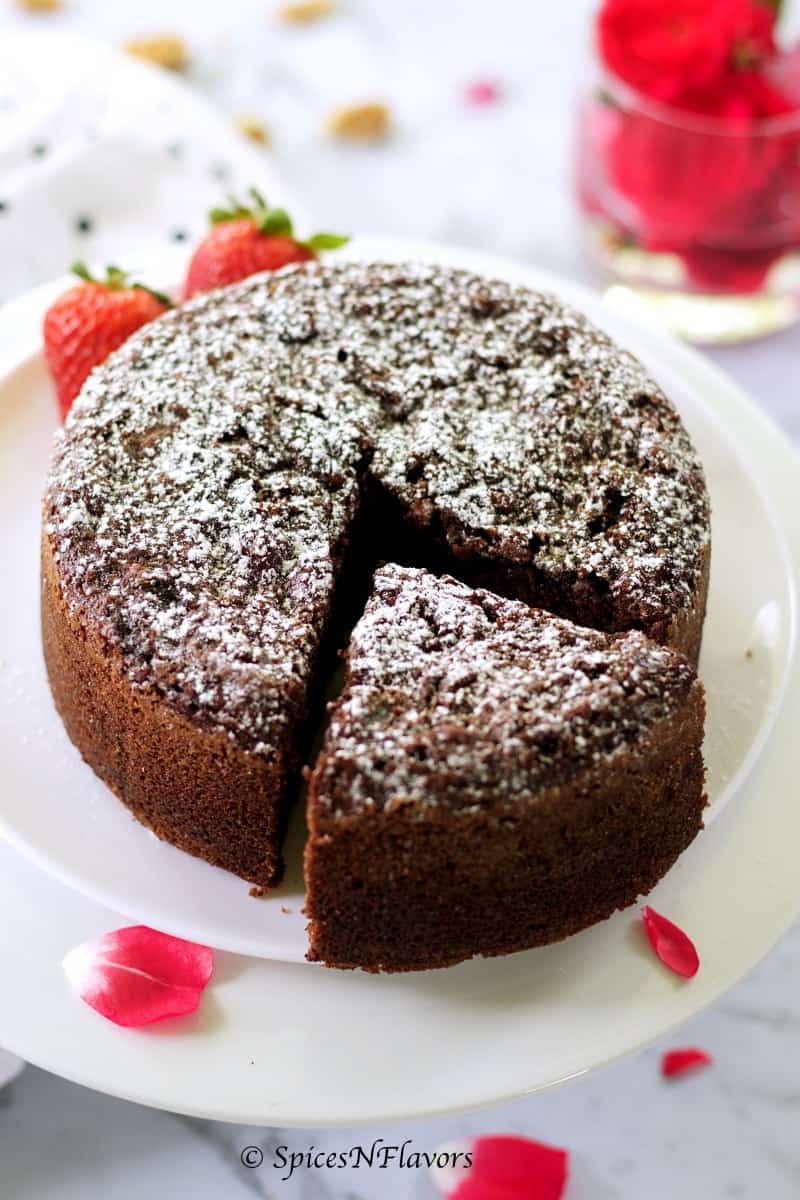 So let me first of all tell you that Rava Cake is basically a simple regular tea time cake that is eggless, maida free and butter free which is super moist and pairs so well as a tea time cake.
And Chocolate Rava Cake is basically a chocolate version of it.
If you have been following me on social platforms then probably you might be knowing that rava cake is that particular post which marked my blogging journey.
Yes when I had shared this recipe on social media platforms it was a super viral 3 years back when people actually did not know what viral is.
Today I recreated the chocolate version of it just to thank each one of you for supporting me through this entire journey.
Words can't thank you enough for all the love, support, encouragement, motivation and for everything that you have showered upon me.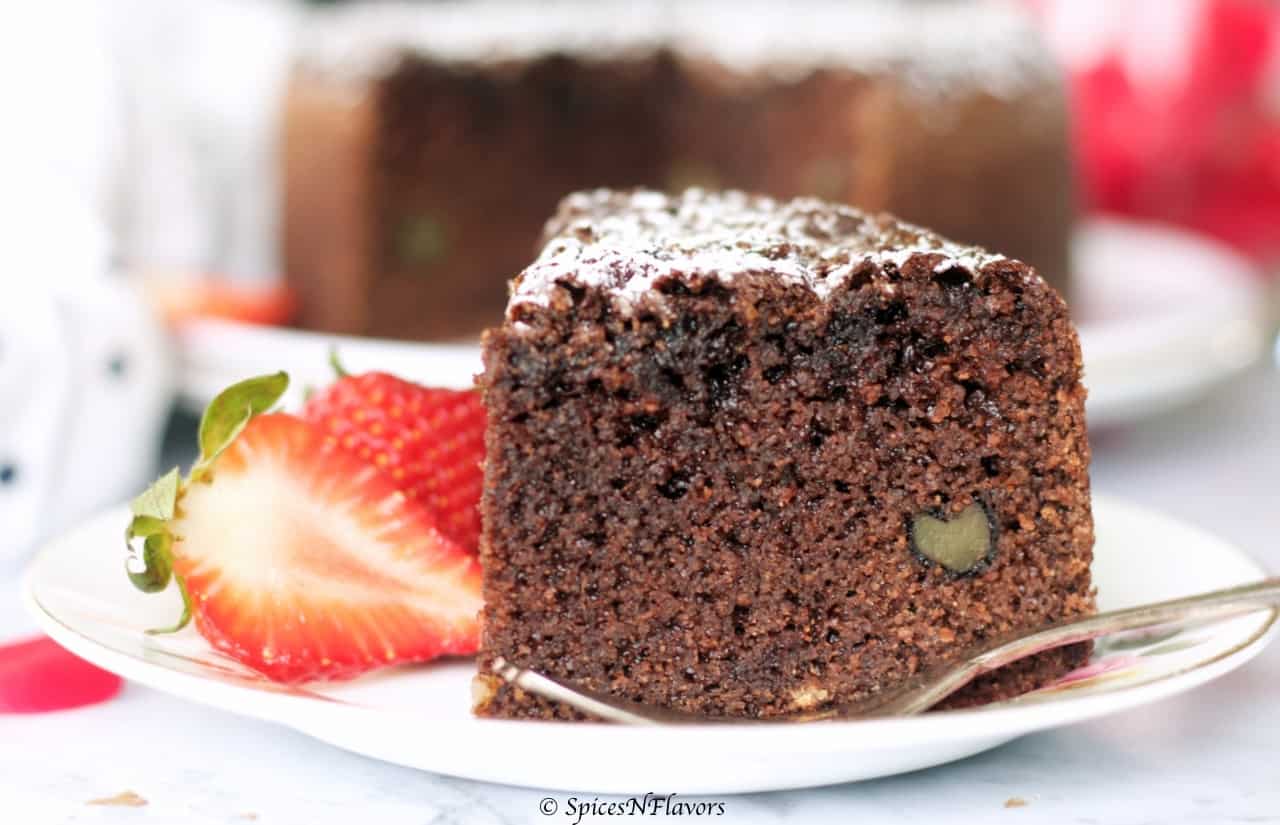 Wait for it!!!
As a token of gratitude for the first ever time I am doing a Giveaway. I am giving away this beautiful 2 pcs Nirlon Pans for one of you. The details of entering into giveaway is listed down below the recipe card.
Before sharing the details let me run you through the flavours and procedure of making this cake.
The chocolate flavour is not dominating or over-powering. Its a delight to eat with the texture coming from rava and walnuts.
Now first of all since this has no Maida in it do not expect this to be a super soft cake. But at the same time you won't be disappointed by the wonderful texture of Rava or Semolina.
This is not too sweet so I would say would be just perfect with your evening Tea or even in your kids lunch box.
Yes it is a moist cake but little bit on the denser side for obvious reason of not having enough butter or oil. You must definitely check my Pound Cake recipe if you are looking for a lighter cake and if you like to learn the science behind baking.
Also if you are not a fan of chocolate (I would get an heart-attack if you are not.. 😉 ) you would want to check my plain vanilla flavoured Rava Cake. My hubby prefers vanilla and I like chocolate but at the end I do what I want to.. 😉
Here is the detailed recipe:
Liked this recipe?
Let us know by giving it a star rating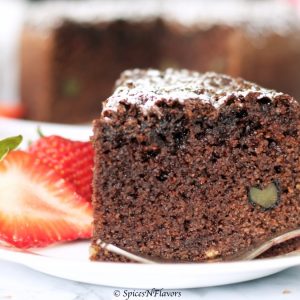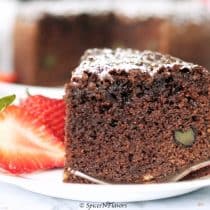 Print
Chocolate Rava Cake in cooker
This Chocolate Rava Cake in a Pressure Cooker is an easy and simple to follow recipe that is made using ingredients that are easily available in the kitchen pantry at any given time.

Ingredients
1.5

cups

Sugar

1

cup

Milk

1.5

tbsp

Ghee

1

cup

Curd

1.5

cups

Rava

1/3

cup

Cocoa powder

sifted

1

tsp

Baking soda

1/3

cup

roughly chopped walnuts

(optional)
Instructions
Start by preheating the cooker. For which line the base of the cooker with some salt. spread it out evenly. Place a stand in it. Close the lid without any gasket or whistle attached. And heat it up on med high flame.

In a blender, blend together sugar, milk and ghee until smooth. Once blended transfer it to a mixing bowl.

Add in the curd and whisk well.

Add in all the dry ingredients. Combine until cake batter consistency.

In goes the walnuts if you are using. Mix well and bake in a prepared 6 inch cake pan in the preheated cooker for 45-50 mins. Reduce the flame to medium once you place the cake pan inside the cooker.

Do the toothpick test and if it comes out clean then you are done. Let the cake cool in the pan itself for 10 mins then invert it to a wire stand to cool completely.

Dust some icing sugar while serving and enjoy it with your tea.

Do remember to check the notes to enter into the giveaway.
Did you make this recipe? Tag me today!
Tag me @spicesandflavors to get featured on my FB and Insta pages
Notes:
Effect of salt:
When I first made this plain rava cake I did not add any salt layer at the base. However I did add it today for making this Chocolate Rava Cake.
And I must say adding salt considerably reduced my baking time.
I guess the salt helped to retain the heat inside the cooker thereby reducing the baking time. So i would highly recommend to follow this method even if you are making the plain Rava Cake instead of Chocolate Rava Cake.
2. To bake it in the oven: bake in the preheated oven for 40-45 mins. you can bake it in the microwave for around the same time.
For additional notes refer my Rava Cake recipe.
GIVEAWAY
As a token of gratitude I am giving away this 2 pc Nirlon Pan set to any one of you. To enter into the giveaway all you have to do is:
1. Subscribe to my YOUTUBE channel SpicesNFlavors by clicking here.
2. Like my Facebook page - SpicesNFlavors
3. Comment on my FB post tagging someone for whom you would like to cook in this pan.
This giveaway is open to anyone from all over the world but the gift would be delivered to a genuine valid Indian address only.
It is open for 2 weeks after which I will share the lucky winner.
As always if you happen to try this recipe then do tag me, tweet me or instagram me. I would love to connect with you guys.
Hope to see you on my FB page.
Pin it for later:


I will see you soon with another recipe.
Until then
Hugs
Sushma