Chilli Garlic Mushroom is a regular Indian sabzi or curry flavoured with chilli and garlic paste that pairs so perfectly well with rotis, phulkas and rice.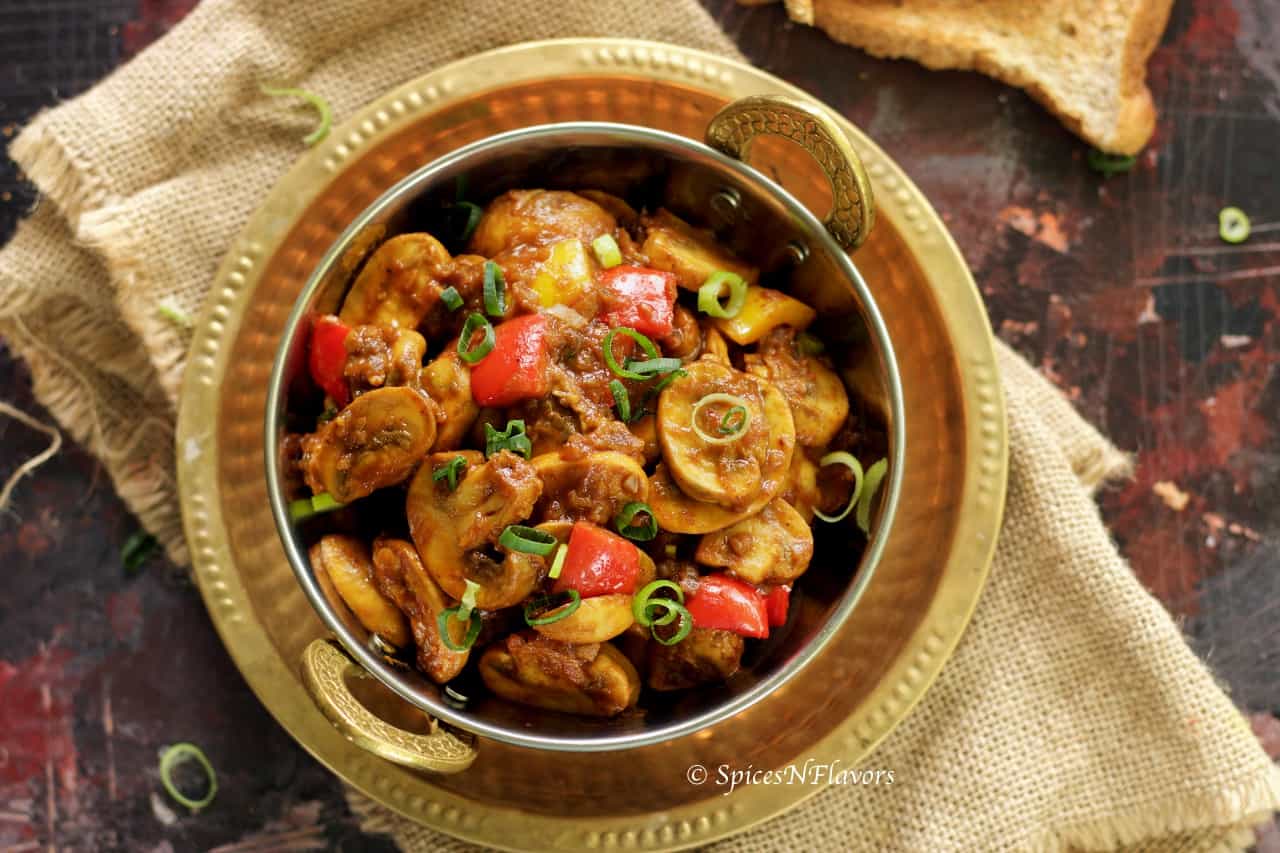 Chilli Garlic Mushroom is one of those recipes that you can make in a jiffy without ofcourse compromising on taste and flavour.
If you all know me then you know I like recipes that are easy and quick to follow and make yet that tastes absolutely yum!!
Be it my 15 mins butter cookies, nutella cookies, caramel banana parfaits or 5 mins chocolate bark or even no cook or no bake recipes..
If it is 15 mins or less I am game for it.. 😀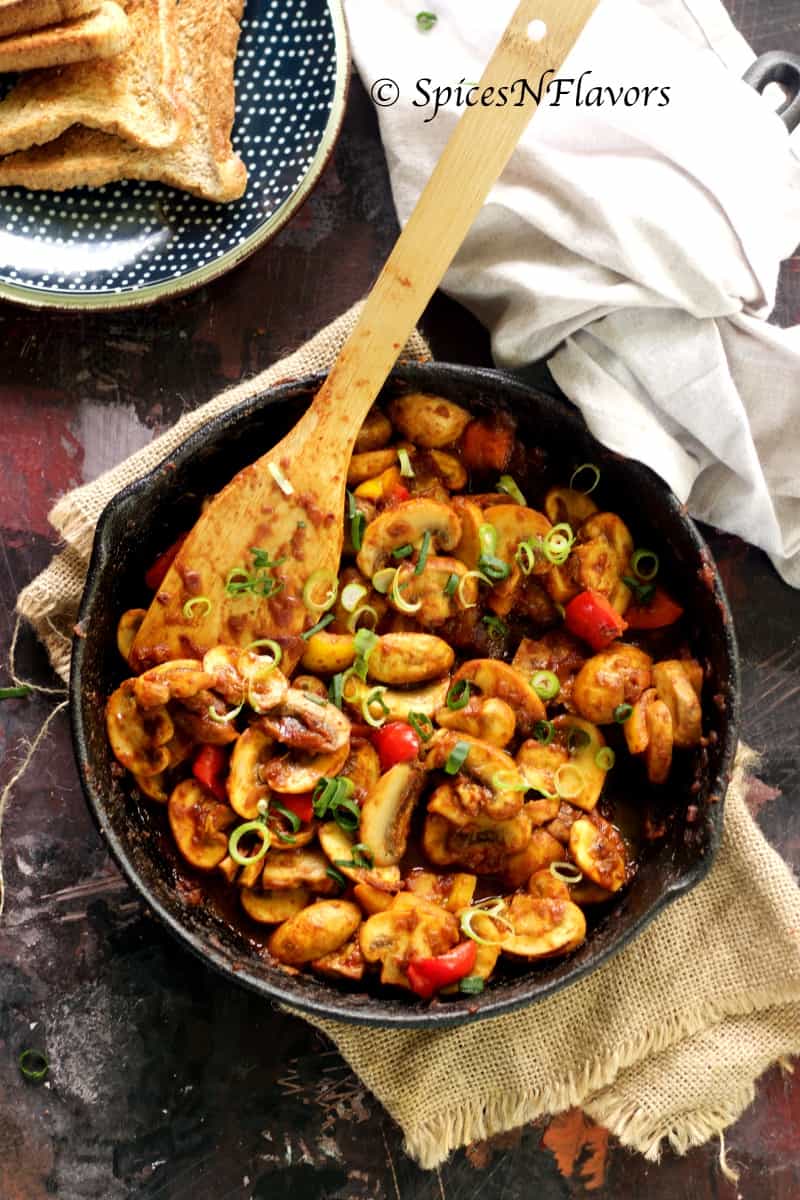 To be honest with you all I had made this Chilli Garlic Mushroom the other day for dinner just like every other normal day. Shot a video and clicked few pictures just to keep it as a reserve for those days when I won't be able to shoot.
Why do I say this?
Well my Mom is leaving back to India this Wednesday and I seriously have no clue how am I gonna manage everything with a little one. Gonna be difficult but yes guessing it would be fun too.. And I just hope and wish I would be able to continue with my blogging dream regularly..
Stick to me guys even if I don't post once or twice.. 😀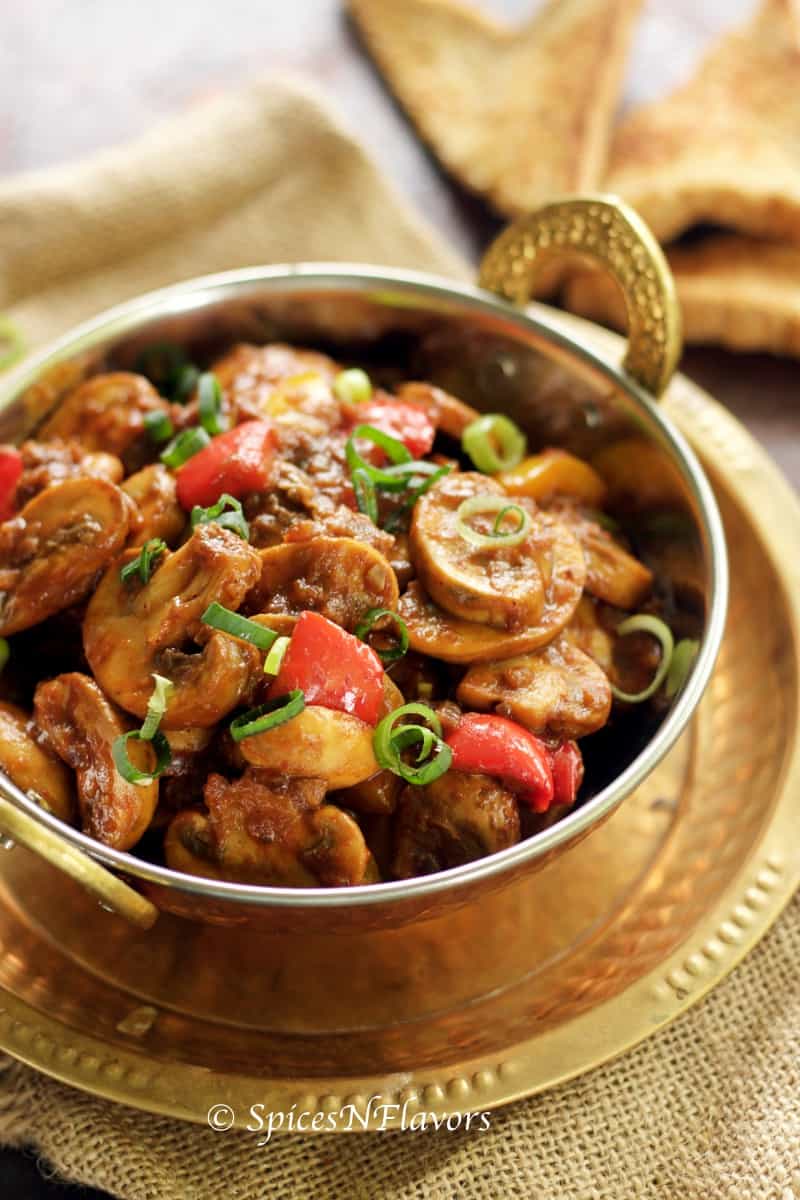 By the way guys let me remind you about the GIVEAWAY that I have hosted last week..
I am giving away a 2pcs Nirlon Pan Set as a token of gratitude for reaching 10k subs on my Youtube channel. What did you just say you haven't subscribed to it?? I mean seriously..
What are you waiting do subscribe it please as I also share vlogs, bloopers, everything on Youtube that I am sure you would love watching.. 😀
You can find all the details about entering the giveaway on my Chocolate Rava Cake post. (Thats a one healthier cake I must say.. 😉 )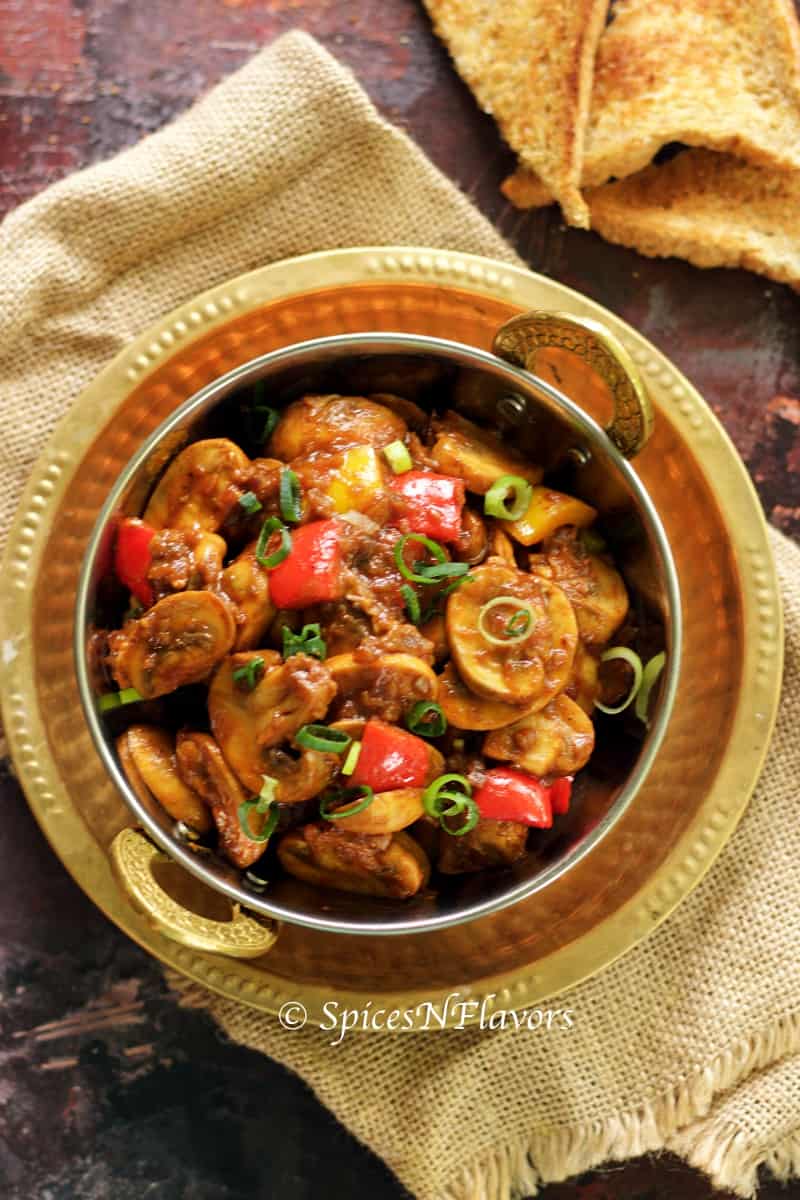 Coming back to this Chilli Garlic Mushroom recipe..
To me nothing can be simpler that this.. perfect for a busy morning or combatting your #mondayblues..
Just make this Chilli Garlic Mushroom in 15 mins along with some quinoa and fresh salad and I am sorted for the day.
OR pair this with some piping hot phulkas and a glass of fresh buttermilk and I would willingly call it a day..
This recipe works fine for a party side dish too.. your guests are bound to love this..
As the name suggests; these Mushrooms are flavoured with garlic (no complaints at all.. big time garlic lover.. 😀 ). With the heat of chillies (which you can adjust to taste) and some lemon juice and tomato ketchup with adds a sourness to the dish.
The moist and succulent Mushrooms with sweet almost caramelized onions and the crunch of bell peppers.
I must say this is one of those recipes where your tastebuds gets a wholesome of varieties of flavour - spicy, sweet, sour, salt, pungent.
If you are not a mushroom lover; no worries this would taste equally good with paneer, tofu or even cauliflower.
Here is the detailed recipe
Liked this recipe?
Let us know by giving it a star rating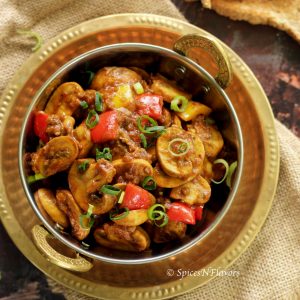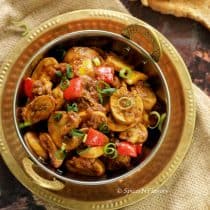 Print
Chilli Garlic Mushroom - 10 mins side dish
Chilli Garlic Mushroom is a regular Indian sabzi flavoured with chilli and garlic that pairs perfectly well with rotis, phulkas or even rice
Ingredients
3

tbsp

Oil

1

med size

onion

finely chopped

1/2

no

each yellow and red bell pepper

(optional)

30

nos

Button mushrooms

sliced

salt to taste

1

tsp

Red Chilli powder

(optional)

1

tbsp

tomato ketchup

1

tbsp

lemon juice

spring onions to garnish
For Chilli Garlic Paste
6

nos

dry red chillies soaked in water

10

nos

Galic cloves

2

tsp

sugar
Instructions
Start by soaking the dry red chillies in enough water for 30-60 mins.

Once soaked, transfer it to a blending jar along with garlic and sugar. Add water little by little in which the chillies were soaking and blend to a smooth paste. Keep this Chilli Garlic Paste aside until ready to use.

Meanwhile heat some oil in a pan. Once hot add in the onions and cook until it has wilted down and started to turn golden brown.

Add in the chilli garlic paste and cook until raw smell of garlic and chillies goes.

To this add the bell pepper and cook for about a minute not longer as we want to retain the crunch in them.

Next add in the sliced mushrooms and mix everything well. Add salt to taste and cook the mushrooms until cooked but still retaining its shape say about 3-5 mins.

Do a taste test and add in the optional red chilli powder if you feel so.

Garnish with spring onions. Serve hot as a side dish.
Did you make this recipe? Tag me today!
Tag me @spicesandflavors to get featured on my FB and Insta pages
Notes:
1. If your family do not prefer or like mushrooms then follow the recipe with paneer, tofu or even cauliflower it would work perfectly fine. And if you like Mushrooms then you must check out my Kaju Mushroom Masala which is one of the popular posts here.
2. Mushrooms tend to release water which keeps this dish moist; if you want to make this as a gravy then add 1/4 cup of water once the mushroom is cooked. Bring to a boil and enjoy.
Make sure to enter into the GIVEAWAY for FREE by clicking here.
If you happen to like this recipe then do tag me, tweet me or instagram me. I would love to follow you and your posts.
Pin it for later: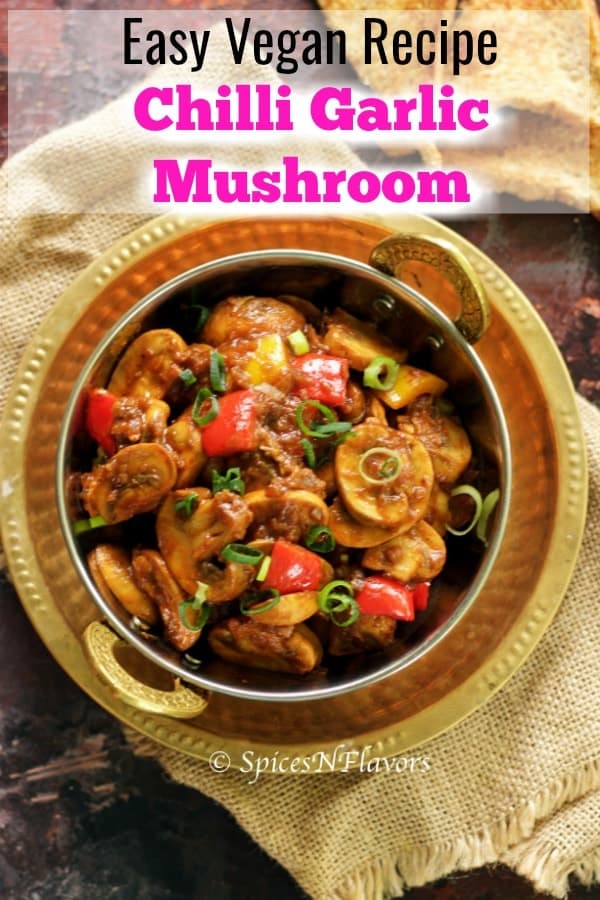 I will see you soon with another recipe.
Until then
Hugs
Sushma