Eggless Nutella Cookies is a soft and chewy cookie that is made using just 3 ingredients and can be made in 15 mins from start to end.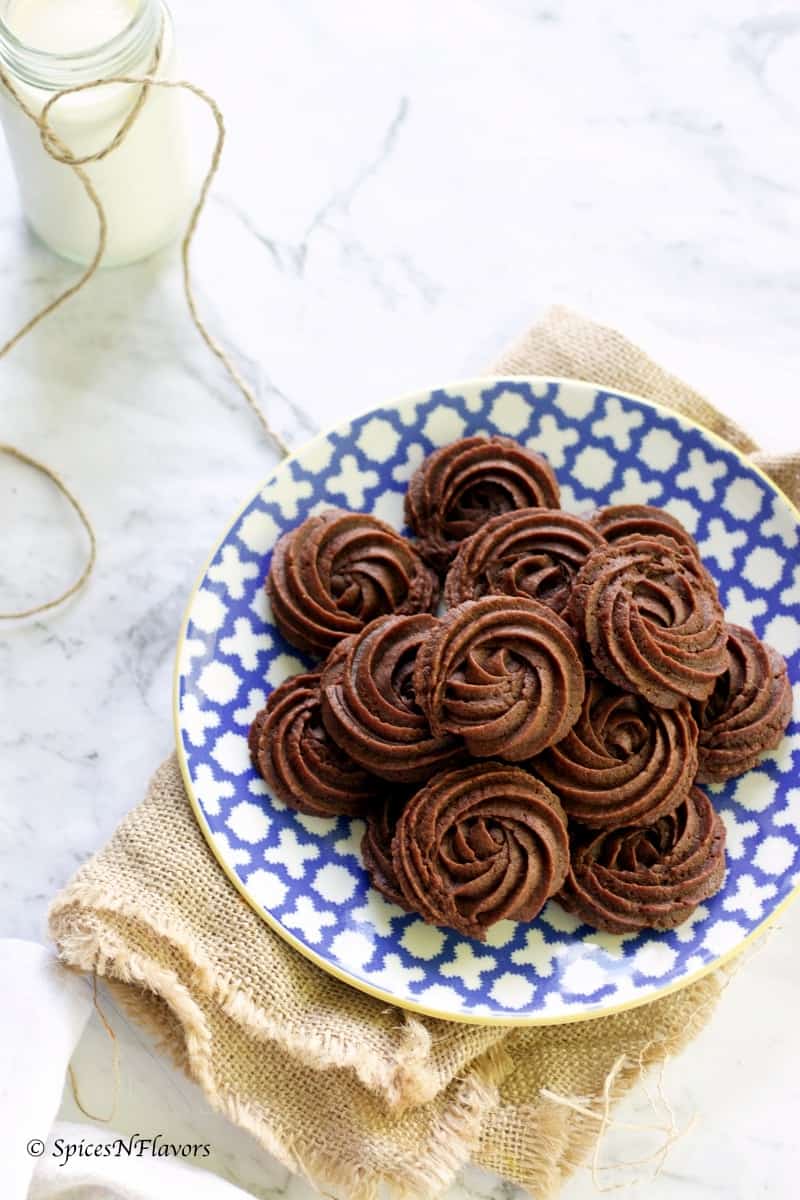 Eggless Nutella Cookies.. I mean seriously???
What on earth can be simpler than this
This Eggless Nutella Cookies is
1. Ofcourse eggless
2. Can be made in 15 mins - from start to end
3. Needs just 3 ingredients to make these
4. Has no added sugar, no raising agents - baking powder or soda
5. I have also shared pressure cooker baking method
6. And 2 other different flavour combinations included too
Phew.. you definitely need to try this one. Aap maan gaye ya mein aur bolun? 😉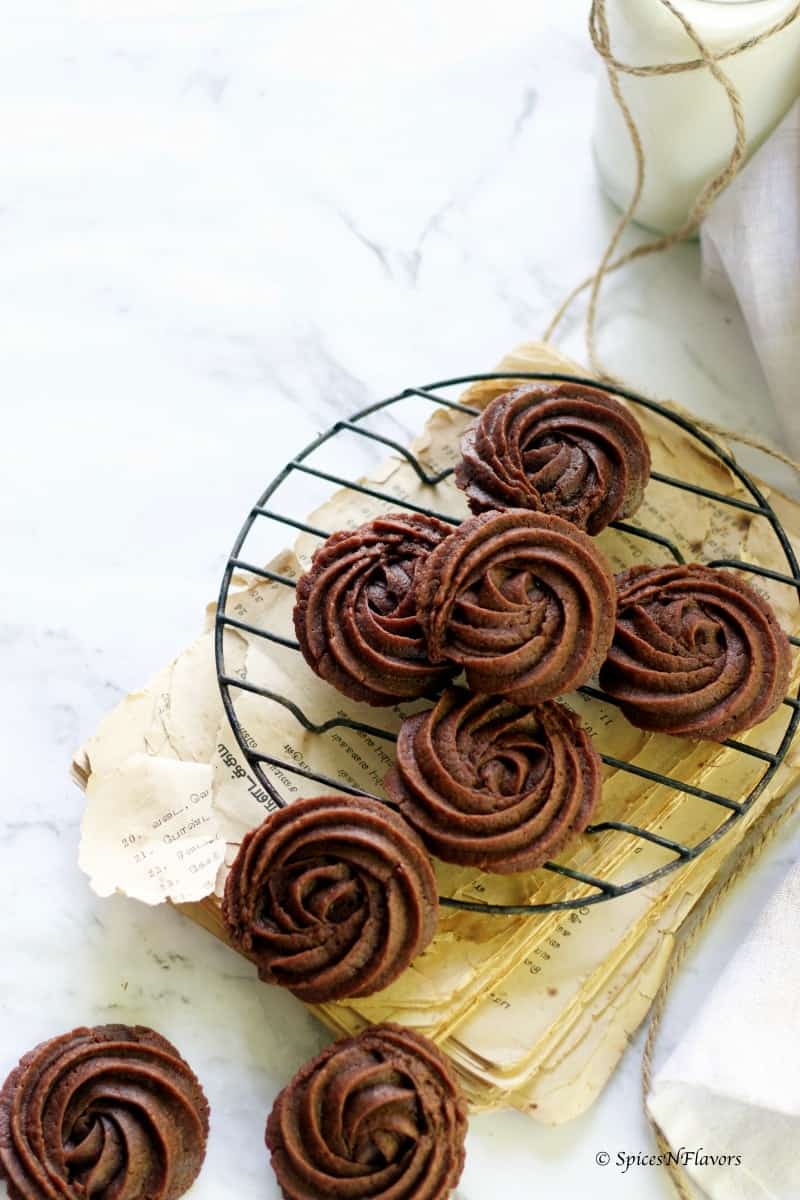 This recipe is inspired by one of the baking groups that I follow online.
I sometimes feel what would have happened if I had no access to internet. To be honest I started off my cooking by reading n no.of blogs or watching youtube channel. I can see that I have come a long way.
To think of, I seriously could differentiate between toor dal and channa dal. That was 3 years ago. And today I can make recipes as simple as this 15 min Banana and Paneer Parfaits, One-bowl Eggless Chocolate cake to some complicated recipes like Thandai Cheesecake or Chocolate Yogurt Mousse Tart.
Now I can vouch to you guys that if I can cook and have a blog then you definitely can. I mean my friends who know me since college days still don't believe that I actually cook. Till date they think someone else cooks and clicks for the blog.. hehe.. 😛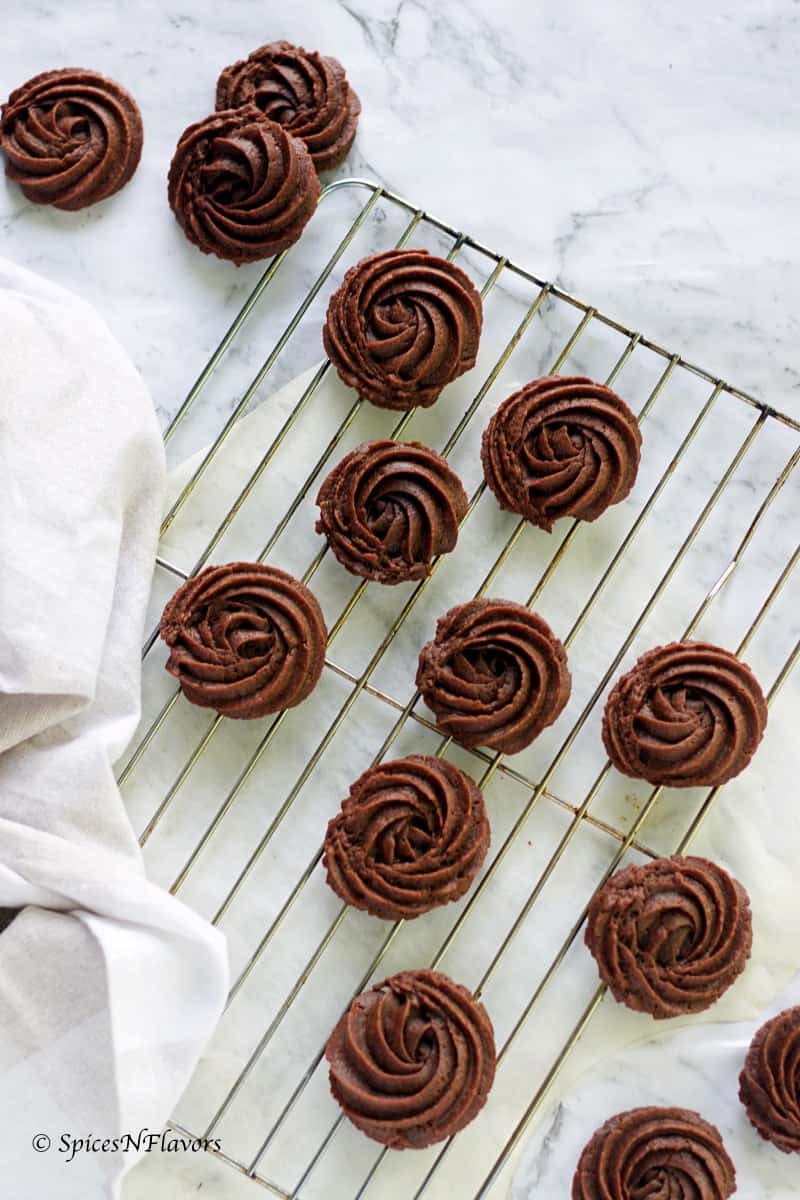 So its festive season now with Ganpati, Navratri and Diwali coming soon..
Ahh how I miss my India!!
Anyways what I wanted to say is that, this festive season gift your friends and family with these simple yet beautiful cookies and I am sure that would be a pleasant change for them too.
Like for example you can make these eggless checker board cookies (made in a pressure cooker). this eggless nutella cookies and if you include eggs then the classic chocolate chip cookies. Pack them up neatly and gift it. No one would believe that its homemade!! Trust me on this.
And yes do include this 5 min DIY Pistachio Chocolate Bark too. I mean to me a gift is incomplete with chocolates. What do you say?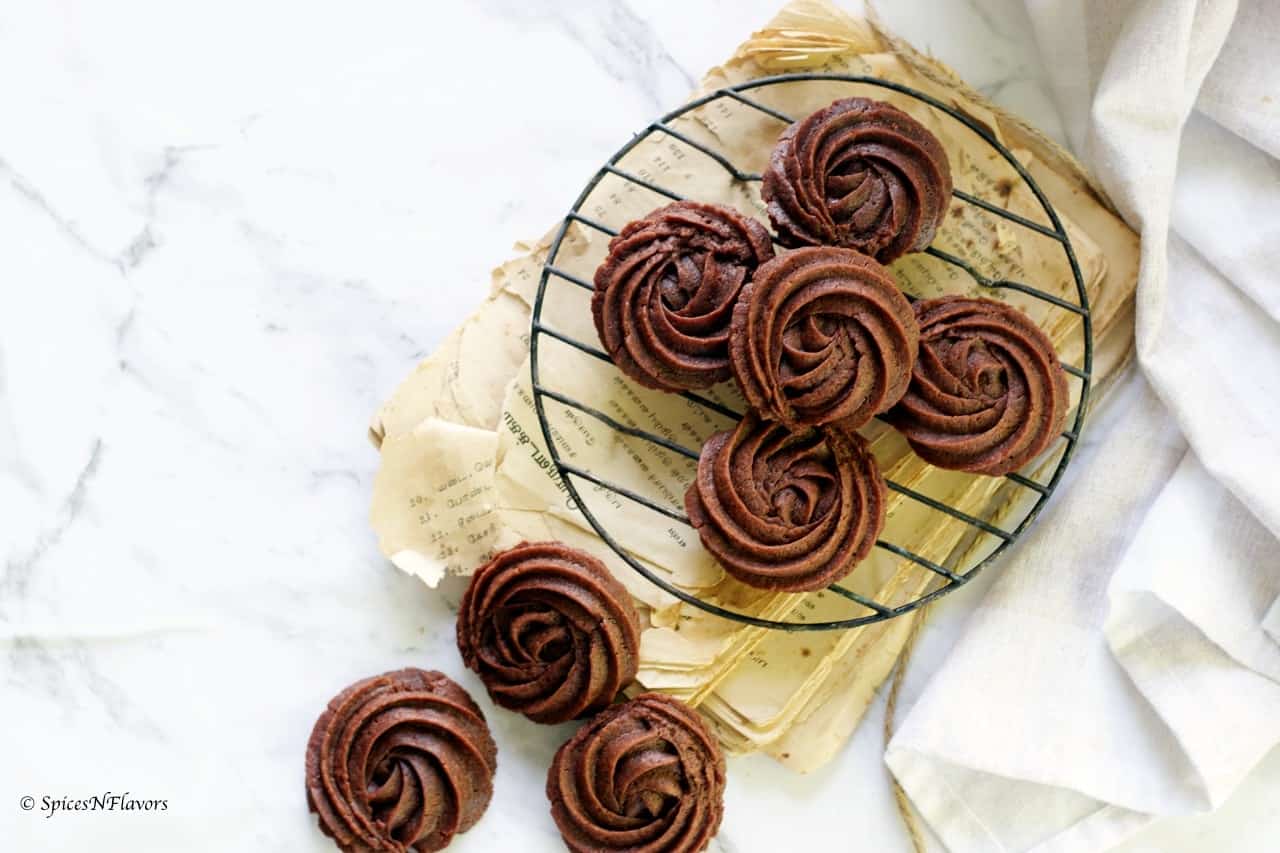 Coming to today's Eggless Nutella Cookies.
Well as always I tried baking these in a Pressure Cooker using the idli stand like I did previously. And let me tell you since this does not have any fat like butter or oil the cooker did not turn black which lot of my readers talked to me about previously.
The only thing is that the cookies will be little bit curvy as compared to the flat oven baked ones and that is because of the idli stand but nevertheless both of them tastes equally good.
The ones baked in the cooker took a longer time say about 17 -22 mins whereas the oven ones took exactly 8 mins. So its totally upto you to make a call.
These had a crisp exterior where it was really soft and chewy from inside. A melt in mouth kind of feeling and the nutella.. I can eat the whole tub!!!
These Eggless nutella cookies are a must try; I insist you to try it as these are so simple to make.
And if you happen to try it then do tag me, tweet me or instagram me. I would love to follow you and your posts..
Do check my video recipe by clicking here - Eggless Nutella Cookies
Liked this recipe?
Let us know by giving it a star rating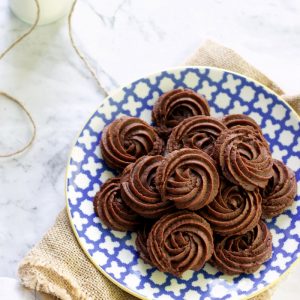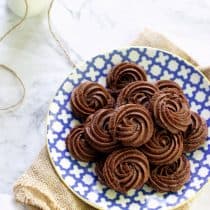 Print
Eggless Nutella Cookies Pressure Cooker | Oven - 3 ingredients
These Eggless Nutella Cookies is super easy and quick to make using just 3 ingredients and can be made in 15 mins start to end. It is soft and chewy kind of cookie.
Ingredients
1

cup

Nutella

1

cup

APF/Maida

1/4

cup

Curd
Instructions
Mix everything in a bowl until a clear dough is formed. Transfer to a piping bag with star nozzle and keep aside.

If baking in the pressure cooker, then grease the idli stand with some oil. Pipe rosettes cookies directly on top of the stand. And bake in the preheated pressure cooker for 17-22 mins on med low flame without whistle and gasket. Do remember to add a layer of salt beneath. Check my video recipe for clear understanding

If baking in oven, then line a baking tray with parchment paper. Pipe the rosette cookies on top. Bake them in a pre-heated oven at 180°C for 8-10 mins.
Did you make this recipe? Tag me today!
Tag me @spicesandflavors to get featured on my FB and Insta pages
Notes:
1. Check my video recipe by clicking here - Eggless Nutella Cookies
2. First of all start by pre-heating the cooker or oven, whichever you are using. As the cookie does not take much time to put together.
3. If you do not have a piping bag, or do not wish to use one, then just make small balls out the dough, flatten it using a fork and then bake them; that would give a different pattern too.
4. Other flavours like peanut butter or melted chocolate can also be used in place of nutella.
5. Always double pan while baking cookies. Wish to learn more about double pan then read my chocolate chip cookie post.
Festive Holiday season special:
1. Check my 23 indian sweets that can be made under 30 mins for this festive season
2. OR No cook Instant Coconut Barfi
3. DIY 5 mins Pistachio Chocolate Bark.
4. 15 mins Banana and Paneer Parfaits
Pin it for later

Recipe adapted from here
I will see you soon
Until then
Hugs
Sushma