Eggless Checkboard Cookies is basically a vanilla and chocolate flavoured butter biscuit which are presented in a way to resemble a checker-board and hence the name.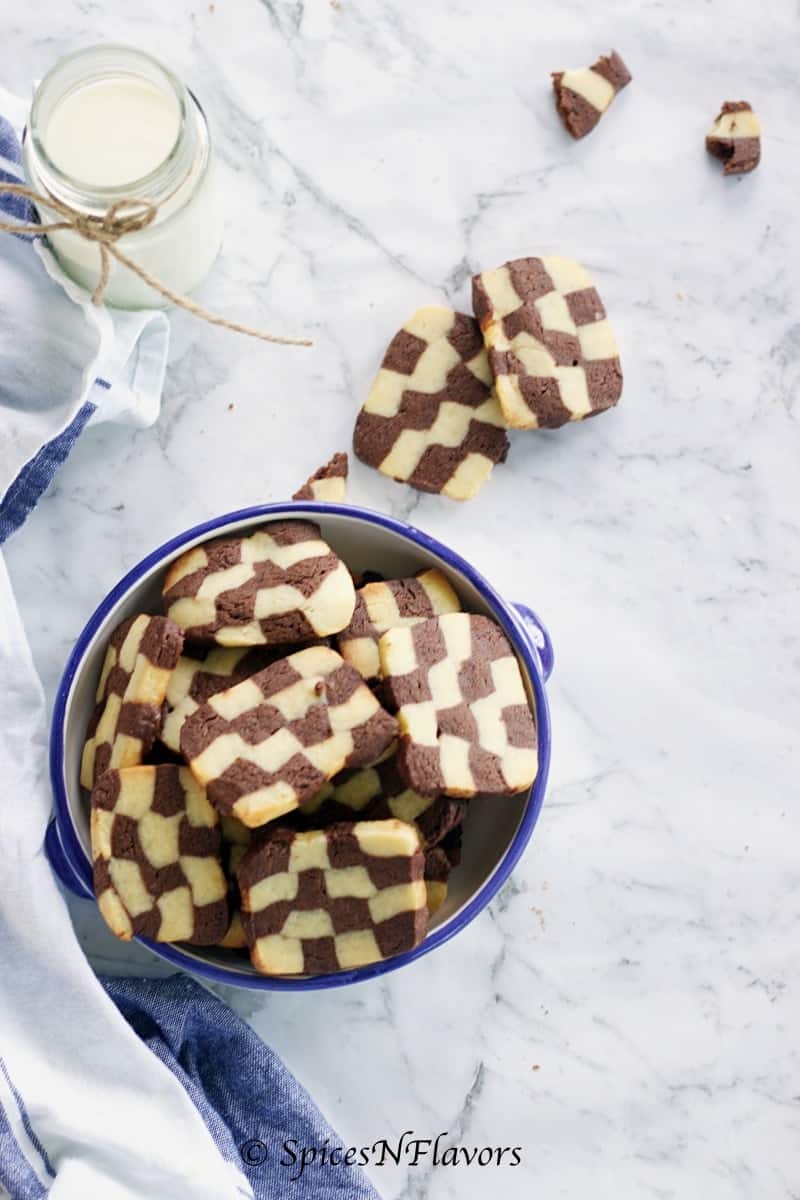 Eggless Checkerboard Cookies is a crisp yet soft biscuits with soft crumbs with distinctive flavours coming from vanilla and chocolate. Make sure to use a good quality vanilla extract and cocoa powder.
Why an Eggless Checkerboard Cookies?
Well thats because when I had posted my Chocolate Muffins recipe I had a lot of request for eggless bakes. So I thought let me try making one.
So basically these Eggless Checkerboard Cookies uses curd as an substitute for eggs. However if you want you can just use eggs instead; its exactly the same quantity.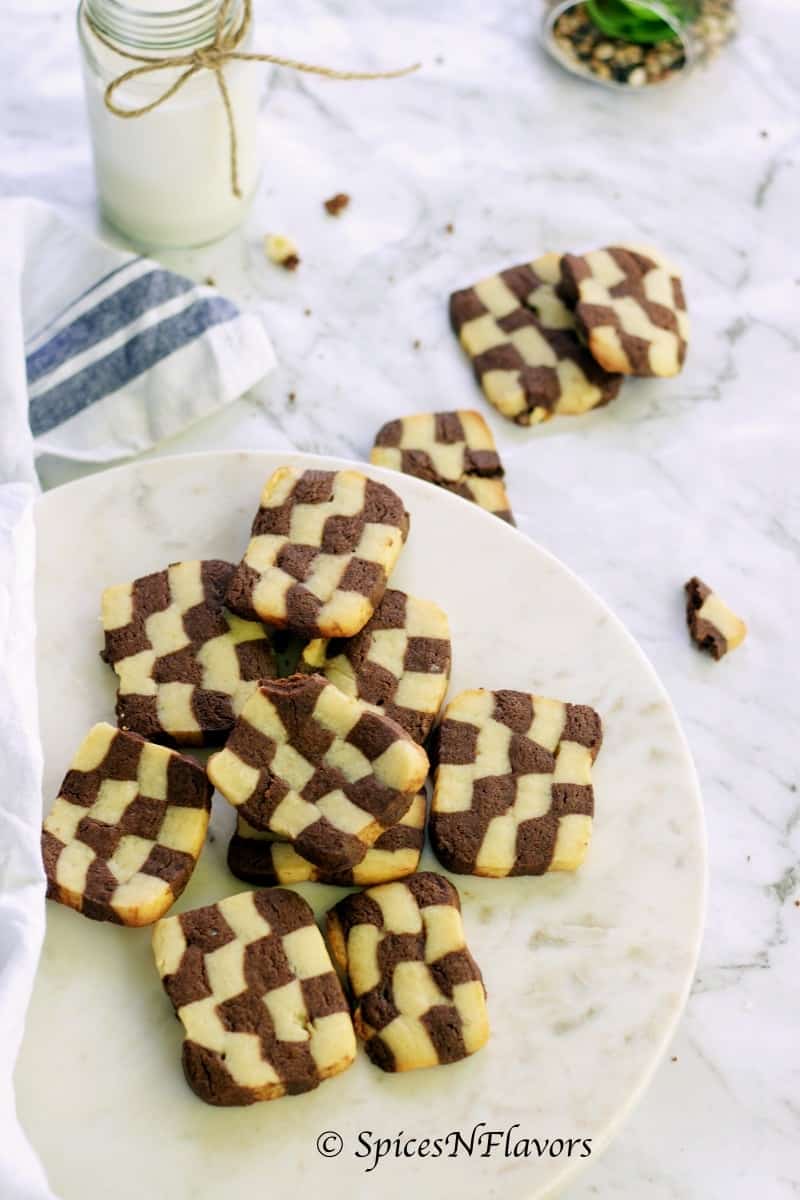 Before we start with anything else I would like to share few tips or notes with you all..
Now if you like baking and are serious about it then I would highly recommend you to invest in a scale. Because weighing in grams is the most accurate form of weighing.
Say for eg: If I mention 1 cup butter chopped then someone might chop it finely whereas someone would take big chunks so the measurement won't be accurate and you get a little bit different end product.
My other tips include..
Tip 1: Is to always use conditioned butter. Would you like to read more about it. Then I have talked about it in detail in my Chocolate Chip Cookies - Baking for Beginners Series. Do check it out.
Add your curd or eggs in stages to avoid curdling of the mixture or to say splitting of the butter.
3: Always sift your cocoa powder to eliminate lumps and to ensure even mixing.
4: Use serrated knife to get even slicing be it cookies or cakes.
5: Bake your biscuits using the Double pan method.
Wondering what is double pan method?
Well basically you place a pan underneath your baking tray and then bake it. This is done to avoid the biscuits getting direct heat from the bottom which results in uneven heating and tends to over-bake the cookies from the bottom.
When I had shared my Rave Cake in Pressure Cooker. I had lots of questions from you guys on my social media sites asking about why have I not use salt? Or are we supposed to add water underneath? Or are we supposed to keep the gasket or whistle on?
So I thought in this post I will clear all those.
I had not used salt in my Rava Cake method. So I thought I will use salt this time to see if that makes any difference.
So I used some Rock Salt at the base.
A. It caused the sides of the cooker to blacken.
B. By the time the cookies were baked some of the salt almost burnt or turn black in colour; which would mean had I left the cookies for some more time it would have got some burnt smell.
Did it retain the heat?
Oh yes it did. I found that the cooker had lots of heat within as compared to the one that didn't had salt underneath.
Will I use it again?
Well I did not see any much of the difference in baking time. I would definitely not use Rock Salt again but will use regular salt in my next baking and will let you know then.
Are we supposed to use Water?
No we are not looking to generate steam inside the cooker. But I will try that method too once and see what difference does that make.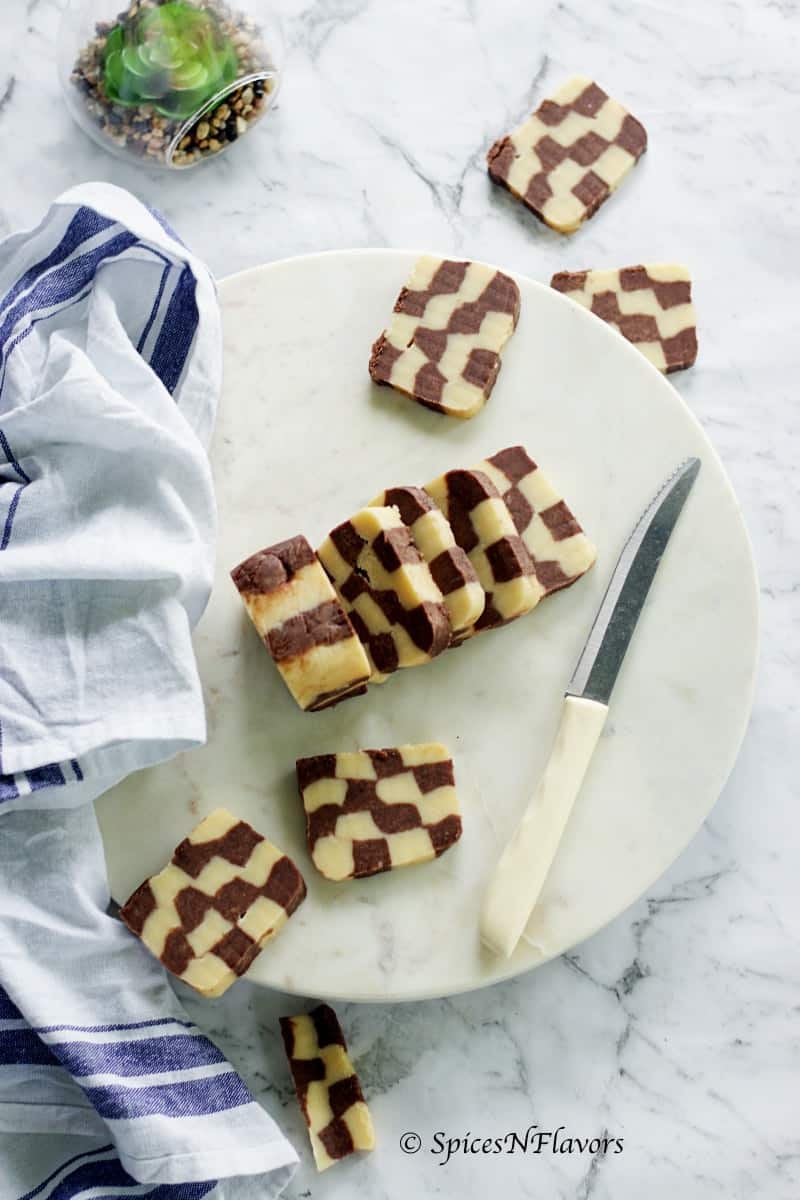 So what did these Eggless Cookies taste like?
Basically these are butter biscuits so had lots of buttery flavour.
The slight bitterness from the cocoa powder and sweetness from vanilla complimented well.
These were crisp yet had soft crumbs.
It was fun and technical to layer the cookie strips.
If you are enjoying my pressure cooker baking series then do let me know by tagging me, tweeting me or instagram me. I would love to follow your posts.
Here is the video recipe..
And the detailed recipe:
Liked this recipe?
Let us know by giving it a star rating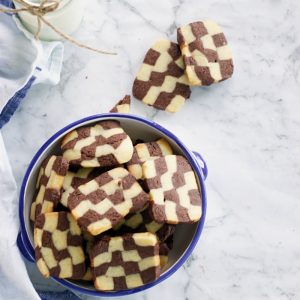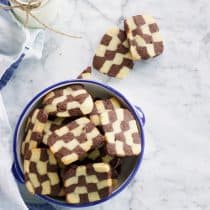 Print
Eggless Checkerboard Cookies in Pressure Cooker
Eggless Checkerboard Cookies is basically a vanilla and chocolate cookie that is layered in a way to form the checkerboard pattern
Ingredients
For the Vanilla Cookie Dough
200

gms

Plain flour

120

gms

Butter

Conditioned

80

gms

Icing Sugar

40

gms

Curd

5

ml

Vanilla Essence
For the Chocolate Cookie Dough
180

gms

Plain Flour

120

gms

Butter

Conditioned

80

gms

Icing Sugar

40

gms

Curd

20

gms

Cocoa powder
Instructions
Using paddle attachment in a stand mixer combine conditioned butter and sugar in machine until blended. If using hand blender use the stir or fold setting. Or you can even mix using a normal spatula.

Add curd in stages and combine everything well.

Add the flour. Combine everything well.

Make a dough and give it a rectangular shape and freeze for 15-20 mins until hard enough to handle.

Roll it into 20x16 cms. And then divide it into 8 strips of 2cms each.

Follow the same procedure for chocolate cookie dough except sift the flour and cocoa powder before adding.


Refer the video for layering technique

Bake in a preheated pressure cooker for 18-22 mins and if in oven then bake in a preheated oven at 180°C for 12-15 mins.
Did you make this recipe? Tag me today!
Tag me @spicesandflavors to get featured on my FB and Insta pages
Notes:
1. Do not cream the butter and sugar, we just need to blend it.
2. Press the layers really well with each other. IF not then you will be left with some gaps in between the cookies.
3. Use double pan method to bake cookies and biscuits.
4. If you have a flame based gas, then you might take around 16-18 mins to bake these cookies. I have an induction based gas and it took me exactly 20 mins to bake them.
Pin it for later..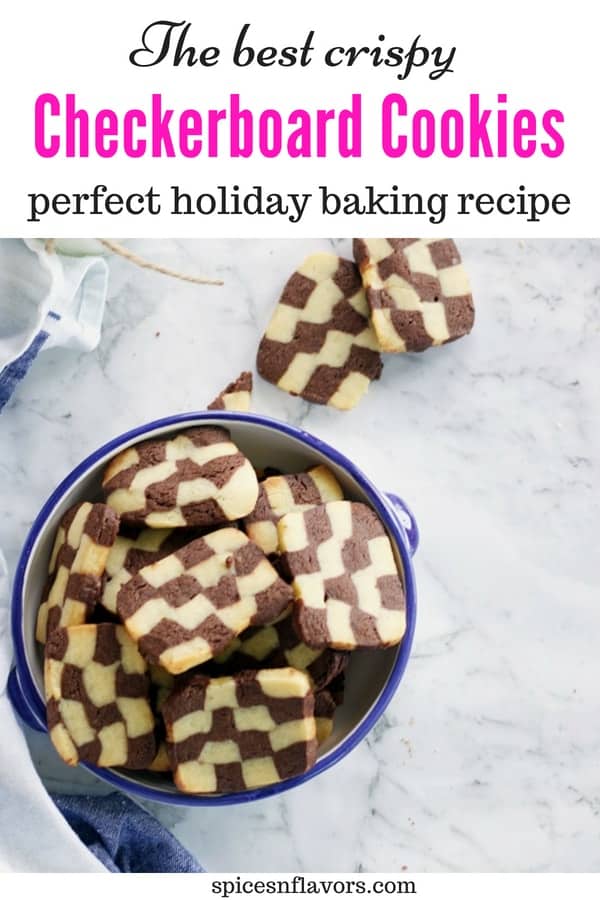 See you soon with another recipe
Hugs
Sushma