Energy Balls or on the go snack are raw and vegan, most of the time made using oats as the base and some add ons to pump up the flavour quotient.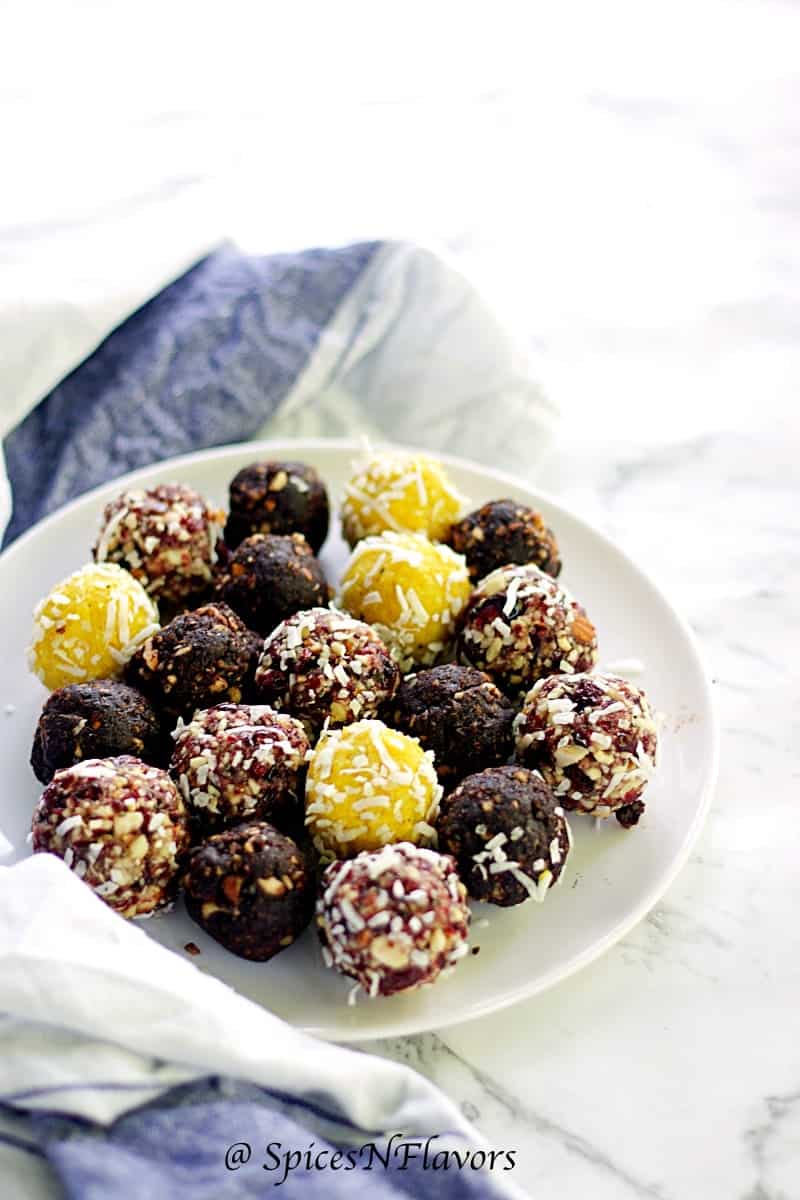 Energy Balls can also be made without using oats as the base. Adding oats make it even more filling though.
Today I have made Energy Balls - 3 Delicious and Healthy Ways.
These are
1. Super easy to make
2. Comes together in a max of 10 mins time
3. Absolutely raw which means no cooking needed.
Ain't it sounding fun?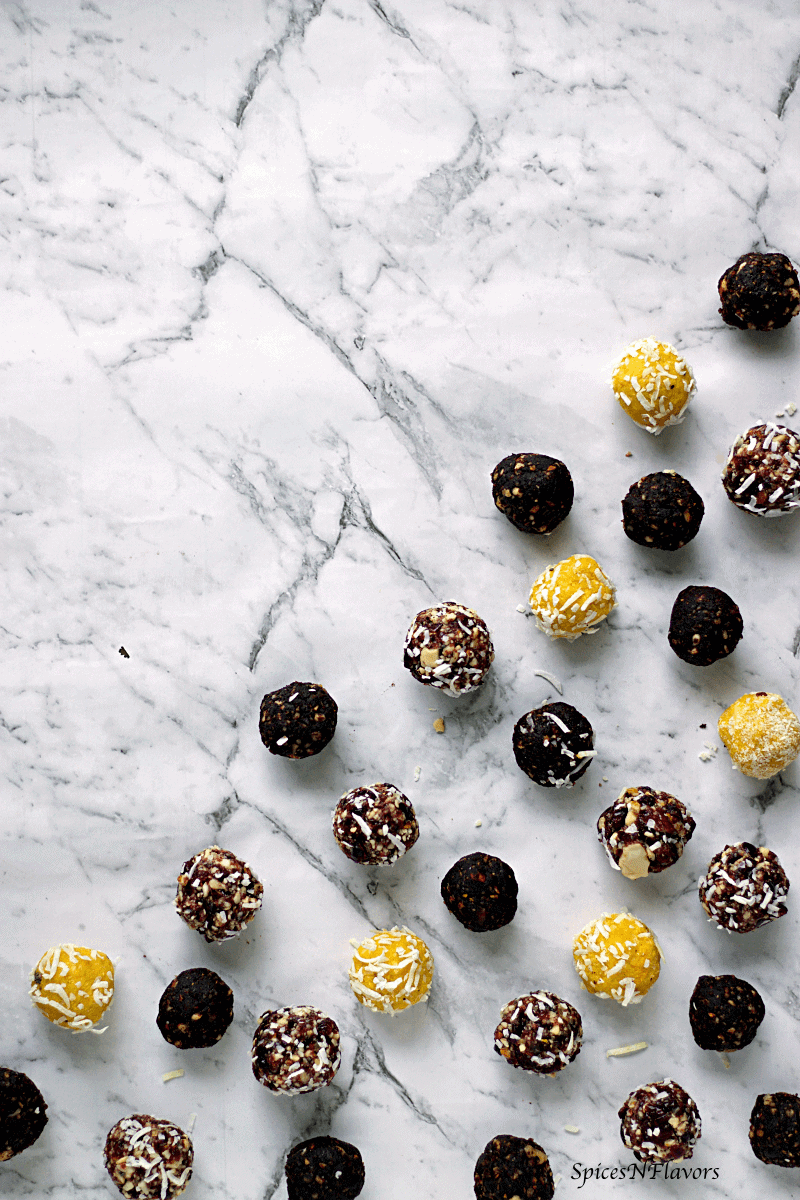 What are the 3 healthy Energy Balls recipe I have in store today?
1. Cranberry Vanilla Energy Balls
2. Lemon Coconut Energy Balls
3. Brownie Batter Energy Balls.
Of the three above Lemon Coconut Balls are my absolute favourite. However my Mom and Hubby liked the Cranberry Ones.
IF you happen to try this then do let me know which one is your favourite?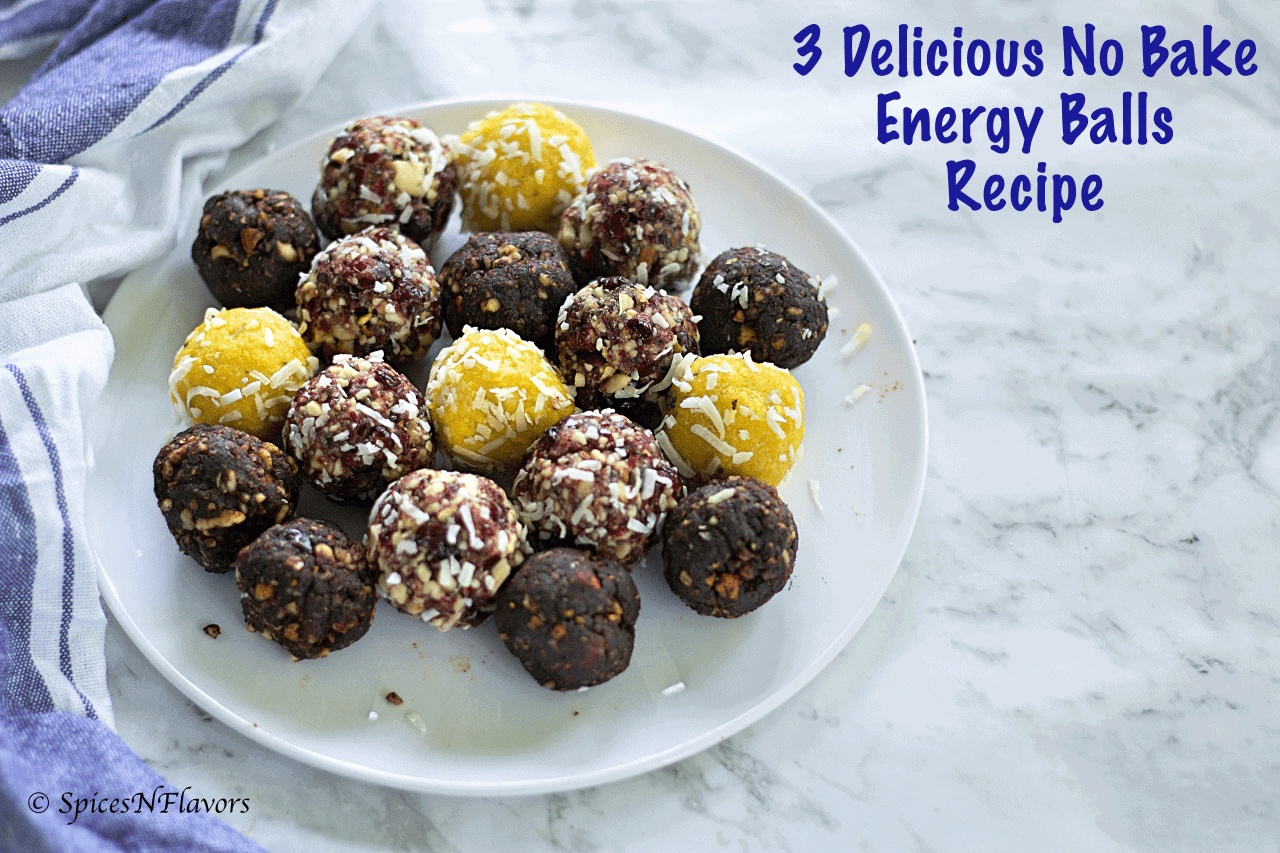 The other day when I was shopping I picked up these Frozen Energy Balls packet which were on sale.. 😛 Typical Indian in me.. 😉
So I enjoyed them so much that I had to recreate it at home.
And yes I know what you are thinking these flavours are absolutely inspired by the store bought ones - Cranberry and Chocolate Energy Balls; but so much better.
Ended up doing Lemon because well A.they were on sale too and B. Because I wanted the title of this post to read 3 Healthy ways.. 😛 Hehe..
But these Lemon Coconut became my absolute favourite amongst the three Energy Balls.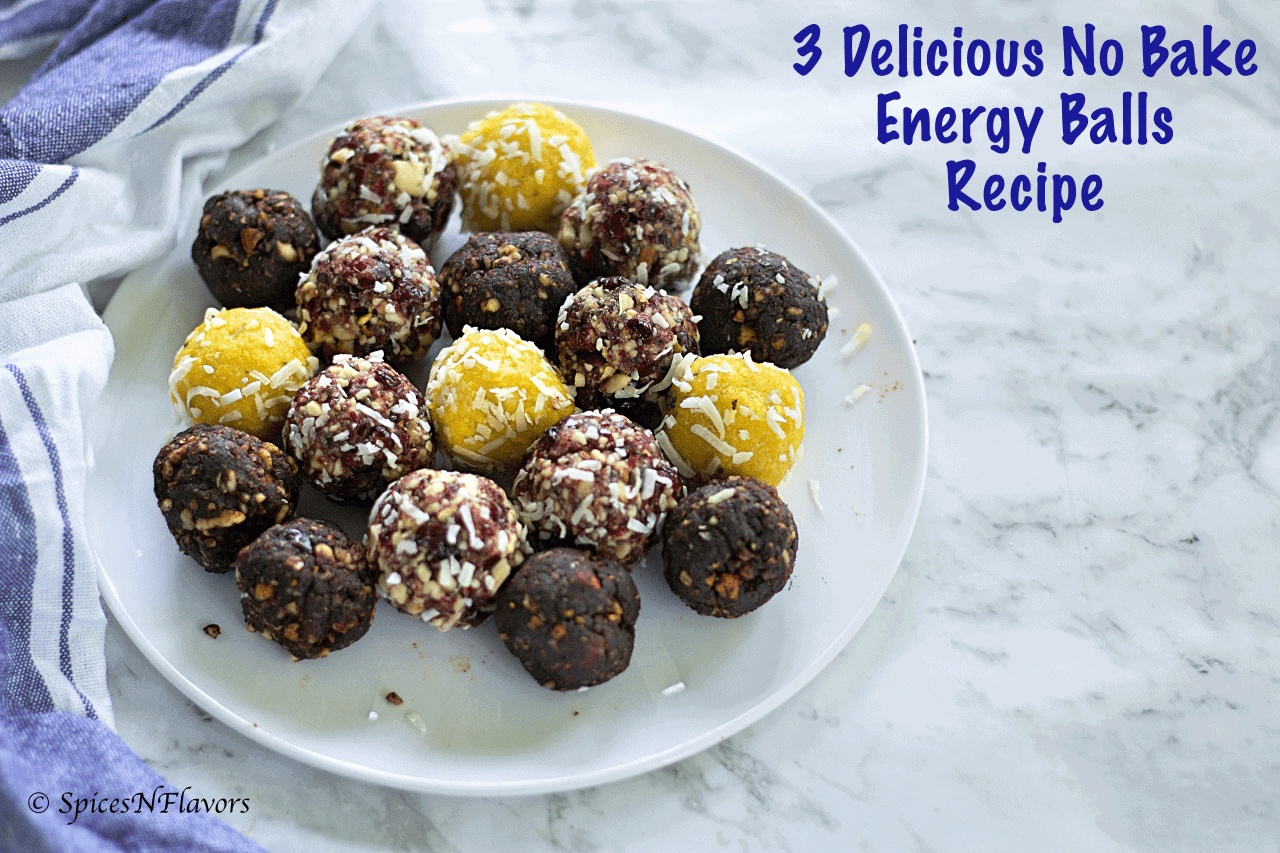 But I must tell you these home-made Energy Balls are so much better than the store bought ones.
The one big advantage is that you can change the flavour combination as per your preference. Combine nuts of your choice as the base and take a gluing agent like dates or honey and add add ons like dried berries, apricots, candied fruits, ginger or even citrus fruits like lemon just the way I did.
I wish I had made these at the time when I was pregnant. I absolutely hate dates but when I add it to the balls I can not really make out. So if there is any nuts that you absolutely hate try having it through this method I am sure you will love it.
Also I found that the store bought ones used apple juice and sweetner thereby adding extra calories which I could happily skip when I made it at home.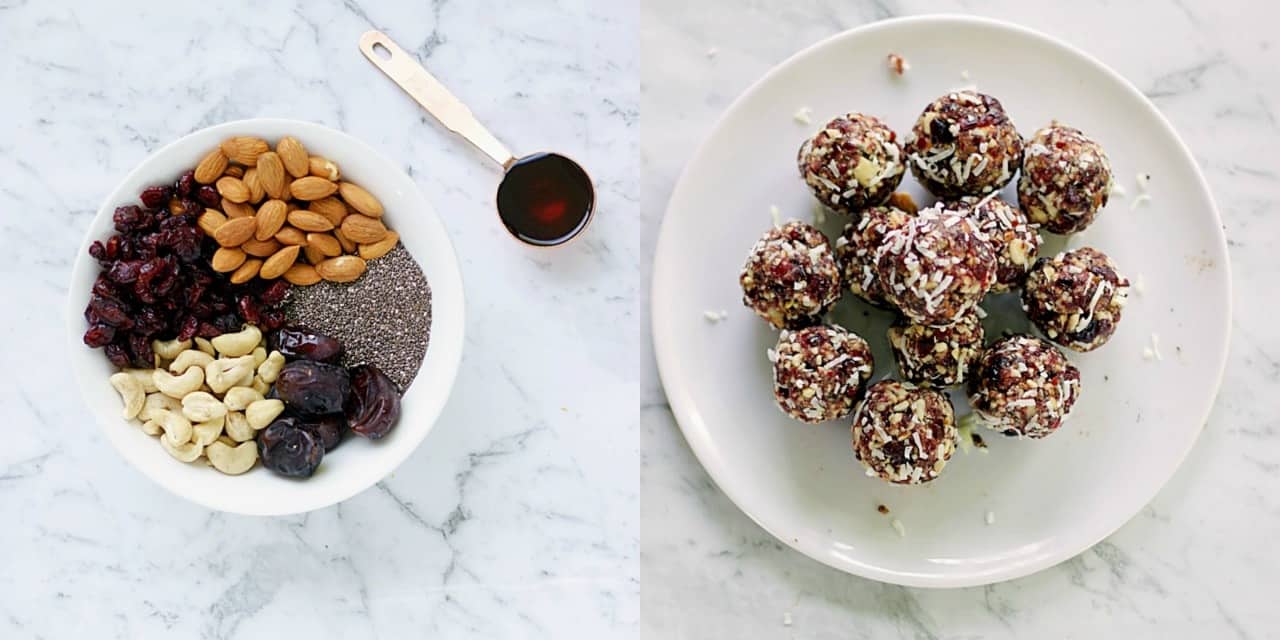 So the first combination is this Cranberry Energy Balls.
Simply combine nuts of your choice - almonds and cashews is what I used. Add in dried cranberries as your flavour. Pump up the nutritional value by adding chia seeds or flax seeds and vanilla to add onto the flavour. Using dates as the gluing agent just pulse these in a blender.
Make small roundels and thats it your Cranberry Energy Balls is ready.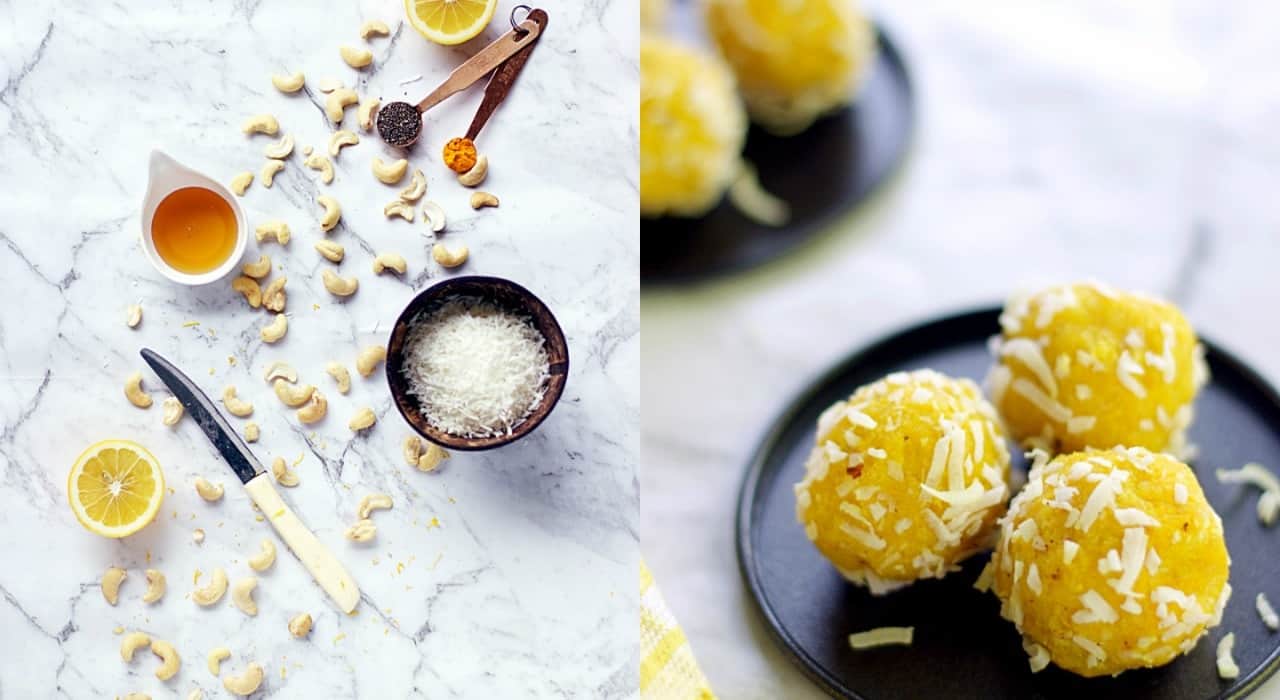 For the Lemon Coconut Energy Balls as the name suggests I have used Lemon juice, zest and coconut as the flavouring agent, cashews as the base, turmeric to get that vibrant yellow colour as wanted it to look like a lemon.
And used honey here just because if I had used dates it would have got the brown colour and wouldn't have stood out with this beautiful lemon yellow colour.
You can ofcourse use dates if you wish instead of honey. And then the usual grill pulse it and make small roundels.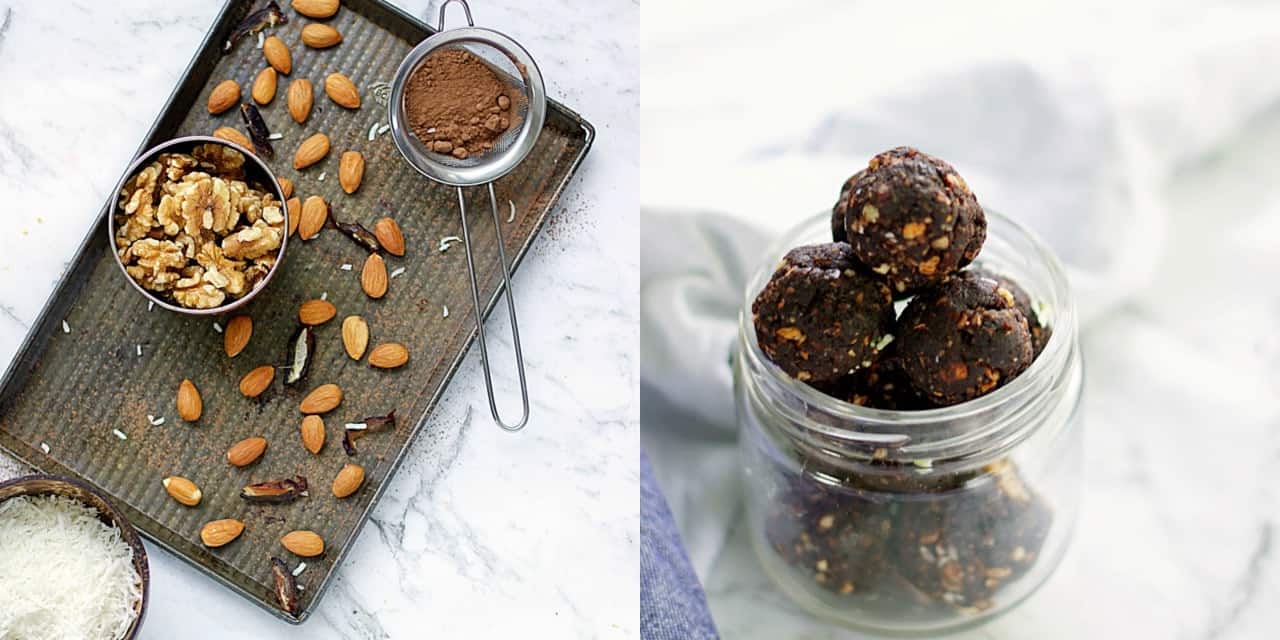 Last one is this yummy Brownie inspired Energy Balls. Calling it Brownie because used walnuts and almonds as the base and cocoa powder for the flavour. Basically all the ingredients that go into making a delicious brownie.
Just like my Black Forest Cake Smoothie which was inspired by Black Forest Cake. This Brownie Energy Balls is inspired by ofcourse Brownie.
Hope you checked my Youtube Channel and liked it too.
And if you like this recipe then do tag me, tweet me or instagram me. I would love to see your creations too.
Here is the video recipe
Liked this recipe?
Let us know by giving it a star rating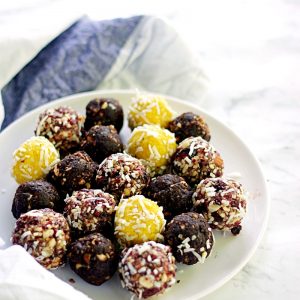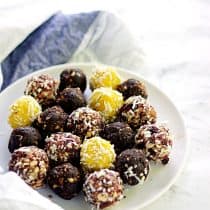 Print
Energy Balls - 3 Healthy Ways
Healthy Energy Balls in three different flavours perfect for your kids school lunch box, after school snack, post workout snack in short a healthy munching option
Servings
33
balls in total
Ingredients
For the Cranberry Energy Balls
1/2

cup

Cashews

1/2

cup

Almonds

3/4

cup

Cranberries

6-7

nos

Dates

roughly chopped

1

tbsp

Vanilla extract

2

tsp

Chia seeds
For the Lemon Coconut Energy Balls
3/4

cups

Cashewnuts

1/2

cup

Desiccated coconut

Juice and Zest of 1 whole lemon

3

tbsp

Honey

1/4

tsp

Turmeric powder

(heaped teaspoon)
For the Brownie Energy Balls
1/2

Cup

Walnuts

1/2

cup

Almonds

1/3

cup

cocoa powder

8-9

nos

Dates

roughly chopped
Coconut flakes for rolling the balls (optional)
Instructions
For the Cranberry Energy Balls
Coarsely grind the cashews and almonds in a blender. Then add in rest of the ingredients. Pulse until combined.

Use a tbsp as a measurement and make small roundels or ladoos. Roll it in coconut flakes if desired.
For the Lemon Coconut Energy Balls
Pulse together everything mentioned under the lemon balls ingredient list until combined.

Using a tsp as your measurement make small roundels. Roll it in coconut flakes if desired
For the Brownie Energy Balls
Pulse together walnuts and almonds coarsely.

Add rest of the ingredients and pulse until combined.

Using tsp as a measurement make small roundels out of it.
Did you make this recipe? Tag me today!
Tag me @spicesandflavors to get featured on my FB and Insta pages
Notes:
1. I found that the cocoa powder in the brownie balls had an overpowering flavour due to which it tasted a little bitter to me. You can increase the dates to balance the taste out. But trust me on this these balls tastes really good the next day rather than the same day. I enjoyed having it 2 3 days later.
2. Store them in an air tight container for 2 weeks.
Pin this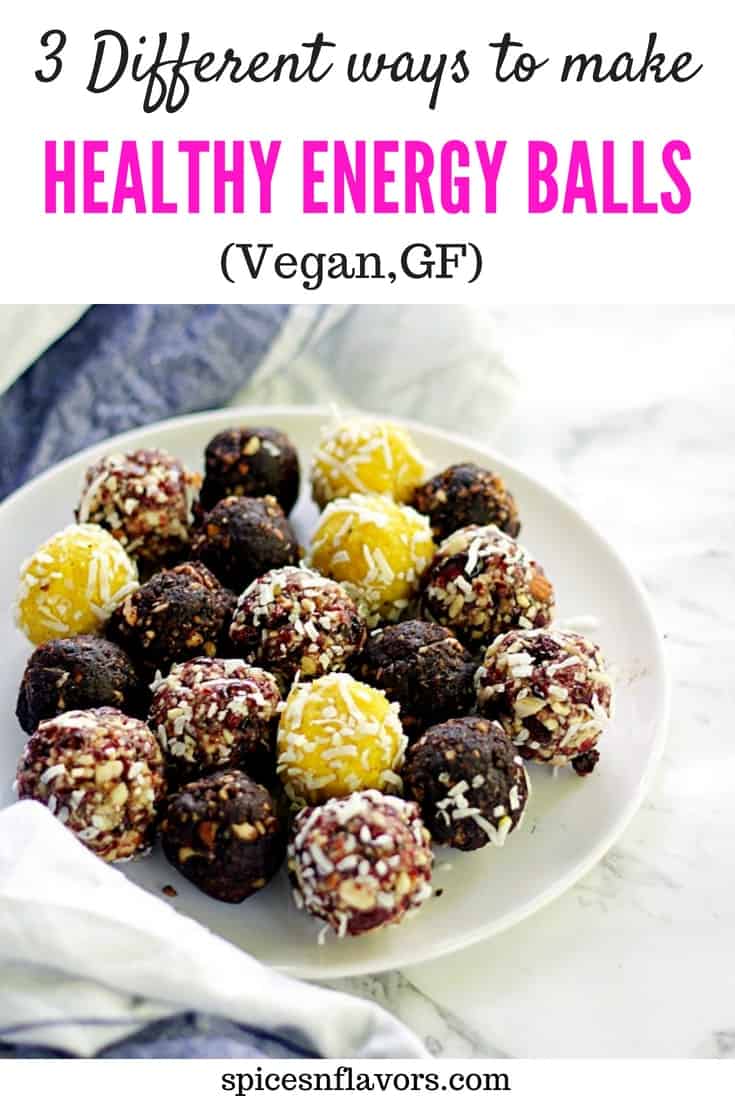 See you soon
Until then
Hugs
Sushma