Thai Rolled Ice-Cream is one of those latest food item that has taken the internet by storm..
Thai Rolled Ice-Cream is basically a different form of serving the regular ice-creams. As the name suggests this is originally from Thailand. But off-late this Thai Rolled Ice-Cream has gained so much popularity that you could find these as a street food in many countries.
Thai Rolled Ice-Cream - Was it difficult?
When I first saw this on Gemma's Bigger Bolder Baking I knew I had to try this at home.
I had baking pans and also the spatulas required for the same at home from my baking kit. However if I didn't had this spatula I would have definitely tried this with the dosa ladle.
So I had the equipments and also the ingredients so what was I waiting for. I tried it..
It was just tricky to roll these up; as I was not confident being my first attempt. Was afraid that it would break so was rolling gently. Had I rolled it quick I am sure I would have got that street style look.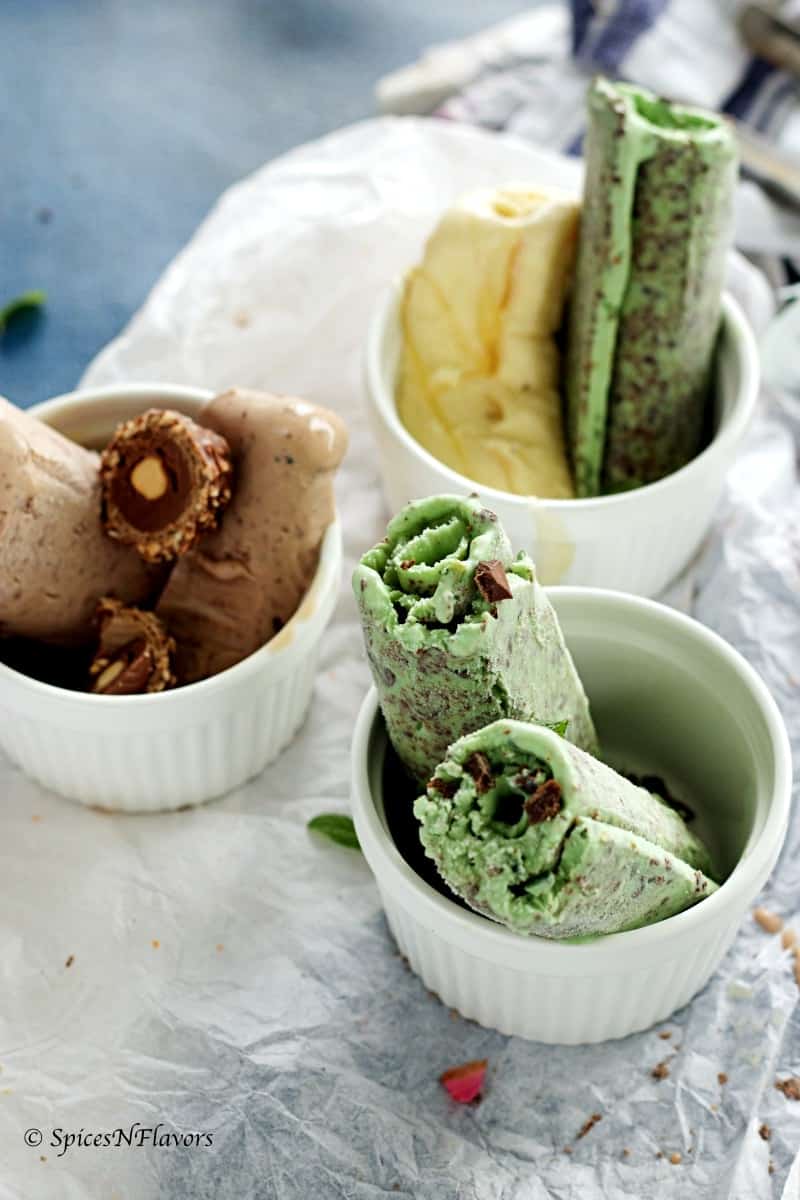 So I tried 3 flavours here
1. Nutella Rolled Ice-Cream - as I had some nutella left out from my 3 ingredients Eggless Nutella Cookies
2. Mint choco-chips Rolled Ice- cream and
3. Salted honey.
I absolutely loved all the three flavours however mint has to be my favourite.
I have tried many ice cream flavours namely Easy Mango Ice-cream in Chocolate cups, Instant Ice-Cream, Basil Ice-cream and Masala Chai Ice-cream but this Thai Rolled Ice-Cream has to be my favourite just because of the technique involved.
You should definitely try it out; I am pretty sure you will love it and if you are confident enough unlike me then roll it quick to get that look.
If you like this recipe then do tag me, tweet me or instagram me I would love to follow you and your posts.
Do check my video recipe for clear understanding - Thai Rolled Ice-Cream at home
Liked this recipe?
Let us know by giving it a star rating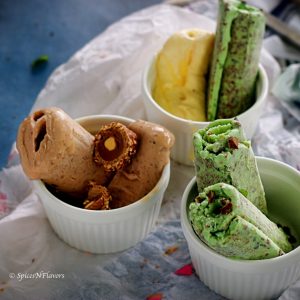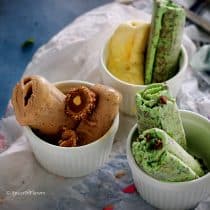 Print
Thai Rolled Ice-Cream at home using 2 ingredients
Thai Rolled Ice-Cream is made using 2 base ingredients and is a regular ice-cream that has been served differently.
Ingredients
Base Ingredient
1

cup

Cream

1/2

cup

Condensed Milk
Nutella Rolled Ice-Cream
1

tbsp

nutella

1

no

ferrero rocher chocolate
Mint Choco-chips Rolled Ice-Cream
2

tbsp

chopped mint leaves

4

slices

of chocolate
Salted Honey Rolled Ice-Cream
Instructions
Take a clean and big baking tray (mine was 9x13 inches) add in the cream and condensed milk.
For Nutella Ice-Cream
Add nutella and ferrero rocher to base ingredients. With the spatula smash and mix everything until smooth. Spread it evenly on tray and freeze overnight.
For Mint Choco-chips
Add mint leaves and chopped chocolate piece to base ingredient, smash it with the spatula, spread evenly on baking tray. Freeze overnight.
For Salted Honey Ice-Cream
Combine honey and salt to base ingredients. Smash it with spatula; spread evenly and freeze overnight.
Next day, with the same spatula roll the ice-cream from one end of the tray to other. For easy reference check my video recipe.
Did you make this recipe? Tag me today!
Tag me @spicesandflavors to get featured on my FB and Insta pages
Equipments and ingredients used:
1. Baking Tray
2. Spatula
3. Nutella
Notes:
1. Check my video recipe here - Thai Rolled Ice-Cream.
2. The bigger the tray, the thinner the ice-cream spread will be, the easier it will be to roll the ice-cream.
3. Roll quickly to get a street side look.
4. Everything has to be cold. The ice-cream will melt quickly so you have to quick while rolling.
5. Any type of flavour combinations can be used like a combination of berry fruits, or like a combination of tropical flavours or even may be just use sprinkles on top of the base ingredient and you are done.
6. Alternatively if you do not have spatula just put everything in the blender grind coarsely add to the pan and set it. Roll later
If you happen to like my attempt of making these street style Rolled Ice-Cream then do like my post on FB. Also comment and let me know if you would like me to make more of these rolled ice-cream in the future.
By the way which flavour did you like the most?
Pin it for later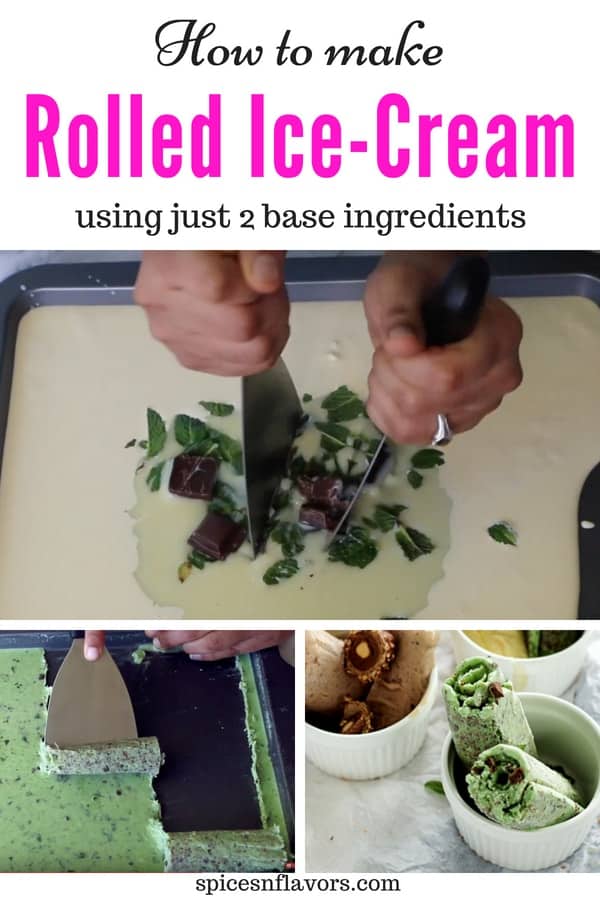 Disclosure:
This post contains affiliate links if you choose to purchase from this link; I will get a commission with no additional charges incurred to you
I will see you soon in my next one
Until then
Hugs
Sushma