Cardamom Pistachio Whole Wheat Biscuits is a crispy and crunchy biscuit variety with a good snap and crumbly texture. The combination of Cardamom and Pistachios makes it so flavourful that one would definitely not stopping eating just one..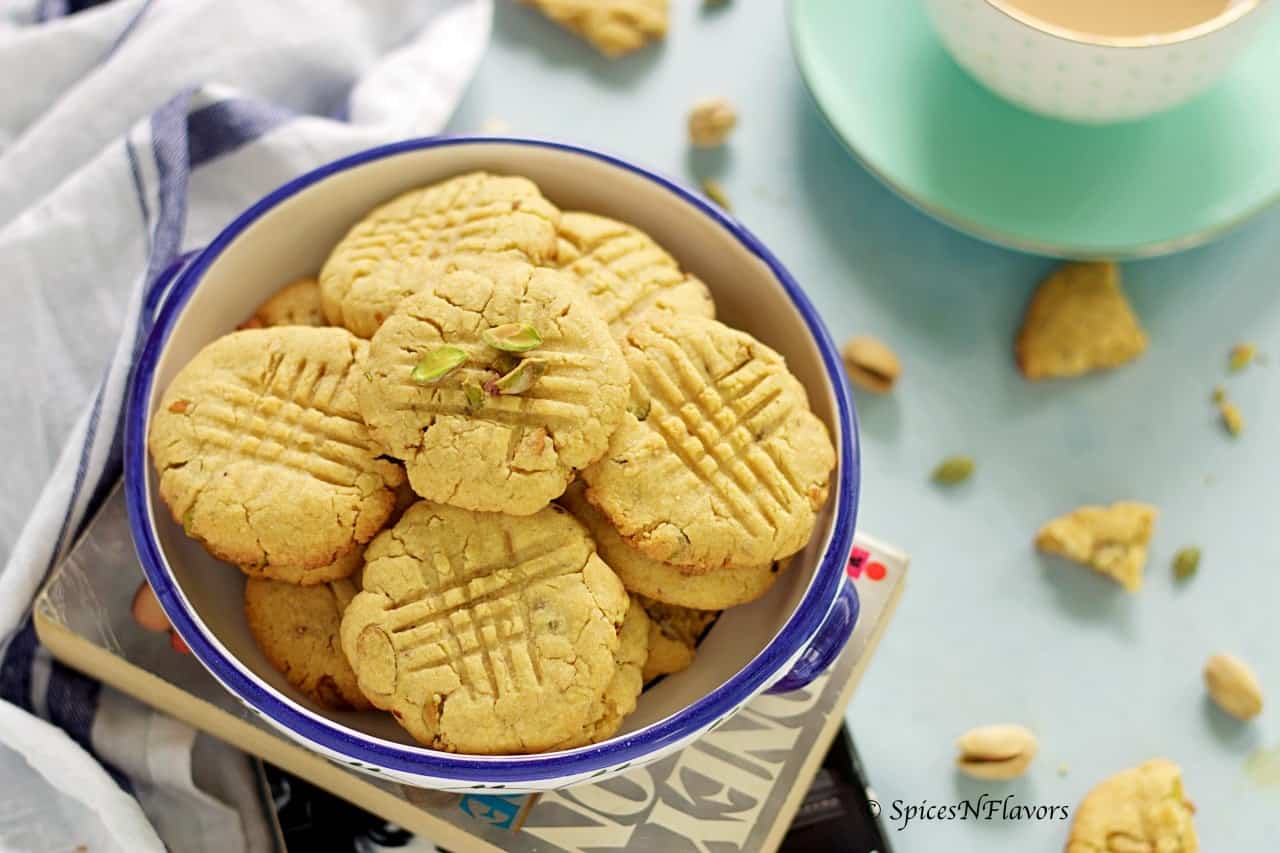 Cardamom Pistachio Whole Wheat Biscuits is one such biscuit recipe that has the right balance of flavors. This is perfect with my cup of TEA..
Pack this onto your kid's lunch box or give them as a after school snack; either way I am sure even they will also enjoy it.
As the name suggests these Cardamom Pistachio Whole Wheat Biscuits are made from Whole Wheat flour or what we Indians commonly call as Atta; it is good for their little tummy as these can be digested easily. I have also added some Besan or Chickpea Flour to it which gives it a beautiful yellow colour a different flavour.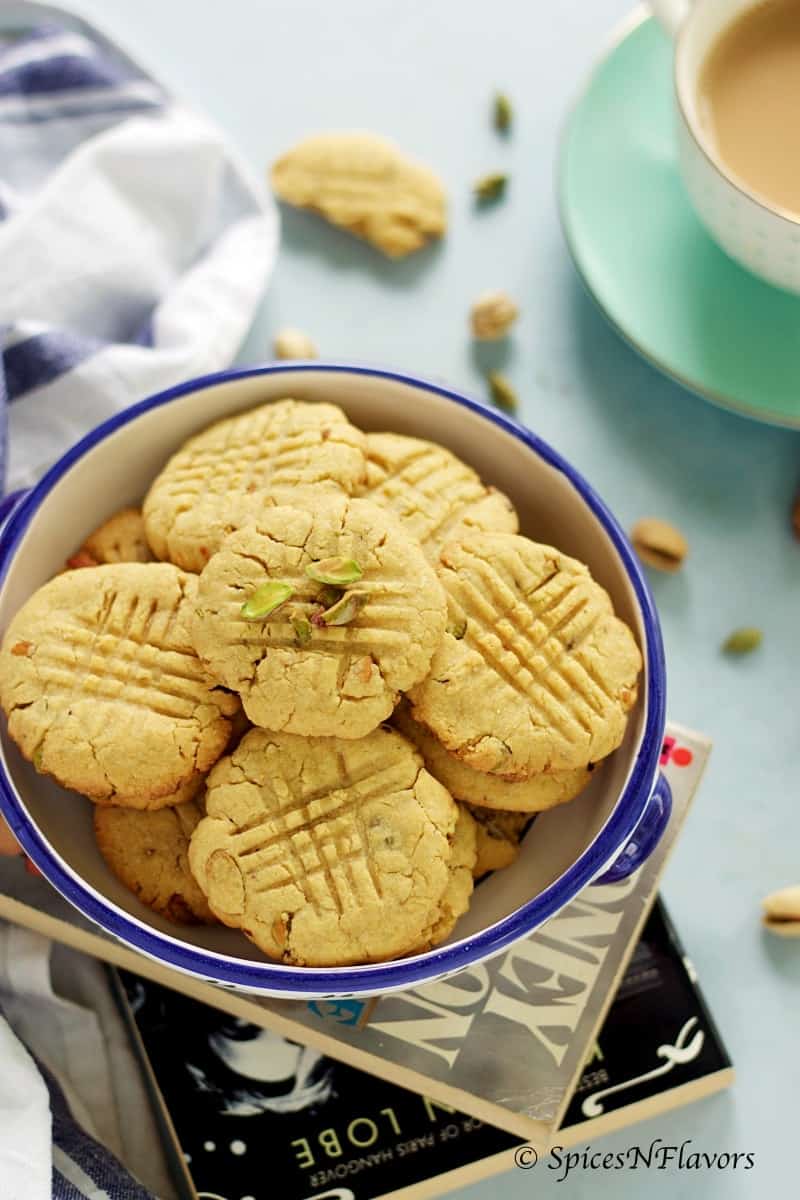 The Cardamom and Whole Wheat Biscuit recipe involves very basic steps like
1. Creaming the butter and flour
2. Adding the dry ingredients
3. Topping with add-ons
4. Shape and bake. So simple right.
For creaming the butter and sugar I have used a hand beater today. This hand beater makes our life so much easier. Since this recipe calls for very less amount of butter and sugar you could also cream it using the manual whisk just that it would take a little longer as compared to the hand beater.
Neverthless you can also use your hands to cream it.
Now that I am so much into baking; I am used to handling ovens but still get hurt so often that using oven mittens is a mandatory for me. I highly recommend this to anyone who is taking up baking to please use this. Such a life saver it is!!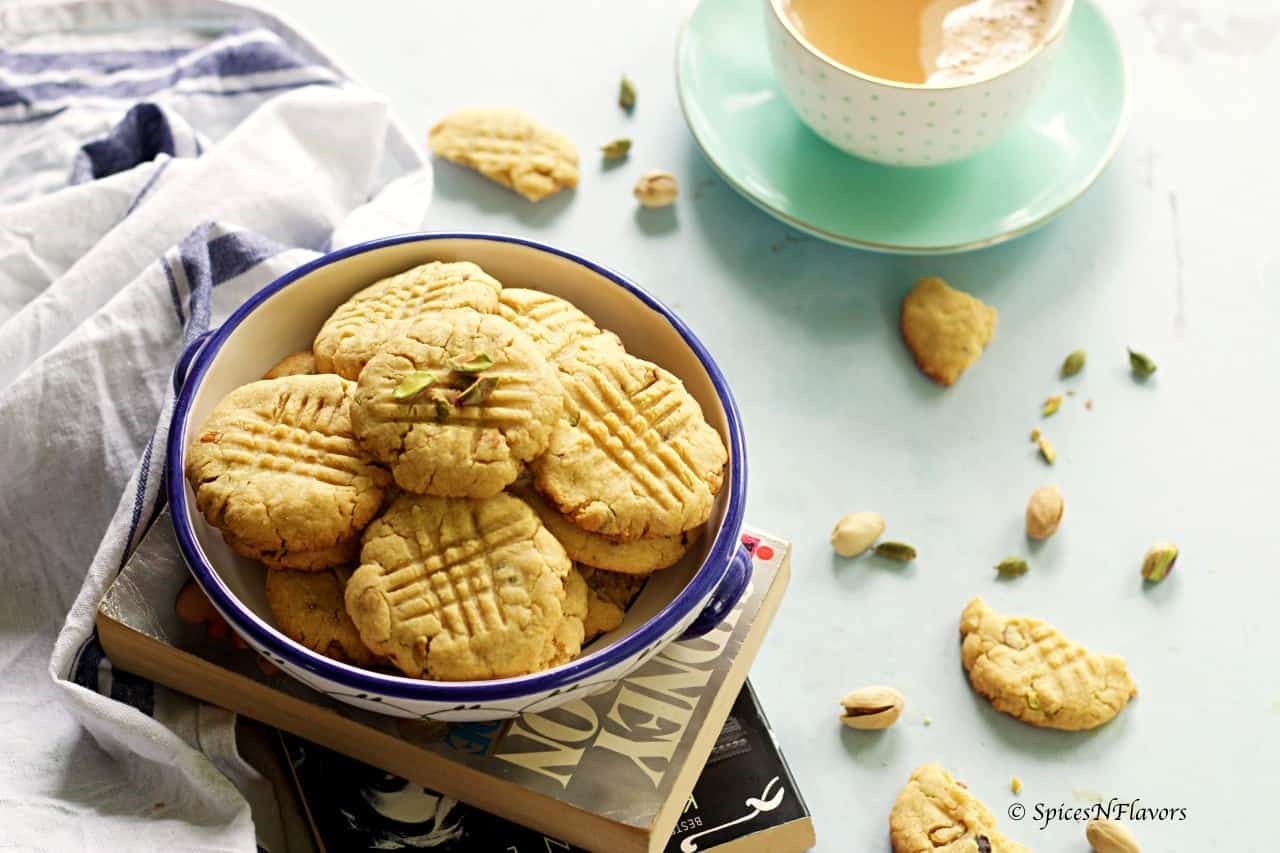 These days I have been enjoying baking in my Pressure Cooker and my cooker has never failed me. Has it?
Well no; the first time I tried this Cardamom and Pistachio Whole Wheat Cookies in a cooker, I failed. And also I burnt my biscuits in the oven too. But still the slightly edible biscuits in that lot were so yummy that I had to try this one more time.
So what changes did I do?
I made sure that the salt is covering the base of the cooker well; I have a stand inside. And the cooker is pre-heated well. And instead of using my idli stand like I used in my previous bakes like this 3 ingredient Eggless Nutella Cookies or even Eggless Checkerboard Cookies I used a regular steel pan in which we or to say I cook my rice in.
So I took this steel pan and made sure that I have greased it well with butter so that my cookies are lying flat.
Also for baking in the oven I made sure that my cookie pan is lined with parchment paper and I am double baking it. What do I mean by double baking? Check out my Chocolate Chip Cookies for detailed explaination.
And had a close watch on my timer was checking it regularly so that nothing goes wrong.
And voila I did it!!!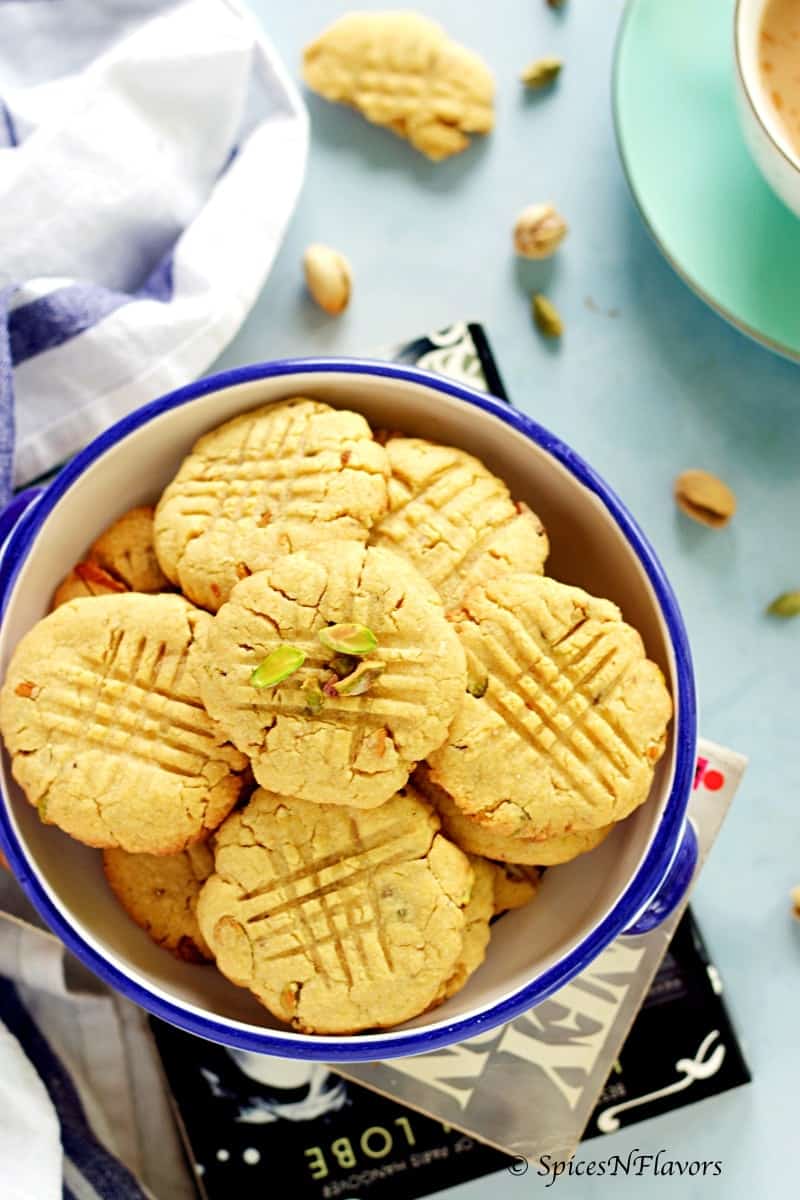 So how did these Cardamom and Pistachios Whole Wheat Biscuits taste?
I must say Cardamom is the hero of these biscuits. Apart from giving it a beautiful aroma this is what takes it to a whole new level.
The subtle saltiness coming from Pistachios cuts down the sweetness of the biscuits and hence we or atleast I can gobble up atleast 3 4 at a time.. 😉
Use of nuts adds in a good texture to the plain biscuits.
The chickpea flour adds a nice colour and flavour here.
Creaming the butter and sugar until light and fluffy makes these biscuits soft. As there are no raising agents in this recipe the creaming process is what makes it soft so make sure you cream the butter really well. I highly recommend you to use a hand beater or whisk here.
If you do try this recipe then do tag me, tweet me or instagram me; I would love to follow you and your posts.
Here is the detailed video recipe - Cardamom and Pistachio Whole Wheat Biscuits in Pressure Cooker
Liked this recipe?
Let us know by giving it a star rating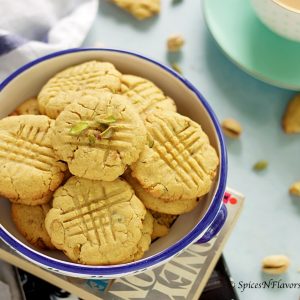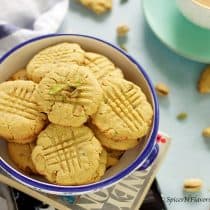 Print
Cardamom and Whole Wheat Biscuits in Pressure Cooker and Oven Method
Cardamom and Whole Wheat Biscuits is a crunchy and crumbly biscuits with flavours coming from Cardamom and the subtle saltiness from pistachio cutting down the sweetness making it a delectable biscuit recipe
Ingredients
1

cup

(125 gms) Whole Wheat flour or aata

1/2

cup

(75 gms) Chickpea flour or besan

pinch of salt

1/4

cup

sliced pistachios and almonds

1/2

tsp

Cardamom powder

1/2

cup

(80 gms) Butter

1/2

cup

(100 gms) Powdered sugar

2-3

tbsp

Milk
Instructions
In a mixing bowl cream together butter and sugar until the butter turns light in colour and becomes fluffy.

Add in the dry ingredients - aata, besan and salt and mix until crumbly. (Refer my video for the right stage)

Next comes the add ons - pista, almonds and cardamom powder. Combine well.

Add in 1 tbsp of milk at a time and bring everything together as a dough. Do not knead. Use 2 tbsp of milk only maximum 3 tbsp do not use more than that or else the consistency of the dough won't be tight.

Once the dough is formed, pinch out a small amount roll it to give a ladoo shape; then flatten between your palms and place on the tray. With the back of your fork give it a pattern (Refer video). Then bake in the preheated oven of 180 degree celsius for 9-14 mins or in the preheated cooker for 10-14 mins.
Did you make this recipe? Tag me today!
Tag me @spicesandflavors to get featured on my FB and Insta pages
Notes:
1. Refer my video recipe by clicking here - Cardamom and Pistachio Whole Wheat Biscuits
2. Cream your butter and sugar well as that is what makes this a soft biscuit. I highly recommend to use a hand beater as it makes this so much easy. You can however use manual whisk too.
3. You can also use ghee instead of butter here.
4. Any other flavours of your choice can be added like Tutti Frutti if you wish but do add something or else the biscuits will taste plain.
5. The biscuits straight from the oven will be soft. It will crisp up as it cools.
6. You can store this in a air tight container for upto two weeks but honestly I have never stored it that long; maximum 4-5 days as we are making it in less quantity.
Pin it for later:

Disclosure: This post contains affliate links which means if you choose to purchase from the above links I will earn a commission with no additional charges incurred to you.
I will see you in my next one
Until then
Hugs
Sushma