Eggless Vanilla Cake is a very basic cake recipe that you can use to build many other cakes for birthdays or parties or use it as a base to change the flavour and come up with an altogether new recipe.
This recipe of Eggless Vanilla Cake is definitely a keeper's recipe.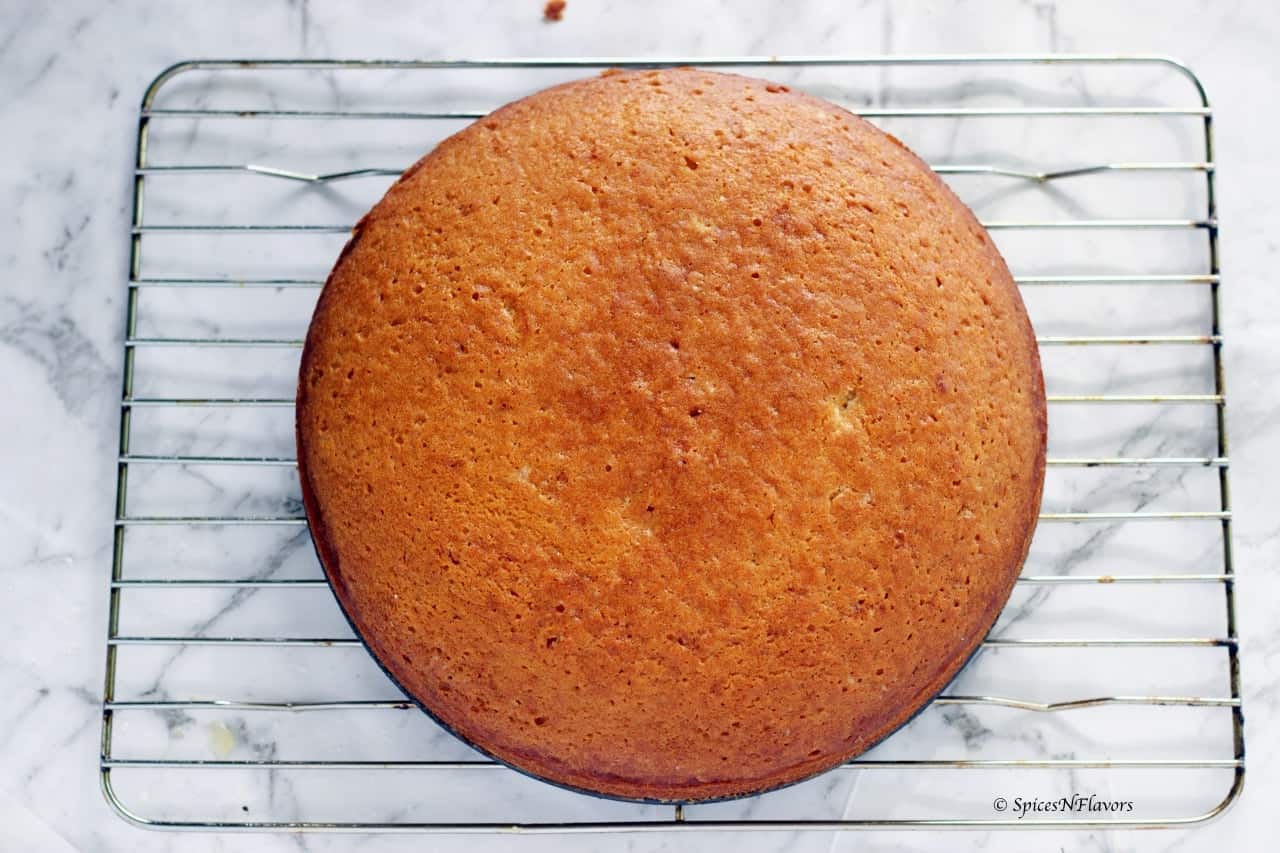 Do you have a basic cake written down in your recipe diary?
If not then you should definitely have a collection of certain basic recipes in your diary. For eg:
1. This Eggless Vanilla Cake
2. Eggless Chocolate Cake - One bowl, no butter milk or condensed milk
3. Basic Pound Cake
4. Basic Cookies recipe
5. Basic Cupcake recipe
6. Some Muffin recipe
If you are new to baking then I would highly recommend you to watch my Beginners Baking Series that has both the Pressure cooker and Oven method of baking.
So that you can use these as the base and then start baking with flavours that you like or your family prefer.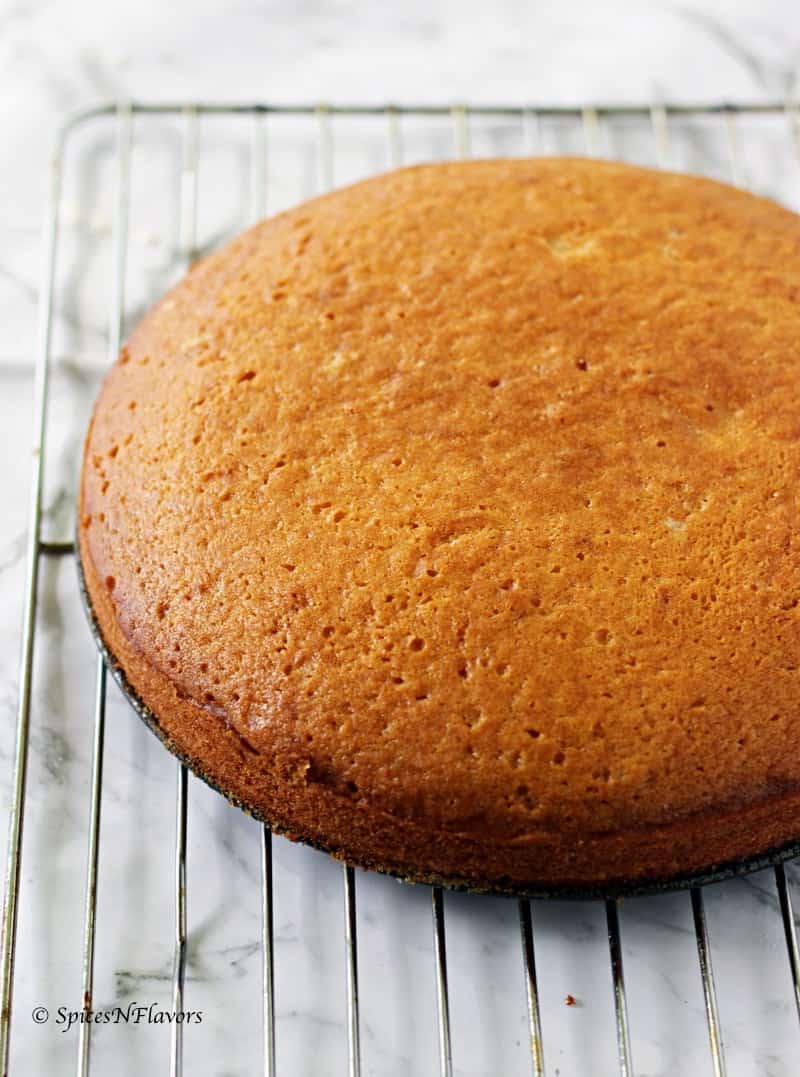 Today's Eggless Vanilla Cake recipe is so simple that you can make it all in one bowl. Just grab your mixing bowl; add the dry and wet ingredients, mix, transfer to a baking dish and bake. Can it be more simpler?
OR best you can mix everything directly in the baking pan itself.
Just like how I am doing. So what I did is I took an 8 inch baking pan; that I have greased with butter and lined with parchment paper.
So to this baking pan; I added my dry ingredients - Flour, Salt and Baking soda
To that I then added sugar and my wet ingredients - Water, Oil, Lemon juice and vanilla extract.
Then just mixed it all well and baked in my preheated oven.
If you are not confident of mixing everything in the baking pan itself you can always mix it in the bowl and then transfer.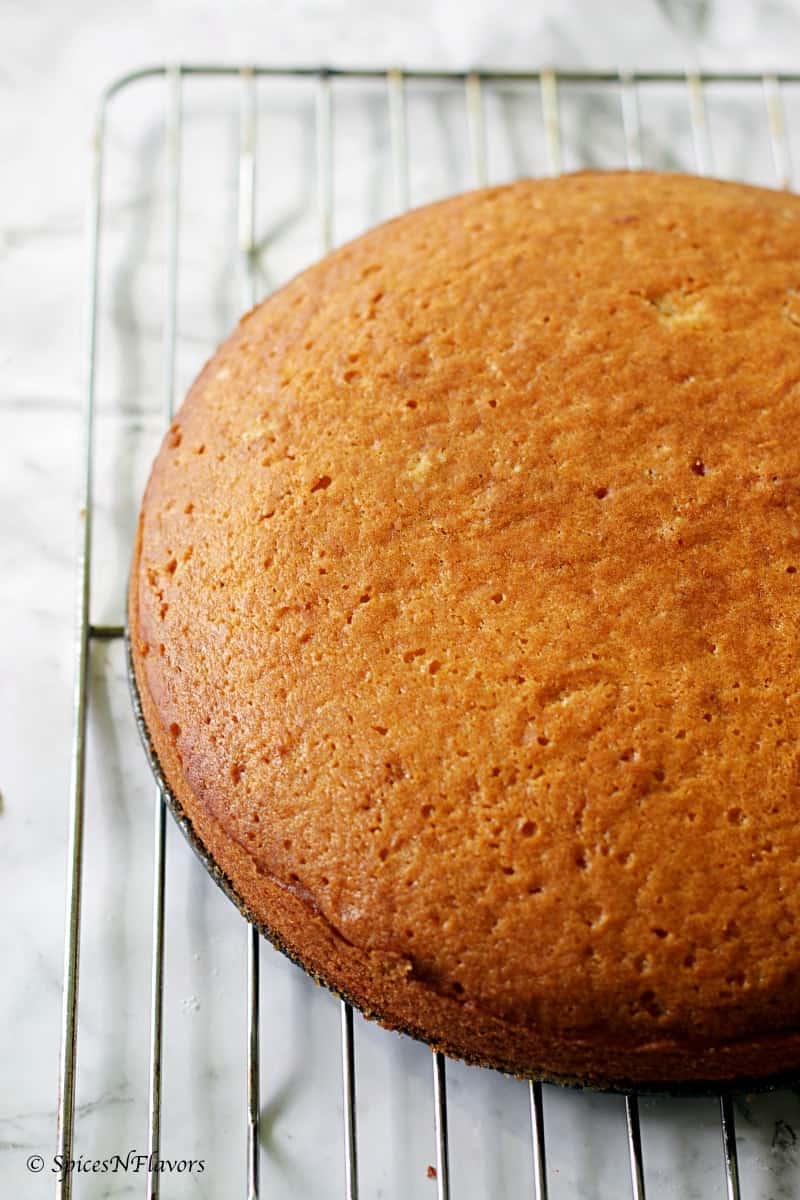 So you might be wondering why haven't I shown an image of cut slice?
Well because I have baked this for a special occasion I will not be slicing it now; but after three days when I will frost it and cut. Till then stay tuned with me.. 😀
So now that I have not sliced it wondering how does it taste like?
This recipe is adapted from my One Bowl Eggless Chocolate cake so ofcourse I am sure that this is a very moist and soft cake. Ofcourse not spongy and airy like my pound cake but definitely good enough to form the base for that special occasion.
The key my friend is to use a good quality vanilla extract as that is what gonna add the flavour to it. If possible try to include the fresh beans or an extract that has beans in it.
Here is the detailed recipe of this delicious moist and soft Eggless Vanilla Cake.
But before that if you like or try this recipe then do tag me, tweet me or instagram me; I would love to follow you and your posts.
Click here for the video recipe - Eggless Vanilla Cake

Liked this recipe?
Let us know by giving it a star rating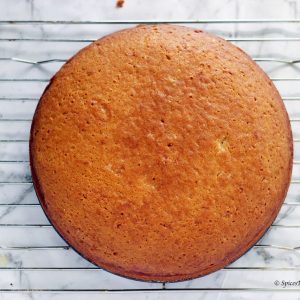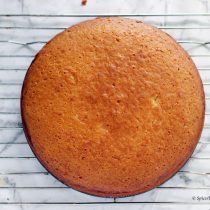 Print
One bowl Eggless Vanilla Cake - No milk, butter or condensed milk
This Eggless Vanilla Cake is a very basic cake recipe flavoured with good quality vanilla that can be used as a base for many other cakes
Ingredients
For Dry Ingredients
1 and 3/4

cup

Maida, APF

1

tsp

Baking soda

1/2

tsp

salt

1

cup

Sugar
For Wet Ingredients
1

cup

water

6

tbsp

Oil

1

tbsp

lemon juice

1

tsp

vanilla extract
Instructions
Grease an 8 inch cake pan and keep ready. Pre-heat oven to 180°C

Now you can add all the dry ingredients mentioned above directly in your cake pan or in a separate mixing bowl. (Refer video)

To the dry ingredients add the wet ingredients. Mix everything until clear batter stage

Bake in the preheated oven of 180°C for 30 mins.
Did you make this recipe? Tag me today!
Tag me @spicesandflavors to get featured on my FB and Insta pages
Notes:
1. Check my video recipe by clicking here - Eggless Vanilla Cake
2. Do not over mix the batter.
Pin it for later


I will see you soon with yet another recipe
Until then
Hugs
Sushma