One bowl Chocolate Cake recipe from scratch - as the name suggests is a chocolate cake that can be made in one bowl and then baked directly.
An eggless chocolate cake without condensed milk, milk, butter or eggs; baking this moist eggless chocolate cake is as simple as counting 1 2 3.. Don't believe me?? Then just read on to find more..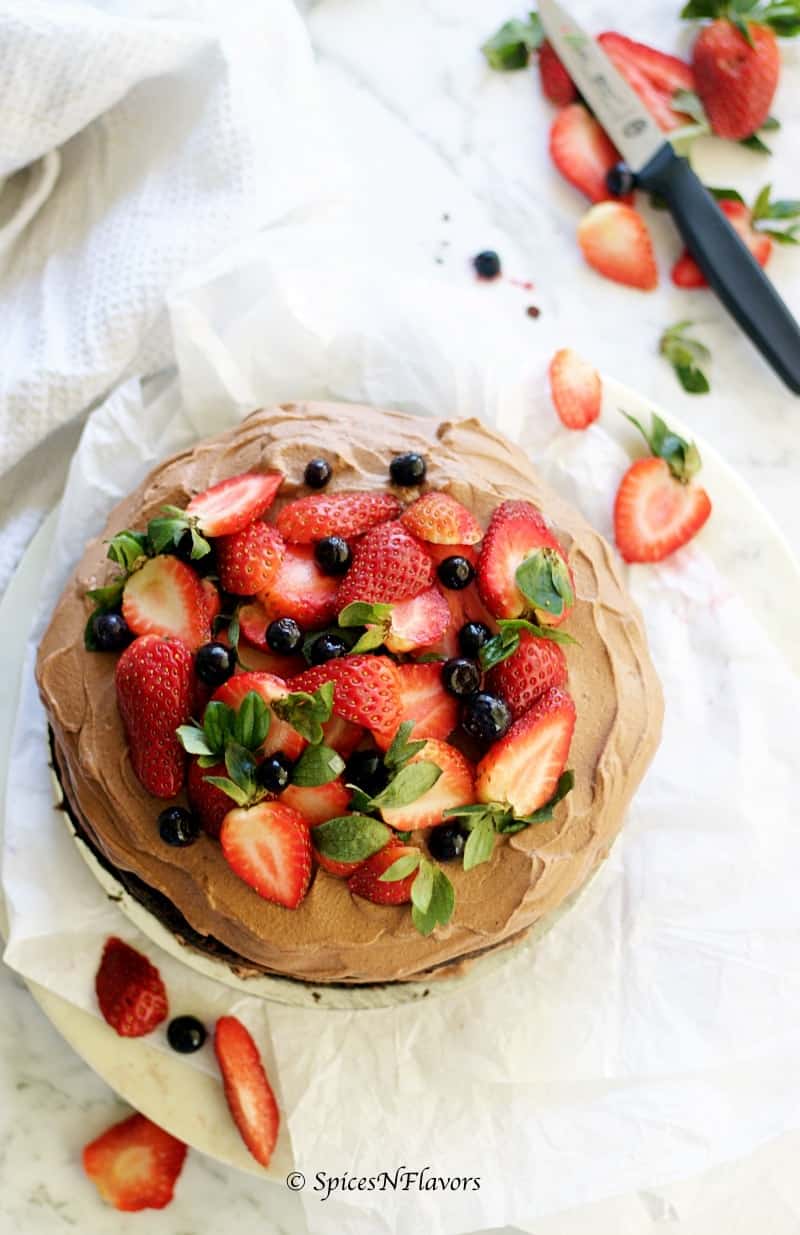 One Bowl Chocolate Cake.. so what is the fuss all about?
Well, we all think that baking a cake is hard and there are so many technicalities involved that we are often intimidated by it.
So to break all those and to encourage everyone to bake; I thought of sharing this simple chocolate cake recipe with you all..
HOW DO YOU MAKE A SIMPLE CHOCOLATE CAKE?
Or rather I should ask why is this a best simple chocolate cake?
1. That is because this One Bowl Chocolate Cake involves mixing the dry ingredients, adding wet and then just bake all in one single bowl. so simple right!!!
2. It also does not call for any exclusive ingredients. Probably you have all the ingredients required to make this homemade chocolate cake recipe in your pantry already.
3. You can use this same best chocolate cake recipe to make a chocolate layer cake for an amazing eggless birthday cake recipe, chocolate bundt cake, add some chocolate chips to make a chocolate chip bundt cake or even an eggless chocolate cupcake (Find the recipe for the same here.)
4. And just to tell you this no egg no milk chocolate cake is also Vegan. Vegan Chocolate Cake in one bowl!! How cool is that?
Plus One Bowl Chocolate Cake means that's so many dishes less to wash; I am one happy woman now. (woes of being a sahm!!) 😀
Undoubtedly the best chocolate cake recipe ever!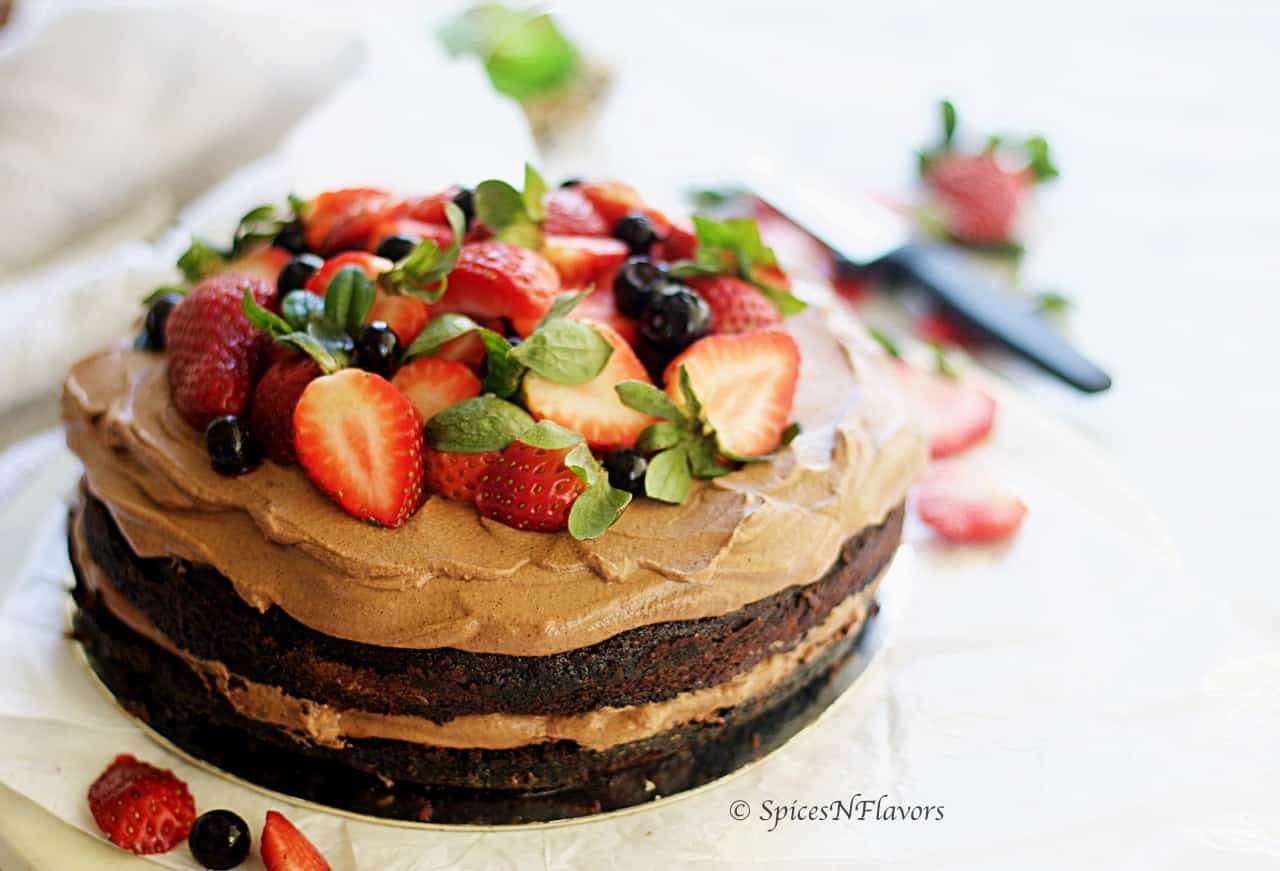 HOW DO YOU MAKE A MOIST CHOCOLATE CAKE?
You might be thinking maybe its a moist eggless chocolate cake with yogurt or eggless chocolate cake with curd.
And since its a vegan cake we are not using any milk products here. Then What makes the cake moist and fluffy?
A. It is Oil. Yes if you compare the cake made using butter and oil you will find that simple eggless cake recipe
made using oil is much more moist and fluffy than the ones that is made with butter.
B. The other thing that I would highly commend you guys if you include dairy products in your diet is to use milk in place of water as mentioned in the recipe which would make it even more moist.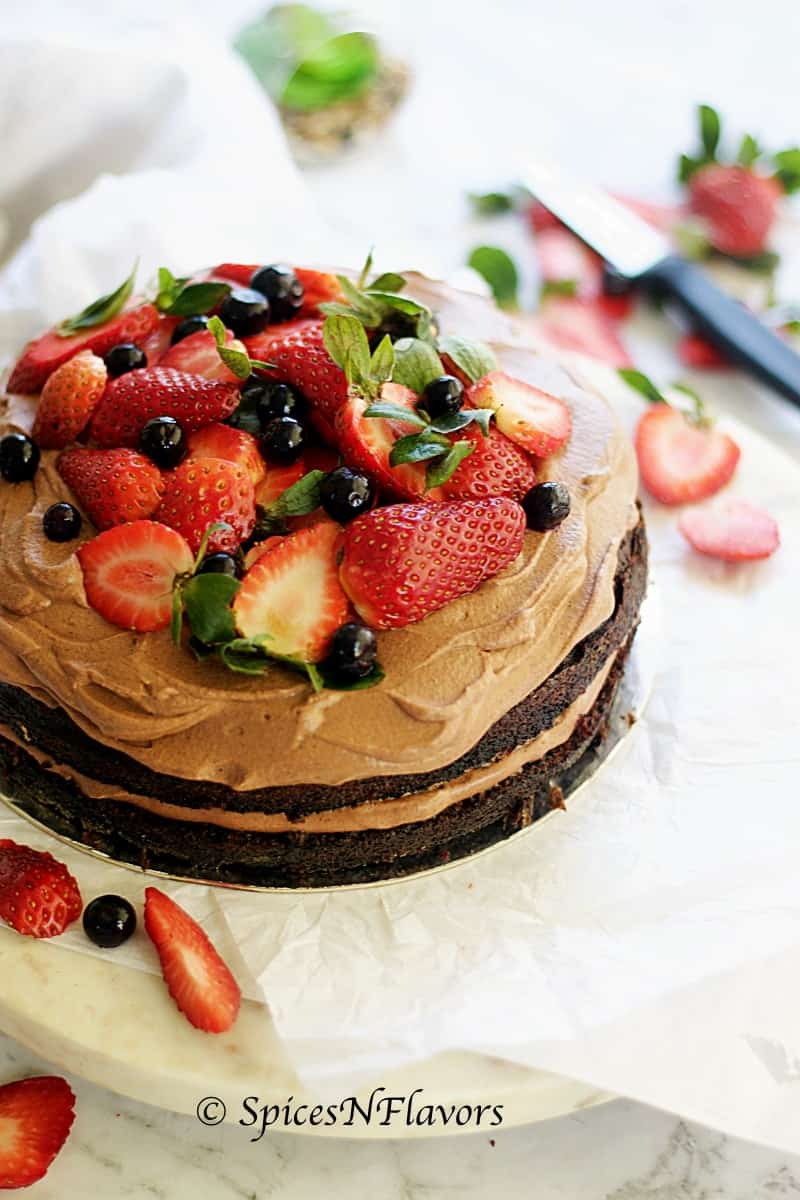 HOW DO YOU SUBSTITUTE EGGS IN A CAKE RECIPE?
The most common substitute you might have heard of would be yogurt. It is recommended to use 1/4 cup of yogurt to 1 egg. The key is to find the right reaction of leavening agents, such baking powder and/or baking soda, and acids, such as vinegar, lemon juice, buttermilk, yoghurt, sour cream, etc…
Why? Because leavaners and acids when combined under the heat of the oven react and produce gas (bubbles) that will make the cake fluffy.
I hope this solved your query on how to make cake in oven without egg?
Can I make this One Bowl Chocolate Cake in cooker?
Yes, definitely. I have made this cake in a cooker when I had been to India at my mom's place since she do not have an oven yet.
It took me nearly 60 mins to bake this though.
How to mak this eggless chocolate cake in microwave?
That I am not sure yet as I have not tried this in a microwave before.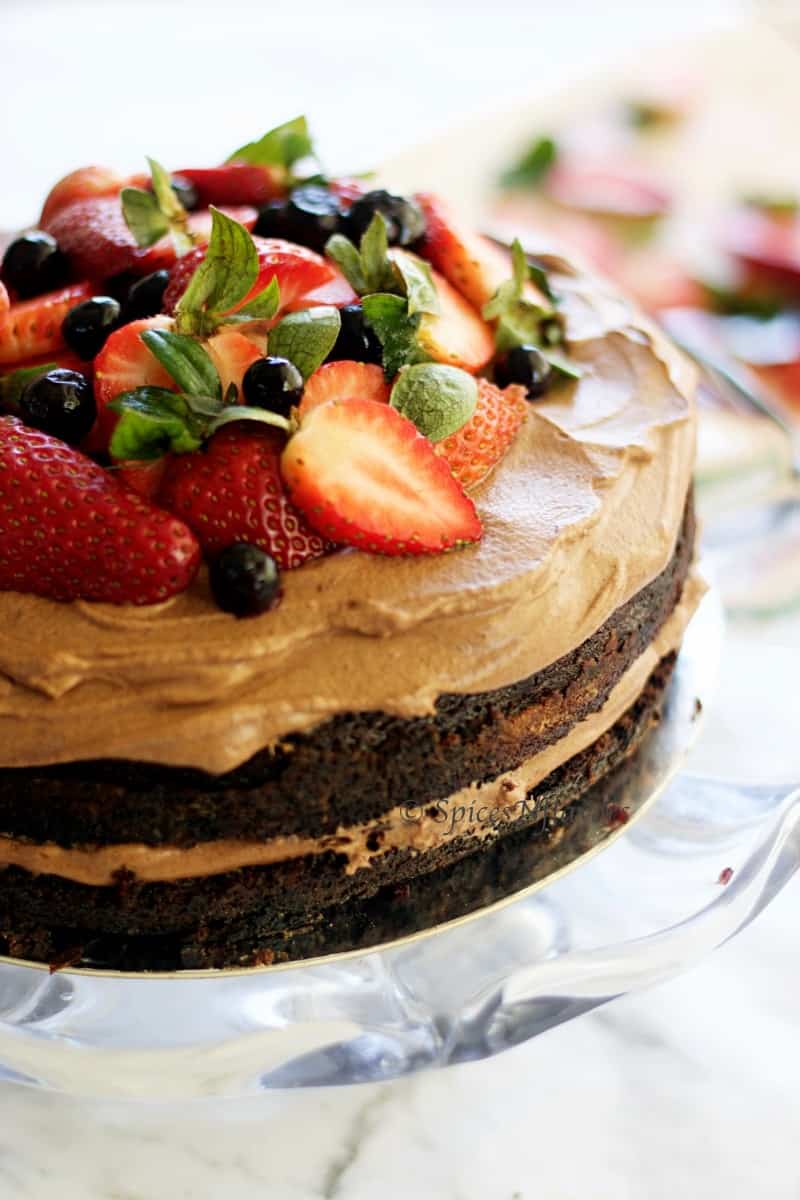 Coming to think of, this is the first ever actual cake recipe that I have shared on the blog. Being a baker myself, can't think that this is my first.
I have earlier shared simple cake recipe like my Rava Cake that is also eggless and in fact it doesn't even have maida in it. And can be made in cooker, microwave or oven. But then its a tea time cake; you cannot classify it to a dessert.
I have shared beginners baking recipes like chocolate muffins, scones or vanilla cupcakes but never a cake.
I also have a variety of cookies recipe on the blog if you would like to check.
Now that I have thought of sharing a baking or dessert recipe every Saturday; you can definitely keep an eye here for more such recipes.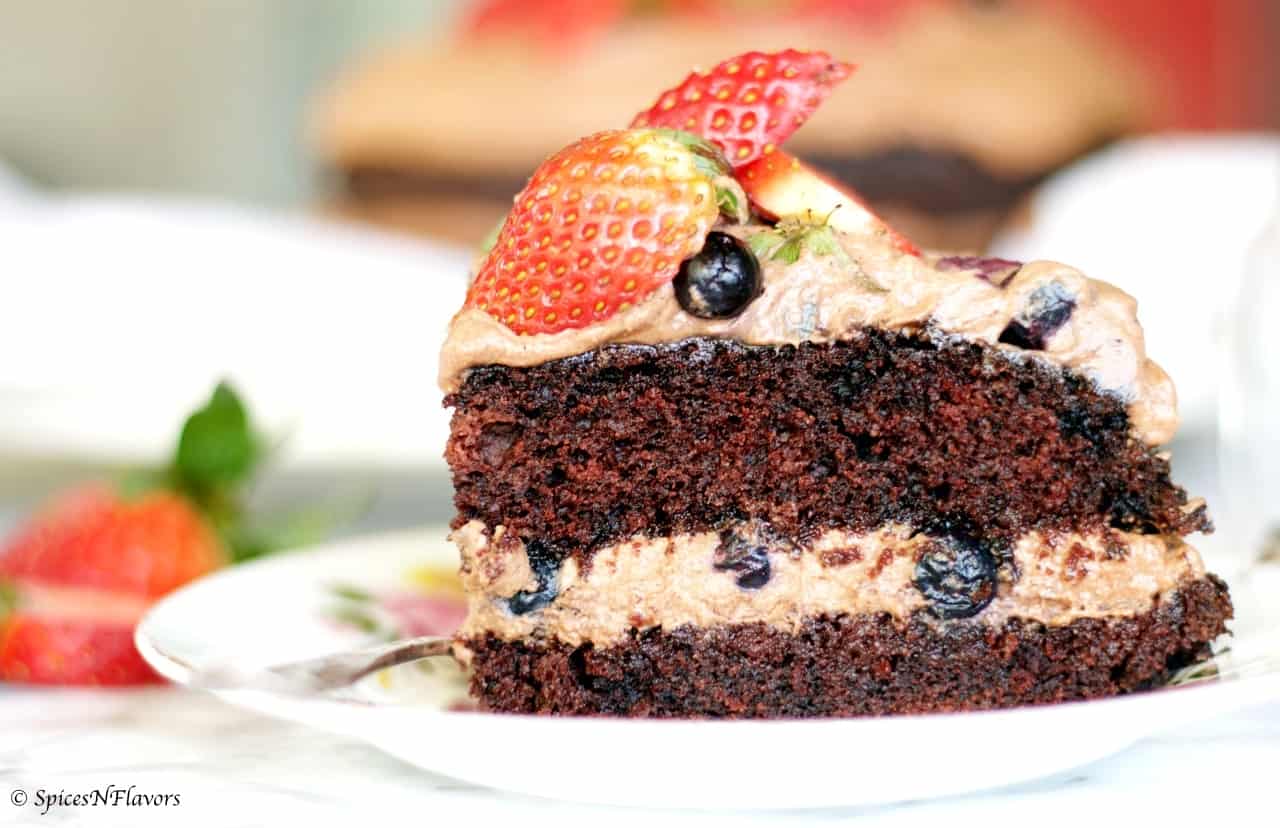 Coming to the One bowl chocolate cake, let me tell you this is a super moist cake with oh so soft crumbs.
A soft and fluffy cake that is loaded with flavours of chocolate. The subtle smooth whipped cream adds to the moistness of the cake.
Oh, by the way, this eggless chocolate cake recipe with icing is a keeper's recipe. Not only is it easy to make the cake the whipped cream chocolate frosting is also super simple and to die for.
All you need is 3 simple ingredients - cream, sugar and cocoa powder to make this frosting. However if you plan to frost this cake completely with whipped cream I would recommend making a stabilized whipped cream. You can read all about it here.
The blueberries and strawberries brings in a freshness.
If you like this simple one bowl chocolate cake recipe then do tag me, tweet me or instagram me. I would love to hear from you..
Here is the recipe for the best eggless chocolate cake recipe
Liked this recipe?
Let us know by giving it a star rating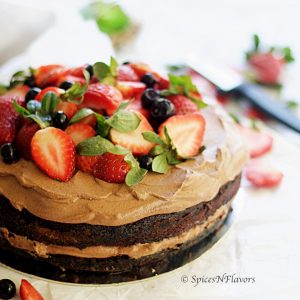 Print
One bowl Chocolate Cake - No Eggs, No Butter, No Milk
Whip your cake in the baking pan and bake directly; thats how simple this One bowl chocolate cake is. And the bonus point it has no eggs, no butter and no milk.
Ingredients
Dry Ingredients
1.5

cups

Maida or APF

1

cup

Sugar

1/4

cup

Cocoa powder

1

tsp

Baking soda

1/2

tsp

Salt
Wet Ingredients
1

cup

Water

6

tbsp

Oil

1

tsp

Lemon juice

1

tsp

Vanilla extract
For Chocolate Whipped Cream
1.5

cups

Cream

1/3

cup

Castor Sugar

1/4

cup

Cocoa powder

1

tsp

Vanilla extract
For Simple Sugar syrup
1/4

cup

hot water

3

tbsp

sugar
Strawberries and Blueberries for garnish
Instructions
For Chocolate Cake
Grease your baking tin and line the base with parchment paper. In the same pan sift your dry ingredients. Add sugar and mix everything well.

Next add in the wet ingredients. Mix everything until you see no hint of flour. This would take about 30 seconds. Do not overmix.

Bake in the pre-heated oven at 180°C for 30-32 mins. Do refer notes.
For the Chocolate Whipped cream
Add all the ingredients mentioned for whipped cream in a bowl and whip to soft peaks.
To Assemble
Divide the cake into two using a serrated knife in a see-saw motion.

Apply sugar syrup onto it.

Place half of the whipped cream on top of the base layer. Spread it out. Place a layer of blueberries in the centre.

Layer the other half of the cake on top. Spread the remaining cream on top. Top it off with the remaining cream and garnish with strawberries and blueberries. Highly recommend you to watch my video on youtube for easy understanding. Refer notes for the same.
Did you make this recipe? Tag me today!
Tag me @spicesandflavors to get featured on my FB and Insta pages
Update:
I now use 1/2 cup of cocoa powder instead of 1/4 cup mentioned in the recipe just to make it more chocolaty 😀
Notes:
1. Check my video recipe for easy understanding - One bowl Chocolate Cake
2. You can enjoy the cake as it is, the whipped cream and fruits is an optional step but it adds moistness to the cake.
3. Do not over-mix the batter.
4. Do not bake for more than 32 or 33 minutes; I made the mistake of baking it for 35 mins and I thought it was over-baked just a bit. Let it bake for 30 mins and then check with the toothpick. If you think it is not baked then bake it for just 2 mins more and I am sure you would have a lovely cake.
5. Use coconut cream to make this completely vegan.
6. The sugar syrup has to be cold while you are applying it to the base.
You can also use vinegar in place of lemon juice and yes this is an eggless chocolate cake with vinegar; but do not raise an eyebrow like I have mentioned above you need the acidity to react with the leaveners for a light and fluffy cake.
I hope you enjoyed this easy moist chocolate cake recipe.
pin it for later: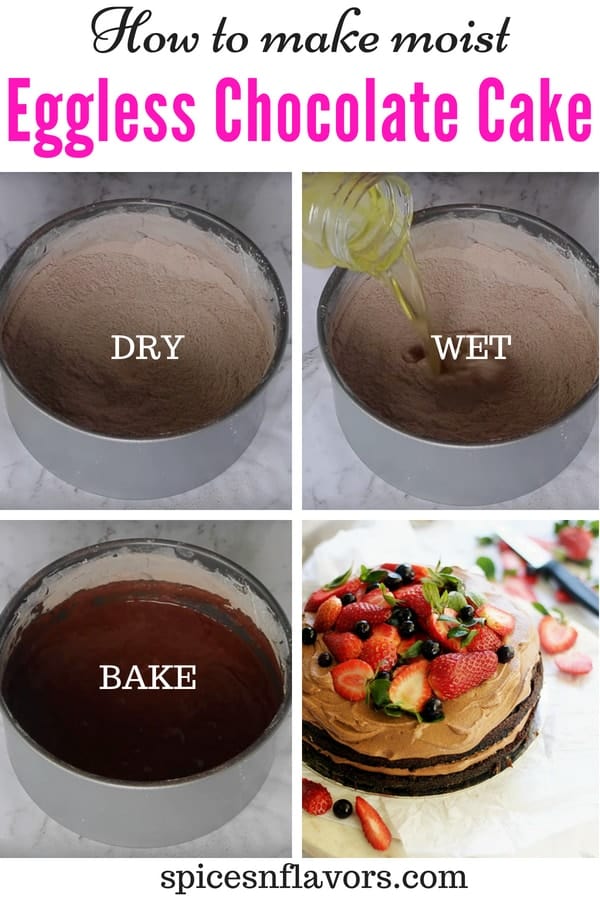 See you soon
Until then
Hugs
Sushma