Rava Upma Cheese Balls to me is one of those dishes that makes me so nostalgic.. Raise your hands if you never liked upma growing up, but I am gonna change that and if you have always liked the rava upma then you are in for a treat guys..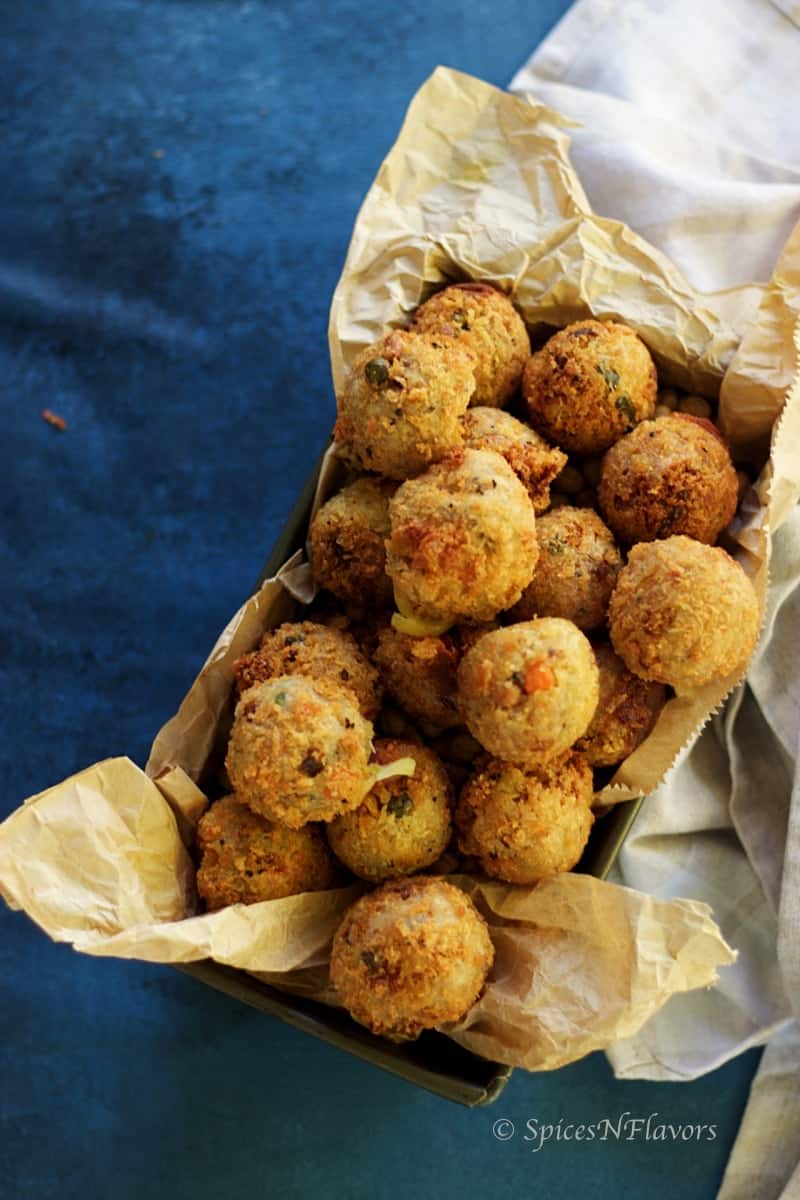 Rava Upma is something that I never liked growing up.. I used to hate it..
I kind of used to eat it when I were a teenager but never was a fan of it.. Wish I had known how to cook then; as I would have definitely made these cheese balls then and enjoy it to the core.
Plus these Rava Upma Cheese Balls are healthy too; yes these are made using lots of veggies and also you can choose to make them in appe pan; meaning less oil..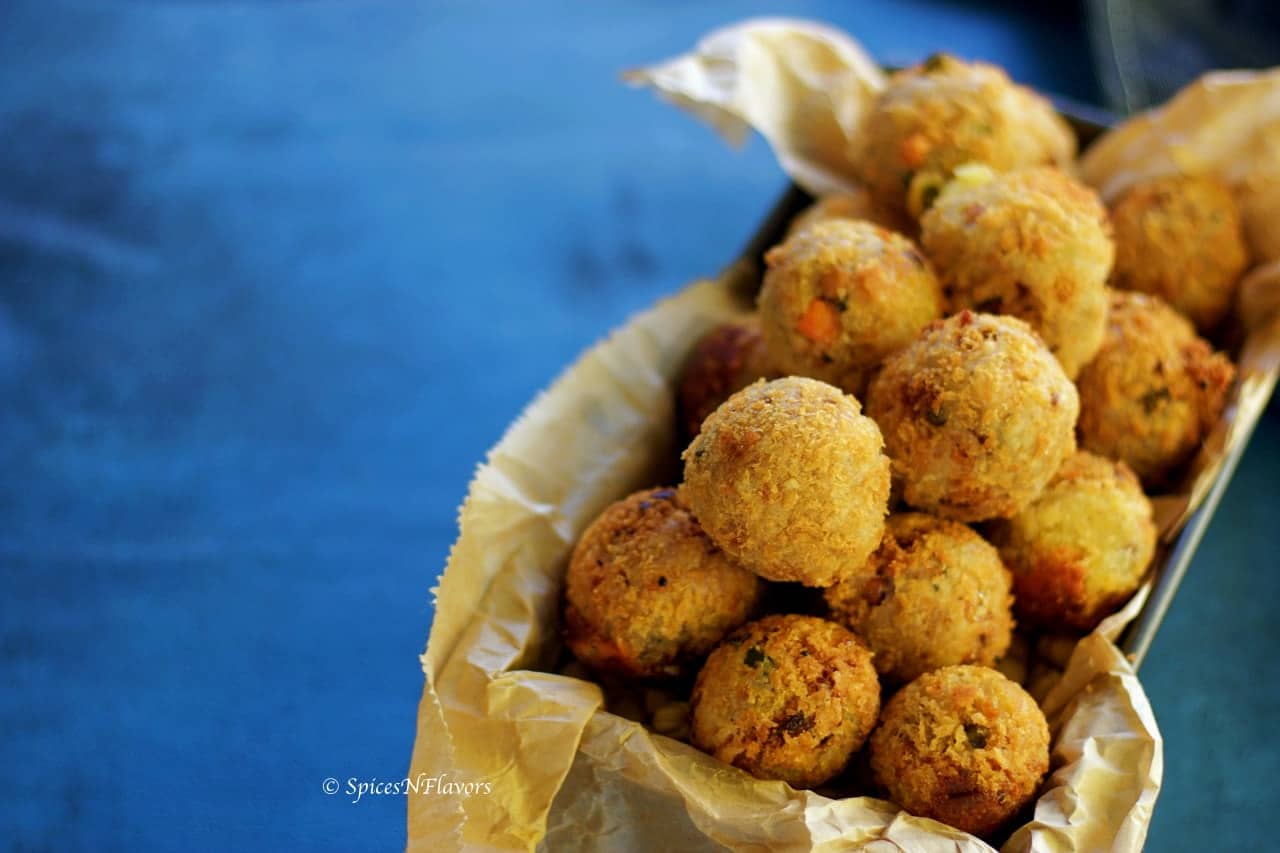 Like I always say it is easier for me to plan a Party menu. I planned my daughter's first birthday party menu based on The Little Krishan Theme party. And when I stare at my refrigerator thinking of what to cook for lunch or dinner I am all blank and end up making simple Paneer sabzi.
So that is how I ended up making a starter or appetizer recipe using a simple everyday basic recipe..
I am sure you all have been making and enjoying this simple Rawa Upma recipe all throughout your life; but giving a little twist to it and making a starter out of it is something that I learned recently.
These Rava Upma Cheese Balls are similar to the Italian Aracini Balls that are made using Rissoto Rice. To be precise made using leftover rissoto rice.
Now that is exactly the idea here; you can also use leftover regular rice, biryani, maggi or basically just anything to make these cheese balls.
Just add some more veggies and masala and you are sorted for the day.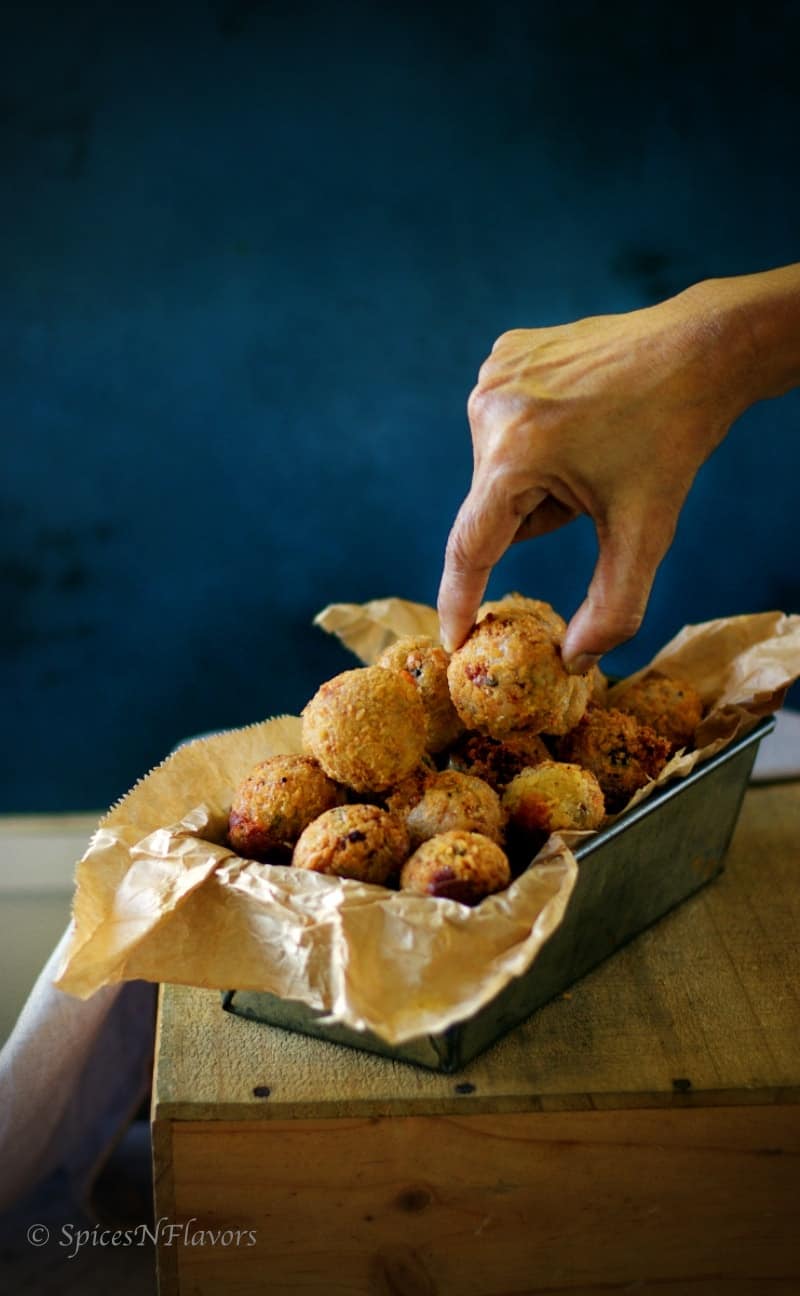 Do you like the above picture??
I absolutely love it. Its my Mother's hand in there. She was so generous to pose for a shot. I was jumping up and down while shooting it.
Its a simple shot but makes me feel so much connected. These days she is ruling the kitchen and I am absolutely enjoying every bit of it.
I just love her Mysore-Pak recipe. That is my most favourite by far.
What is that one dish that you love from your mother's cooking. Comment below and let me know.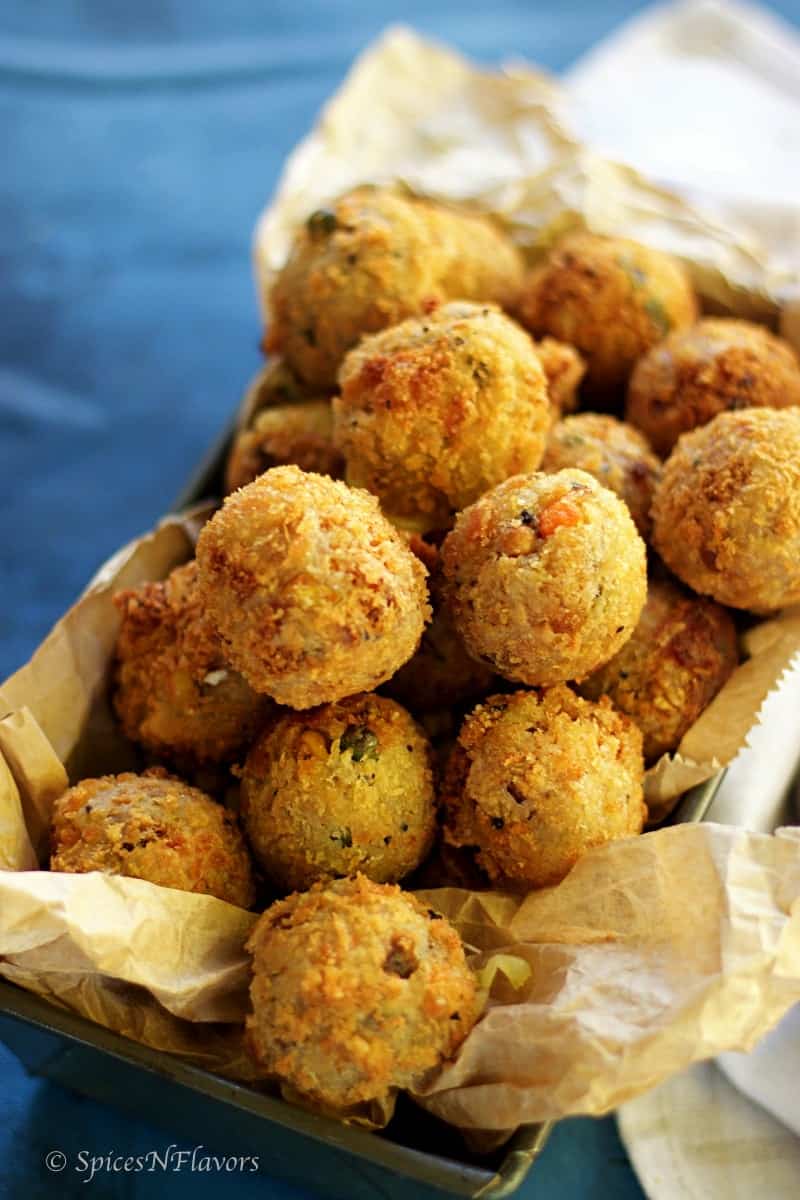 To make this recipe all you have to do is; prepare rava upma as you do at your home or check my recipe for certain tips that I am sharing. And then stuff the centre with cheese and roll it on the Panko breadcrumbs. Fry and enjoy.
Now the secret ingredient to get that perfect crunch and texture is from the use of Panko Breadcrumbs. This is a Japanese premium quality breadcrumbs. You can easily find it in any super-markets and in India you can find these any stores that sell international food items too. And if you dont find one you can use regular breadcrumbs but the taste won't be same.
So like I said this Rava Upma Cheese Balls is a super crunchy and crispy textured balls with a melting cheese string in the centre that is perfectly seasoned with salt and spices.
The addition of veggies makes it one nutritious healthy snack.
The peanuts and cashewnuts give an additional crunch and texture in this Rava Upma Cheese Balls.
This is one of those dishes that I highly recommend you to try for your next party and wow your guests. Your guests will never come to know that these are made out of our regular Rava Upma.
If you like this recipe or wish to share with me your favourite food amongst all the yummy dishes that your mom prepare then tag me, tweet me or instagram me. I would love to hear from you.
You must check out my video recipe on Youtube - Rava Upma Cheese Balls
Here is the detailed recipe
Liked this recipe?
Let us know by giving it a star rating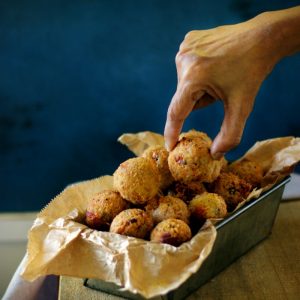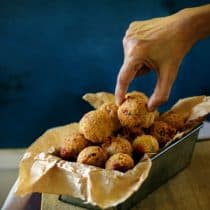 Print
Rava Upma Cheese Balls - Party Appetizer/Starter
Rava Upma Cheese Balls is basically a starter recipe that is made using Rava Upma. The meting cheese and the textured top makes it a perfect recipe for parties and events.
Ingredients
3

tbsp

Oil

1/2

tsp

Mustard seeds

1/2

tsp

Split Urad dal

1/2

tsp

finely chopped ginger

3

nos

Green chillies,

finely chopped

1

sprig of curry leaves

1

tbsp

each of peanuts and cashewnuts

1

no

med Onion

finely chopped

1

cup

Mixed vegetables

chopped

1.5

cups

Water

Salt to taste

1

cup

Rava

roasted
For the Cheese Balls
1/2

cup

Mozarella chesse

cubes or grated

1/4

cup

cornstarch

few

tbsp

water

a plate full of panko breadcrumbs
Instructions
In a pan, heat oil and add mustard seeds, once spluttered add urad dal and let it turn golden brown. Add in ginger, chillies and curry leaves. Cook well. Add in the peanuts, saute till aromatic and add the cashewnuts. Saute till it turns golden brown

Add in the onions. Cook the onions until it turns golden brown.

Add in the mixed vegetables and cook till soft.

In goes the water and salt. Bring it to a rolling boil. And add in the rava.

Once rava is added stir continuously till all the water is soaked up.

Switch off the gas, close with a lid and let it sit in the there for 5 mins. Once cooled completely transfer to a plate.

Using tbsp as a measurement, roll in between your palms, stuff the cheese in centre and then dip in the cornstarch slurry (prepared using 1/4 cup cornstarch and few tbsp water) and roll in the panko breadcrumbs.

Then you can either deep fry or cook in the appe pan. Refer my video for clear picture.
Did you make this recipe? Tag me today!
Tag me @spicesandflavors to get featured on my FB and Insta pages
Notes:
1. One suggestion that I would like to give is make some excess rava upma for breakfast and then make these balls with the leftovers for your evening snack.
2. I have used frozen veggies today. You can choose to use fresh too.
3. The ratio of rava to water is 1:1.5
4. I have used roasted rave, if you don't find roasted use plain and dry roast them in a pan before adding to the recipe.
5. I started off with little less cornflour slurry as I did not wanted to make extra and then throw it. You can add few extra tbsp of cornflour if you wish to.
6. Panko breadcrumbs is what gives this balls extra crunch. If you do not find then you can make this using regular bread crumbs too but it won't have that supper crunchy effect.
7. If you are planning to make this for a party, I would say prepare everything and keep it in the fridge and fry it when you are about to serve to get that melting cheese effect.
8. Click for video recipe - Rava Upma Cheese Balls
Pin it for later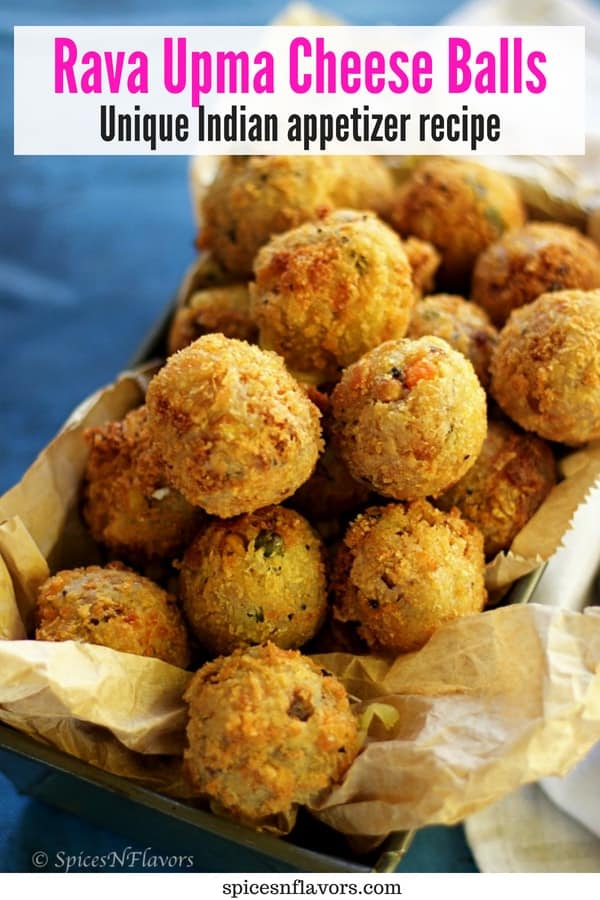 See you soon
Until then
Hugs
Sushma