Italian Meringue Buttercream - Learn the tips and tricks to make this bakery style frosting at home.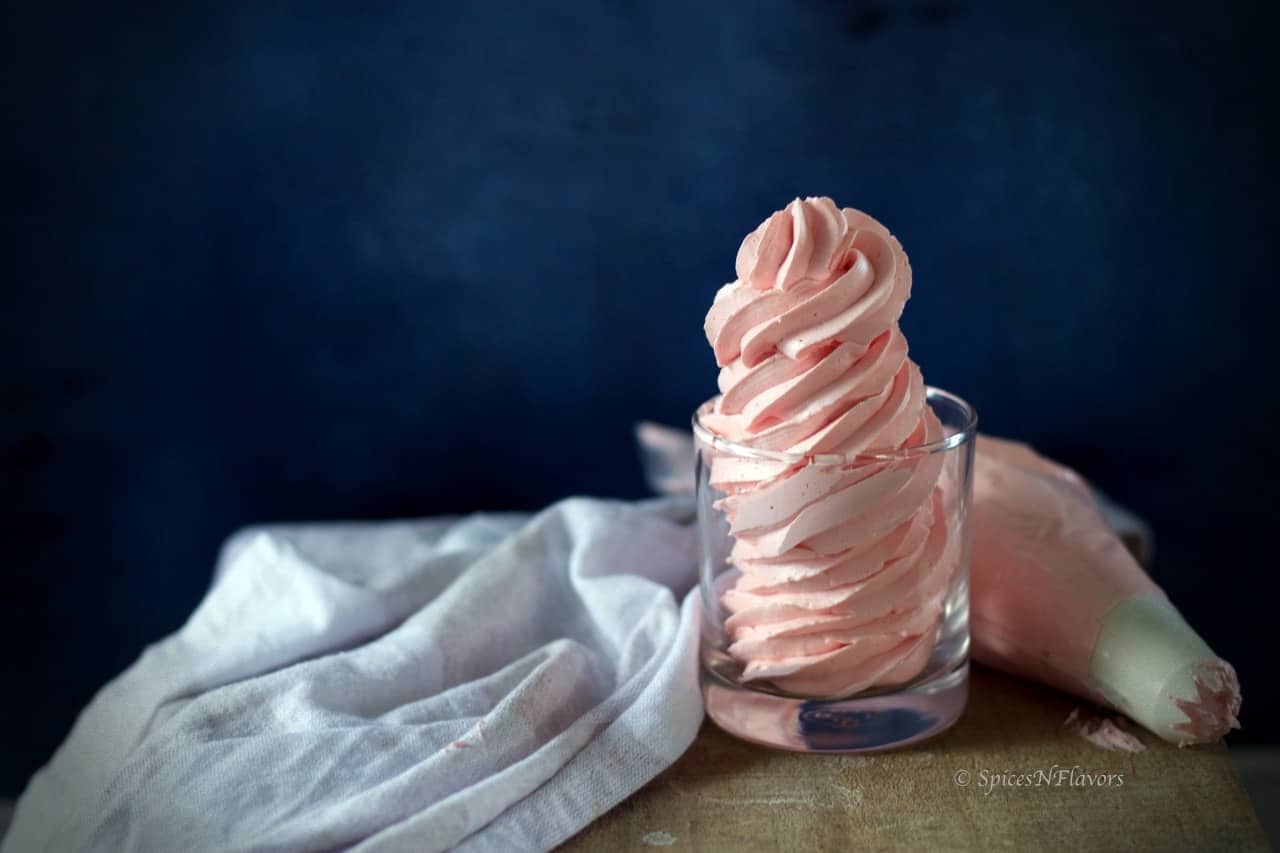 Italian Meringue Buttercream is one of the most sort off buttercream recipe that is perfect as a frosting for cakes, cupcakes to make your special day even more special.
This buttercream is a smooth, creamy and delicious kind of frosting that you would see on any counter top in cafes and bakeries.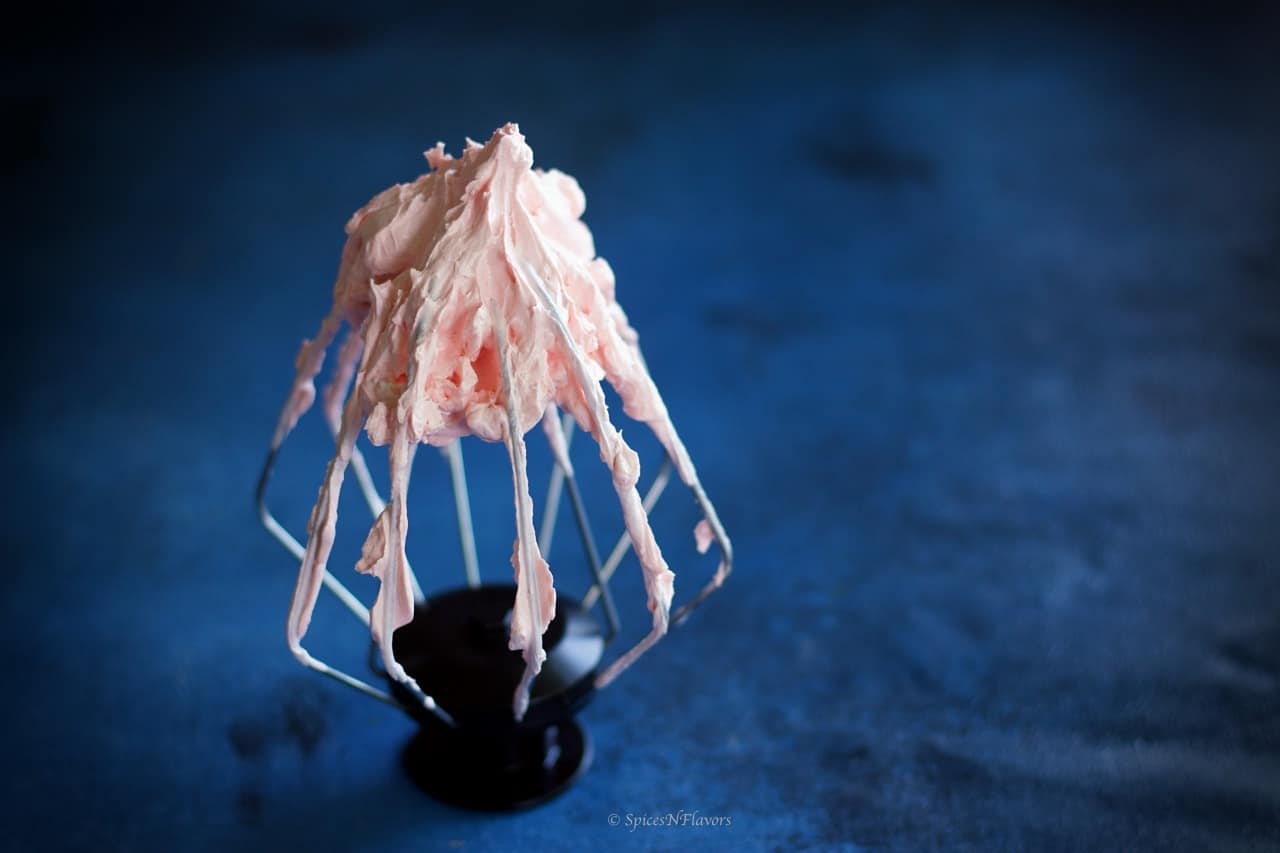 Italian Meringue Buttercream frosting is a baker's secret tool. What I mean is once you master the technique or the art of making it there is no looking back. This frosting goes so well with your cakes that you would make it again and again and one day you might even start selling your cakes or cupcakes because this frosting will take your products to the next level.
The speciality about this Italian Meringue Buttercream is that
A. It is not extremely sweet like the other butter cream which I have never been a fan off.
B. Its a super smooth frosting, so you can be sure that all your piping and cake decorations will be of top notch quality.
C. A creamy frosting and melts straight away in your mouth
D. Suitable for both hot and humid climatic conditions.
A frosting that every baker must know off.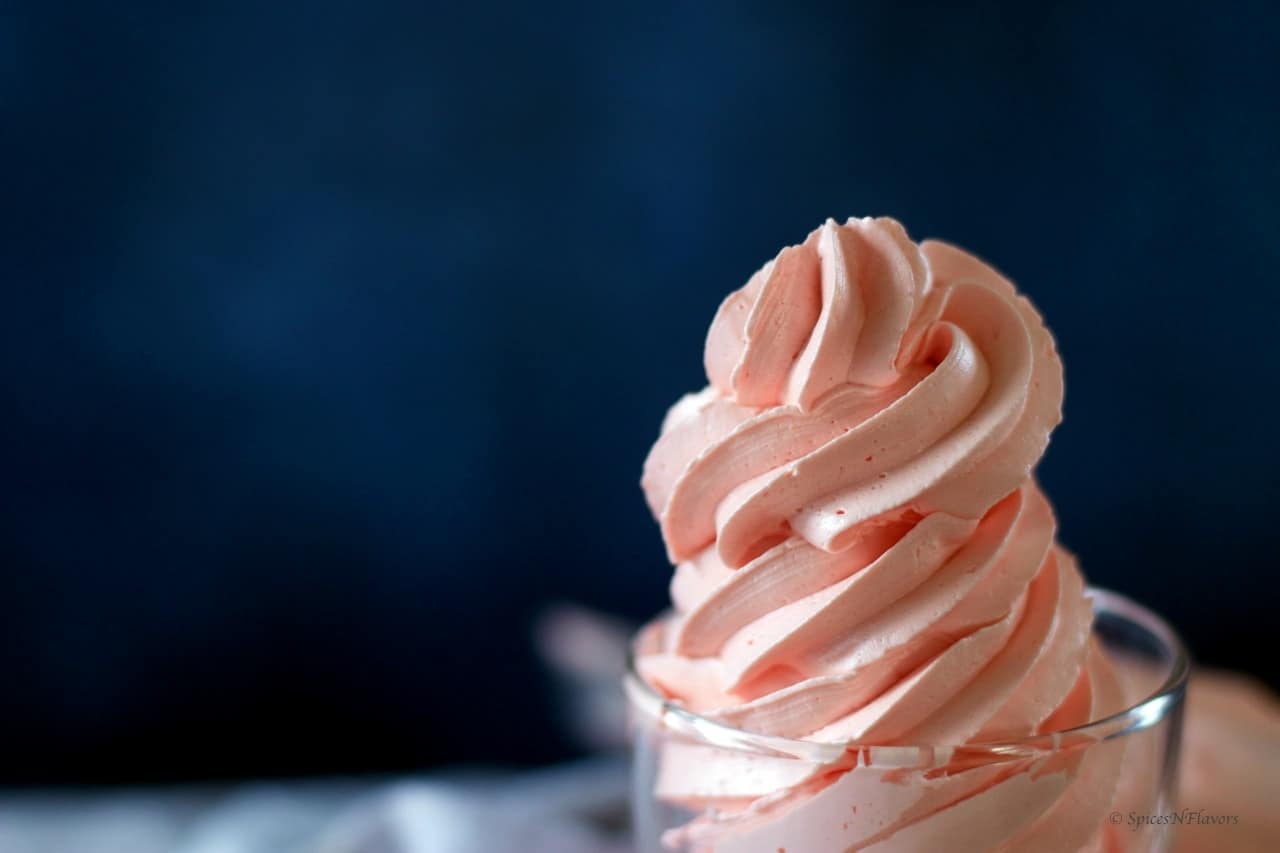 What is the fuss about this Italian MEringue Buttercream frosting?
Yes it looks intimidating to begin with but if you follow certain key points then I am sure you will nail it in the first go.
So whats the deal?
The first and foremost thing that you need to do is keep all the equipments and ingredients ready for this recipe.
Like we would require a stand mixer with whisk attachment, a thermometer, a spatula and a simple saucepan ready. Once the equipment is sorted. Weigh out the ingredients; yes I would highly recommend you to weigh your ingredients using a scale for this recipe. So weigh out your ingredients and keep that ready too.
Use minimal bowls and spoons to keep your working platform clean.
So once everything is sorted then follow the instructions mentioned in the recipe down below and check out my video recipe to get that dreamy creamy Italian Meringue Buttercream frosting ready.
Coming to the flavors of this Italian Meringue Buttercream.
No doubt I have always loved simple frosting like this Whipped Cream one that I on the Eggless Chocolate Cake but when it is for some special occasions then I have always gone for this frosting which I made when we celebrated our daughter's Little Krishna Theme first birthday party.
You can also make this frosting and some basic vanilla cupcakes for DIWALI to wow your guests.
As I have mentioned earlier this frosting is an utterly smooth and creamy kind of frosting.
Using a good quality vanilla extract brings out the most delicious flavour here.
This Italian Meringue Buttercream frosting is so versatile that you can use this same recipe and make many variations like Chocolate Meringue Buttercream, Strawberry etc you name it and you are ready to make it.
It does not include many steps or ingredients but just follow the temperature and timing guidelines that I have mentioned in the recipe.
If you like my baking recipes then do tag me, tweet me or instagram me; I would love to follow you and your posts.
Liked this recipe?
Let us know by giving it a star rating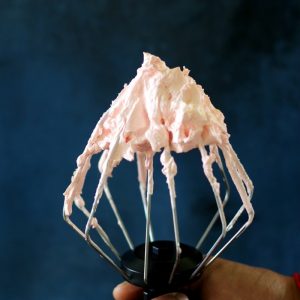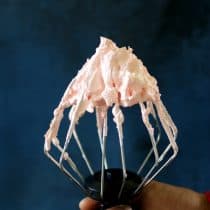 Print
Italian Meringue Buttercream - Tips and Tricks
Italian Meringue Buttercream is a smooth, creamy and delicious frosting recipe that goes well with all types of cakes and cupcakes.
Ingredients
190

gms

Granulate Sugar

60

gms

Water

70

gms

Egg Whites

190

gms

Butter

cubed

1

tsp

Vanilla extract
Instructions
Keep all the ingredients and equipments ready before you start with the recipe

Bring sugar and water to boil in a saucepan. Once it reaches 115 degree celsius start whipping the egg whites in the stand mixer.


Once the sugar syrup reaches 120 degree celsius; remove it from the flame and let it reach 121 degree celsius.


When it reaches 121 degrees pour it onto the egg whites that is whipping in a slow and gentle motion. If you pour too quickly then the egg whites will collapse and if you pour too gently then egg whites wont whip properly so keep that in mind.


Once all the sugar syrup has been poured, keep the egg whites whipping constantly till the temperature of the bowl lowers and reaches room temperature around 30 degree celsius.


Then start adding the cubed butter one at a time. Add the next set only when the previously added butter is mixed though. Do not add too much altogether or else the egg whites will collapse.


Along With the last addition of the butter in this case, vanilla extract and 2-3 drops of food colouring and mix it well until well combined.

Did you make this recipe? Tag me today!
Tag me @spicesandflavors to get featured on my FB and Insta pages
Tips and Tricks:
1. The first and foremost thing is to keep all the equipments and ingredients ready.
Like you would need
1. Stand mixer with whisk attachment
2. Thermometer
3. Spatula
4. Saucepan
Weigh your sugar and water in the saucepan and egg whites in the stand mixer. Cube your butter and keep ready.
2. Use hot water; using hot water will speeden up the process of making sugar syrup.
3. Keep a note of the temperatures:
a. At 115 degree celsius start whisking the egg whites
b. At 120 degree celsius remove the saucepan from the flame and let it reach 120 degree celsius
c. Once it reaches 121 degrees, start pouring it onto the egg whites
d. Let it cool down to 30 degree celsius and then start adding in the cubed butter.
4. When you pour the sugar syrup to the egg whites the things to note is that
a. You should pour it gently and slowly. That is the speed should be constant. Pouring it too quick will collapse the egg whites, too slow will not whip the egg whites.
b. While pouring, pour it directly onto the egg whites and take care that it does not touch the sides of the bowl or else it will crystallise and there will be a loss of sugar syrup which means loss of volume
5. Even if you pour to the last drop some sugar syrup will be left out in the saucepan itself. To compensate this always weigh 10 gms excess of sugar and water than what it says in the recipe. Like here it says 190 gms sugar and 60 gms Water so you must weight 200 gms sugar and 70 gms water.
6. Make sure to add butter little at a time. And why so?? Basically by whipping the egg whites you are creating air pockets. The fat in the butter sits in the air pockets. If you add too much butter at a time; it wont have enough space to sit and eventually will collapse the butter. So add little butter at a time. And add the next set only when the previous added butter is all mixed through.
7. Scrape the bowl a total of 2-3 times just to make sure that there is no lumps of butter settled at the bottom. Scrape gently so that you dont loose much volume from the egg whites that you just created.
Do remember to check my video recipe from here - Italian Meringue Buttercream
Hope this detailed tips and tricks will help you to make this bakery style frosting recipe at home.
Pin it


I will see you soon with another recipe
Until then
Hugs
Sushma