This Old Fashioned Indian Eggless Butterscotch Cake is one such flavour that would surely win hearts every time you make it for any special occasion. 
If there is one flavour that every home-baker must know then this Butterscotch Cake would definitely be in that list..
The soft butterscotch cake base topped with a light and fluffy whipped cream adorned with homemade butterscotch sauce and bits of rich caramel nuts aka praline and frosted with the stabilized whipped cream has to be one stunning show stopper dessert you could ever make!!!

What makes this Butterscotch Cake so special?
Well, I guess more than the recipe or the cake it is the memories that we associate with the food that makes it special.
Butterscotch as a flavour which I am sure most of you would agree is one of every Indian kid's favourite.
The one thing that makes it special I assume would be the memory of enjoying a butterscotch bakery from the small bakeries that we used to have, growing up unlike the modern cafes serving a plethora of fancy desserts that are now available.
If you are an 80's, 90's or even 2000 Indian kid then you would surely agree with me right!!!
It is the sentiment, a flavour that kindles all the fond memories of going out for grocery shopping with your mom to the street vendors and then asking her to buy you either a black forest pastry, pineapple pastry or this Butterscotch Cake. Pure Nostalgia
What can you expect from this Eggless Butterscotch Cake recipe post?
What is Butterscotch Cake?
How to make homemade Butterscotch Sauce and Praline?
All about the best-stabilized frosting recipe
Different ways of decorating the Butterscotch Cake.

How to make Butterscotch Cake in a Step by Step format:
What is Butterscotch Cake?
Butterscotch Cake is simply a variation of basic vanilla cake. So all you have to do is take your favourite vanilla cake recipe and instead of using vanilla essence simply add butterscotch essence.
Some people also like to add butterscotch sauce to the cake batter you can do that too if you like, but somehow I feel the taste and smell all come from the essence itself.
So sift together the dry ingredients.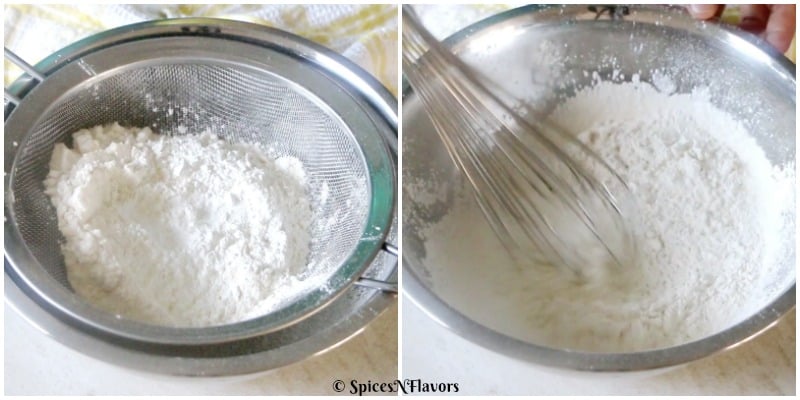 Beat the curd and sugar until homogenous. Add in the oil while stirring continuously. Then comes the milk and finally, flavour it with butterscotch essence.

Then simply fold the dry into wet ingredients alternating with some milk starting with dry and ending with dry.
Divide evenly between 3, 6 inch cake tins and bake in a preheated oven of 180°C for 30-35 mins.

Let it cool and then for the layering, we would go with the basic whipped cream frosting with sauce and praline as the add ons.
Now that brings us to the,
Butterscotch Cake Filling recipe
We would start by making the butterscotch sauce. I already have a detailed post that covers all the tips and tricks to make the perfect butterscotch sauce at home. You can check that too by clicking here.
Please refer that or for your convenience, I have also included them in the video recipe that you can check from the recipe card below
The same goes for making the praline. Have shared it multiple times so will skip it here. You can check for the same in the recipe card below or from my earlier post on Christmas Toffee Cookies, yes it is never too early to start thinking about Christmas.. haha..
Or you can also make it in a disc form to take your dessert to the next level as I did with this simple hearty Indian pudding.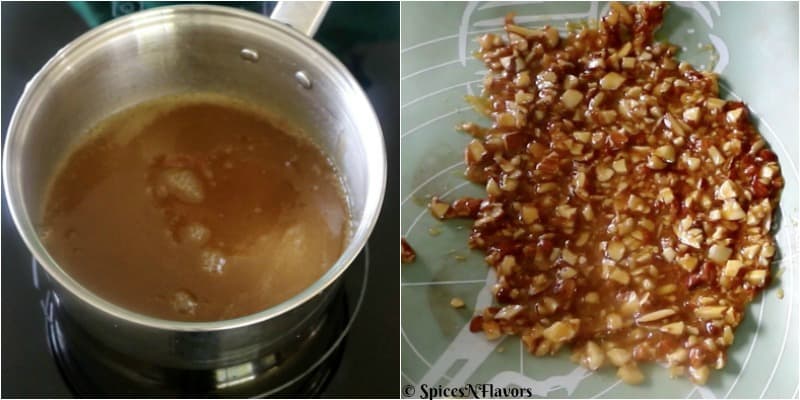 I also have the easiest and best alternative for you guys if you are not in a mood to make any of this..
Simply use store bought Butterscotch Sauce and in place of praline make the Butterscotch Cake with butterscotch chips that are so easily available in all shops these days.
But trust me nothing like the cake that has everything made from scratch at home.
To make the whipped cream filling: In a bowl weight out the whipping cream, sugar, butterscotch sauce and essence. Whip until stiff peaks forms.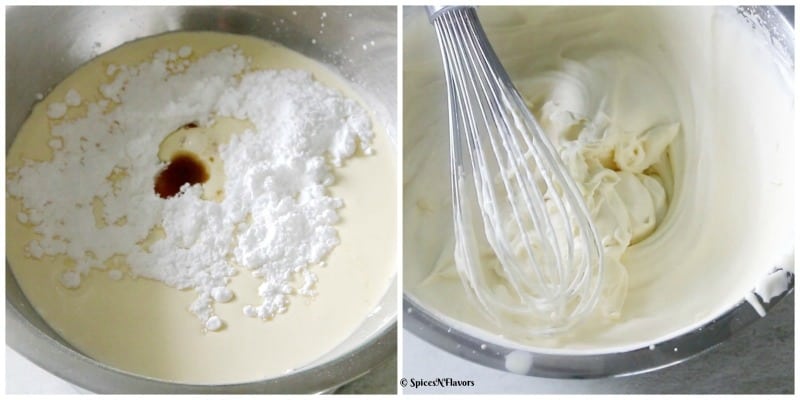 Butterscotch Cake Frosting Recipe:
I have used my all time favourite Stabilized Whipped Cream Frosting here.
A TIP for you all is to take the cream cheese out of the fridge right before you are ready to make the frosting and then microwave it for 10 sec and proceed with the recipe that way you would get the perfect consistency of choice.
So start by beating the cream cheese until creamy. Whipping continuously add in the whipping cream followed by icing sugar and butterscotch essence.
Whip until stiff peaks form.

Now, this is my all time go to frosting but that doesn't mean that you have to use the same one too. In my opinion, the Condensed Milk Buttercream Frosting flavoured with butterscotch sauce would taste great too.
So definitely go for it depending upon your preference.
To Assemble:

Even if you get a flat top cake I would suggest you trim off the top portion to level it off.. This would help greatly to soak the cake well with sugar syrup so that the cake remains moist for 2 days. Ssshhh.. that's a pro tip, don't let anyone know 😉
So yeah start by trimming the top and soak with sugar syrup
Layer with whipped cream frosting, butterscotch sauce and praline or butterscotch chips. Continue the layering until you reach the top. And then using the same whipped cream frosting crumb coat the cake and let it sit in the fridge for 30 mins.
Finally using the stabilized whipped cream frost the cake until you get a nice clean edge.
And then decorate the cake as per your liking. I have given few options down below so do check that..
Butterscotch Cake Designs Idea:
If you are a home baker or planning to start your venture soon then there are 4-6 cake recipes that you must know no matter what. Like this
Butterscotch Cake
And of course basic Vanilla Cake and Chocolate Cake. As you would definitely get repeat orders for all these flavours regularly.
Personally, I do not like to repeat my cake designs unless otherwise specifically asked by the client. So sharing a few simple ideas of decorating this cake to help you get started.
1. Butterscotch Drip Cake
One of the most common ways of decorating the cake is by allowing the sauce to drip on the sides from the top. You can refer to the fruit cake video for the same. And then simply pipe stars or flowers all around the edges on top of the cake.
You can also do a double dripping effect or reverse drip effect for a variation.
2. Praline to cover up:
I understand that as a beginner some of you might not be confident with getting that clean edges on the top and sides of your cake.
So to cover all the messed up frosting you can simply break the praline to small pieces to cover the sides like the way we make a sprinkle cake. That way all the mess would be covered up and no one would ever know.
3. Side or Centre Drip:
Off lately there is this trend of covering just half or 1/4th portion of the cake with butterscotch sauce and then allowing some to drip on the sides and placing clusters of praline or barks of praline in the centre as decoration.
You can also follow the same with centre drip that is just covering the centre portion of the cake with sauce and allowing some to drip on the sides.
4. Fault Line Cake:
This is the internet's new found love. Everyone is going crazy after this trending style.
In the centre portion, you can place the praline barks or butterscotch chips and then cover with SMBC to get the fault line effect.
5. Using Chocolate Decorations:
This is by far the most common universal decoration. You can refer my video on 7 basic chocolate decorations every home baker must know to get some inspiration.
Also, can make honeycomb white chocolate (coloured in yellow) collar to cover around the sides of the cake.
So these were some of my tips and variations to make a perfect Eggless Butterscotch Cake.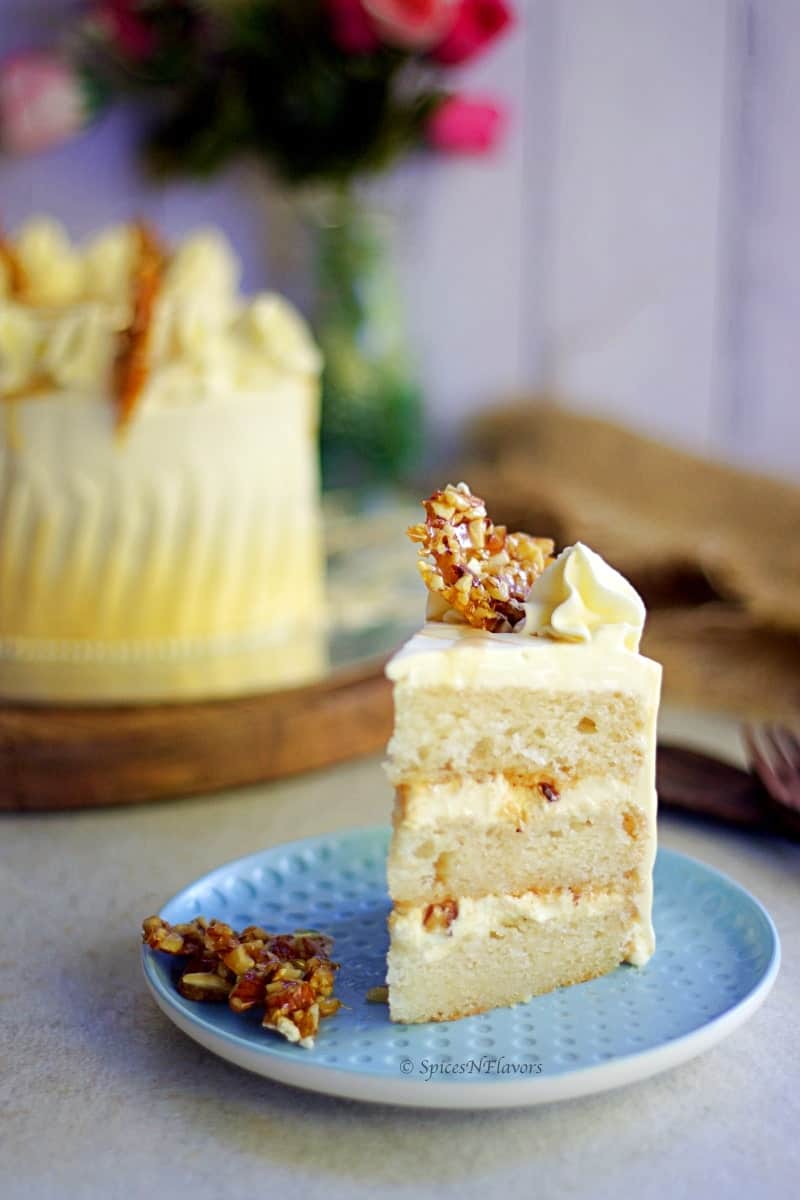 And without any further ado let us jump onto the recipe:
Liked this recipe?
Let us know by giving it a star rating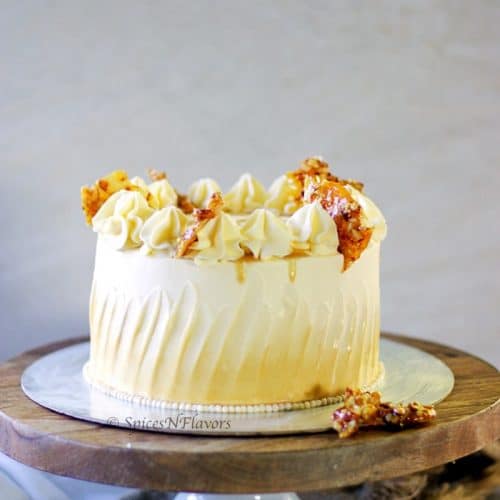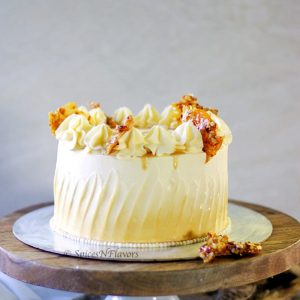 Print
Eggless Butterscotch Cake
This Ultimate eggless butterscotch cake has a soft base with moist and creamy whipped cream filling flavoured with butterscotch essence and topped with praline to give a crunchy texture that just melts your heart with every bite.
Ingredients
Cake base
1.5

cups

Plain Flour/ Maida

(refer notes)

2

tbsp

Cornflour

1.5

tsp

Baking Powder

1/2

tsp

Baking Soda

pinch of salt

1

cup

Yogurt

1

cup

Sugar

1/2

cup

Oil

1/4

cup

Milk

1

tsp

Butterscotch Essence
Sugar Syrup
1/4

cup

Boiling Hot Water

1/4

cup

Sugar
Butterscotch Sauce - refer notes
Whipped Cream Filling
200

gms

Whipping Cream

30

gms

Icing Sugar

half of the prepared butterscotch sauce

1/4

tsp

Butterscotch Essence
Almond Praline
20

gms

Sugar

5

gms

Water

7

gms

Almonds

chopped
Final Frosting
75

gms

Cream Cheese

250

gms

Whipping Cream

63

gms

Icing Sugar

1/2

tsp

Butterscotch Essence
Instructions
Cake Base
Measure out the prepared plain flour in a bowl. Take out 2 tbsp of the flour and then add 2 tbsp cornflour. This is the step to make your own homemade cake flour. (However you can also use 1.5 cups of cake flour directly without doing the additional step if you prefer)

Add in the baking powder, baking soda and salt and sift everything together. Mix using a whisk and set aside.

In a separate bowl, combine together the yogurt and sugar until homogenous. Whisking continuously add in the oil and milk and whisk until everything comes together. Finally add in the essence and give a final mix.

Transfer the dry ingredients in 2 batches and combine until a smooth batter is formed.

Divide evenly between 3 - 6 inch cake tins that has been buttered and floured and pre lined with parchment paper.

Bake in a preheated oven of 180°C for 30-40 mins or until a skewer inserted in the centre comes out clean.

Allow it to rest in the tin for 3 mins and then invert it into a cooling rack to cool completely.
Sugar Syrup
Mix the sugar in the boiling water and stir to dissolve it completely. Let is cool in the refrigerator until ready to use.
Praline
Combine sugar and water in a saucepan. The sugar will start bubbling and melting away and will also start to caramalize which can be indicated by the change of colour that you can observe through.

Once the sugar syrup turns golden brown in colour take it off the flame, add in the chopped almonds give a quick stir and transfer to a cookie tray lined with aluminium foil. Spread it out immediately to form a thin layer and allow it to harden at room temperature.
Whipped Cream Filling
Take all the ingredients mentioned under cream filling tab and whip until stiff peaks form.
To Assemble
Once the cake is cooled completely trim off the top layer to level it even though you have a flat top cake as this step helps the cake to absorb all the sugar syrup you would add and keeps the cake moist for 3 days.

Next soak the cake layer with the prepared sugar syrup especially the corners of the cake

Add in one third of the prepared whipped cream filling and spread it out evenly.

Top it with a swirl of butterscotch sauce

Crush the praline to bite size pieces reserving some for final decoration and top it over the sauce layer.

Repeat the cake layers until you reach the top. With the same leftover cream crumb coat the cake and let it chill in the fridge for 30 mins.
Final Frosting
Take the cream cheese out of the fridge, weigh out the required amount, microwave for 10 sec and then proceed with the recipe.

Beat the cream cheese until smooth and creamy. Whipping continuously add the whipping cream until combined. Finally add the sugar and essence and whip until stiff peaks form
Video
Notes
In this recipe we will be using our own homemade Cake Flour. To make that measure out the said amount of plain flour in a bowl. Take out 2 tbsp out of it and replace the same using cornflour. Sift together to form homemade Cake Flour.
You can also choose to make use store bought Cake Flour here. In that case, do not use cornflour mentioned in the recipe, simply use 1.5 cups Cake Flour straightaway.
I have already shared a detailed recipe to make your own homemade Butterscotch Sauce. Here is the link for the same. You can also choose to use store bought if you prefer. Or refer the video tutorial in the recipe card for the same. 
For the whipped cream filling if you are using sweetened cream then simply skip adding icing sugar as butterscotch sauce would have sugar too so ultimately you might end up the icing becoming too sweet so adjust as needed.
Butterscotch essence of certain brands seems to be more powering than others. So always start by using 1/4 tsp, to begin with, taste and gradually increase as per needs. If you use too much essence then the icing would turn bitter in taste. 
Simply follow my stabilized Whipped Cream frosting recipe for a much detailed recipe step to get the perfect smooth frosting.
Did you make this recipe? Tag me today!
Tag me @spicesandflavors to get featured on my FB and Insta pages
Conclusion:
This Eggless Butterscotch Cake Indian style is one of the cake flavours that would just melt your mouth with every bite. 
This Cake is
Light with soft crumbs
Stays moist for 3 days
Perfectly sweetened with unusual flavour
Crunchy bits of praline enhances the texture
I hope you enjoyed this easy recipe on how to make Butterscotch Cake.
One of the cake flavour that every home baker must know. The other flavours that I think one should master includes:
Black forest Cake
I will see you soon with the recipe for Black Forest Cake.
And if you liked today's post on Eggless Butterscotch Cake then definitely let me know by tagging me, tweeting me or Instagram me. I would love to follow you and your posts.
Pin this for later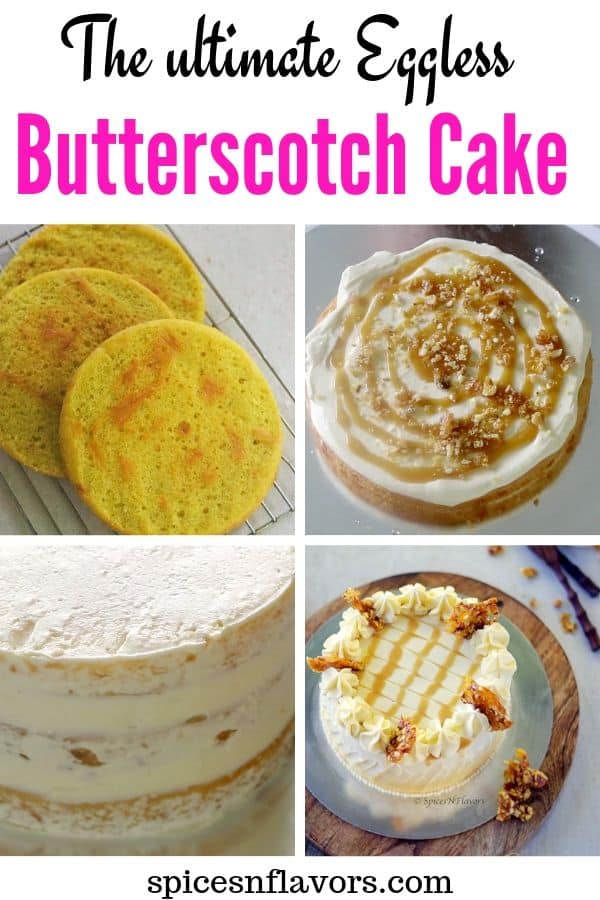 Until then
Hugs
Sushma