A decadent Indian dessert or to say Indian sweets inspired cake; this Gulab Jamun Cake is literally going to sweep you off your feet. Completely Egg-Free this moist, sweet, light and fluffy fusion Gulab Jamun Cake is what you need to make any occasion special.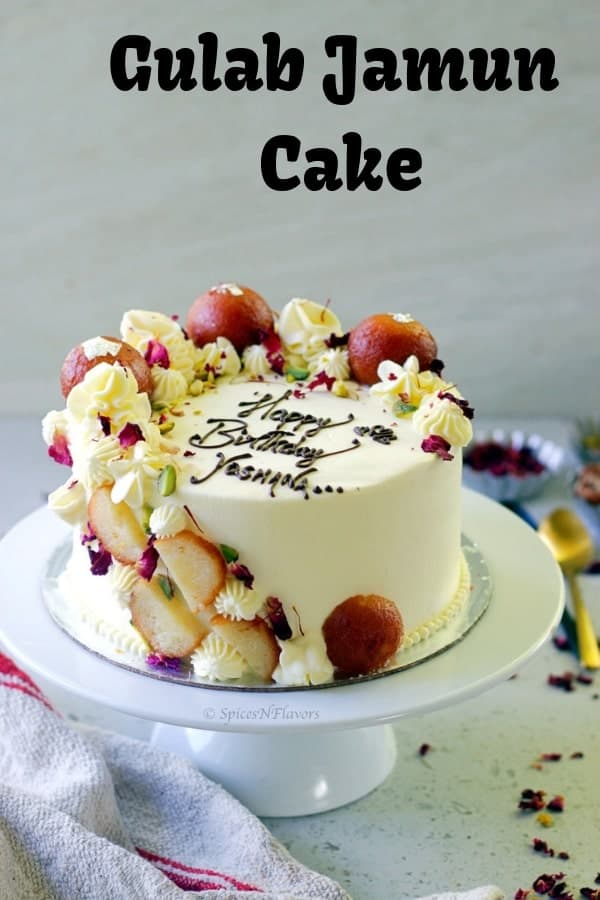 Gulab Jamun Cake is something that I am really gonna hold close to my heart.
You know why? (How would you.. so stupid of me 😛 )
That is because I baked this cake for my daughter who turned 3 last week. It is truly said with kids days are longer and years are shorter. How I wish to go back to the day when I held her for the first time <3
Awwww... I know right!!
Well, recently I got an opportunity to bake this for a client and I was so so impressed with the gulab jamun decoration that I had to recreate the exact same design for my daughter. Not only that but also I wished to share with you all because IMO it is one of the beautiful cakes I have made so far.
In this post, you can find details on
What is Gulab Jamun Cake
Tips to Make Gulab Jamun Cake at home
How to serve the cake
Indian inspired cupcakes and cakes are taking over the market these days..
On my last visit to India, each and every bakery shop that I visited had some or the other kinds of fusion cake in the display. The most popular one was, of course, Rasmalai Cake.  (Let me know if you would like to have a video post on Rasmalai Cake since it is such a common cake I am not sure of making it anytime sooner.)
I also had the chance to taste Kaju Katli Cake which was pretty good too.
Now there are two kinds of people - One who likes fusion cake and ones who are totally against it... Which category do you belong to?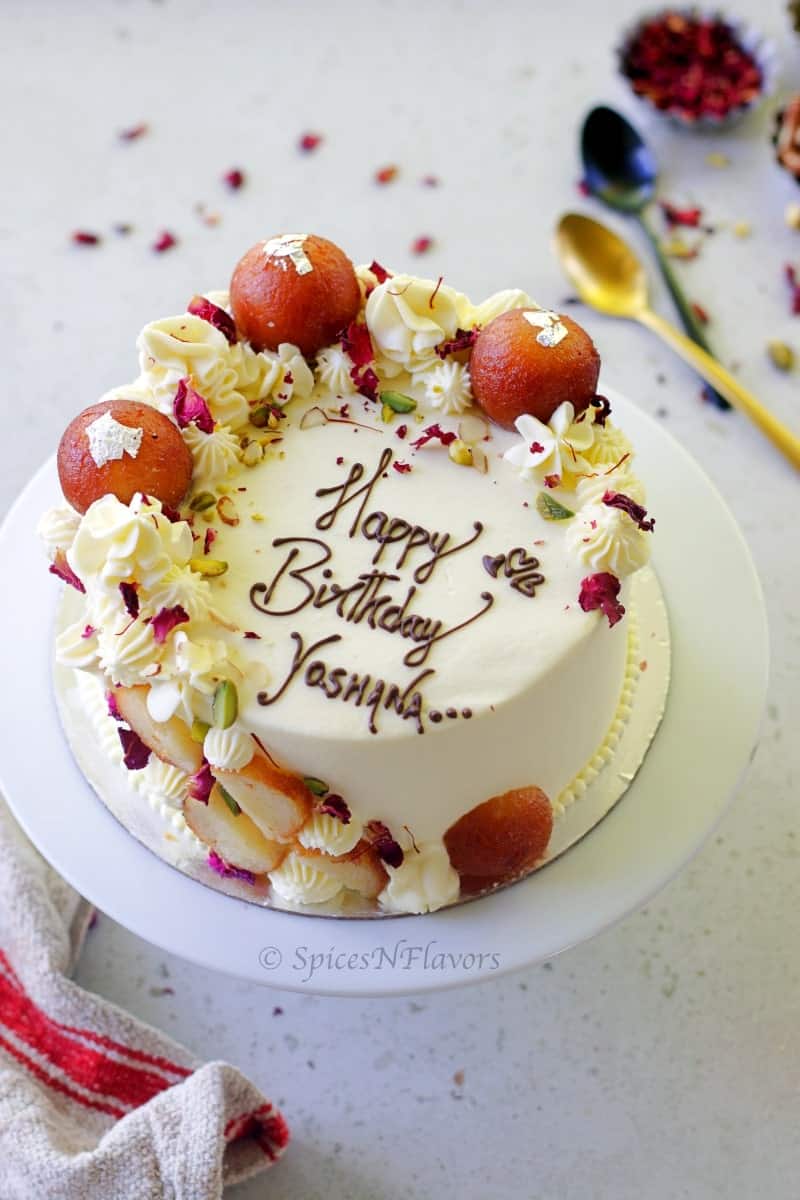 To make Gulab Jamun Cake you would, of course, need some gulab jamuns.
What is Gulab Jamun?
Gulab jamun is a milk-solid based sweet from the Indian subcontinent.
These milk solids, known as khoya, are kneaded into a dough, with a small amount of flour (maida), and then shaped into small balls and deep-fried at a low temperature. The balls are then soaked in a light sugar syrup flavoured with cardamom and rose water or saffron.
Then what is Gulab Jamun Cake?
It is basically a variation of my Eggless Vanilla Cake recipe or to be precise Eggless Fruit Cake recipe.
So instead of vanilla or fruit essence, I have used Rabdi Essence in this recipe.
It is a rabdi flavoured cake, the even light and fluffy layers of cake with soft crumbs are then drenched in the sugar syrup that is scented with rose and saffron, layered with the smoothest cloud-like whipped cream frosting sandwiched with bits and pieces of soft gulab jamun that literally melts in your mouth which is then dressed up in the most amazing silky smooth whipped cream frosting.
A slice of this cake would surely make you close your eyes and enter into the state of nirvana 😀
No no no I am not at all exaggerating here; since everything is made fresh and at home, including the gulab jamuns which are totally homemade you get the best experience ever.
I always prefer to make homemade Rasmalai and homemade Kaju Katli or any Indian sweet like, in this case, homemade gulab jamun for all the fusion cakes, the final outcome has to be impressive.
Surely I would share a detailed post on how to make gulab jamun at home for you guys.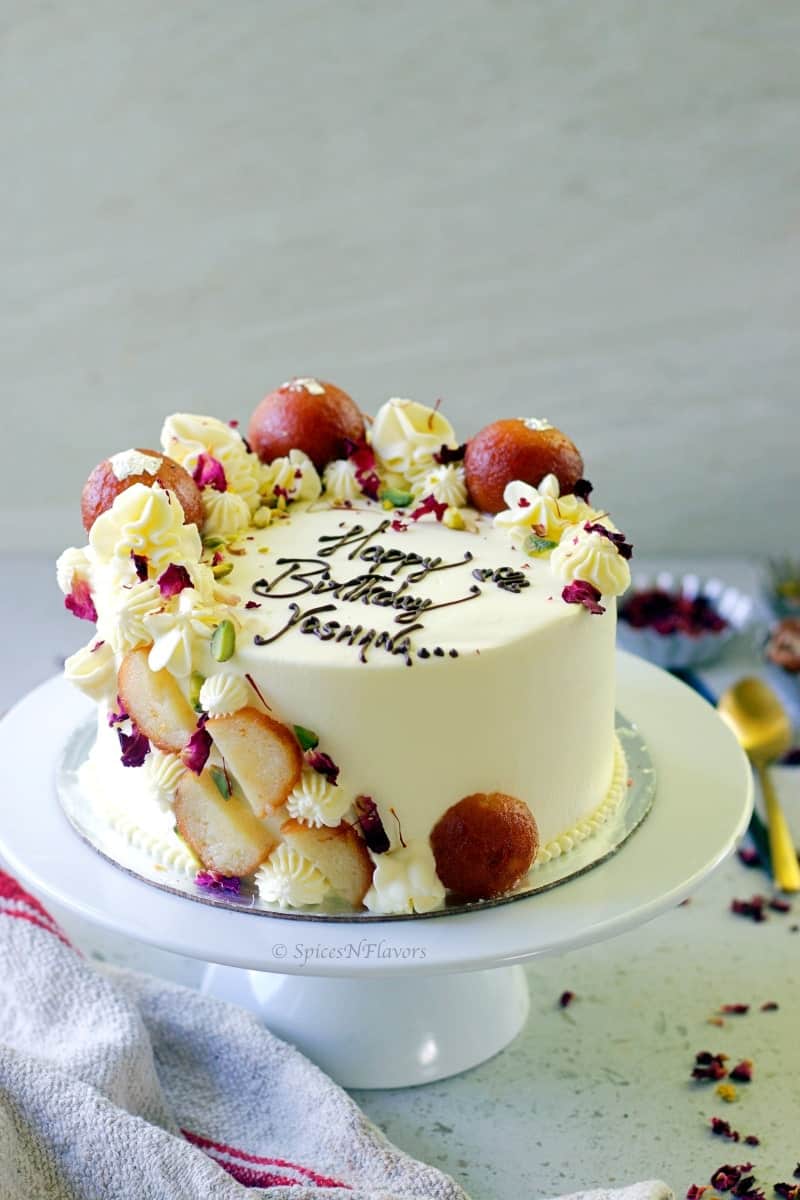 Gulab Jamun Cake ingredients:
1. Cake Base:
Haha.. sounds silly right.. so obviously you would need a cake base for which I have used the same base recipe from my Fresh Fruit Cake post except that in this case substituted the fruit essence with Rabdi Essence.
Feel free to use any of your favourite cake recipes or check out this simple eggless vanilla cake recipe made without condensed milk that is perfect for beginners.
2. Gulab Jamuns
You can make your own gulab jamun mix using mtr gulab jamun, gits gulab jamun or any gulab jamun packet for that matter.
Or make gulab jamun from scratch like I did, using mawa.
Simply just refer google for gulab jamun near me and just buy it from there. 😉
You would need 10 pieces of gulab jamuns for this cake.
3. Whipped Cream
The only type of cream that is available to me here is non-dairy whipping cream so that is what I use to fill my cakes most of the time.
Since it is not as stable as the non-dairy whipping cream that is available back in India, I often make a Stabilized Whipped Cream and use it for frosting my cakes.
Have also used Pistachios and Rose Petals as garnish.
Actually have added some pistachios along with gulab jamuns in the filling so I think this cake can pass out as being named: gulab jamun pistachio cake 😉
Tips for making Gulab Jamun Cake:
I feel that the gulab jamuns make this cake pretty heavy so I would advise you to work with chilled cake as far as possible.
Always soak the cake to keep it moist for 3-4 days. Soaking with the syrup that came along with gulab jamuns is just ideal for this cake
Use an ice-cream scoop or ladle to add even layers of cream as part of filling. This is a useful tip especially if you are a beginner.
Make sure to chop your pistachios and also gulab jamuns to bite size pieces.
Always place the gulab jamuns on top of your cake as part of decoration right before delivery as the gulab jamuns is heavy there are possibilities that it might slide down with the passage of time. Though mine stayed firm throughtout the travelling and reaching the client's house just a precautionary step is what I wanted to tell you.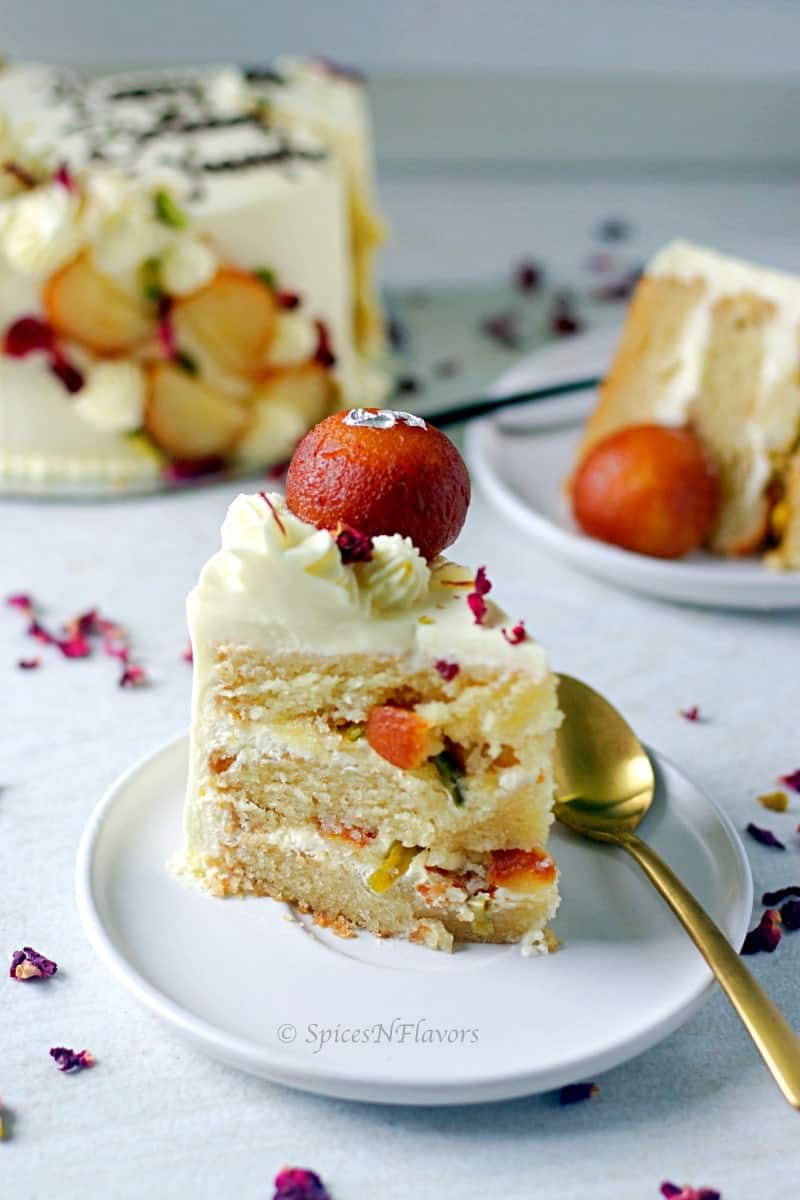 How to serve Gulab Jamun Cake?
Well, this technique is not only applicable to this cake but for all the cakes that you would cut and serve going forward.
Instead of making a regular triange slice on cakes like we usually do while cutting it, we should cut it into rectangles for serving.
What I mean is make horizontal and vertical cuts like rows and columns and then serve them to your guests.
If you were to cut a triangle slice the max pieces that you would get is 8 in any cake whereas if follow the method of cutting the cake in rows and columns it would serve a large number of guests.
This is exactly what a catering guy would do while serving wedding cakes.
Makes sense right!!
If you are a homebaker, selling homemade cakes, then you must check this Ultimate Cake Pricing Guide tutorial which would be super handy for you.
Related Recipes:
Liked this recipe?
Let us know by giving it a star rating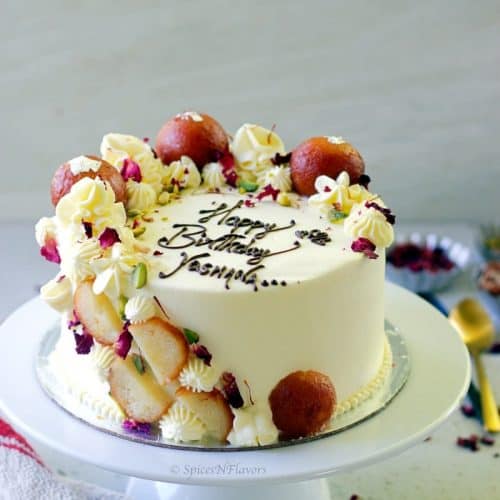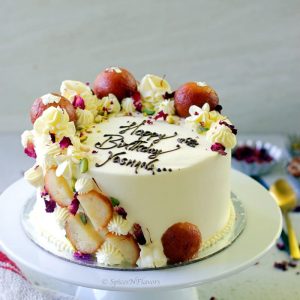 Print
Eggless Gulab Jamun Cake Recipe
A decadent Indian desserts or to say Indian sweets inspired cake; this Gulab Jamun Cake is literally going to swipe you off your feet. Completely Egg-Free this moist, sweet, light and fluffy fusion Gulab Jamun Cake is what you need to any occasion special.
Ingredients
For the Cake Base
1.5

cups

All purpose Flour/Maida

1.5

tsp

Baking Powder

1/2

tsp

Baking Soda

pinch

Salt

1

Cup

Sugar

3/4

cup

Milk

1/2

cup

Yogurt

1/2

cup

Oil

1/2

tsp

Rabdi Essence

refer notes
Sugar Syrup
Syrup that came along with Gulab Jamuns
Cream Filling
175

gms

Whipping Cream

44

gms

Icing Sugar

1/4

tsp

Rabdi Essence
Gulab Jamun Filling
4

nos

gulab jamuns

2

tbsp

slivered pistachios
Cream Frosting
53

gms

Cream Cheese

refer notes

225

gms

Whipping Cream

56

gms

Icing Sugar

1/4

tsp

Rabdi Essence

1/4

tsp

Vanilla Essence
Instructions
Step 1 - For the Cake Base
Sift together the dry ingredients - Flour, Baking powder, Baking Soda, Salt and Sugar and keep aside.

Take milk in a bowl. Whisking continuously add the oil to help it emulsify. Next, add the yogurt and essence and combine together.

Add the sifted dry ingredients into the wet in two batches. Combine to form a smooth batter

Divide the batter evenly between three 6 inch pans that have been greased with butter and lined with parchment paper. Approximately 275 gms in each tin.

Bake in a preheated oven of 180°C for 35-45 mins or until a skewer inserted in the centre comes out clean.
Step 2 - Cream Filling
Take the measured out whipping cream, icing sugar and essence in a bowl.

Whip until stiff peaks form and it is ready to use.
Chop the gulab jamuns into bite size pieces
Step 3 - Cream Frosting
Whip the cream cheese until it is creamy

Whipping continuously add the whipping cream little by little. Scrape the bowl using a spatula and then add icing sugar and fruit essence. Whip until stiff peaks form.
Step 4 - To Assemble
Layer the cake onto a cake board. Trim off the top to even the cake.

Soak the cake with the sugar syrup that came along with the gulab jamuns

Add half of the cream filling and spread it out evenly.

Top with half of the bite size gulab jamuns and slivered pistachios.

Place the other cake layer on top and repeat the steps.

Crumb coat the cake with the leftover cream filling and let it chill for 30 mins.

After 30 mins frost the cake completely with the

stabilized whipped cream frosting

till you get a smooth finish on the sides and top. Refer the video on how to frost your cake for a better understanding.

Let it chill once again for 30 mins.

And the decorate the gulab jamun the way you like. I have used a total of 10 gulab jamuns to fill and frost the cake.
Video
Notes
If you do not have radbi essence, (though I would highly recommend using it as it is easily available also these days) you can flavour the cake with cardamom powder.
And for the cream, you can use any other essence like almond or even rose water or rose essence.
Simply follow my stabilized Whipped Cream frosting recipe for a much detailed recipe step to get the perfect smooth frosting.
If you liked the writing on top of the cake and you would want to master the art of writing on cakes? Then definitely check out my post for the 6 tips that would help you master it.
Allow the cake to chill for a few minutes between crumb coating, frosting and decorating stage.
Feel free to use saffron strands, rose petals, edible silver foil and some more slivered pistachios as part of the decoration.
Did you make this recipe? Tag me today!
Tag me @spicesandflavors to get featured on my FB and Insta pages
Conclusion:
In all get away from your regular baked gulab jamun cheesecake or no bake gulab jamun cheesecake and give this interesting Eggless Gulab Jamun Cake recipe a try.
This Cake is
Light with soft crumbs
Moist
Delicious filling
Soft gulab jamuns
Looks so good; Ain't it?
And if you try this recipe then do let me know by tagging me, tweeting me or Instagram me. I would love to follow you and your posts.
Pin this to your Baking board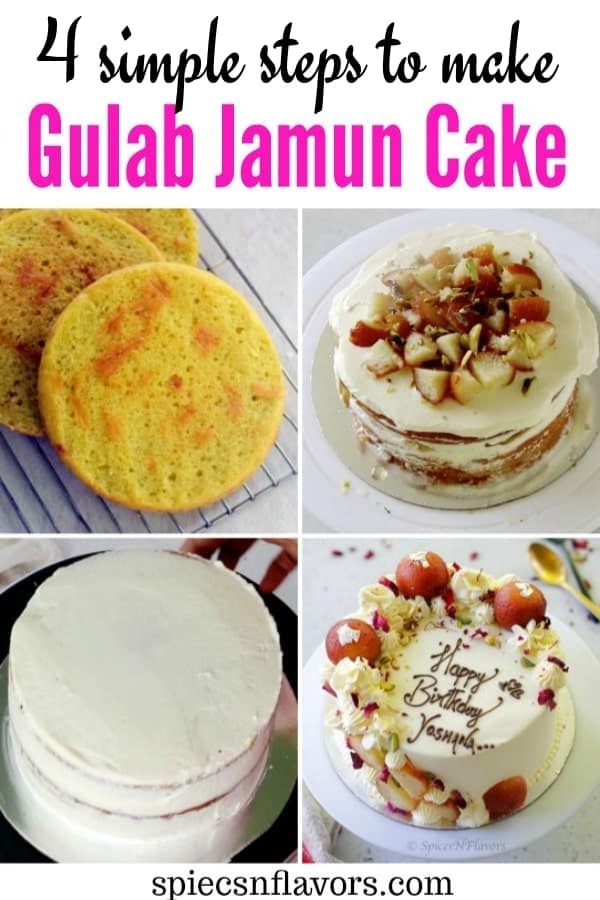 I will see you soon with yet another one
Until then
Hugs
Sushma