One of the easiest Instant Pot desserts that you can ever make has to be this Instant Pot Mint Cheesecake in a Jar. A stunning show stopper dessert for any party, occasion or just a simple meal!!
Instant Pot Mint Cheesecake is a simple individual dessert that has a crisp crust, cream dreamy light cheesecake layer with ganache and peppermint cream as toppings.
This Mason Jar cheesecake turned out so delicious that you would not believe there is no sour cream in it!!! Shhh.. that's a little secret don't let anyone out there get to know about it... 😉
In this 
instant pot cheesecake recipe, you will learn:
Why make this mint cheesecake in an instant pot?
How long to cook cheesecake and check its doneness?

How can I make cheesecake without sour cream?


Troubleshooting common cheesecake problems like why is my cheesecake runny in the middle, cheesecake too dry, how to avoid lumps of cheesecake in the batter etc. aka tips for cheesecake in an instant pot
Why do I recommend making this Instant Pot Mint Cheesecake in a Jar?
Ain't these cheesecake pots looking striking??
Imagine walking out with that unique wooden board (that you just bought 😉 ) holding these cute little mason jar cheesecake to a bunch of people who are eagerly waiting for the perfect and unique dessert that you have always surprised them with at each party that you have been hosting..
Woah.. That is going to be legendary!!! ( Barney Stinson from How I met your mother style 😉
So apart from being an absolute eye candy of your party, these jar cheesecake in instant pot is:
the perfect individual serving portion for any party
Portion control technically 😉 well you know what I mean, I won't judge you if you have 2 or 3 of these because I just had the third one 😉
Great for potlucks as you can practically transport it easily as compared to the regular cheesecake made in a pan.
Takes comparatively less time to cook and also to cool down as compared to the traditional cheesecake
No worrying about water-baths as our magic pot creates one for you.
No cracked tops whatsoever. 😀
You also don't have to worry about dry cheesecake because there is no way you would end up over-cooking the cheesecake as the electric pressure cooker cheesecake has the perfect setting in terms of water bath and temperature as compared to the oven.
You can absolutely make any instant pot cheesecake flavours for that matter. Honestly, I wanted to give this Mint Cheesecake a try before St.Patricks so that I can make some for my girls on our exclusive women-only St.Patrick Day's lunch date.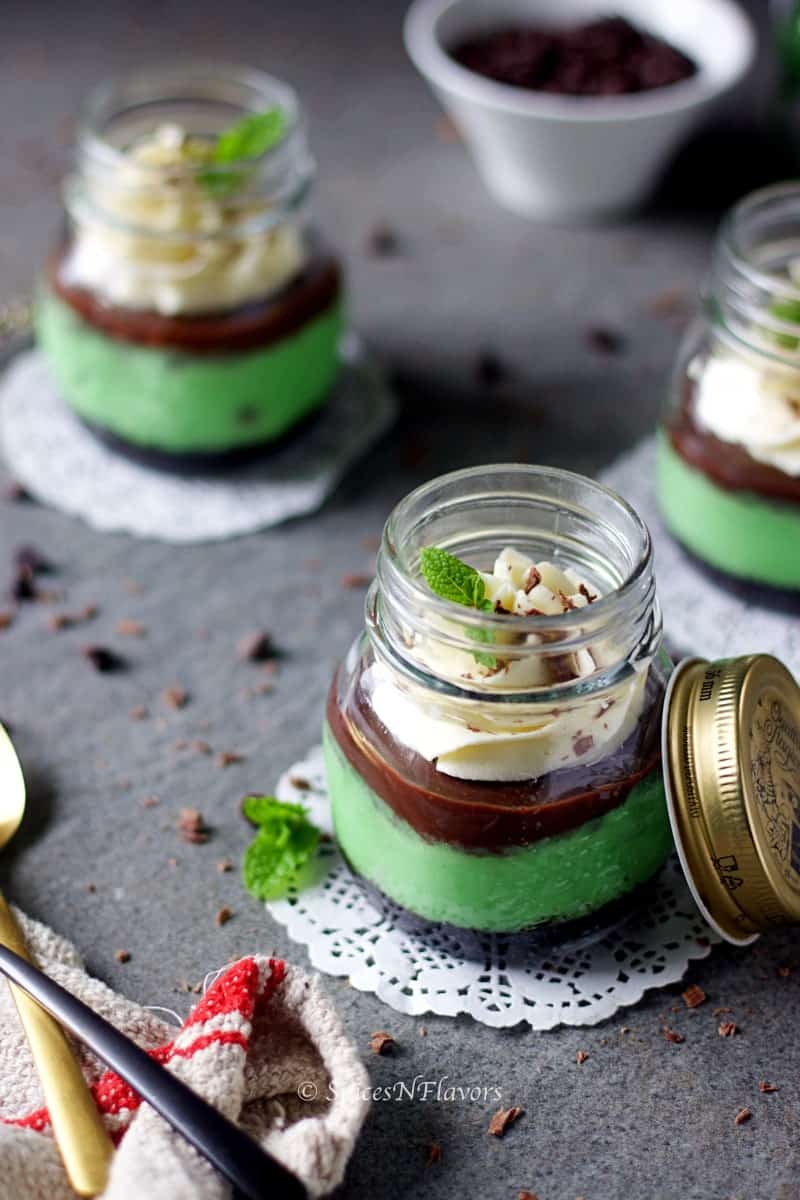 Now you know making a cheesecake in an Instant Pot is literally a Cakewalk right!!
But how do you know how long to cook cheesecake and how to tell when a cheesecake is done?
Since I could make 8 cheesecake jars out of this recipe I had the opportunity to try two different timings to check before I actually share it with you all.
The first time I put a set of 5 jars in my Instant Pot and cooked it for 6 mins. Allowed NPR and when I took it out I was little confused. Though the cheesecake was set with just a slight wobble (yes that is how you check the doneness will get into that in a minute.) I felt it might be a bit on the over-cooked side.
So for the next 3 jars, I cooked it for  5 mins. Allowed NPR and you won't believe it was set so beautifully and perfectly. I was surprised to learn that you can actually make these cheesecakes in just 5 mins.. wow...
Hmmm... so 5 mins or 6 mins.. well there was absolutely no difference in terms of texture.. both were exactly the same.. So to answer your question on the timings I would say let's stick to 6 mins only just to be double sure 😉
Once baked, you still want this mint cheesecake to be quite jiggly in the middle like if you shake the jar just so slightly, it should shake like Jello. The corners should be completely set though and the middle top layer should have a jiggle. That is how you check the doneness of the cheesecake.
Troubleshooting Common Cheesecake Problems or Tips to make the perfect Cheesecake in an Instant Pot.
I cannot stress how important it is to have all the ingredients for this Mint Cheesecake at room temperature. The key to making a perfect lump-free Cheesecake is to have your cheesecake softened. A good soft cheesecake whips up beautifully giving you a perfectly smooth cheesecake batter.
Cheesecake is too dry - that is because of over-cooking however since you are making it in the Instant Pot and that too in jars you absolutely do not have to worry about this.
Chilling the cheesecake is an absolute important step. And there is also a right way of doing it. Once you take the cheesecake out of your IP let is allow it to come to room temperature before you chill it in the fridge for 2 hours or preferably overnight.  This would help the cheesecake to firm up and our wobbly centre would also set completely.
It is also recommended to use either caster sugar or icing sugar as it would dissolve faster when beaten with the cream cheese giving you a smooth batter.
Do not worry about using mason jars in instant pot, it is absolutely safe. 🙂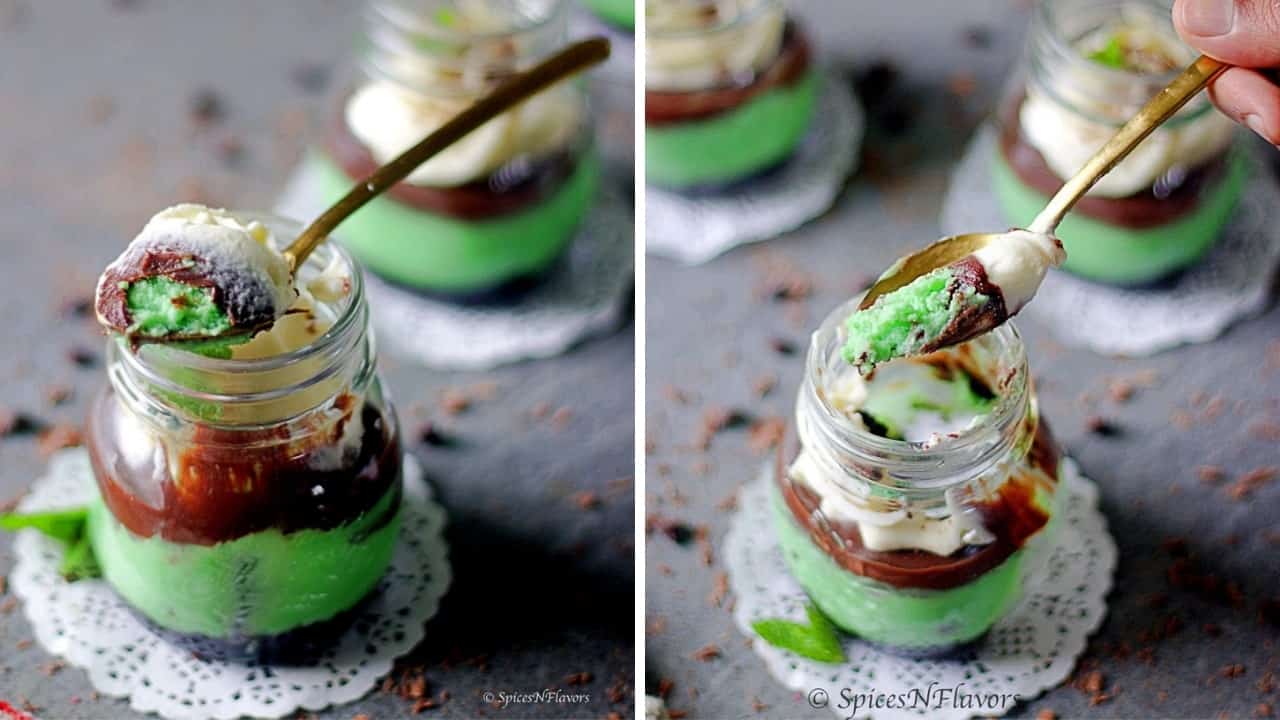 Are you eager to know but how does this Instant Pot Mint Cheesecake in a Jar actually taste like?
First of all, I don't know about you but I absolutely love layered desserts. Are you nodding too?
In that case, I was totally bowled just by the look of it..
Look at those layers just so perfect - we have crusty oreo layer, creamy dreamy mint cheesecake with choco-chips added to it followed by chocolate ganache and peppermint cream and chocolate shaving as garnish.. Wow.. Love that colour combination.. just perfect to pass on as a St.Patrick's Day dessert.
The oreo layer at the base is crusty, crispy and adding a bite or texture to our creamy and otherwise smooth cheesecake.
And oh my gosh!!! I can just go on and on about the cheesecake flavour. This peppermint essence is just perfect and fresh without overpowering the cheesecake which could easily happen.
The cheesecake in itself is so smooth, it has a bite and yet melts in your mouth. It is so creamy and not firm as we have not added any flour to it. And trust me I would not recommend adding flour as a jar cheesecake has to have that smooth texture according to me.
Protein in the egg whites has totally set the cheesecake so well. It was not over-cooked. Also, it is much lighter as compared to the traditional springform cheesecake.
Chocolate chips totally add a pleasant bite giving it that perfect texture.
The dark chocolate ganache layer compliments the sweetness of the cheesecake and the whipped cream and chocolate shavings add a perfect garnishing or finishing layer to our best instant pot cheesecake jars.
So finally it is time to have a look at the recipe.. hehe..
How to make Cheesecake in Instant Pot?
Liked this recipe?
Let us know by giving it a star rating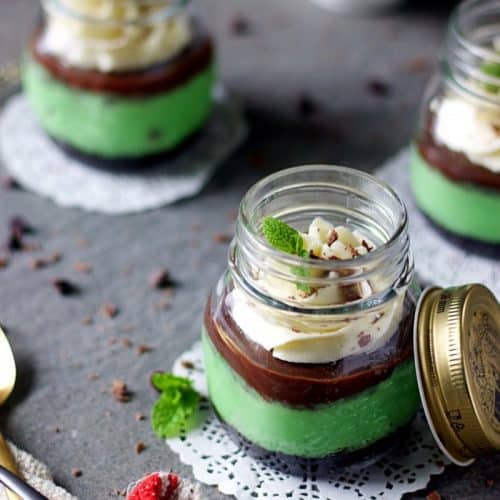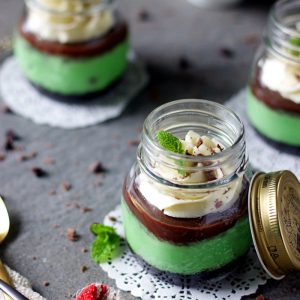 Print
Instant Pot Mint and Choco-chip Cheesecake in a Jar
Instant Pot Peppermint Cheesecake in a Jar is one of the best instant pot desserts that you should try right now. It is a simple individual dessert that has a crisp crust, cream dreamy light cheesecake layer with ganache and peppermint cream as toppings.
Ingredients
For the Cream Cheese Batter
11

oz

(300 gms) Cream Cheese

softened

2/3

cup

(130 gms) Caster Sugar

2

Eggs

3

tbsp

(40 gms) Lemon Juice

1

tsp

Peppermint Essence

1/3

cup

Chocolate-Chips

Few drops of green food colour
Chocolate Ganache:
140

gms

Dark Chocolate

70

gms

Cream
Whipped Cream and Chocolate Shaving for Garnish
Instructions
Step 1 : Cheesecake Crust:
In a food processor or mixer, using the pulse mode simply grind the Oreos until it resembles a sand like texture.

Add in melted butter and combine it looks like a wet sand and when you press a little amount in your palms it should retain its shape.

Add 1 tbsp plus 1 tsp of this crushed oreos to the base of 8 mason jars and press firmly for it to set.

Keep it in the fridge whilst you start preparing the cheesecake batter.
Step 2 : Cheesecake Batter
Beat the softened cream cheese and sugar until it is smooth and creamy. Keep aside

In a separate small bowl, whisk eggs, lemon juice and essence together.

Add in the egg mixture to the cream cheese in 2 batches and beat until it is well combined and smooth again.

Add the green food colouring and mix to combine.

Finally, fold in the choco-chips and divide the batter between 8 mason jars right up to the centre of the jar leaving space for ganache and the cream.

Cover it with aluminium foil on top and keep it ready.

Add 2 cups of water to the base of your instant pot.

Place the instant pot trivet and then the mason jars. I could place 5 jars in one go.

Set the valve to sealing.

Press Manual/Pressure Cook and set the timings to 6 mins.

Allow natural depressurizing.

Take the mason jars out carefully and place the remaining 3 jars for the same timings.

The baked cheesecakes should have a slight wobble in the centre like a jelly with firm corners around.

Allow it to come to room temperature around 15 mins before placing it in the fridge to chill for a minimum of 2 hours preferably overnight.
Step 3 - Chocolate Ganache.
Chop the chocolates finely. Take it in a microwave-safe bowl along with the cream.

Microwave until the chocolate is all melted and combined with the cream for around a minute in a interval of 15 seconds.

Alternative you can also mix them up using a double boiler method.

Pour this on top of your cheesecake after the chilling time. Make sure it is not hot or else you will end up melting the cheesecake.

Let is sit in the fridge for 30 mins to set completely.

Add some whipped cream on top along with chocolate shavings and mint leaf as part of garnish.
Video
Notes
Notes:
1. The key to making a good cheesecake is using soft cream cheese.Make sure to remove the cream cheese from the refrigerator at least an hour before you plan to make the cheesecake.
2. You can use any chocolate cookies as the base for your crust.
3. Adding food colour is optional. Skip it if you want to.
4. Also making the ganache and whipped cream topping is optional. If you want you can completely skip it. In that case, fill your jar to 3/4th the size to make 4 or 5 cheesecake jars in place of 8 mason jars.
5. I have used a jar that measures 5 oz. 4-5 oz size jars work perfectly well for this recipe.
How to make Eggless Cheesecake?
The proteins in the eggs are what helps to set the cream cheese in place. Alternatively, you can use 1cup of whipping cream in place of eggs to make an eggless cheesecake.
In that case, there is no need to even bake this. Just allow it to chill overnight and it would be set perfectly.
How to Store/Freeze the cheesecake?
This cheesecake stays good in the fridge for upto a week. Freeze it for nearly 2 months.
Did you make this recipe? Tag me today!
Tag me @spicesandflavors to get featured on my FB and Insta pages
How to make this Mint Cheesecake in an Oven?
Take a baking tray (not a cookie tray).
Place a tissue into it and then place these mason jars on top.
Add boiling hot water into the baking tray filling it right until it reaches till the middle of the mason jar. This step is to create a water bath so that the cheesecakes do not crack in the oven.
And then bake in a preheated oven of 160°C for 10-15 mins.
Conclusion:
In short these Instant Pot Mint Cheesecake in a jar is a perfect party pleaser, totally stunning show stopped with that mint and chocolate flavour that would be a perfect after dinner dessert.
Individual portion and easy to carry makes it a perfect dessert for any potlucks.
The balance of mint and dark chocolate ganache is just perfect to cut the sweetness from the cheesecake.
In all this creamy dreamy light cheesecake is a dessert that you would be coming back for. Totally worth trying.. you will love it 😀
Oh btw if you are bored of simply trying out cheesecakes in your Instant Pot, then this Instant Pot Chocolate Terrine is something that you would absolutely love.
If you happen to try this Pressure cooker cheesecake then do share it with me by tagging me, tweeting me or Instagram me. I would love to follow you and your posts.
Pin this to your Instant Pot Desserts or Instant Pot board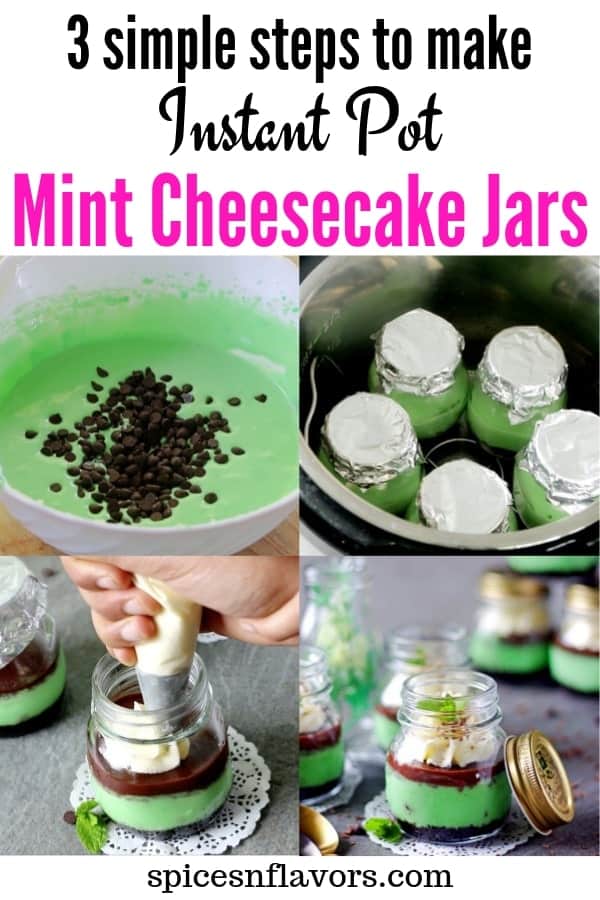 I will see you soon with yet another one
Until then
Hugs
Sushma