Do you struggle pricing your baked goodies? This Ultimate guide on Cake Pricing; well not only cake pricing but with this ultimate guide you will start pricing all your products accurately.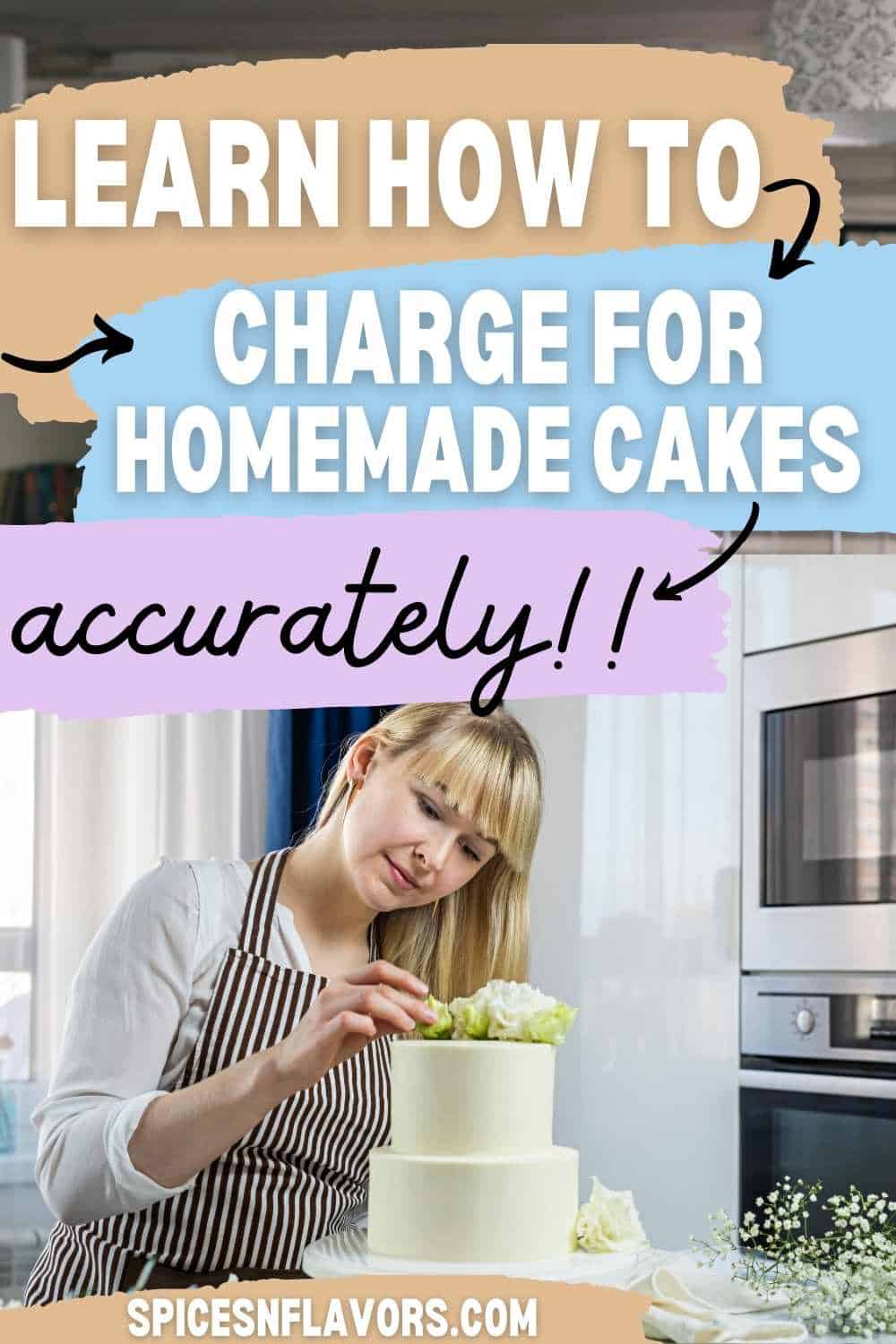 Why is it important?
How often have you felt burned out selling?
Burdened with the guilt of compromising on emotions that should have otherwise made you feel like a girl boss.
Well, girl you haven't been valuing YOURSELF over your CAKES.
And that is why it is important to price your products the right way.
Pricing the baked goodies is important to:
Ensure that you are actually running a profitable business.
It is important to keep an expense tracker.
This would ensure that you are paying your taxes properly so that tomorrow you do not fall prey to any new Government, I mean official changes.
YOU will finally start valuing YOURSELF and will start feeling good about the kind of work you are doing.
How Much Should I charge for Homemade Cakes?
This is probably one of the dreaded question every new home baker has!!
How should I price my cakes? How much to charge for cupcakes?
How much do you charge for a cake? Do you have a pricing chart?
What should I charge as a beginner?
How much should I charge for theme cakes? What will is the price for this design?
How much does an 8 inch cake cost or how much to charge for 1/2 kg cakes?
If you ever had such bursting questions in your mind, then you my friend have landed at the right place.
Today let me share with you all a detailed guide on Cake Pricing.
Basic Formula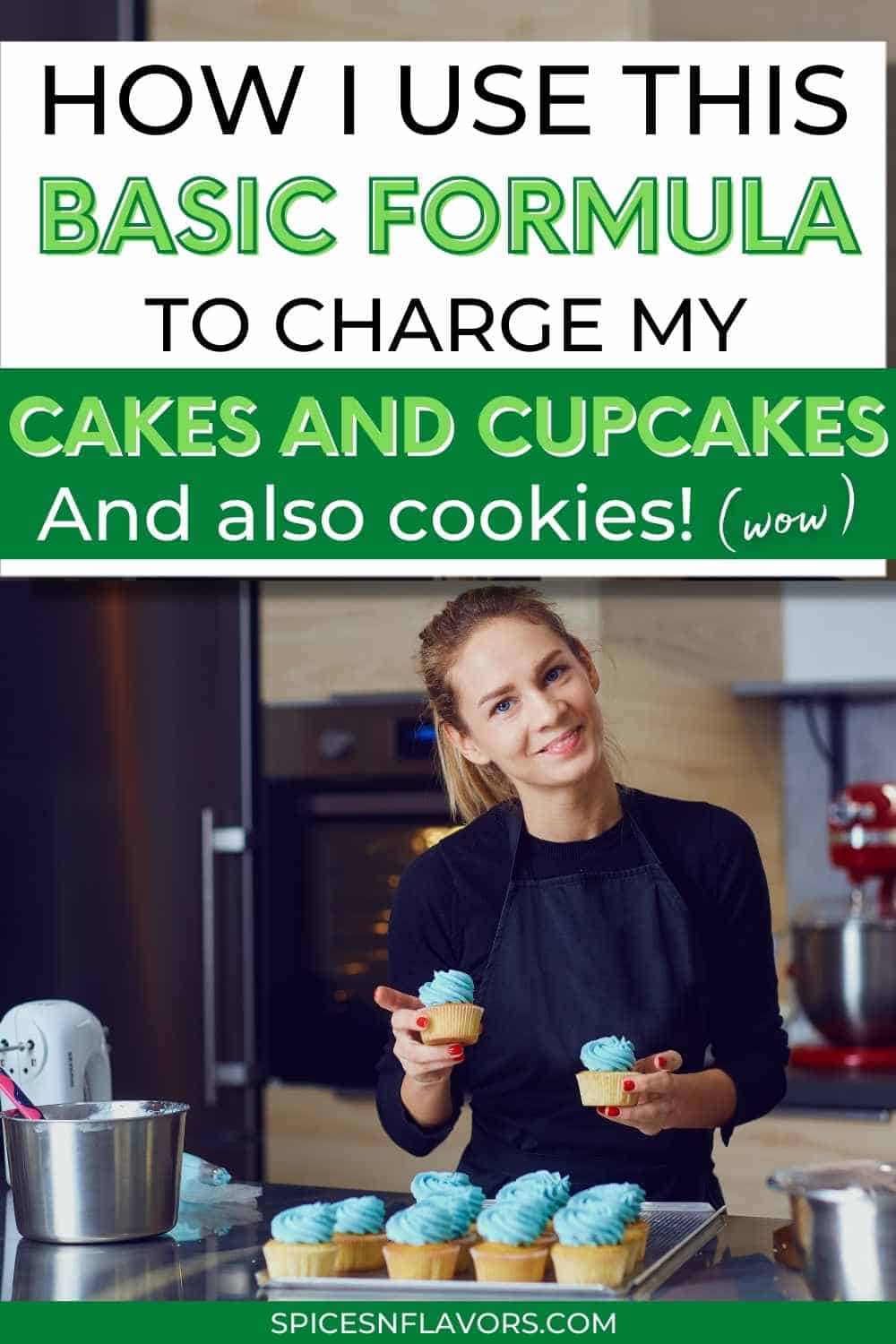 Now how many times have you fallen prey to multiplying your ingredients x 3??
High five if you have done that.. No need to feel ashamed of it as finally you have realised that is not the right way to price and hence you are here today.
Which means you are already learning from your mistake.
So yeah.. without further delay here is the basic formula for calculating your cakes or any baked goodies for that manner:
Price of Cake = Direct Cost + Overhead + Wages + Profit
DIRECT COST:
As the name suggests simply calculate the total price of each and every ingredient you would use to make your cake.
That would be the direct cost as that is what you are using directly to make your cake.
Why is it important to calculate the DIRECT COSTING?
By not calculating you are literally digging a hole for yourself.
You do not want to go into a loss just to keep your passion going right!! If you are treating this like a business then calculating the cost of the ingredients is the number one criteria.
It is only through calculating the ingredient price would you be able to educate your client about the difference in the quality used.
For eg: You might be using couverture chocolate to make ganache and this would be the reason for why your cake would taste and look better than your competitors.
And hence this is the reason why your pricing would go high comparatively.
This my girl is how you would then educate the clients too and once they like and understand it they would keep coming back for more.
Start with the very basic cake - say my vanilla cake for example.
Simply create a spreadsheet or an excel sheet and then write down the cost of each and every ingredient.
Remember you just need to calculate the quantity of the product used to make the cake and not for the whole bag of flour that you have purchased from the market.
2. OVERHEAD (Indirect Costing):
Overhead is basically the charges that you need to calculate for the electricity, water and rent charges that you might be paying additional to run your business.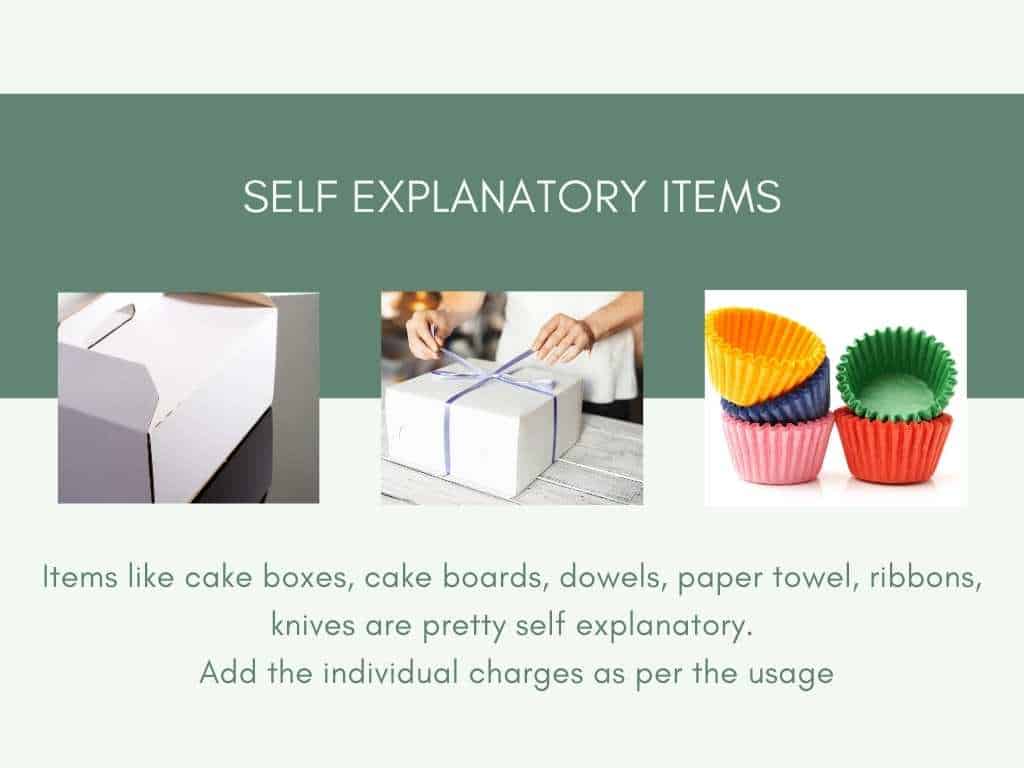 Overhead would also include other things like:
Cake Board
Cake Box
Packaging materials
Delivery
This section would also include your depreciation on machinery.
You can add a percentage of value to your pricing.
I have however made the process very simple for you.
You can consider buying my pricing guide for a minimal value to understand how to derive on the right amount without guessing.
To make it even simpler I have created an excel sheet for you and all you have to do is just enter your values and the guide will calculate the prices for you automatically.
Click here if that sounds right up your ally.

3. WAGES (LABOUR COST)
Girl.. I cannot stress how important this section is for you.
If there is one thing that you should start right away then that is start valuing yourself.
You are UNIQUE, you are an ARTIST and no one can create what YOU CREATE.
So start valuing your TIME and your ART.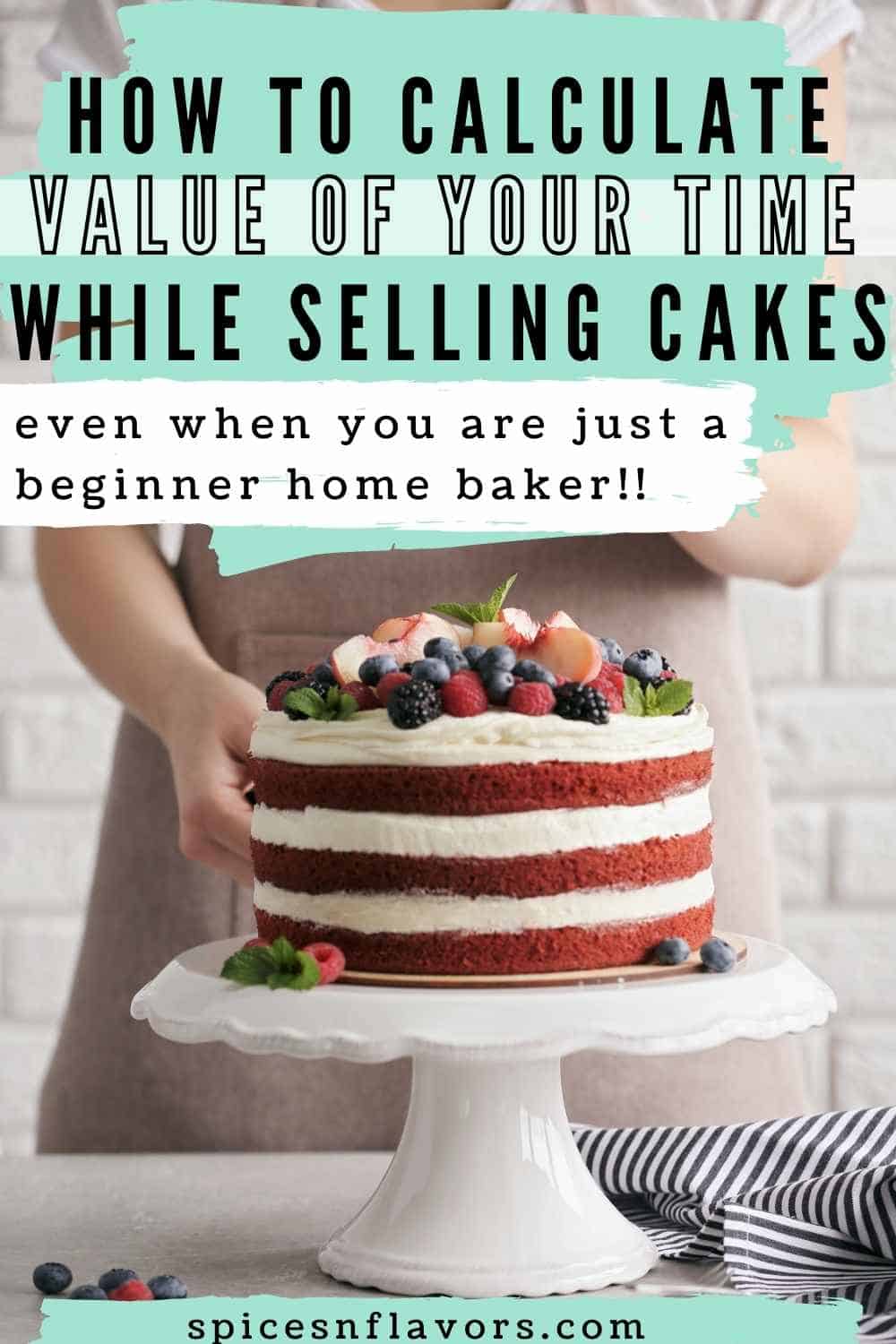 Now imagine that you are going to a regular desk top work.
You work all day, give your skill, time and labour.
And at the end of the month, the manager tells you WOW - What a beautiful piece of work you have done. I appreciate your skill and your time. Thank you for doing it for me.
And he does not pay you. Will you accept it??
Then why do you think of making a cake and just accepting appreciation in return??
You deserve to be paid a salary right!!
Every hour you spend making a cake is your valuable time and TIME is MONEY.
What is my TIME worth?
Before quoting your price to the customer you must think about
How long does it take me to:
Provide customer service
Respond to emails/inquiries/phone calls
Shop
Design/sketch
Bake
Decorate
Package
Photograph
Clean
When you are starting out I understand that you already feel overwhelmed that at least you are getting orders to begin with and charging for the same might make you feel guilty.
But do not do this mistake of not charging if not the entire amount charge at least half of it and then over time when you gain confidence you can increase the prices.
Allocate a certain amount of time for the cake (say example 4-8 hours) - the time spent to talking to the customer to making blank canvas stage plus some basic decoration plus the cleaning.
So give yourself a minimum wage for the time you choose.
How to determine YOUR WAGES?
This is again subjective.
You can compare it to the equivalent amount of salary you would have earned if you were to go to a 9-5 office desk job.
And if you are looking for shortcuts to calculate or derive to this value the click this link and make the best investment you ever will!!
How to Charge for Theme Cakes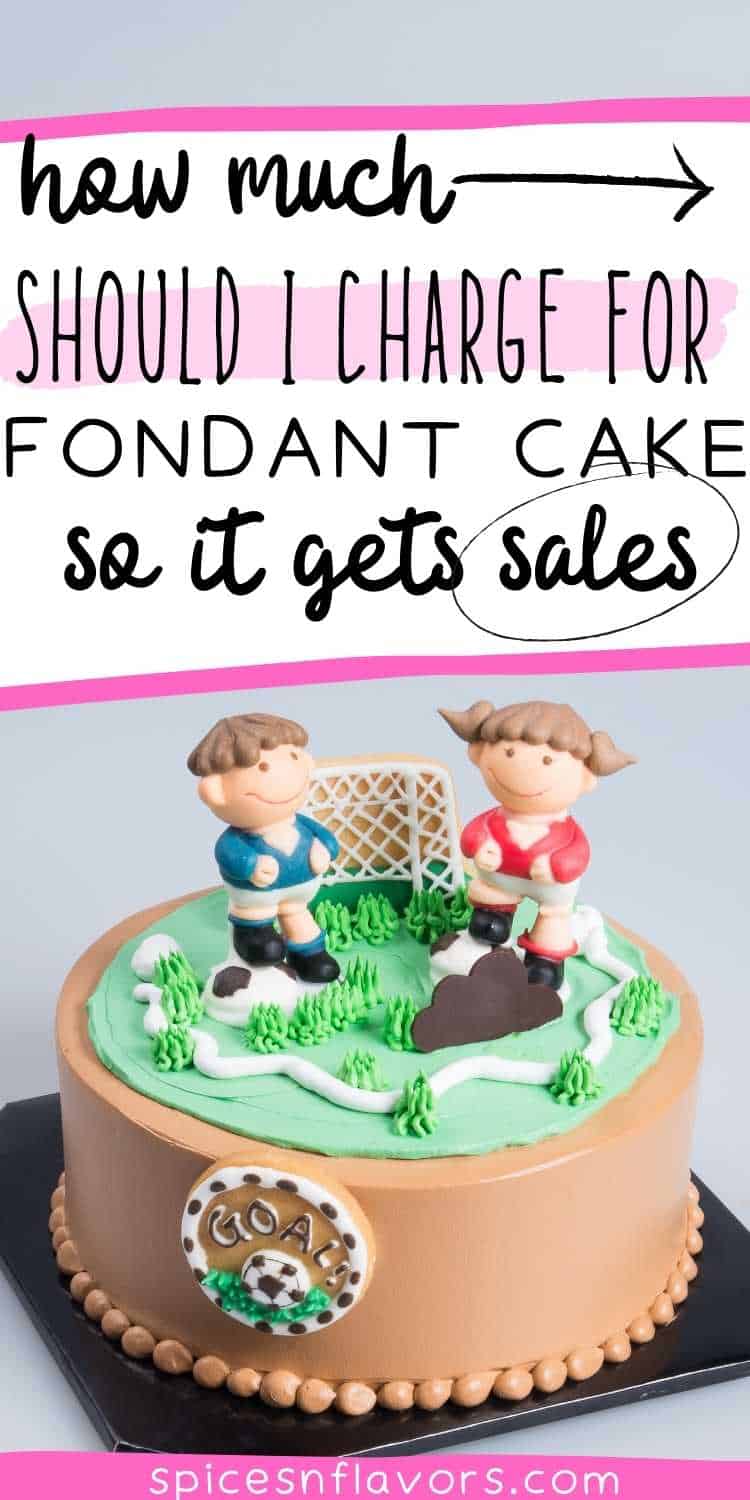 Say for example you are making a theme cake or dessert table or anything that needs extra detailing and attention would call for more hours ultimately more wages.
Take this peppa pig cake that I made for my daughter's third birthday.
Note the detailing in the cake - there are fondant figurines - entire peppa pig family, ducks, picnic set up, sun and clouds.
All this is skilled labour and not everyone can make it.
So you have to charge and value yourself more for the skill in the cake.
The cake is also a carved cake which needs skill and planning so you have to calculate the cost of skill over and above the cost of labour.
What I mean is other than Direct, Overhead and Wages - you need to include a special category - SKILL!!
Plus if you take 3 hours to make a normal cake then you might need 5 hours to make this cake so your wages will also increase accordingly.
However you have to note that you get paid only for the active hours involved in cake making and not the passive time like chilling the cake.
An Estimate:
Now sometimes it may happen that the amount of time you have taken to actually finish the cake is more than the time you estimated for.
Like sometimes you might have to bake a cake that you have never really made before or make some last minute changes due to any reason.
Well in that case you just have to go by an estimate; some cakes may take longer and some might take less than your estimated time, so just let yourself know that it is ok and everything will average out.
Do not be harsh on yourself.
Stop Comparing
I know it gets difficult when you are first starting out in this business.
But it becomes easier as you grow.
Just stop comparing yourself to the bakeries in your area or to other bakers around you.
There will always be bakers who sell less than you and there will always be those clients who would try to put you down by stating that you are expensive.
And girl
YOU SHOULD BE EXPENSIVE FOR SOME
Because only then there will be a set of people who would want to try what you sell and once they taste your product I am sure they won't be going back to other bakers.
However,
Never treat your fellow BAKERS as Competitors.
Instead of trying to see them as a competition try to network and befriend them.
That way you can support each other and grow together.
Always support your fellow artists, there is always room for everyone's talent.
Imagine if you are not good at Fondant or you do not wish to make cakes using fondant then you can happily pass that order to your fellow friend who would return the favour in future when they are fully booked and are not able to take orders
Recognising Competitors:
That is why instead of cutting your competitors you need to recognise their skill and value
Understand why are they so popular - is it their flavours, their decorating skill, their marketing skill.
What makes their cake stand out?
Then try to understand how you can improve your skills? How can you provide more value.
Once you understand that you would never cut your competitors by selling less. No one wants to be that cheap cake maker right??
Homemade Baking vs Supermarket Baking
Talking about comparison I need to mention that never compare the pricing of your cakes to supermarkets.
Why you may ask?
You cannot compare your homebaking to their bulk baking. They make hundreds of cake every single week and that would significantly reduce their indirect costing.
Bulk Baking also means buying ingredients in bulk, using premixes and time blocking accordingly.
You on the other hand make custom and made to order cakes.
Where the bakery looks at quantity over quality you on the other hand provide quality goods so there is no comparison right?
3A. PROFIT
When you are running a business you definitely need to allocate some amount to profit.
It is with this percentage of money you will be upgrading your skills, buying new equipments and also it is with this money you will be experimenting and coming up with new flavours and techniques right.
So consider charging a percentage of amount over and above the cost price which you feel would be fair enough based on your geographic location.
Factors determining your Profit:
As mentioned your geographic location whether you are located in a city or a town.
Your clientele - that is whether you are making a wedding cake, birthday cake or an entire dessert table.
What is your expertise?
And how renowned you are as in the demand aspect for your goods.
Take this value in consideration while determining your profit percent.
That's it,
Price of Cake = Direct Cost + Overhead + Labour Cost + Profit.
Friends And Family
I know it becomes difficult to charge for friends or really close family members.
Now I do not wish to be judgemental here.
My recommendation would be to at least charge a minimal say just ingredients cost (Direct Cost) from them.
However it is totally upto you and I leave it to you to decide what and how much you wish to join.
Too Much to Grasp
Now I understand that it was too much of information to grasp.
To put it in a nut shell here is what you can do
Take a piece of paper or if you are tech savvy using an excel sheet simply write down every single ingredient you use, indirect costing and labour costing. Calculate the total price and boom you have your cake price.
Do this pricing for every single flavour that you sell.
Or simply click here to buy my Cake Pricing Guide which comes with a ready-made excel sheet. Enter your values and boom you have your cake price in minutes. Using this guide you can price everything from cookies, cupcakes, cakes, bread just everything.
Key Notes on How to Price a Cake:
It is important to put Yourself first - Value your time, skill, creativity.
Add a profit percentage over and above your Wages.
Note the price for every single ingredient.
Calculate the price for your ACTIVE TIME only.
Indirect Costing is equally important.
Network with fellow bakers
Charge for delivery.
Be clear about your charges right from the beginning - for clients or for friends and family.