Learn how to make a Fresh Fruit Cake with whipped cream in an easy video tutorial manner in this post. A simple, moist sponge cake layered with fresh cream and seasons fresh fruits this recipe is a must try this Summer.
How beautiful does that fresh fruit drip cake decoration look!!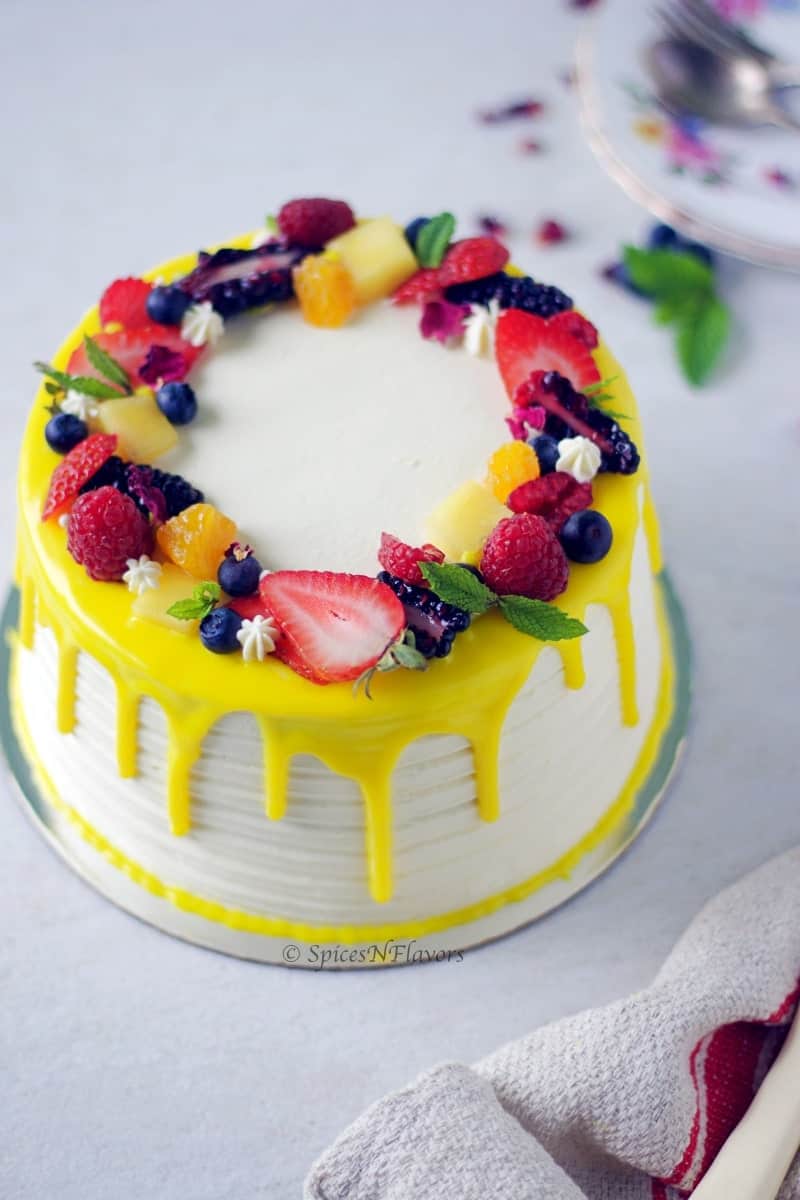 Fresh Fruit Cake adorned with that glowing drip and sparkling fresh berries was not only pleasing for my eyes but amazingly palatable to my taste buds too..
A perfect birthday cake with fruit on top!! Yes, it was my birthday last weekend and I choose to make this old fashioned fruit cake recipe because some flavours are always eternal.. 😀
But Why should you choose this as your 

birthday fruit cake recipe?
This basic fresh cake is
Soft and Spongy Eggless base - Of course you can choose a genoise sponge as a base too but once you taste it you would not believe that it is an eggless recipe.
Juicy
Moist - fruit cake made with oil, now that's the top secret of getting a moist cake 😉
Melt in the mouth frosting
Sweet and Sour Fresh Fruits
Perfectly decorated
Easy and Simple to put together.
Some flavours are truly classic when it comes to making a birthday cake be it this real fruit cake recipe or Black Forest Cake, Pineapple Cake or Butterscotch Cake. One can never go wrong with these flavours right.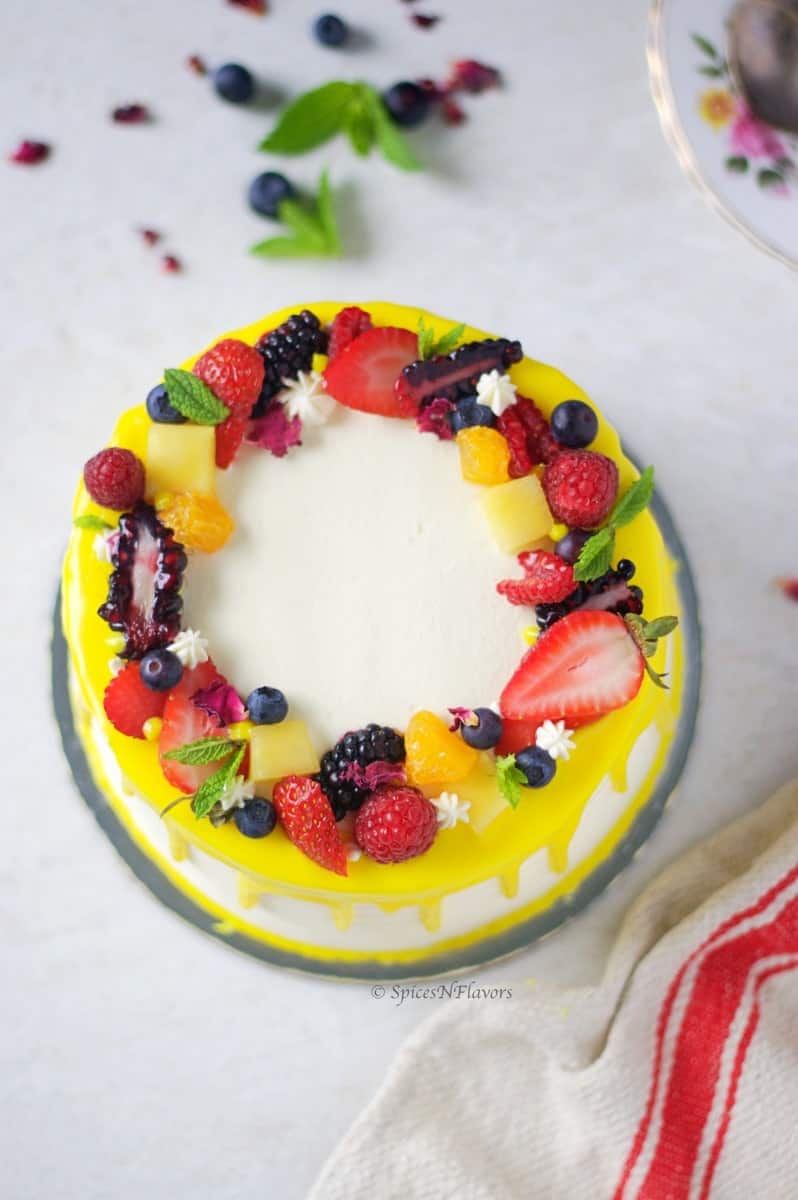 Fruit cake ingredients
This easy Fresh Fruit Cake recipe needs just few basic ingredients
1. Cake Base:
You can use your favourite Vanilla or Chocolate cake recipe as the base.  This time I have not used my favourite Eggless Vanilla Cake as the base.
Instead, I have tweaked a few things in that recipe to make an entirely different cake base.
And why so?
Because that was a really basic recipe using just oil and water. Though I were satisfied completely with that recipe I had few of our readers doubting the same because of its simplicity.
So I thought of making a few basic changes in that recipe and make an entirely new one for you guys. Have changed the quantity of water and used milk and yogurt in it. Also, have increased the amount of dry flour.
What difference did that make?
This time the cake was super moist and soft comparatively. I guess it was due to the addition of yogurt. The only thing my cake turned little brown in colour. Still trying to figure out the reason for the same. However, I am totally satisfied with the recipe.
Will I use this recipe in my future cakes?
Yes, definitely. It was totally worth it.
You can also make cake base out of premix if you desire.
2. Sugar Syrup
It's a child's play to make sugar syrup. Simply combine equal portions of sugar and boiling water that's it.
A very simple yet a crucial ingredient to keep the cake moist for 2-3 days 😀
3. Whipped Cream
That cloud like melt in your mouth frosting is to just die for!!
I have followed my Stabilized Whipped Cream recipe here too. If you are a beginner I highly recommend you guys to check that post it is packed with tons of information 😀
4. Chocolate Ganache
This is totally optional. I have used a white chocolate ganache which is made of chocolate and cream just to enhance the look of the cake and colour to act as a contrast to the white cake and berries.
5. And of course fresh fruits
To make fresh fruit cake you would obviously need fresh fruits right.
Here is the list of fruits that I like to include in my Fresh Fruit Cake:
Pineapple, Apples, Grapes, All kinds of berries, Mandarins, Oranges, Kiwi, Pomegranate, Apricots, Peaches, Mango etc. depending upon the availability of fresh fruits. What you are aiming for is good sturdy fruit.
I tend to avoid soft, mushy and juicy fruits like watermelon, banana, etc in fruit cake with fresh fruit.
[click_to_tweet tweet="Check out the list of Fruits that can be used in a Fresh Fruit Cake " quote=" Check out the list of Fruits that can be used in a Fresh Fruit Cake" theme="style5"]
I also tend to add dry fruits like cranberry or even nuts like almonds, pistachios etc which adds on to the texture.
6. F
ruit cake with alcohol
I for one do not make cakes with alcohol. But if you prefer while making the Fresh Fruit Cake recipe you can choose to soak the cake with alcohol. That way you would get an after taste of alcohol which I guess some of you would love.
Generally speaking, the fruit-cakes made for Christmas is soaked in rum and hence it gets the name.
But just like how we add alcohol while making black forest cake, one can definitely combine the flavours from alcohol in a fresh cream cake too.
The only glitch is that, while making the sugar syrup you will have to boil the alcohol, sugar and water together until the sugar dissolves completely that way all the alcoholic content would be evaporated and what you would be left with is just the alcoholic flavour.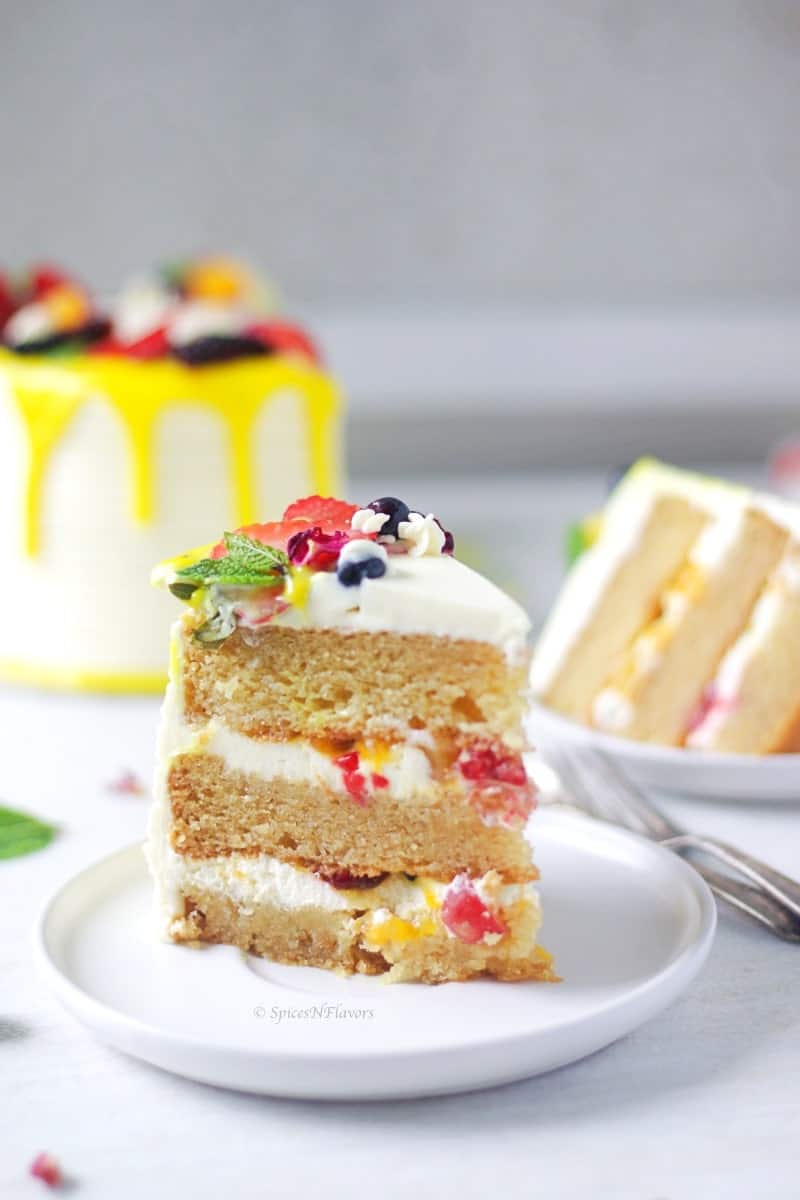 Let's see  

how to make Fresh Fruit Cake

 recipe from scratch
Liked this recipe?
Let us know by giving it a star rating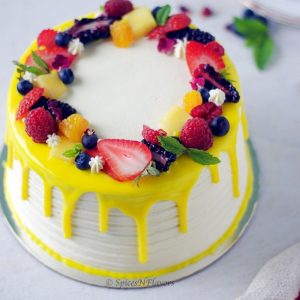 Print
Eggless Fresh Fruit Cake with Whipped Cream
Learn how to make a fresh fruit cake with whipped cream in an easy video tutorial manner in this post. A simple, moist sponge cake layered with fresh cream and seasons fresh fruits this recipe is a must try this Summer.
Ingredients
For the Cake Base
1.5

cups

All purpose Flour/Maida

1.5

tsp

Baking Powder

1/2

tsp

Baking Soda

pinch

Salt

1

Cup

Sugar

3/4

cup

Milk

1/2

cup

Yogurt

1/2

cup

Oil

1/2

tsp

Mixed Fruit Essence

(refer notes)
Sugar Syrup
3

tbsp

Sugar

3

tbsp

Boiling Hot Water
Cream Filling
175

gms

Whipping Cream

44

gms

Icing Sugar

3

gms

Vanilla Essence
Seasonal Fruits of your Choice
6

tbsp

Mango and Passionfruit compote

(refer notes)
Cream Frosting
53

gms

Cream Cheese

(refer notes)

225

gms

Whipping Cream

56

gms

Icing Sugar

1/2

tsp

Mixed Fruit Essence
Chocolate Ganache
30

gms

Cream

60

gms

White Chocolate

(finely chopped)

4-5

drops

Yellow Food Colour
Instructions
For the Cake Base
Sift together the dry ingredients - Flour, Baking powder, Baking Soda, Salt and Sugar and keep aside.

Take milk in a bowl. Whisking continuously add the oil to help it emulsify. Next, add the yogurt and essence and combine together.

Add the sifted dry ingredients into the wet in two batches. Combine to form a smooth batter

Divide the batter evenly between three 6 inch pans that have been greased with butter and lined with parchment paper. Approximately 275 gms in each tin.

Bake in a preheated oven of 180°C for 35-45 mins or until a skewer inserted in the centre comes out clean.

Demould onto a wire rack and allow it to cool completely.
Sugar Syrup
Take the sugar in a bowl and add the boiling hot water. Combine to dissolve the sugar and then give ample time to cool it completely. Better to leave it in the refrigerator until completely cooled.
Cream Filling
Take the measured out whipping cream, icing sugar and essence in a bowl.

Whip until stiff peaks form and it is ready to use.
Chop seasonal fruits of your choice into small bite size pieces.
Cream Frosting
Whip the cream cheese until it is creamy

Whipping continuously add the whipping cream little by little. Scrape the bowl using a spatula and then add icing sugar and fruit essence. Whip until stiff peaks form.
To Assemble
Layer the cake onto a cake board. Trim off the top to even the cake.

Soak the cake with the prepared sugar syrup all throughout.

Add half of the cream filling and spread it out evenly.

Top with the mango passionfruit compote and fresh fruits of your choice.

Place the other cake layer on top and repeat the steps.

Crumb coat the cake with the leftover cream filling and let it chill for 30 mins.

After 30 mins frost the cake completely with the stabilized whipped cream frosting till you get a smooth finish on the sides and top. Refer the video on how to frost your cake for a better understanding.

Let it chill once again for 30 mins.

Meanwhile, start preparing your Chocolate Ganache.
Chocolate Ganache
Take the weighed out cream in a saucepan. Add the colour of your choice. Mix and heat it up until it just begins to boil.

Add the hot cream on top of the chocolates and allow it to sit for a minute.

Then stir to dissolve the chocolate completely until you get a smooth batter like consistency. Strain the ganache for an even smoother finish. Let it sit in the refrigerator for 10 mins until it thickens a bit.
Final Assembly
Take the chilled cake out of the refrigerator.

Transfer the thickened ganache onto a parchment paper cone and start dripping around the sides of the cake.

Allow it to set completely in the fridge and then add decorate the cake with fresh fruit on top for a perfect

fruit cake decoration.
Video
Notes
If you do not have a fruit essence you can definitely use Vanilla Essence in place of it.
I have used a store bought Mango and Passionfruit compote here since these fruits are not in season now. You can skip this completely or make your own by following this recipe. Simple replace blueberry with Mangoes.
Simply follow my stabilized Whipped Cream frosting recipe for a much detailed recipe step to get the perfect smooth frosting.
The cream cheese has to be softened and not melted. After weighing the cream cheese I simply microwave it for 10 sec and then proceed with the recipe.
If you would like to know how to make your own parchment paper cone easily at home then definitely refer to this video on how to write on cakes for a detailed explanation.
Instead of parchment paper cone definitely use a sauce bottle or simple a spoon if you are comfortable with that to do the chocolate ganache drip
Did you make this recipe? Tag me today!
Tag me @spicesandflavors to get featured on my FB and Insta pages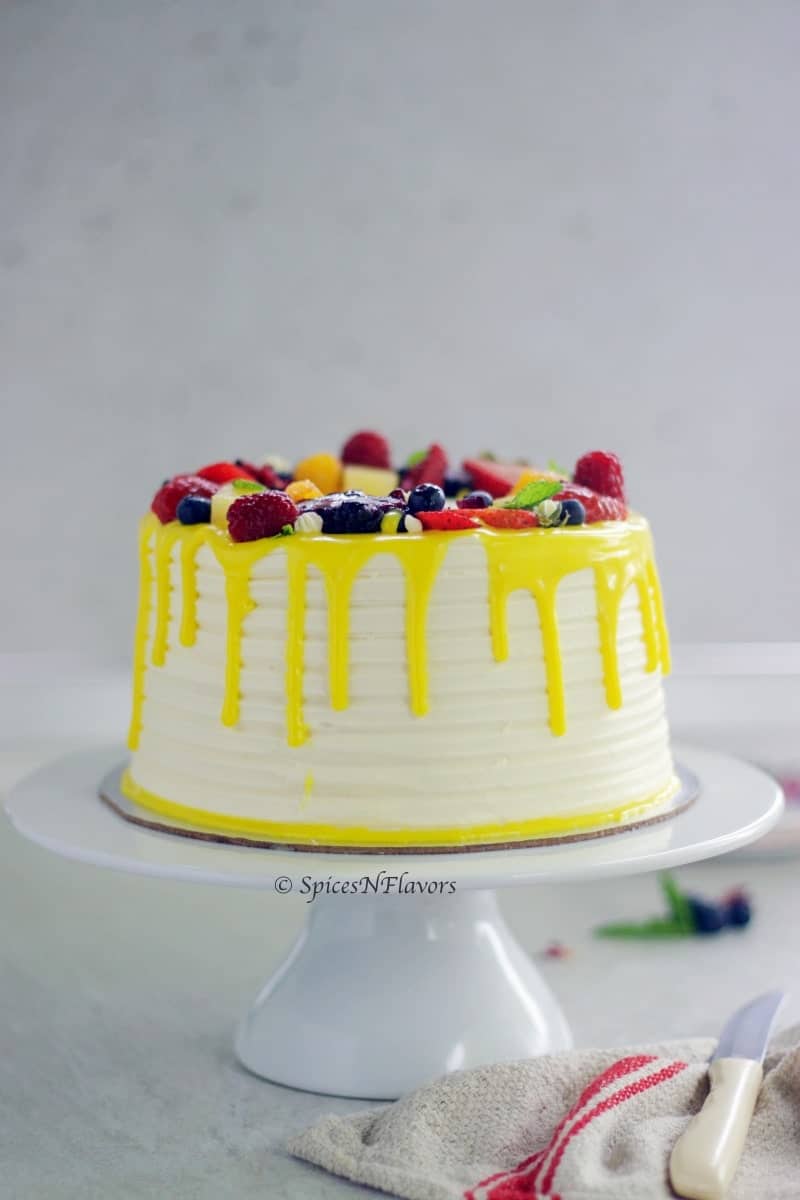 Learn the Secret to keep your fruits looking fresh for hours 
It is actually pretty simple. All you need to do is apply a glaze on top for which we will use Apricot Jam.
Take 1 tbsp apricot jam and 1 tsp Water. Bring this to a boil. Apply it onto the fruits when warm
If you start applying after it is cooled down then you might leave marks on top of the fruit so it is advisable to apply the glaze when it is still warm.
How to Store this 

best fruits cake? 
Since we have made use of fresh cream in this recipe, definitely store this in the refrigerator only.
This stays good and moist for 3 days in the fridge 🙂
Fruit cake price
Apart from the list of fruits that can be used in baking fruit cake, I believe there is one more question that is most searched for or asked for which is Fresh Fruit Cake price. 
Usually, I do not talk about pricing of the cake in a post like this fruit cream cake. But I would like to take a moment here and discuss in brief or just touch this topic on pricing this delicious fruit cake.
You have to take in to account the price of the fruit as per the season. Like, consider adding those fruits that are easily available whenever you are making this.
You may think that's common sense what so special about it?
Well, what I wanted to convey is while pricing a cake made of fruit you have to consider the WASTAGE. For eg, if we take into consideration Grapes, for making this 6 inches Fresh Fruit Cake I have made use of a total of just 8 grapes.
However, when you go to purchase the fruits the seller won't give you just a handful of each fruit which means you would end up buying more fruits than what is actually required to make the cake.
So it absolutely makes sense to add some Wastage charges onto the cake about which you can inform the client beforehand just to be clear with them.
Find this and few other things to consider while pricing your cake by checking out our Cake Pricing Guide tutorial.
Consider checking this post on How to write on Cakes if you are a home baker or making a birthday cake for a near and dear one.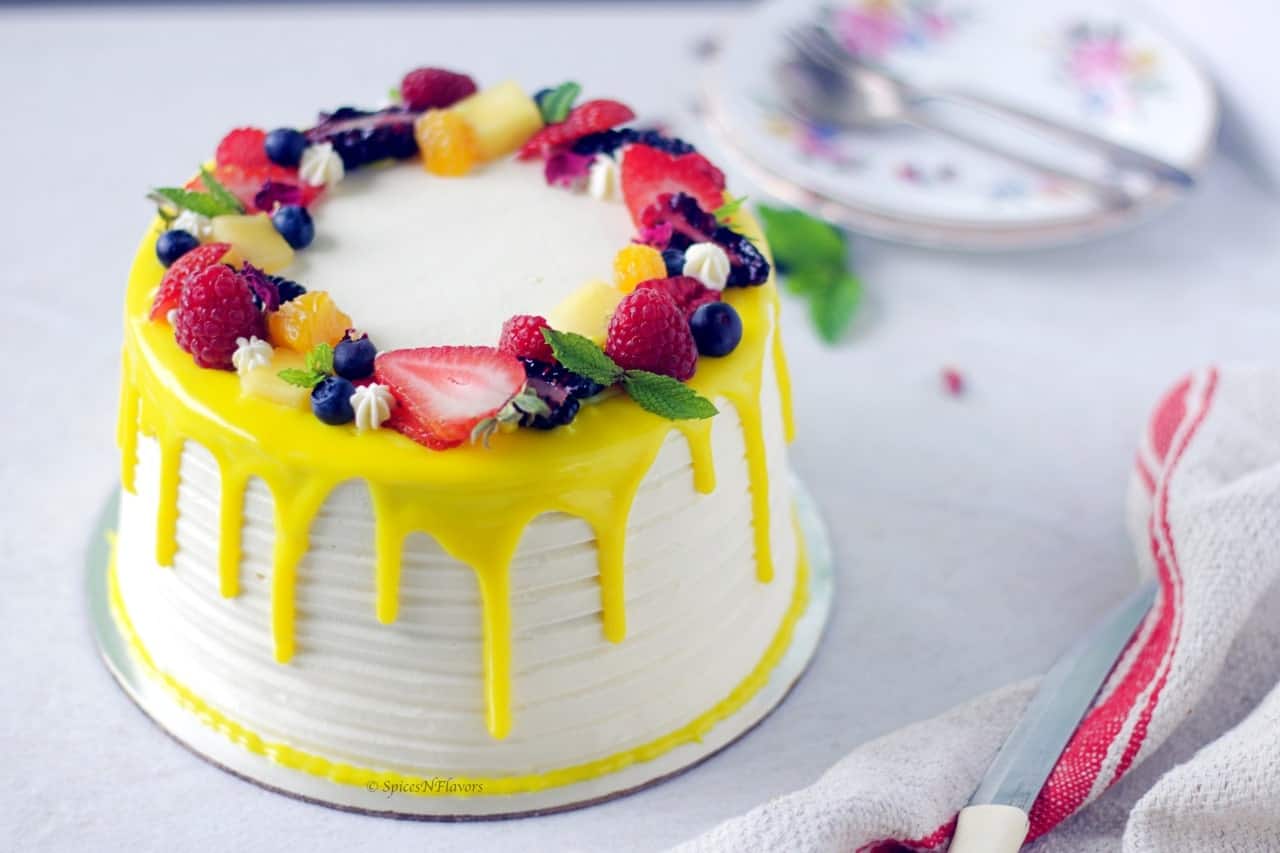 Anyways,
Wishing myself a very Happy Birthday with this beautiful and classy looking very best fruit cake!!! hehe.. I know so cheesy but still, it is my birthday so let's make some noise in the comments below.. 
Do share your thoughts with me on this cake with fresh fruit inside and outside. Would love to hear your thoughts on the same.
If you happen to recreate this cake or liked any of the idea mentioned in this easy moist fruit cake post then let me know by sending a message on Facebook, Twitter or Instagram.
And yeah do not forget to Pin this onto your Cakes board in Pinterest.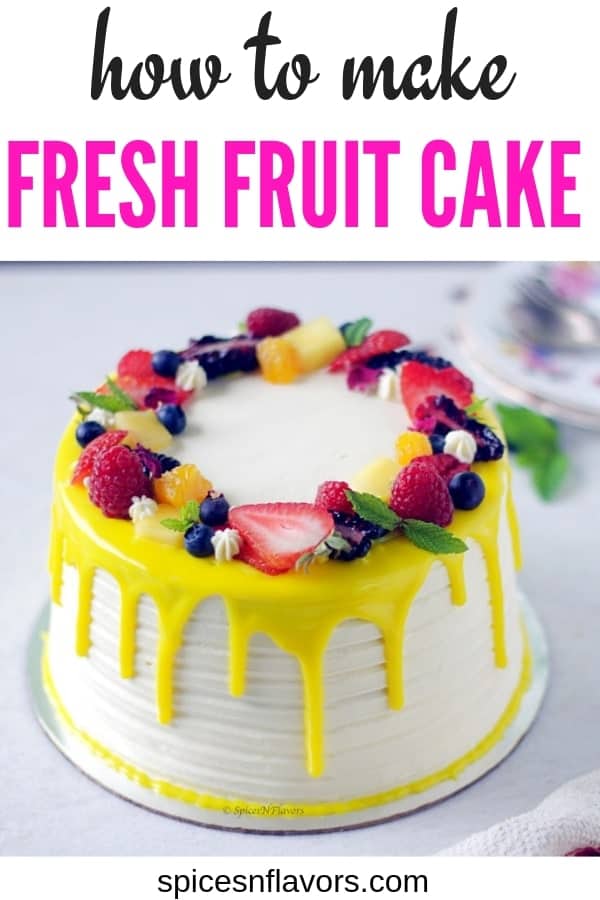 I will see you soon with yet another recipe.
Until then
Hugs
Sushma.