Butterscotch Sauce is a silky smooth sauce that goes perfectly as a pouring over vanilla ice-cream or to make certain desserts like banoffee pie.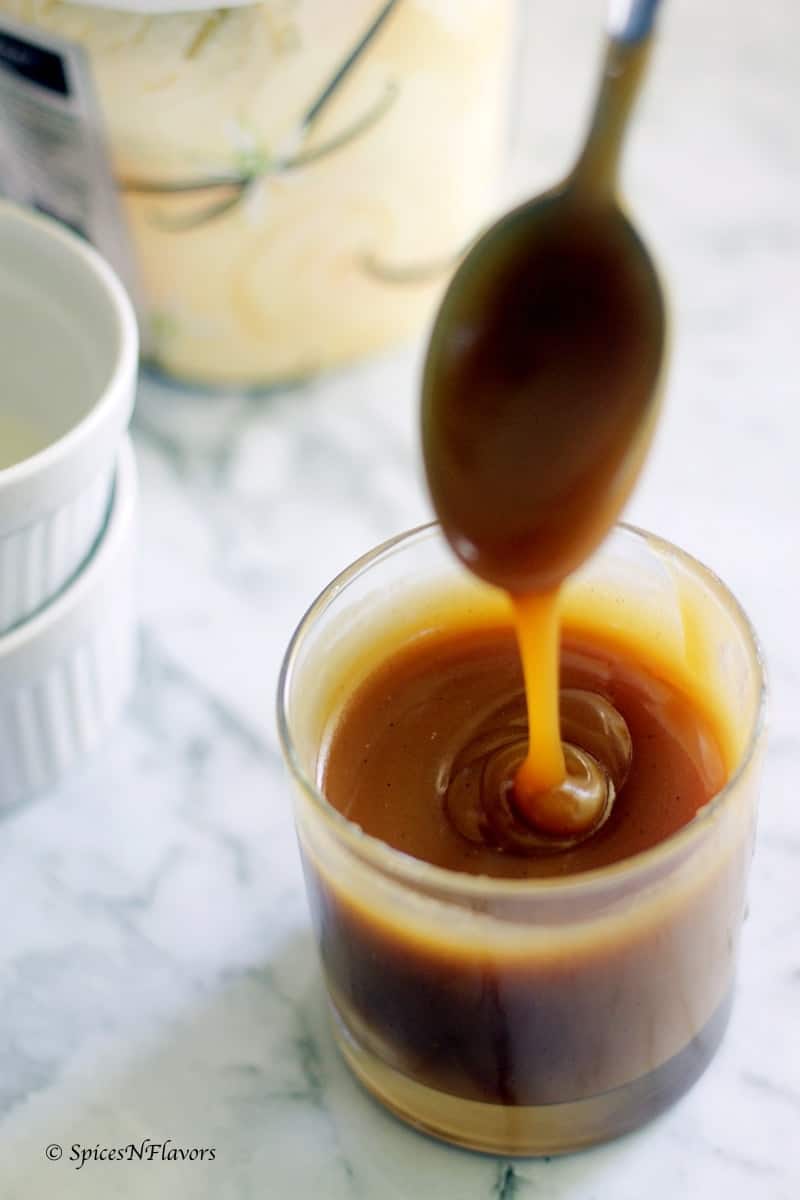 Butterscotch Sauce is a super simple and flavourful sauce that can be used in a lot of recipes.
If you are anything like me then you might be wondering what is the difference between caramel sauce and Butterscotch Sauce?
Are you??
So the first major difference is that caramel uses granulated sugar where as Butterscotch Sauce needs Brown sugar. To me both tastes similar. What do you think?
But the major difference that i find is that to make caramel sauce you need to be particular about temperature and timing as you get easily burnt smell and taste if there is some difference here and there. Whereas Butterscotch Sauce is little forgiving. It is super easy to make them.
And if you take Butterscotch sauce to next step you get a toffee flavour just like the toffee bite chocolate that we used to get back then when I was say just 10-15 years old.. 😉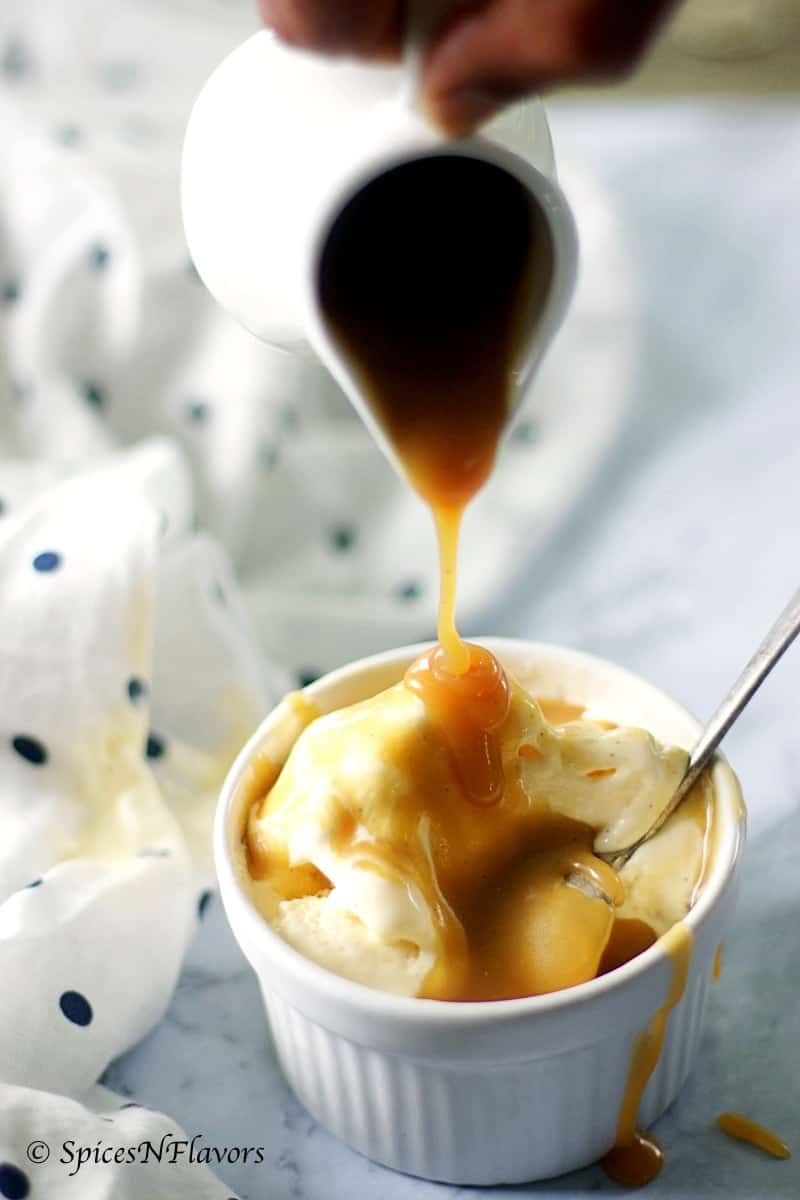 So when I started with my Diwali recipe sharing series; I had posted a Butterscotch Peda recipe in which I had used this Butterscotch Sauce, you guys asked me to share the sauce recipe as well. And since it is so easy to make at home; I generally do not buy this from store.
The more you let the Butterscotch Sauce cool, the thicker it becomes. So there are a few pointers that you need to note while making this.
1. Once the cream is added to the pan, you have to bring it to a boil.
2. When it starts boiling, reduce flame to low and simmer for exactly 5 mins; not more not less.
3. The more it cools, the thicker it will become.
4. Keep stirring in between to avoid burning.
So lets quickly dive into the recipe now..
Liked this recipe?
Let us know by giving it a star rating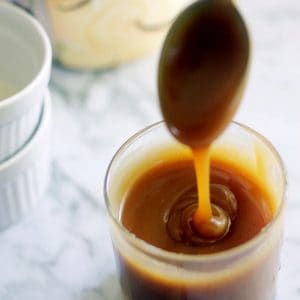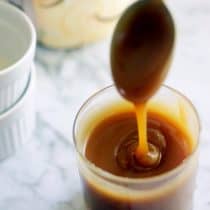 Print
Butterscotch Sauce - 5 mins Homemade Sauce
Butterscotch Sauce is a smooth silky sauce recipe that is generally used as a pouring sauce over ice-creams and in many desserts like banoffee pie
Ingredients
30

gms

(4 tbsp) butter

100

gms

(1C packed) Brown Sugar

preferably dark

100

ml

(1/3C) Cream

1

tsp

Vanilla Extract

1/4

tsp

Rock Salt
Instructions
In a saucepan, melt some butter over med heat.

To the melted butter; add in the brown sugar and cream. Stir to mix it completely and bring it to a boil.

Once boiled, reduce the flame to low and simmer for exactly 5 mins, not less not more.

Switch off the gas and add vanilla extract and salt. Stir to combine. Transfer to a bowl to cool completely.
Did you make this recipe? Tag me today!
Tag me @spicesandflavors to get featured on my FB and Insta pages
If you happen to try this recipe then do tag me, tweet me or instagram me. I would love to follow you and your posts.
Butterscotch sauce goes through different stages as per the need. The pouring consistency is used as a sauce over ice-creams. The thickened form is used in desserts like banoffee pie or even the butterscotch peda that I shared this Tuesday.
So depending upon your need you will have to adjust.
It would take 2-3 hours to thicken it. If you are planning to make this Butterscotch peda for Diwali with homemade Butterscotch sauce then you may want to prepare it ahead of time or plan accordingly.
You can store this in a refrigerator for upto 3 weeks. To bring it back to pouring consistency you can microwave it for 10-15 sec or even melt it on a saucepan.
I have a whole playlist dedicated to Diwali recipes on Youtube; you can check that by clicking here.
Or check my pinterest Diwali recipe board for a collection from all around the web.
Wishing all of you a very Happy Diwali. Hope you have a lot of fun this year with your friends and family. Stay safe.
Pin it for later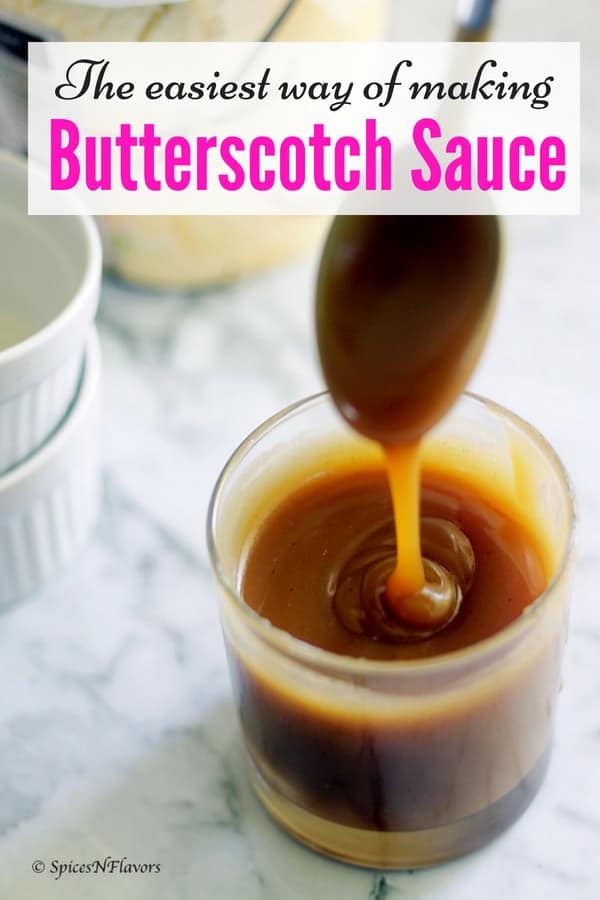 I will see you soon with my other recipe
Until then
Hugs
Sushma