Coriander Mint Juice is a healthy and nutritious way to cleanse and detox ourselves after enjoying all the greasy, oily, over dose of sweets that we enjoyed for Diwali.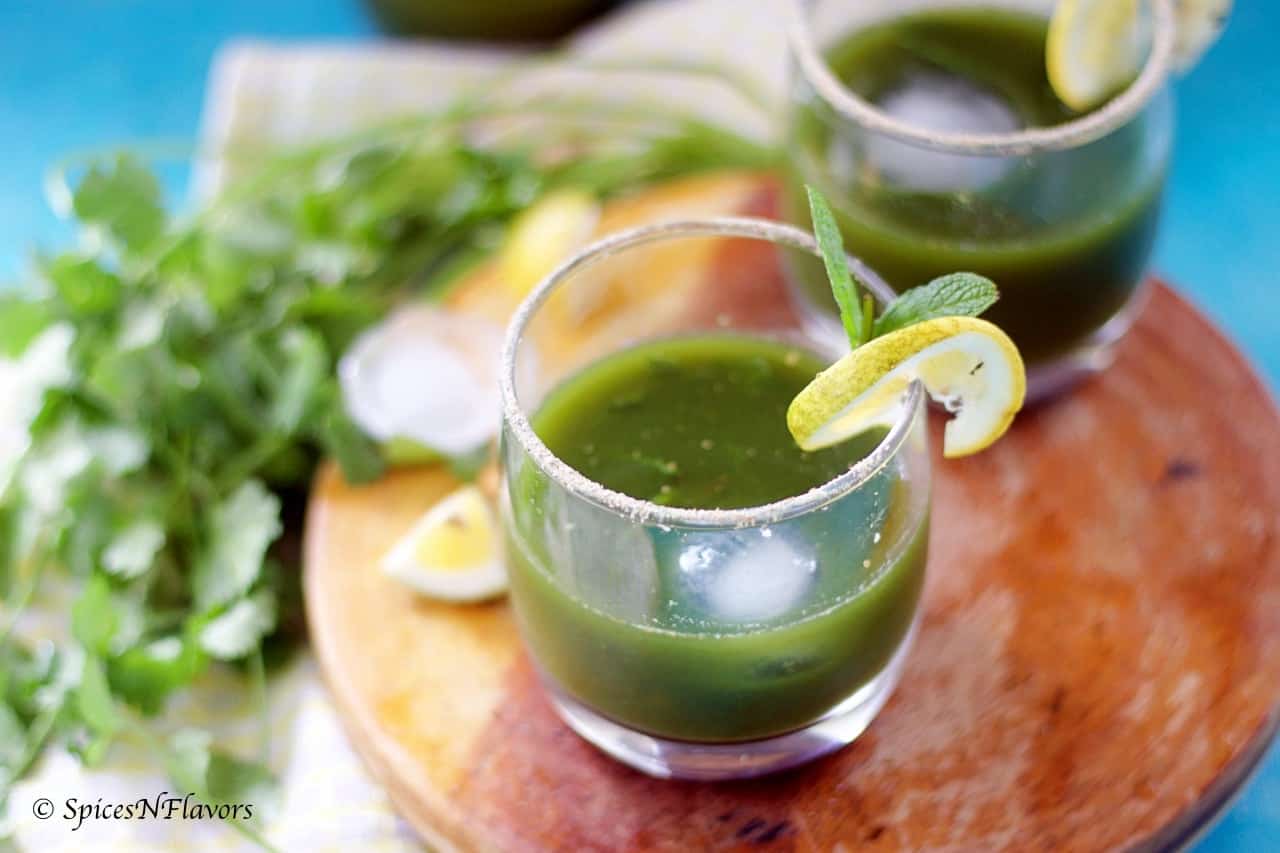 Coriander Mint Juice is a simple way of detoxing our body.
Why do I call it simple??
Well because it uses very basic ingredients that we could readily find in our kitchen at any given time.
And two because it is super easy to make and requires just 5 mins of our time.
Coriander Mint Juice not only helps in detoxing but also is a magical drink that helps in losing weight. Wondering how?? Read on to find more..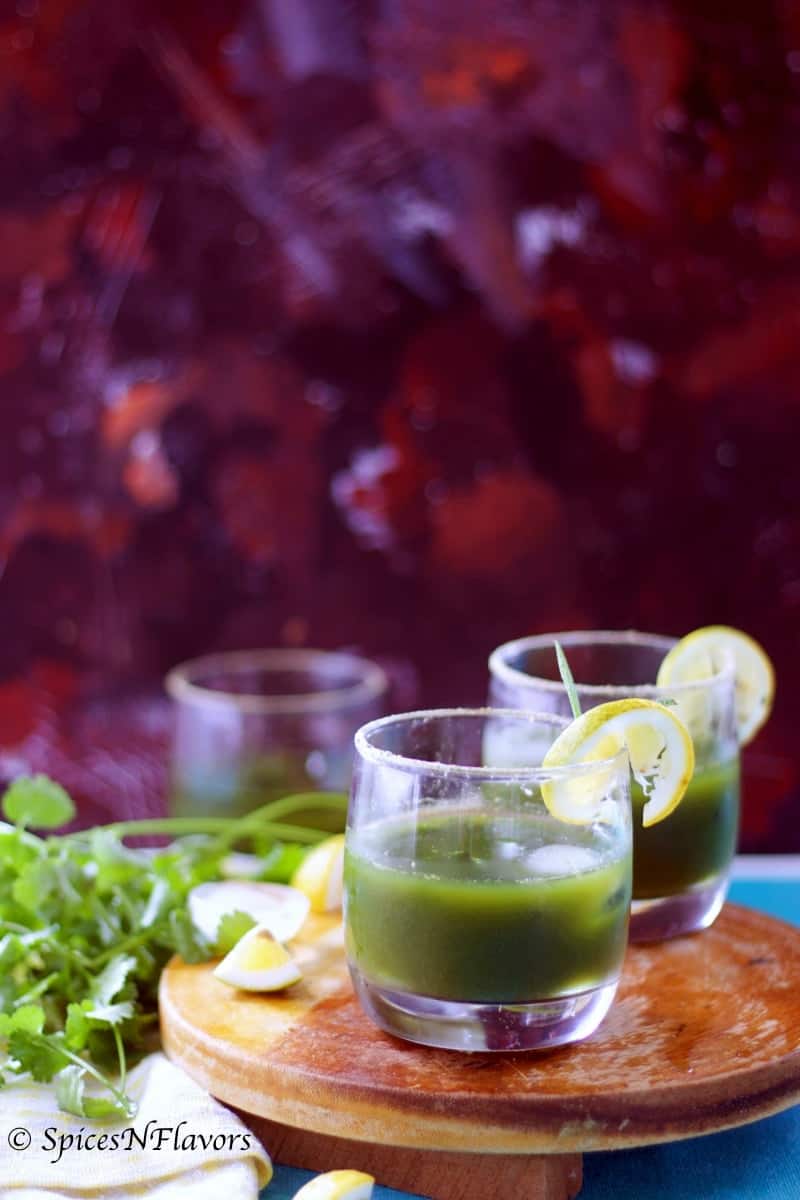 As the name suggest; the main ingredient in the Coriander Mint Juice is ofcourse Coriander and Mint Leaves.
Coriander Leaves helps in digestion and also has diuretic properties. This means a substance that tends to increase the discharge of urine thereby flushing out all the unnecessary toxins accumulated out of our body. It also helps in purifying our blood.
Mint Leaves helps in eliminating gases, prevents stomach acid and helps you absorb nutrients
Ginger : It is a great anti-inflammatory and has an amazing ingredient called gingerol. This ingredient activates the functioning of the intestines and stomach, helps digestion. It also prevents gas and inflammation, and boosts the elimination of fat.
Lemon: The pepsin component in lemon helps you benefit more from proteins by burning fat, in other words, because of the acid from lemon, your diet will be better.
Green Chilli: Green chilly also helps in weight loss by promoting digestion.
All the ingredients used in this magical detox - Coriander Mint Juice has its own benefits dated from the long ayurvedic treatment prevailing in India.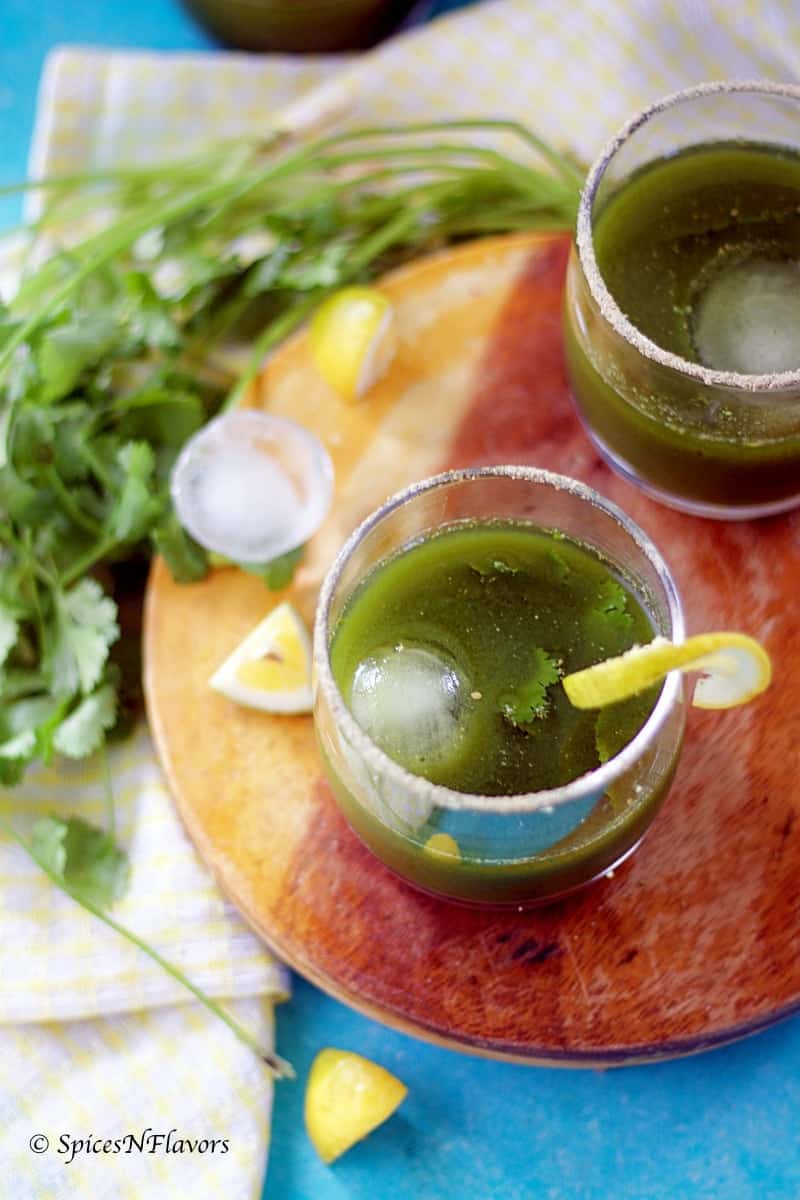 Many of you might be knowing this Coriander Mint Juice recipe for ages but some of you might not be aware of the benefits of it.
My Mom used to make this regularly but this was a compulsive juice for us growing up on the weekend after Diwali.
She used to strain the Coriander Mint Juice before serving but somehow I feel some nutrients are lost if we strain it so I don't. You can choose either way.
All the spices used here just adds on to the taste. This is entirely optional you can choose not to add at all.
Also the sugar is optional. If you are healthy conscious and you losing weight is your main motive then just skip it. To be honest I just cannot drink without little sugar so I add it but my husband who is so much conscious asks me not to add in his.
Now lets quickly jump into the recipe..
Liked this recipe?
Let us know by giving it a star rating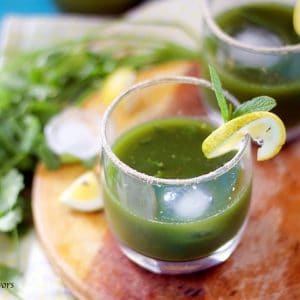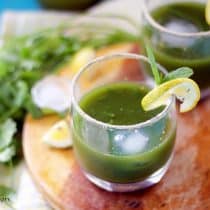 Print
Coriander Mint Juice
Coriander Mint Juice is a healthy and nutritious way to cleanse and detox ourselves after enjoying all the greasy, oily, over dose of sweets that we enjoyed for Diwali.
Ingredients
Handful of mint and coriander leaves

small piece of ginger

3

tsp

sugar

(optional)

1

no

small green chilly

Juice of 1 or 2 lemon

1

tsp

Rock salt or to taste

1/2

tsp

Chaat masala or to taste

1/2

tsp

Aamchoor powder or to taste

Ice cubes and lemon slices to garnish
Instructions
In a blender, blend together handful of mint and coriander leaves, ginger, green chilly and sugar until smooth.

Once blended add in the water to dilute it. Mix in the lemon juice, rock salt, chaat masala and aamchoor powder. Combine everything and serve chilled garnished with ice cubes and lemon slices.
Did you make this recipe? Tag me today!
Tag me @spicesandflavors to get featured on my FB and Insta pages
Notes:
1. If loosing weight is your main motive then please skip the sugar. This tastes fine just without sugar.
2. Drink this the first thing in the morning to aid in detoxing and weight loss journey.
3. Do not strain the juice to get maximum benefits but ofcourse you can strain it won't effect much.
4. The spices and salt can be adjusted to taste or skipped too.
5. Compulsorily include mint, coriander, lemon juice and salt in the drink rest can be adjusted to taste but adding ginger and green chilly is beneficial.
6. Depending upon your taste you can increase or decrease the mint and coriander leaves proportion to suit your needs. If you want a dominant coriander flavour then reduce the mint leaves proportion and vice-versa.
If you like this recipe then do tag me, tweet me or instagram me. I would love to follow you and your posts.
And yes do remember to check my other recipes that might interest you.. Like this Paan Shots or Chai Frappe..
Pin this for later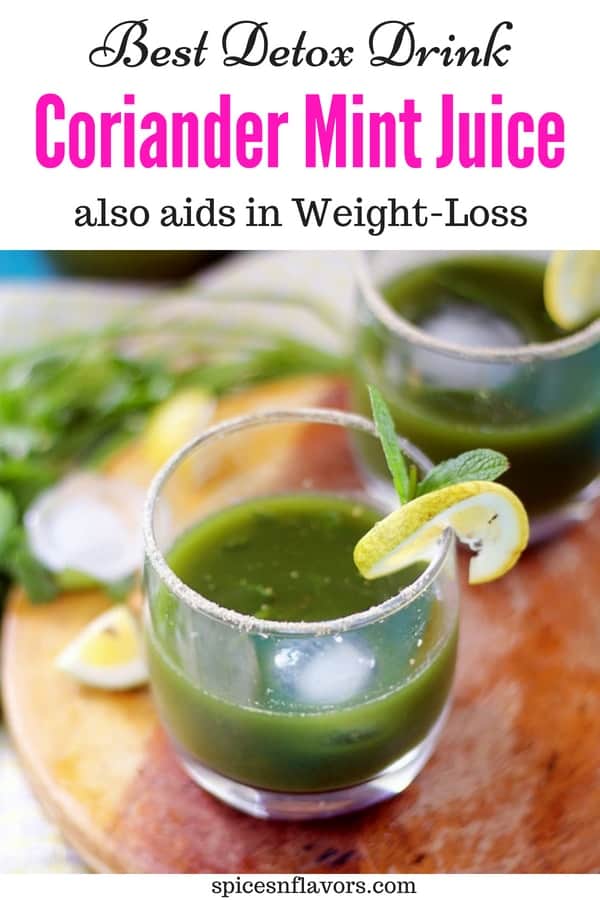 I will see you in my next one
Until then
Hugs
Sushma