Flourless Zucchini Chocolate Muffins is one of the interesting ways to include vegetables in your kids diet.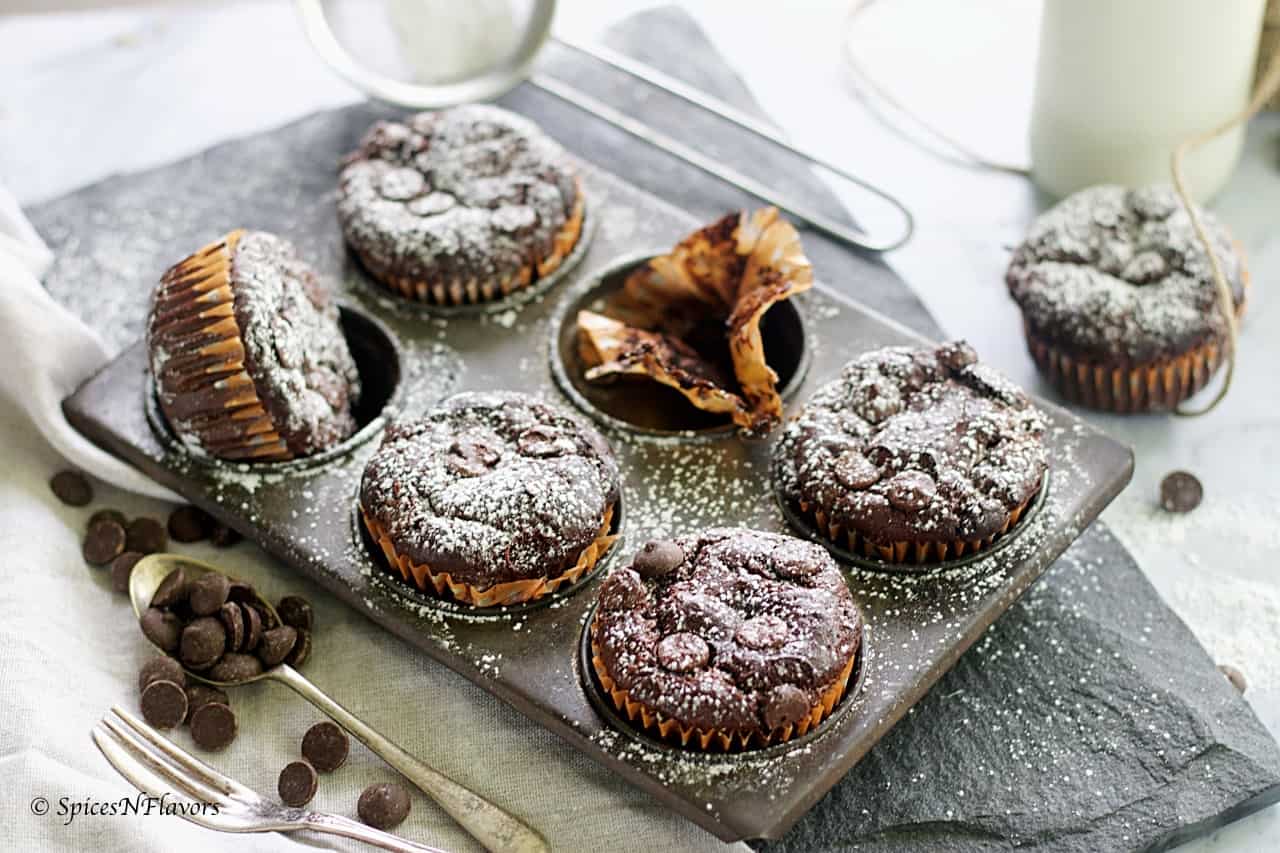 Flourless Zucchini Chocolate Muffins is basically a chocolate muffin but what makes it stand apart is
1. It is flourless
2. Has an added nutrient value due to Zucchini
3. Tastes exactly like a brownie and smells heavenly too.
4. Can be veganised
If you are looking for a way to include veggies in your kids diet. Then look no further.. Try this and I am sure kids are gonna absolutely love this.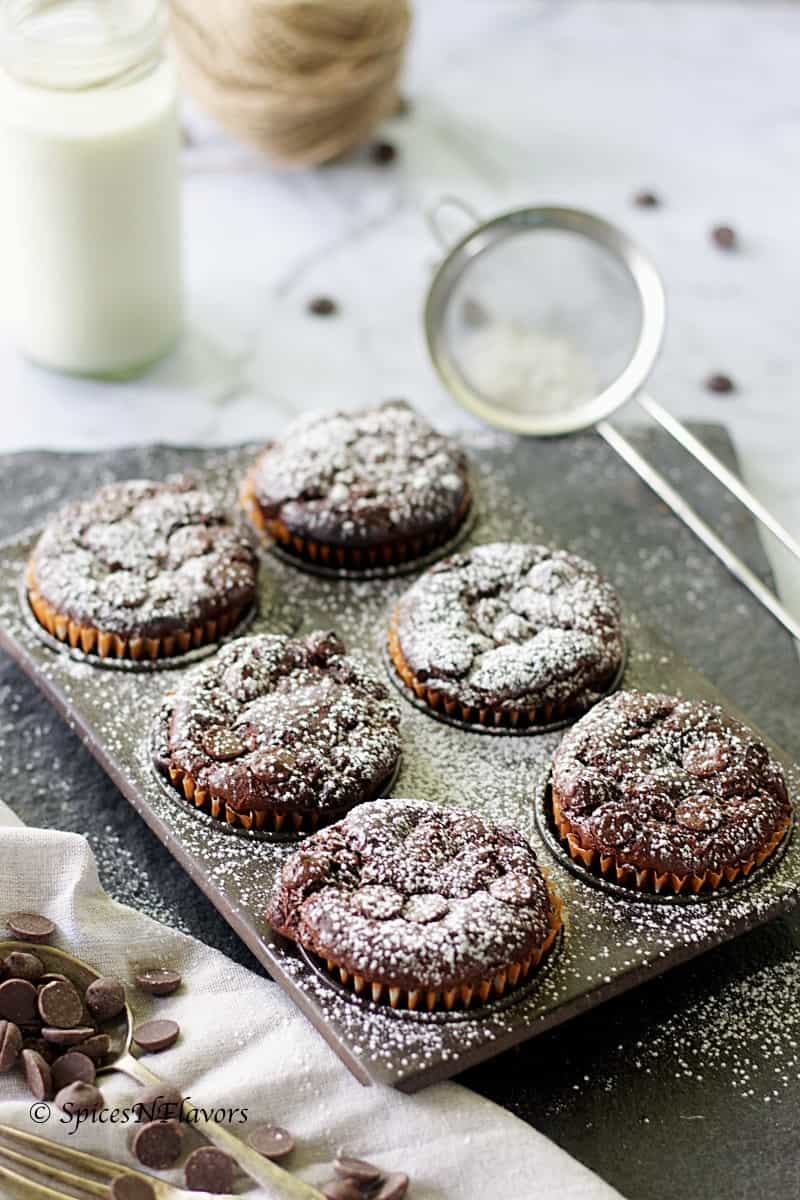 This particular recipe of Flourless Zucchini Chocolate Muffins calls for an egg. Egg here acts as an enrichment and binding agent. This can be substituted by using yogurt.
So if you are looking for an eggless recipe then go ahead and use yogurt.
Another reason for using egg is to keep this moist as the flaxseed powder tends to dry out the baked product. Always use flaxseed in the meal or powder form in baking to get the maximum nutrients.
If you do not have flaxseed then you can also use Chia seed powder in place of it.
Skip the cocoa powder and use oats instead to make a Flourless Zucchini Muffins instead of Flourless Zucchini Chocolate Muffins.
Kids may be allergic to Nuts. So the Almond Butter in here can be replaced by Soynut
Butter or coconut butter instead. But yes that would definitely change the flavour profile of the final product.
And ofcourse you can also use any other flavoured nut butter here..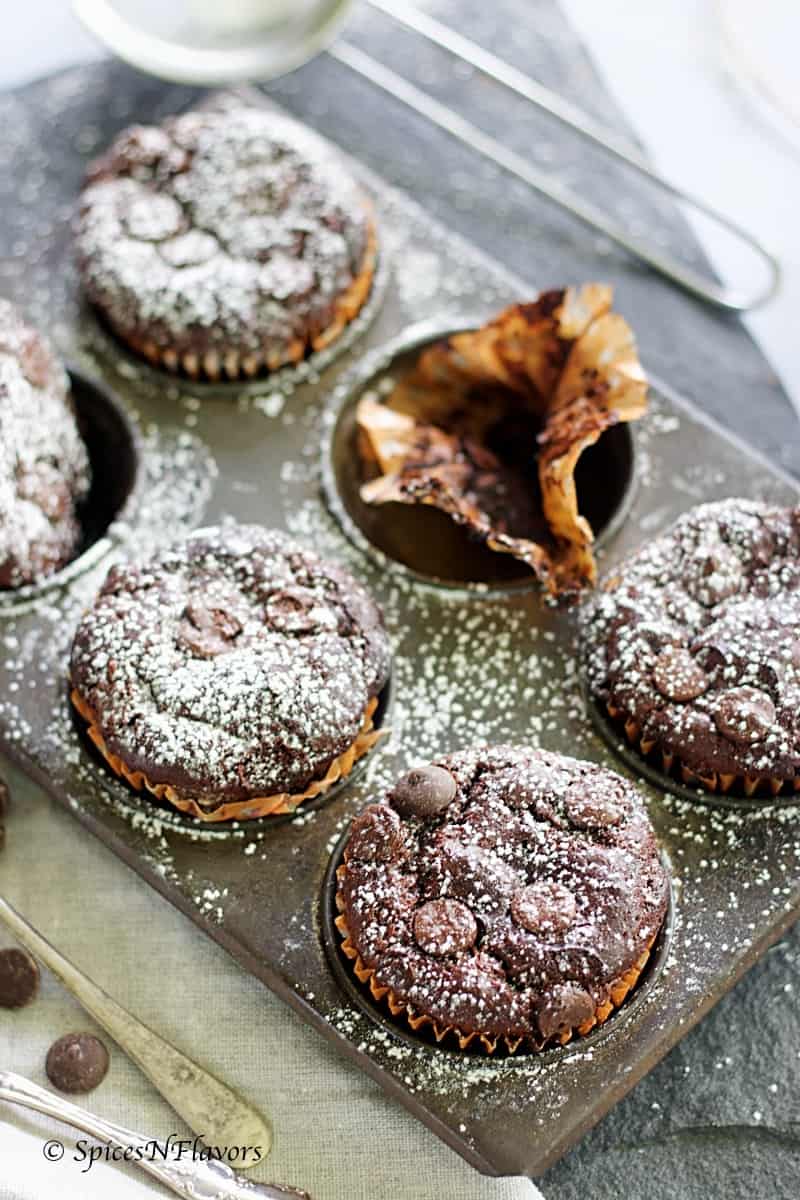 I personally enjoy baking muffins than cupcakes.
Previously, I have also shared the recipe for a basic Chocolate Muffins, Eggless Spinach Blender Muffins and Eggless Oats, Spinach and Feta Muffins in the blog.
I find it super easy to make a muffin. All we have to do is combine everything in a bowl or blender and bake; whereas baking cupcakes is a different story.
If you love reading about the science behind baking then you must definitely check my Chocolate Muffins post.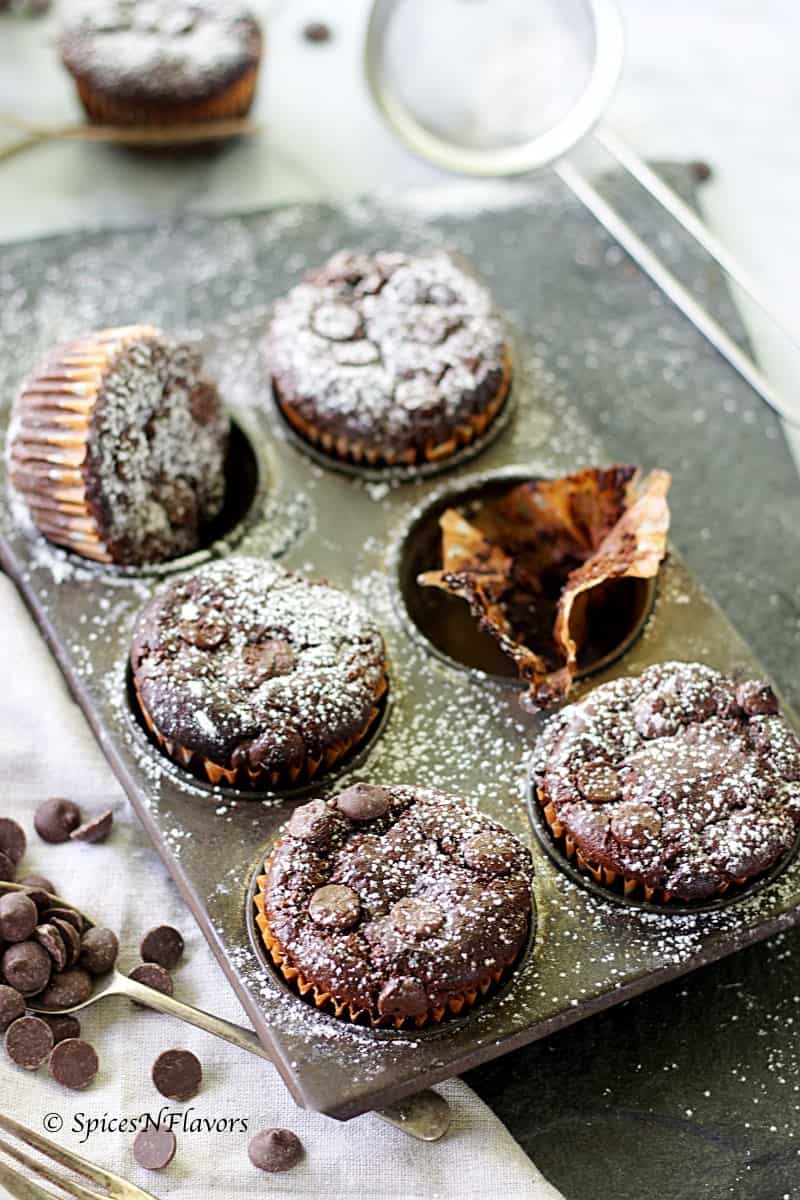 So how does Flourless Zucchini Chocolate Muffins tastes like??
You might have already guessed that it is going to be a bit denser obviously for the reason that it does not have any Maida or Atta in it.
But let me tell you this super moist and soft to eat.
Little bit fudgy making it taste exactly like a Brownie. No complaint there right.. 😉
And it smells so heavenly.. My kitchen was the most favourite part for the 20 mins I mean the time for which it was baking.. 😉
Would you say no to anything that tastes like a Brownie but was too less calories than actually eating a brownie..
And if you like sneaking vegetables in baking then this chocolate beetroot cake is the recipe that you need.
Then without any further ado lets have a look at the recipe for making these absolutely delicious Flourless Zucchini Chocolate Muffins.
Liked this recipe?
Let us know by giving it a star rating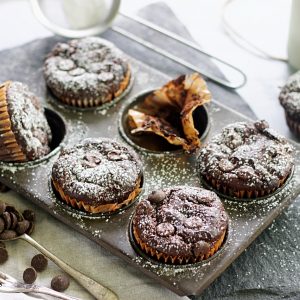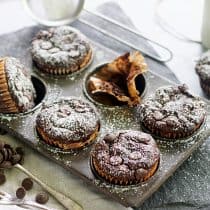 Print
Flourless Zucchini Chocolate Muffins
Flourless Zucchini Chocolate Muffins is one of the interesting ways to include vegetables in your kids diet.
Ingredients
170

gms

(1 cup) grated Zucchini

180

gms

(1/2 cup) Almond Butter

1

no

ripe banana

1

no

egg

90

gm

(1/4 cup) honey

30

gm

(1/4 cup) cocoa powder

2

tbsp

ground Flaxseed

1

tsp

vanilla extract

1/2

tsp

baking soda

3/4

cup

(120 gms) chocolate chips
Instructions
Preheat oven to 190°C and line a muffin tray with paper cups

Squeeze excess water from the grated zucchini, strain and keep aside. (Use the water from the zucchini to make chapati dough)

In a blender, blend together almond butter, banana, egg, honey, cocoa powder, ground flaxseed, vanilla extract and baking soda until smooth.

Transfer this to a mixing bowl, add in the squeezed out zucchini and the chocolate chips reserving some to top at the end. Stir to combine

Scoop out even batter into the prepared paper cups in the muffin tin. Top it off with the reserved chocolate chips.

Bake in the preheated oven of 190°C for 18-25 mins. Do turn your pan half way around while baking if you have hot spots in the oven.
Did you make this recipe? Tag me today!
Tag me @spicesandflavors to get featured on my FB and Insta pages
If you like this recipe and happen to try then do tag me, tweet me or instagram me. I would love to follow you and your posts..
Variations and Substitutions:
1. Instead of almond butter you can use any nut butter of your choice. Some kids may be allergic to nuts so you can substitute it with soynut butter or coconut butter but that would change the flavour profile also.
2. Use 1/4 cup yogurt instead of egg.
3. You can use chia seeds or what we call sabza seeds in place of flaxseeds.
4. Replace cocoa powder with oats to make Flourless Zucchini Muffins.
Pin it for later..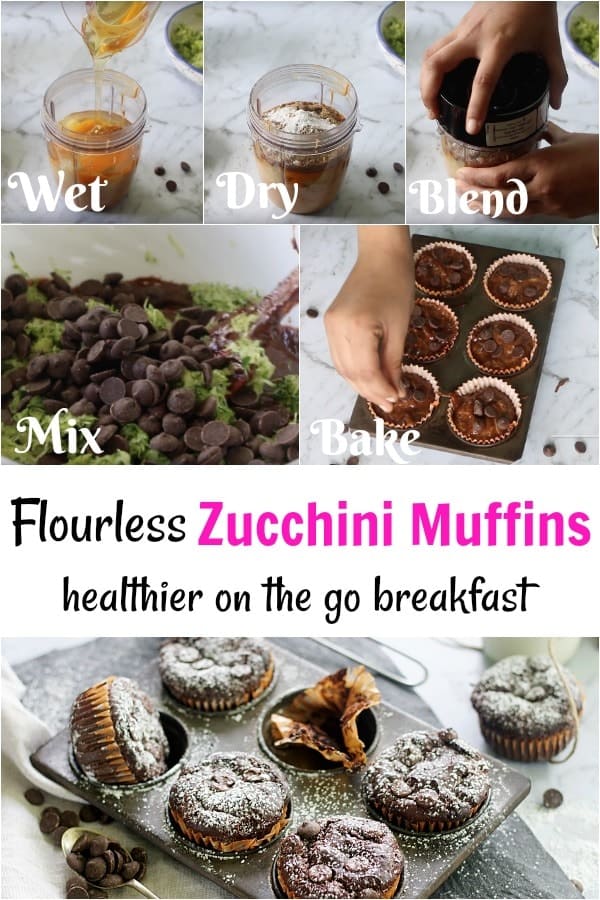 I will see you in my next one
Until then
Hugs
Sushma