Paan Shots is a refreshing, mouth freshener drink that is inspired from the meetha pan that we Indians usually consume after a heavy meal.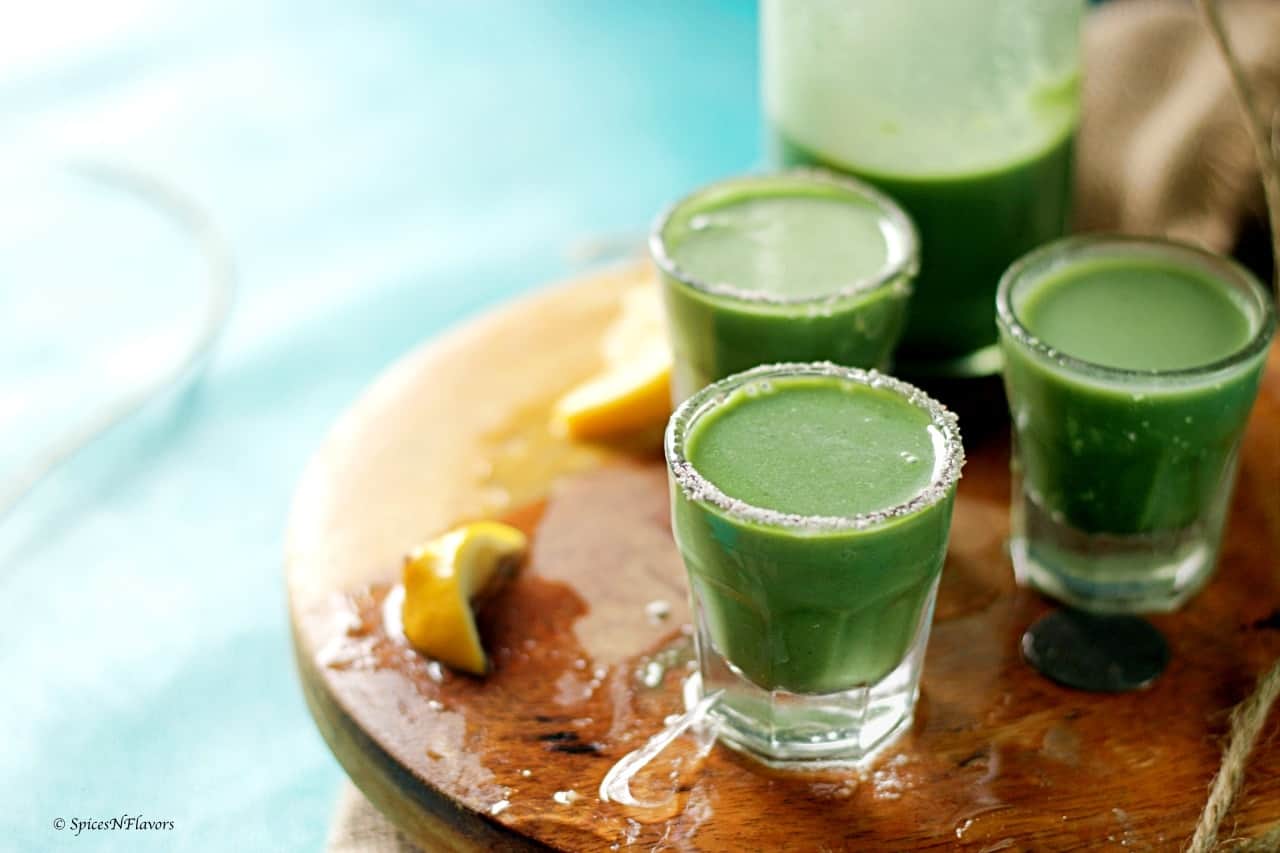 Paan Shots is something that I had always wanted to try.
Made from Betel leaves; these Paan Shots are usually served after dinner or meals in restaurants back in India.
A ridiculously easy to make drink that is packed with tons of flavour. Make this for your next party or just like that and serve to your family; I am sure they will absolutely love this.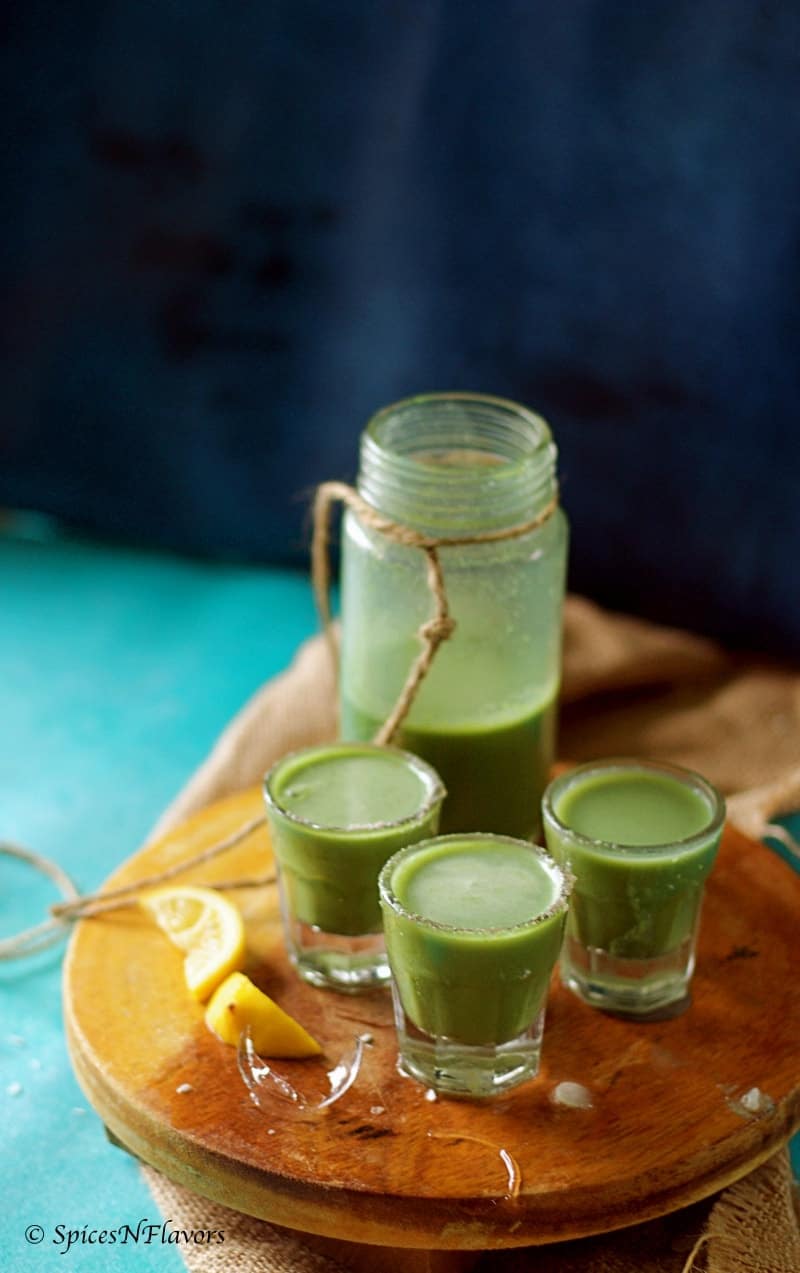 I had no plans of making this Paan Shots. But what happened was I had bought paan leaves to make a Paan and Gulkand Cake. Sounds interesting?? But then the paan leaves were not fresh enough and I was thinking of how I will put it all together.
So the easiest way that I could think off to use this paan leaves was this super cool Paan Shots.
I must tell you guys it was such a refreshing drink!! I insist and highly recommend you to try this at home; you will absolutely love it.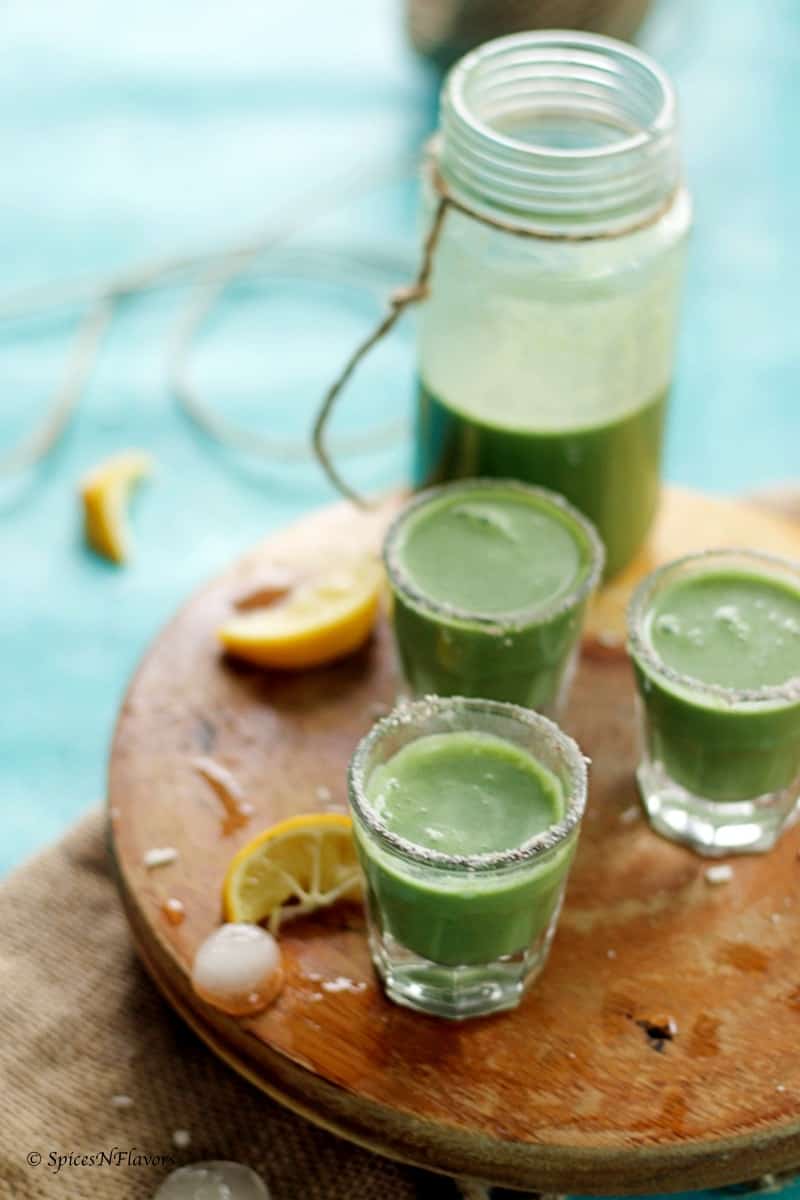 Making this Paan Shots is no rocket science.
All you want is to get the flavour of meetha paan in a drink.
You can ofcourse adjust the recipe that I have shared to suit your family needs. Like increase or decrease the amount of gulkand used; you can also add mouth freshener or what we call mukhvas to it too..
This is just a base idea or recipe which you can change too..
Basically all you need is a good quality mixer. I am using my Nutri-bullet just to crush the ice cubes or else our regular mixer will also do.
If you are in India, you can easily get this meetha paan masala from any street paan-wala or what we call "tapri" in Mumbaiya language..
But if you are not based in India; then you can find the small meetha paan in Indian stores that I am using in this recipe. Check out my video for the same.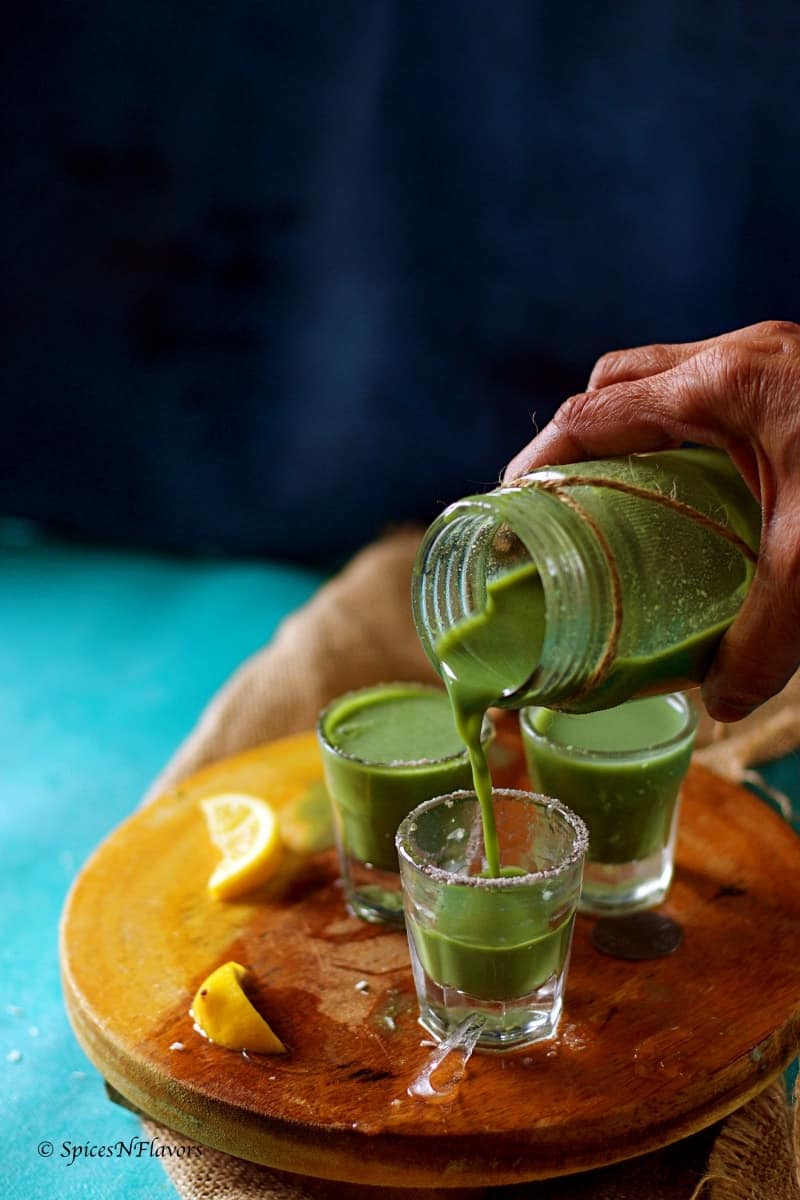 I have always enjoyed making these kind of simple recipes. I had once made this Smoked Buttermilk (Chaas) Shots that everyone loved too..
As I always say planning a party menu comes to me much easily like the one I did for my daughter's first birthday - Little Krishna Theme Birthday Party. But I really don't understand what to cook for dinner tonight; sigh (staring at the refrigerator)!!!
Anyways getting back to today's Paan Shots flavours - its basically like drinking your meetha pan. The refreshing and soothing Paan leaves flavours when combined with sweet and aromatic gulkand and everyone's favourite vanilla ice-cream can never go wrong. These flavours just gel so well that you will make this for your every party.
If you like today's recipe then do tag me, tweet me or instagram me; I would love to follow you and your creations.
Liked this recipe?
Let us know by giving it a star rating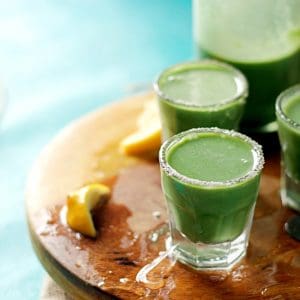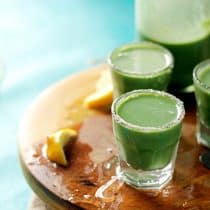 Print
Paan Shots - Refreshing Paan Drink
Paan Shots is a refreshing mouth freshner drink that is made using Paan (Betel leaves) and Gulkand. Usually served after meals or dinner
Ingredients
4

nos

Fresh Betel leaves

1

no

Meetha Paan Masala

(Refer notes)

2

tsp

Fennel Seeds

2

tsp

Dessicated coconut

3

tbsp

Gulkand

3

scoops

Vanilla Ice-Cream

2-3

nos

ice cubes

1/4

cup

Water

2

tsp

Sugar

(optional)

a

drop of

Green Food Colouring

(optional)
Instructions
Tear apart the paan leaves using your hand and add to a mixer.

In the same mixer jar, add all the other ingredients except for water. Pulse together for few seconds.

Add water and food colour if using and blend until smooth. Do a taste test to see if you need sugar as gulkand already has some sugar in it. I added about 2 tsp of sugar and blended it again.

Pass it through a sieve and collect the smooth refreshing paan drink
To Serve
Take some black salt in a plate. Rim the edges of the shot glass with lemon wedge and directly invert it onto the salt to coat the rim.

Pour the paan drink into the shot glasses and enjoy.
Did you make this recipe? Tag me today!
Tag me @spicesandflavors to get featured on my FB and Insta pages
Notes:
1. If you are unable to find meetha paan masala then just use 2 Meetha paan packets that you get in Indian stores; like the one I am using in the video.
2. Start by adding just 1/4 cup of water. Because more the diluted the drink will be; the lesser the flavour of the Paan Shots.
3. You can also use Milk instead of water here.
4. Refrigerate this Paan Shot until ready to serve and serve after dinner and enjoy it with your friends and family.
5. To make a cocktail out of it; just add some vodka to it and jazz up your party.
Other festive season recipes that you would want to try:
1. DIY 5 mins Chocolate Bark
2. 3 ingredients 3 steps Healthy Chocolate pudding
3. 18 mins Halwa
4. Pressure cooker Rava Cake
Pin it for later

Disclosure: This post contains affiliate links that is if you intend to purchase through these links then I would be earning a commission with no additional charges incurred to you.
I will see you soon with another recipe this Saturday.
Until then
Take care and loads of Hugs
Sushma