One and Half Birthday Cake - A cake that I made to celebrate my daughter's 1.5 year birthday. Sounds strange?? Read on to find more.. <3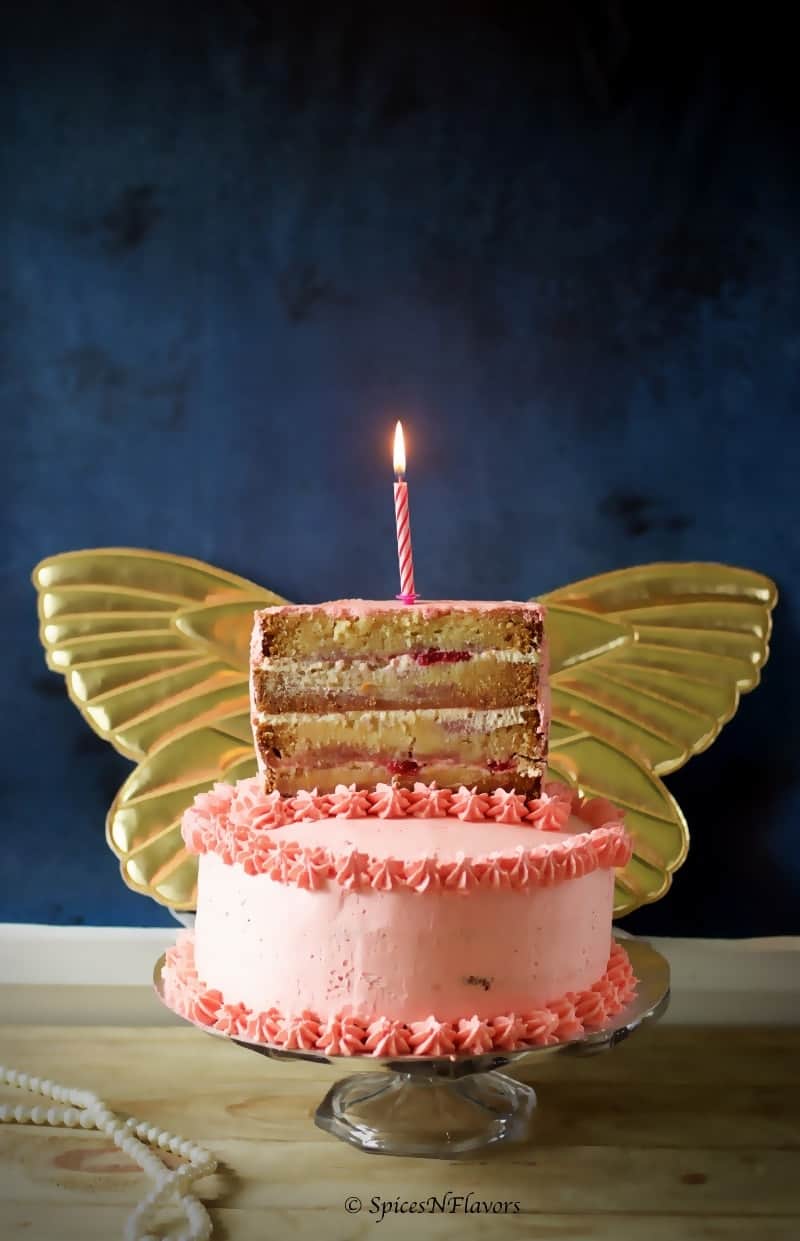 One and Half Birthday Cake. I mean seriously!!!
You guys might be thinking she is made I mean who celebrates one and half birthday; and who the heck on earth make a one and half birthday cake.
I get it..
But.. I had always wanted to make this one and half birthday cake; that is one whole cake and a half cake.. And that is the reason I why I celebrated Yo's 1.5 yr birthday with this one and half birthday cake.. 😉
I even bought her new clothes; cooked her favourite dishes; actually my favourite dishes 😉 to celebrate this day.
To make this one and half birthday cake I used my Eggless Vanilla Cake recipe that I shared few days back. So I used the same recipe to make two "8" inch cake and one "6" inch cake.
However I found that the recipe is perfect for the 8 inch cake whereas while baking it in 6 inch one; A. it took around 45 mins to bake completely and B. It had some cracks on top which is unusual.
So to make a two tier cake; the next time I might choose a cake with eggs in it; so that it would hold the shape a lot better. Not that you cannot make a two tier cake with eggless bakes but at this stage I am not experienced enough to make one.
For the Frosting; I used the Italian Meringue Buttercream; the recipe for which also I have shared before.
And for the Filling; I am using a combination of Whipped cream and Strawberry puree or sauce.
Basically this is a Vanilla and Strawberry Cake with Vanilla Italian Meringue Frosting.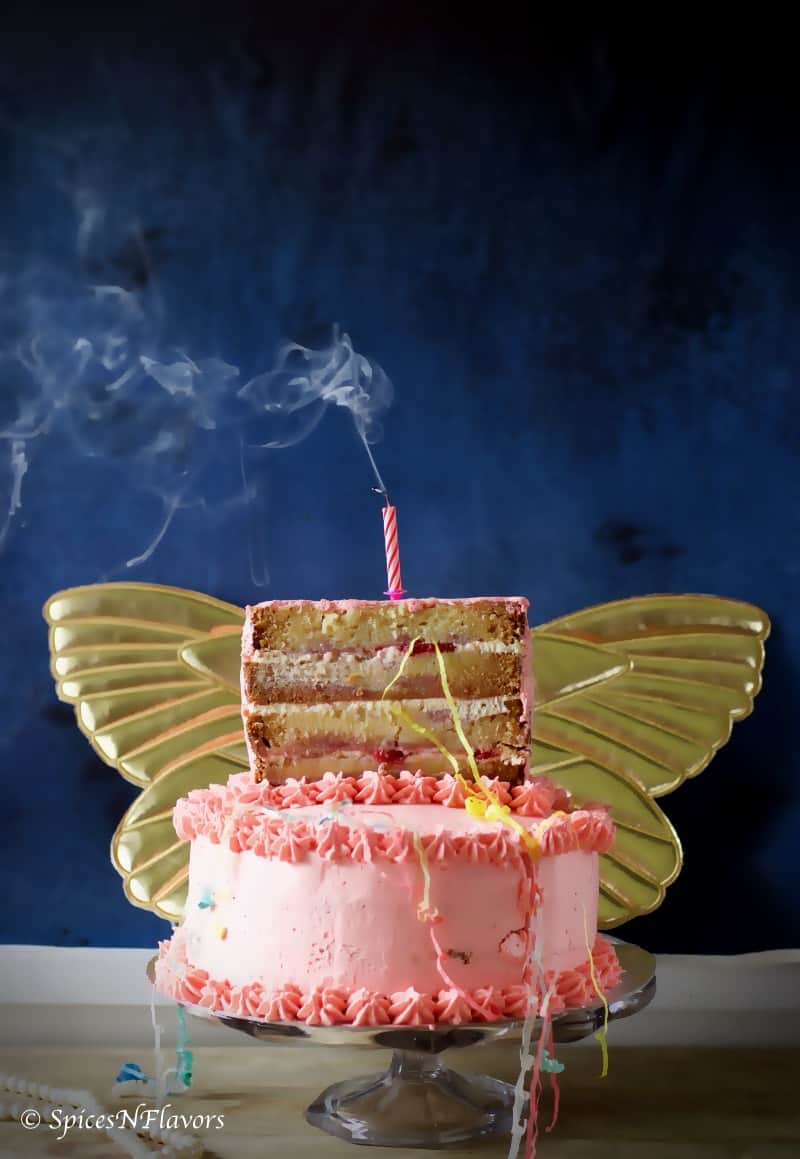 This is a super moist and soft cake. Yes it is a soft cake with soft and beautiful crumbs but I won't call this a sponge cake. The texture is totally different. I will soon be sharing a sponge or genoese cake with you all.
The creamy dreamy whipped cream and the sweet and tart strawberries is a match made in heaven. You can never go wrong with a Cream and Strawberry cake.
Italian Meringue Frosting flavoured with Vanilla is like the cherry on top for this cake. It is not utterly sweet like the regular Buttercream and hence is a favourite amongst all the bakers out there.
The thin layers of soft cake and the strawberry cake filling along with the bakery style frosting makes this a perfect cake for any occasion.
If you like my idea of making a one and half birthday cake then do let me know by tagging me, tweeting me or instagram me. I would love to connect with you.
Liked this recipe?
Let us know by giving it a star rating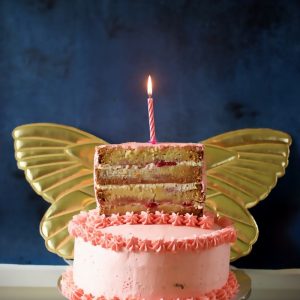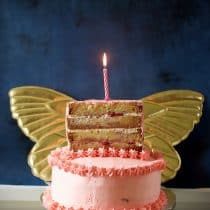 Print
One and Half Birthday Cake - Vanilla Strawberry Cake
One and Half Birthday Cake is basically a vanilla and strawberry flavoured cream cake that I made to celebrate my daughter's 1.5 yrs.
Ingredients
Base - Use my Eggless Vanilla Cake Recipe
Italian Meringue Buttercream - Refer the recipe that has already been shared
Whipped Cream
500

ml

Whipping Cream

1/3

cup

icing sugar
For Strawberry Puree
1

cup

Quartered Strawberries

1/3

cup

Sugar

1

tsp

cornstarch
Sugar Syrup
1/2

cup

sugar

1/2

cup

water
Instructions
Base
Use the eggless vanilla cake recipe and make two "8" inch cake and one "6" inch cake.
Frosting
Double the frosting recipe mentioned in the link in notes section. You will use it up entirely to make this cake
Whipped Cream
Take the whipping cream and sugar in a bowl and whip it until you get soft peaks
For the Strawberry Puree
In a saucepan; combine together strawberries, sugar and cornstarch and bring it to a boil.

Let it simmer until the berries soften a bit about 7-10 mins thats it.
Sugar Syrup
Combine together water and sugar in a saucepan and bring it to a boil or mix it until the sugar dissolves. Allow to cool completely and then use to moisten the cake.
To Assemble
Please refer the video for easy understanding. Link in the notes section below.
Did you make this recipe? Tag me today!
Tag me @spicesandflavors to get featured on my FB and Insta pages
Notes:
1. Click here to the video recipe - One and Half Birthday Cake.
2. Italian Meringue Buttercream frosting - Double the recipe mentioned here.
3. Eggless Vanilla cake - Click here for recipe.
You can also use Eggless Chocolate Cake as the base for this one and half birthday cake if you like.
Other festive season recipes that you would want to try:
1. DIY 5 mins Chocolate Bark
2. 3 ingredients 3 steps Healthy Chocolate pudding
3. 18 mins Halwa
4. Pressure cooker Rava Cake
5. Paan Shots.
Do not make my Mistake:
I made the Italian Meringue Buttercream the previous day and assembled the cake next day.
While smoothing it out I found that the cream was not smooth so I went and asked my tutor about it.
Thats when I got to know we have to beat the cream once again before using if we are making it ahead of time; so you guys plan accordingly and execute.
Pin it for later


I will see you soon with another recipe
Until then
Hugs
Sushma