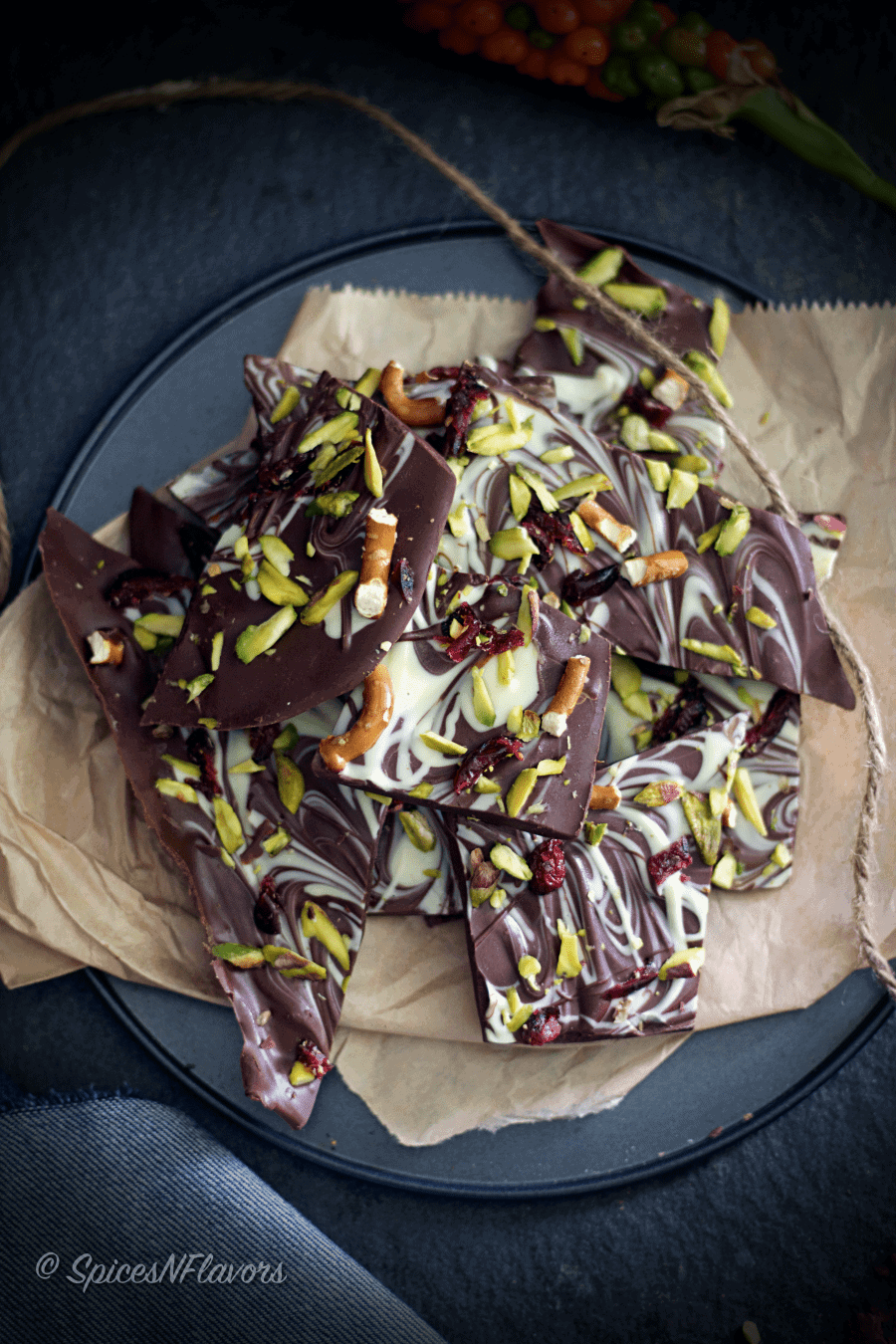 Chocolate Barks - My new found love.
Well Valentine's Day is just around the corner and chocolates is one thing that goes hand in hand with any kind of celebrations.
This Valentine's don't just buy a chocolate, give it a personalised touch with these beautiful chocolate barks. Ain't it looking decadent?
And what more this is healthy too.. I have used dark chocolate which is loaded with health benefits. And the addition of nuts and berries makes it even better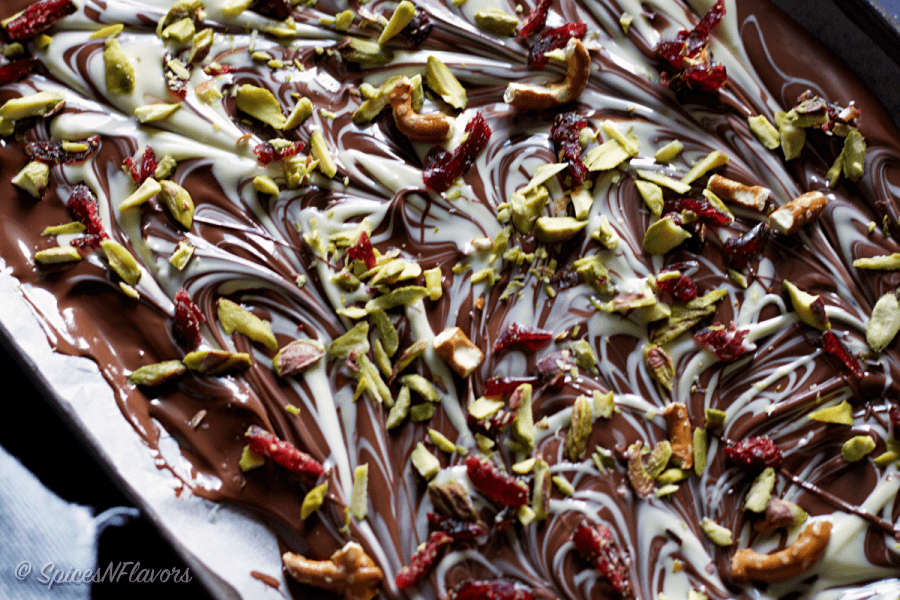 Chocolate Barks are something that is so simple to make that I had to give it a thought whether to include this in the blog or not??
But its simplicity is what makes this so special..
A 5 year old kid can make this and feel on top of the world; making it a fun activity to do with the kids.
It hardly takes any time say like a maximum of 5 mins?? And then ofcourse you need to let it chill for 10-15 mins but then yeah just spend 5 mins and a personalised gift for that someone special is ready.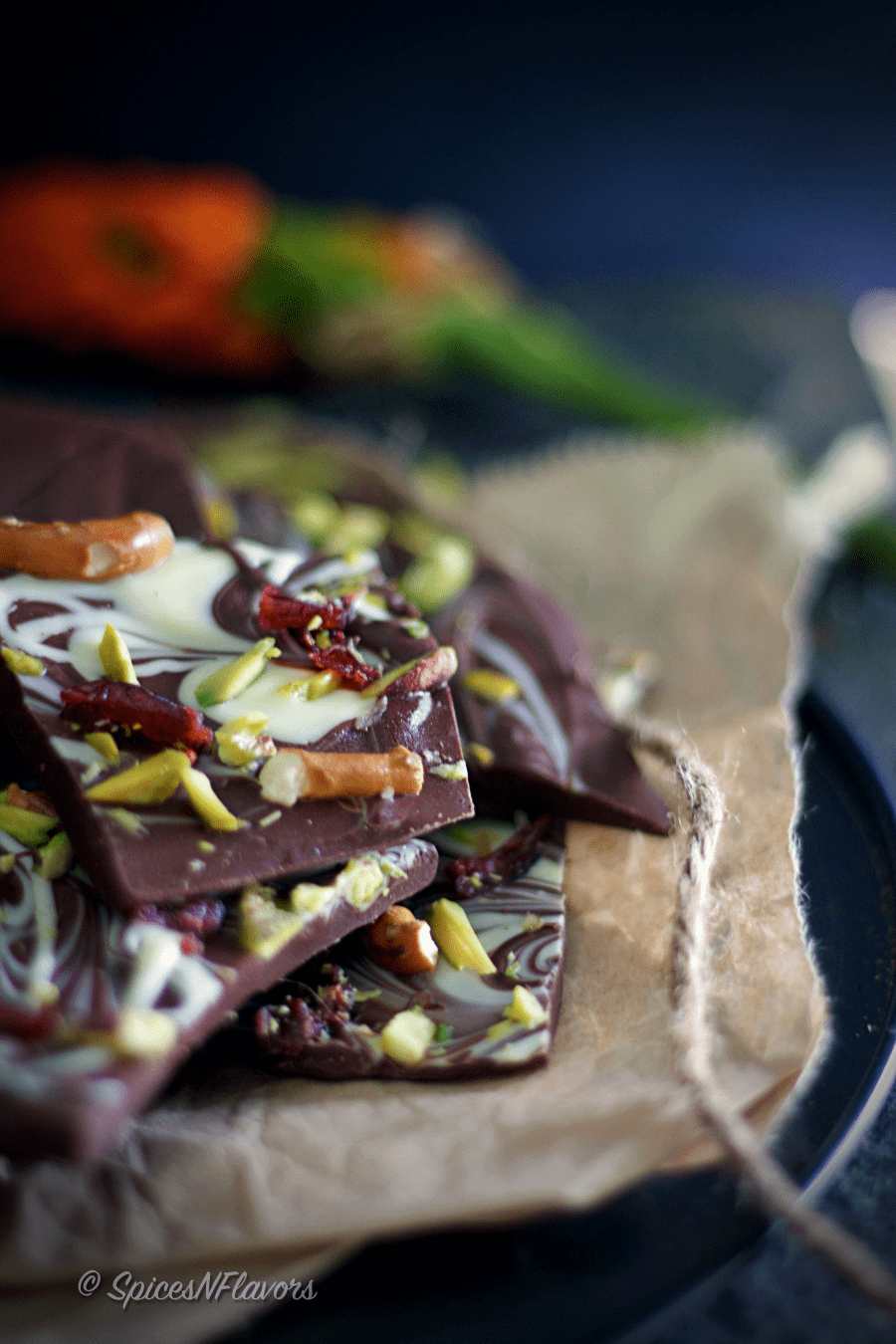 My daughter is turning one in few weeks time..
The atmosphere in my home is crazy now with guest lists getting ready, menu being finalised, shopping for party supplies, return gifts and many more..
The blogger in me wants to give atleast one edible return gifts to the guests. And these chocolate barks make it into the return gift.. Yeah!!!!
The best part of these chocolate barks is that I can make it ahead of time and keep it in the refrigerator until use so that I don't have to worry about doing everything in the last minute saving me time and energy.. cool na??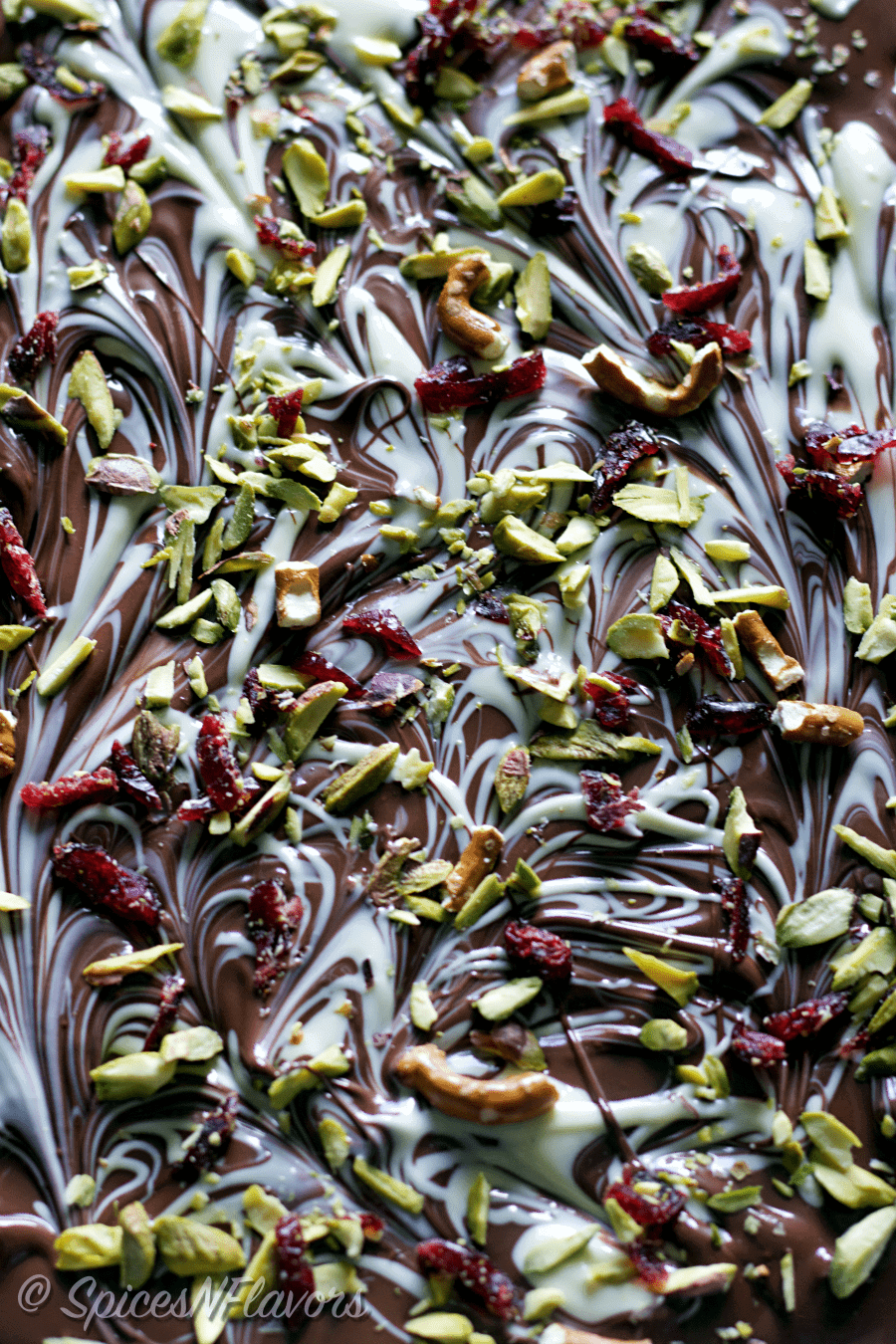 Apart from enjoying these chocolate barks on its own, I used this to top my Salted Caramel Freakshake. And it was so fun!!! I mean that day we (me and Bala) had so much fun topping our freakshakes it was crazy.
You can also use them to top it on your cakes, cupcakes, ice-creams.. it is that versatile.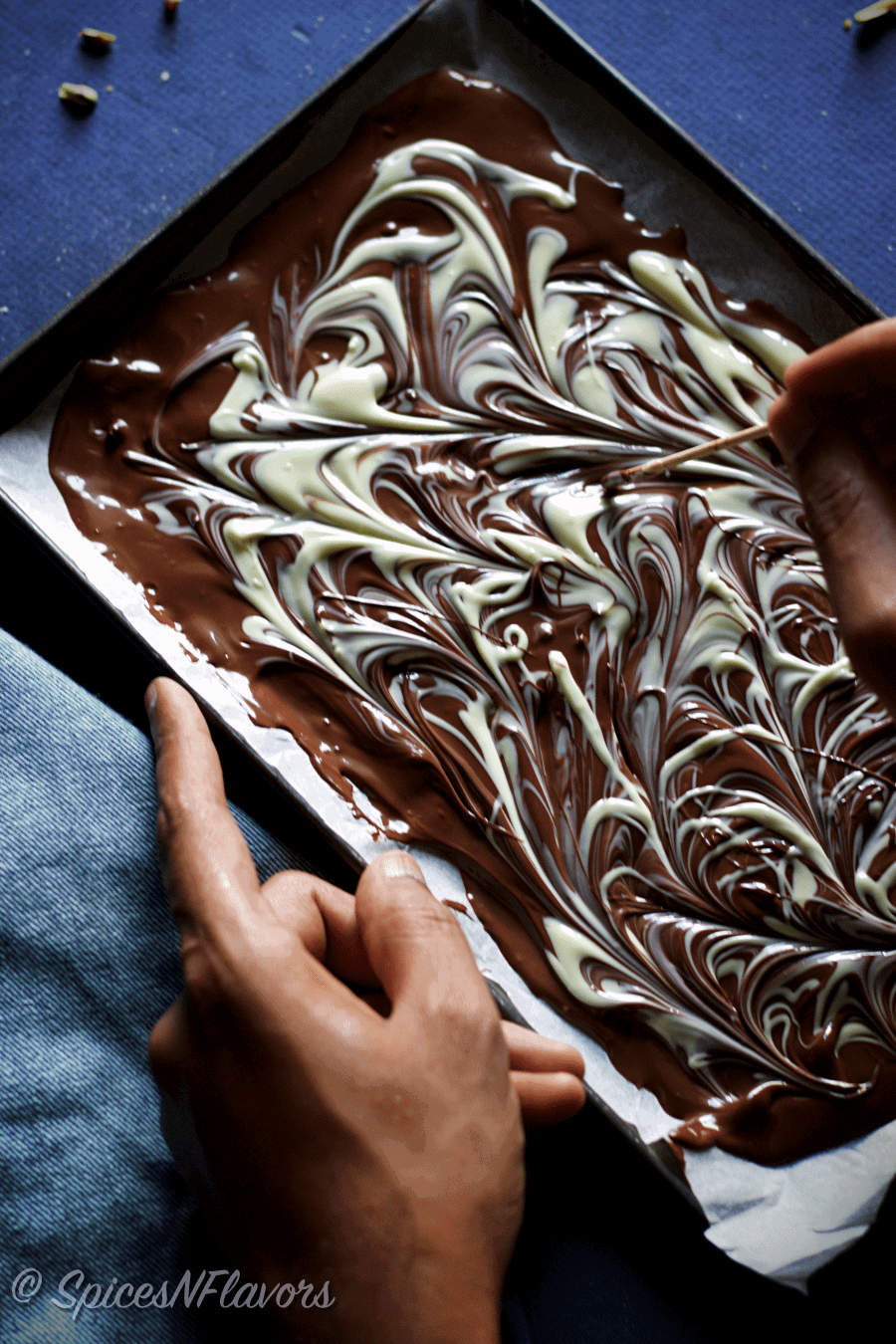 I just love the use of hands in food photography.. It makes me feel so connected to the food and to you - my readers. I just wait for weekends to take atleast one action shot, like the one in this Thandai Masala powder. My dear husband is my model here.. hehe.. I still don't own a tripod so Mr.B helps me out.
So sweet right!! Chocolates, Time spent together, lazy weekend - I don't have to wait for Valentine's Day to make it a perfect weekend. What do you say?? Thats right don't wait for Valentine's Day just make these chocolate barks right away and spend quality time with your family.
So what do you need to make these chocolate barks??
Simple just melt chocolate of your choice. Spread it onto a parchment paper. Swirl designs if using two different types of chocolate, top it off with nuts and fruits of your choice and chill. Thats is your chocolate barks are ready. So simple!!!
If you happen to try this recipe then please do tag me, tweet me or instagram me so that I could follow you and all your posts.
Meanwhile just enjoy this simple basic recipe..
Liked this recipe?
Let us know by giving it a star rating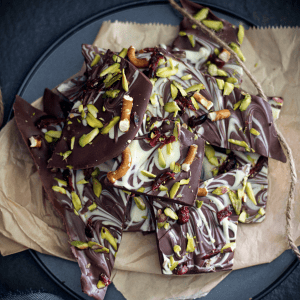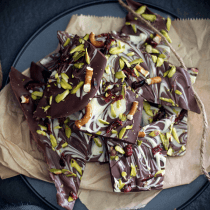 Print
DIY Homemade Pistachio and Pretzel Chocolate Bark
DIY Homemade Chocolate barks are simple, easy and quick to make and are so addictive
Ingredients
250

gms

dark chocolate

100

gms

white chocolate

3

tbsp

nuts of your choice

(used pistachios, pretzels and cranberries)
Instructions
Melt dark and white chocolate separately in the microwave in 30 sec intervals until melted. Alternatively use stove-top to melt the chocolate using double boiler method.

Pour the melted chocolate on the baking pan lined with parchment and spread with the back of the spoon or a spatula to 1mm thickness

Add dollops of white chocolate here and there at random spots on top of the dark chocolate and then make a swirl pattern with the help of a toothpick. Taking care not to over do as it would combine together to give a lighter shade chocolate and you wont get that swirl effect.

Immediately add the nuts of your choice on top of it before the chocolate starts solidifying..

Place the baking tray in the freezer for 10 mins or until the chocolate is completely set.

Break it up using your hands into random pieces to make the chocolate barks.
Notes
1. You can use chocolate of your choice - dark, milk, white; a combination or separately.
2. Use nuts of your choice or completely skip it. Customise to suit your taste-buds.
Did you make this recipe? Tag me today!
Tag me @spicesandflavors to get featured on my FB and Insta pages
Just drop by my Facebook page to say Hi!!! Let me warn you I talk a lot. 😛
Update:
I just made a video on the same and also shared a whole new post on how to melt chocolates the right way!!
Apart from making these as a return gift for my daughter's Little Krishna Theme Birthday party I also made these as a Christmas gift.
Would like to include few other toppings that you can use:
1. Any nuts : Pistachios, Almonds, Cashews, Hazelnuts etc.
2. Dried fruits : Raisins, Cranberries, Blueberries, Figs etc.
3. Fresh Fruits: Mango, Strawberry, Pineapple etc.
4. Indian flavours: Coconut, Paan and Gulkand, Saffron strands, etc.
5. Other chocolates: M and M', Gems, kit kat etc.
Meanwhile Pin it..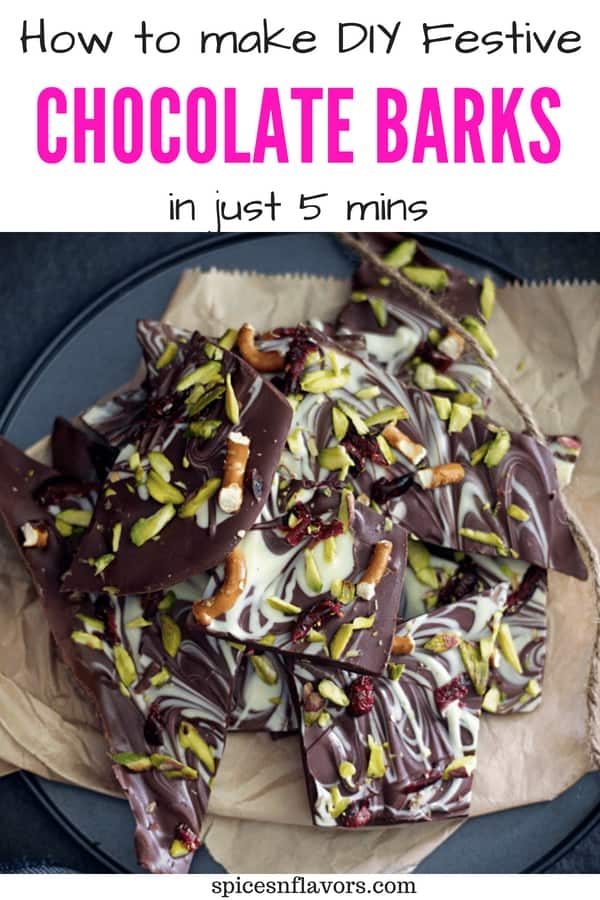 Until then
hugs
Sushma