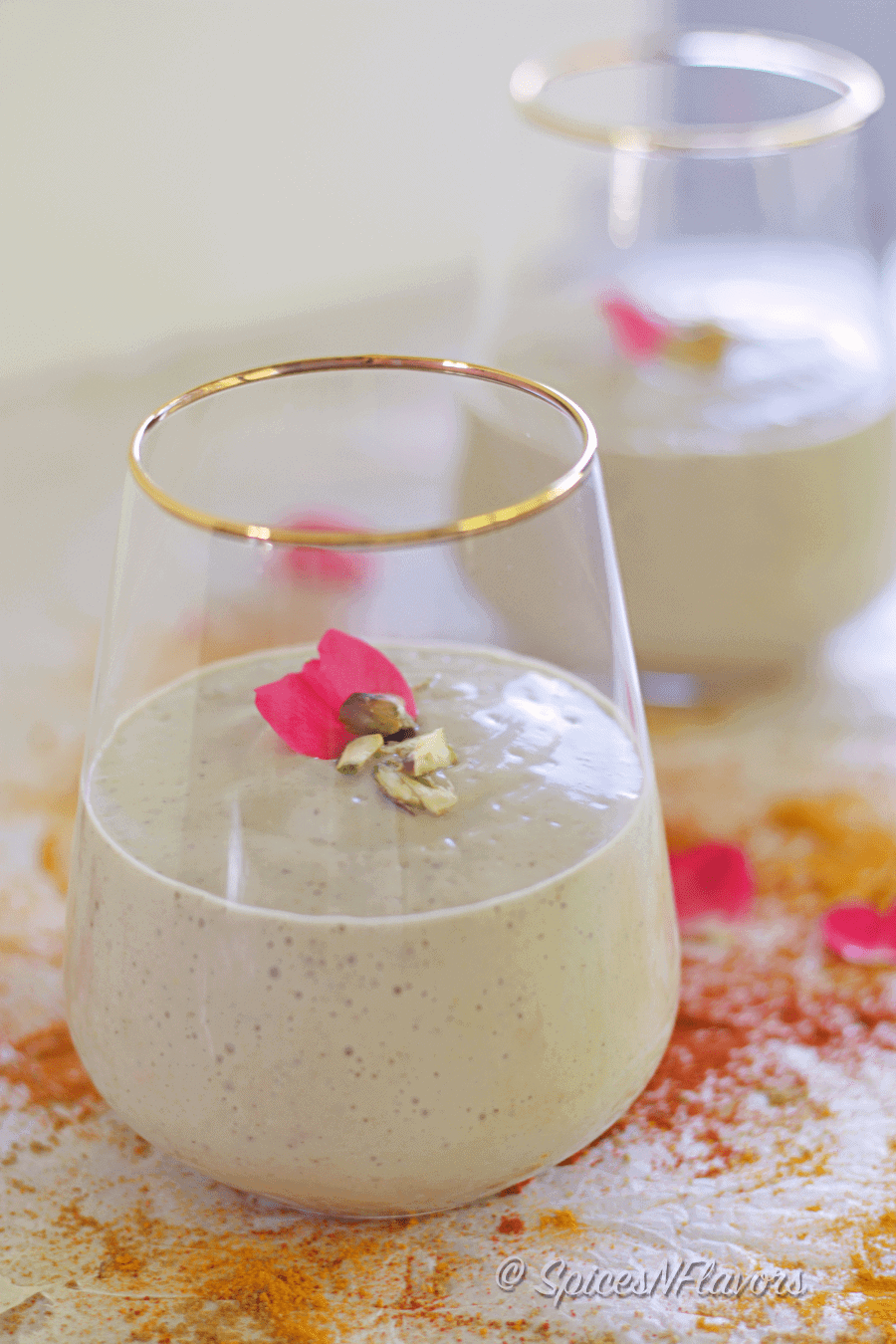 Thandai is an Indian drink which is prepared using different nuts, some melon seeds, saffron, peppercorns, rose petals. This is mainly prepared on Maha Shivratri and Holi Festival.
So when I took up this #7daysmoothiechallenge, I had already made up my mind to try out this Thandai Smoothie and we really enjoyed the healthy version of our traditional Thandai drink.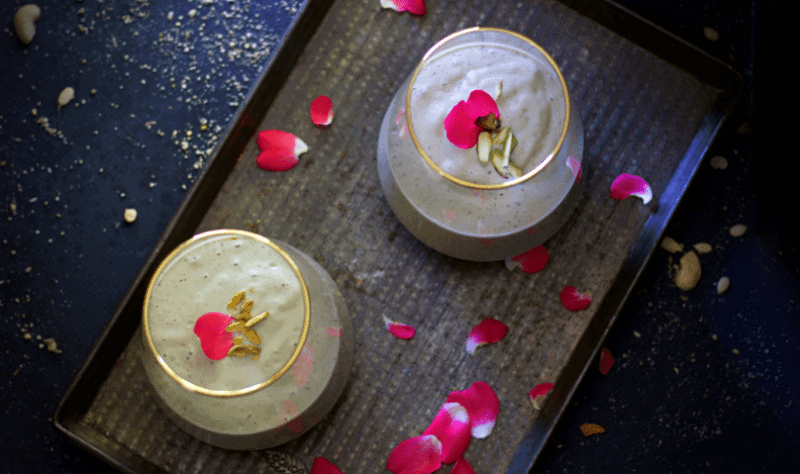 This week has been so much fun.
With this smoothie I complete the #7daysmoothiechallenge that I have been following all through the week.
Of all the smoothies that I have tried all through the week, my most favourite one has to be the Classic Vanilla Green Smoothie and this Black Forest Cake inspired Smoothie.
Though it was fun to do a 7 day challenge it has been equally hectic too. Prepping for the smoothie, photoshoot, editing and then drafting a post; phew.. I am so tired that I just want to shut myself up with some ice-cream and Netflix. I guess time to make some Instant Ice-cream so that I can have one while drafting this post.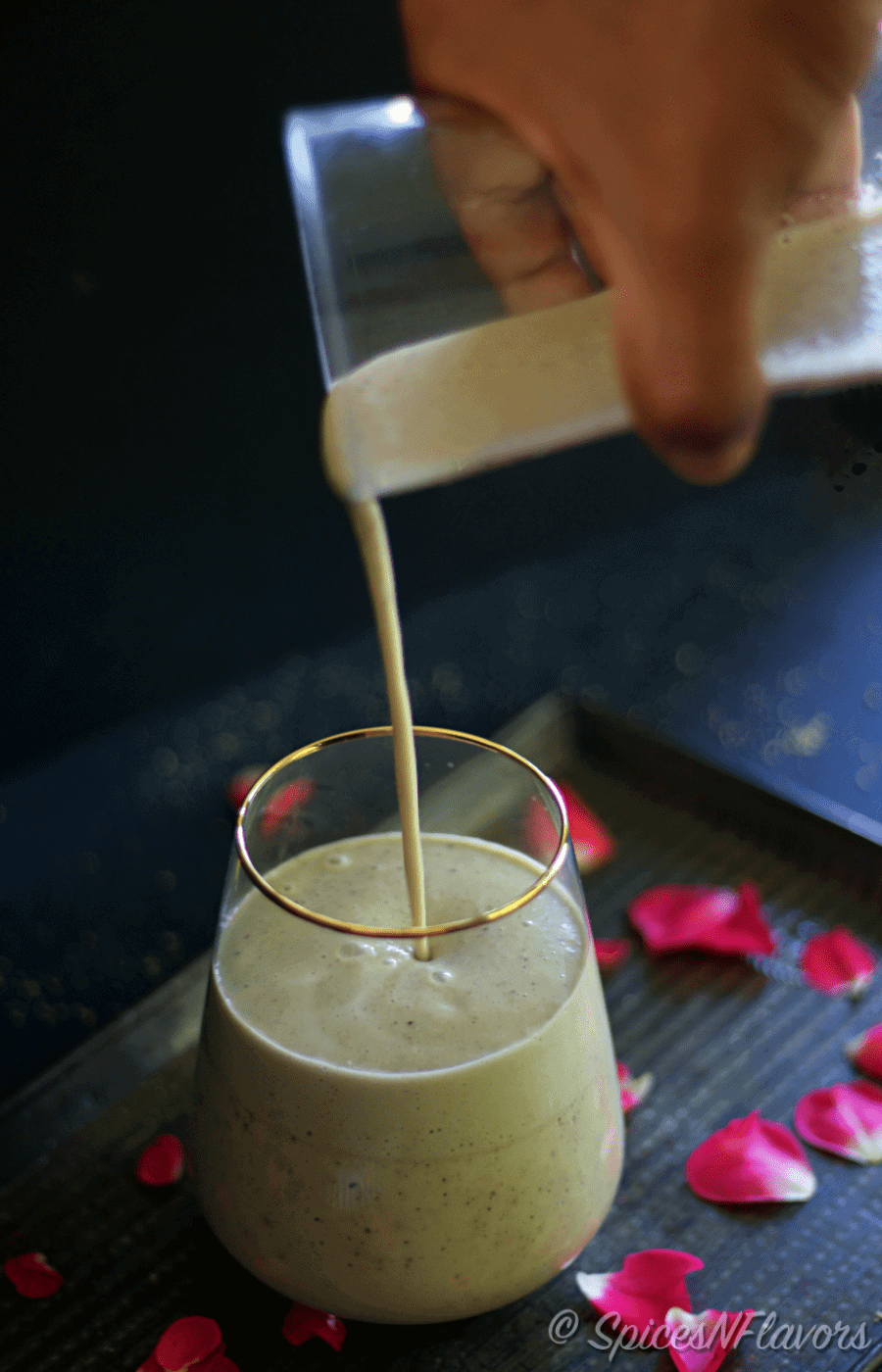 So Thandai is basically an Indian drink like I mentioned earlier too. But what makes it special is the Thandai Masala powder that is loaded with all the dried nuts and Indian spices making it so aromatic and heavy; which makes it perfect for smoothies as we feel full for a very long time.
Traditionally Thandai is made by using milk, sugar and ofcourse the masala powder. India is famous for its use of unique masalas for different recipes. And this Thandai Masala is one aromatic masala that you can make before-hand and use in a variety of recipes. So to make this a healthier version, I just skipped the sugar part and added oats and few other ingredients that doesn't go into the Traditional drink.
If you expect this to be sweet as the traditional one, then I am gonna disappoint you by saying NO. It doesn't taste like the actual drink; it just has the flavours of it.
If you want you are free to add few tbsp sugar to make it little sweet but then it won't serve the purpose of a healthy smoothie.
You need thandai masala to make this smoothie, the recipe of which I will be posting in the coming week. Till then you can use the store bought one. I have already clicked pictures and everything is ready just need to draft it. So after this smoothie challenge and may be after Valentine's Day dessert I will post it..
You can have a look of it here..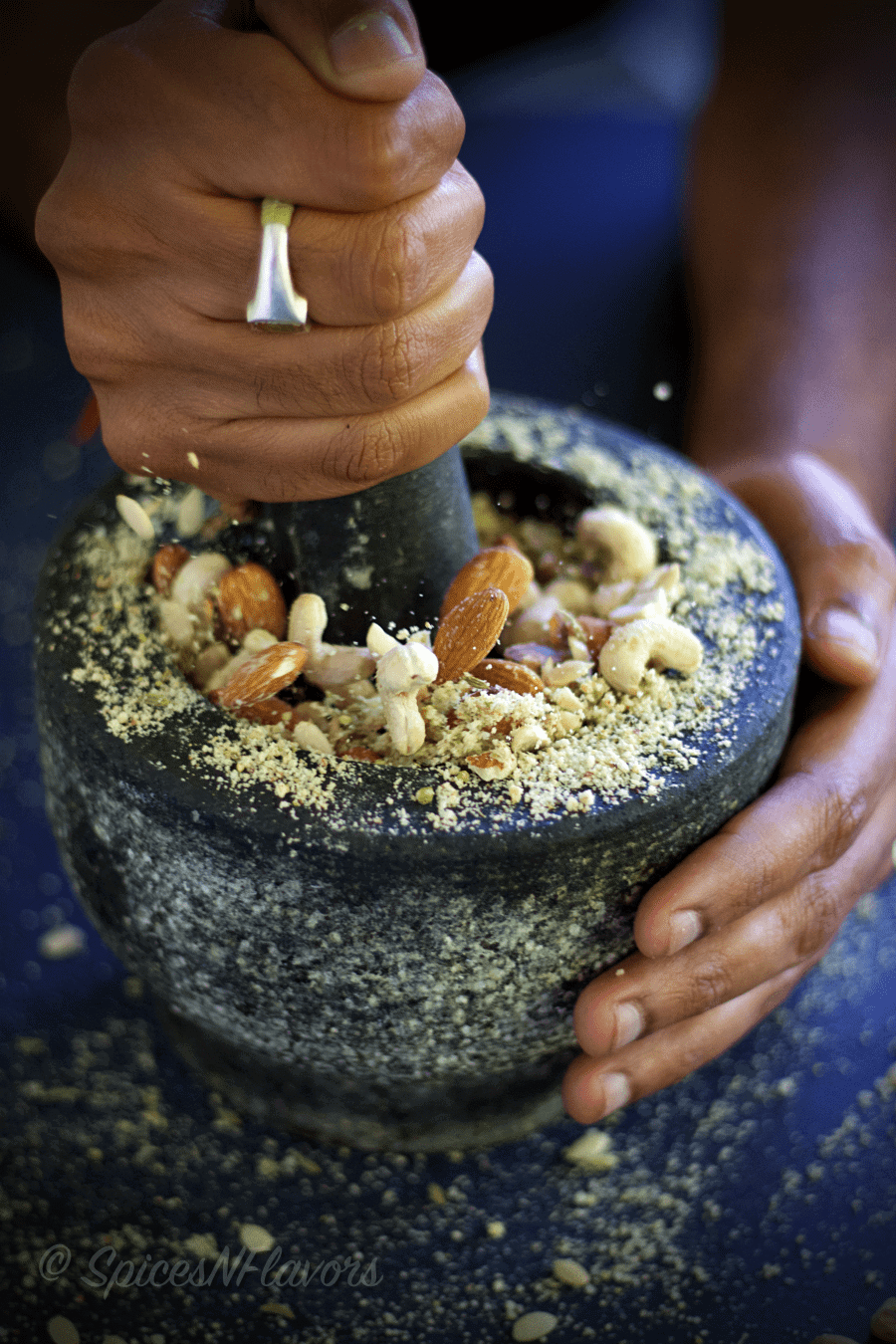 If you happen to try this then do tag me, tweet me or instagram me I would love to follow you and your posts.
Also if you love smoothies then check out my Pinterest Smoothie board - it has got one amazing collection of smoothies.
Liked this recipe?
Let us know by giving it a star rating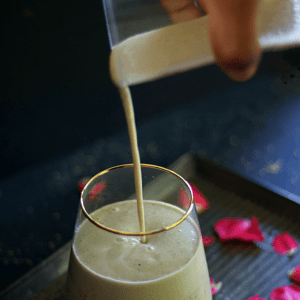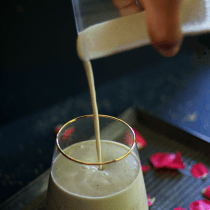 Print
Thandai Smoothie
This smoothie is inspired by Thandai a cold Indian drink prepared during Indian festivals
Ingredients
1

cup

almond milk

unsweetened

3

tbsp

thandai powder

1/4

cup

oats

1

med size banana

(extra ripe)

1

tsp

chia seeds

1

tbsp

protein powder

2

tsp

rose water

2

dates
Instructions
Add everything mentioned above in the blender and blend until smooth

Garnish with rose petals and some pistachios
Notes
1. The banana has to be super ripe or it won't taste sweet.
2. This smoothie is not sweet like the traditional Thandai drink so if you wish you can add sweetener of your choice.
3. Serve immediately,the longer it stands the thicker it becomes and this smoothie won't taste good if its too thick.
Did you make this recipe? Tag me today!
Tag me @spicesandflavors to get featured on my FB and Insta pages
This Tuesday I have got a easy peasy recipe to celebrate your Valentine's Day. So keep watching the space. Also will be posting the Thandai Masala Powder soon.
Unitl then
Hugs
Sushma