Kaju Mushroom Masala is a delicious every day recipe that has been cooked to perfection using South Indian spice blends.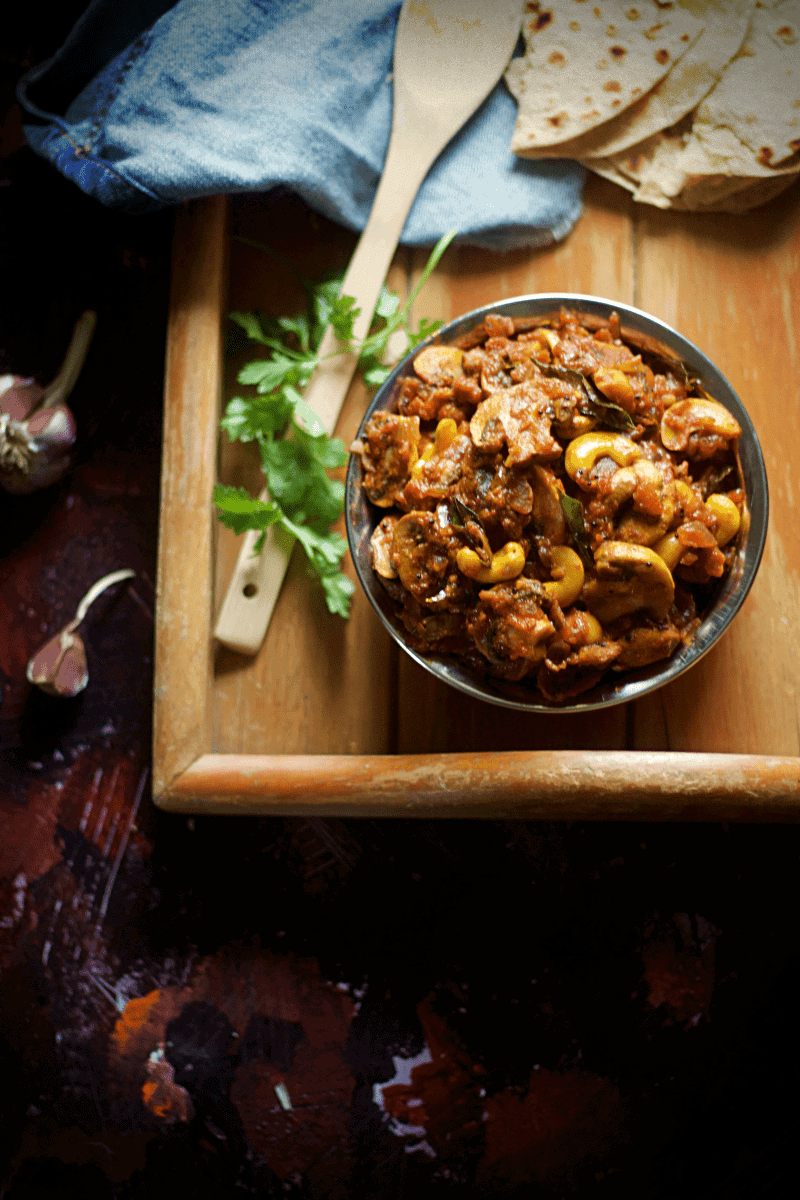 Kaju Mushroom Masala is a Vegan, naturally gluten free and Paleo recipe that you can whip up in minutes as an accompaniment for your rice or roti (won't be gluten free if you are serving with roti, naan or paratha).
Like I have said in many of my posts, be it the Masala Chai Ice-cream or my Thandai Masala post; a Masala is a quint essential requirement for making any Indian curry. Masala is basically a combination of two or three Indian spices that comes together to enhance the flavour of a dish.
Like wise, today's dish is flavoured with South Indian spices or masala.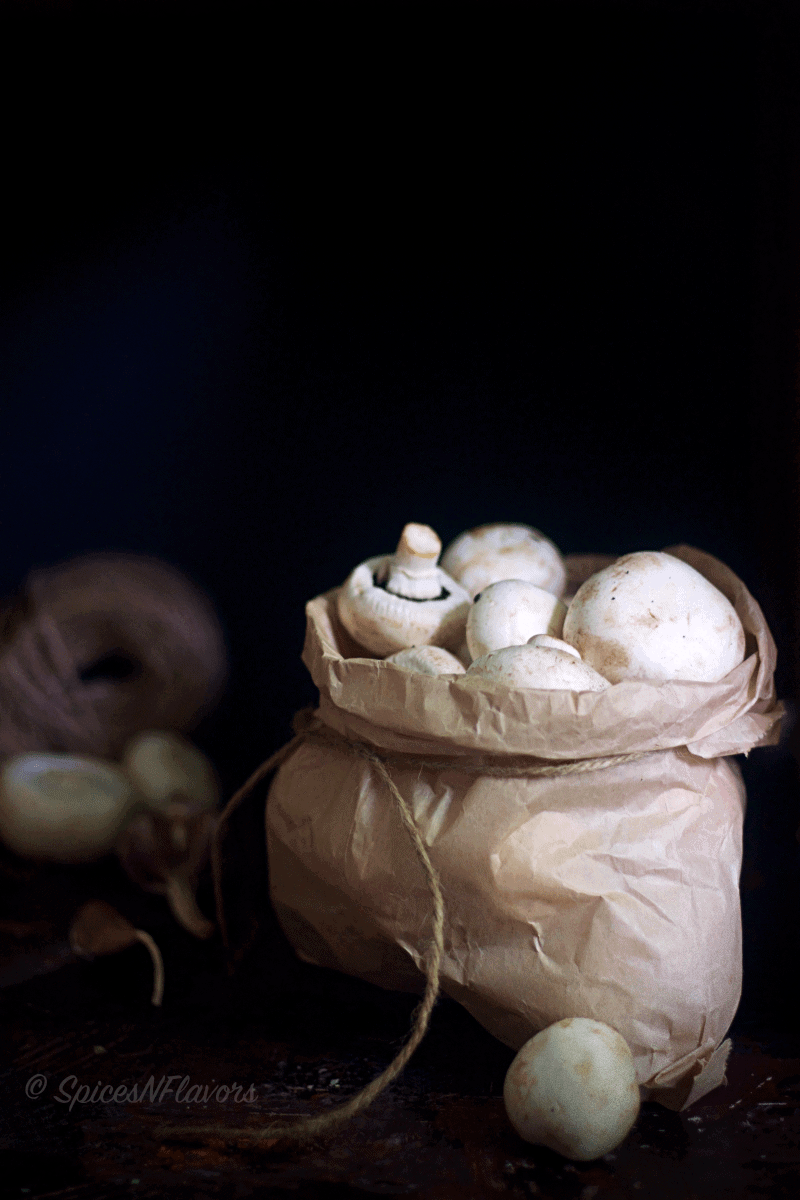 What makes this Kaju Mushroom Masala a south indian curry??
Did you know there is a lot of difference in a North Indian cooking and a South Indian cooking.
South Indian style cooking generally uses few masalas as compared to north indian that has lots.
Curry Leaves is a must in any South Indian style recipe that you would have come across.
Also while seasoning, South Indian recipes call out for use of Urad Dal (depending upon what you are making) instead of cumin seeds which you find in most north indian recipes.
These small changes here and there affects the outcome of the dish. And also differentiates the style of cooking amongst Indians depending upon the availability of products locally.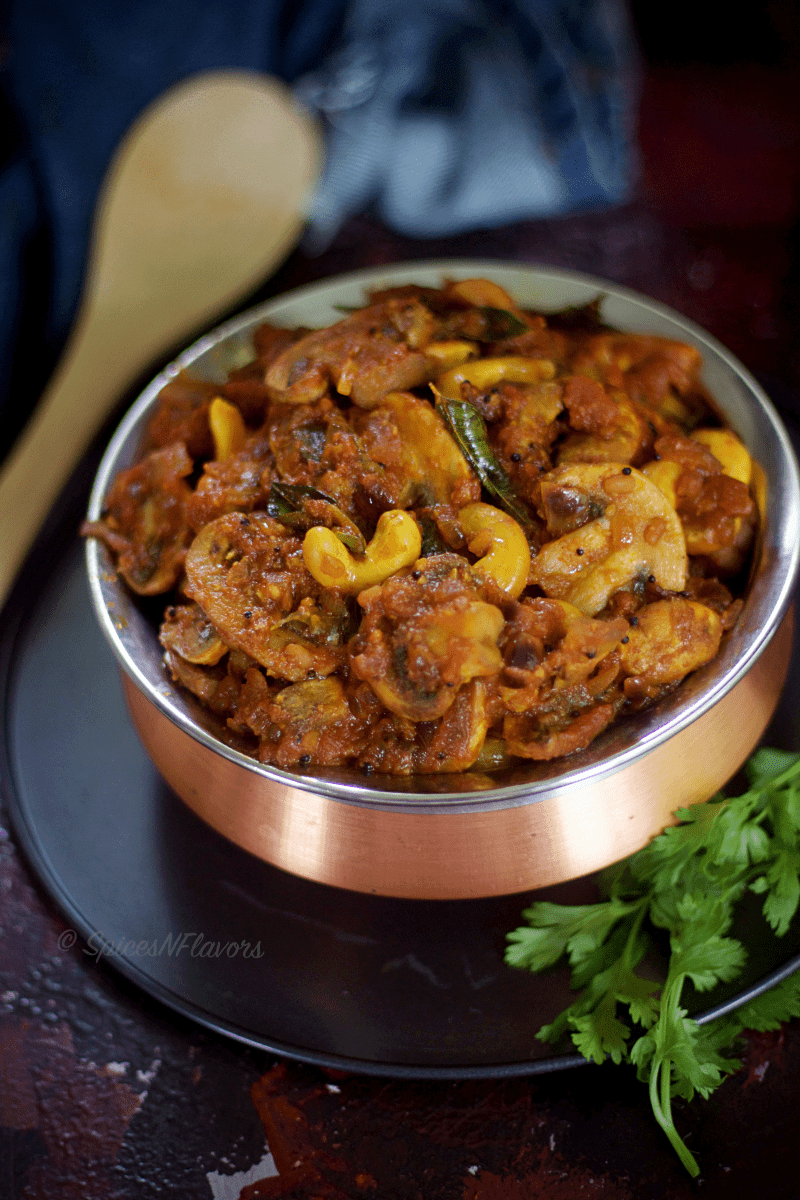 Don't get intimidated by the list of info that I am passing here.. Indian cooking is actually not that hard..
You just need to get hold of balancing the spiciness, salt quotient and sourness in a dish. And thats it you are sorted.
This Kaju Mushroom Masala recipe is one such. It has got tomatoes for sourness, onions for sweetness and Sambhar powder for spice level. And the use of Sambhar powder, curry leaves and urad dal makes it a pukka south indian style curry.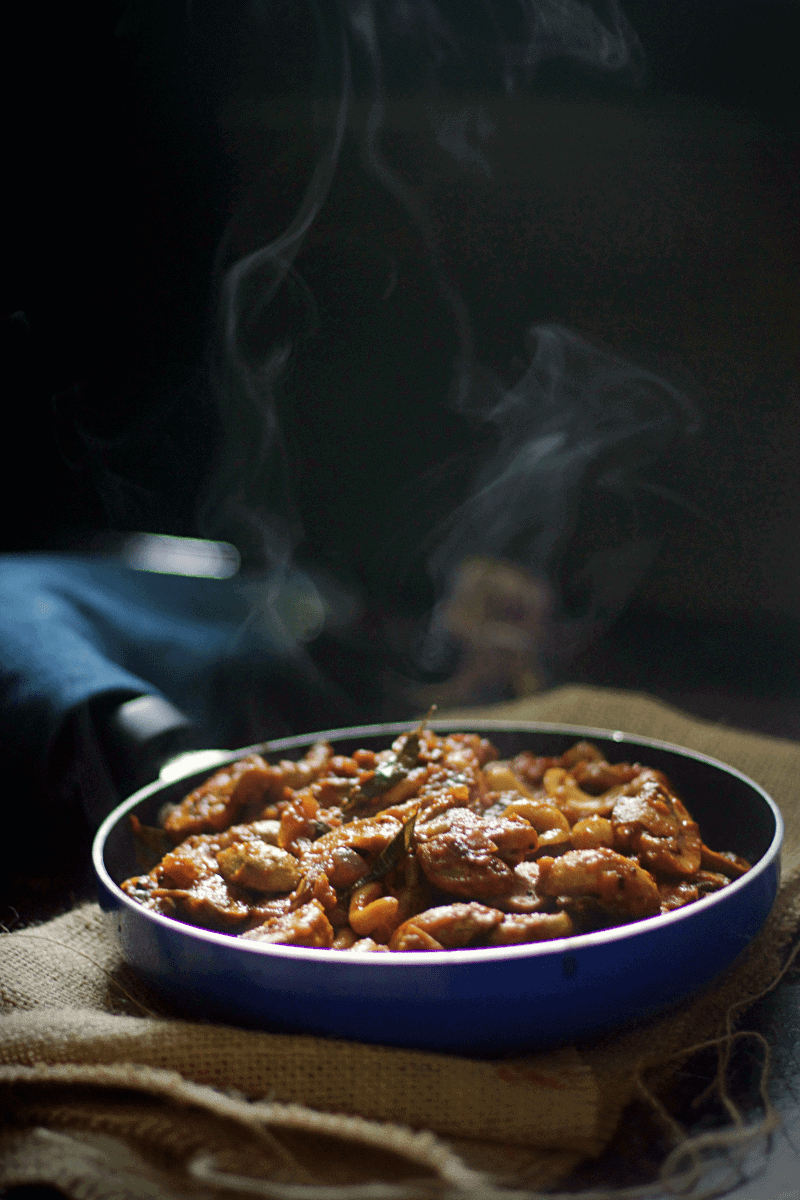 Sambhar powder is most commonly found in every South indian home.
But if you do not have one, you can always use store bought. But if you do not wish to buy one then for this recipe instead of sambhar powder feel free to use regular chilli powder and little bit of coriander powder. It tastes equally good. I have tried both ways.
Kaju Mushroom Masala is a delicious aromatic curry with lots of flavour coming from the curry leaves. The mushrooms cooked to perfection in a crunchy cashew and the onion tomato base alongwith the addition of sambhar powder makes this a one appetizing dish that you must try in your next lunch or dinner menu. This is a medium spice level dish. At our home we don't eat too spicy food.
My father in law who hates mushroom found this variation an interesting one and helped himself to two servings. Woah now thats an achievement.. 😉
But seriously don't exclude mushrooms from your diet. It is the only vegetable that provides us with zinc and is really good for your health.
Like always if you happen to try this recipe then please do tag me, tweet me or instagram me. I would love to follow you and your posts.
Off to today's Kaju Mushroom Masala recipe..
Liked this recipe?
Let us know by giving it a star rating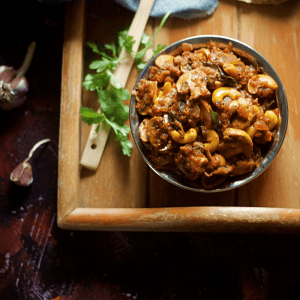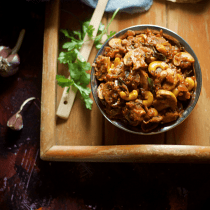 Print
Kaju Mushroom Masala - South Indian style Curry
Kaju Mushroom Masala is a delicious, flavourful every day Indian curry that goes well with roti, naan or rice. Bonus its a vegan, paleo and naturally gluten-free recipe.
Ingredients
15-20

nos

Mushroom

sliced

2

med size

onions

finely chopped

3/4

tin

tomatoes

2

sprigs

curry leaves

1/4

cup

cashews

1

tbsp

ginger garlic paste

1/4

tsp

turmeric powder

1.5

tbsp

sambhar powder

pinch

of

sugar

1/2

tsp

mustard seeds

1/2

tsp

split urad dal

pinch

of

asafoetida/hing

2

tbsp

vegetable oil

salt

to

taste
Instructions
Heat oil in a pan. Add mustard seeds to the hot oil. Once it splutters add the split urad dal and hing. And when it turns golden brown add ginger garlic paste. Saute till raw smell goes. (About 2 minutes).

Add finely chopped onions and cook until brown. Add the tinned tomatoes.

Once some of the moisture from the tomatoes is gone, add turmeric powder, sugar and sambhar powder. Cover the pan and cook till everything comes together like a masala. Keep stirring occasionally. This would take approximately 5-7 minutes.

Add little water at this stage if you find the curry to be dry. However bear in mind that mushrooms release little water on coming in contact with salt in the cooking process. So take care while adding water. (I didn't add any)

Add the cashew nuts and curry leaves. And cook for about a minute or so.

Add the sliced mushrooms and salt to taste. Cook until the mushrooms is cooked. (The mushroom will lose moisture and shrink in size; it would take about 3 minutes to cook your mushroom).


Serve your Kaju Mushroom Masala piping hot with rice, roti or naan.
Did you make this recipe? Tag me today!
Tag me @spicesandflavors to get featured on my FB and Insta pages
Recipe Notes:
1. * Instead of tinned tomatoes, you can use 3 nos fresh tomatoes chopped finely.
2. ** Instead of cashews, you can use equal amount of boiled green peas or cubed paneer or a combination of these veggies.
3. *** Adjust the spice level to suit your taste buds. Instead of Sambhar powder use 2 tsp red chilli powder or adjust the measurements to your spice level and also add 1 tsp coriander powder. Tastes equally good.
4. Slice the mushrooms in thick chunks so that it is visible even after cooking.
5. If you choose to serve this with roti then it won't be a gluten free recipe.
Try my Mushroom Tikki Chaat in a Glass for your next party and I am sure everyone will love it.
Pin it:

See you soon
Until then
Hugs
Sushma