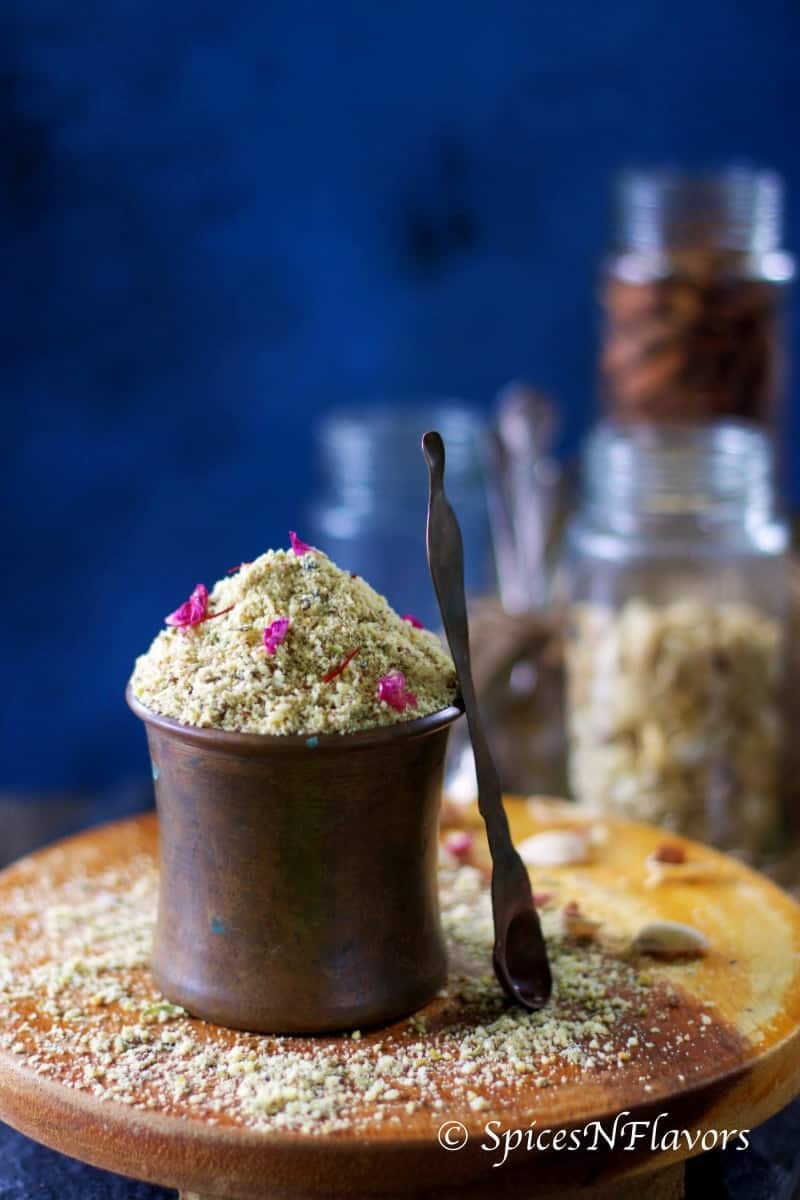 Thandai Masala is one of the spice powder mix that we (Indians) use, to make a special cold drink "Thandai" generally prepared during festivals like Holi and Maha Shivratri.
India has a treasure of unique spice blends for each and every recipe enhancing both the nutritive and flavour value of the dish.
I take pride in making certain homemade spice blends often referred to as "Masalas"..
Some of the most common Masala that I make is this Rasam powder and also Sambhar powder (obviously me being a south Indian).. But there are other common Masalas or spices blends that you may have heard before like the Garam Masala powder or Kadhi Masala.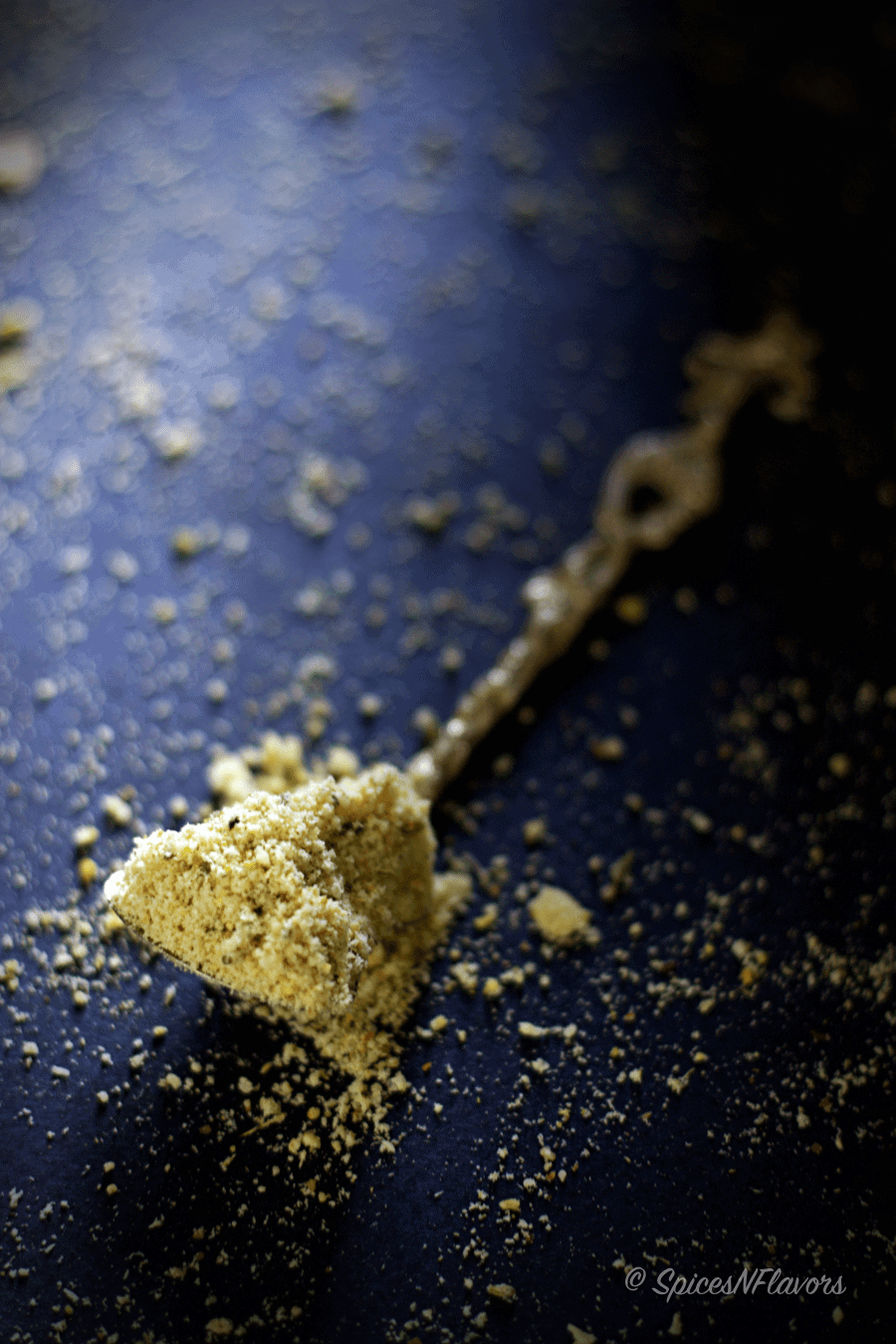 Wondering why did I choose to make this Thandai Masala at home?
Well, if you are with me from my resolution post, you might already know that this year I am gonna try and celebrate all the Indian festivals, as in making traditional or fusion recipes that one generally makes specifically for that festival.
Holi is the festival of colours which falls in the month of March. Another reason for me to look forward to summers apart from Mangoes is to celebrate Holi. Holi is so much fun, with all the colours, the dance, the thandai and the bhang. Bhang is also a kind of drink but with some alcoholic content in it.
Thandai, on the other hand, is non-alcoholic.
This Thandai Masala is a perfect combination of nuts and spices, and hence can be used in a variety of different desserts or drinks like cheesecakes, phirnis or even in this Thandai smoothie which I posted during my #7daysmoothiechallenge. That means yes keep a watch on this space I am coming with a Thandai Cheesecake recipe as well.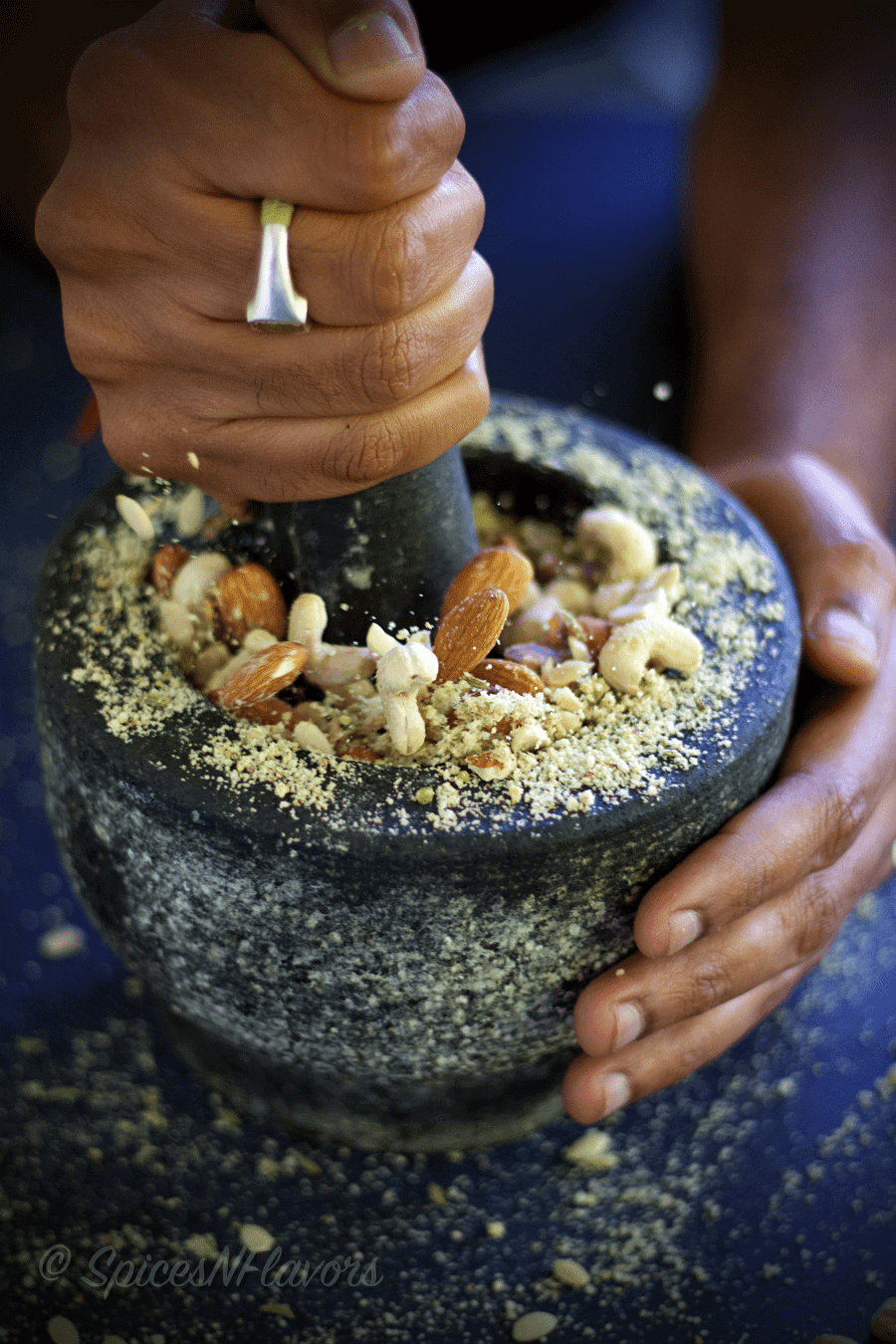 What is Thandai Masala powder made of??
Basically, it is a combination of nuts like cashews, pistachios, almonds, melon seeds and also peppercorns for that slight spice. Rose petals and fennel seeds add to the aromatic essence. Saffron strands give it a lovely colour. These ingredients plus few other are then blended together to make a coarse powder which is then used in many different recipes.
Thandai Masala has all the rich, aromatic spices making it apt for the festivities.
And what was the fun part of making this Thandai Masala?
This is my first ever action shot. I mean look at the cashews and almonds in the above pic. I just love the way it has turned out.
We even tried to make a video but then since it was hand-held, it is way too shaky so I am not uploading it but soon will start making videos on the blog.
Follow me on instagram for all the video update. 🙂
Anyways, this Holi make the thandai masala at home as it is a very basic and easy to do recipe. Would hardly take any time to combine the ingredients and grind.
And if you happen to try this recipe then please tag me, tweet me or instagram me. I would love to follow you and your posts.
Here is the recipe for you
Liked this recipe?
Let us know by giving it a star rating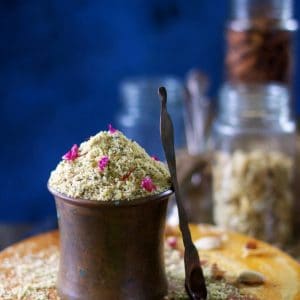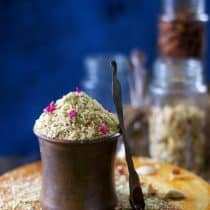 Print
How to make Thandai Masala at home
Thandai Masala Powder is a aromatic spice blend prepared to make a cold drink Thandai, which is made specifically during Indian festivals
Ingredients
1/4

cup

almonds

1/4

cup

cashewnuts

1/4

cup

pistachios

10-15

nos

black peppercorns

10

nos

cardamom pods

2

tbsp

melon seeds

1

tbsp

poppy seeds

1

tbsp

fennel seeds

15-20

nos

saffron strands

2

tbsp

rose petals

1/2

tsp

nutmeg powder

(i didn't use it)
Instructions
Add all the said above ingredients into a blender and ground to a coarse powder.

Store in an airtight container.
Notes
You can use 1 to 2 tbsp of this thandai masala powder in your recipes like Thandai drink, Thandai cheesecake, Thandai coconut balls etc.
Did you make this recipe? Tag me today!
Tag me @spicesandflavors to get featured on my FB and Insta pages
Pin it