Paneer Potlis - Ain't it looking adorable??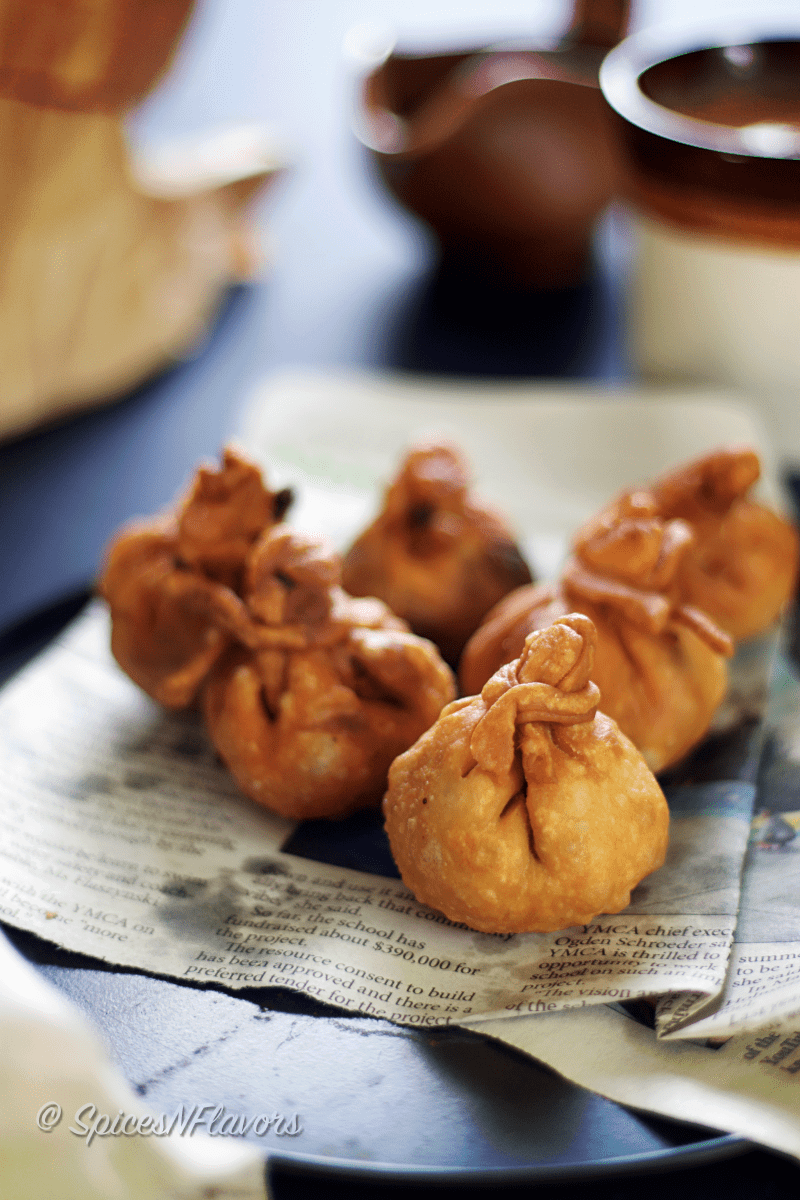 I love how these cute little Paneer Potlis turned out. What are potlis though?? Potlis is a Hindu term for vintage kind of bags used to carry things by Saints.
And what am I carrying in it?? or say stuffed in it?? Everyone's favourite Paneer (Cottage cheese). Paneer Potlis - awww I am loving the cuteness overloaded potlis.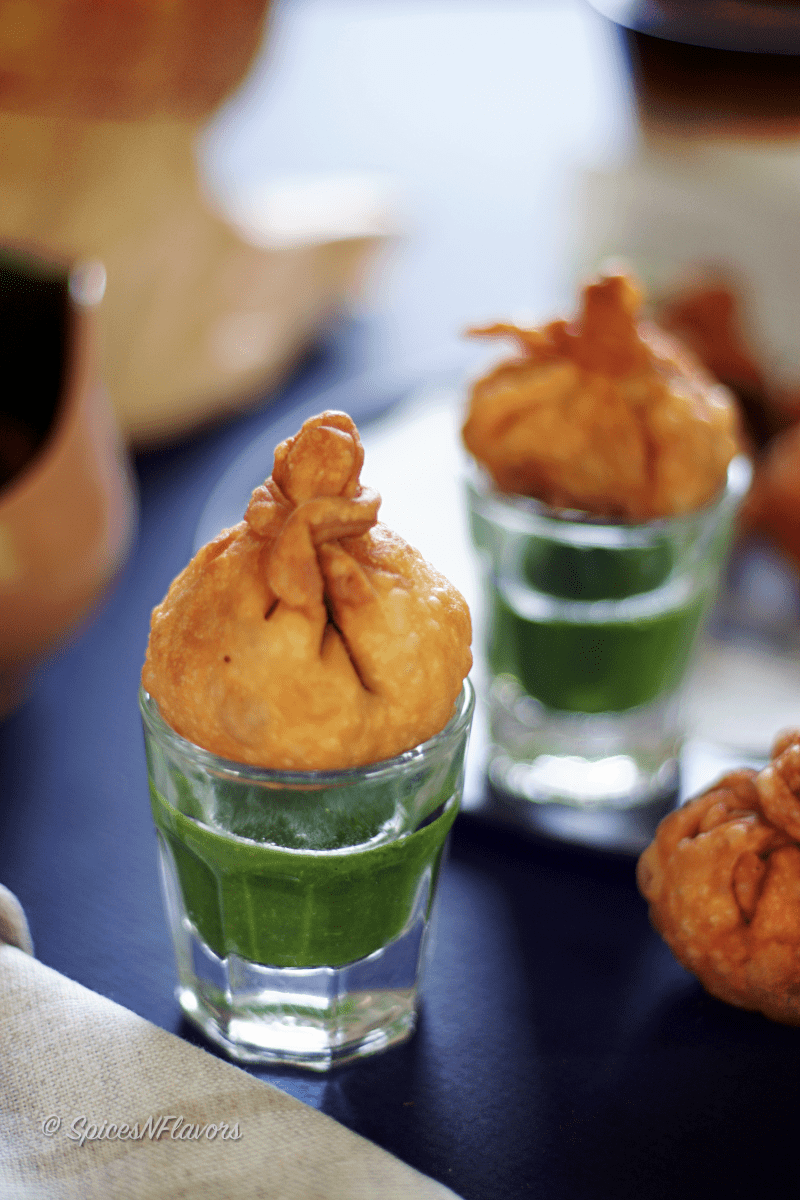 Why did I make these Paneer potlis now all of a sudden??
Well if you have read my 5 mins chocolate bark, you probably know why. I am in a full party mode zone. Its Yo's (my daughter) first birthday. I am soooooooo excited about getting the guest list ready, planning the menu, return gifts and most important dressing us (myself and yoshana) <3 ..
Its kind of a mixed feeling actually.
I become emotional just writing about it, seeing your baby grow up or doing small little things is a joy in itself.
I am not sure whether this gets into the menu but we definitely enjoyed it for our tea last weekend.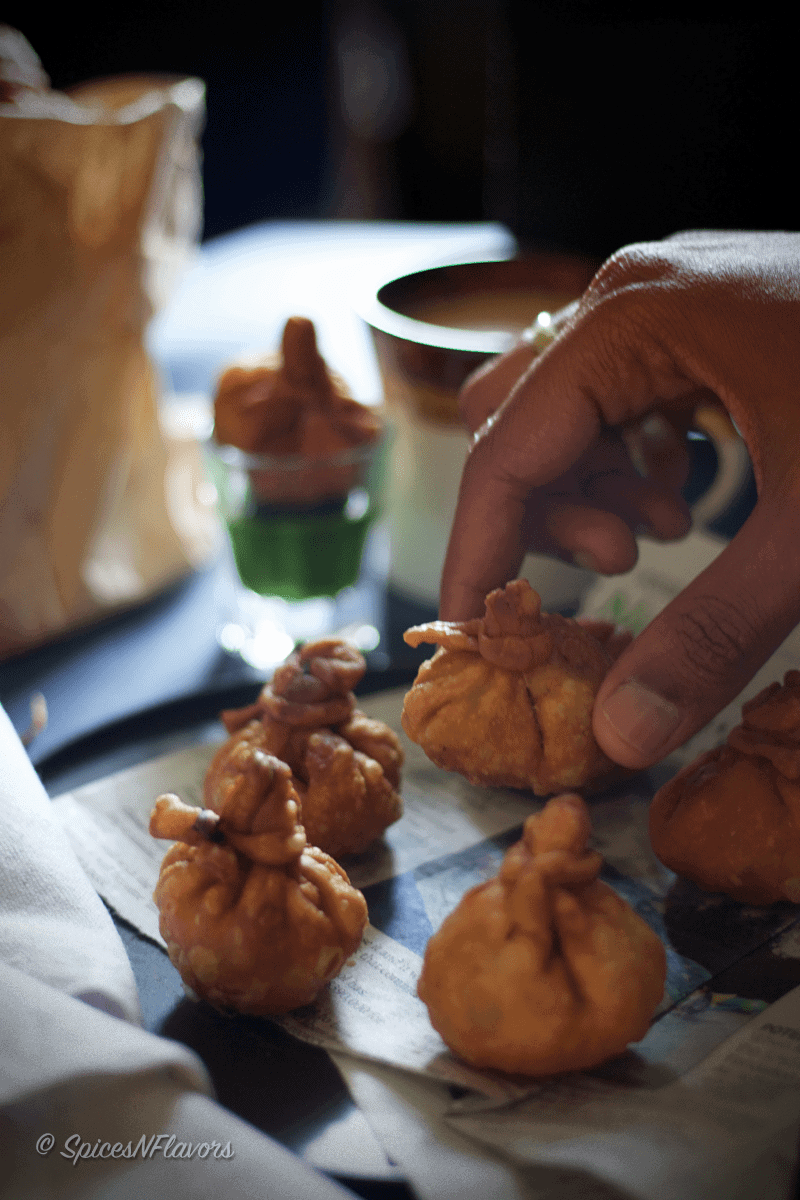 Let me walk you through to what inspired me in making these Paneer potlis..
If you come from Asian countries you might be aware of dumplings. We Indians make Modak or Kozhukattai (in Tamil) during Ganesh Chaturti (yet another Indian festival).
Generally these are sweet but then I made a savoury version that would fit as a party appetizer and fits perfectly for my Theme. What is the theme for the party?? I am not gonna tell it now and spoil the suspense. You will have to wait a bit for it.. 😀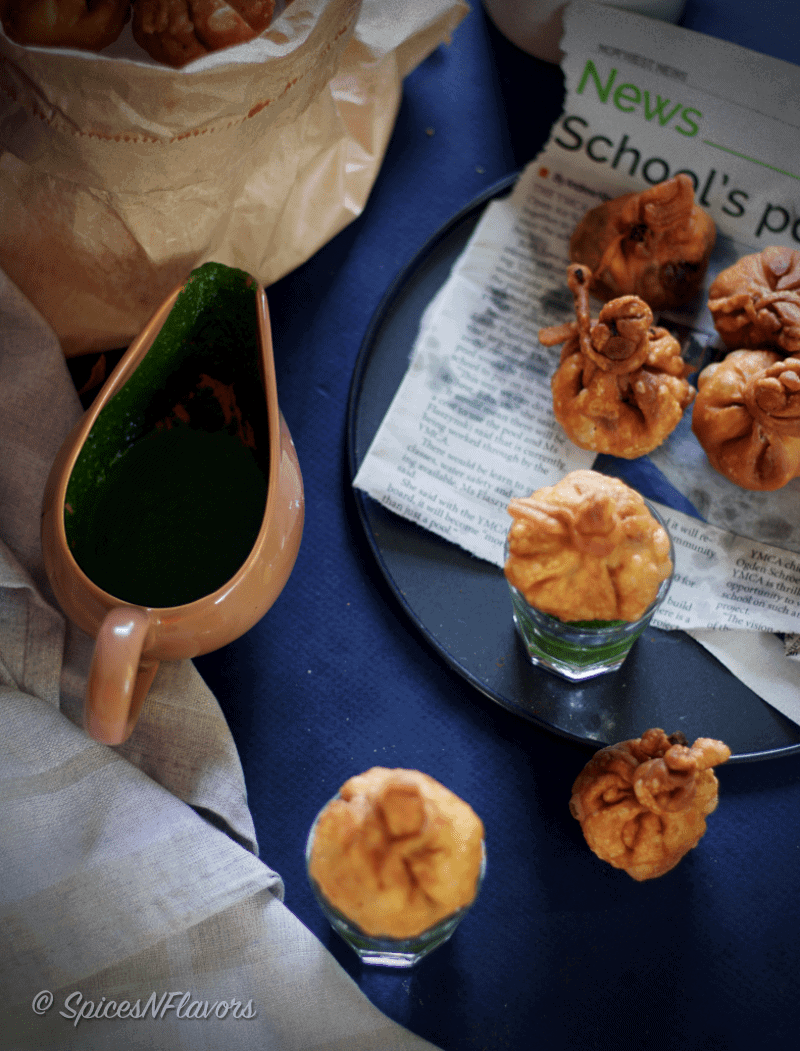 I am still confused about the mains.. I don't want to make anything that we get here in restaurants like Paneer Butter Masala, Tikka Masala, etc. If you know of any different recipes then let me know in the comment section below so that I can try it out.
As for now we have decided upon the starters and dessert recipes, but still thinking about the mains.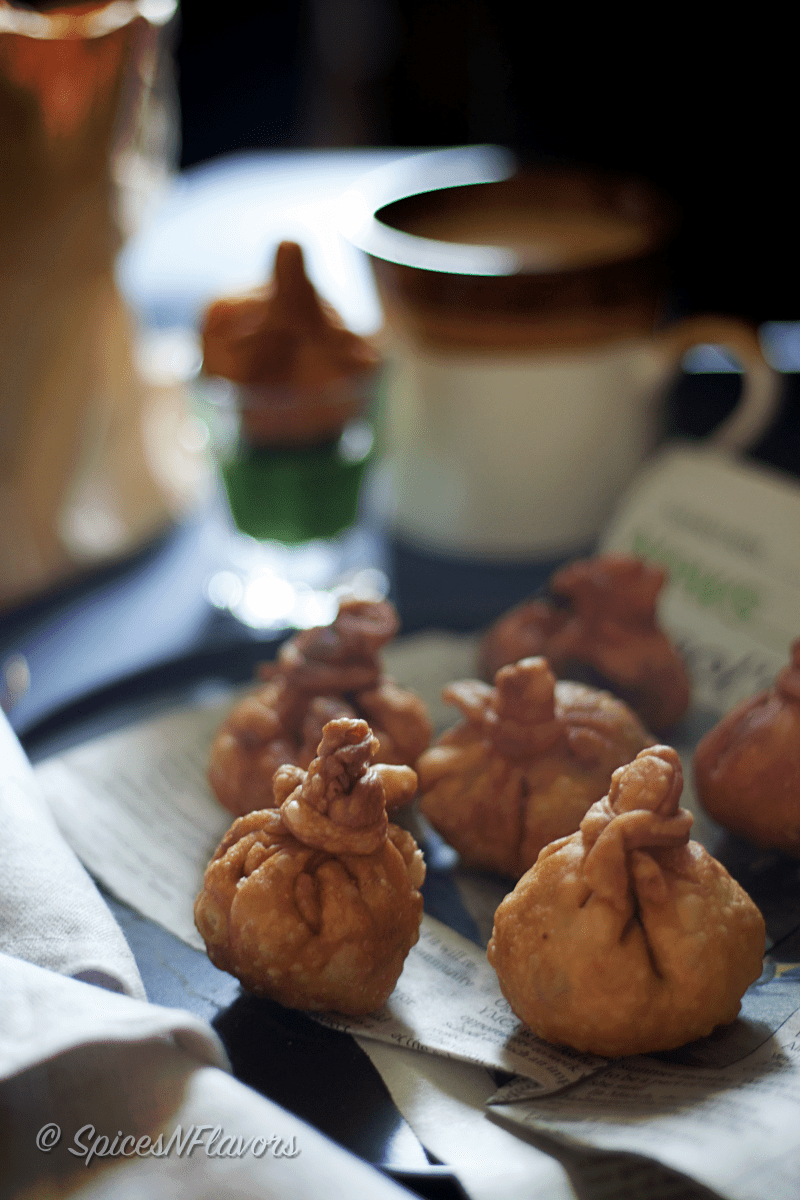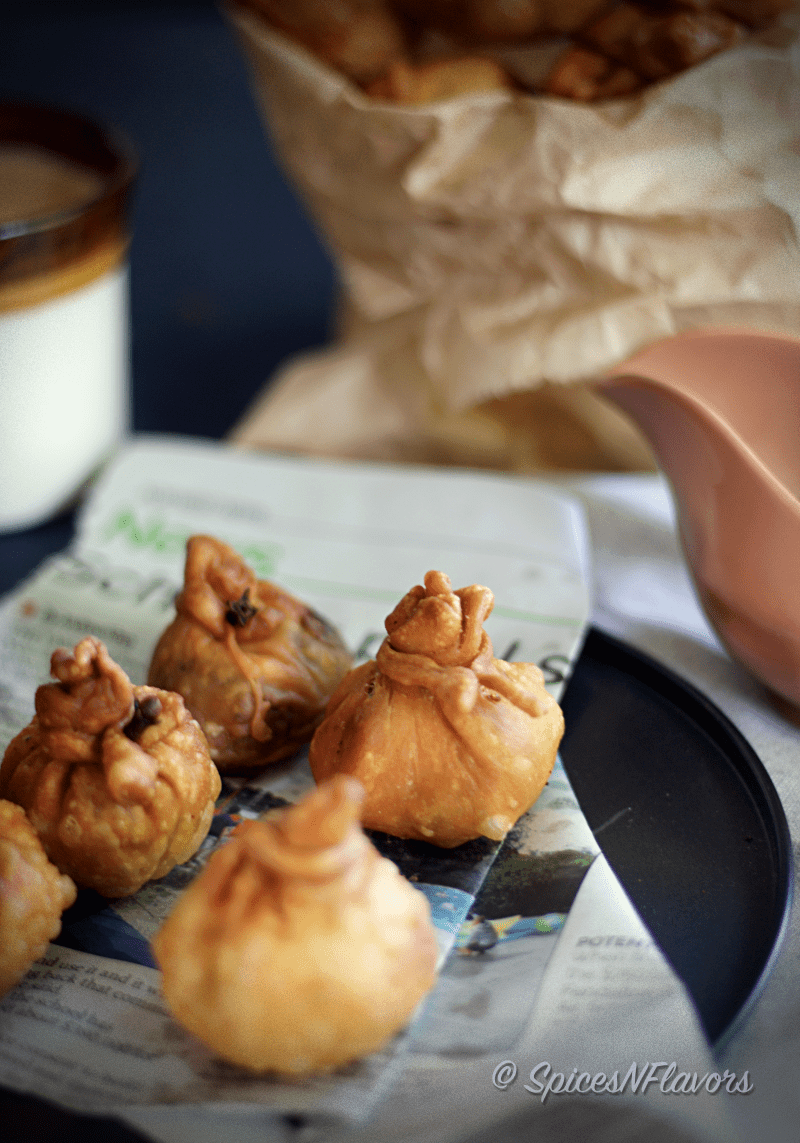 I have used a very basic stuffing to stuff these Potlis. Named it Paneer Potlis because paneer is what I have used majorly. You can however customise the filling recipe to suit your family needs.
Paneer Potlis are crispy and crunchy and at the same time your favourite filling recipe gives an added flavour. This filling is not very spicy (as we don't prefer too much heat and also my daughter would eat it so made it less spicier to suit her taste buds). However you get the tanginess from the aamchor (dry mango powder) and Chaat Masala makes it chatpata (if you know what that means.. ;)).
Deep frying makes everything yummy!! 😛 Health conscious? Just give it a round shape and shallow fry it using appe pan with just a drop of oil. Would taste equally good. Or own a air-fryer - perfect go ahead and use that.
Make your tea time special with these Paneer Potlis - a crispy, crunchy, chatpata snack item perfect for potlucks, lunch box, parties. Who wouldn't love these cuties..
That was long.. phew.. sorry about that but here is your recipe..
And as always if you happen to try this recipe or like this recipe then do tag me, instagram me or tweet me. I would love to follow you and your posts.
Liked this recipe?
Let us know by giving it a star rating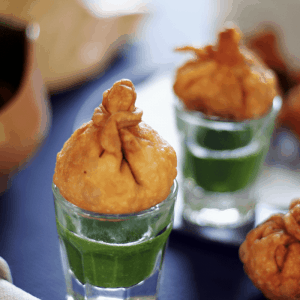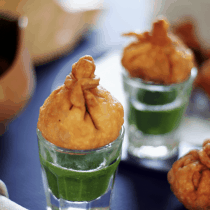 Print
Paneer Potli - Party Appetizer/ Starter
Paneer Potlis is a deep fried dumpling stuffed with veggies making it a perfect tea time snack or party appetizer
Ingredients
For the Potlis
2

cups

Maida/ Plain flour

1

tsp

salt

1

tbsp

oil

water as required
For the Stuffing
1/2

cup

crumbled paneer

1/2

onion

finely chopped

1/4

cup

capsicum

finely chopped

1

tbsp

butter

1

tbsp

ginger garlic paste

(optional)

1/2

tsp

chilli powder

(or to taste)*

1/2

tsp

aamchor powder (dry mango powder)

1

tsp

chaat masala

(or to taste)

1/2

tsp

salt

(or to taste)
Instructions
In a bowl; combine together maida, salt and oil until mixed. Add water (approx 1 cup) little by little and make a soft pliable dough. Let it rest for 15 mins in an air tight container. Until then prepare your stuffing.

In a pan, heat the butter. Add the onions and saute until translucent. Add ginger garlic paste and saute until raw smell goes about 2 mins.

Add capsicum. Stir for a minute. Add all your masalas - red chilli powder, aamchor and chaat masala powder. Add salt to taste and saute for 2 mins.

Add crumbled paneer and give everything a good mix. Switch off the gas after 2 mins.
To make the Potlis
Pinch out a cricket ball size dough, flatten it in between your palms and roll it out. Using a cookie cutter cut out small roundels from the rolled out dough. (Alternatively, you can also pinch lime size dough and roll out).

Take a tbsp of stuffing and place it in the centre of the dough

Bring the edges together and press in the neck to form a potli shape. (You can give any desired shape to the dough). Refer the pic above.

From one of the rolled out dough, cut out thin strips to wrap around the neck of the potlis.

Once you have shaped all the dough into potlis. Take one strip and place it around the neck as if you are going to tie a knot. You can use a clove to keep everything in place or else press the knot with the help of your thumb to keep everything in place. Refer the collage.

Deep fry the potlis in hot oil in medium flame until golden brown. (Or give it a round shape and using an appe pan just shallow fry it with one drop of oil)
Notes
*If not serving for kids use finely chopped green chillies instead of red chilli powder.
To make it vegan just replace paneer with tofu..
Did you make this recipe? Tag me today!
Tag me @spicesandflavors to get featured on my FB and Insta pages
Update: When we made this for my daughter's first birthday party - Little Krishna Theme; we used readymade wonton sheets as the base. So we just had to make the filling, fill the sheets and fry. It hardly took any time to make these.
Hope you enjoy this cute little potlis.
Wish to pin it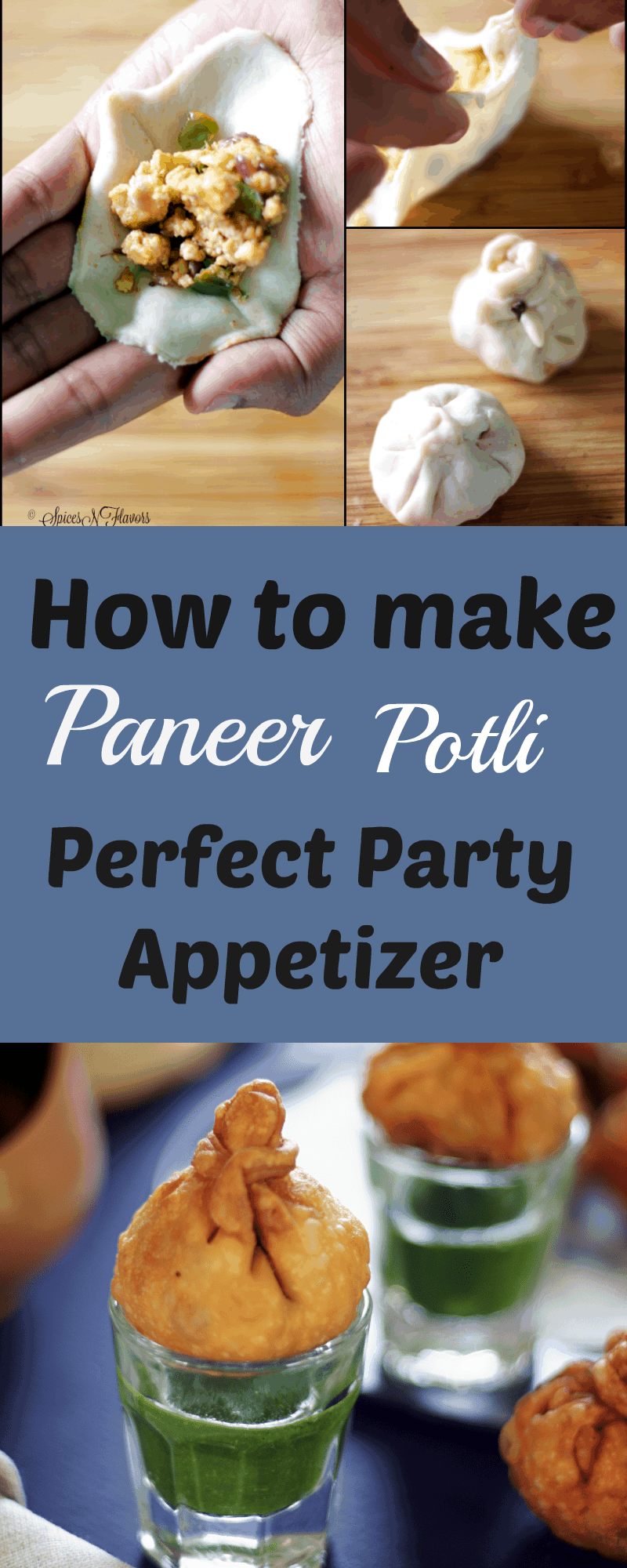 This Thursday I have an interesting recipe to share with you all. So keep an eye here.
Until then
hugs
Sushma