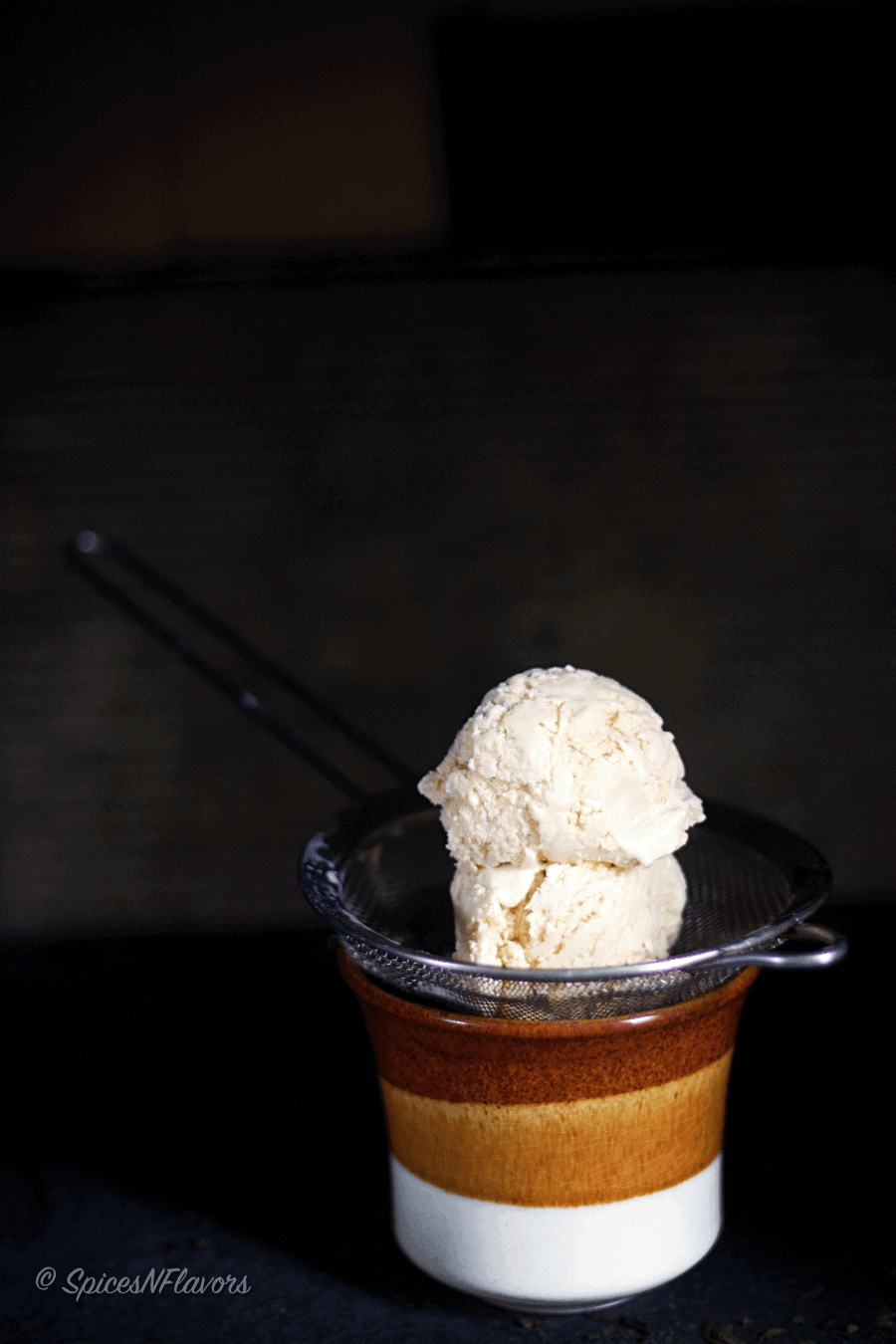 Masala Chai Ice-Cream <3 the name itself sounds so delicious. I mean Masala Chai in the form ice-cream; something that tasted so wonderful that I take pride in creating them in my kitchen.
Are you a Chai lover or Coffee lover?? Comment below and let me know.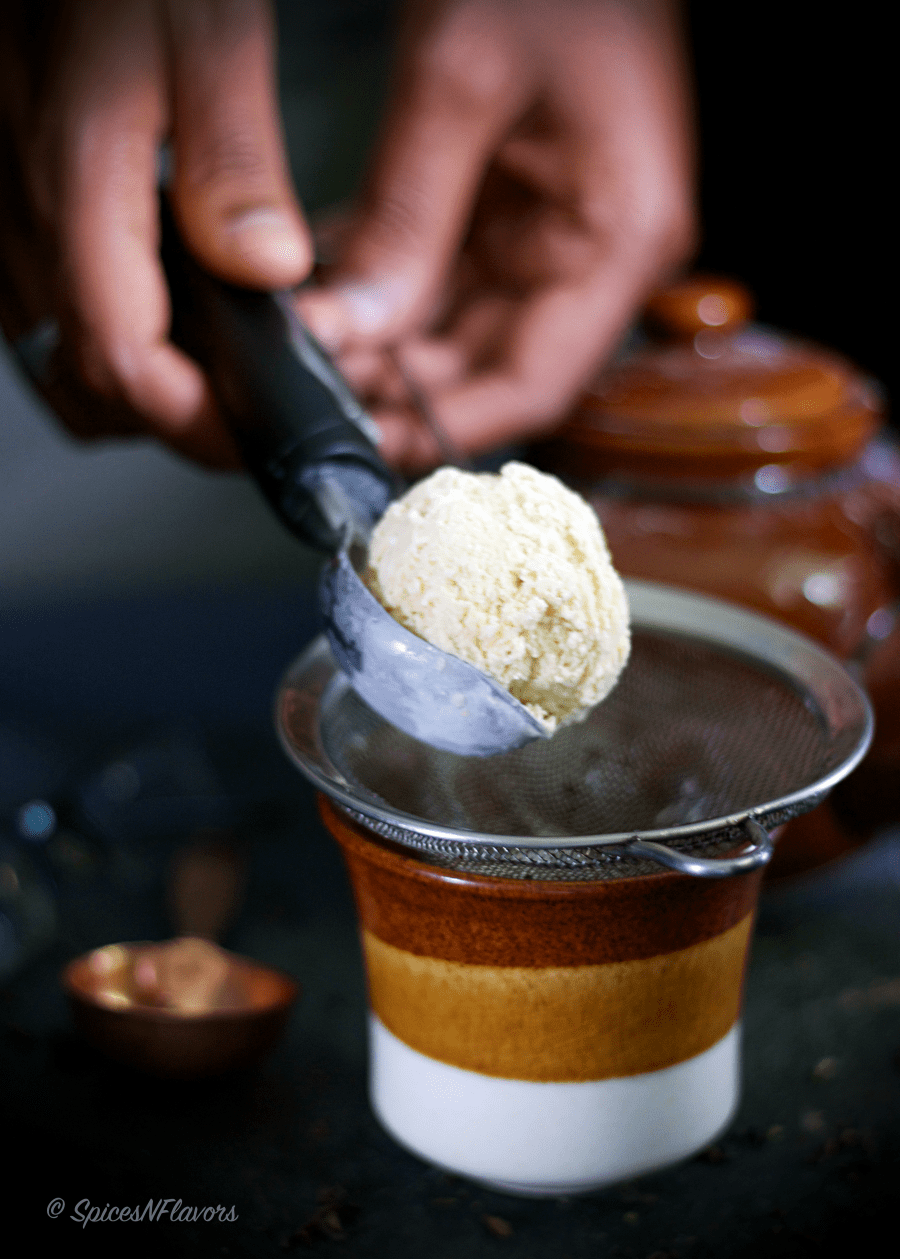 How I started loving Masala Chai?
I belong to a Tam-Brahm family so waking up to the aromatic smell of Filter Kaapi or Coffee is a very common thing. My family both parents and in-laws are coffee addict.
Well Do I love it?? I was never a fan of Filter Kaapi. I always used to drink Boost.. the secret of my energy.. 😉 My mom used to keep it ready to the exact temperature I liked.. hhuuuhhh (sighing!!!) That was before getting married.
When I moved to NZ, I missed the taste of Boost the way Mum made,so I stopped drinking it and Kaapi; we don't get the filter variety like we do in India.
And that is how I ended up trying out Chai. Masala Chai is a variation of Chai or Tea;just a spiced up version.
Wondering whats so special about Masala Chai..
You all know how we Indians love our homemade Masalas. We have a spice blend for most of the recipes like this Rasam powder or Thandai Masala Powder.
Like-wise the spice blend or masalas for masala chai include all the aromatic dry spices and also ginger and cinnamon for the light heat. Homemade food has a special taste to it.
Everything depends on personal taste. I will list down all the spices that go into making the masala chai, will also mention what all I used and then you can adjust it as per your choice.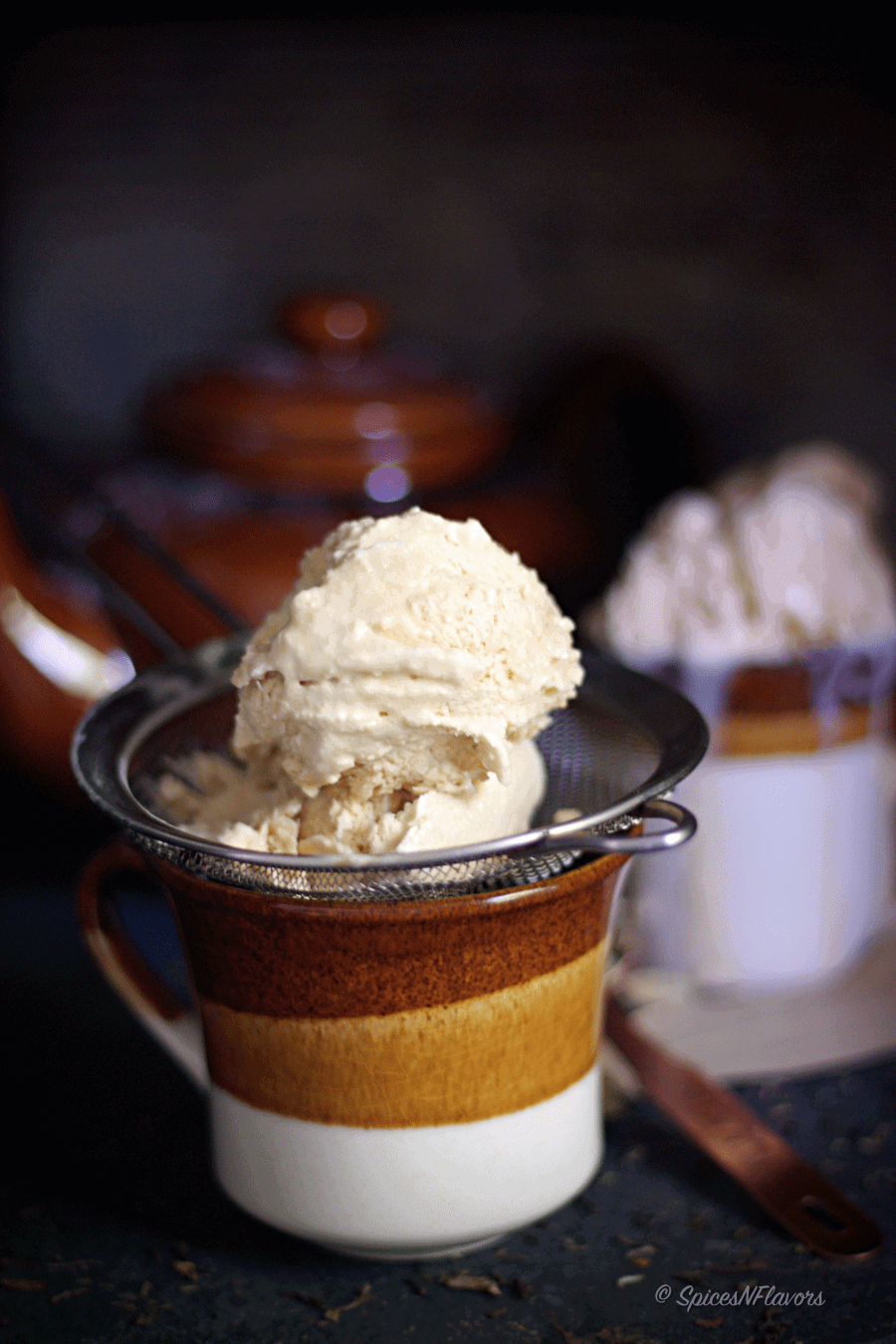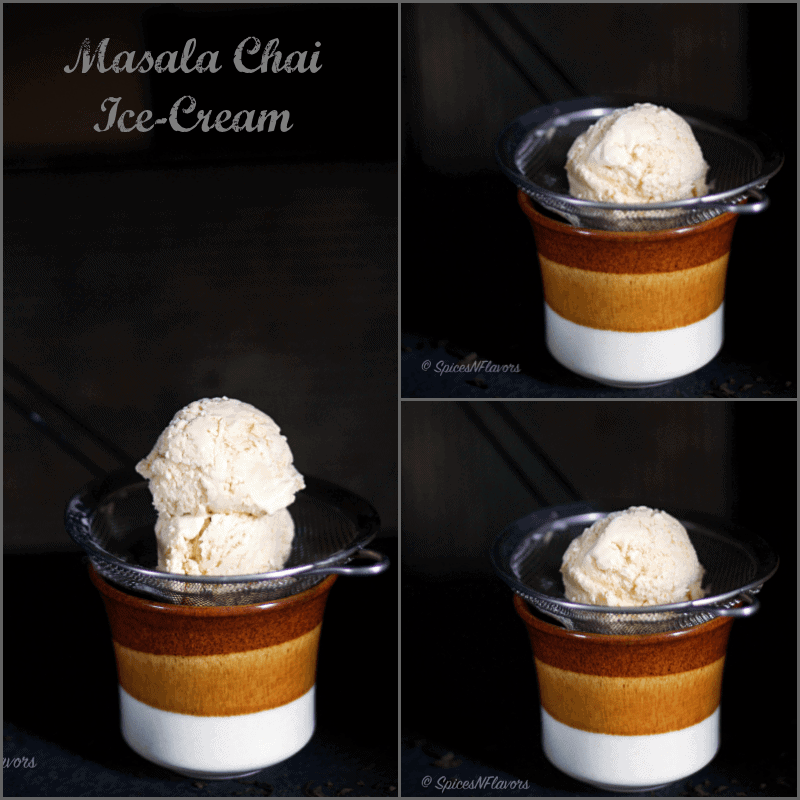 Masala Chai (Tea) is a spiced Indian hot drink usually had in the morning and evening along with breakfast and snacks.
I will list down the set of ingredients (spices) that go into making this Masala Chai
Cardamom
Cloves
Cinnamon
Ginger
Pepper-corns
Bay-Leaf
Star Anise
The only thing you have to take care is that pepper-corns, cinnamon and ginger adds a little heat to the drink so you need to be careful about the proportions when using this.
I don't like Ginger and Pepper-Corns in my drink so I don't add it. And you know from my Carrot Cake Smoothie that my family is not a big fan of cinnamon so I just add a little to my drink.
Coming to the ice-cream, just prepare the masala chai as your family likes it and combine with condensed milk and whipped cream to get the ice-cream.
I don't add water while making chai, as I find the chai becomes watery as compared to the ones made without adding water.
This ice-cream is so aromatic thanks to all the spices. You could majorly taste the cardamom (as I like its flavour) and the use of high quality tea leaves brings in the ultimate tea flavour to the ice-cream. With every bite of the masala chai ice-cream you will feel as if you are having the masala chai drink itself.
Tag all your chai or tea lovers here as they are definitely in treat..
If you try this recipe do tag me, tweet me or instagram me. I would love to follow you and your posts..
Liked this recipe?
Let us know by giving it a star rating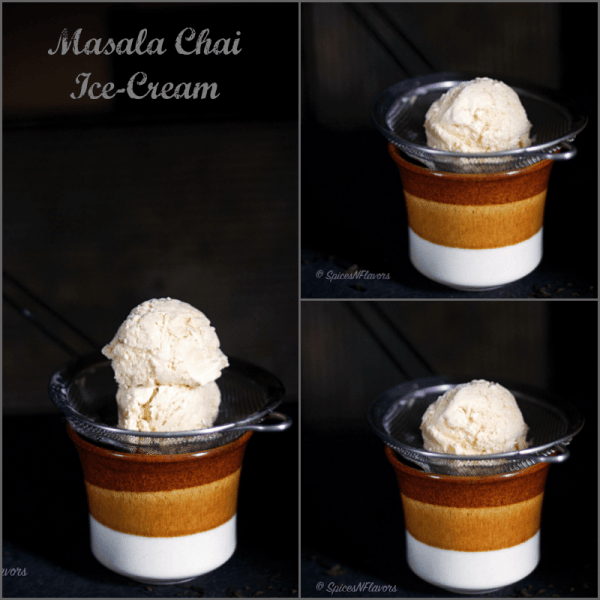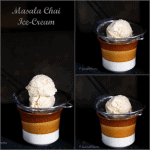 Print
Masala Chai Ice-Cream - No Churn, No Machine required
Masala Chai ice-cream is an ice-cream made using Masala Chai as the base; requires no machine..
Ingredients
500

ml

whipping cream

1

cup

condensed milk

3

cups

milk

(full fat)

3

nos

green cardamom

2

nos

black cardamom

2

nos

cloves

1

no

bay leaf

small

piece of

cinnamon

(about 1/2 inch)

2

tbsp

good quality tea leaves

(used darjelling tea leaves)

1

tbsp

regular tea leaves

(used Tata Tea agni)
Instructions
In a sauce-pan add the milk and all the spices except for tea leaves.

Once the milk starts simmering add the tea leaves and let it boil until it reduces to half the amount. (you need 1.5 cups milk at the end).

Pass the prepared tea mixture (concoction) through a sieve and collect the liquid. Should come to approx 1.5 cups. (Refer notes).

Let it come to room temperature and then add the condensed milk. With the help of a whisk, mix it until well combined. Pop it in the fridge for 15 mins. Meanwhile prepare the whipped cream.

With the help of a hand blender, whip up your cream until stiff peaks. It is important that both your cream and whipper are cold to touch.

Add the tea concoction to the whipped cream in three parts slowly taking care not to deflate the air in the cream.

Transfer to a freezer safe container and freeze overnight or atleast 4 hours till the ice-cream is set. And thats it folks your flavourful masala chai ice-cream is ready.
Notes
If your concoction doesn't measure 1.5 cups you can add little milk (if the difference is not too much) to get it to the measurement. The thing to be noted is that you might lose the concentrated flavour of the tea. So alternatively you can take a cup of milk add some regular tea leaves and get it to rolling boil and use this to measure out so that you don't lose the flavour.
Did you make this recipe? Tag me today!
Tag me @spicesandflavors to get featured on my FB and Insta pages
Pin it: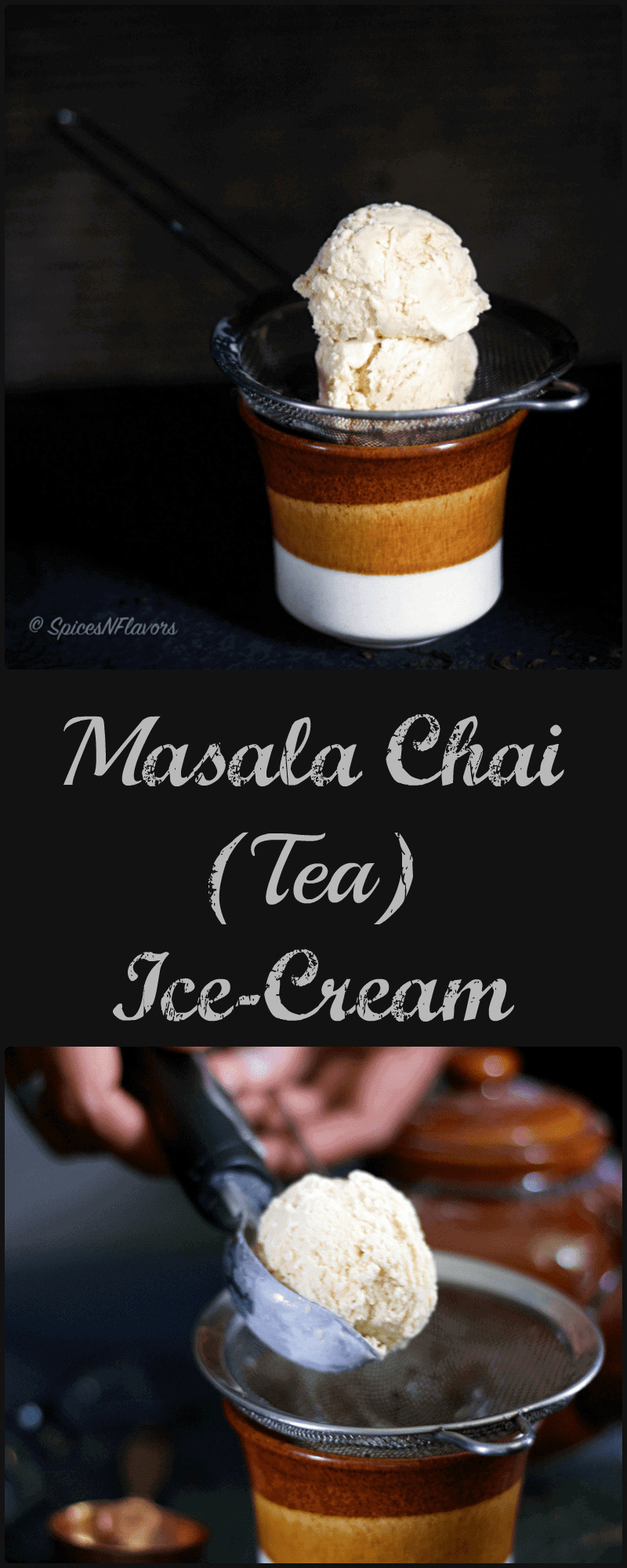 Until then
Hugs
Sushma