Homemade Oreo Cookies!!! Does Oreo Cookies need any introduction?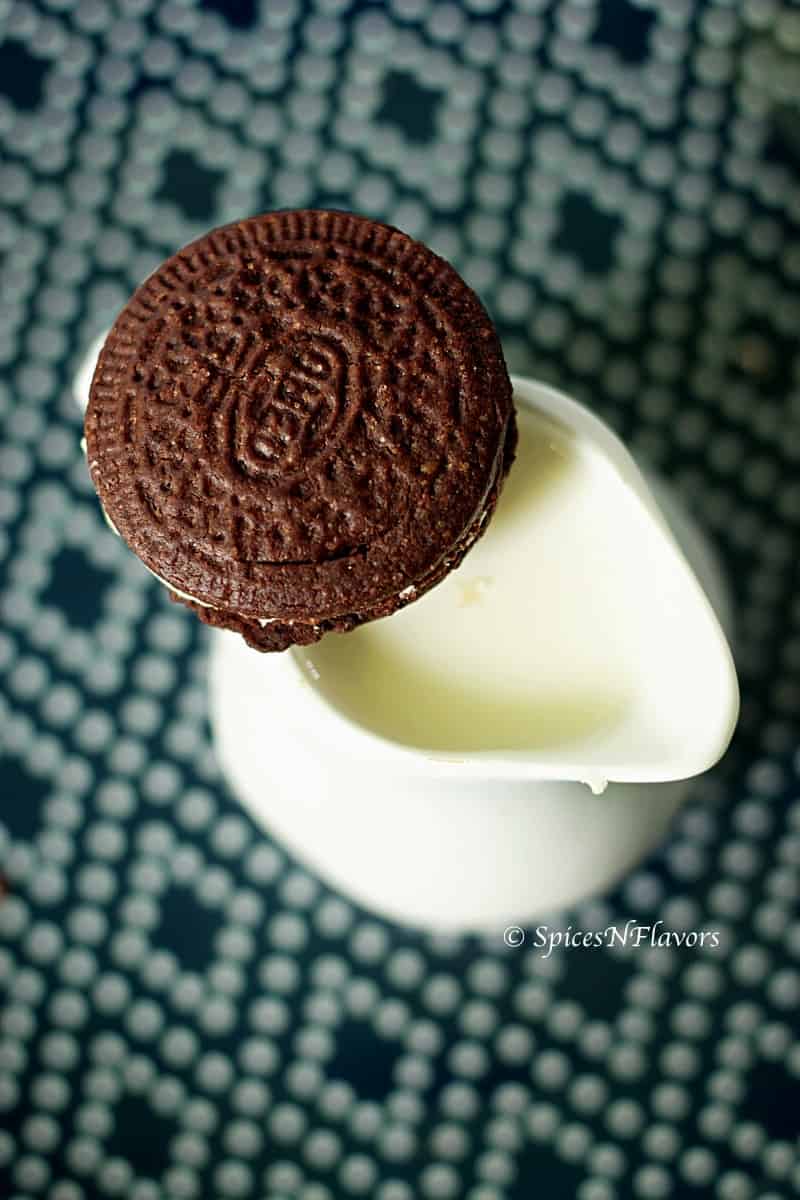 Homemade Oreo Cookies - OMG!! seriously!! Is it that simple to make Oreo Cookies at home?
Well authentic or not.. This version of Homemade Oreo Cookies is one crispy, crumbly, chocolaty cookie with a smooth creamy vanilla centred filling.
Making them at home is not a big task. However there are certain ingredients that you need to make them.
Well not really; in this post I am also sharing few substitutes and some info about making these Homemade Oreo Cookies..
If you wish to skip the intro just jump onto the recipe straightaway at the end of the post.. 🙂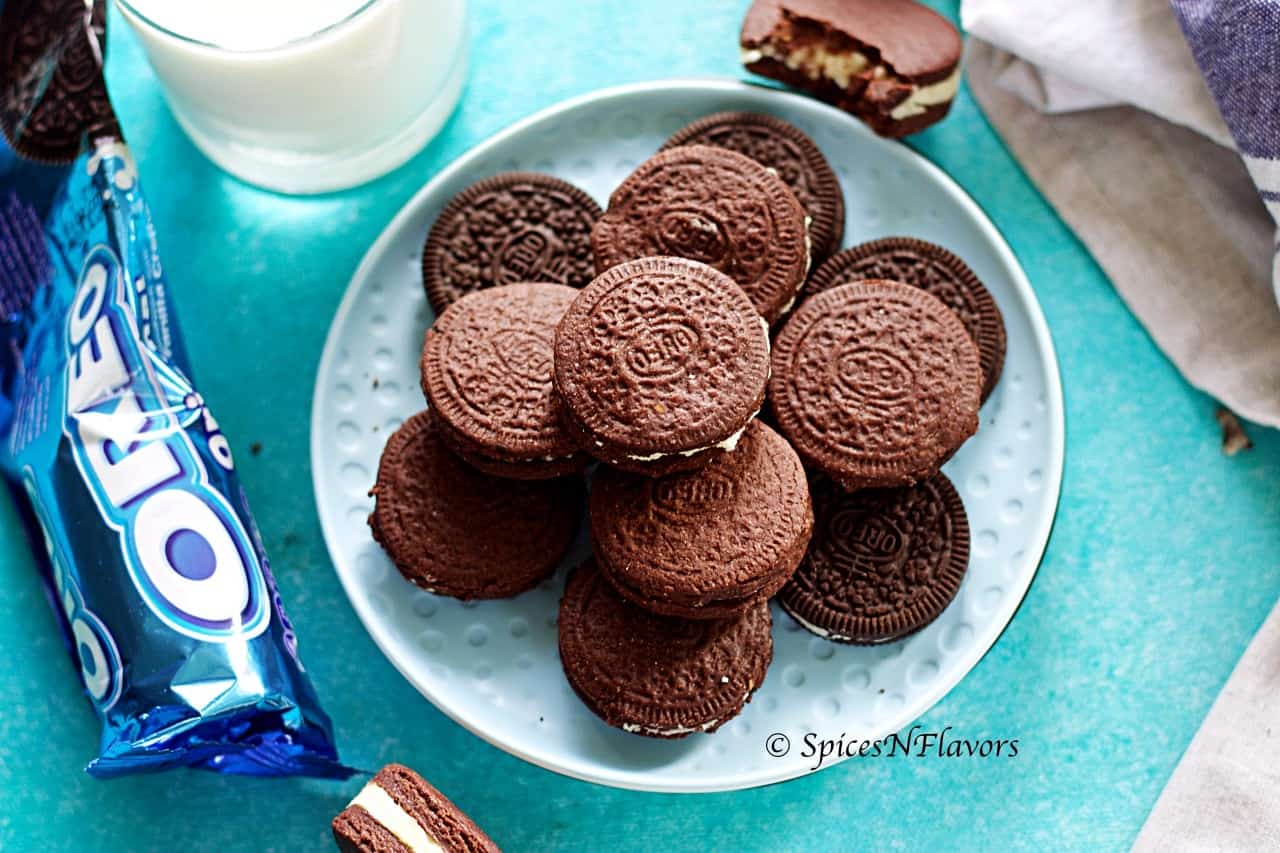 So before I started making these homemade oreo cookies I looked onto the ingredients listed behind a oreo cookie packet.
It read Wheat Flour - To be honest I was skeptical to use wheat flour alone so I used both Maida/APF and Wheat Flour both here. If you are confident you can choose to make these with just wheat flour.
There were two other ingredients that I was stuck on.
One was Fructose Syrup - I could not find these in supermarkets so I decided to go for substitutes which would be either Golden Syrup or Agave Nectar; ofcourse even these substitutes won't give that real taste but yes it would lend that caramel hint.
I could have used these in the recipe but its not a very common ingredient in my pantry so I knew these would be lying in y fridge for a really long time.
And hence I decided to skip this completely. But if you want you can use 50gms of Golden syrup here.
The other ingredient was Soy Lecithin. Soy Lecithin acts as an emulsifier here. The main function of any emulsifier is to combine the fats and liquids in the batter together.
Soy Milk has an high amount of Soy Lecithin in it. So you can use 55gms of Soy Milk in this recipe.
Again if I bought Soy Milk the whole packet would be lying in my fridge untouched so I used a substitute for it.
The classic emulsifier used in baking are Eggs. The lecithin in egg whites acts as an emulsifier.
Since I wanted to make these Homemade Oreo Cookies an eggless version I used flax eggs in here. What is that? Will let you know in the recipe.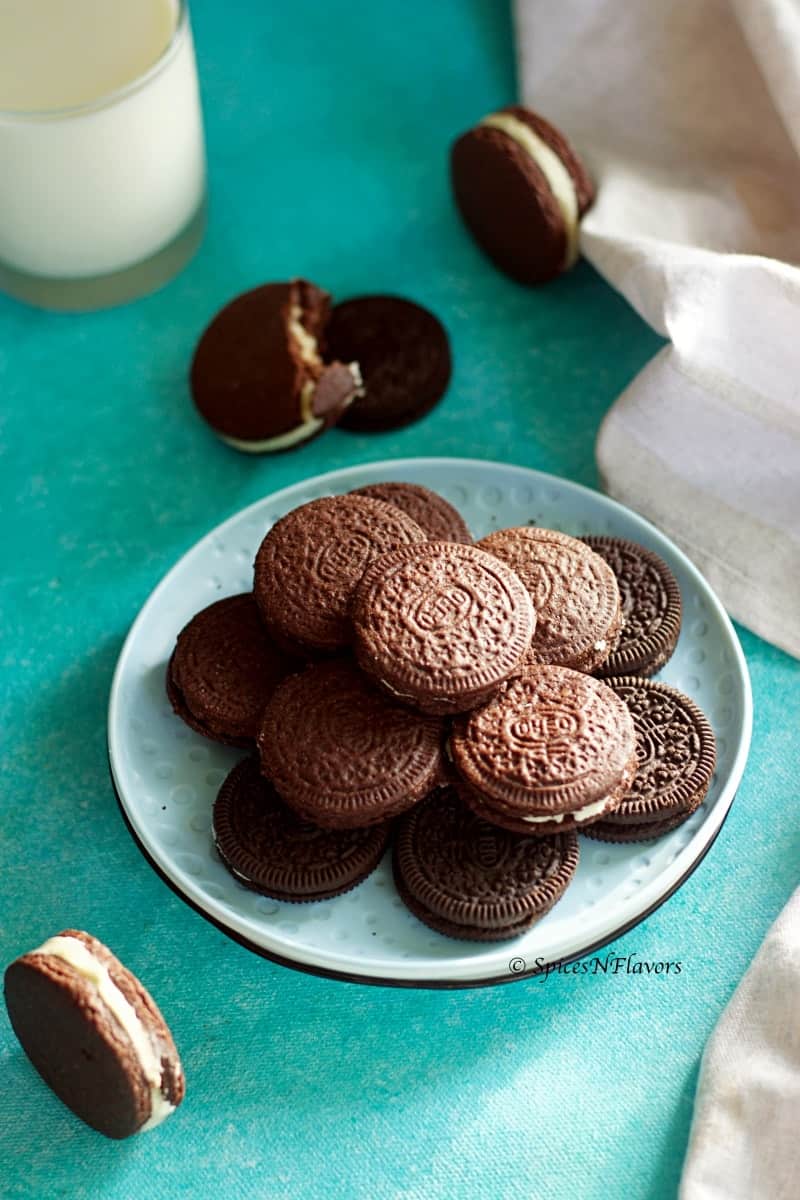 I hope this is not getting a lot more technical.. 😉
The speciality of these cookies is it does not spread during baking. And that is exactly what we want.
Why doesn't it spread?
1. We need to beat the sugar, butter, oil until smooth. Do not cream them to light and fluffy. Creaming would incorporate air which would result in spreading of cookies.
2. Cornstarch or Cake flour. Adding cornstarch to any cookie batter would ensure that the edges stay sharp and it does not spread. Or you can even use cake flour to make the cookies as it has cornstarch in it.
You might have noted that the actual cookie has a black brown colour. That comes from the black cocoa powder which is not easily available in super markets here. So I used Premium Dark Dutch Process Cocoa Powder in here. You can use the regular ones as well.
Rest of the things I will share in the notes section so that you guys don't get bored.. 😉
So lets just jump into the recipe now..
Liked this recipe?
Let us know by giving it a star rating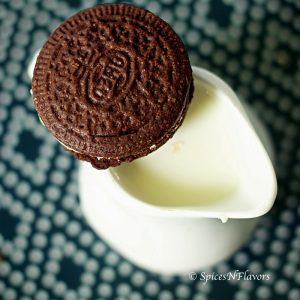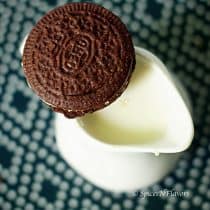 Print
Eggless Homemade Oreo Cookies
Sharing a DIY recipe to make your own oreo cookies at home
Ingredients
Chocolate Cookie
113

gms

(1/2C) Butter

softened

20

gms

(1 tbsp) Vegetable Oil

134

gms

(2/3 C) Granulated Sugar

1

tsp

Coconut Extract

100

gms

Maida

70

gms

Wheat Flour

42

gms

(1/2 C) Cocoa Powder

(Refer Notes)

28

gms

(1/4 C) Cornstarch

pinch of salt
To prepare Flaxseed Egg
1

tbsp

flaxseed powder

2.5

tbsp

Water
Vanilla Centred Creme Filling
56

gms

(1/4 cup) Butter

200

gms

(1 C) Icing sugar

1

tsp

vanilla extract
Instructions
Start by preparing the flaxseed egg. Just combine the 2 ingredients and let it sit for 15 mins until it thickens a bit.

In a mixing bowl with paddle attachment combine together butter, sugar, oil and coconut extract. Beat until smooth. Do not cream or else it would spread while baking.

In goes the flaxseed egg. Beat until combined.

Add in the dry ingredients - cocoa, cornstarch, maida, wheat flour and salt. Combine until it forms a dough and stars pulling from the side. If it still feels sticky then add 1-2 tbsp more of flour just enough that it forms a dough.

Divide it into 3 and chill in the fridge for 30 mins to 1 hour.

After 30 mins roll it in between two parchment paper until 1/4 inch thickness. Using a cookie cutter cut it into the size of real oreos.

With the help of real oreos make an impression on the dough by pressing it onto the cut out cookie dough.

Gently transfer to a baking tray lined with parchment paper and bake in the preheated oven of 180°C for 8-10 mins using double pan method.

Once baked let it sit in the tray for about a minute and then transfer it to a cooling rack to cool completely. While it is cooling prepare your vanilla creme.
Vanilla Creme
Add all the ingredients mentioned in the creme to a mixing bowl and beat with paddle attachment until smooth.
To Assemble
Sandwich the creme in between two cooled cookies and press together so that it sticks. Thats is.
To Enjoy
Just twist the cookies, lick it and dunk in the milk and enjoy. 😀
Did you make this recipe? Tag me today!
Tag me @spicesandflavors to get featured on my FB and Insta pages
Notes:
1. Instead of coconut extract you can also use vanilla.
2. The consistency of the dough should be such that it should start leaving the sides of the pan and form a dough without sticking to your hands. To achieve that you may or may not need to add 2-3 tbsp of flour while mixing. I added 2tbsp of extra flour than mentioned in the recipe to achieve that.
3. Start making the flaxseed egg first - To make that just add 2.5 tbsp of water to 1 tbsp of flaxseed powder and let it sit for 15 - 20 mins until thickened.
4. IF possible use black cocoa powder to get that real cookie colour.
5. Substitute the flaxseed egg with 55 gms of Soya Milk if you use it and add 50 gms of Golden Syrup if you want to get the authentic taste.
I hope that this Homemade Oreo Cookies post was informative and not boring.
Let me promise you that I would try to limit sharing so many technical info if it bores you. Comment below and let me know what do you think.
Now that you have made these Homemade Oreo Cookies just go ahead and make my No Cook Oreo Laddu with it.. <3 <3 Some other simple cookie recipe that you would like: 1. 3 main ingredients and 15 mins Bakery Butter Cookies
2. 3 ingredients and 15 mins Nutella Cookies
3. Classic Chocolate Chip Cookie
4. Checkerboard Cookies
5. Whole Wheat Pista cookies
If you like this recipe then do tag me, tweet me or instagram me. I would love to hear from you.
Pin it for later:


I will see you soon with yet another one
Until then
Hugs
Sushma