Oreo Laddu or say Oreo chocolate Balls; made from oreo biscuits (ofcourse!!!) that is oh so chocolaty and biscuity with so many different textures playing around; that everyone from kids to adults love it.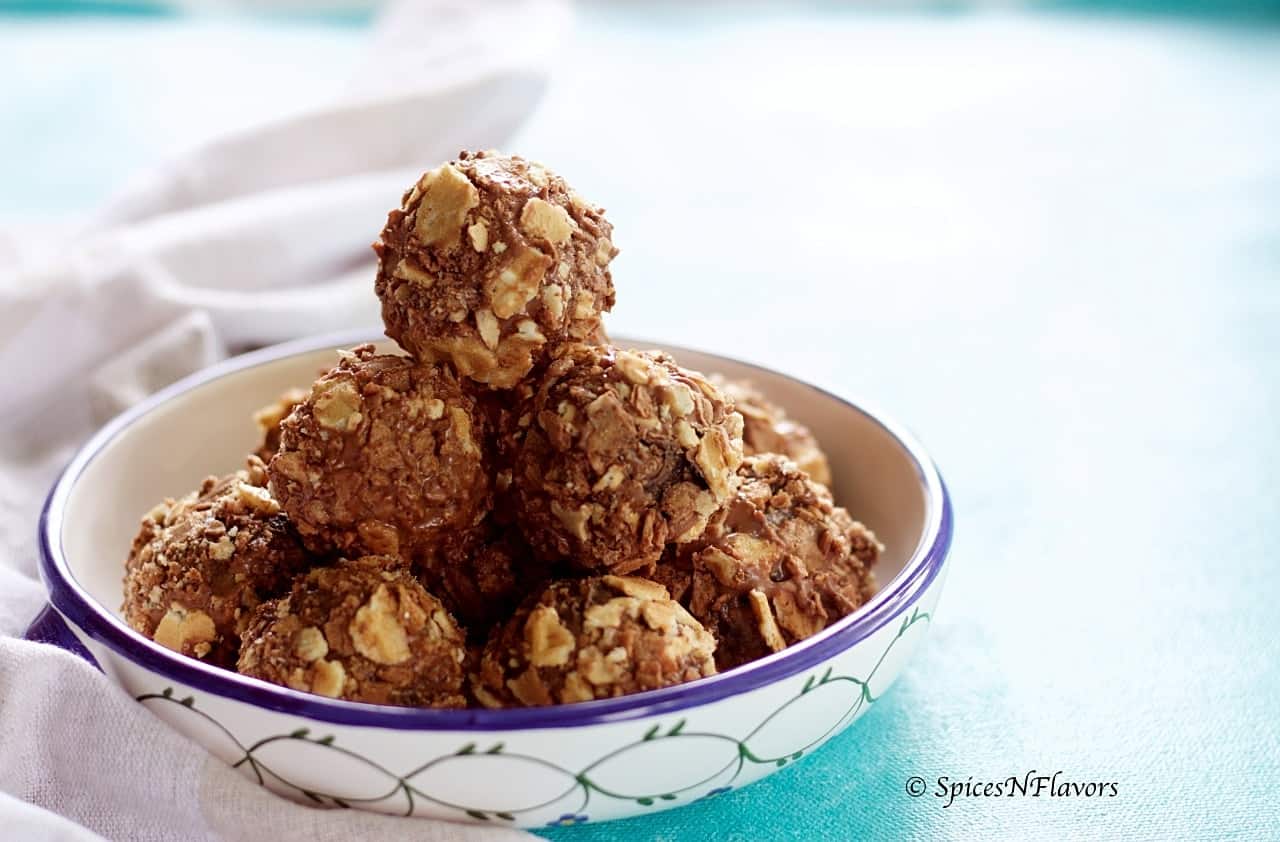 Oreo laddu - whats so special about it?
1. It requires absolutely no cooking or baking.
2. Makes use of the leftover broken cookies that kids leave half eaten. (Ofcourse can be made using whole cookies too)
3. Super easy and fun to make.
4. Involve kids to make these Oreo Laddu and keep them occupied
5. Perfect for any occasion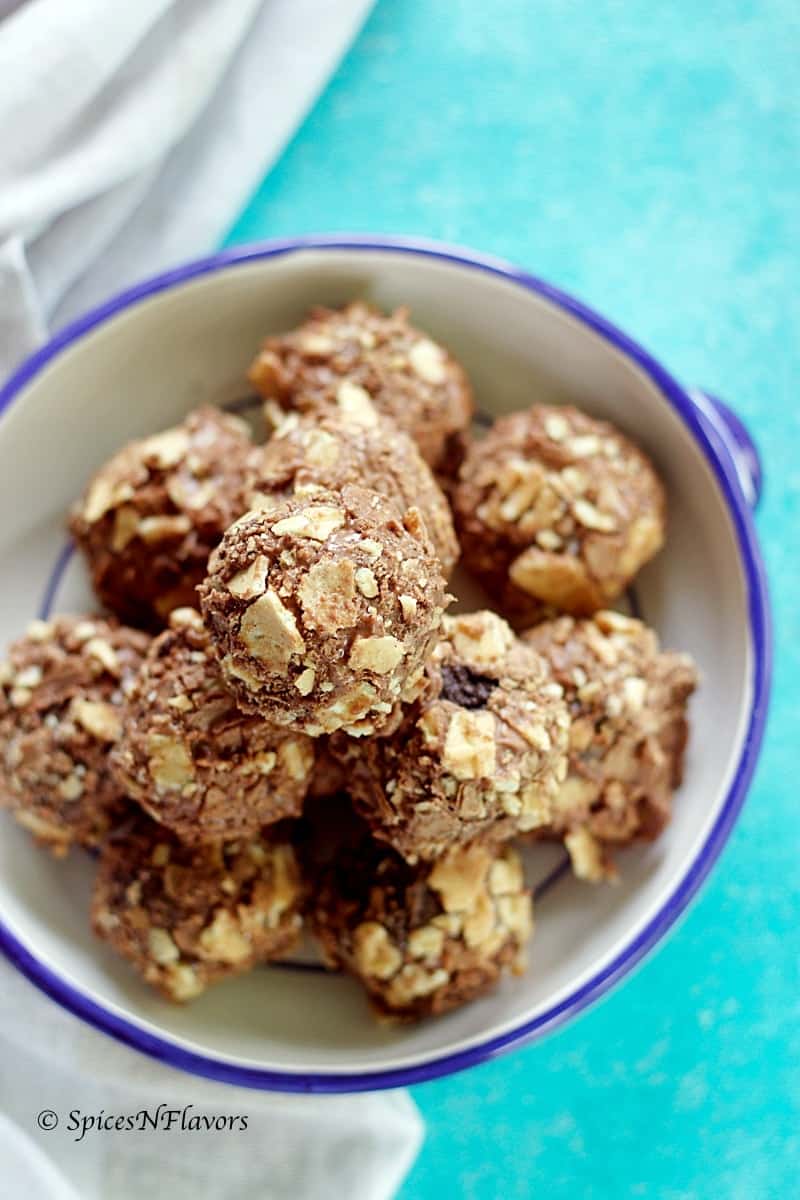 Its Navratri season back in India and I absolutely miss the celebrations here in NZ.
Yes we do get to play garba here in weekends but then its no fun as I do not have much of a friend circle here. At least like the one from back in India.
However there is one particular tradition that I am following here during Navratri. And that is inviting 9 girls over lunch and doing the pooja.
So this time since my Mom is here she took over the kitchen and decided the menu and I ended up making only these Oreo Laddus.. <3 Needless to say the kids absolutely loved this one. And I was jumping from joy within. I thought of making the Rose Coconut Laddu again but ended up making these Oreo Laddu.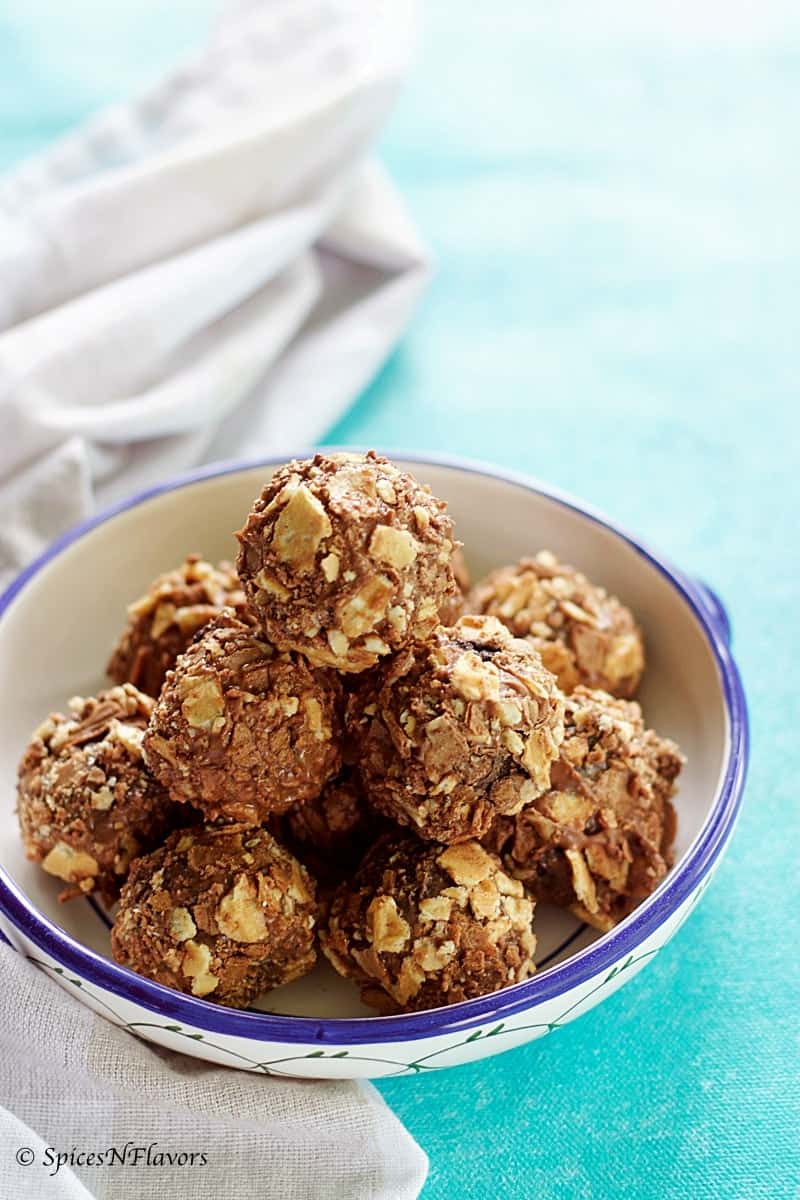 You won't believe the texture play in these Oreo Laddu.
First since they are made up of oreo cookies they have this amazing cookie crumbs.
These are stuffed laddus which means it has a stuffing of nutella and nuts in the centre. I mean nutella seriously!!! I just love nutella. You absolutely know it from my 3 ingredient Eggless Nutella Cookies made in Pressure cooker right!!
Moving on I dumped these Cookies in the melted chocolate; ahhh nutella + oreo + cookies - death by chocolate laddus..
And then comes the best part. These Oreo Laddu were then coated with the Waffle cone crumbs. There is nothing that you can go wrong with this Laddu. The crumbly waffle cone and the soft cookie made it one perfect combination.
If you like this idea of using waffle cone in a laddu then do tag me, tweet me or instagram me. I would love to follow you and your posts.
Liked this recipe?
Let us know by giving it a star rating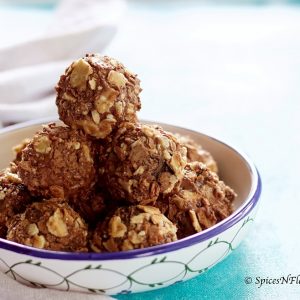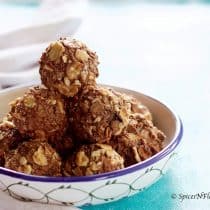 Print
Oreo Laddu
Made from oreos and chocolate, these oreo laddu is loaded with a meadley of texture coming from crunchy wafle cones, cookie crumbs and chocolate.
Ingredients
20

no

oreo biscuits

2+2

tbsp

Nutella

2

tbsp

Melted butter

4

tbsp

chopped nuts

(almond, pista and cashew)

100

gms

Semi-sweet chocolate

(optional)

3

nos

Waffle cones

(optional)
Instructions
Crush the waffle cones coarsely, melt the chocolate and keep aside.

Take 2 tbsp of nutella and add chopped nuts to it. Mix well. Keep aside

Grind 20 oreo biscuits coarsely. Add the melted butter and nutella and grind one more time. Transfer to a bowl.

Pinch out a small portion and round it off to make a laddu or ball shape. Flatten it and add the mixed nutella nuts in the centre. Bring the flattened oreo crumbs to a round shape and round it off.

Dip it in the melted chocolate and then onto the crushed waffle cones crumbs.

And your oreo laddu is ready.
Did you make this recipe? Tag me today!
Tag me @spicesandflavors to get featured on my FB and Insta pages
Notes:
1. Using melted chocolate and crushed waffle cone crumbs is optional. You can serve it as it is or even use desiccated coconut instead.
2. Instead of nutella you can use ganache or even peanut butter.
3. If by adding melted butter and nutella you are still not able to roll it into a ball then add 1 more tbsp nutella and mix it thoroughly.
Some festive season recipes that you would be interested in..
1. NO cook instant 3 min 3 ingredient Rose Coconut Laddu
2. 23 Indian sweets in 30 minutes
3. Paan shots
4. 5 min Chocolate Bark
5. 18 min Halwa
Pin it for later