Piped Cookies or Biscuits is basically a bakery style butter biscuits that is light, crispy, crumbly and melt in your mouth buttery biscuits that goes perfect with your evening tea time.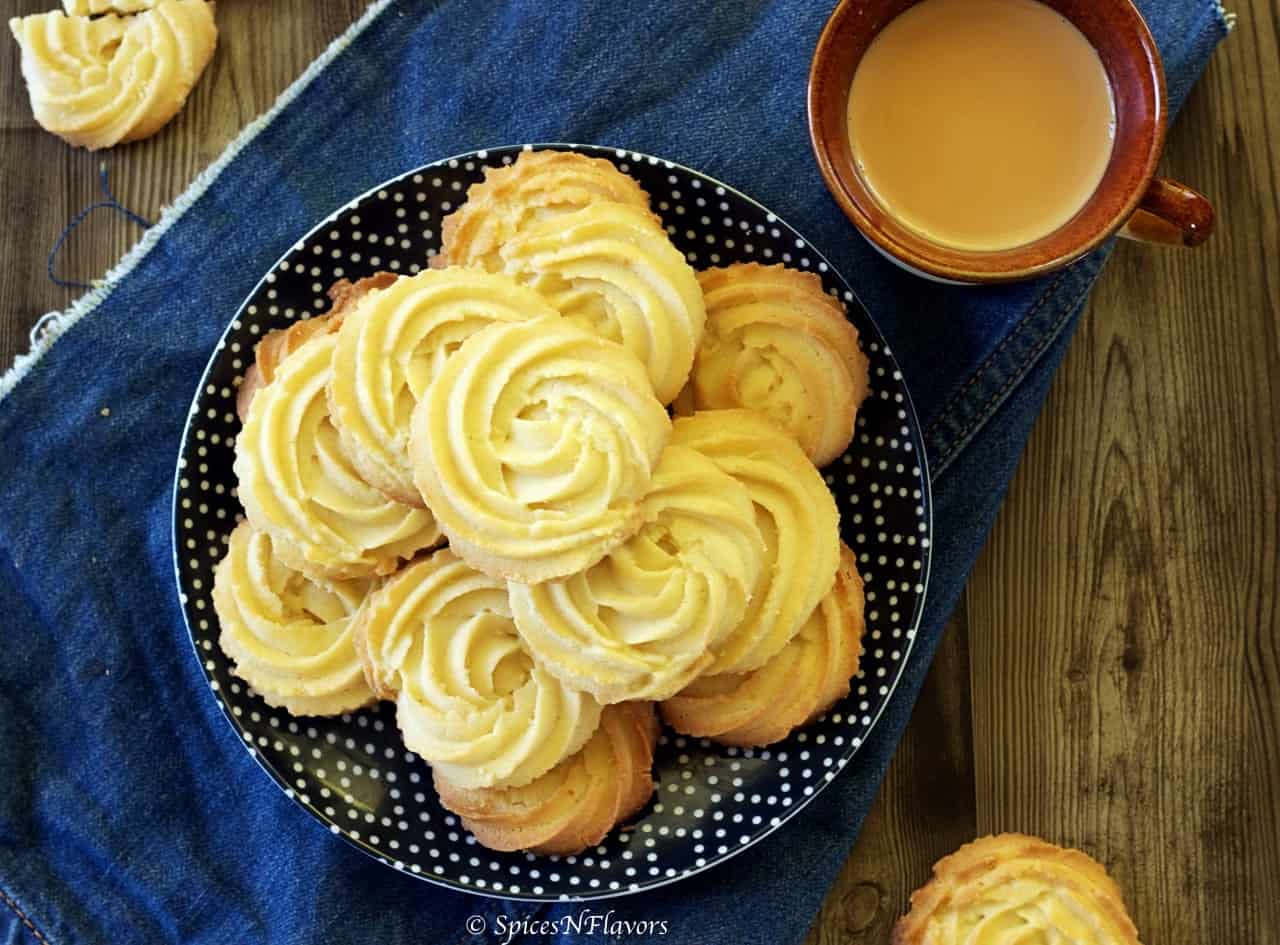 Piped Cookies is one of the classic New Zealand bakery essential. You can see it everywhere.
Whats interesting about these Piped Cookies is that once the cookies or biscuits are piped and baked; an icing is made which is then sandwiched in between the cookies.
These are then dipped into melted chocolate..
Phew thats way too much sugar I must say..
To be honest I do not like it that the way; I prefer the simple biscuits with some tea thats it.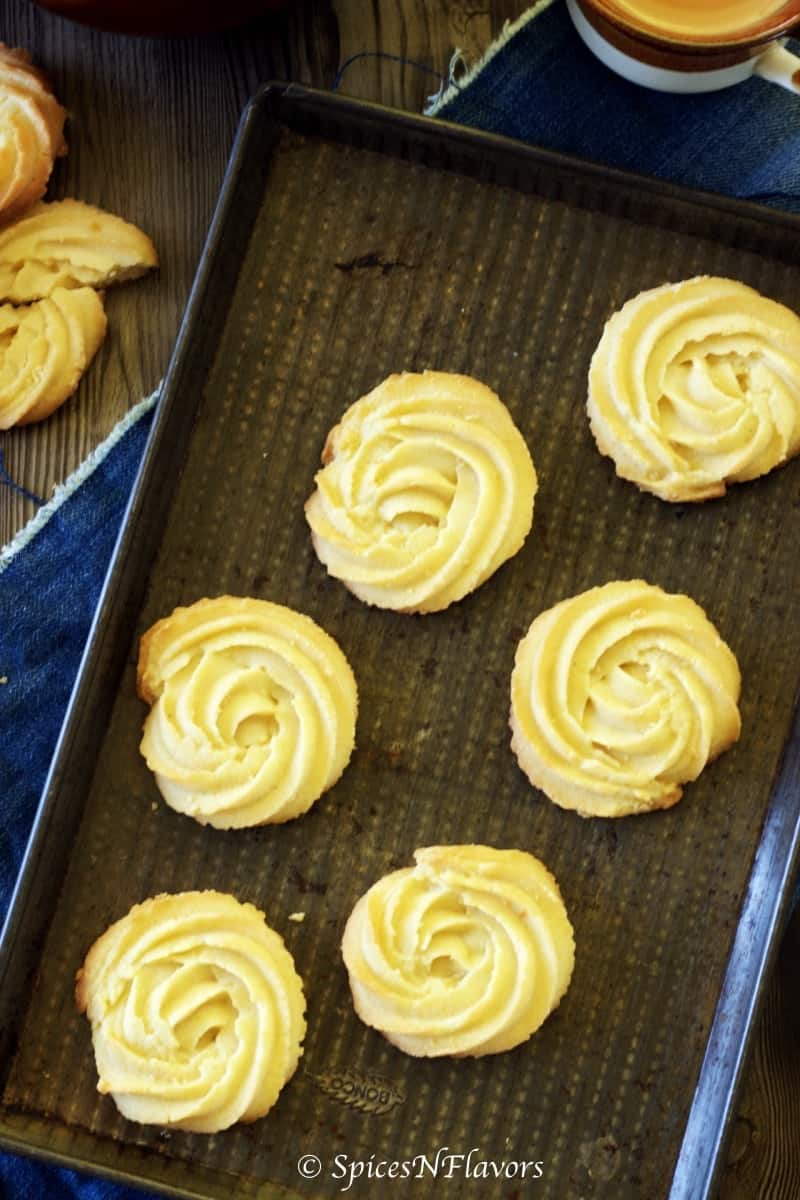 Piped Cookies is a lot similar to the butter biscuits that we get in India.
In fact it is exactly the same just a different name.
These Piped Cookies are a light, crispy, crumbly and oh so buttery biscuits that has a good snap to it.
These Piped Cookies are more of a paler biscuits as compared to the usual golden biscuits that we make.
It is more often baked to a point where it turns golden brown around the edges but remains paler in the centre.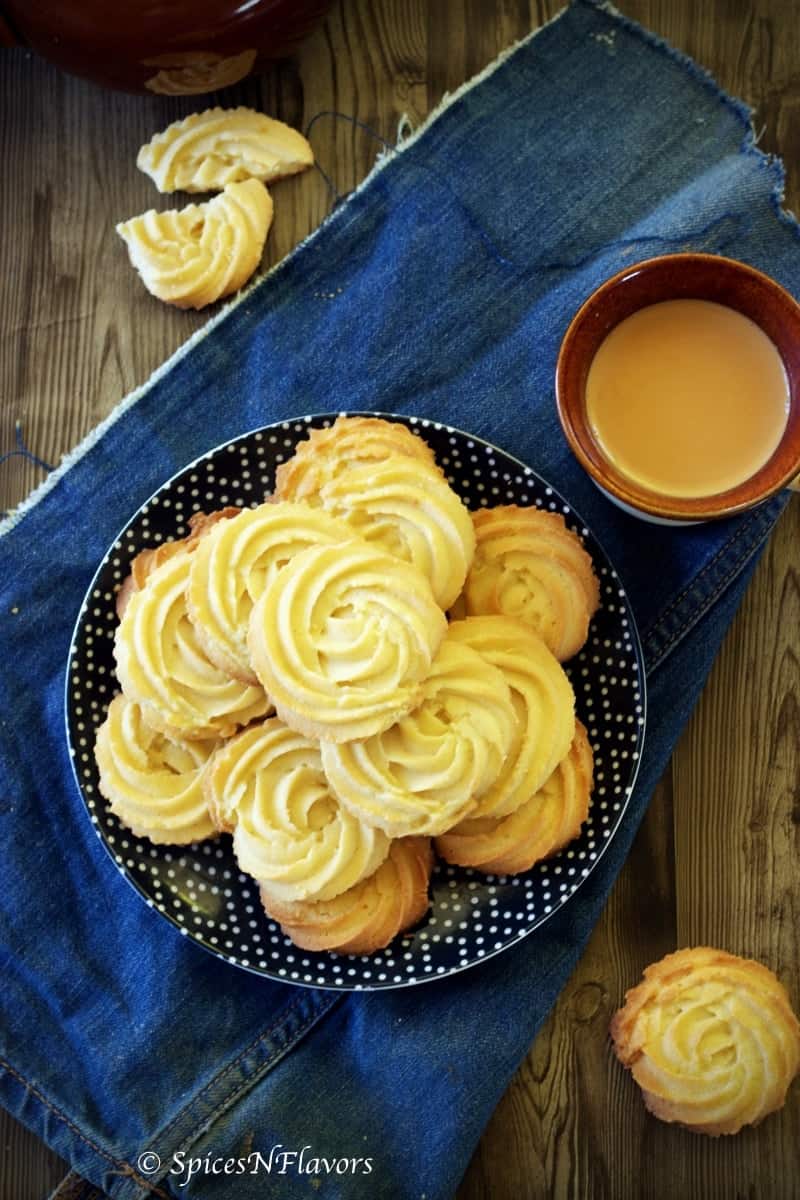 So in short these Piped Cookies are:
1. Super light, crispy, crumbly and oh so buttery.
2. Tastes exactly like a bakery style biscuit.
3. Takes 15 mins to make these Piped Cookies
4. Needs just 3 ingredients.
5. Can be made in both Pressure Cooker and Oven.
Wait for it.. This Piped Cookies is obviously a post inspired by my 3 ingredient Nutella Cookies.. actually Naaa.. this was a request by you guys and how can I not make one.. 😉
Check out the detailed recipe:
Related Recipes: 
Liked this recipe?
Let us know by giving it a star rating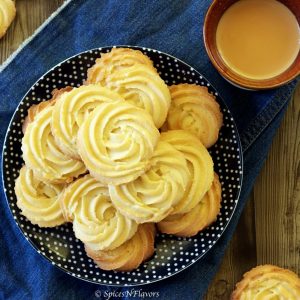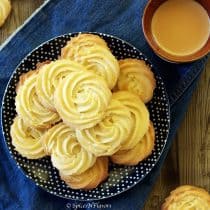 Print
Piped Butter Cookies/Biscuits
Piped Cookies is a light, crispy, crumbly, melt in your mouth buttery biscuits that pairs perfect with your evening tea.
Ingredients
180

gms

Butter

unsalted, softened

60

gms

Icing Sugar

200

gms

Plain Flour

pinch of salt

capful of vanilla extract
Instructions
Beat together butter, sugar and vanilla until well combined say for about 4-5 mins.

Add in the flour in two stages and beat well until creamy soft batter consistency.

Transfer to a piping bag with big star nozzle and pipe rosette shaped biscuits onto a baking tray lined with parchment paper.

Bake in a pre-heated oven of 180°C for 8-10 mins until golden brown edges and pale coloured centre in colour using a double pan method. (Refer notes for double pan)

Let it cool a bit and enjoy with your evening tea.
For Pressure Cooker Baking
Start by pre-heating the pressure cooker without any gasket or whistle for which line the base of the cooker with salt. Spread it out evenly and place a stand. Pre-heat on med high flame until you are ready to bake the cookies.

Follow steps 1 and 2 as mentioned above. Transfer the batter to a piping bag fitted with big star nozzle.

Grease the idli stands with little oil and pipe the batter in the centre of each stand.

Bake in the preheated cooker for 12-15 mins. Reduce the flame to medium while baking.
Did you make this recipe? Tag me today!
Tag me @spicesandflavors to get featured on my FB and Insta pages
Notes:
1. Do not beat the butter and sugar for too long or else they will spread while baking and lose their shape.
2. The cookies straight out of the oven are soft. Let them cool a bit to crisp up. Do not over-bake them thinking that they are soft.
3. Do refer my video to note the exact method of baking in the pressure cooker and also the difference of baking time in the oven.
Enjoy bakery style Piped Butter Cookies at home in no time.
Double Pan Method:
To know more about what is double pan and why do we use it just refer my Checkerboard Cookie post for details.
If you like this recipe then do tag me, tweet me or instagram me. I would love to follow you and your posts.
Pin it for later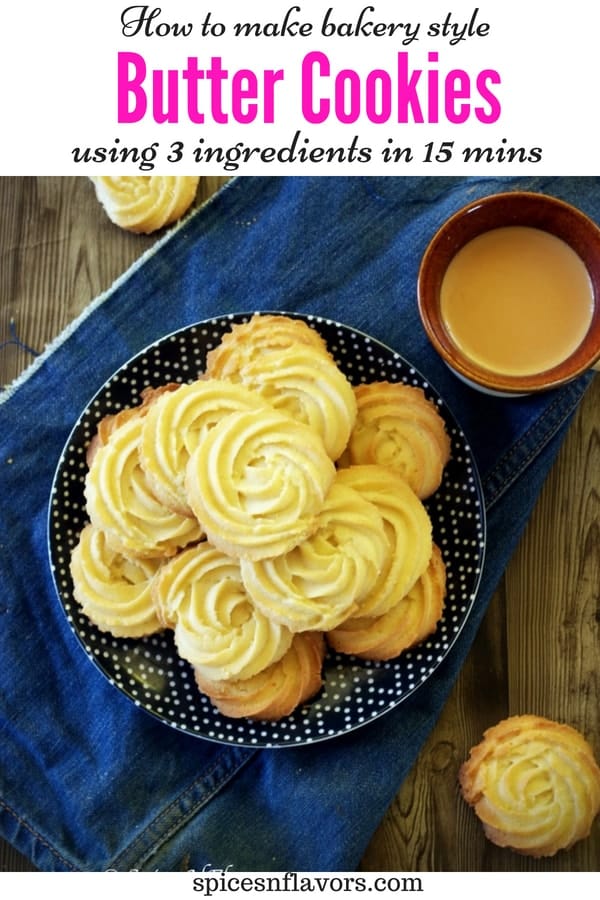 See you soon
Until then
Hugs
Sushma