Tawa Pizza gets its name from the word "Tawa" (obviously.. :P) which means Pan. So this post is all about making a Pizza from scratch on a Tawa or pan without using an oven. But ofcourse the baker keeda in me; have also mentioned the oven method.. 😀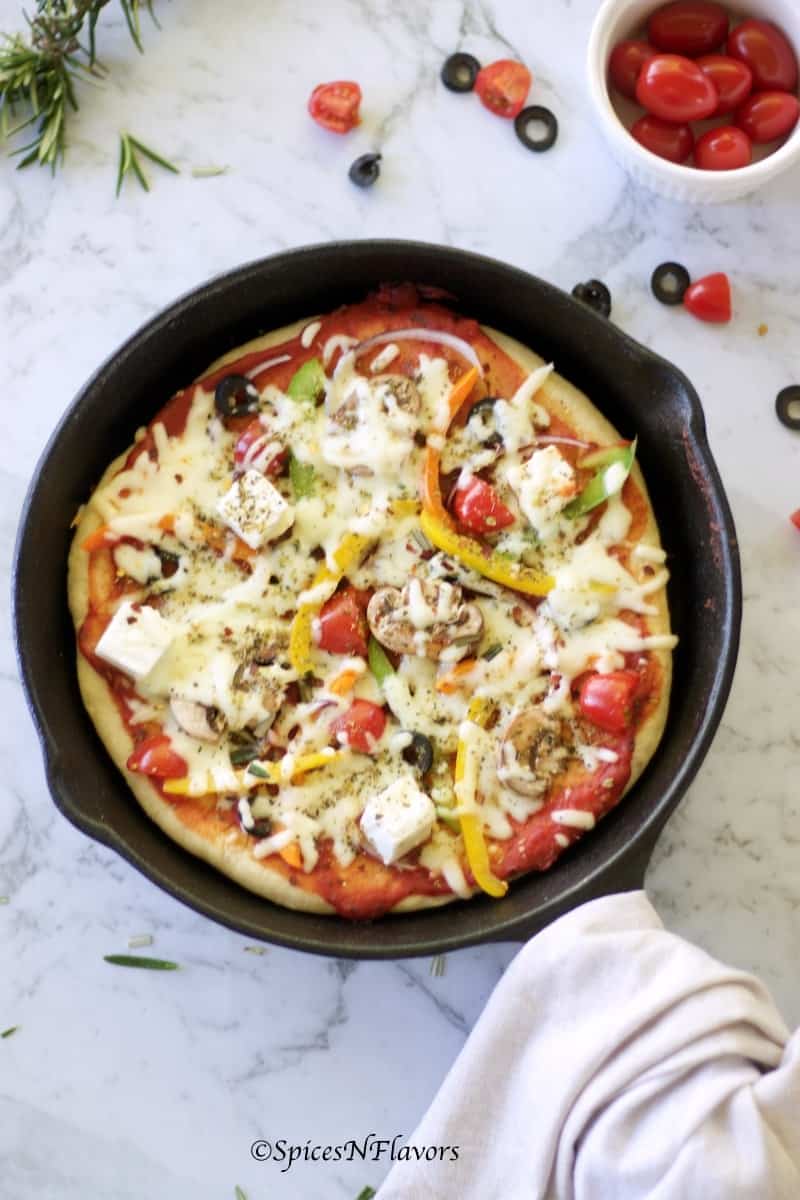 Tawa Pizza as the name suggests is made on a gas stove using homemade pizza dough.
Is making pizza dough at home difficult?
Not at all guys.. with the tips that I have shared I am sure your fear of using yeast will also fade away.
The first and foremost requirement to make a successful Tawa Pizza or to say any Pizza for that matter is to make a Biga.
What is a Biga?
Biga is basically a pre-ferment made from Flour and Yeast. It helps to enhance the flavour and aroma of the final baked product. But the most important thing is that it helps to increase the enzyme that is yeast activity in the Tawa Pizza Dough.
Also it helps to counteract the retarding effect of excessive oil used in the recipe.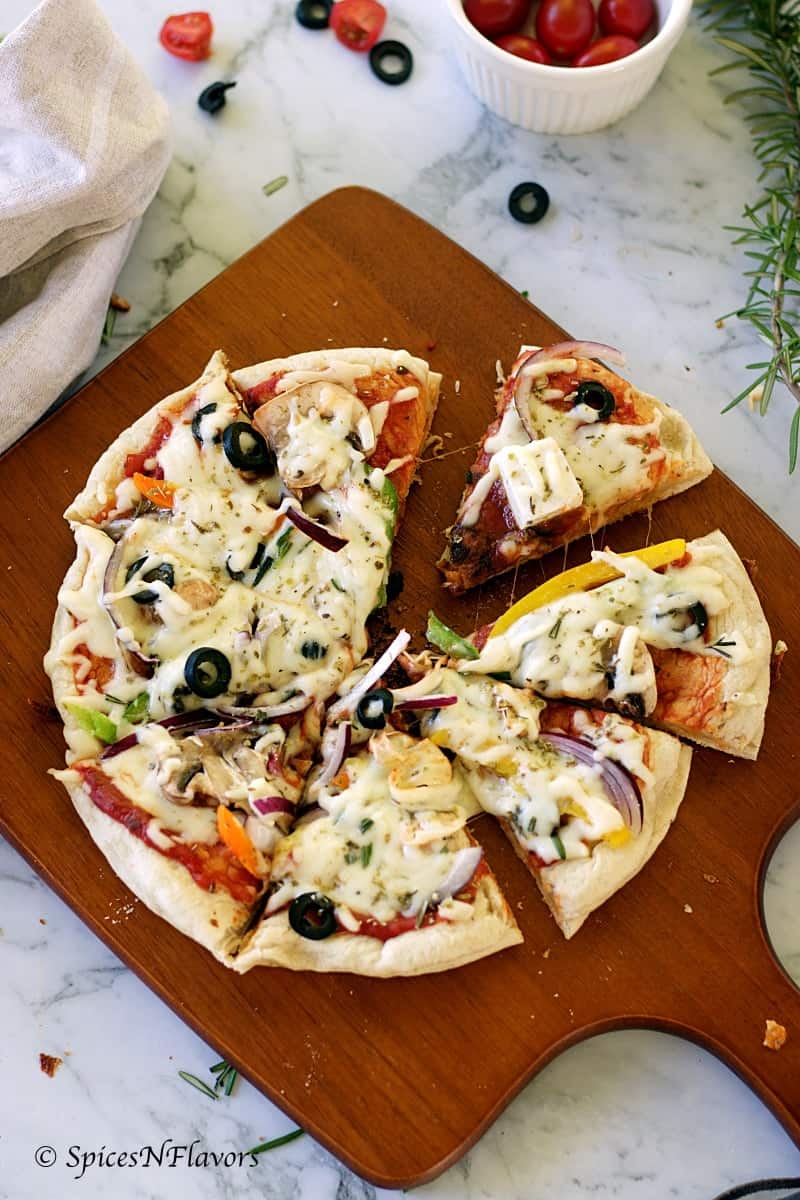 What are the other factors that helps in making the perfect Tawa Pizza or any bread product for that sake?
1. Try and use High Grade or High Ratio Flour to make a Bread based product like this Tawa Pizza. And why so?
Well High Grade Flour has an higher proportion of protein that is Gluten in it which helps in holding the structure of the final product well.
2. Always dissolve your yeast in water and use. Because it ensures that the yeast is dispersed or mixed evenly all through out.
3. Never add salt and yeast together. Salt tends to slow down the yeast activity and hence avoid direct contact of both of them.
4. Generally we calculate the water temperature for bread products but since I am assuming that not all of you might be having a thermometer at home I am skipping this step.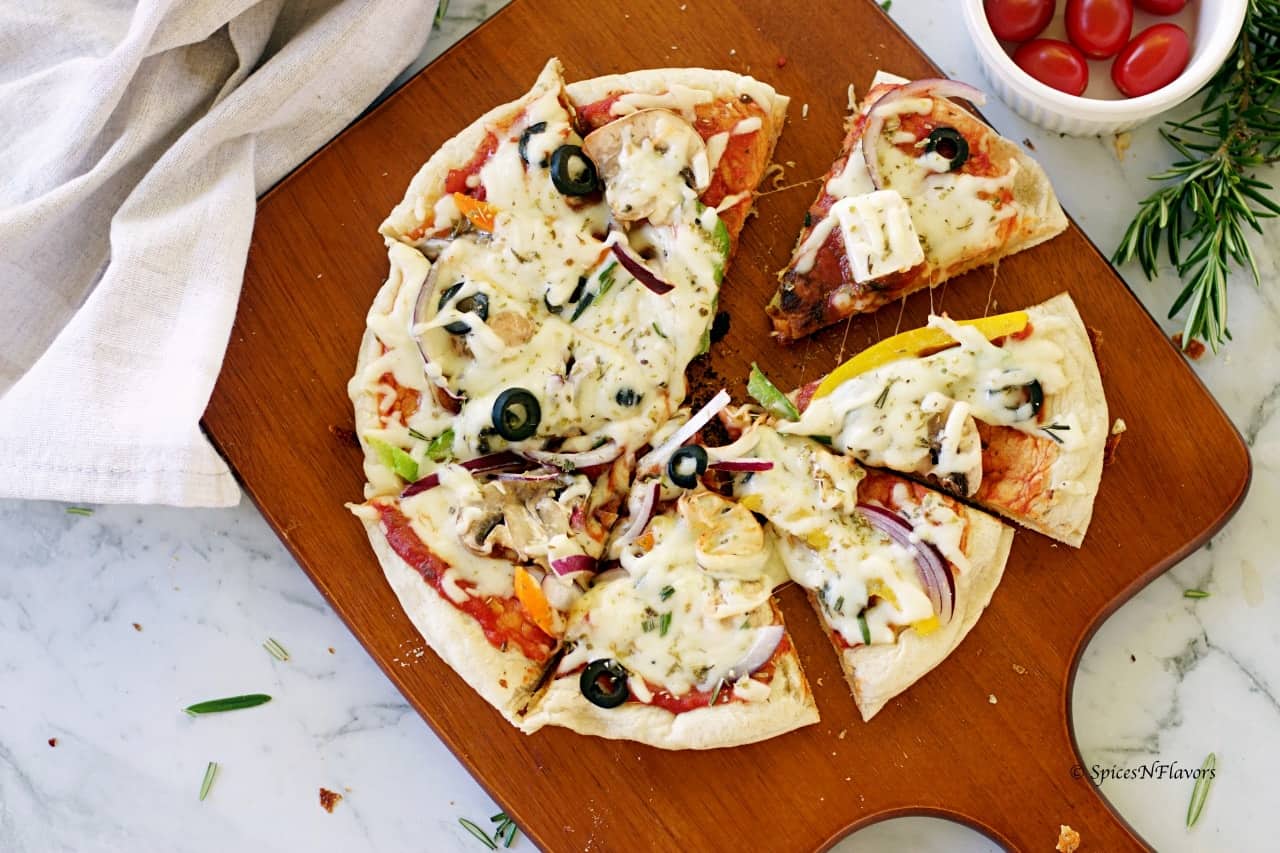 What is the speciality of this Tawa Pizza?
Well the first thing that I would say is the base. The Tawa Pizza base is so soft and fresh that you will fall in love with it.
Today I have used store bought pizza sauce but I also have a link for making homemade pizza sauce. IF you wish you can check it out by clicking here.
The addition of assorted veggies makes it even more special.. Today I have used a combination of tri-colour bell pepper, olives, paneer, onions and mushroom. You can choose anything of your choice.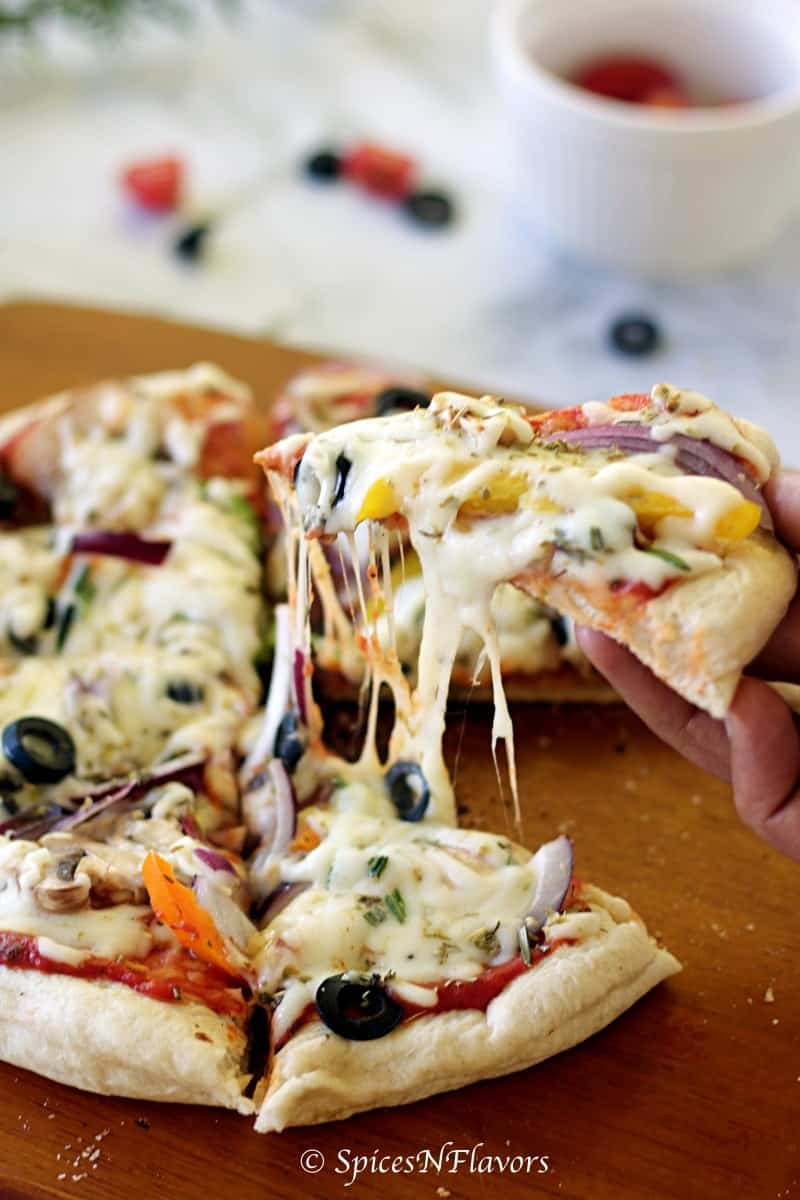 To be honest with you all I have never been a fan of bread making.
Ask me to make a Cake I can go on and on.. You might have known it by now from my Eggless Vanilla Cake, Eggless Chocolate Cake, Rawa Cake or one and half year birthday cake post.
But when your family relishes good home made food you go miles to make it for that one smile on their face.
Had made this Tawa Pizza on weekend and everyone were fighting for the last piece.. 😉
Here is the detailed recipe:
Liked this recipe?
Let us know by giving it a star rating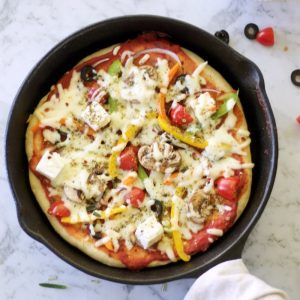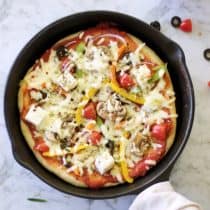 Print
Tawa Pizza | No Oven Pizza | Homemade Pizza Dough
Tawa Pizza is basically a Pizza made on gas stove on a pan using Homemade Pizza Dough with assorted veggie toppings
Ingredients
For the Biga / Pre-Ferment
195

gms

(1.5 cups) Bread Flour

1.5

gms

(1/2 tsp) Instant Yeast

105

gms

(1/3 cup + 1 tbsp) Lukewarm Water
Pizza Dough
375

gms

(3 cups) Bread Flour

15

gms

(1 tbsp) Sugar

7.5

gms

(1/2 tbsp) Salt

30

gms

(2.5 tbsp) Olive Oil

15

gms

(1tbsp + 1/2 tsp ) Yeast

255

gms

(1 cup) Water
Instructions
Biga
Mix flour, yeast and water and combine to form a dough. No need to knead it just combine to a dough. Let it ferment over-night or for atleast 6-8 hours in a warm place.

Do remember grease and cling wrap the bowl.
Pizza Dough
In the bowl of your stand-mixer, add in salt, flour, sugar, olive oil, yeast dissolved in water and the pre-fermented biga.

Let this mix on slow speed for 2 mins and then on high speed for 6-8 mins. In all a total of 8-10 mins.

Allow this to ferment in a greased bowl covered with a cling wrap for 40-60 mins.

Once fermented divide it into 4 equal parts and shape each of them into a circular shape.

Roll it like the way we roll chapati or roti.

Prick it with fork and place it on a heated heavy bottomed tawa.

Cook this for 5-6 mins on med flame. Lift it with a spatula to check if it is cooked and if it is then flip it to the other side.

On the now top side apply pizza sauce and assorted veggies of your choice. I have used tri-coloured peppers, onion, mushroom, paneer and olives. Sprinkle with lots of mozarella cheese and a dash of oregano, mixed herbs and fresh rosemary.

Cover it with a lid and cook for another 5 mins until the cheese has melted and the base has cooked too.

Serve it hot with salt and red chilli flakes.
Did you make this recipe? Tag me today!
Tag me @spicesandflavors to get featured on my FB and Insta pages
How to bake in an oven?
Pre-heat your oven to 230°C.
Roll the dough to the size of your pizza stone. Prick it with fork. Add the pizza sauce. Top it with veggies of your choice and mozarella cheese. Sprinkle some oregano, mixed herbs and fresh rosemary.
Bake in the pre heated oven with high top for 8-10 mins or until the base has cooked and cheese has melted. You will have to lift the pizza a bit and check to see if it has cooked completely.

Thin Crust Tawa Pizza
To make a thin crust pizza divide the dough into 6 equal parts and roll it thin and follow the same procedure.
Veggies that I have used:
Tri-colour bell peppers, onion, mushroom, paneer, olives and cherry tomatoes.
If you like this recipe then do tag me, tweet me or instagram me. I would love to follow you and your posts.
Pin it for later: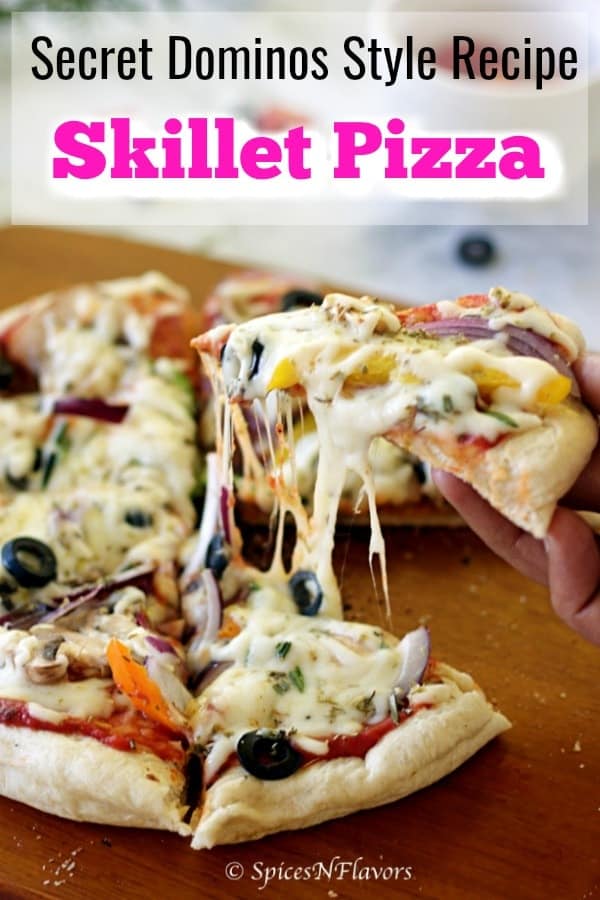 I will see you soon with yet another recipe
Until then
Hugs
Sushma