Eggless Coconut Rava Cake solely made using rava that is semolina; without the addition of flour, butter or oil. Sounds interesting??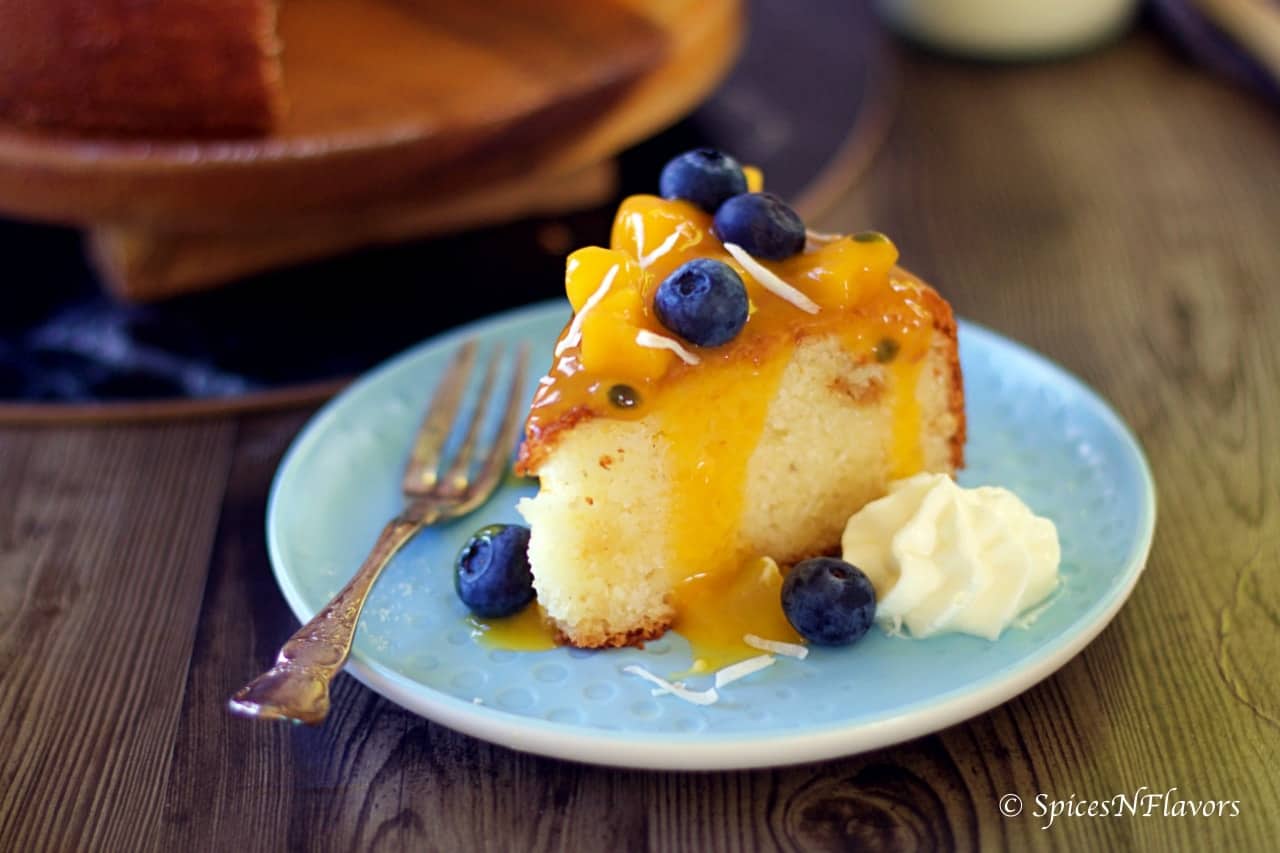 Eggless Coconut Rava Cake is yet another variation of the most popular recipe from the blog Rava Cake.
And why do I say yet another?? Well, because I have already made the plain rava cake and also the chocolate version of it.
So... why is there a need to share one more variation - Eggless Coconut Rava Cake?
Hmmm.. This is because I got a request from you guys on how can one incorporate coconut in here. That intrigued me so much that I ended up making this flavour packed Eggless Coconut Rava Cake and mind you guys I liked this one more than the plain rava cake..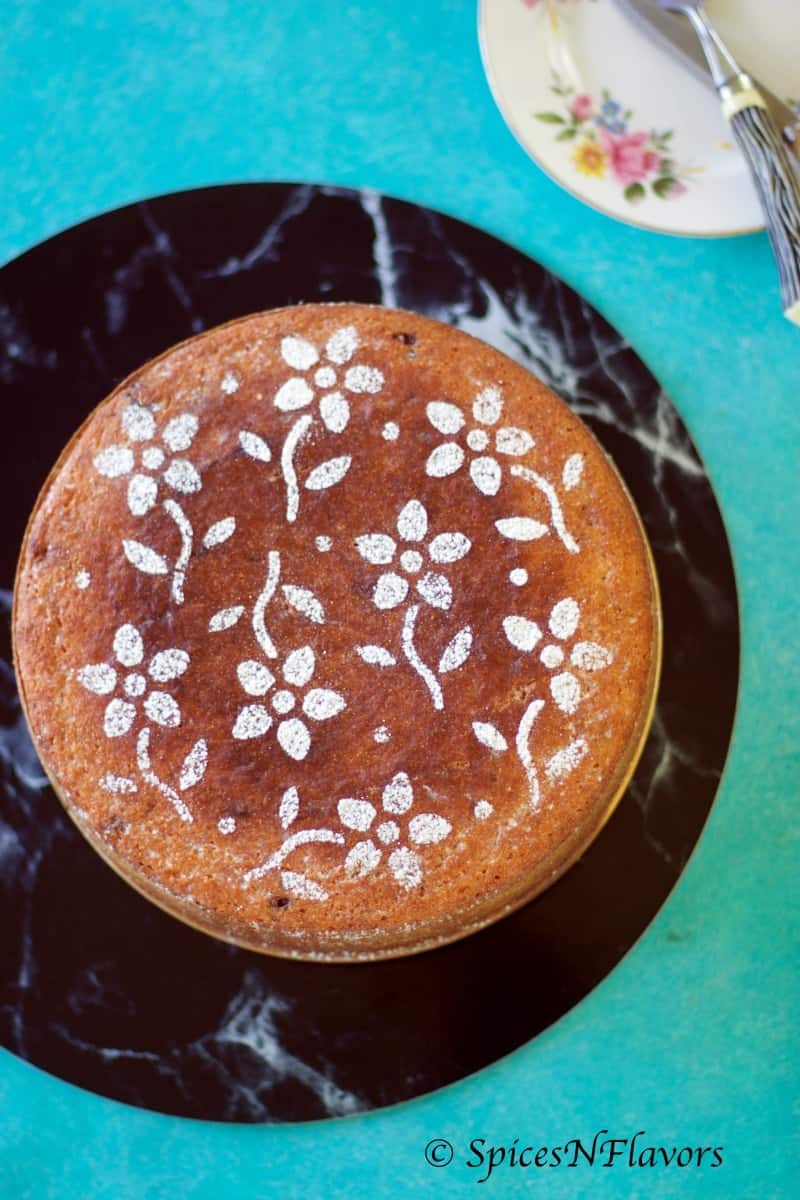 Coconut is one of those ingredients that you would always find at my Mum's place and it is one of those ingredients that you would never find at my place... irony of life..
Well, being a South Indian coconut is often used in all our Indian cooking from simple stir-frys to Sambhar to Kootu...
But my hubby does not like coconut so I do not use it much...
Let me tell you I absolutely love it.. it adds so much freshness to any dish and elevates it to next level.. I absolutely love tropical fruits and love it incorporating it as much as possible; be it smoothies or ice-creams or just yesterday I made a no-bake pineapple cheesecake which I would share soon.
I wish he too enjoyed coconut as much as the other tropical fruits that we absolutely love. By the way, what is your favorite fruit; do comment and let me know.. 🙂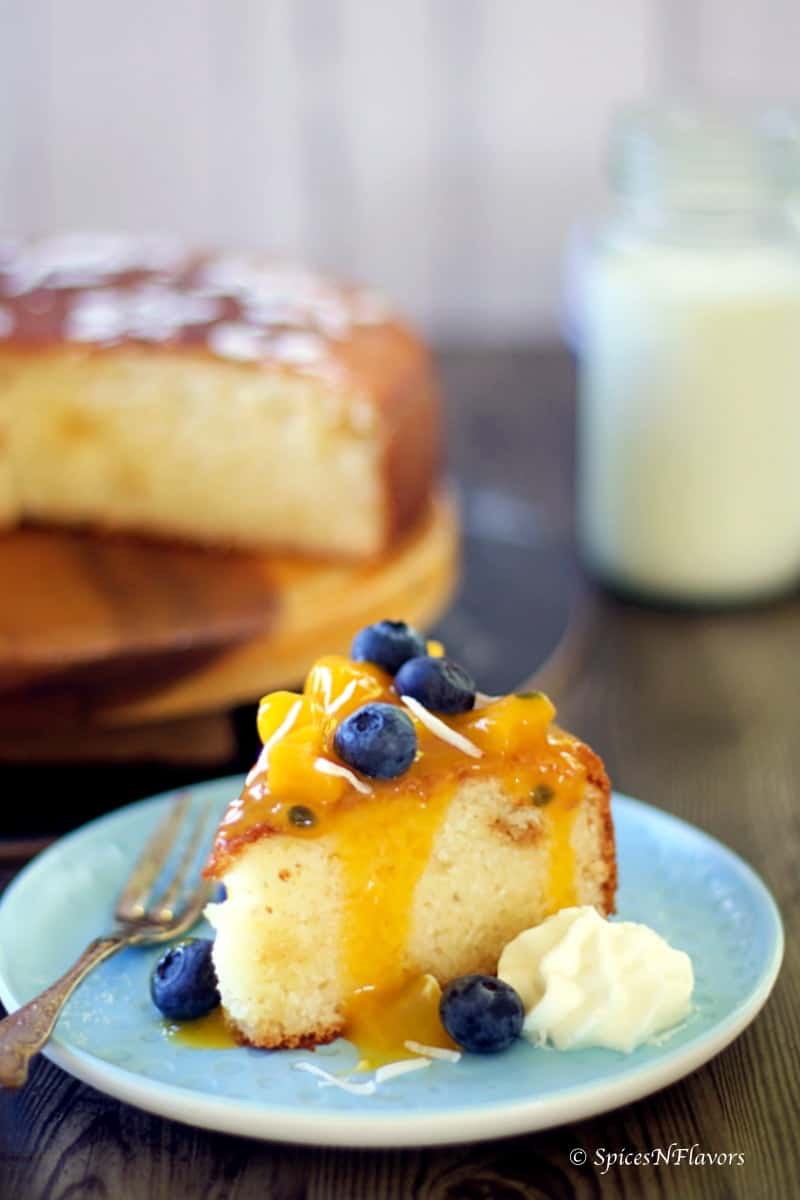 Coming to this Eggless Coconut Rava Cake...
I would definitely consider this Eggless Coconut Rava Cake as a Healthier Cake; or say a cake with less calories considering that it has no fat or flour in it. Yes, it has some sugar to it but if you want an even healthier cake which has no sugar at all then definitely check out my Eggless Dates and Walnuts Cake.
How does this Eggless Coconut Rava Cake taste like?
This is a soft and dense cake; pretty obvious right since there is no flour in it.
Also the sweetness is perfect enough to make it a best tea time cake. Some coffee or tea would pair so well with this..
I however choose to have this Eggless Coconut Rava Cake with some fresh fruits and a side of yoghurt.. It tasted heavenly.. you must definitely try this combo.
This Eggless Coconut Rava Cake is perfect for a 8 inch cake pan but you can definitely use any size and shape tin here.. 🙂
Here is the detailed recipe:
Liked this recipe?
Let us know by giving it a star rating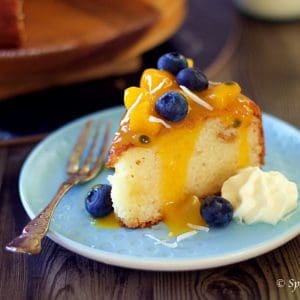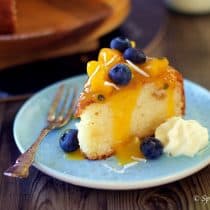 Print
Eggless Coconut Rava Cake | No Maida, Butter or Oil
Eggless Coconut Rava Cake is a soft and dense delicious tea time cake with comparatively lesser calories.
Ingredients
1.5

cups

Sugar

1.5

tbsp

Ghee or Clarified Butter

1

cup

Milk

1

cup

Curd

1.5

cups

Rava / Semolina

1

cup

Desiccated Coconut

1

tsp

Baking soda

1/2

tsp

Cardamom powder

(optional)

1

tsp

Coconut Extract

(or use vanilla extract instead)
Instructions
Grind together sugar, ghee and milk until well combined smooth and thicker in consistency.

Add the curd and coconut extract and mix well.

Fold in the rava, desiccated coconut, cardamom and baking soda until a cake batter consistency is achieved.

Pour into a prepared cake tin and bake in a pre-heated oven of 180°C for 35-45 mins or until a toothpick inserted comes out clean.

Let it cool completely before slicing.
Did you make this recipe? Tag me today!
Tag me @spicesandflavors to get featured on my FB and Insta pages
Notes:
1. You can skip cardamom powder if you wish too. Also in place of coconut extract you can use vanilla extract. Coconut extract would enhance the flavour though.
2. If you want to bake this in a pressure cooker please refer my plain rava cake post wherein I have shared all the details. You can also bake this in a microwave for the same time.
3. Have used this cute little stencil from amazon to make the design on top of the cake. Click here for the link
Since you ilked this recipe you might also like this Healthier Eggless Wholewheat Dates and Walnut Cake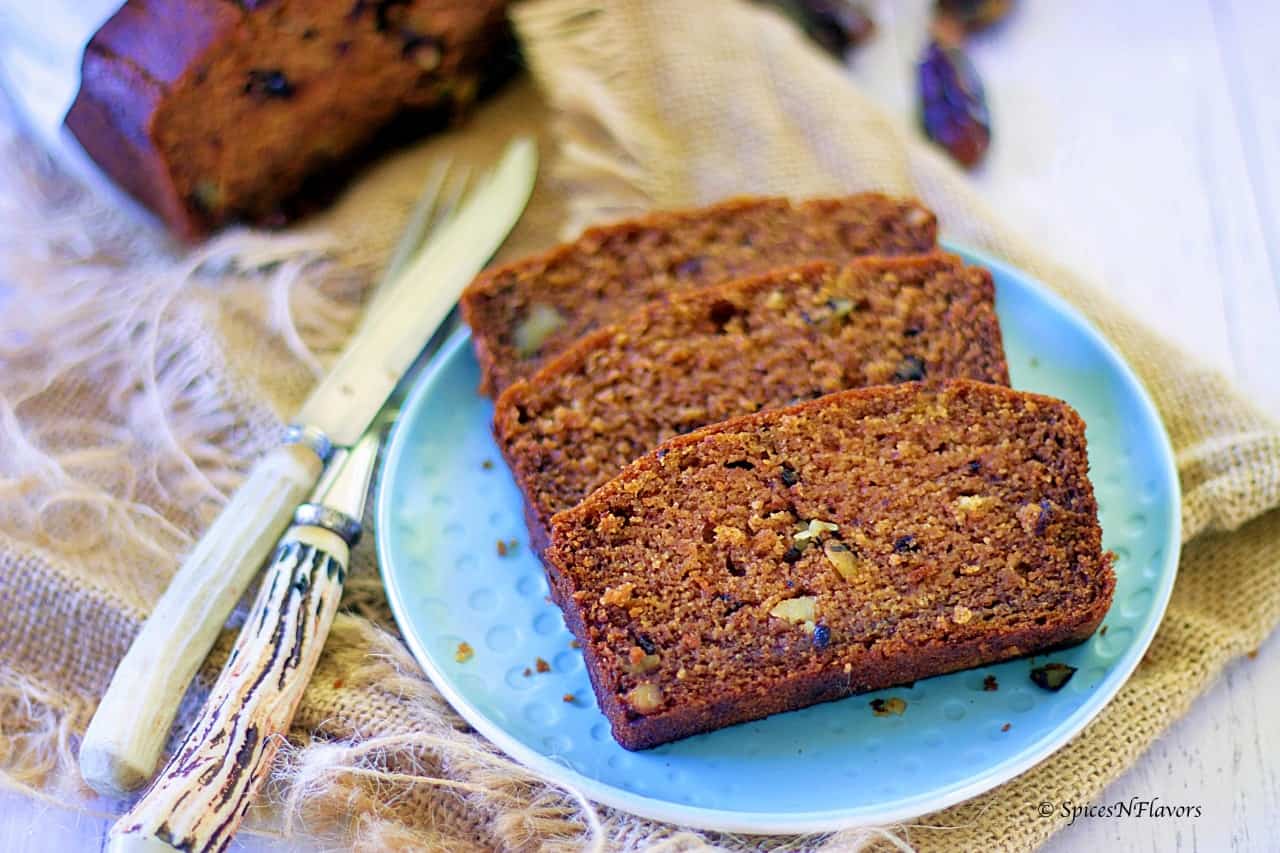 If you like my today's simple yet flavour pack post then do let me know by tagging me, tweeting me or instagram me. I would love to follow you and your posts.
Pin this for later: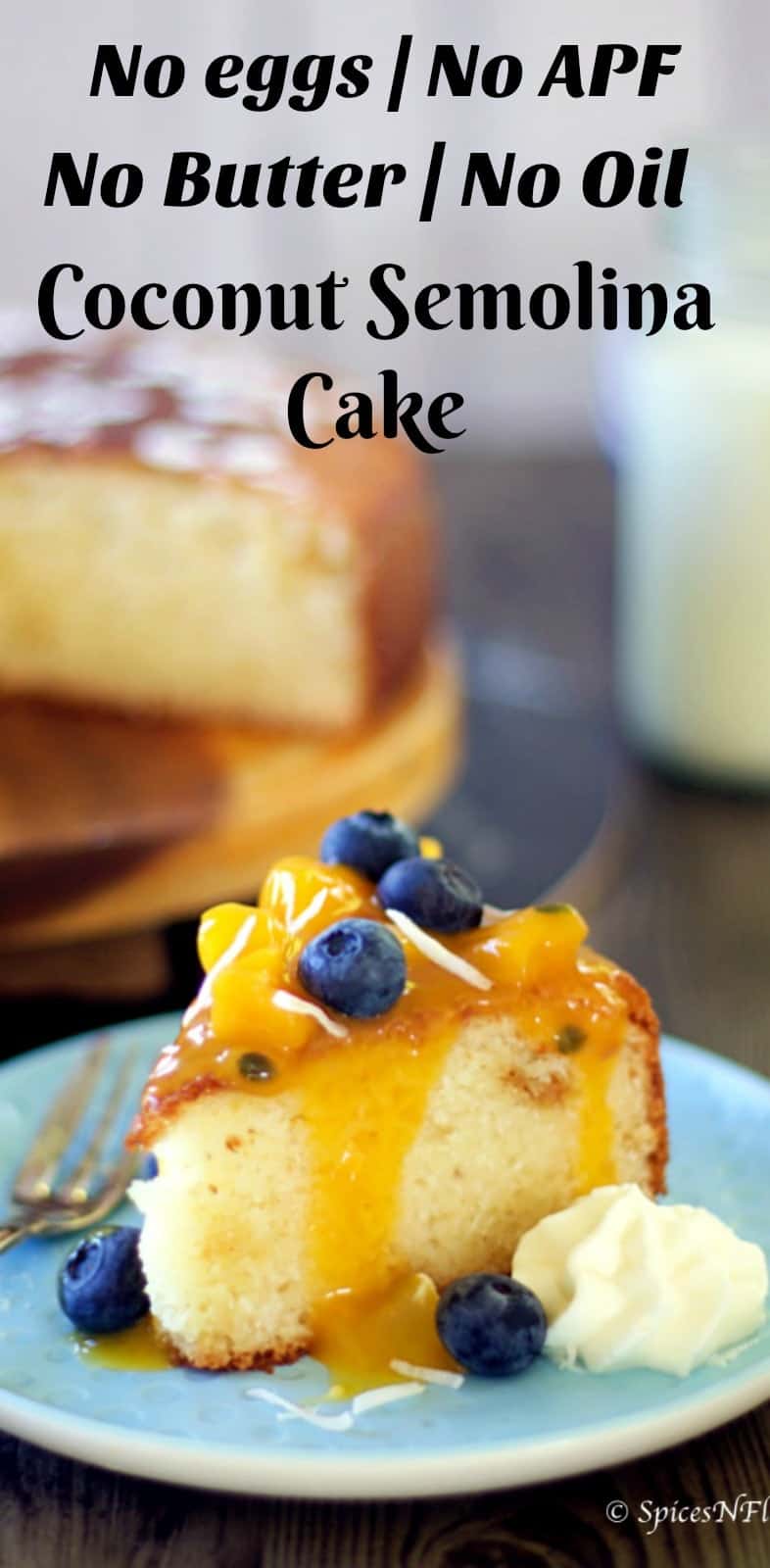 I will see you soon with yet another recipe
Until then
Hugs
Sushma