Alphabet Cream Tart Cake is basically a classic twist to our age-old fruit flans by giving it a more personalised touch.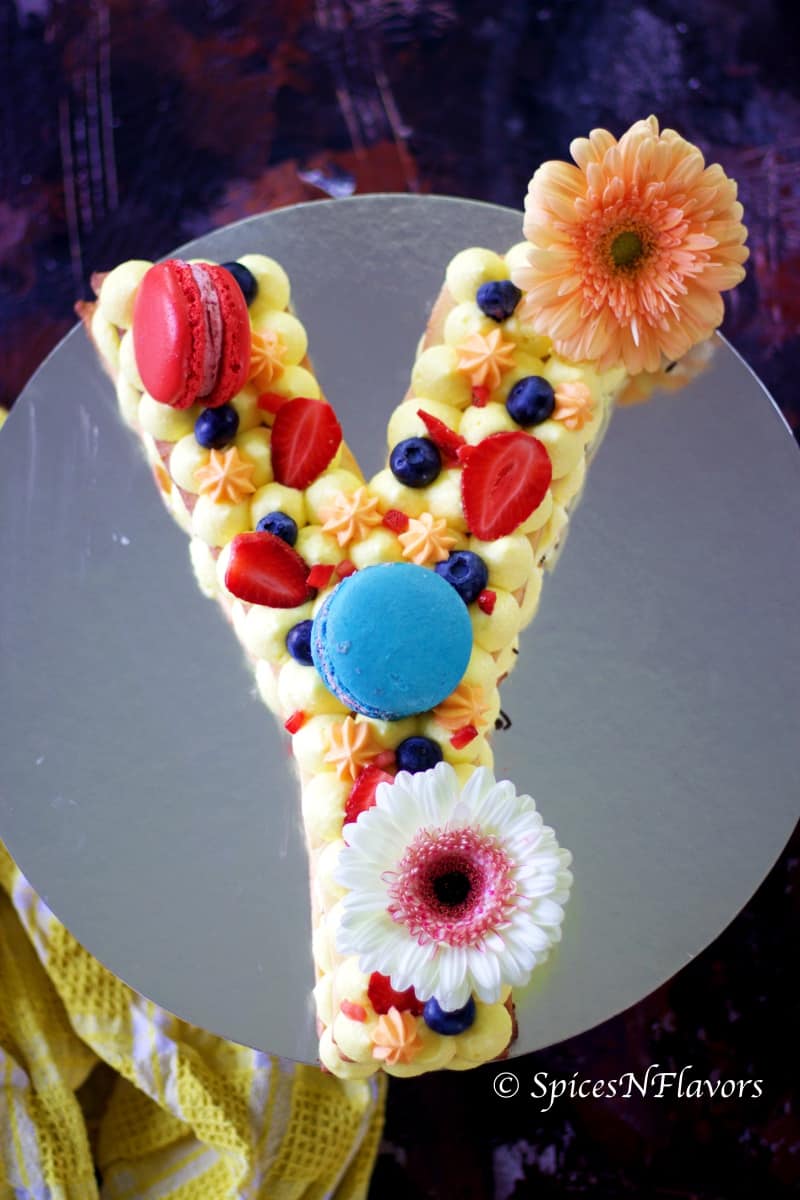 Alphabet Cream Tart Cake has taken the internet by storm; be it on Youtube or Facebook or any social media platforms.
Who can resist making and enjoying these beauties? I definitely couldn't.. The minute I saw this all over my FB wall and on Youtube page I had decided that I had to give it a try.
Oh my my!! What a beautiful dessert this has turned out to be...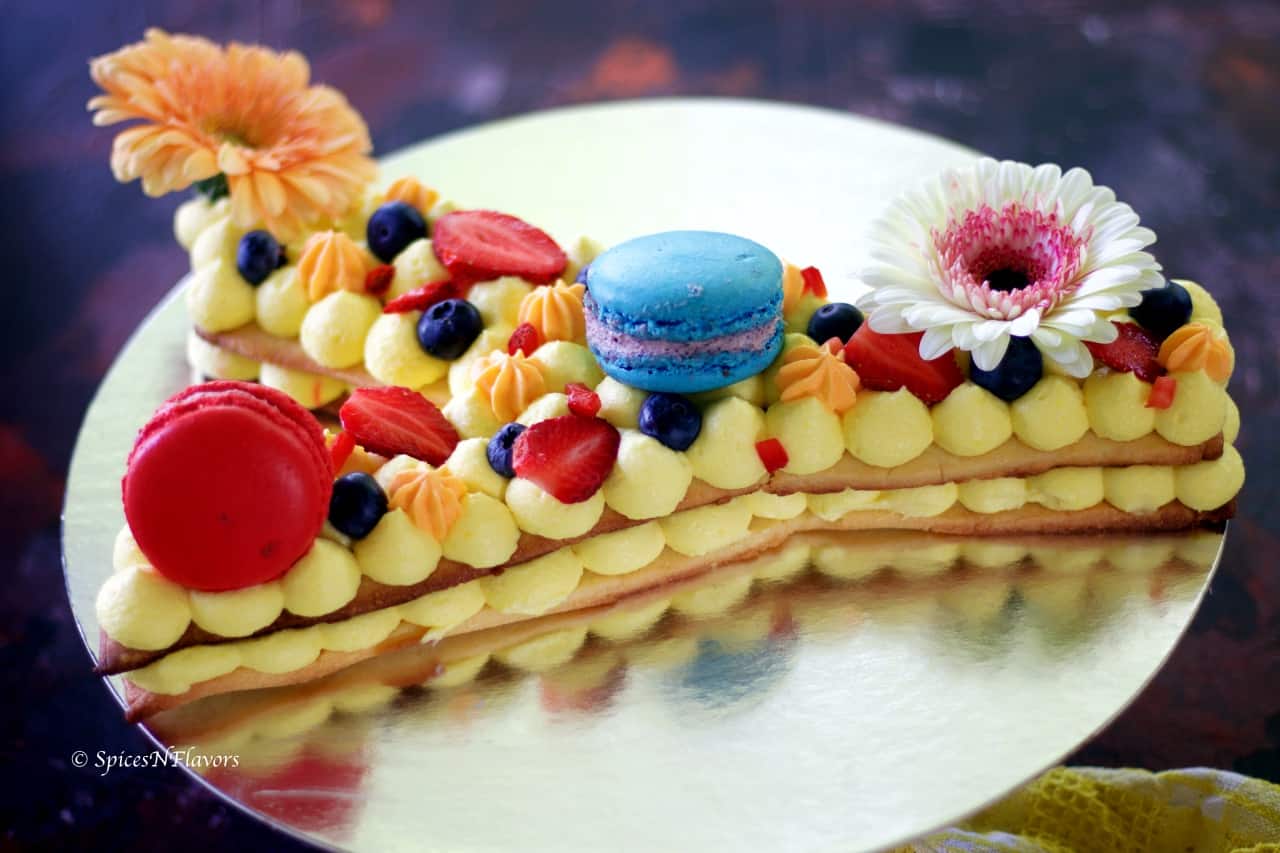 So what are these Alphabet Cream Tart Cake?
Basically these are a modernised and personalised version of our age-old fruit flans or fresh fruit tarts..
Fresh Fruit Tarts as the name suggests is made of a tart base which is so crumbly and crisp yet soft (if you know what I mean.. 😉 filled with a pastry cream and topped with assorted fresh fruits.
That is the concept that is attached here..
The base of our cake is not a soft and spongy cake but its made of tart base. Of course, you can use any basic vanilla or chocolate cake here instead of tart too..
The french kissed custards piped on top is to die for... so smooth and so yum..
Finally garnished with fresh berries, macarons and flowers this is an ultimate showstopper dessert. Something that is bound to make your guests raise their eyebrows.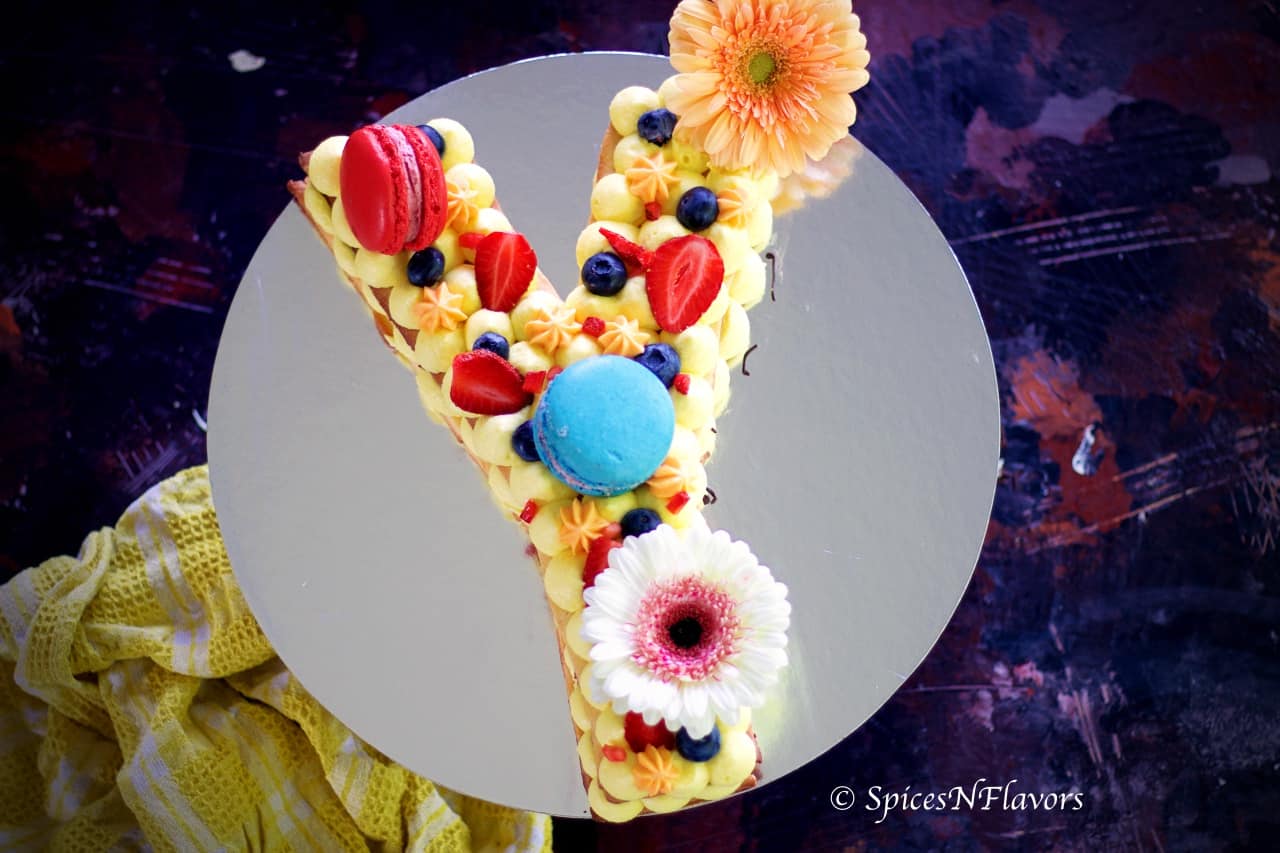 Why did I make this Alphabet Cream Tart Cake?
First obvious reason as mentioned earlier too is that I was attracted to its beauty.
Apart from that there is one more reason; unlike last year (we had a little krishna theme birthday party) this year we won't be here in NZ during my daughter Yo's birthday so I won't be able to make a cake for her.
Even though this is not a cake but still to me it means so much the alphabet 'Y' is for Yoshana and the colours yellow and orange represents sunshine and to me my daughter is my sunshine.. Like one cannot live without sun so do I cannot live without my daughter (blahhh... getting too emotional right!!!)
But basically this one is for her.
And what are the technicalities involved in making this Alphabet Cream Tart Cake?
Being a baker I love to read about the use of each ingredient in a recipe and also about the details of techniques used and hence I share it always in my post; be it my best ever Chocolate Cookie post or Science behind baking a Chocolate Muffin.
So this Alphabet Cream Tart Cake follows our Rub-in Method. The details of which I have already shared in my Quiche post so you can check it from there.. 🙂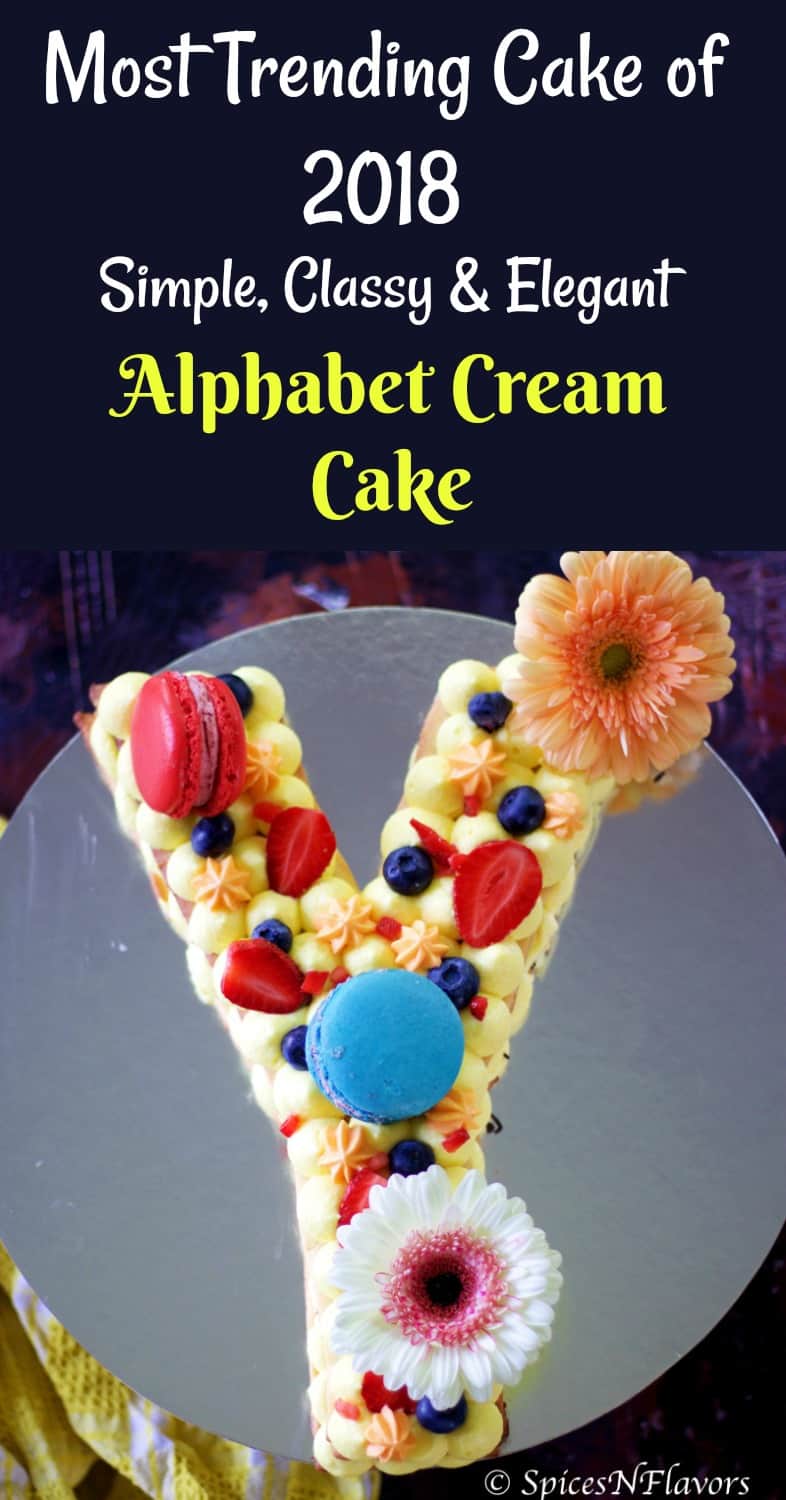 And how does this Alphabet Cream Tart Cake actually taste like?
If I wanted to put it in a lay man's language then I would say that the tart is actually like a sugar cookie.
So you get a crispy and crumbly base with a smooth and silky custard.
Generally, custard is made using eggs as a base but I made an eggless version for you guys as you always ask me to share eggless variations..
And this cake is usually decorated with fresh berries, macarons and flowers. But you can decorate it like the way you like it.. 🙂
Here is the detailed recipe:
Liked this recipe?
Let us know by giving it a star rating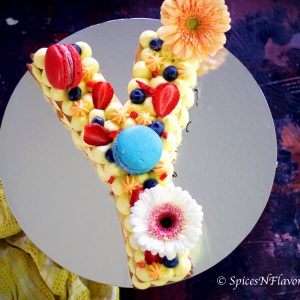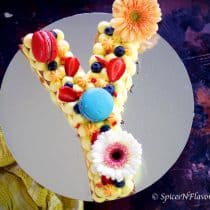 Print
Alphabet Cream Tart Cake
Alphabet Cream Tart Cake is a modernised and personalised way of making the fruit tarts. This cake has a tart base with custard filling decorated with fresh berries, macarons and fresh flowers.
Ingredients
Tart Base
250

gms

Plain Flour

105

gms

Cold Butter

cubed

140

gms

Caster Sugar

1

no

Egg

2

gms

Vanilla essence
Custard
1

cup

Milk

4

tbsp

Custard Powder

1.5

cups

Whipping Cream

1/2

cup

Icing Sugar

drop of food colouring
Fresh Berries, Macarons and Fresh Flowers
Instructions
Tart Base
Rub the butter and flour together until it resembles wet sand for about 5-10 mins. Keep it aside

Mix together egg, sugar and vanilla until it comes together and well combined. Add this to the flour base and combine it to form a dough.

Do not knead the dough. Just combine. Flatten it out. Cling wrap and refrigerate for 30 mins to 1 hour.

After an hour roll it out to fit your template (refer notes). You would need two tart base so do keep that in mind while cutting out the dough.

Once you have two of your desired alphabets place it on a baking tray lined with parchment paper. Again refrigerate this for 1 hour.

After that bake them in a preheated oven of 180°C for 9 to 12 mins until light golden in colour. Let it cool completely,
Custard
Add the milk to a saucepan reserving some for the custard. Place this onto a saucepan and get it a boil.

Meanwhile add the reserved cold milk to the custard and mix to dissolve the custard and keep it ready.

Once the milk boils add it in a slow motion over the custard mix stirring continuously.

Transfer this again to the saucepan and cook for a minute until it thickens.

Once thickened remove it into a bowl, cling wrap such that it touches the custard and refrigerate until cooled.

Start whipping the cream. Once it becomes foamy start adding icing sugar little by little and whip until stiff peaks form. Set aside.

Once the custard cools completely whip that too until creamy. Strain it if you see any lumps. Finally add this to the cream in two portions and whip again until stiff peaks form. Add colouring of your choice and combine.
Assembly
Take a tart base. Pipe the prepared custard cream like the french kiss (refer video).

Place the other tart on top and press gently. Once again pipe the cream on top and garnish as shown in the video.
Did you make this recipe? Tag me today!
Tag me @spicesandflavors to get featured on my FB and Insta pages
If you like my today's recipe then do let me know by tagging me, tweeting me or instagram me. I would love to follow you and your recipes.

Notes:
1.You can print your template from the net. Just search for alphabet cake stencils on google, download it, get it onto word or page document adjust the size and print.
2. Feel free to use any eggless cake as the base like my vanilla or chocolate cake.
3. Any filling of choice can be used too.
Pin it for later: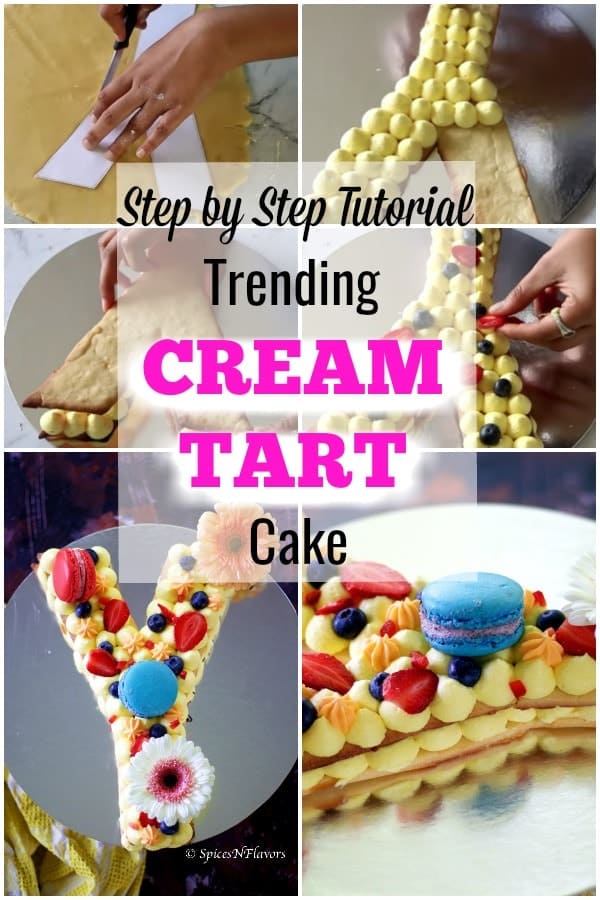 I will see you soon with yet another recipe
Until then
Hugs
Sushma