Chocolate Pudding is one of those decadent desserts that is sure enough to let your mouth linger with the chocolaty aftermath that you would crave for even in your dreams.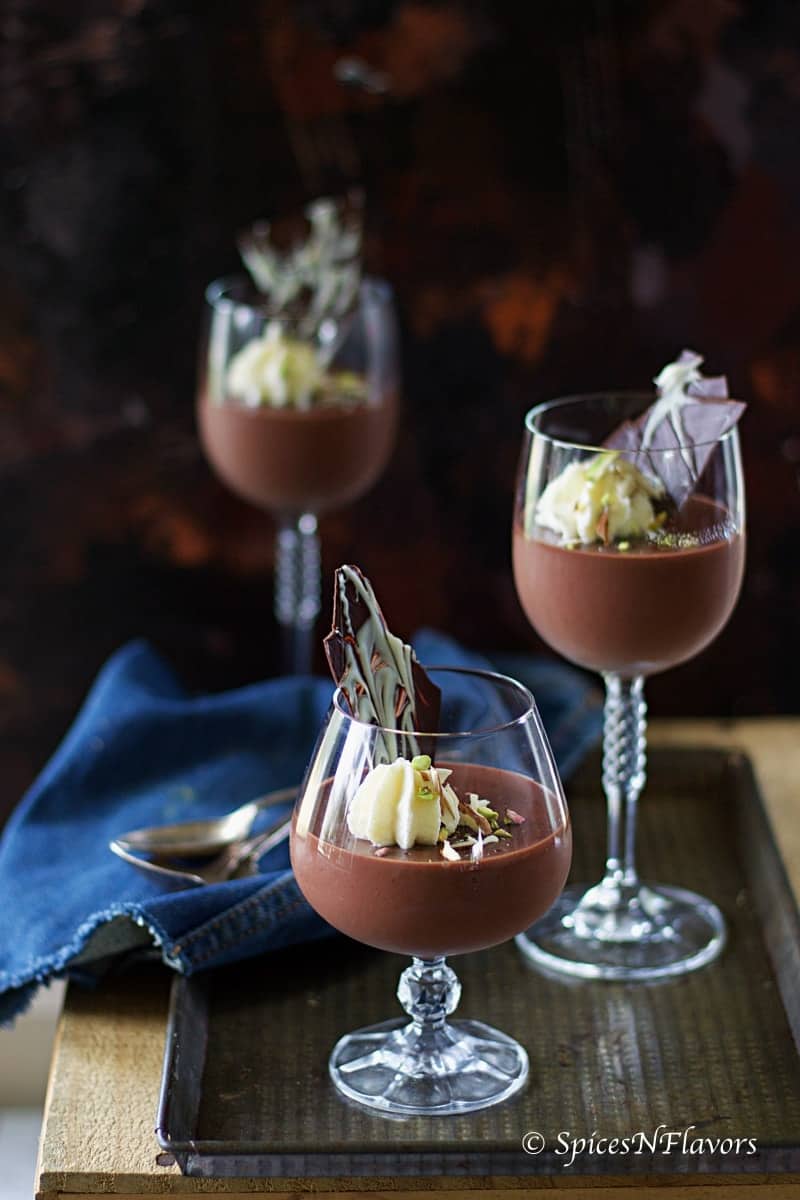 Chocolate Pudding recipe; is one of those recipes that I wanted to share with you all before Valentine's.
You know why?
Well, chocolate and romance go hand in hand. I am pretty sure you all with agree with me on this.
And what if I say this is the most creamiest, silkiest, smoothest and decadent chocolate pudding that you would ever make.
Do you need anything else to make your Valentine special.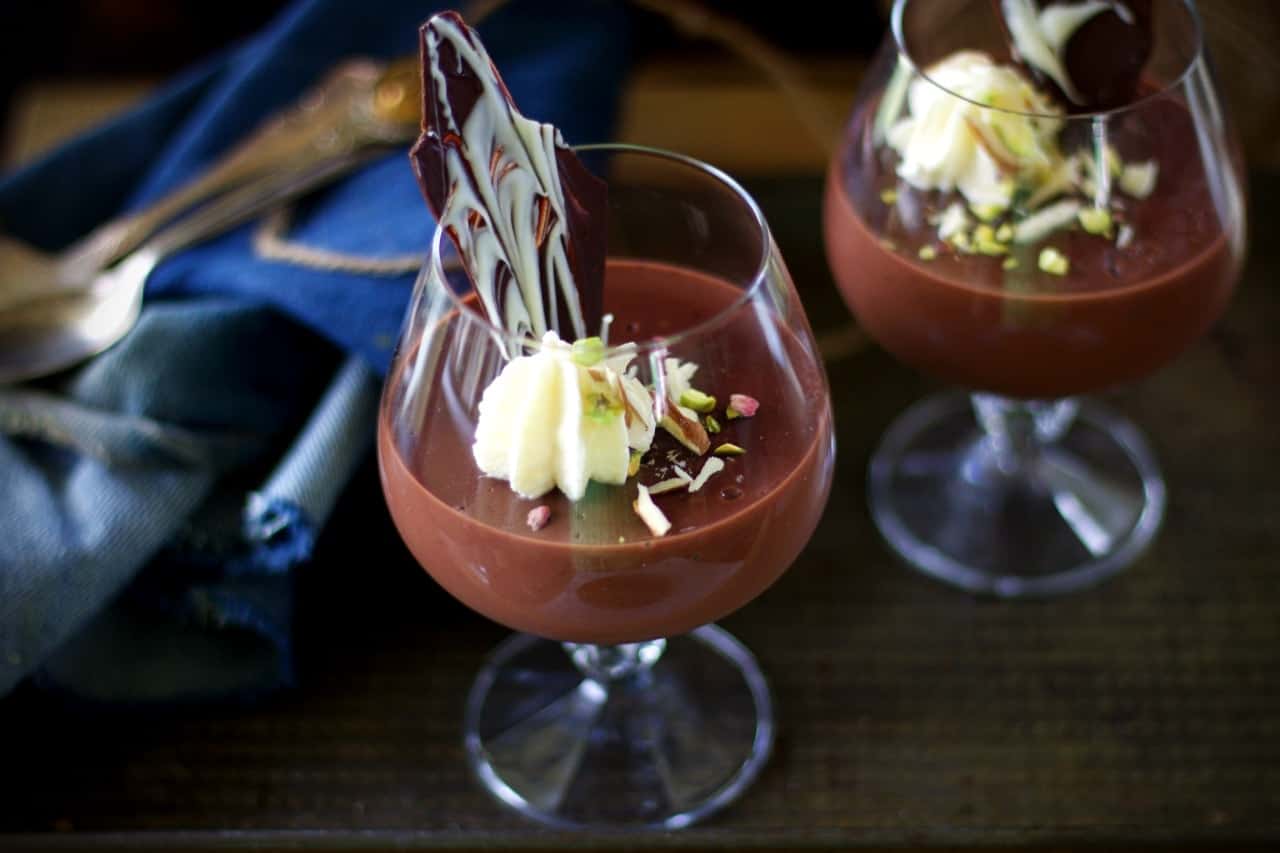 Chocolate makes me feel happy and brightens my mood.. (only if you understand what I mean.. 😉 )
And this Chocolate Pudding is just perfect for that..
A. It hardly takes any time to make this chocolate pudding
B. You do not need either Agar Agar or Gelatin to set this.
C. This is the silkiest, smoothest pudding you will ever have (you guys have to trust me on this and try it for yourself)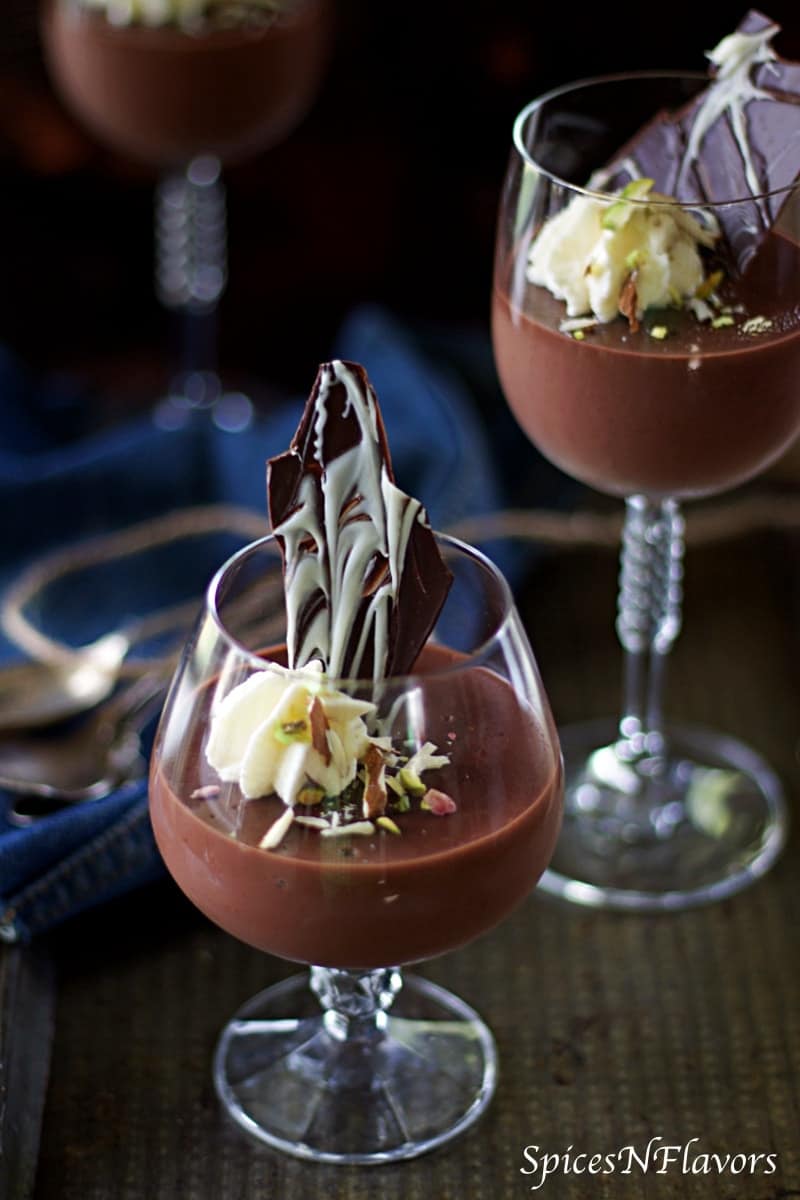 I just love making and sharing desserts with you all..
And when it is Valentine's Day coming up I get all jazzed up and try to share as many as possible..
However, this time of the year I am in India and am totally cut out of blogging. But still, I have prepared some additional recipes so I would definitely be sharing at least one new recipe each week.
Apart from this decadent Chocolate Pudding that I have made for this year's Valentine's Day I also have one more recipe coming up for you guys next week.
But you should definitely check out these other recipes that would work perfectly fine for your quick fix this year..
1. 11 desserts for Valentine's under 10 mins.. (yes I am serious!!!)
2. 5 mins Chocolate Bark.
3. Eggless Red Velvet Cake in a jar
4. Quick, easy and Dreamy Hot Chocolate
5. Salted Caramel Freakshake
Here is the detailed recipe:
Liked this recipe?
Let us know by giving it a star rating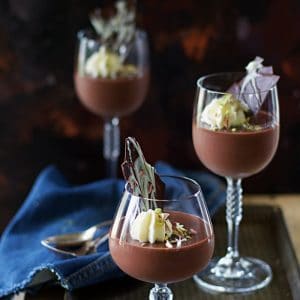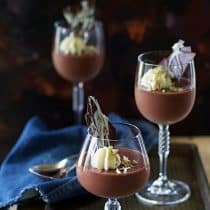 Print
Eggless Chocolate Pudding without agar agar or gelatin
Eggless Chocolate Pudding is a luscious, creamy, silky and smooth pudding that is so chocolaty and is also made without using any agar agar or gelatin.
Ingredients
1/2

cup

sugar

2

tbsp

cocoa powder

1

tbsp

rice flour

2

tbsp

corn flour

1/4

tsp

salt

2

cups

milk

3

tbsp

cream

50

gms

dark chocolate

finely chopped
Instructions
Combine together sugar, cocoa powder, rice flour, cornflour and salt in a saucepan. Add milk to that and mix until homogenous.

Place this on the gas stove and stir continuously until it you see small bubbles around the edges of the pan (refer video)

At this stage add the cream and finely chopped chocolates. Stir until the chocolate is dissolved and the mixture thickens say about another 3 mins or so.

Transfer it to serving glasses or cups and refrigerate until set. (won't take long.. :D)

Garnish with some chocolate barks, whipped cream and nuts
Did you make this recipe? Tag me today!
Tag me @spicesandflavors to get featured on my FB and Insta pages
If you like my today's recipe then do let me know by tagging me, tweeting me or instagram me. I would love to follow you and yours posts..
Notes:
1. Do stir the pudding continuous or else it would stick to the bottom and burn.
2. Also once you add chopped chocolates to the saucepan do not keep it on flame for long or else the chocolates will stick to the bottom.
3. I have used chocolate barks to garnish our chocolate pudding, the recipe for which is already on the blog. Click here for the recipe.
Pin this for later: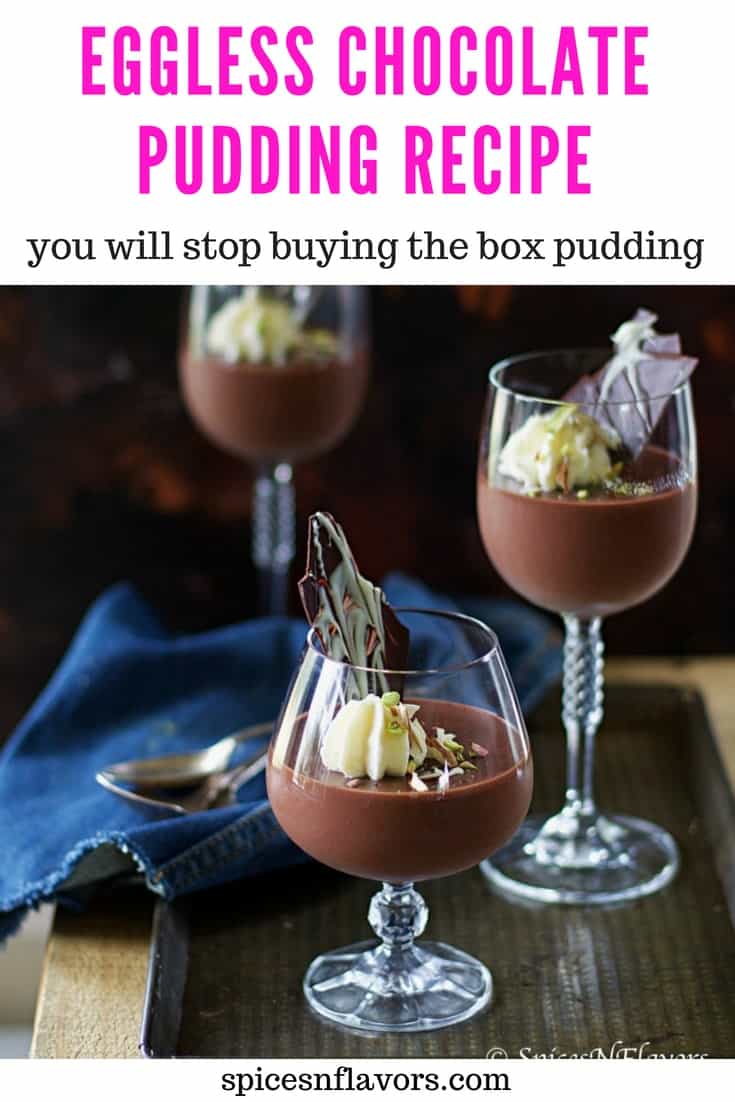 This recipe is adapted from here.
I will see you soon with yet another recipe
Until then
Hugs
Sushma