Fresh Fruit Tart is one of those classic French tart recipes with a biscuity, crumbly tart base followed by a smooth, thick pastry cream - crème pâtissière and topped with seasonal fresh fruits. A perfect classy and elegant show stopper dessert!!!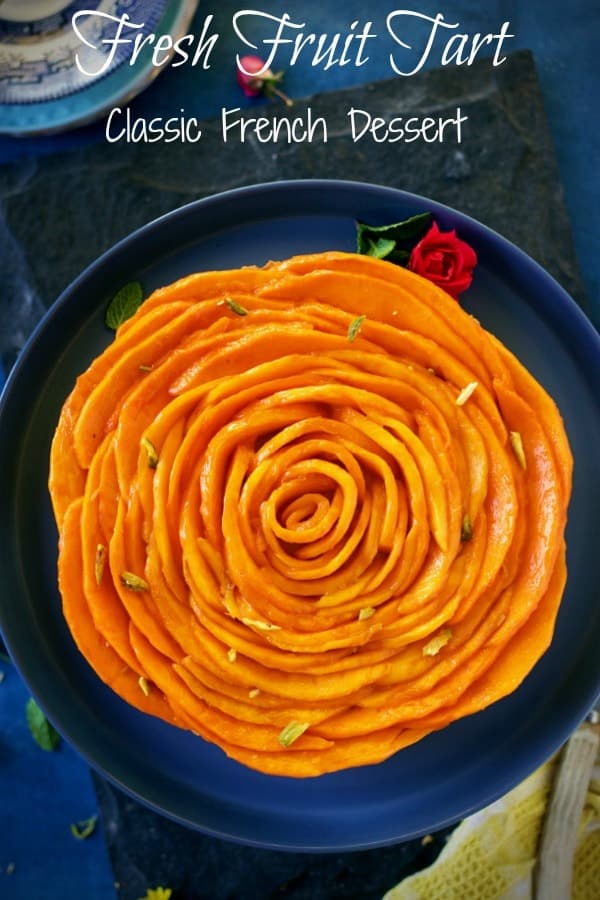 Fresh Fruit Tart - doesn't the name itself sound French?
I clearly remember when I tasted this the first time in my baking course with the description of my tutor running back of my mind; I was taken back to the streets of Paris. The cafes in Paris studded with endless french desserts and amongst them sitting right there a mini version of this Fresh Fruit Tart.
With the first bite of this custard tart I am hit with the tangy yet sweet mangoes with the oh so smooth and lump-free perfectly sweetened custard and with a texture of those biscuity base crumbly in my mouth with a buttery burst; the combination is so deadly that it would make a stunning showstopper of your each party.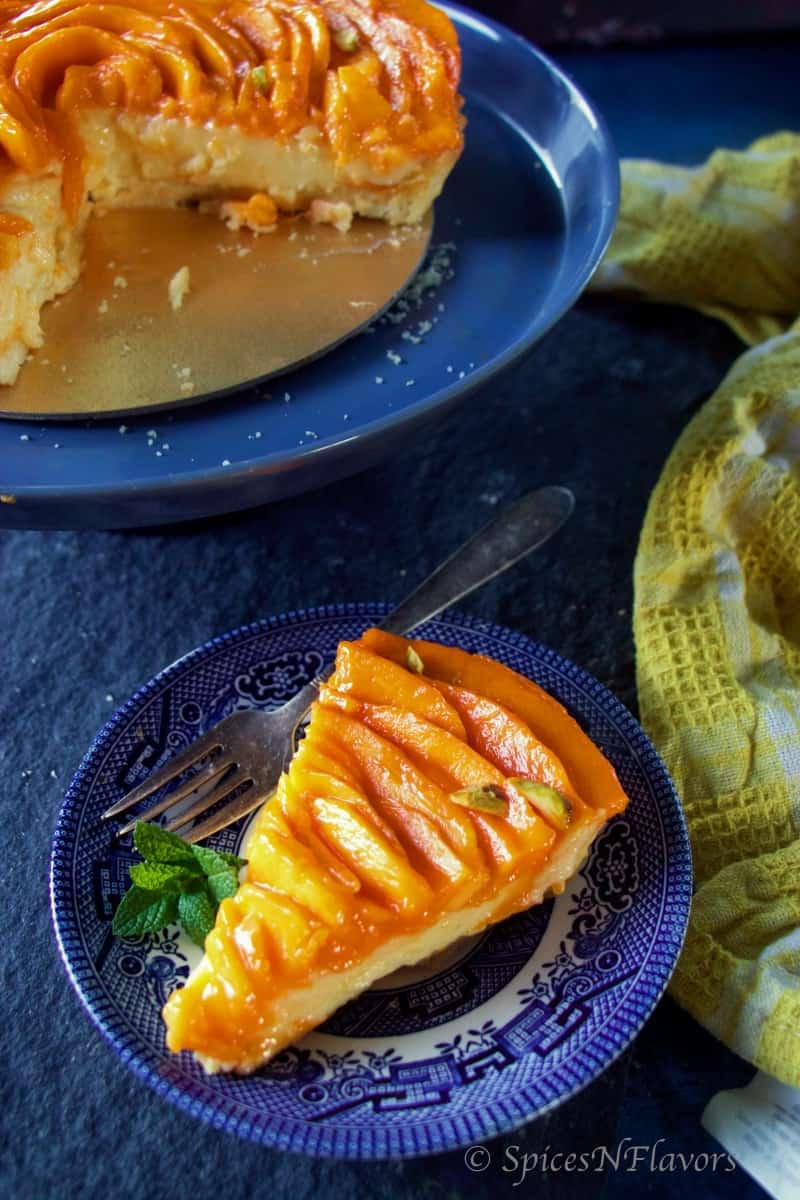 There are certain characteristics of the tart crust which includes:
1. The base of the tart should be tender and crispy
2. It should not be rolled too thin which means that when we line the base it needs to have that proper thickness.
3. The tart crust should not shrink while baking
4. It should be pale in colour once baked.
The texture on the crust is achieved due to the shortening of the gluten.
And shortening of the gluten is done by the RUBBING-IN process.
In the rubbing-in method, the fat is rubbed in with the flour. When fat is worked into dry flour, the fat creates a barrier between gluten molecules (in the flour ) and the liquid (be it the liquid in the eggs or plain cold water), thus preventing them from cross-linking once the liquid is added.
This step is important in the making of pie crusts, flans etc because gluten tends to make the baked end product chewy (example:bread); whereas we want a soft, tender and crispy baked product.
Further, the butter separates into oil and milk solids upon melting while baking which makes the base crispier.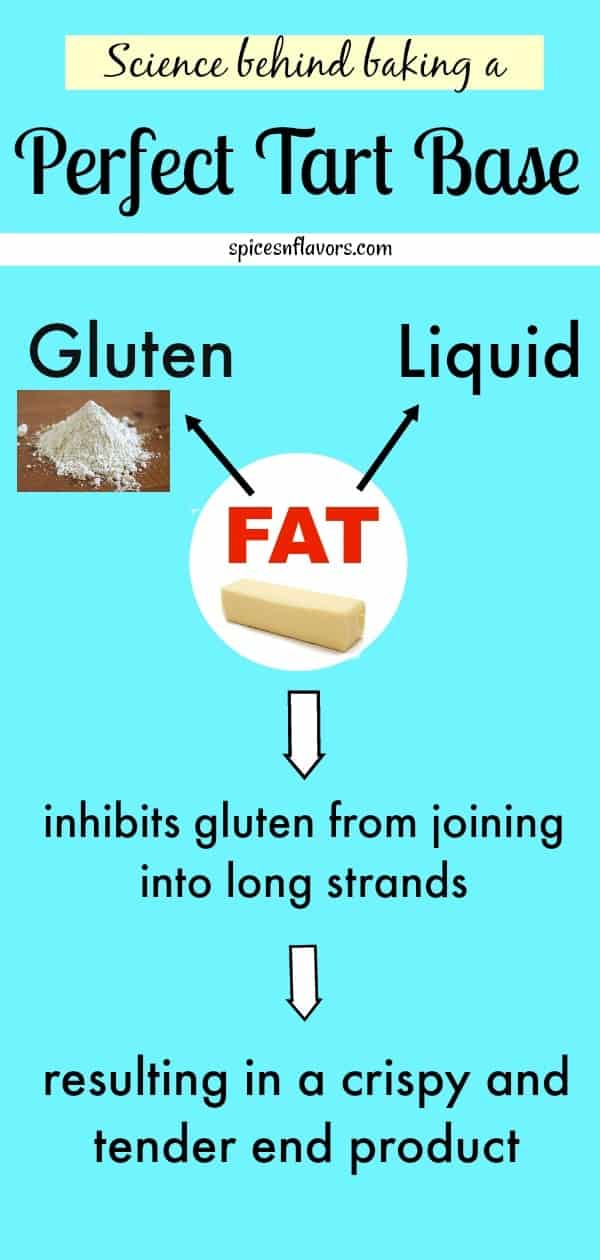 So are these sweet paste or to say sweet tarts vegan?
Definitely not, you need the fat in the form of butter as explained above to achieve that tender crust.
However; I might try to make some adjustments to the above science and see if I could make these fruit tarts vegan. Let's see if that happens or not. 😀
And are sweet tarts gluten free?
We are using all purpose flour in here so definitely not gluten-free. Again will have to experiment with gluten-free flours and see how it works out.. Well, now that's for some future project.
What make a good sweet paste or a perfect Fresh Fruit Tart?
1. A sweet paste or the tart base that has not shrunk
2. Thinly rolled sweet paste
3. Custard filling that is smooth and lump-free and not burnt.
4. Evenly sliced and cut fresh fruits.
Here are my certain tips to avoid shrinkage of the sweet paste dough or the tart base from shrinking while baking:
1. Always use Cold Butter and cut it into cubes. This would ensure that the gluten is inhibited properly.
2. Use cold water: To make sure that the butter does not melt while forming the dough. If you tend to use warm or hot water that would definitely impact the consistency of the butter.
3. Never knead the dough: Now this applies for both a cookie dough or a sweet paste dough. Kneading leads to the development of gluten which is exactly what we do not want in this case. We do not want the gluten to develop at any stage.
4. Resting the dough: It is very important to rest the dough before and after rolling it. That is done to allow the gluten to rest which might get activated by slight kneading or while rolling the dough. (refer video)
5. Many a time you might be asked to trim the excess dough once you have lined the tart tin. But my tip for you guys is to leave just a little bit of excess dough hanging around so that even if it shrinks a little while baking you will still manage to achieve a height equal to that of the tart tin.
6. Blind bake tfor dough using a cartouche to maintain the pale colour of the tart shell once baked.
When I had first shared a recipe of this trending Alphabet (Numerical) Cream Tart Cake; you guys had asked me to share an eggless version of the same. So here I am sharing an eggless Fresh Fruit Tart Base recipe just for you guys.
Instead of custard base you can consider filling this tart with strawberries and cream filling instead which is eggless and a no bake or no bake filling recipe.
And yes, by the way, I have also shared a chocolate version of this Sweet Paste dough in my Chocolate Yogurt Mousse Tart recipe. Do check it out if you wish to.
So here is the detailed recipe of this Fresh Fruit Tart:
Liked this recipe?
Let us know by giving it a star rating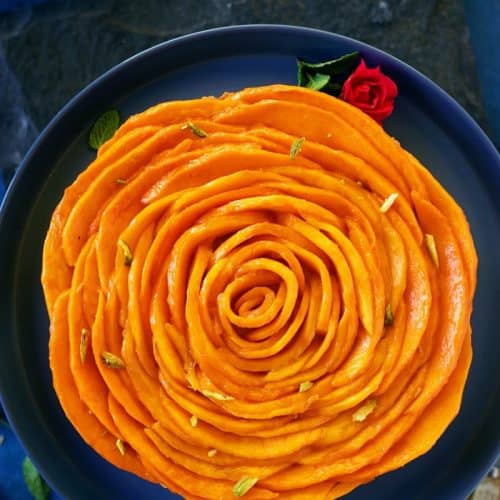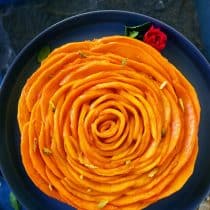 Print
Fresh Fruit Tart | Mango (Eggless) Tart
Fresh Fruit Tart recipe is a classic French Tart recipe that has a biscuity, crumbly base followed by a smooth custard and topped with fresh seasonal fruits.
Ingredients
Sweet Paste Dough Base
200

gms

Plain Flour

100

gms

Cold Butter

cubed

80

gms

Caster Sugar

40

gms

Water

2

gms

Vanilla Essence

pinch of salt
Crème Pâtissière (Custard)
340

ml

Milk

2

gms

Vanilla Bean Paste or Vanilla Pods

2

nos

Eggs

(Refer notes)

80

gms

Caster Sugar

22

gms

Plain Flour

5

gms

Custard Powder
Seasonal Fresh Fruits of your choice
Instructions
Sweet Paste Dough
Rub the butter, flour and salt together until it resembles a wet sand.

Add the sugar and mix well.

Finally, combine it into a dough by adding the water and vanilla essence. Give it a circular shape pat it down, cling wrap and let it sit in the fridge for a minimum of 30 mins.

Roll it out to an even thickness in order to fit the 20 cms tart tin.. Let it rest in the fridge for a minimum of 1 hour. (Refer video for exact procedure)


Blind-bake for 20 mins in a preheated oven of 190°C. And then remove the cartouche and bake for another 5 mins. (Refer video for clear picture).

Crème Pâtissière (Custard)
Whisk together the eggs and sugar until combined. Add in the flour and custard powder. Mix to combine.

In a saucepan, combine together milk and vanilla. Bring it to a rolling boil.

Add the milk to the eggs slowly and gently stirring continuously.

Transfer the milk eggs mixture back to the flame and stir continuously until the mixture thickens. Won't take long around 2-3 mins.

Pour the prepared smooth lump free custard onto the baked tart base and smoothen the top using a spatula.

Allow it to cool completely before decorating it with fruits of your choice.
Did you make this recipe? Tag me today!
Tag me @spicesandflavors to get featured on my FB and Insta pages
If you happen to like my today's post then do let me know by tagging me, tweeting me or instagram me. I would love to connect with you.
Also if you enjoy reading the nuances of baking then definitely check out my chocolate chip cookie post or chocolate muffins post for even clear understanding of science behind baking.
Notes:
1. Always start with cold butter and cold water only then will it be easy to maintain the consistency of the dough.
2. Allow resting period for the gluten or else the pastry dough will shrink a lot while baking.
3. If you are looking for an eggless custard recipe then I have already shared one in my trending Alphabet Cream Tart Cake post you can use that eggless custard recipe here.
4. Use any fresh fruits of your choice. It is totally customisable.
Please do comment below and let me whether you like to read such posts or not so that I can plan my future posts accordingly.
Pin this for later: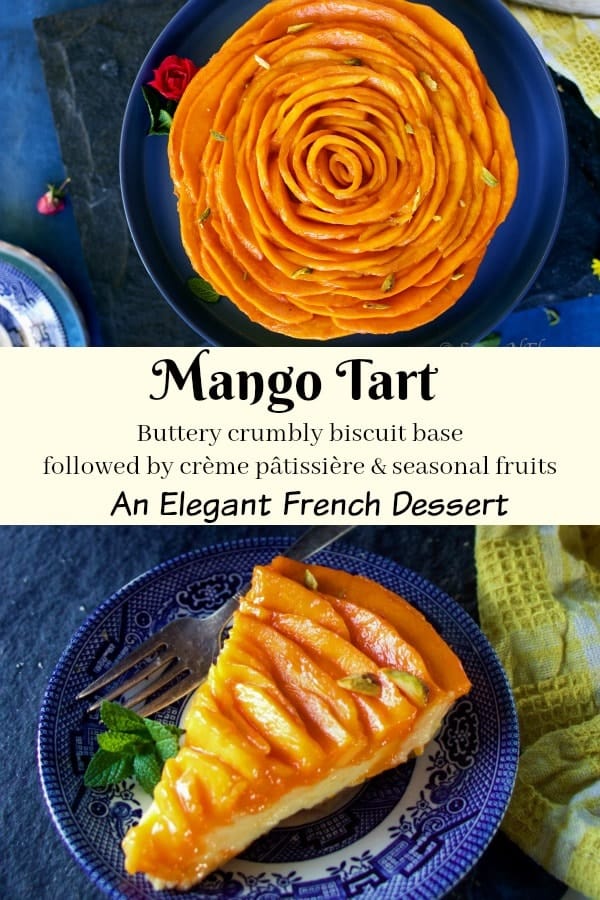 I will see you soon with yet another recipe
Until then
Hugs
Sushma