Mango Falooda is a cold Indian beverage that is made using Mango Pulp, Falooda Sev (Falooda noodles), Sabja seeds (sweet basil seeds), and milk. Additionally, ice-creams and fresh mango pieces are used as a garnish.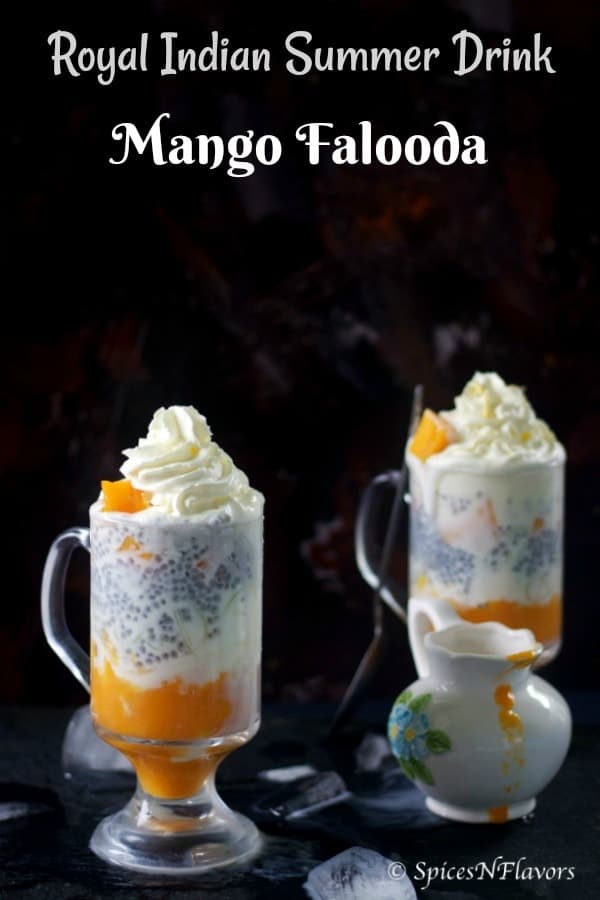 Mango Falooda is one of the many varieties of Falooda that's just perfect to be enjoyed in this scorching heat.
Falooda is a popular cold beverage all around Asia with each country having its own version of the drink.
The basic version of Falooda includes
1. Rose Syrup
2. Falooda Sev or Falooda Noodles
3. Falooda Seeds that is the sabja seeds
4. Milk
5. Ice-Cream (for garnishing)
To make the variations it is pretty simple and obvious right!!
Just replace the rose syrup with whatever flavours you like.
Similar to the way that I have done today; using seasonal fruit - Mangoes I have made this into a Mango Falooda.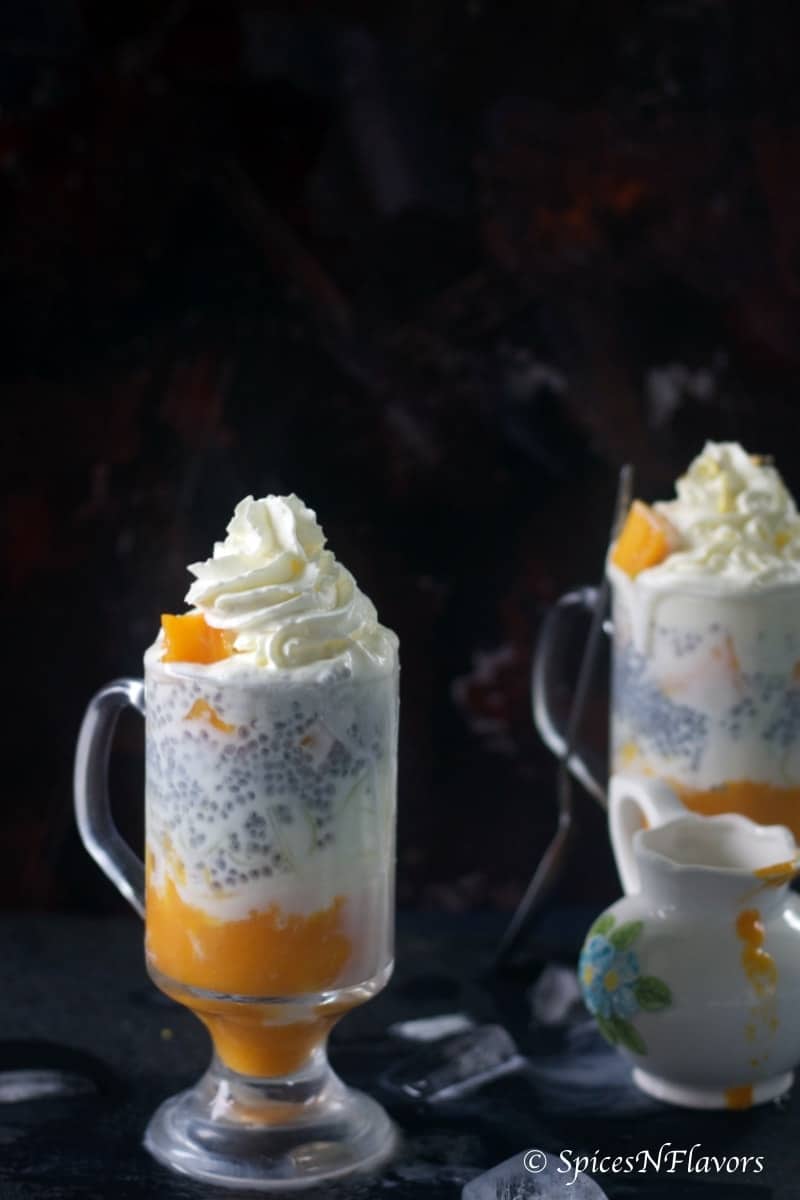 Instead of looking up for "falooda near me" on Google; get up head to your kitchen put on some music and in a matter of few minutes your homemade Fresh chilled Mango Falooda would be waving and smiling at you.
Trust me when I say this guys; it is pretty simple and straightforward to make falooda at home.
Here is how to make Falooda at home?
1. Boiling the milk.
Bring the milk to boil and let it simmer for 10 -15 mins. This step is a must because simmering the milk would make it thicker and creamier which would ultimately richen the Mango Falooda drink.
2. Cooking the Falooda Sev
That's one ridiculously easy step. All you have to do is add the store-bought falooda sev in boiling water and cook until done similar to the way we would cook any other noodles in the world. 😀
3. Soaking the Sabza seeds that is the Falooda Seeds.
These seeds definitely need soaking time. And do remember less is more in this case. The Falooda seeds in English are also commonly known as Sweet Basil Seeds.
4. Prepping the flavour of your choice.
Depending upon what fruits you like all you have to do is just blend it into
Yes it may seem like a lot of steps to make the layers but it comes together all easily because none of the steps is daunting; in fact, it is so simple that even a school going kid could easily make it.
That reminds me that since it is summer holiday season this is one of the best ways to keep your kids engaged. Just involve them with you to make this falooda I am sure they will enjoy it too. 😀 I also have this cold sandwich recipe that you can try out with your kiddo.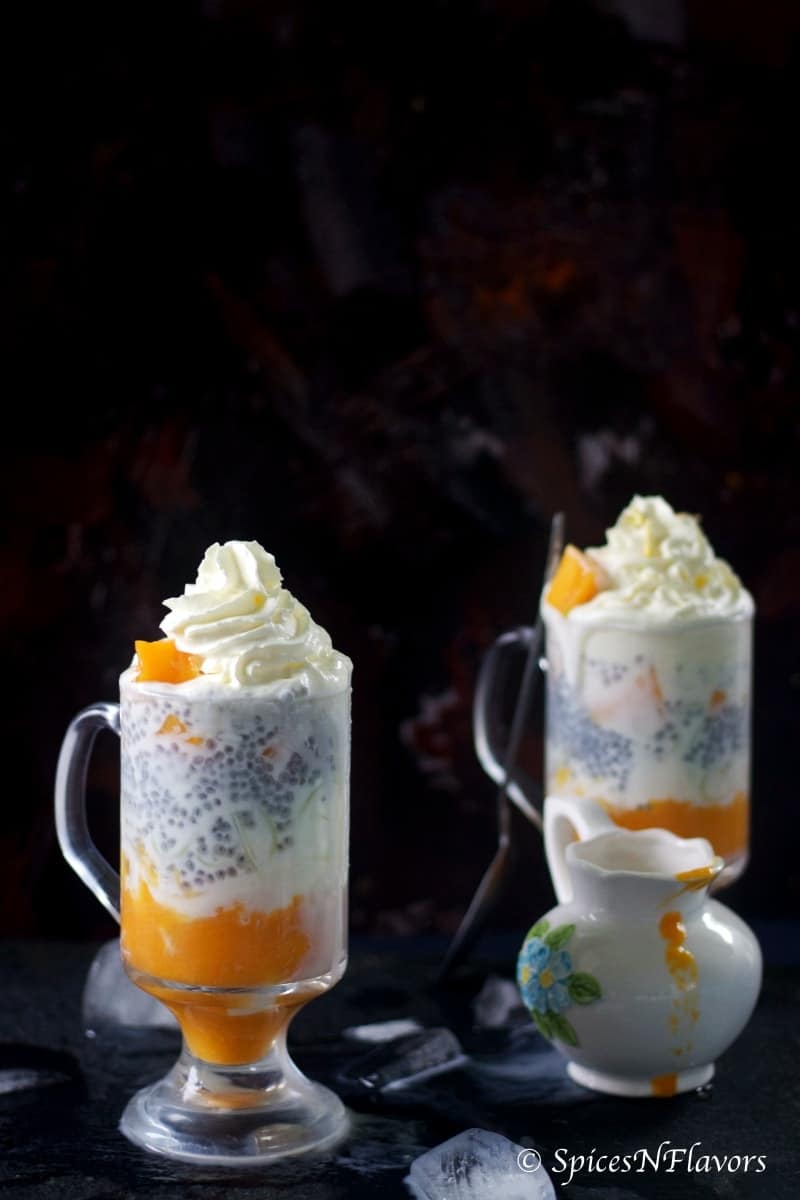 A gift by Persians - This Falooda recipe dates back to that era when Persian traders visited India for business purpose. Of course, the Falooda gained its importance during the Mughal era.
Nevertheless, I am so glad that this recipe came into existence because we absolutely love it, especially to satisfy the midnight craving. Pani-Puri followed by Falooda what a perfect combination!!
Street foods of India have a charm in itself. What is your favourite street food?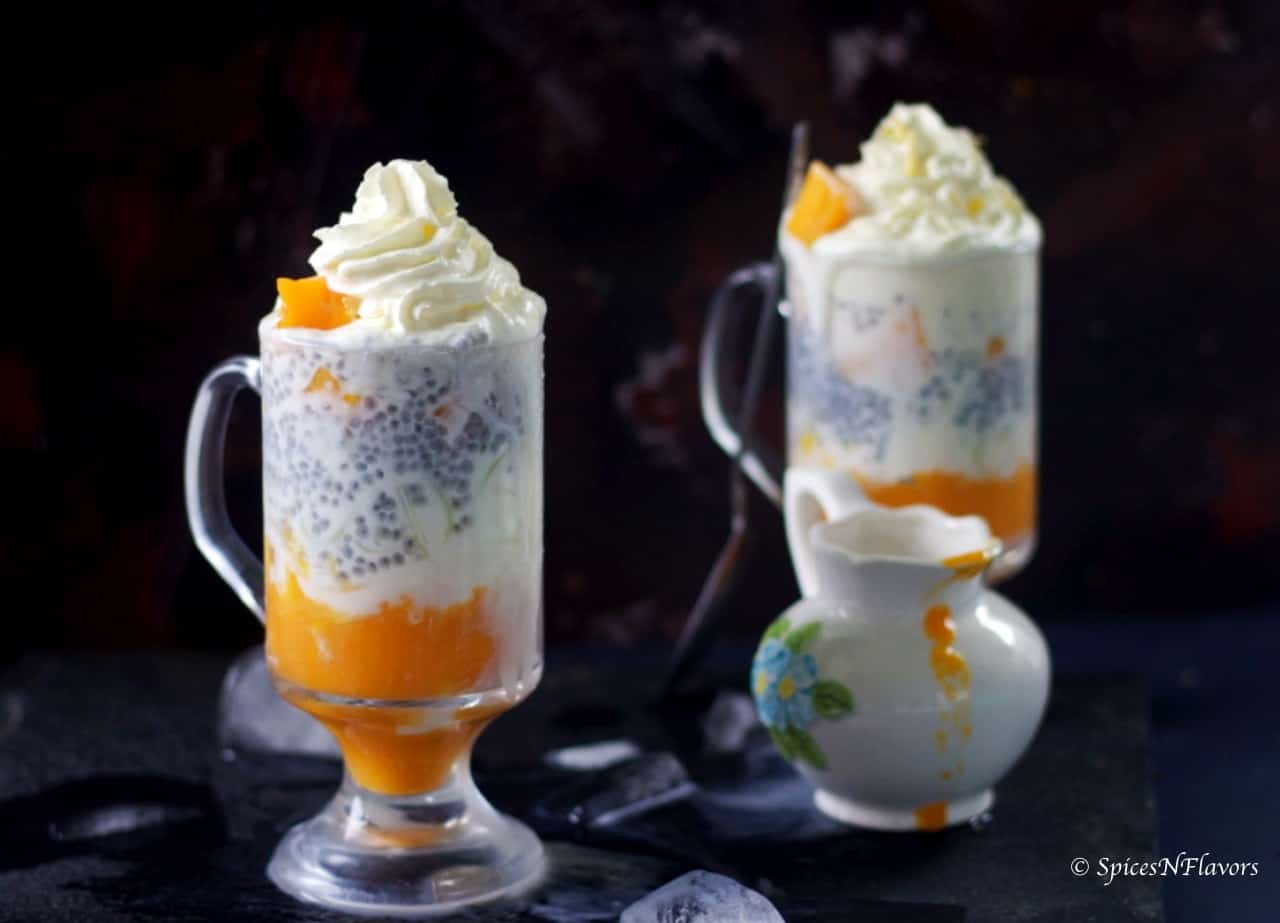 The most common falooda flavours include the rose syrup.
Rose Milk Falooda is the basic version of this Falooda wherein all the steps remain the same except for adding rose syrup instead of Mango here.
The other common falooda flavours include Pineapple, Orange - in fact, any fruit flavours that you could think off.
But if I had to pick one then my favourite would be Dry Fruits Falooda. I absolutely love dry fruits; so much so that I add cashews in my regular cooking too like say for making Lemon Rice even in Rava Upma.
My hubby teases me all the time saying Raees Log ho bhai tum!!! (meaning you are born with a silver spoon leading a luxury life 😉 )
But I assume once a while everything is just fine no..
Coming to today's Mango Falooda recipe:
1. First and foremost the sweetness in here depends on the sweetness of the mangoes. I have added a minimal amount of sugar as my mangoes were really sweet yum.. love it.
2. Sweetening the milk also is a personal preference.
3. I have not used any dry fruits in the recipe. But you can choose to use it and make this a Royal Mango Falooda.
4. Vanilla Ice-Cream and some whipped cream are what I used as a garnish in today's recipe as I ran out of my homemade Mango Ice-Cream. But you can definitely choose any flavoured ice-cream of your choice and this would give you a yummy Mango Falooda ice-cream recipe.
Here is the detailed recipe:
Liked this recipe?
Let us know by giving it a star rating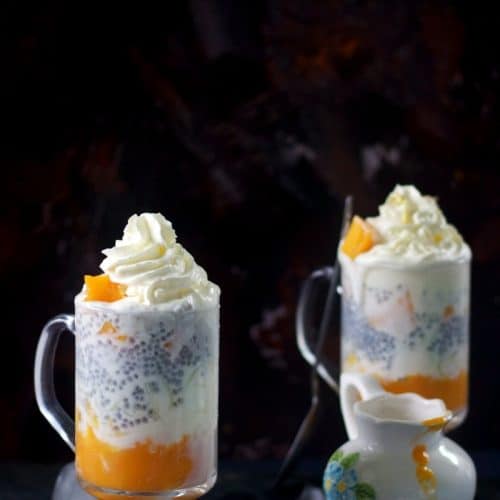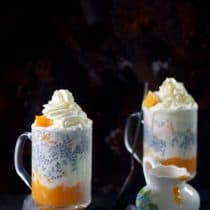 Print
Mango Falooda
Mango Falooda is a layered cold Indian dessert or a beverage that is made up of layers of Mango pulp, falooda sev, falooda seeds, milk and finally some ice-cream or whipped cream as garnish.
Ingredients
2

nos

Mangoes

2

tbsp

Sugar

handful of Falooda Sev

(refer notes)

2

tsp

Falooda Seeds / Sabza seeds

3.5

cups

Water

1.5

cup

Milk

Ice-Cream or whipped cream for garnish
Instructions
Cooking the Falooda Sev/Falooda Noodles
In a saucepan, bring 3 cups of water to a rolling boil. Add the sev or noodles and cook it until al dente just like how we would cook any other noodles.

Once done drain the water and set the noodles aside until ready to use
Simmering the Milk
Rinse the same saucepan and add the milk and 1 tbsp of sugar. Bring it to a boil and then reduce the flame to med-low and allow it to simmer for another 10-15 mins. The milk would thicken and become creamy. Set aside to cool.
Soaking the Sabza seeds
Take 2 tsp of sabza seeds and to that add 1/2 cup of water. Mix and let it sit for 10-15 mins until the seeds absorb all the water and swell up.
Prepping the Mangoes
Peel and chop the mangoes into cubes. Reserve few pieces for layering and garnishing.

To the remaining cubes, add a tbsp of sugar and blend it into puree without adding any water to it.
To layer
In a tall glass, start by adding ice-cubes followed by mango pulp, falooda sev, falooda seeds, fresh mango cubes and finally milk. Garnish with some ice-cream or whipped cream and some more fresh mango cubes. Enjoy the cold dessert with friends and family.
Did you make this recipe? Tag me today!
Tag me @spicesandflavors to get featured on my FB and Insta pages
If you found this recipe interesting then do let me know by tagging me, tweeting me or instagram me. I would love to follow you and your posts.
Notes:
1. Like I said the sweetness of the recipe directly depends on the sweetness of mangoes and your personal preference. Add sugar according to the natural sweetness of the mangoes.
2. Once I add the milk; I like to chill it for further 30 mins because this dessert tastes amazing when chilled. And while serving add the ice-cream on top and serve. However since we are adding ice-cubes and chilling the milk beforehand you can serve it immediately too.
3. Go crazy and try out any flavours of your choice. Do let me know which flavour did you like the most.
4. Add any toppings of your choice like some dry-fruits, fresh mango pieces, mango jelly, chocolate chips just anything that you or your kids love.
5. Little sabza seeds or falooda seeds goes a long way. When you soak the seeds in water they absorb all the water and swell up so use just 1-2 tsp of seeds.
6. You might also be wondering how much is a handful of Falooda Sev. Well, I used around 20 grams but when you open up the packet of falooda noodles you will realise that it is so inter-linked that you would yourself end up using approximately or a handful of sev 😉
By the way if you love Mangoes in dessert then definitely check out my Mango (Eggless) Tart recipe you would love that too 😀
CONCLUSION
Mango Falooda is an ultimate summer drink. A cold beverage or cold dessert perfect to cool you down in this scorching heat.
All thanks to the cooling properties in the falooda seeds.
Being a simple and easy to put recipe I would highly recommend you guys to try it this summer and before the mango season ends.
Top it with ice-cream to make a falooda ice-cream or to be precise Mango Falooda Ice-Cream.
Beat the heat with this cold drink and enjoy your family time.
I will see you soon with yet another recipe
Until then
Hugs
Sushma