Makhane ki Kheer is an aromatic, flavourful Indian pudding aka Kheer recipe that is not only a perfect recipe for occasions but also is loaded with health benefits. To know more about this Makhana Kheer do keep reading.. 🙂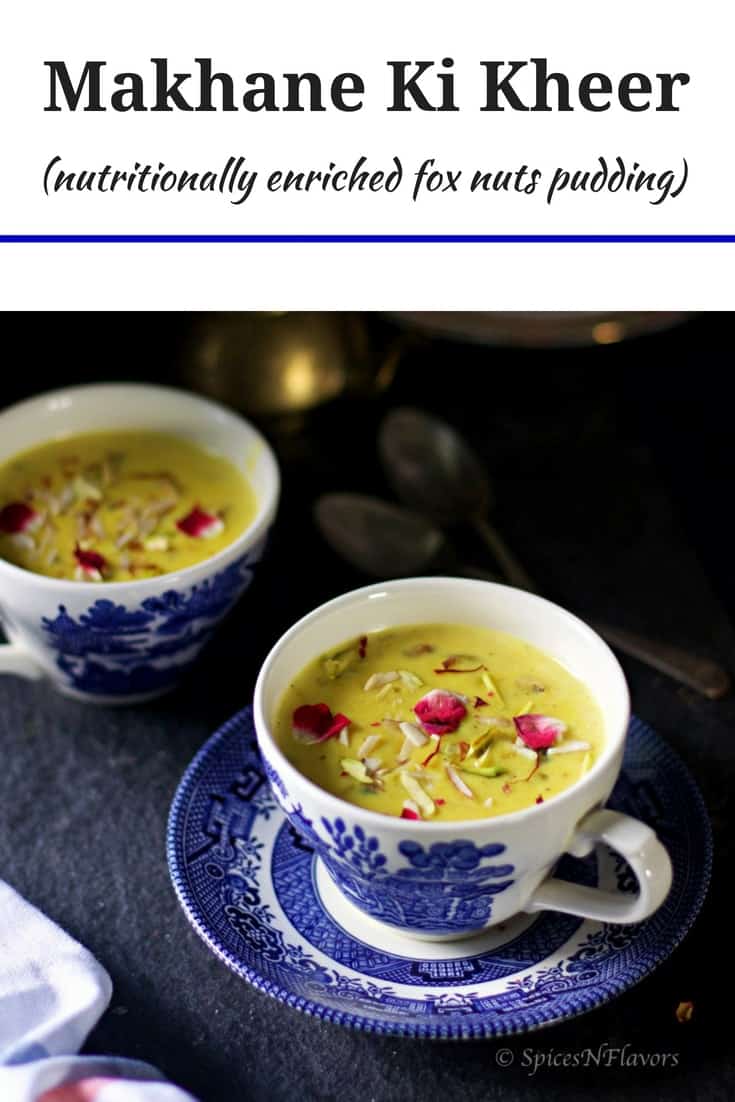 Makhane Ki Kheer - A nostalgic ride..
It was 7th of January; care-free and stress-free I wake up to the aroma of freshly grounded cardamom. The grinding of the little pods in an earthen pot; I get mesmerised looking at the milk boiling over in that iron karahi (Indian cooking pot).
The bubbling white pearls - a regular food (milk) today adorned in the beauty of rich yellow drape; thanks to the naturally coloured Saffron strands.
A hand that has worked through ages; my Mom lovingly and smilingly adorns the Kheer with those fried cashew-nuts and pistachios; turn towards me to give the most precious gift - A hug and whispers "Happy Birthday".
Be it someone's birthday, my parents anniversary, any Indian festival - all the celebration is incomplete without making a kheer. I am sure you all might also have a story to say when you think of Kheer. What is it? I am curious to learn? Share it with me guys 😀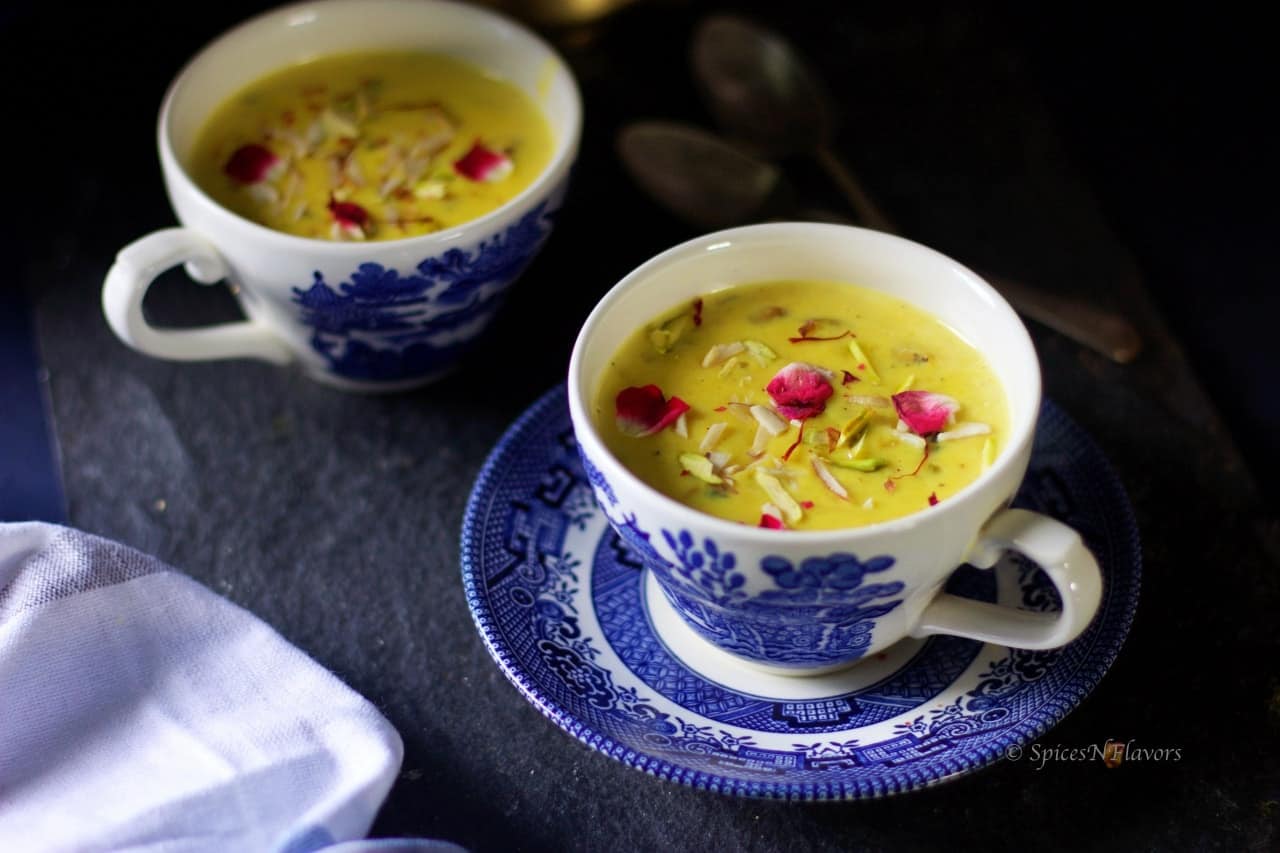 I have always enjoyed Rice Kheer all through my life. Even blogged about it before - had made Kheer with Jelly for our anniversary. You guys must definitely check it out.
So what is this fuss about making Makhane Ki Kheer or Makhana Kheer all about?
For those of you do not know let me tell you fox nuts or makhana are a part of the lotus flower. These seeds are often used in quite a few Indian sweets and savouries like kheer, raita or makhana curry, and are also eaten as an evening tea-time snack.
Today I am sharing with you the Makhane ki Kheer recipe. But, at the end of this post I will also be sharing with you all how to eat makhana or to say include makhana in savoury recipes.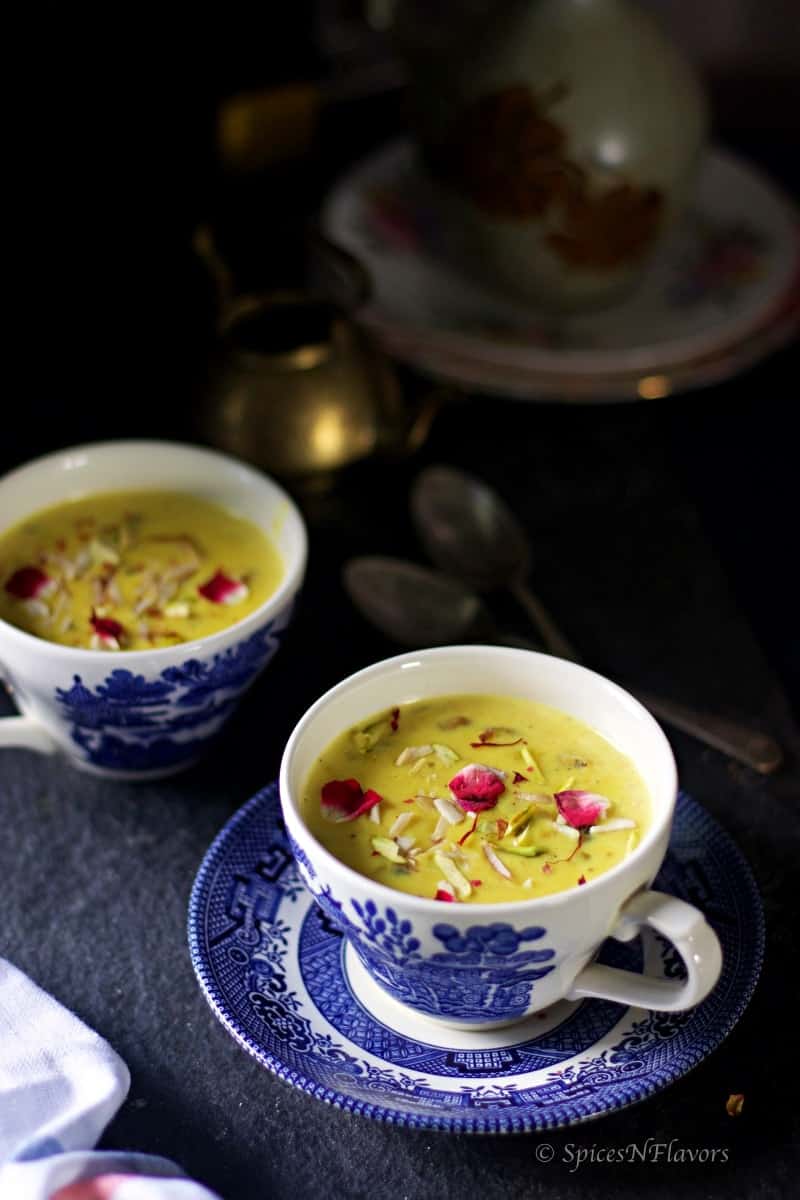 Did you guys know Makhan is so nutritionally enriched that it is considered superior to dry fruits like almonds and walnuts?
Benefits of eating makhana:
1. They are low in cholesterol, fat and sodium. This makes them an ideal snack to satiate those in-between meal hunger pangs.
2. It is a rich source of Calcium and a boon for mothers like me. I mean Yoshana has all of a sudden stopped having milk; but these crunchy and crispy healthy Makhana comes to my aid and helps me keep up her daily calcium need 😀
Makhana in Pregnancy:
Consuming phool makhana would help a woman to increase her fertility. And just like walnuts, the high nutrients contained in phool makhana are good for a pregnant woman who is facing a high risk of gestational diabetes, hypertension and the high calcium contained in Phool makhana is very good for the fetal development.
Moreover, whether you are expecting, have just recently delivered, are trying to lose weight after pregnancy, starting weaning foods for your little one, or pondering over what is the best finger food for your toddler. Look no further for Makhanas are here!!!
Protein in Makhana:
Makhanas are gluten-free, protein-rich and high in carbohydrates.
Makhana for Weight-Loss:
Makhanas are quite low in calories, which is why they have become so popular as evening weight loss snacks, which you can munch on happily. A 50gms serving of dry-roasted makhanas has 180 calories and no saturated fat or sodium at all. Dry-roasted means that no grease or oil has been used in roasting the makhanas.
Makhana nutritional information:
1.Makhanas are rich in good carbohydrates and proteins.
2.It has anti-inflammatory and anti-ageing properties.
3. Makhanas are also rich in iron
No No No.. haha.. I am not marketing Makhanas for any particular brand or trying to sell you anything.. 😉 This is purely out of interest that I am sharing with you all the benefits of Makhanas and encouraging you to try it out in your kitchen 😀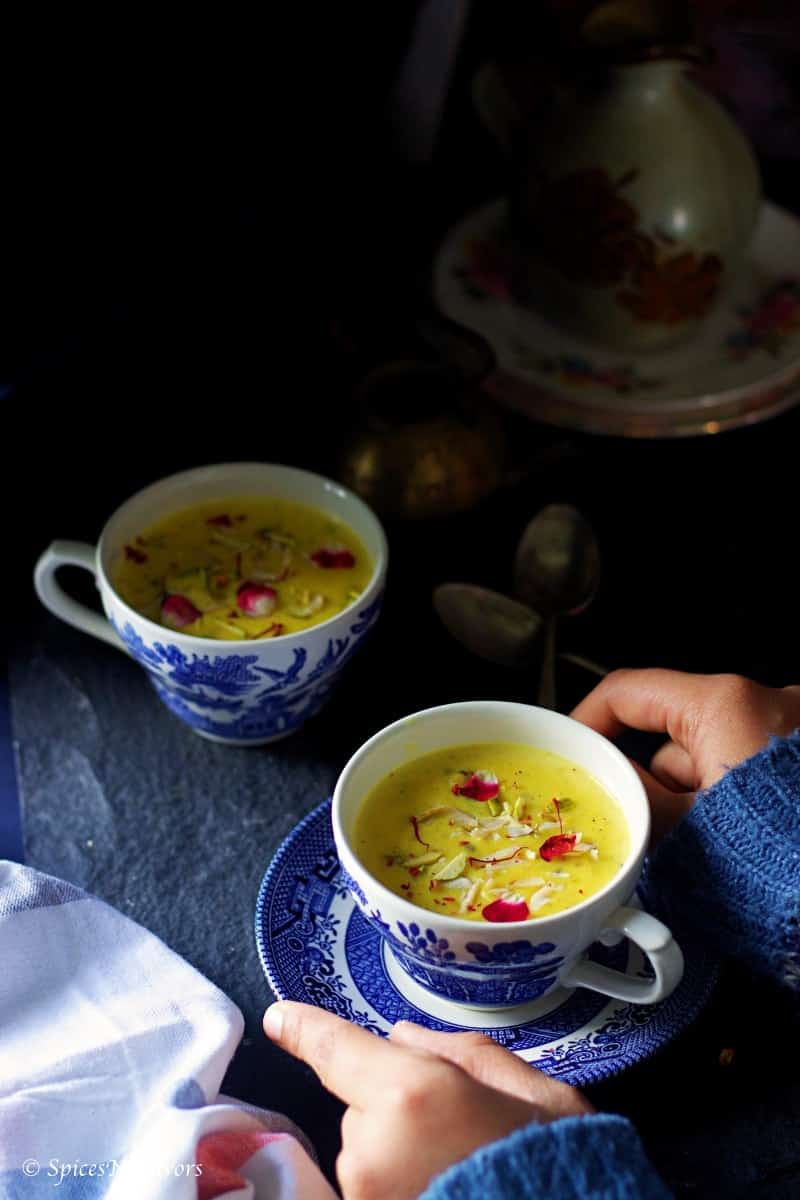 By now reading all my posts so far you all might be knowing that its freezing out here in my part of the world.
I have always had a special place for Indian sweets in my heart. The soothing and comforting warm cuppa kheer is all I am craving in place of my favourite Masala Chai today.
And that is exactly why I have made this Makhane ki Kheer today. What is your favourite kheer by the way? Have you all tried Makhane ki Kheer before?
Well before we see the recipe for making Makhana kheer let me share with you all how to roast Makhana first?
I mean yes, its no rocket-science here.
You can eat the Makhana seeds raw too, but it is kind of soft and chewy which many of us do not prefer.
Roasting the Makhanas brings out the flavour in it also makes it crispy and crunchy perfect for munching.
You can choose to either dry roast it if you are making savoury snacks recipe using Makhana or roast it in ghee like I am doing today in this Makhane ki Kheer recipe.
If you are after weight-loss then definitely dry roast or roast it in just a tsp of oil.
Here is the detailed recipe for making this Makhane ki Kheer:
Liked this recipe?
Let us know by giving it a star rating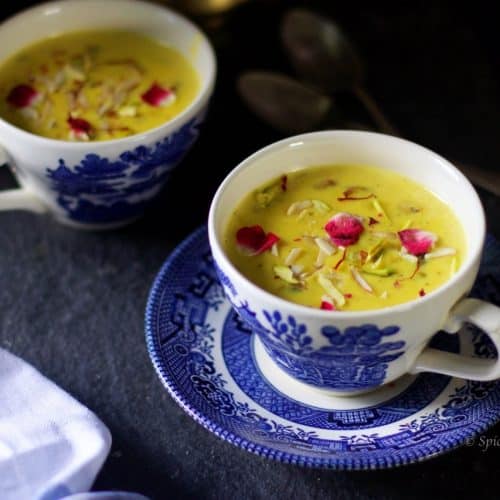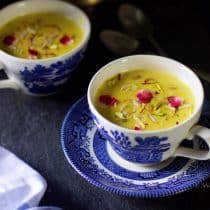 Print
Makhane ki Kheer | Makhana Kheer
Makhane ki Kheer is an aromatic and delicious Indian pudding recipe with the added health benefits of Makhana
Ingredients
2

tsp

Ghee or Clarified butter

1.5

cups

Makhana

3

cups (750 ml)

Milk

1/3

cup

Sugar

1/2

tsp

Cardamom powder

Big pinch of saffron

3

tbsp

Slivered nuts of your choice

(almonds, cashewnuts, pistachios etc)
Instructions
Over medium heat, add the ghee in a saucepan and once it melts, add the makhana and roast it until light golden brown in colour. Take it out in a blender and grind coarsely. Keep aside.

In the same saucepan, add milk. Once it starts simmering take out 2 tbsp of milk and add it to the saffron strands. Mix and set it aside for the saffron to release its flavour and ready to use.

Cook the milk until it reduces in quantity (around 10 mins). Keep stirring in between and also scrape the sides of the pan every now and then.

Once the milk has reduced to what you had started with add the makhanas and let it cook for further 5 mins.

Add in the sugar, cardamom powder, saffron milk and nuts. Let this boil for another 10 mins or so. Or until you achieve the desired thickness of your choice.

Garnish it with some more nuts, saffron strands, rose petals etc. Serve it warm. Tastes amazing when chilled too 🙂
Did you make this recipe? Tag me today!
Tag me @spicesandflavors to get featured on my FB and Insta pages
There is something about slow cooking and traditional way of making Kheer.
Slow cooking the milk makes it, even more, creamier, thicker and to be precise what we say malaidaar - the right term.
Apart from being so yummy, this Makhane ki Kheer has so many nutritional and health benefits making it a perfect way to introduce makhana to your little ones.
If you are looking for savoury recipe ideas using this Makhana here is the procedure for you:
1. Dry roast the makhanas until light brown in colour. You may observe that it also starts popping. And when you crush it between your fingers it will break easily.
2. Keep this in an air tight container and mix in as many flavours as you like when needed.
For eg:
A. Simple Chilli Makhana
Take a tsp of oil in a pan. Add little chilli powder to taste. Mix for few seconds and add the makhanas. Salt to taste. Mix well and your chilli makhana is ready.
B. Pav Bhaji Makhana
Take a tsp of oil in a pan. Add pav bhaji masala and saute for a while and add in the makhanas. Salt to taste. Mix well.
You can use any spice combinations like Peri Peri masala, Cheese Masala, Pepper fry etc. Use your creativity sky is the limit.
Store it in an airtight container and use when needed.
Some important notes to make the Makhane ki Kheer:
1. Keep your gas flame from low to med always.
2. Do stir the milk every now and then; scrape the sides of the pan too.
3. The Makhane ki Kheer tends to thicken upon cooling, so allow it boil considerably. If it thickens way too much you can always add some warm milk while serving 🙂
I hope you like this recipe and if you found the information on Makhane ki Kheer informative then do let me know by tagging me, tweeting me or instagram me. I would love to hear from you guys.
Definitely check out some unusual Indian sweets that I have shared before here like the Butterscotch Peda or even No Cook Paan Laddu.
Pin this for later: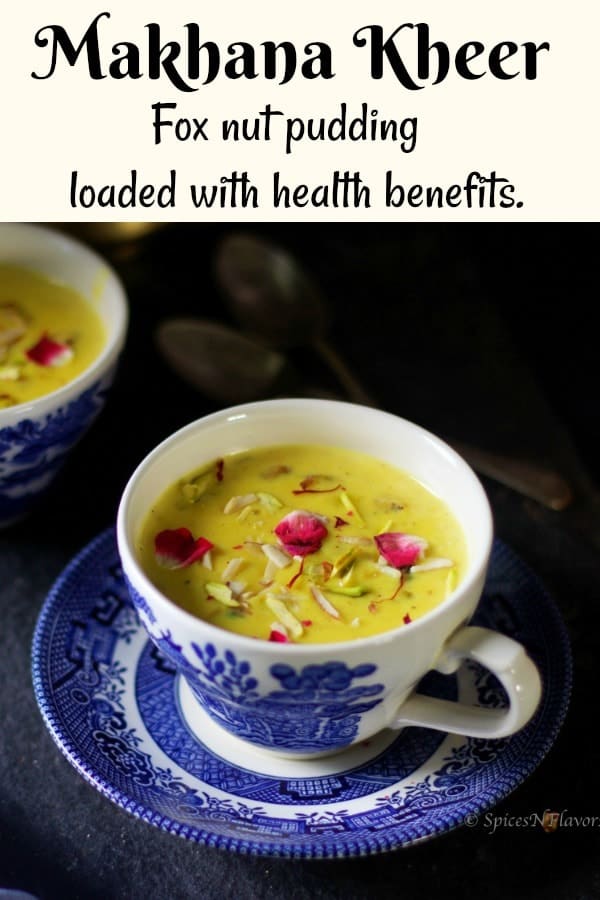 I will see you soon with yet another recipe
Until then
Hugs
Sushma
All the information about Makhana is gathered from following websites:
1. Food ndtv
2. drhealthbenefits
3. fitmoms