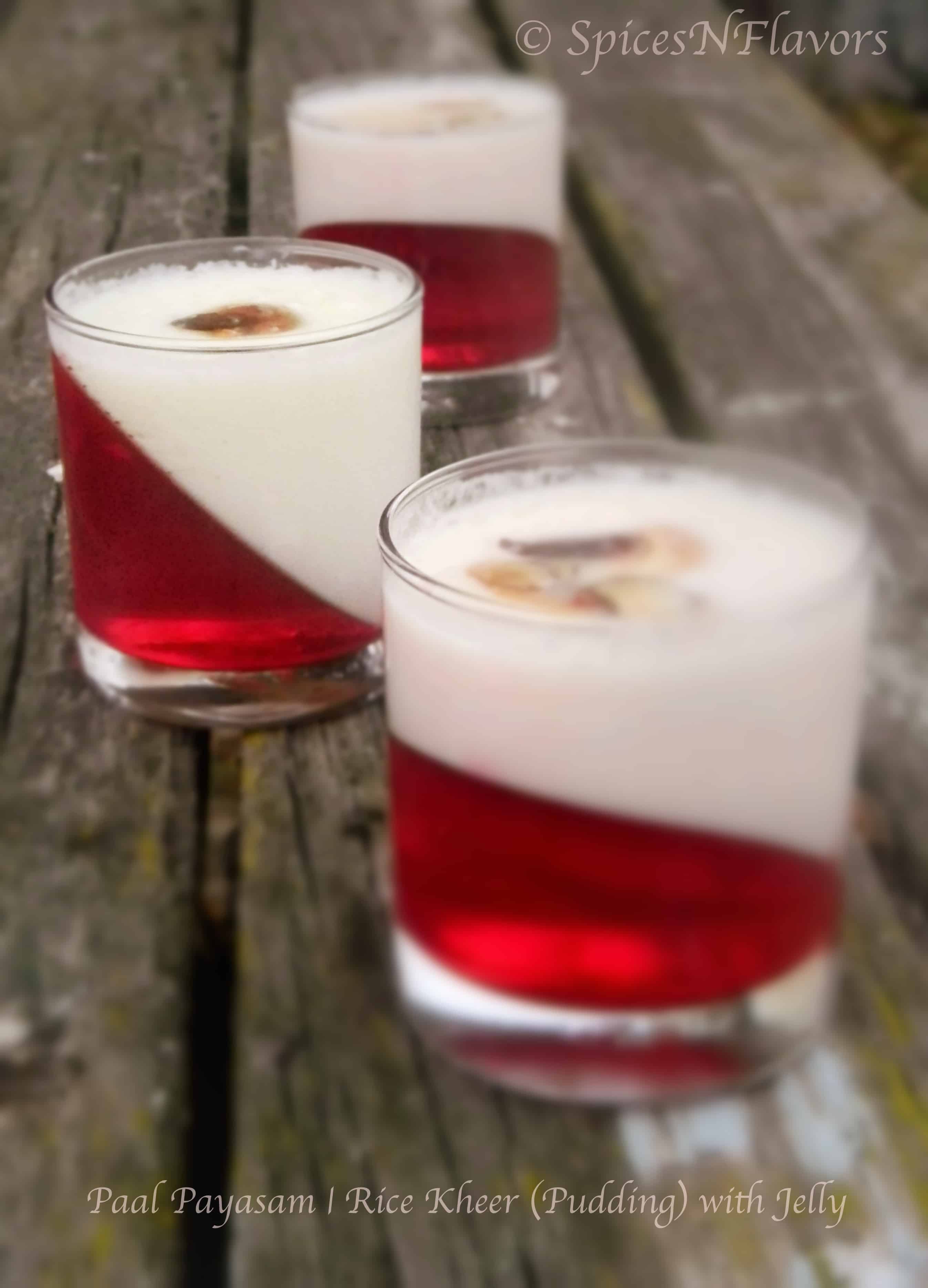 Back from my holidays.. Back from the small trip that we enjoyed to celebrate my journey from being a girl to a lady.. Yes one year of marriage and I learned so many things that it all seemed like yesterday I was the one riding my bicycle on the streets from my tuitions to home dreaming and building castles in my mind about the future that laid in front of me and its today that life has taken a complete "U-turn" of whatever I had dreamed or planned..
Yes friends celebrating my First Wedding Marriage anniversary with this Easy Paal Payasam or Rice Kheer (Pudding) with Jelly. A modern twist to the traditional classic Indian dessert. Easy because unlike the traditional method made it in Pressure Cooker, so need to bother yourself with reducing the milk to half and stirring continuously.
So today's post is going to be a bit long jump on to the recipe directly if you do not have time but please do come back to read it in your leisure time.. 😉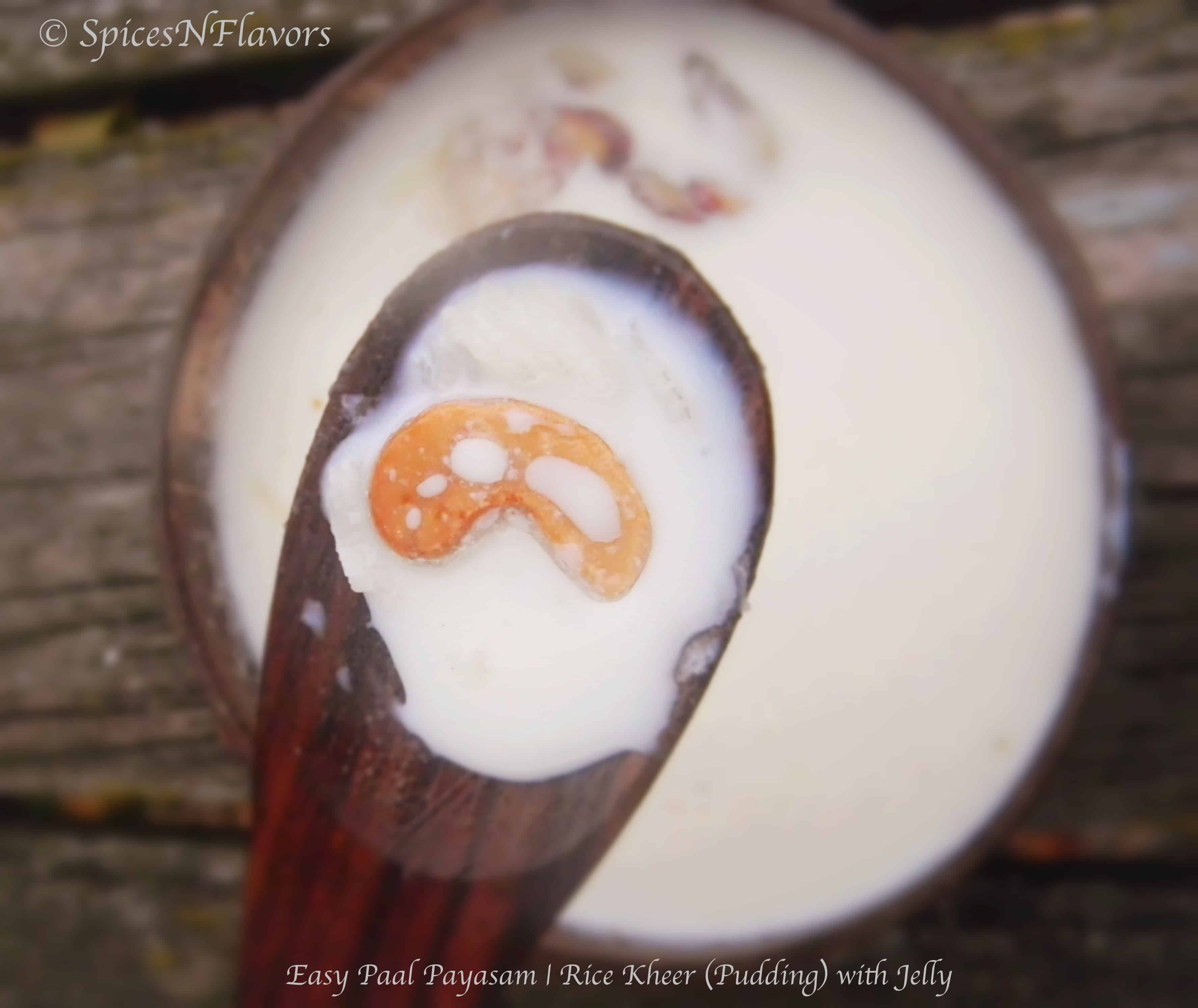 The distance phone ringing and I answered it to hear, "Hello Aunty, How are you??"" (I say distance because HE works in NZ and I was in India then.. 🙂 )
What!!! (Yes that was my reaction..)
From the other end, Aunty its me Raj (HIS nephew)
So that was the first time someone had addressed me Aunty!!! Hahahah.. Now I am used to it but felt weird an year ago.. Lol.. There goes the first transformation. From being just a daughter (or Dad's princess) and a sister (a very very very pampered one); now I am a daughter-in-law, Aunt (of course Aunt is just one relation in English but we Indians know there are 'N' subtitles to an Aunt.. 😉 ) and of course the doting, caring, loving, (am I leaving behind any other adjective.. 😉 ) WIFE. Sigh!!! now that itself calls for a bigger responsibility.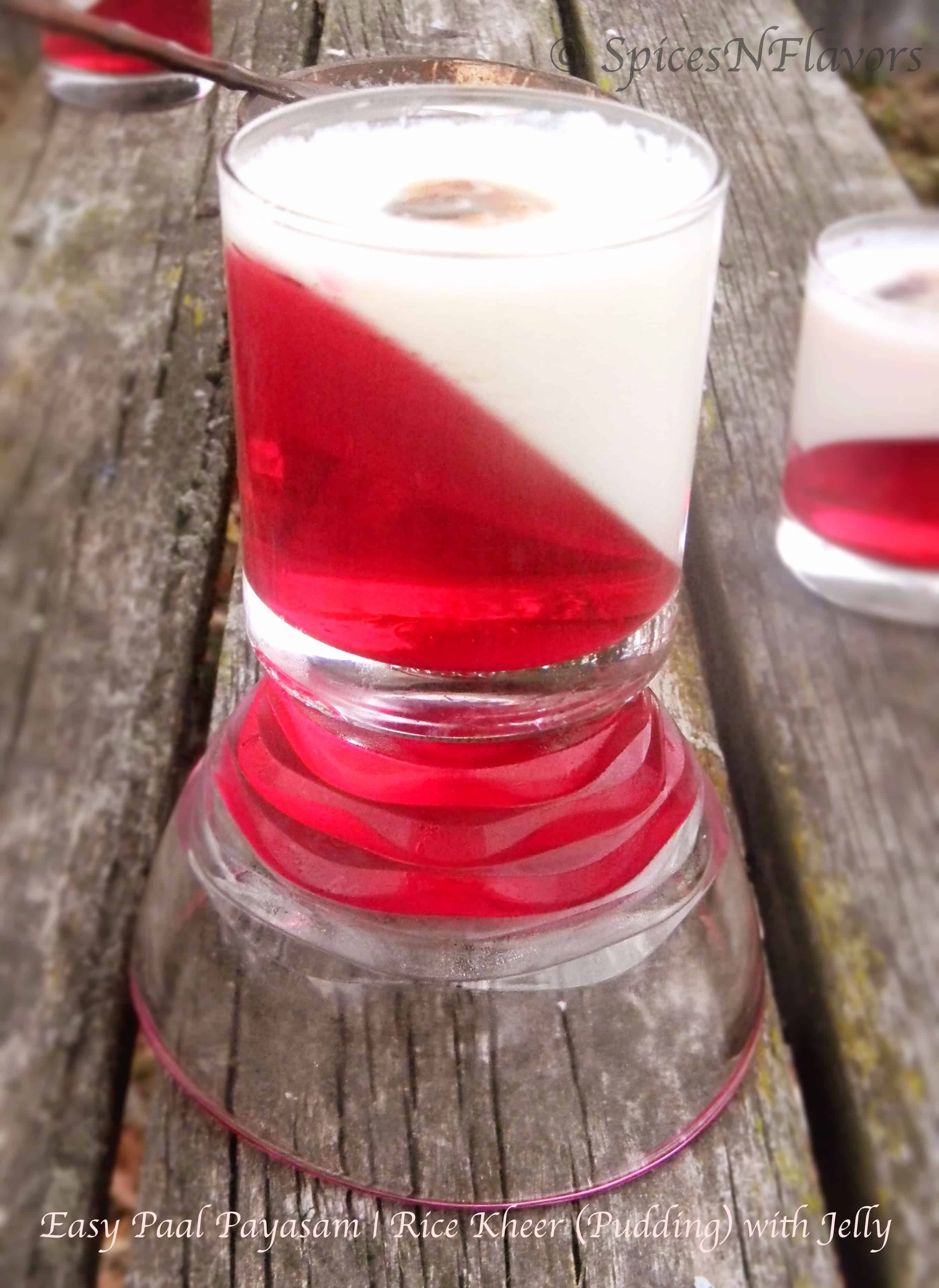 Every girl dreams that one day, her knight in shining armour riding on a white horse would come and sweep her off her feet. Well I do not know about one day but sure enough he came two days before. Two days?? Yes I met him just two days before our marriage and that too for like what 10 mins.. You got me right. I am not kidding; a typical arranged Indian marriage.
Since he was in NZ he could not travel to India just to meet me. Of course Skype was on, but meeting someone in person is a different story.
I met him two days before our marriage and 15 days of marriage I flew down with him to a whole new world.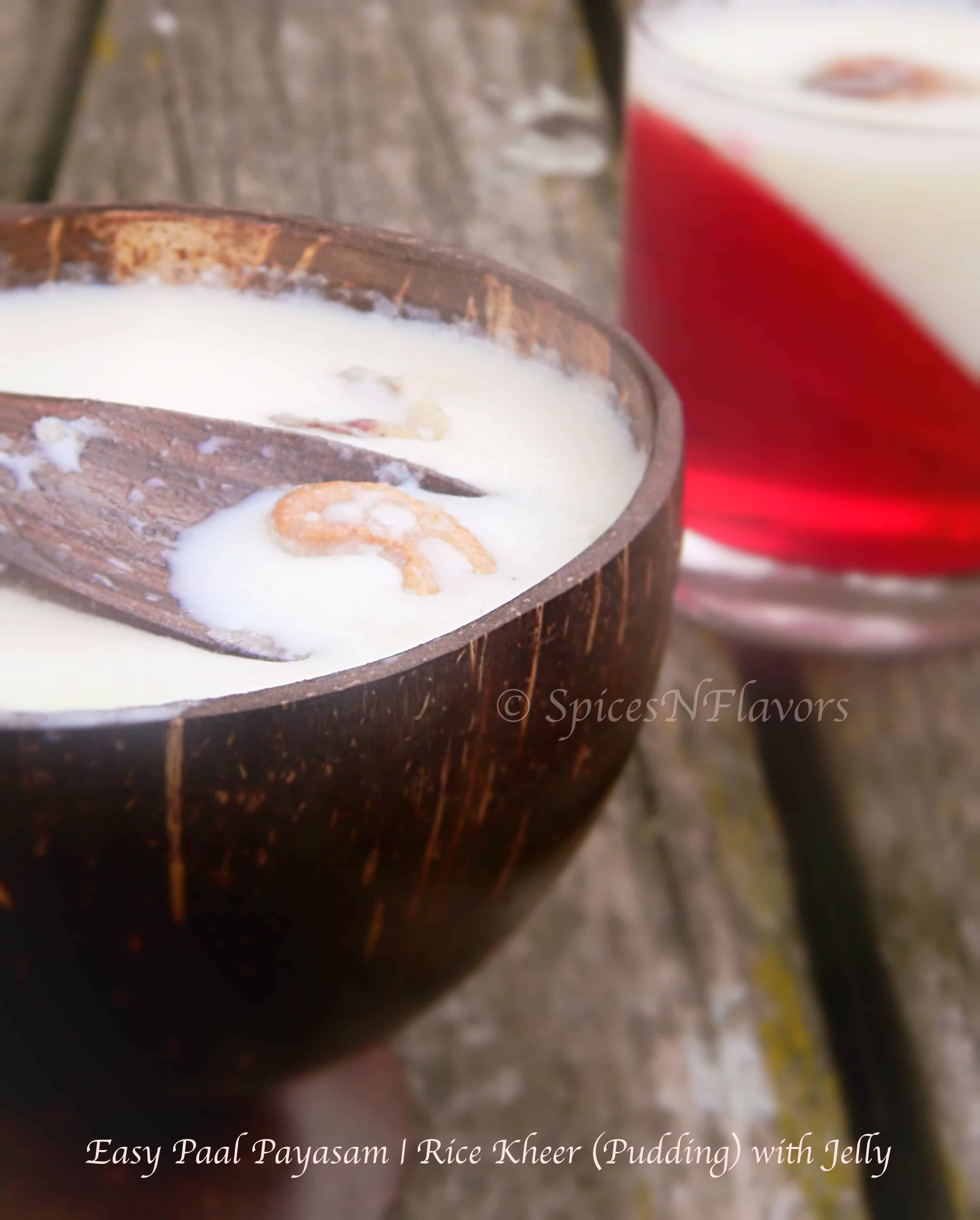 With thumping heart and twinkling eyes; I was not sure whether to feel excited about the fact of entering into the new arena or to feel scared about the difficulties that lie ahead.
I did not know how to cook - well my mother is an amazing cook, I am my Dad's princess and I did say right I am THE pampered sister. So there was no need for me to cook.. 😀
I did not know how to wash clothes - we had a maid for that and if not that there is always Washing Machine.. Ta Da!!!
I did not know how to wash utensils - it was not needed then..
Is there a need to iron your own clothes?? Nahhhh.. The laundry wala used to come to the door step to pick and drop the clothes..
We had maid to clean the house.. so never even bothered to place things at its right place.
From 5 year to 25 years old my Mum used to run behind me in the entire home till I get dressed up for my school, college or even work.
All I knew was to dress up to the core, wear everything complimenting each other right from my head bands and clips to the colour of socks and shoes that I am wearing for the day. Being an above average student had the privilege to study in the best school and college of the city and also work in the Managerial cadre leading the whole branch with perfection.
Call me a spoilt brat or pampered kid, I enjoyed my life to the core in Mumbai..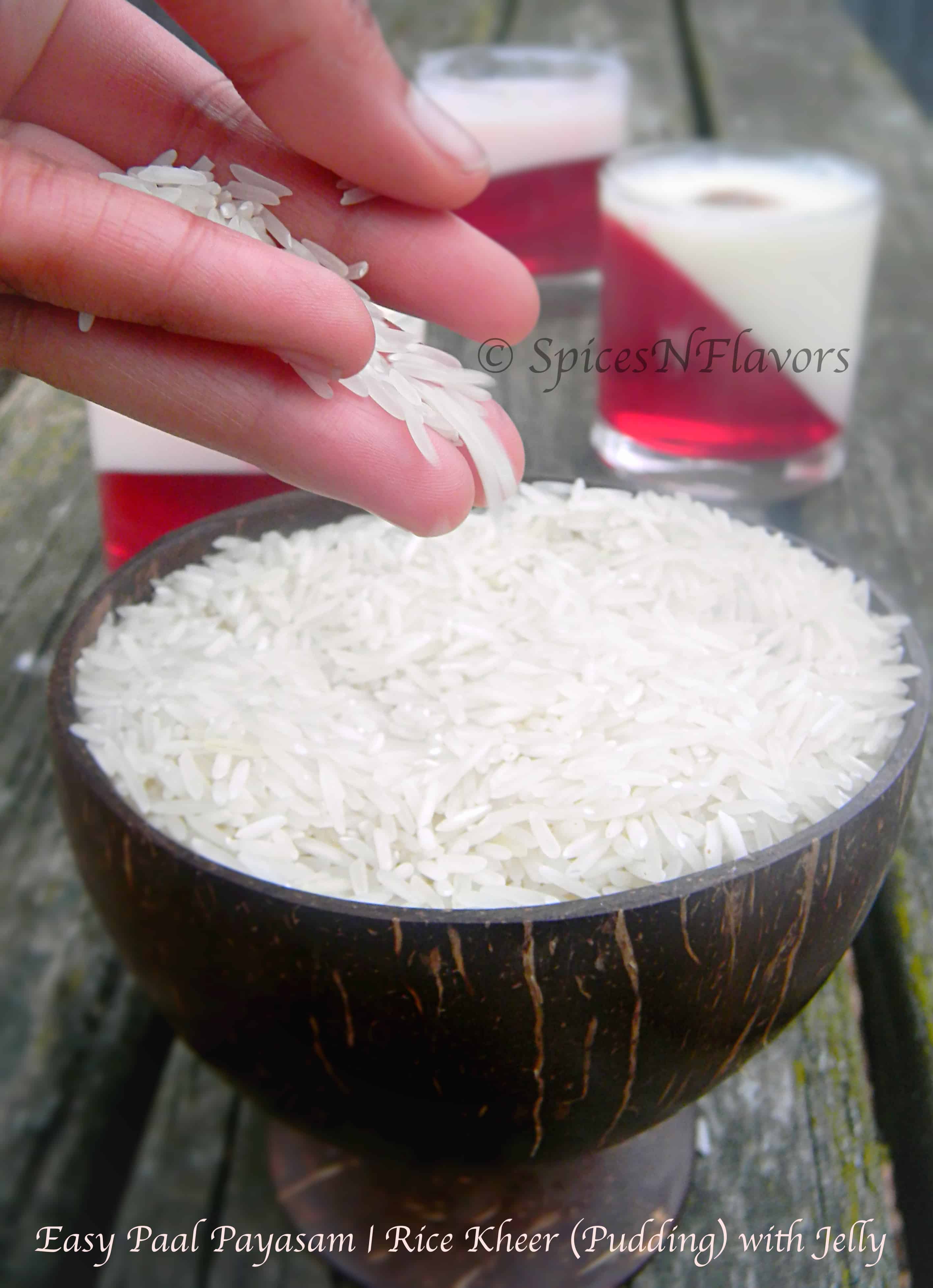 But nothing comes before Destiny!!! Life had some entirely different plans for me..
Left my job.. The girl who used be the leader of a whole branch, one who used to be a free bird was confined to four walls.
Yes there is a need to wash clothes, iron it yourself, wash the utensils, keep your house spick and span because you do not have a helping hand abroad.. 🙁
And most importantly you will have to COOK. There was no other alternative.
It was very depressing in the start to do all the work yourself, taking care of not only yours but also HIS.
I began to grow. From buying matching shoes and clothes for the week ahead, I started buying groceries. From buying an ice-cream for the instant craving I held me behind to plan for the monthly budget. From being a spending thrift I became a saving thrift and all this happened on its own.
There were days when I used to literally cry to myself craving for a palatable food (I did not know how to cook), tired of just the four walls, bored of my LIFE, missing my near and dear ones. No one to turn to, no one to share my feelings. Can't share it with parents or HIM for obvious reasons. The world just stopped moving for me.
But if there is one thing that stood besides me, in front of me, protecting me and guiding me then it has to be HIS affection and care that gradually grew into LOVE. His encouragement, guidance, positivity, belief in me, respect for me made me see the shining sun after the dark night.
The result is in front of you. Today I have my own blog and that too featuring the basic necessity of Life - Food; can you imagine that!!! oooucchhh.. nothing.. just pinched myself as I myself cannot believe it. The foundation to this NEW ME was laid by HIM. Behind every successful man there is a woman but its the other way around for me. I do not know how much success I will receive in this path neither am I concerned, all I know is if I could motivate and inspire at least one person in the world that would be the biggest gift I could present to HIM..
Arranged or Love all you need to be is just be together through thick and thin.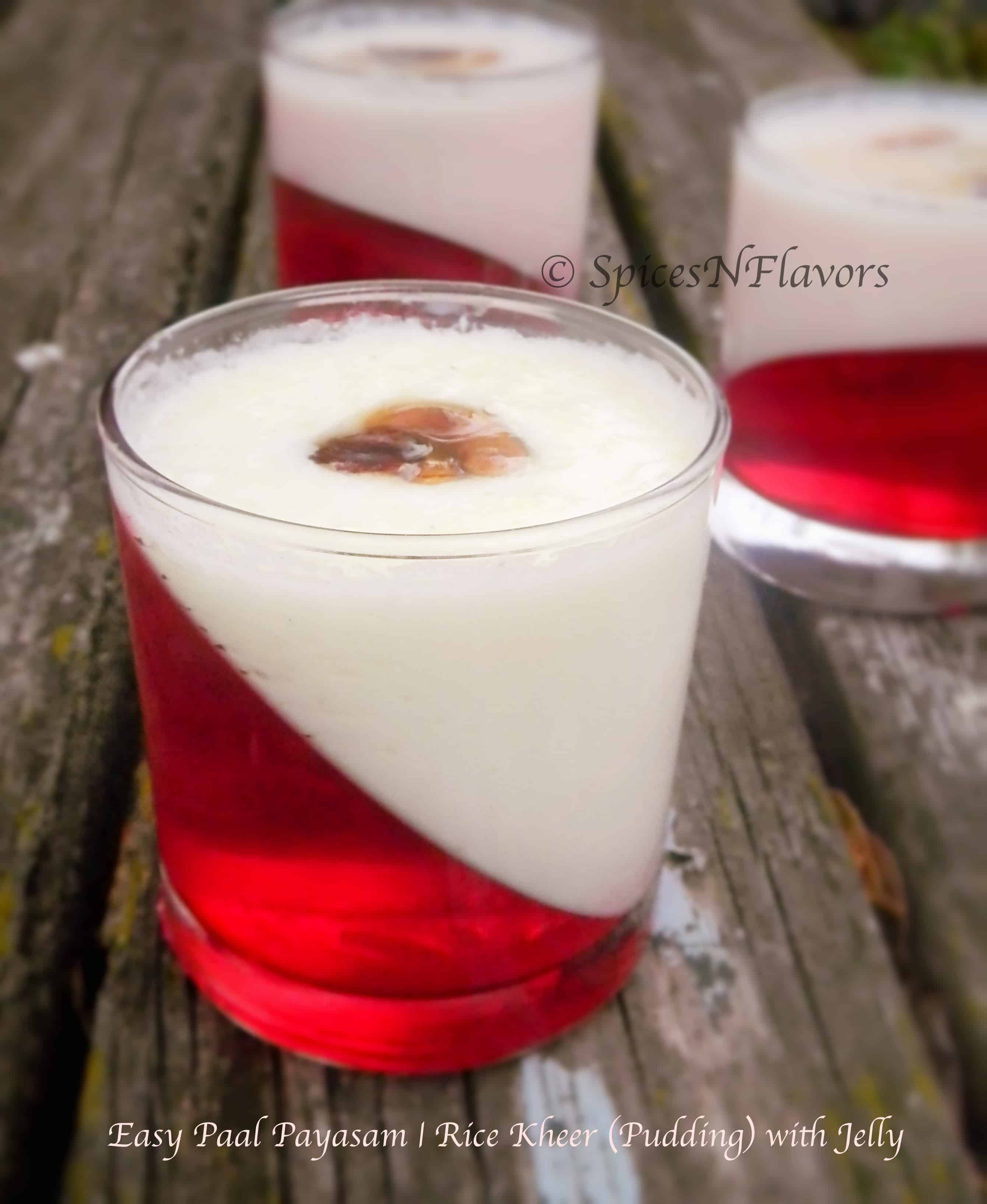 Rice is an integral part of we Indians and especially South Indians. From birthdays to marriages to anniversaries to festivals Paal Payasam is one traditional Indian dessert or sweet that is made without saying. A very traditional, authentic and classic sweet close to all South Indians. But today me being a lazy brat you know it by now.. 😛 used my mother's short cut recipe of making it in a Pressure Cooker.
But had to add it my own touch so combined it with Jelly. The smooth, creamy melt in the mouth texture of the milk with the rice cooked to perfection with the exact burst of sweetness flavoured with cardamom and roasted cashews is a heavenly indulgence in itself; and when combined with Jelly gives you an extra bonanza. You have to try it to feel it.. I insist you do give it a try once.
Two opposite poles; Jelly and Paal Payasam; was very unsure about how it is going to work together. But somehow had the gut feeling that it would taste heavenly as had a picture of both of us in my mind while making this.
Yes a modern, stylish, extrovert girl and a very simple, traditional, down to earth introvert boy when come together, they fulfil each other's lives in their own way.
Without any more ado here is what you need to make them.
Prep Time: 5 mins
Cooking Time: Under an hour
Ingredients:

3 tsp clarified butter/ghee
4 cups of boiled fat milk
1/2 heaping cup of sugar
1/8 cup basmati rice (washed and drained)
1/2 tsp cardamom powder
1 sachet of jelly
Cashews and Almonds to garnish
Method:
Grease the bottom of the cooker with a tsp of ghee. Add in the milk, sugar and rice to the cooker. Let it simmer for 5 minutes over medium heat, stirring occasionally.
Add in a small plate or spoon. Close the lid of the pressure cooker, reduce the flame to low. Let the steam come out and add in the whistle. Cook for 1 whistle or 30-40 minutes.
After 30-35 minutes, switch off the gas even if you do not get a whistle. Let it cool on its own.
Open do a taste test and check for the consistency. It should be nice thick and creamy like our regular rice kheer or pudding. If not then again close the lid and cook it for 10 mins over low flame. And if it is too thick add in 1/2 cup of boiled milk to achieve the desired consistency.
If the desired consistency is achieved add in the cardamom powder and let it boil for another 10 mins.
For the Jelly:
While you are waiting for the cooker to whistle, prepare your jelly as per your  pack instructions and let it cool to room temperature and then place it in your refrigerator for about 2 hours or until set in the glass or bowl in which you want to serve the dessert.
Tilt the glass to 45 degrees or 90 degrees or leave it standing with the jelly in it for the desired look.
To Assemble:
Once the jelly is set and your kheer is cooled down to room temperature; add the kheer to the glass to have contrasting colours and flavours.
Roast your nuts in the remaining ghee and use this as garnish on top of your pudding.
Enjoy the rice kheer with jelly along with your family and friends..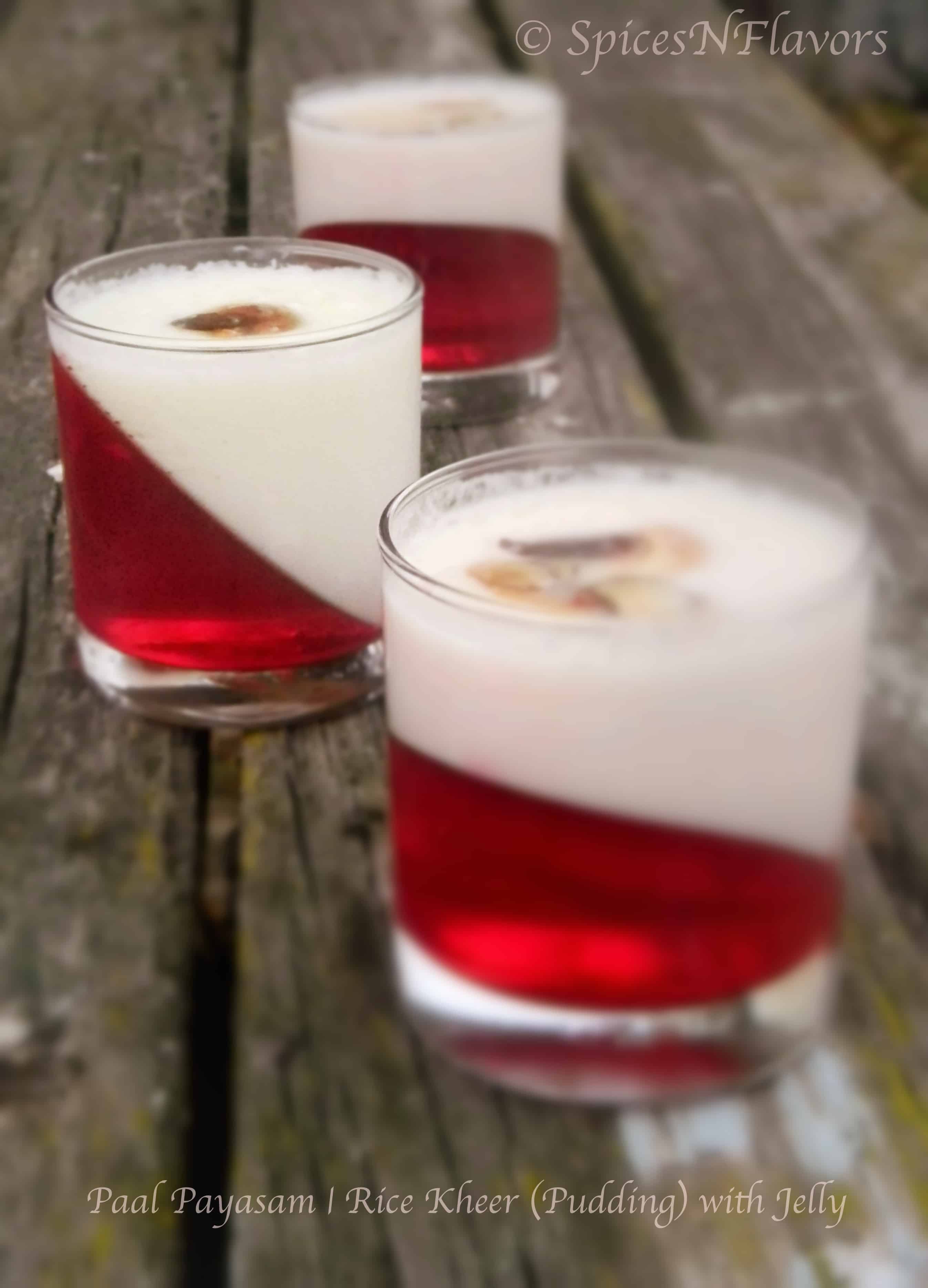 Tips:
Greasing the cooker with ghee prior hand avoids burning and sticking of the milk to the bottom of the cooker
Adding a steel small plate or spoon to the cooker avoids spill over of the milk
Notes:
The rice kheer can be served on its own. Use of jelly is just optional.
Similarly use of nuts is also optional. You can avoid it if you wish to.
You can also add saffron strands for the rich taste
The amount of rice used should always be less than that of milk or else it would look like pongal.
The rice kheer tends to thicken with time. So adjust the consistency accordingly.
Enjoy this Easy Paal Payasam with friends and family.
Check out my other Indian sweets:
Easy Halwa | Cornflour Halwa | Bombay Halwa (ready in 18 mins)
Happy Cooking !!!
Sushma