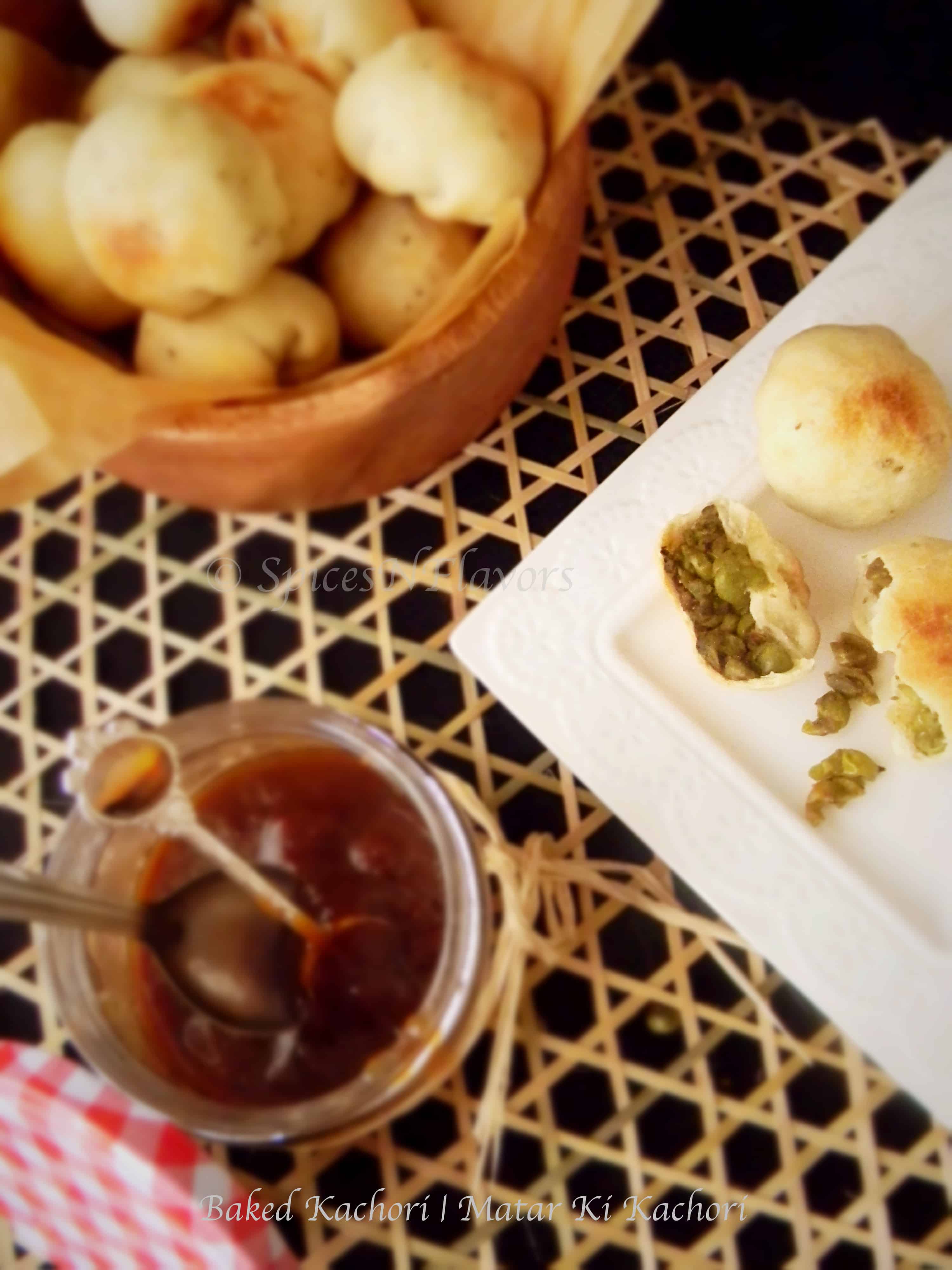 Yahhhooo.. My passport arrived with an extension of Work Visa Permit yesterday. That means now I can shop and start preparations for a holiday trip to Rarotonga islands. We have heard that there is very limited options for Vegetarian dishes in that island. So I am planning to carry some snacks item that we can munch on our journey.
And this is what I think would be an ideal snack.. Baked Kachoris; Non-Fried Indian Snack.. Its holiday season in India, nothing can be a perfect snack than this to enjoy your holiday trips or journeys..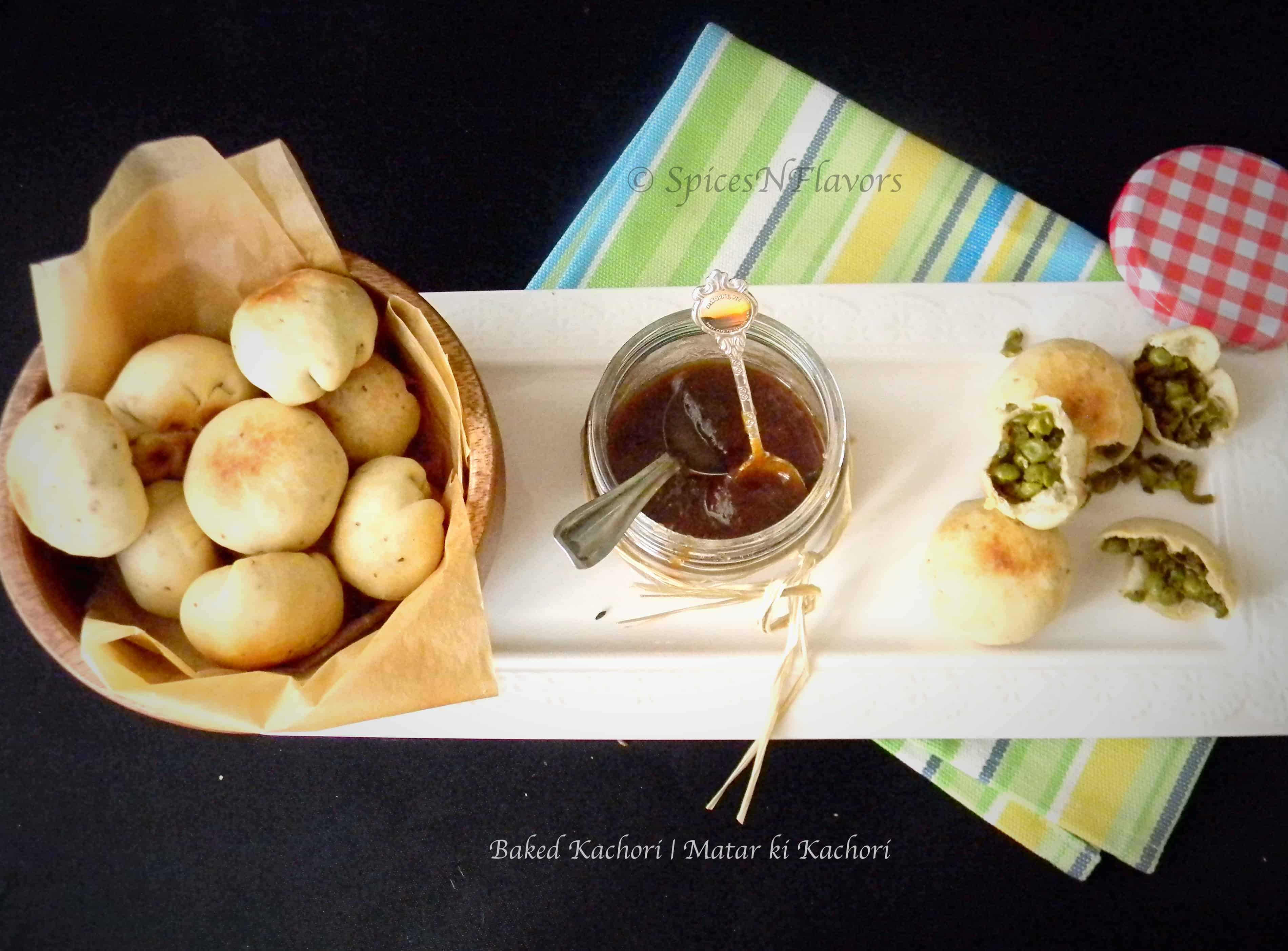 I have already shared my love for street foods in my earlier posts (Mushroom Tikki Chaat in a Glass and also in Cashewnut and Broccoli Pakoda). I guess street food is the first love of every Indian. Lol.. And sure enough each of them must have spent some quality time at their favourite Pani Puri stall.. 😉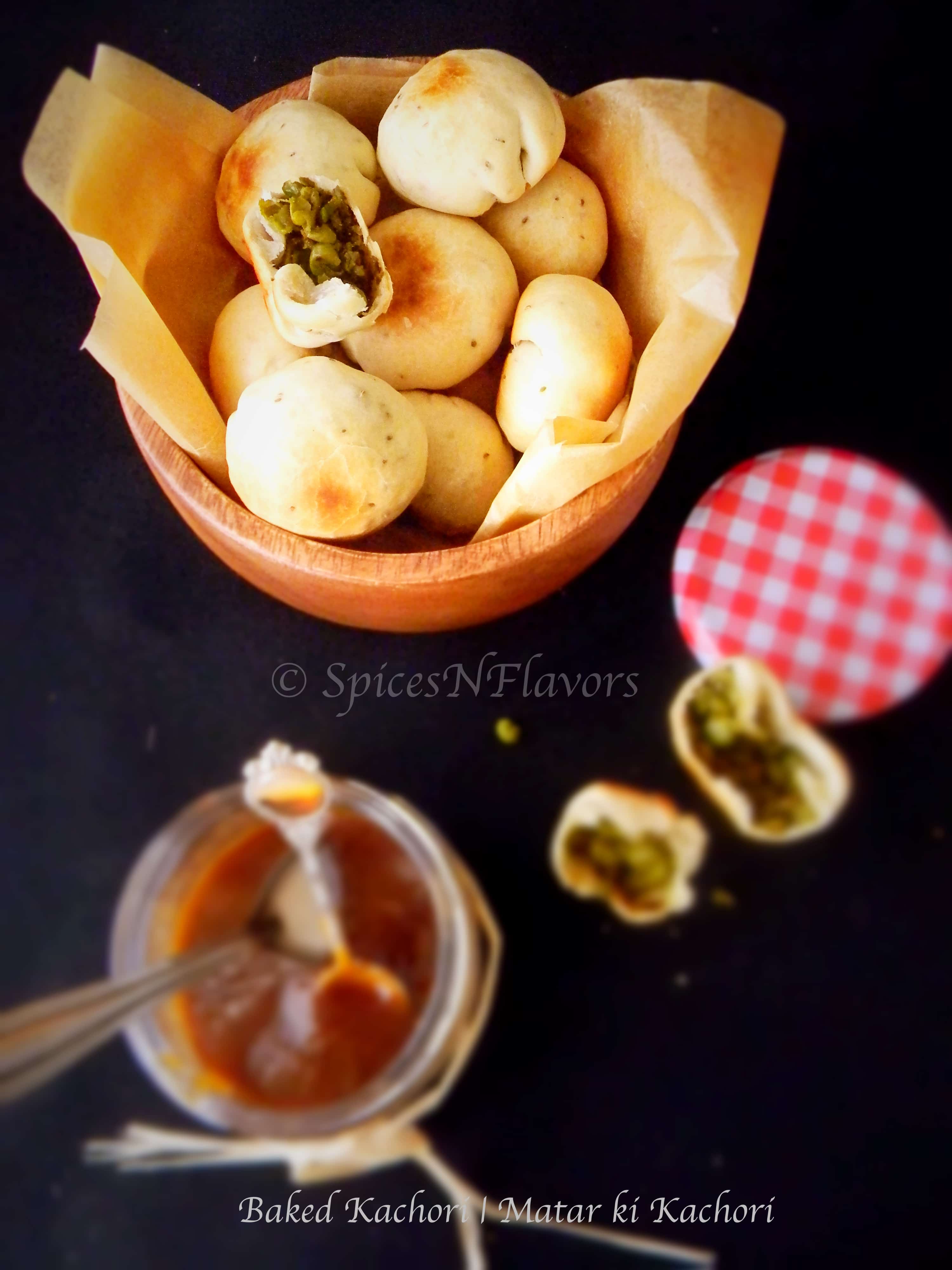 There are so many variations in this kachori. Khasta kachori, onion kachori and my favourite Raj Kachori. Usually these are deep fried in oil. But these days everyone is so very health conscious including him, that I tried to bake these instead of fry them. I had seen videos by Chef Kunal on Baked Samosas so I tried to bake these instead of deep frying and yes must say I loved them equally.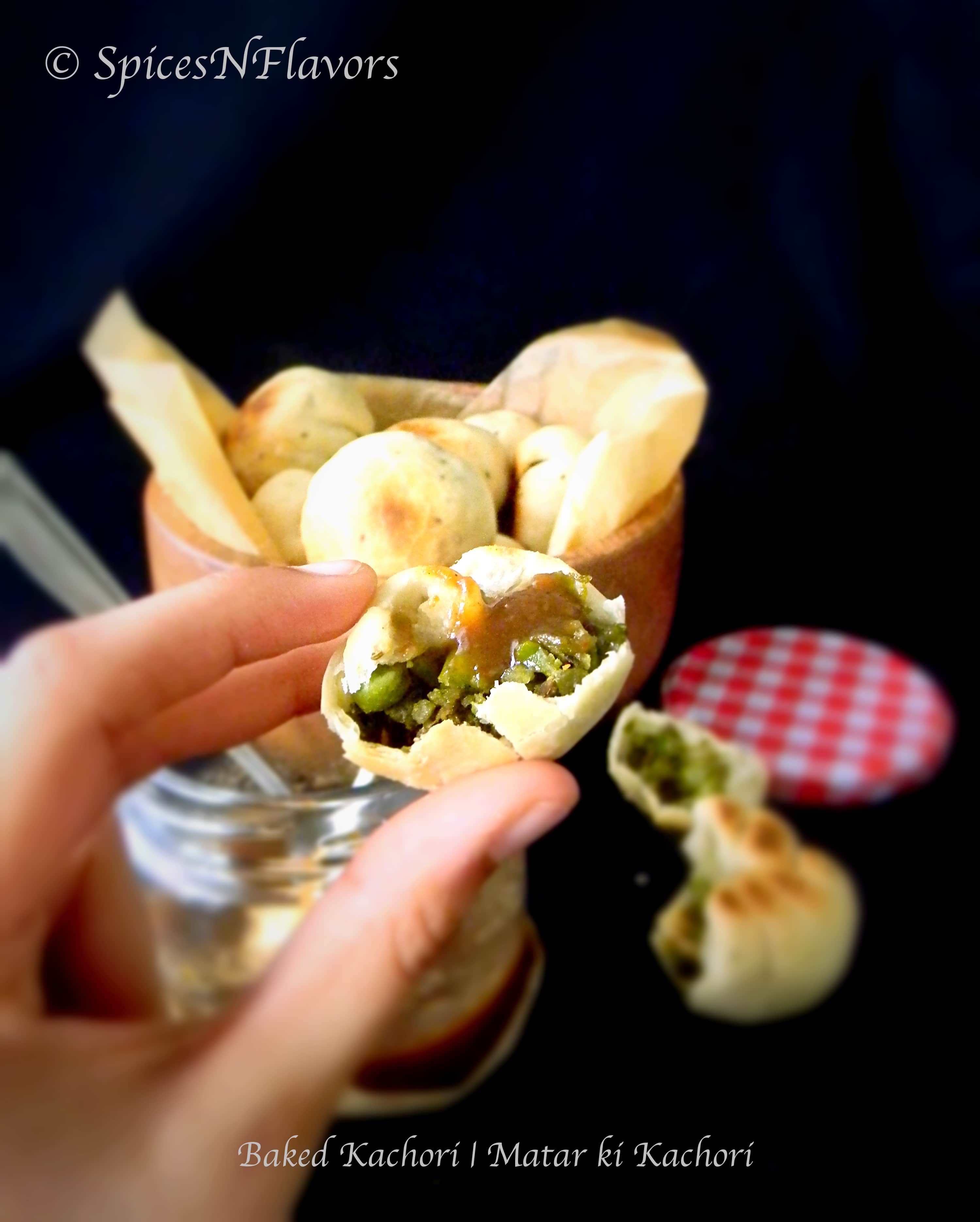 Kachoris are kind of spicy Indian pastries made from All purpose Flour and then stuffed with fillings of one's choice and sealed to form a round flattened ball and then deep fried to get a crispy surface with mouth melting filling.
Raised up in Bombay, I have this added advantage of experiencing and enjoying different cuisines of India.. I truly miss Bombay.. 🙁 and the famous kachori of Lakshmi Farsan of my hometown Dombivli. Sigh.. Thats ok.. one month more and I will be in India..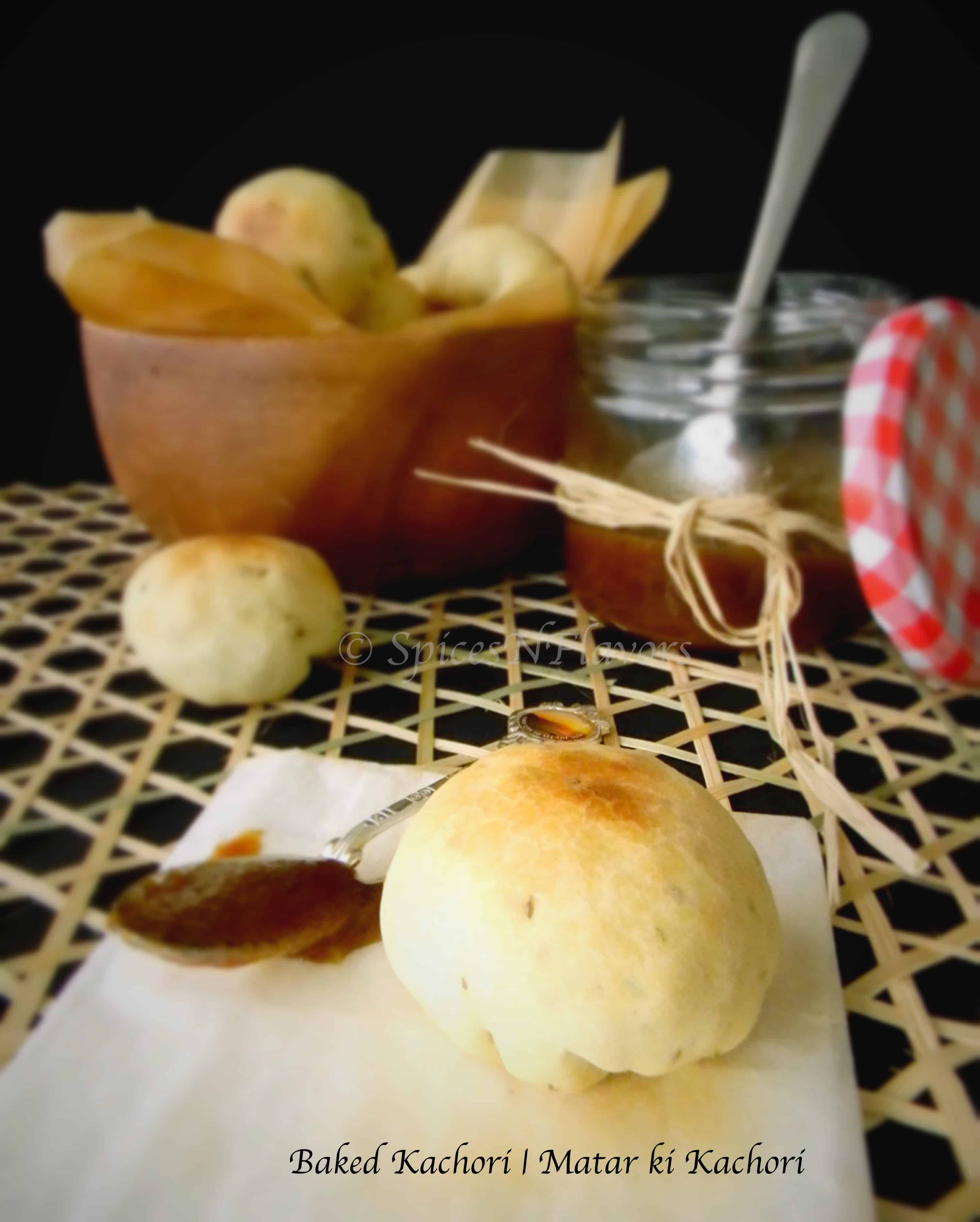 The crispy top with spicy filling made my evening yesterday. A cup of tea and these baked goodies left me satisfied and I am gonna surely make another batch of these for our trip.. 🙂
Here is what you will need to make these:
Prep Time: 30 mins
Cooking Time: 15 mins
Baking Time: 25 mins
Makes : 12-15 kachoris
Ingredients:
For the Dough:
1 cup Maida/All Purpose Flour
2 tbsp melted clarified butter/ghee
1 tsp salt or to taste
1/2 tsp carom seeds/ajwain
warm water to knead soft dough
For the Filling:
1 cup cooked peas
2 tsp oil
1/2 tsp cumin seeds/jeera
1/2 tsp fennel seeds/saunf
1/4 tsp carom seeds/ajwain
1/2 tsp finely chopped ginger
2 green chillies finely chopped
1/2 tsp jeera powder
1 tsp dry mango/aamchur powder
1 tsp red chilli powder (or to taste)
1/4 cup water
1 tsp salt or to taste
Method:
Start by making a dough. Mix all the ingredients mentioned under dough except water. Combine everything well. (When you take a small amount of flour and press it in between your hands it should retain its shape; if not add more fat to it). Knead to a smooth dough with the help of warm water. Let it rest for half and hour.
While the dough is resting, prepare your filling.
Heat oil in a pan. Once hot add in the cumin seeds, fennel seeds and carom seeds. Saute for a minute and add ginger and green chillies. Saute for 2 mins and add in the cooked peas.
Mix everything well. Mash the peas with the help of a masher. Let it cook.
Meanwhile, in the 1/4 cup of water add in the jeera powder, aamchur powder and chilli powder. Mix everything well and add it to the peas.
Combine everything together add salt to taste. Do a taste test and adjust the spices.
Let the water to evaporate so that you get a dry stuffing. Do not let it dry out completely or else you will have a very dry texture when you bite onto it.
To Assemble:
Pinch out a small ball sized dough. Roll it out onto a circle like you do for puris and fill it with 1 spoon of the stuffing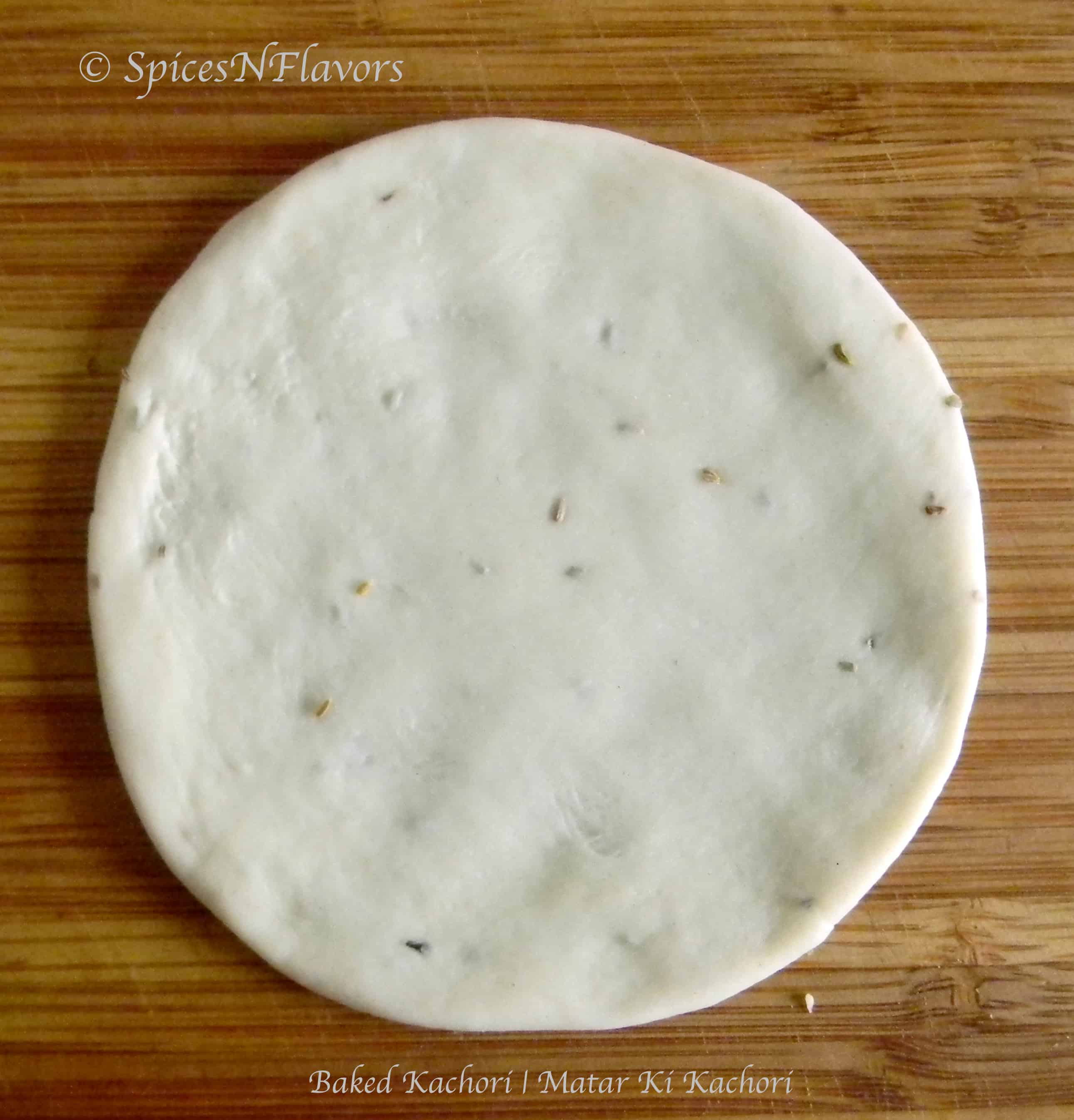 Gather the sides to the centre to form a packet.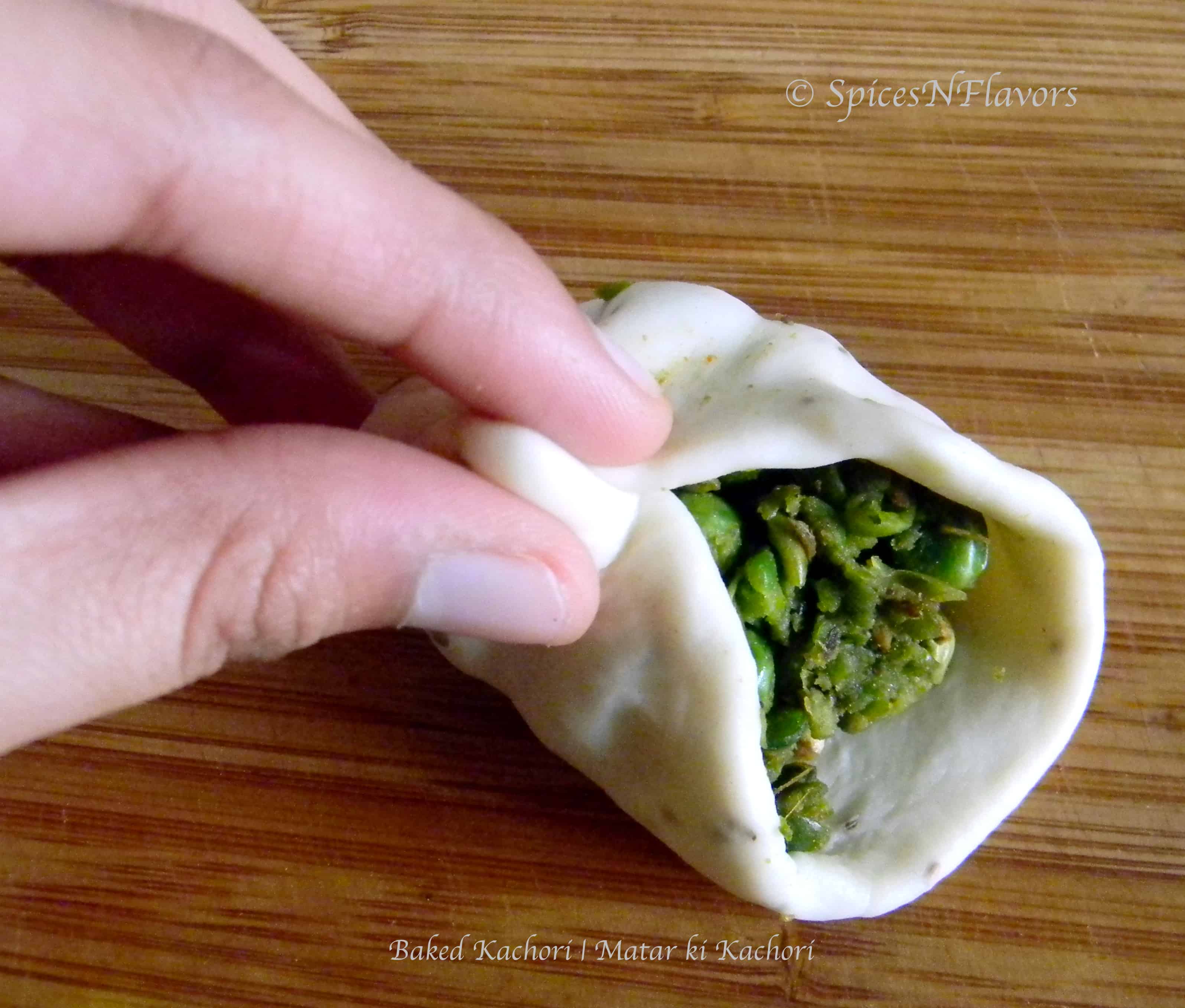 Seal the ends.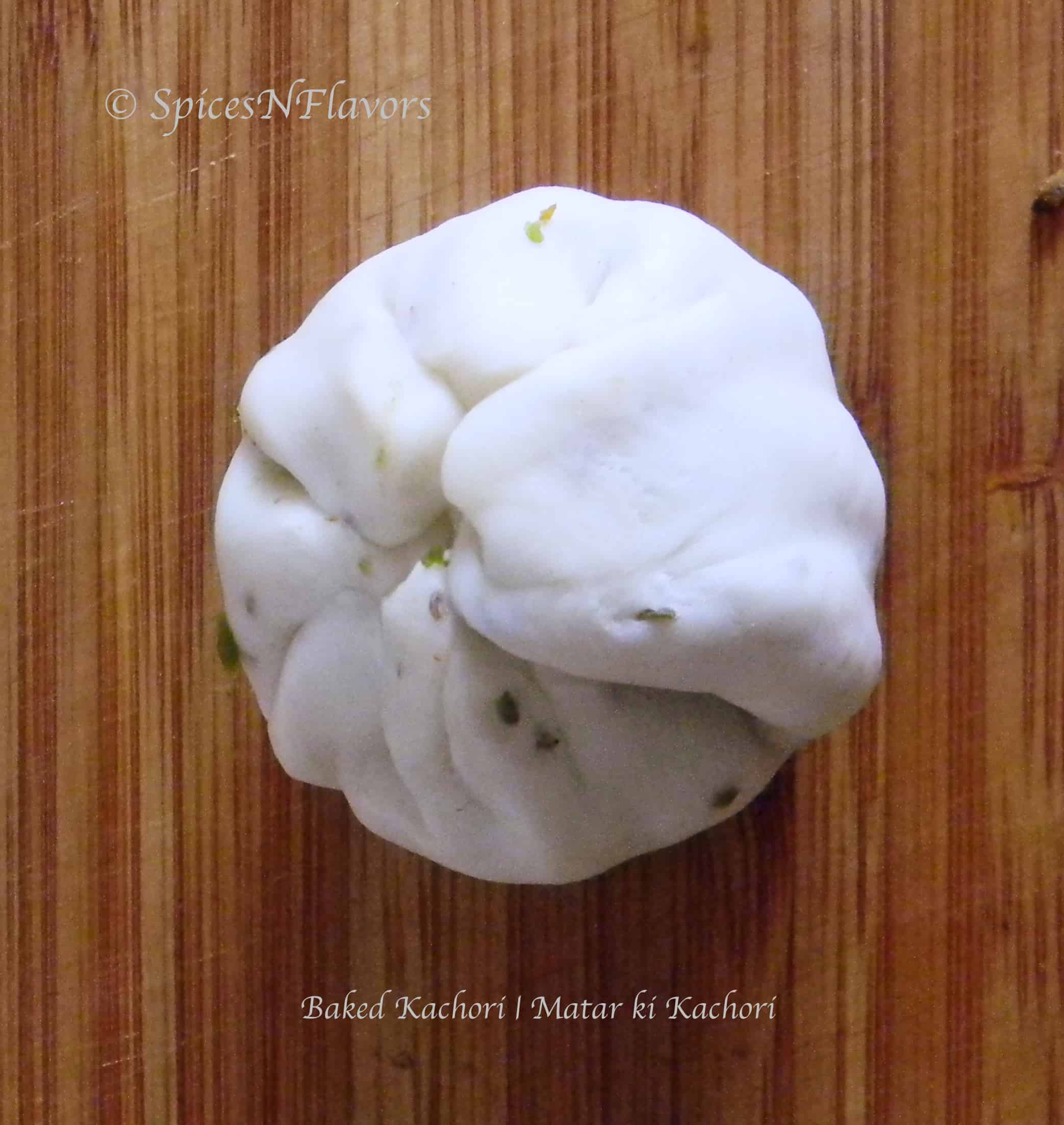 Line them onto a baking tray and bake in a pre-heated oven of 180 degree celsius for 25 mins. After 10 mins turn the tray for even baking. And after 20 mins just flip the kachoris upside down for even colouring.
Once out of the oven brush it with some oil. (optional)
Enjoy it hot with chutney of your choice like Green chutney, Imli ki Chutney or even Tomato ketchup.
Notes:
Kachoris are meant to be spicy. I have used green chillies as well as red chilli powder in the preparation. When stuffed inside the dough the spiciness reduces so adjust accordingly.
You can always choose to deep fry them.
Shift to a healthier version of kachoris with these Baked kachoris. Enjoy it with Green Chutney and Imli ki Chutney.
If you have already checked out my Mushroom Tikki Chaat in a Glass and Cashewnut and Broccoli Pakoda, then do check out the Coriander Fritters from Assamese Thali.
Happy Cooking!!!
Sushma