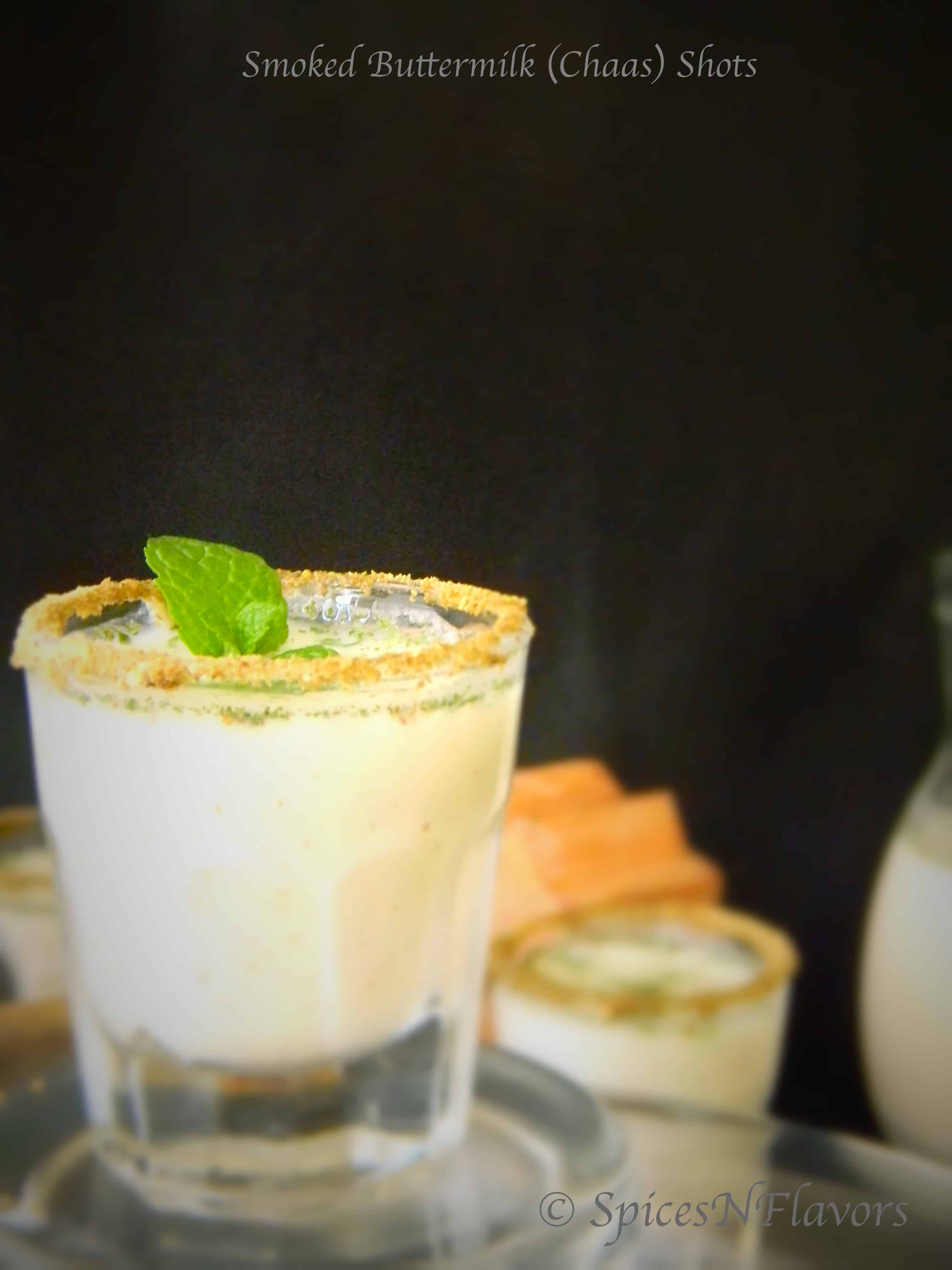 It was sunny yesterday. Yes you really feel good when you can at least see the sun at this point of time here in Christchurch. But luckily I will be at home(India) during the peak winter season here. I am going to India for a holiday and that too for 3 whole months.. Super happy and excited and guess what I have also started crossing the dates on calendar.. 😉 So coming back to the post (You know right girls can go on and on). Since it was sunny yesterday I thought why not make Chaas (Buttermilk) even though its a staple diet I don't make it often owing to the weather. So today gave our regular chaas a smoky twist.. Smoked Buttermilk (Chaas) Shots.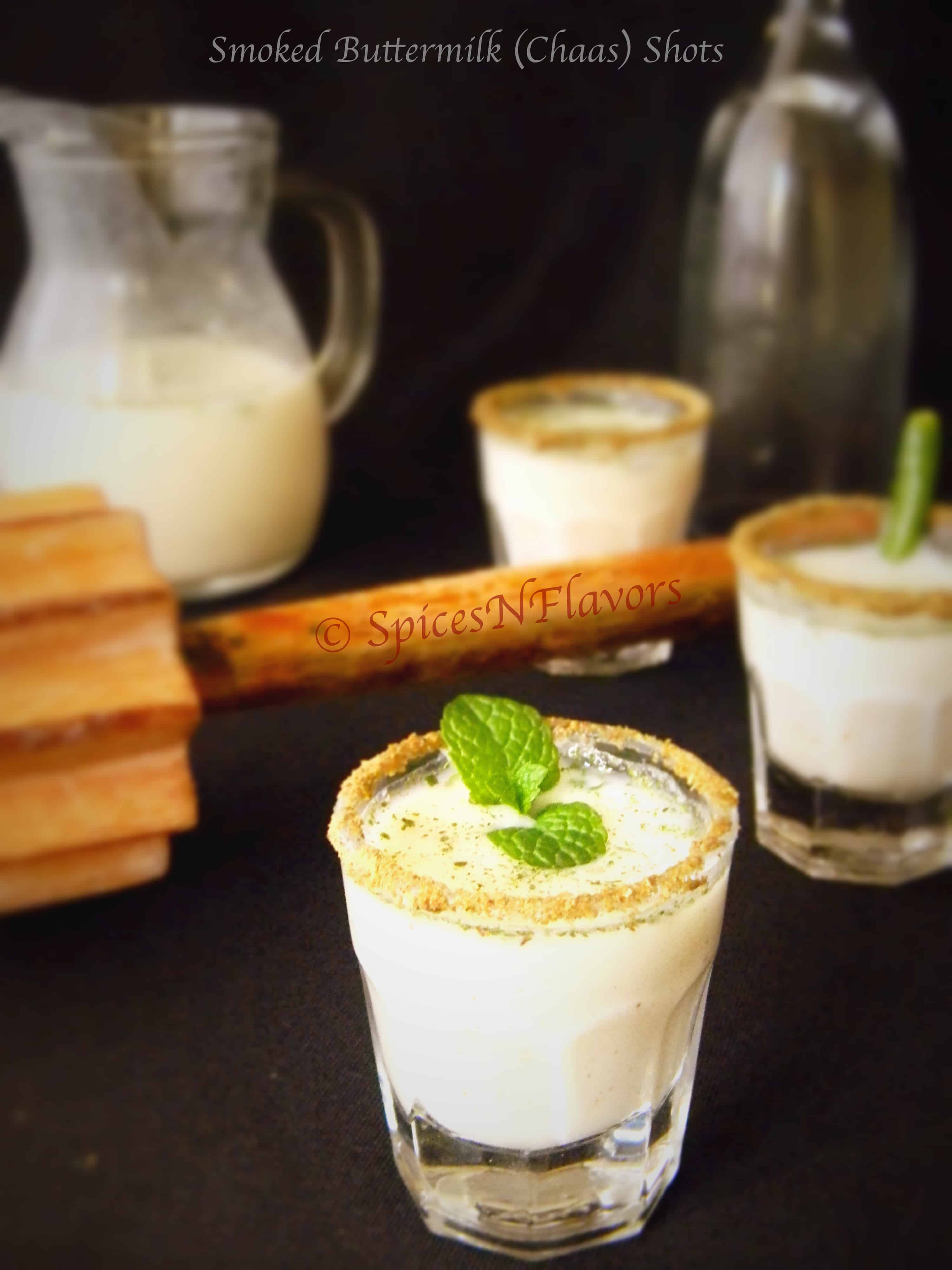 This sunday we had a small girlie meet. I have some how managed to make two friends here, so we decided to catch up at my friend's place. We had a nice chat, my friend had made an elaborate lunch and an amazing "Halwa" and she even shared the recipe with me, can't wait to try it.. 😉
I did not have time to make something that I can contribute to. So the whole day I was thinking about making something that would be simple to make yet make its stand or leave an impression in their minds. And that is how this Chaas got its smoky twist.. 😉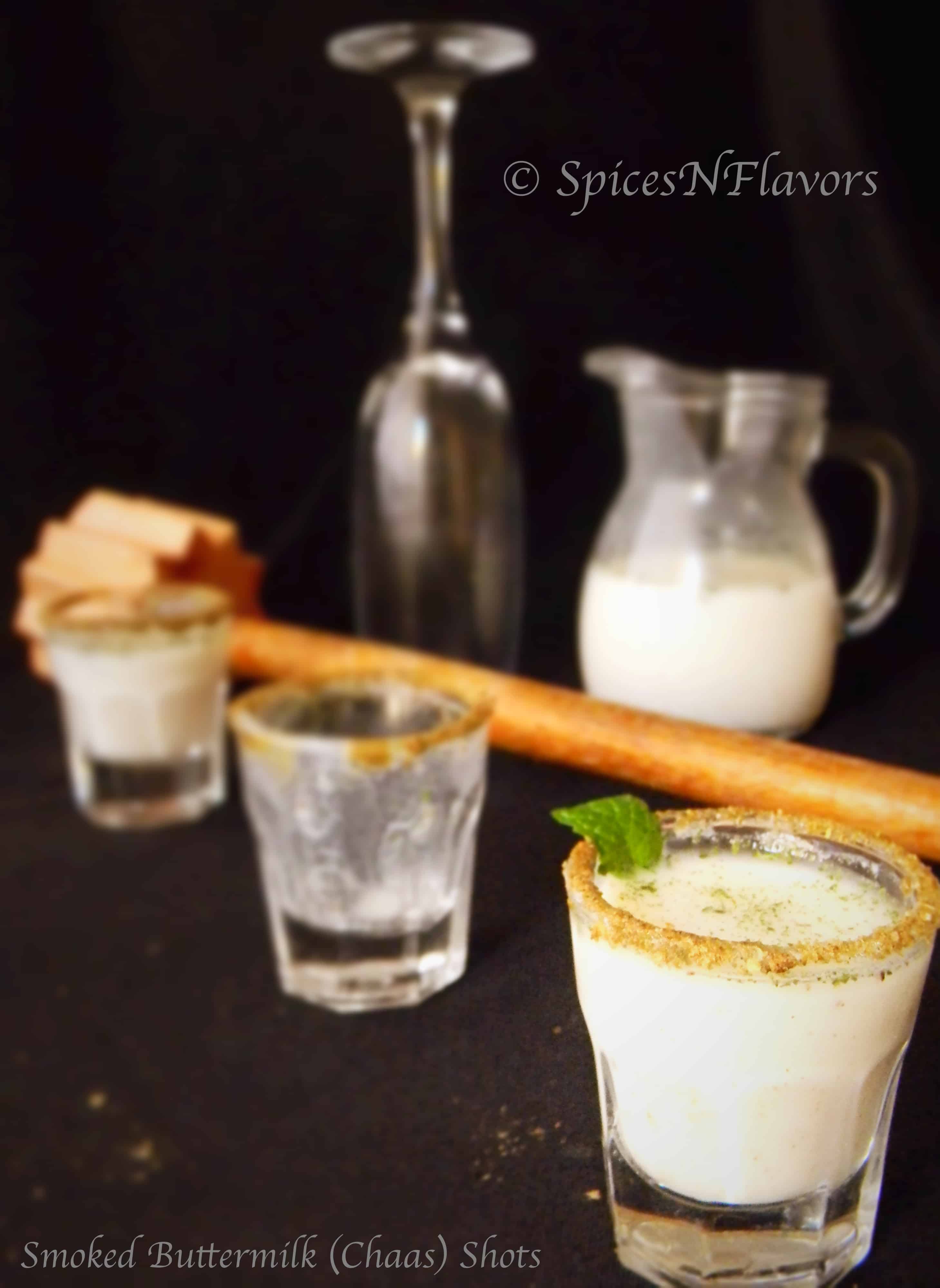 So the next time we meet for a girlie meet; girls I will get this and we can also play some games with the shot glasses.. You know what I mean.. 😉
Yes.. Girls guess this would be an amazing kitty party idea. There are so many different games that would go well with these shots. Waiting for the next meet.. 🙂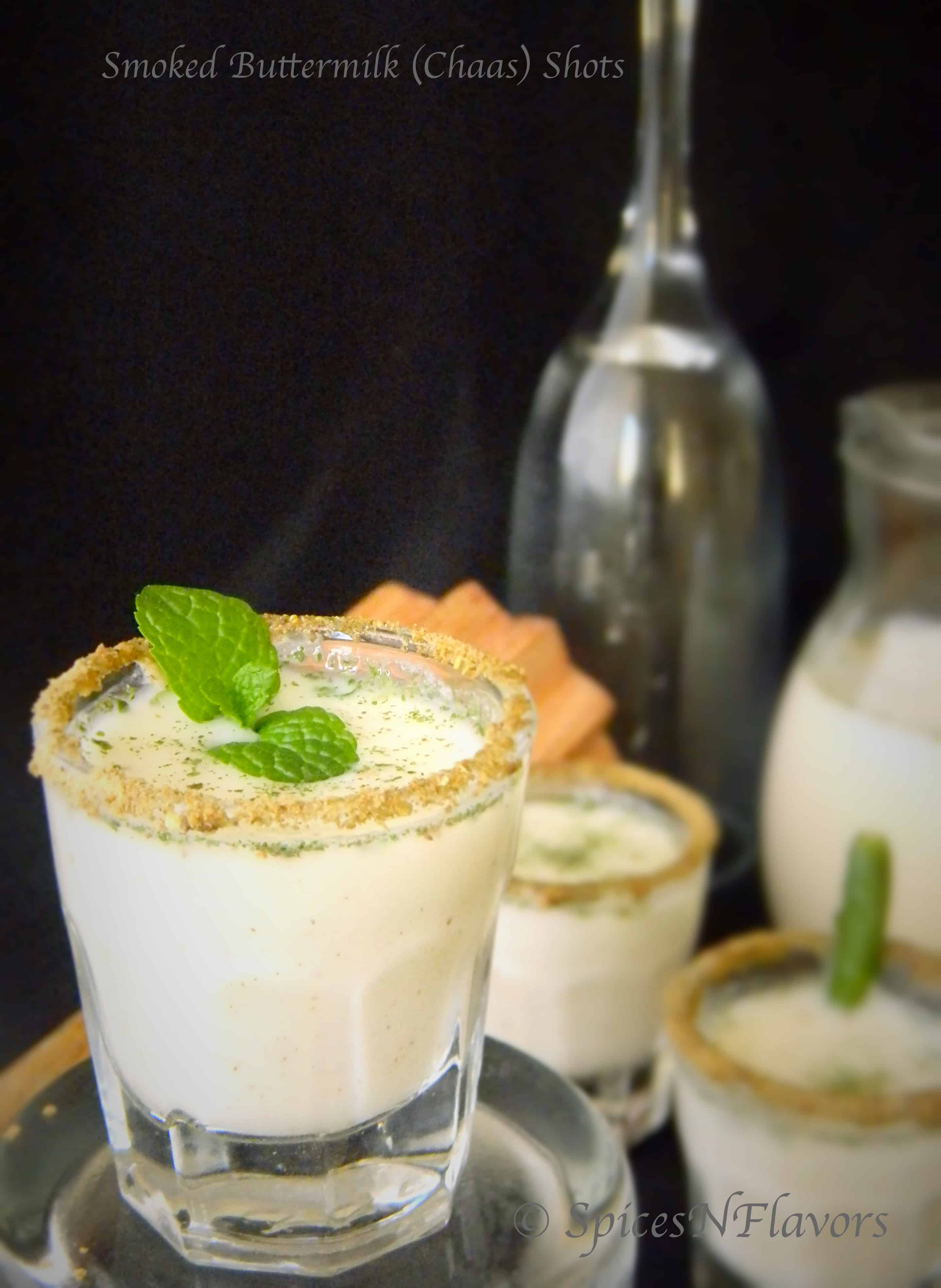 As I said yesterday was a sunny day, made these in a jiffy then spent most of the day only clicking.. 😛 Total fun..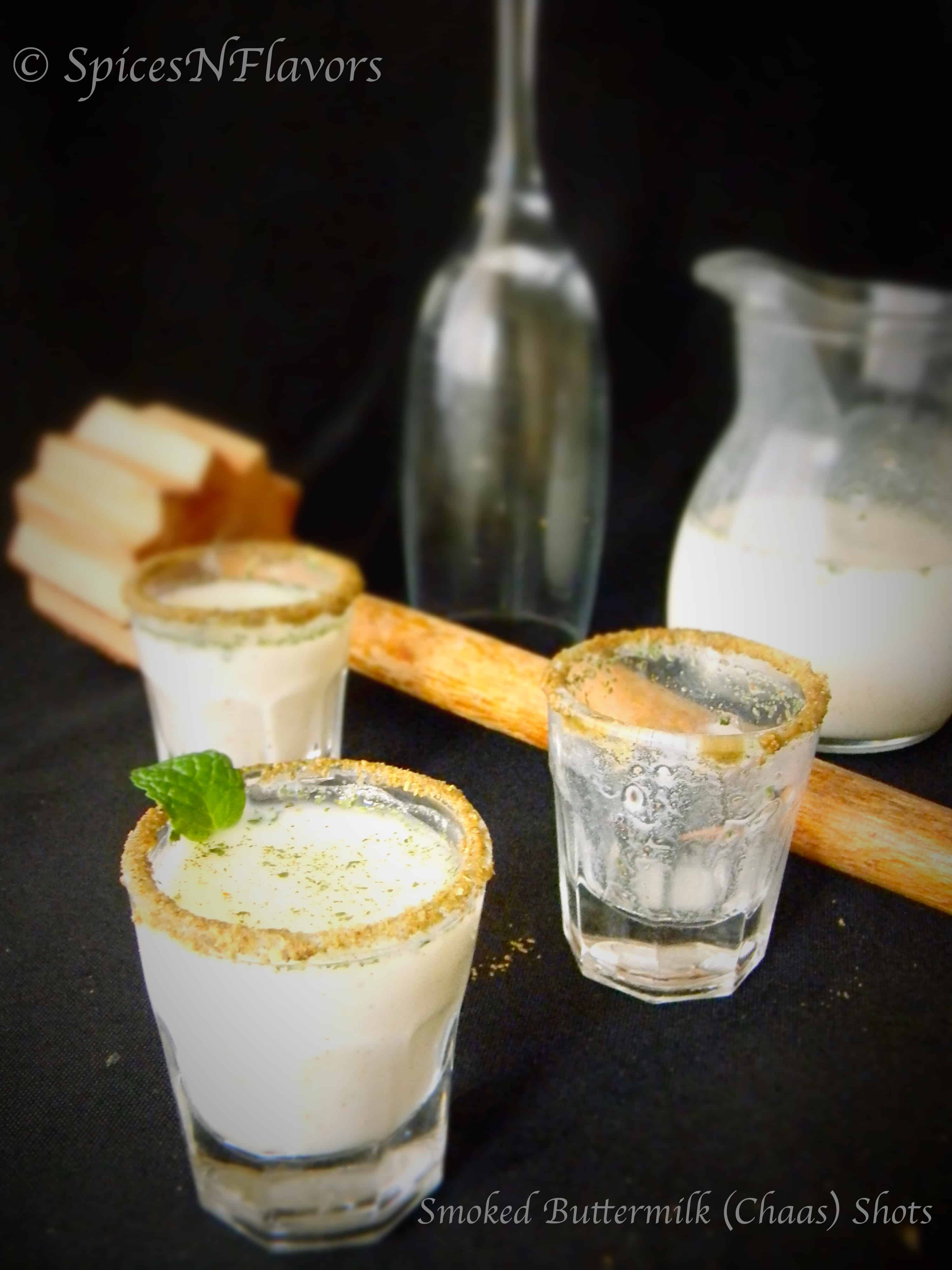 Chaas is an Indian beverage made from yoghurt with the help of a whipper. It is usually consumed along with meals. A staple diet found in all households of India. Apart from cooling effect it also helps in digestion.
My mom always says it is compulsory to either drink a glass of buttermilk or mix with it plain rice and eat it before going to bed for easy digestion.
So many variations can be made in this preparation. Sharing with you all what I did yesterday.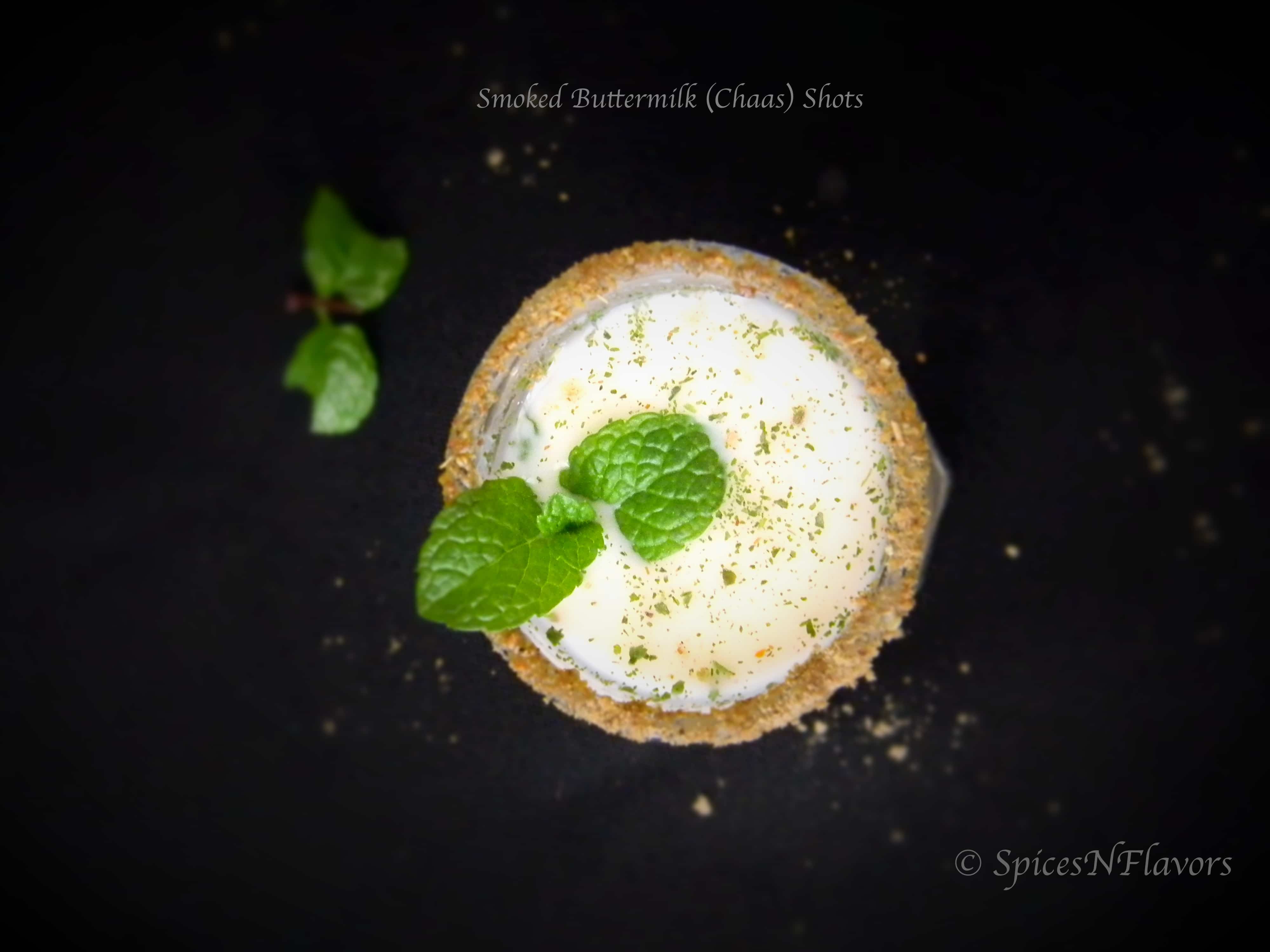 A perfect thirst quencher, summer cooler. Consumed all throughout the year in India.
The soothing chilled diluted yoghurt when mixed with the exact amount of spices, with a kick of red chilli powder, redolence of the roasted cumin seeds, punch of the mint powder is sure enough to leave you with Smoky eyes.. 😉
Here is what you will need to make these
Prep Time: 3-5 mins    Making Time: 7-8 mins     Makes: 3 cups
Ingredients:
3/4 cup curd
1.5 cups water
1/2 tsp black salt/kala namak
1/2 tsp roasted cumin seeds/jeera powder
1/2 tsp salt or to taste
1/2 tsp mint powder
1/4 tsp red chilli powder
a big pinch of asafoetida/hing
small pinch of ajwain/carom seeds
For the Tadka/Seasoning/Smoky effect:
A piece of coal
1/2 tsp cumin seeds/jeera
1/2 tsp mustard seeds/rai
a pinch each of hing/asafoetida and ajwain/carom seeds
1 slit green chilli
1/2 tsp clarified butter or oil or butter
Method:
In a bowl, add in the curd and water and churn it until smooth with the help of a hand churner or liquidiser.
Add in all the other ingredients. Do a taste test and adjust salt and spices according to taste.
For the Tadka:
Heat up a small piece of coal directly on the gas, taking utmost care. Flip it in between to heat it up from all sides (Be very careful).
Take all the ingredients mentioned under Tadka in a small plate(except) ghee or clarified butter; as once the coal heats up you need to be quick.
Once the coal is hot, place it on a bowl. Add in the ghee and quickly invert your plate with the ingredients in it. Cover it with another flask or any vessel in which you would like to collect the smoke.
Once all the smoke is collected transfer the prepared buttermilk into the flask. Close it tightly so that the smoke does not escape and let it stand for 8-10 mins. And then you can enjoy your Smoked Buttermilk (Chaas)
To Serve:
Take some buttermilk on a flat plate and some chaat masala onto another flat plate.
Dip the rim of the shot glasses first onto the buttermilk plate and then onto the chaat masala plate.
Pour the buttermilk onto shot glasses and garnish with mint leaves.
Enjoy it on your next kitty party meet.. 😉 Also with your family and on get togethers. 🙂
(I also made this Cucumber Soup - perfect summer cooler do check it out and also the Iced Coffee).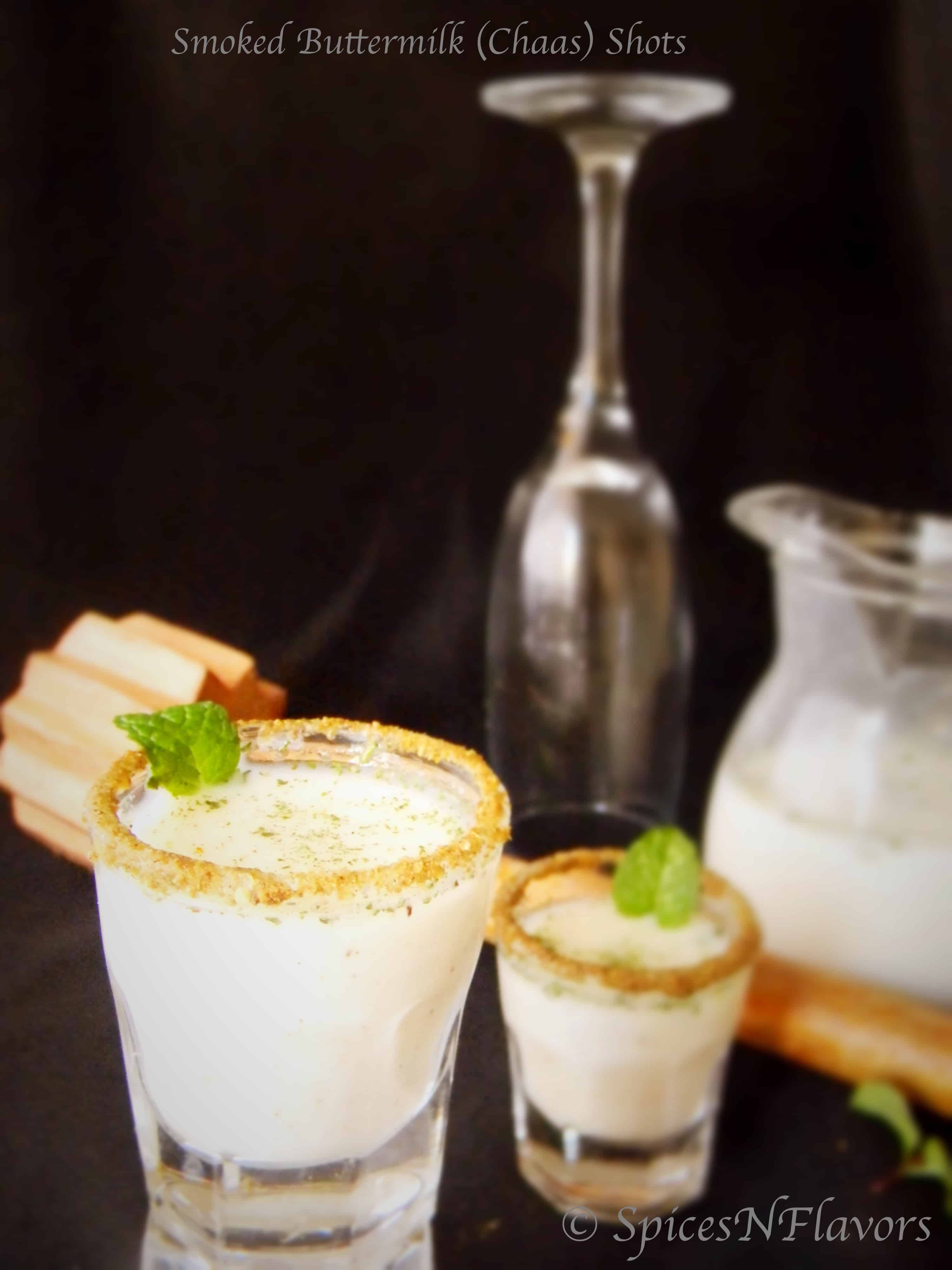 Variations:
There are so many other spices that you can add like raita masala, can use rock salt instead of black salt, finely chopped green chillies instead of red chilli powder.
You can serve it in normal glasses as well instead of shot glasses. In that case you can add 1/2 tsp chaat masala powder in your preparation.
The spices can be adjusted as per your mood and choice.
Notes:
Preferably use chilled water for the preparation or chill it before serving during summers.
Cooking time may vary if you do not have the mint powder or roasted jeera powder handy.
To make Mint Powder: Just microwave your fresh mint leaves for a minute or 1 min and 30 sec. If you do not have microwave let it dry in the sun. Once dried, just crush it in between your palms directly into the pot with the buttermilk.
To Make Roasted Cumin Powder: Dry roast the cumin seeds on a low flame until it changes colour and you get a nice aroma. Let it cool and grind it to a fine powder in a mixer. You can store this in air tight container for months.
But I always prefer to use freshly grounded powder so make it in less quantities and moreover I feel it loses its aroma over a period of time.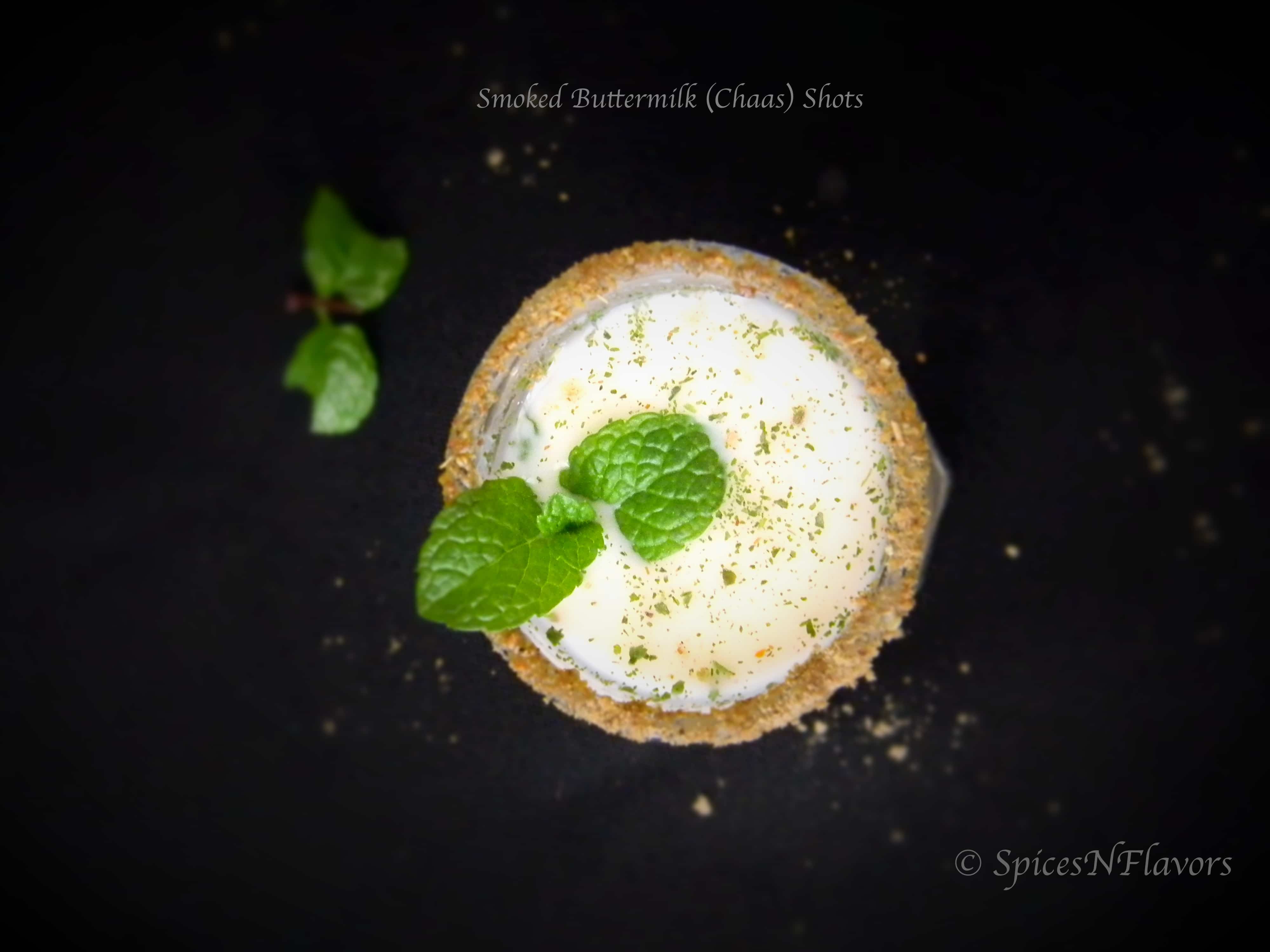 Enjoy your summer with these chilled Buttermilk Shots. Have fun with games centring these shots. I am taking these to Mandy's totally talented tuesdays..
Happy Cooking!!
Sushma