Quiche is basically a savoury, open-faced pastry crust with a filling of savoury custard along with one or more types of cheese, meat, sausages or vegetables.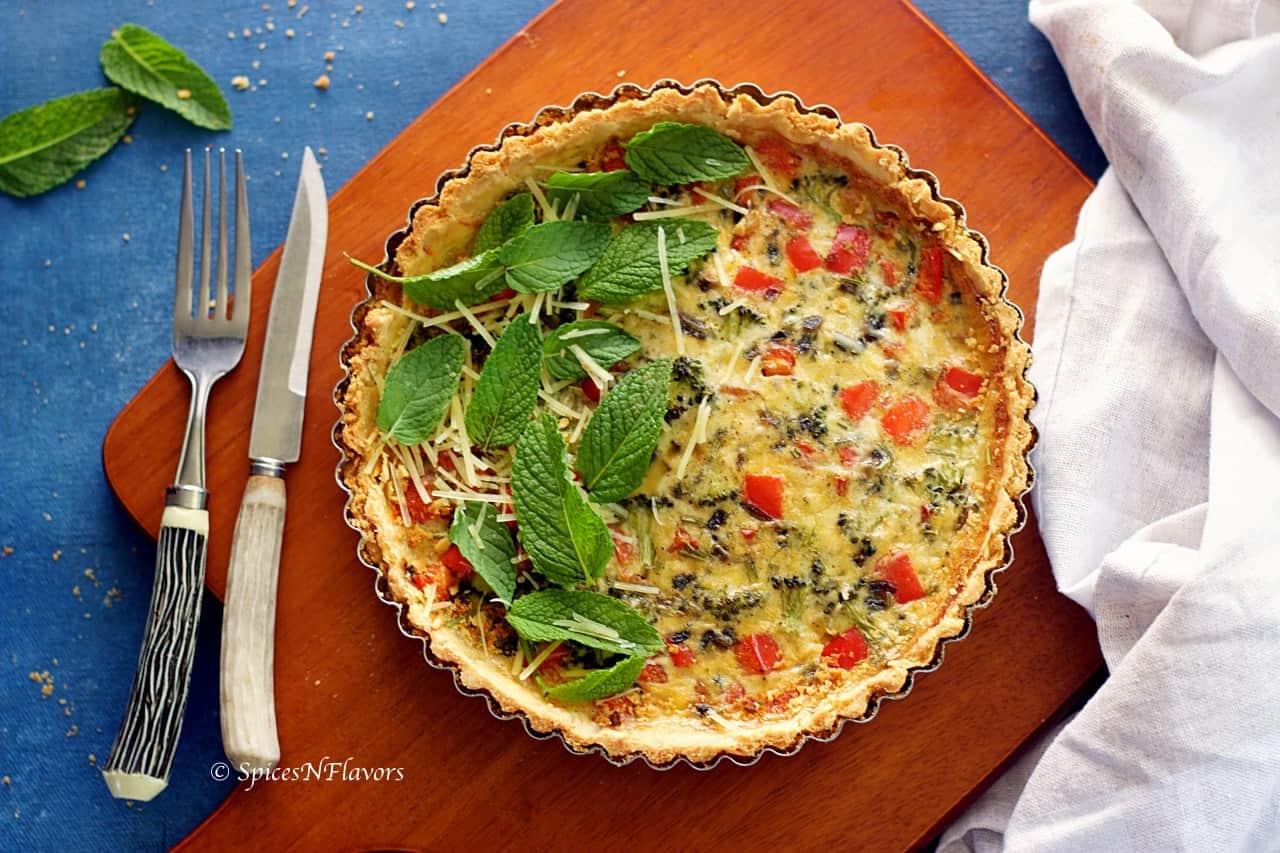 Quiche, part of French cuisine, is very popular as a party food especially the mini versions.
What makes a good quiche?
1. It has to have an even and thinly rolled pastry base which is CRISPY, CRUMBLY and TENDER.
2. A pastry that has not shrunk a lot.
3. Good amount of filling.
As a personal choice, I also prefer a Quiche that has good amount of veggies added to it and not just loaded with loads of cheese to make it look appealing to the eyes.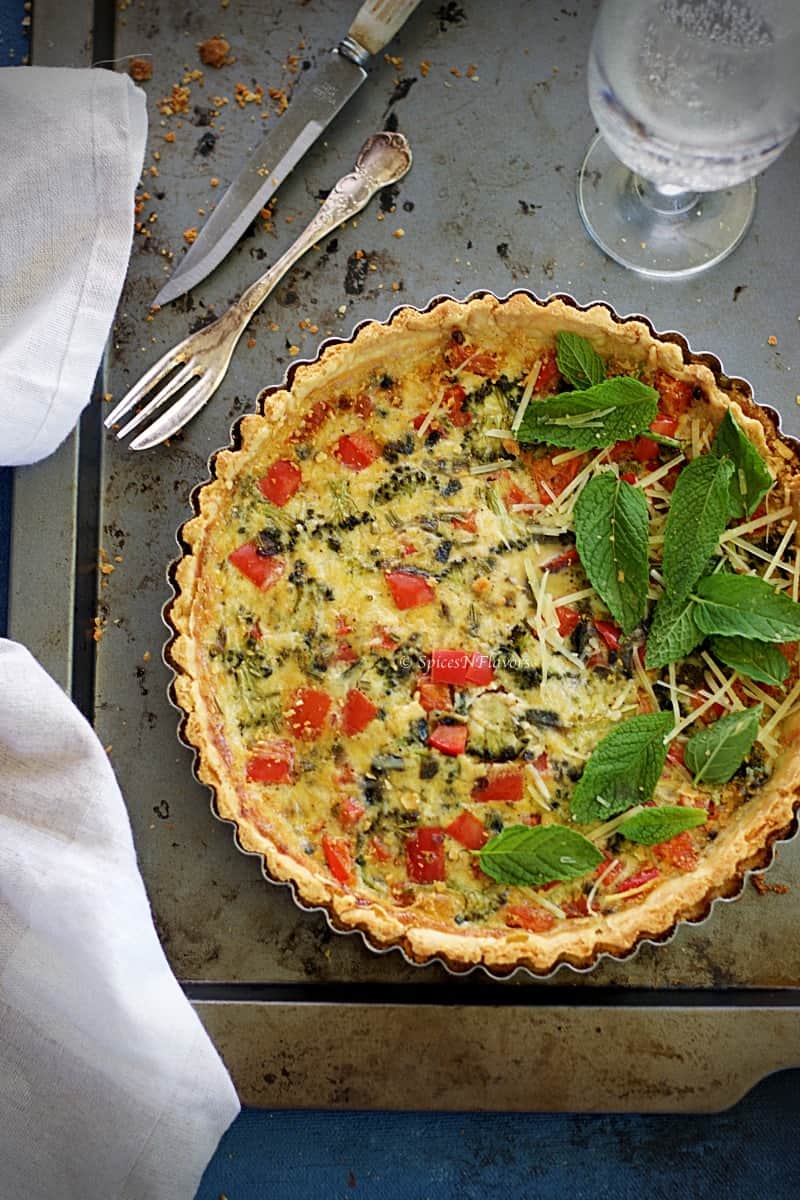 So how do we achieve that crispy and tender Quiche pastry base crust??
The technique used to do that is known as "Rubbing-in"
In the rubbing-in method, the fat is rubbed in with the flour. When fat is worked into dry flour, the fat creates a barrier between gluten molecules and the liquid, thus preventing them from cross-linking once a liquid is added.
This step is important in the making of Quiche, pie crusts, flans etc because gluten tends to make the baked end product (eg. Bread) chewy; whereas we want a soft, tender and crispy baked product.
And when the butter separates into oil and milk solids upon melting it further makes the base crispier.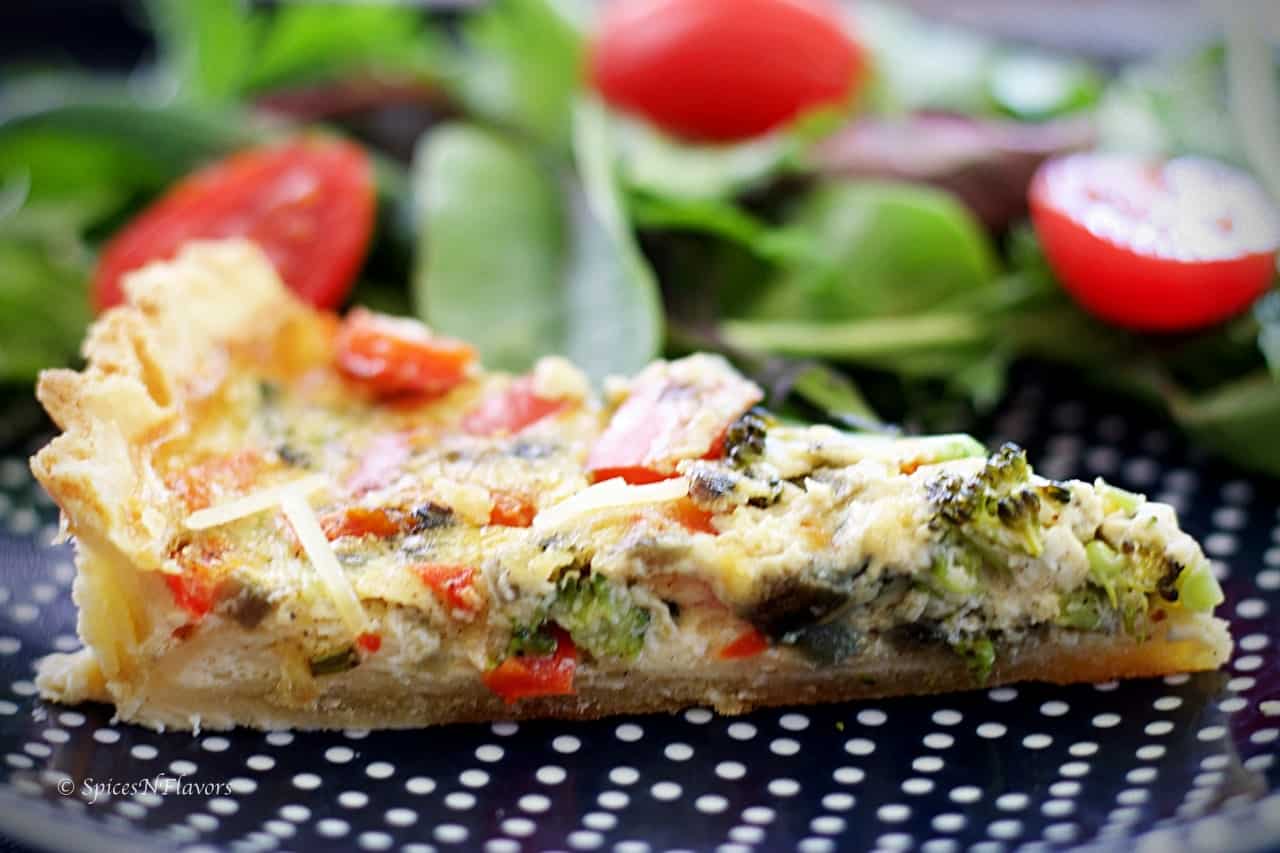 No matter what you do the pastry base is going to shrink while baking. But I have certain tips for you guys so that it won't shrink a lot.
The tips to follow a perfect Quiche is:
1. Make use of cold butter and rub it so well that it resembles a wet sand. Make sure no big lumps of butter is left out while rubbing in.
2. Do not knead or over-mix the Quiche dough, as that would result in shrinkage. Also, we must rest the Quiche dough before baking enough to avoid the same.
3. The Quiche dough has to be rolled out evenly and thinly to get that perfect crispy base and the savoury custard flavour.
4. Blind bake the base to ensure that it is cooked throughout.
Here is the detailed recipe:
Liked this recipe?
Let us know by giving it a star rating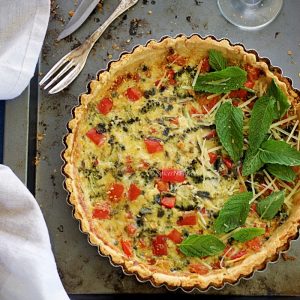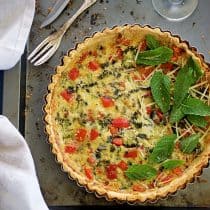 Print
Quiche Lorraine
Quiche is basically a savoury, open-faced pastry crust with a filling of savoury custard along with one or more types of cheese, meat, sausages or vegetables.
Ingredients
Short Paste Dough
200

gms

Flour

100

gms

Cold Butter

2

gms

Salt

40

gms

Cold Water
Filling
1

tbsp

Olive Oil

1

no

small onion

finely chopped

1/2

red bell pepper

finely chopped

1/3

cup

broccoli florets

75

gms

Milk

75

gms

Cream

2

no

Eggs

Salt and pepper to taste
Instructions
For the Dough
In a mixing bowl rub in the butter flour and salt until it resembles a wet sand.

Add in the water and combine everything to a dough. Do not knead or over-mix the dough.

Let it rest for a minimum of 30 mins.

Roll it out to an even thickness in order to fit the 20 cms tart tin.. Let it rest in the fridge for a minimum of 1 hour. (Refer video for exact procedure)

Blind-bake for 15 mins. And then remove the cartouche and bake for another 3 mins. (Refer video for clear picture).
Make the filling
Heat up the oil in the pan. Saute onions until soft about 3-4 mins.

Add pepper and cook for a minute. Next add the broccoli and cook it for another minute. Remove from the flame and keep aside.

In a jug, combine the milk, cream. eggs, salt and pepper and whisk until the mixture is combined.
To Assemble
Brush the base of the short paste with some egg whites. Add a layer of cheese.

Next the veggies and top it with the milk cream mixture.

Bake in the oven of 180°C for 10-15 mins or until the custard is set.

Serve warm with a side of salad.
Did you make this recipe? Tag me today!
Tag me @spicesandflavors to get featured on my FB and Insta pages
If you like this recipe then do tag me, tweet me or instagram me. I would love to follow you and your posts.
Check out my Chocolate Yogurt Mousse Tart which is a sweet version of this.
Pin it for later


I will see you soon with another recipe
Until then
Hugs
Sushma