Spiced Roasted Nuts is a healthy, kid-friendly and travel-friendly snacks that are perfect for this holiday season.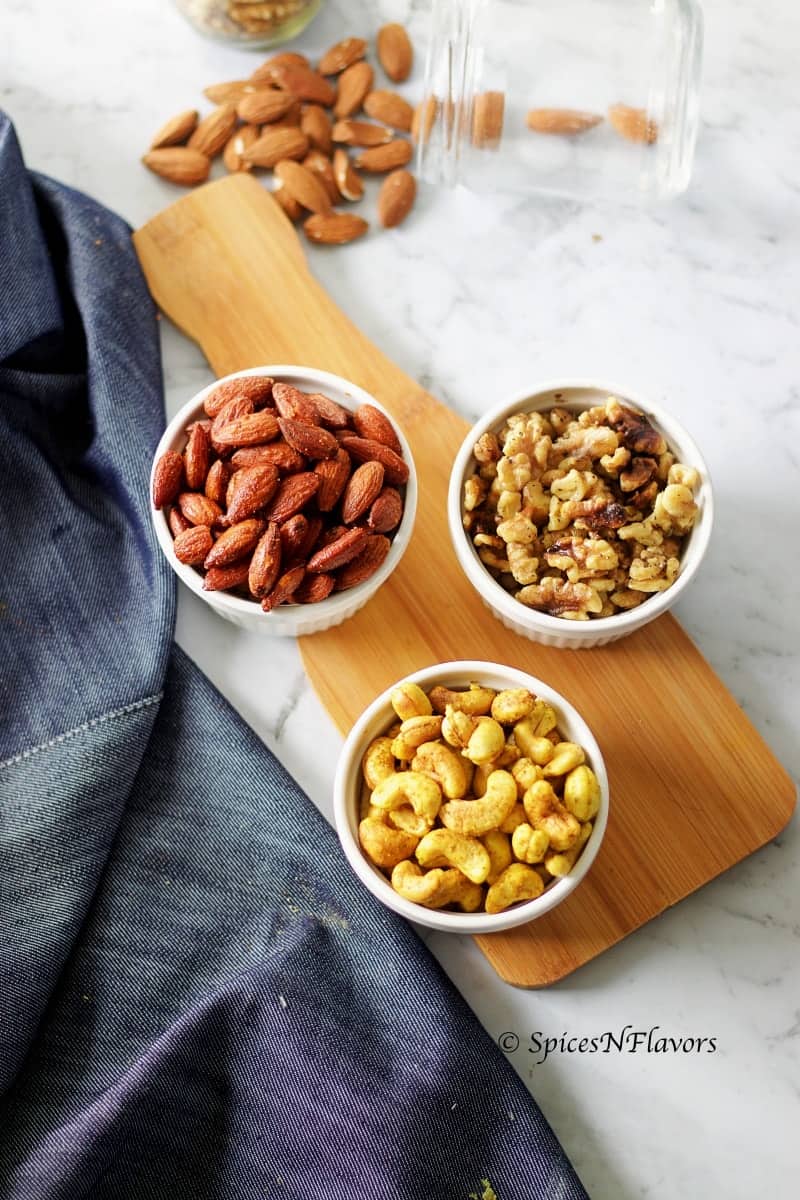 Spiced Roasted Nuts as the name suggests is basically nuts that have been roasted in a microwave but the catch here is that each of it has been flavoured with a unique blend of spices that makes it even more yummier!!
Its holiday season coming up; vacations planned and also many of you might have thought of eating healthy that is taking a New-Year resolution to go on a healthy diet...
So keeping all this in mind I thought of sharing these healthy Spiced Roasted Nuts recipe in Microwave which hardly takes 2 mins of your time to make.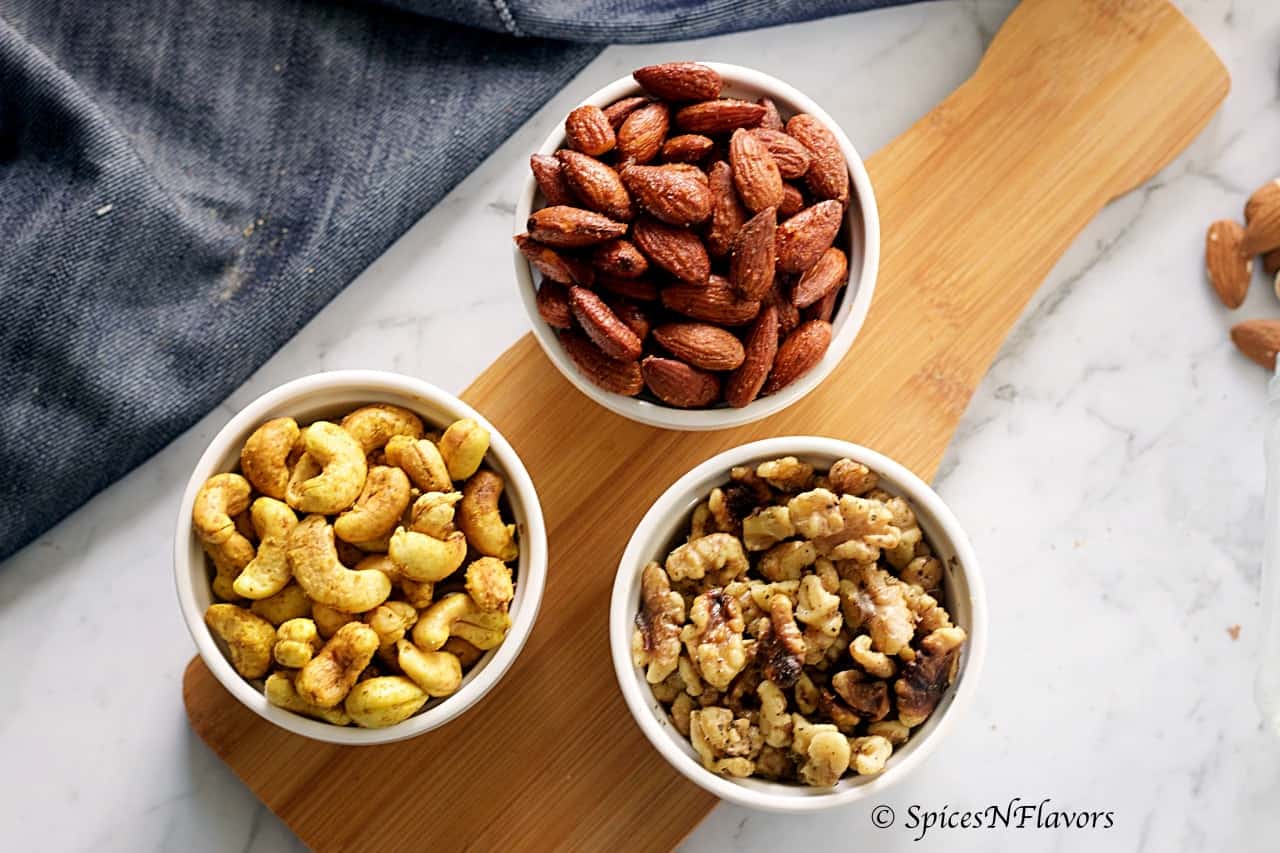 Is it just me or do you also feel like eating more during holidays??
Comment below and let me know guys..
Anyways I always feel like munching on something or other when I am sitting idle and most of the time I end up eating chocolate bark. I know I know it is not a healthy habit but just can't control my urge... Sigh!!
So that is when these Spiced Roasted Nuts came to my rescue.
Seriously I am so glad to have made it.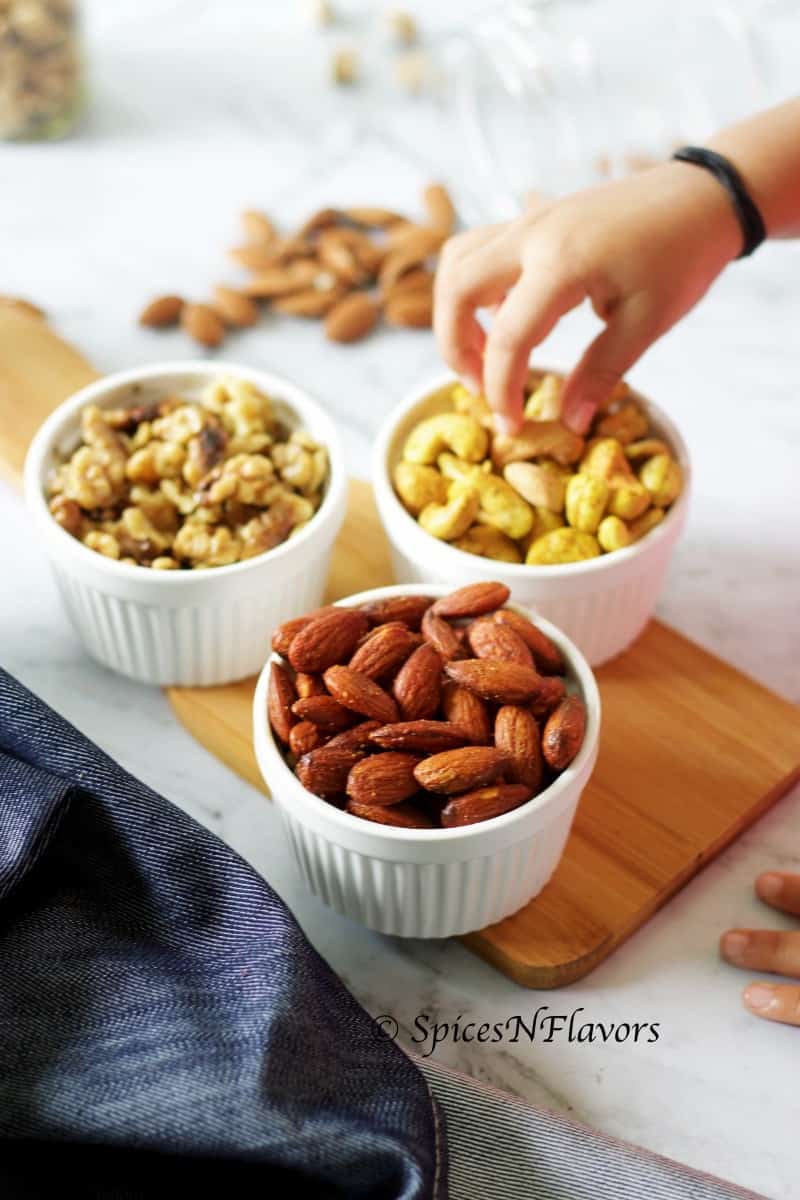 When it comes to making these Spiced Roasted Nuts the possibilities are endless..
Today I am sharing with you all the 3 ways that I made it but wait for it I am also sharing few other variations below the recipe card just for you guys.. <3
So the variety of Spiced Roasted Nuts that I made include:
1. Jeera Badam or Spicy Cumin Almonds
2. Italian spiced Walnuts
3. Chat-pata Kaju or Indian spiced Cashew-nuts
Out of these there Spiced Roasted Nuts; chat-pata Kaju is my favourite. Let me know what combinations do you like??
Did you know you can roast the nuts in your air fryer too? Check out our Air Fryer Pecans for more details.
Here is the detailed recipe
Liked this recipe?
Let us know by giving it a star rating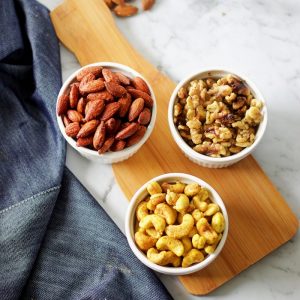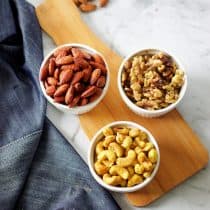 Print
Spiced Roasted Nuts in Microwave
Spiced Roasted Nuts are a healthy, kid-friendly, travel-friendly and also best edible gift idea snack recipe that can be made in just 2 mins in a Microwave
Ingredients
Jeera Badam
1/3

cup

Almonds

1/2

tsp

Olive Oil

1/4

tsp

Red Chilli powder

1/2

tsp

Cumin powder

salt to taste

dash of lemon juice
Italian Spiced Walnuts
1/3

cup

Walnuts

1/2

tsp

Olive Oil

1/4

tsp

Mixed Herbs

1/4

tsp

dried basil leaves

1/2

tsp

dried Oregano

salt to taste
Chat-pata Kaju
1/3

cup

cashewnuts

1/2

tsp

chaat masala powder

1/4

tsp

aamchoor powder

1/2

tsp

pani-puri masala

1/4

tsp

salt

dash of lemon
Instructions
Jeera Badam
Take everything in a microwave-safe bowl. Toss to mix it.

Microwave for a minute. Remove stir and again microwave for 30 sec. Repeat until you hear popping sound. It took me a total of 1 min and 45 sec to make these.
Italian spiced Walnuts
Again take everything in a bowl, toss to mix it.

Microwave for a minute. Remove, stir and microwave for another 30 sec. Total of 1 min and 30 sec.
Chat-pata Kaju
The method remains same as mentioned above. It took a total of 2 mins to microwave it.
Did you make this recipe? Tag me today!
Tag me @spicesandflavors to get featured on my FB and Insta pages
IF you like this simple recipe then do let me know by tagging me, tweeting me or instagram me. I would love to hear from you.
Notes:
1. Adjust the measurement of spices as per your personal choice.
2. Microwave timings may vary from one microwave to another.
3. You can also mix the nuts together and combine to make Spiced Roasted Mixed Nuts
Recipe Variations:
1. Apple Cinnamon Nuts:
To the 1/3 cup of cashews add 1/2 tsp of oil, a tbsp of applesauce, pinch of cinnamon, 5 spice powder and brown sugar. Microwave as mentioned above.
2. Curried Spice Nuts:
To the nuts of your choice add coconut oil, curry powder, coconut sugar. Microwave as mentioned.
3. Honey Roasted Nuts:
To the nuts of your choice add oil, honey, orange zest, cinnamon and paprika. Microwave as mentioned.
Pin it for later: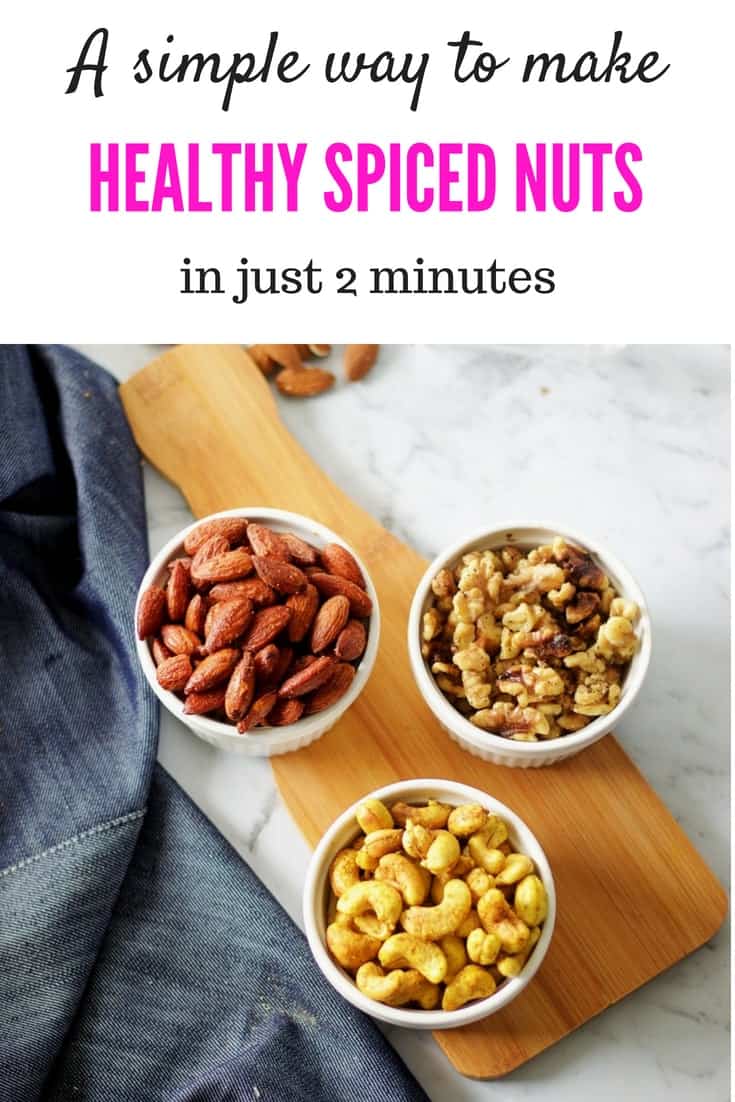 I will see you soon with yet another recipe
Until then
Hugs
Sushma