Atta Biscuits are basically a crispy and crunchy eggless, delicious Indian bakery style biscuits usually served as an accompaniment along with Indian chai.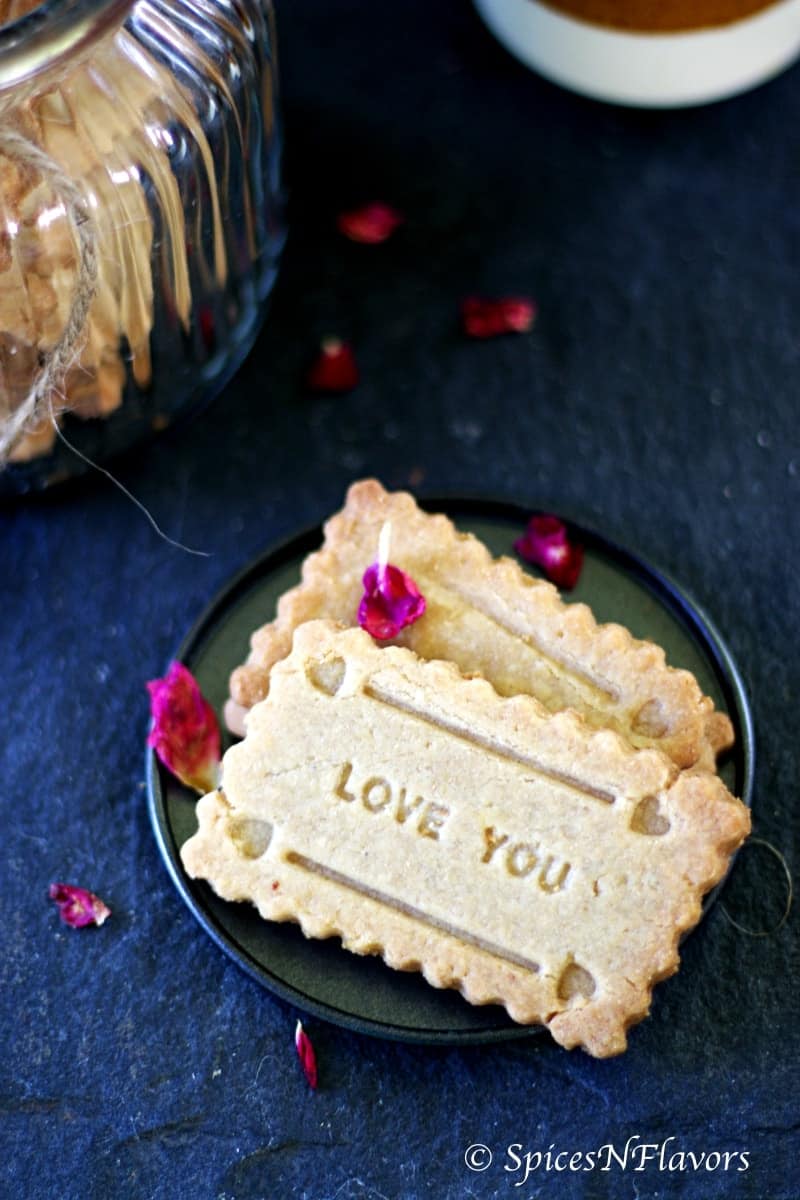 Atta Biscuits; the term itself transports me to those carefree childhood days when each day after returning from school, we would happily dunk these Atta Biscuits into piping hot tea and just relish it...
I am sure most of you would associate to this..
A delicious, crispy and crunchy whole wheat biscuits that are sure to take you on a nostalgic ride too..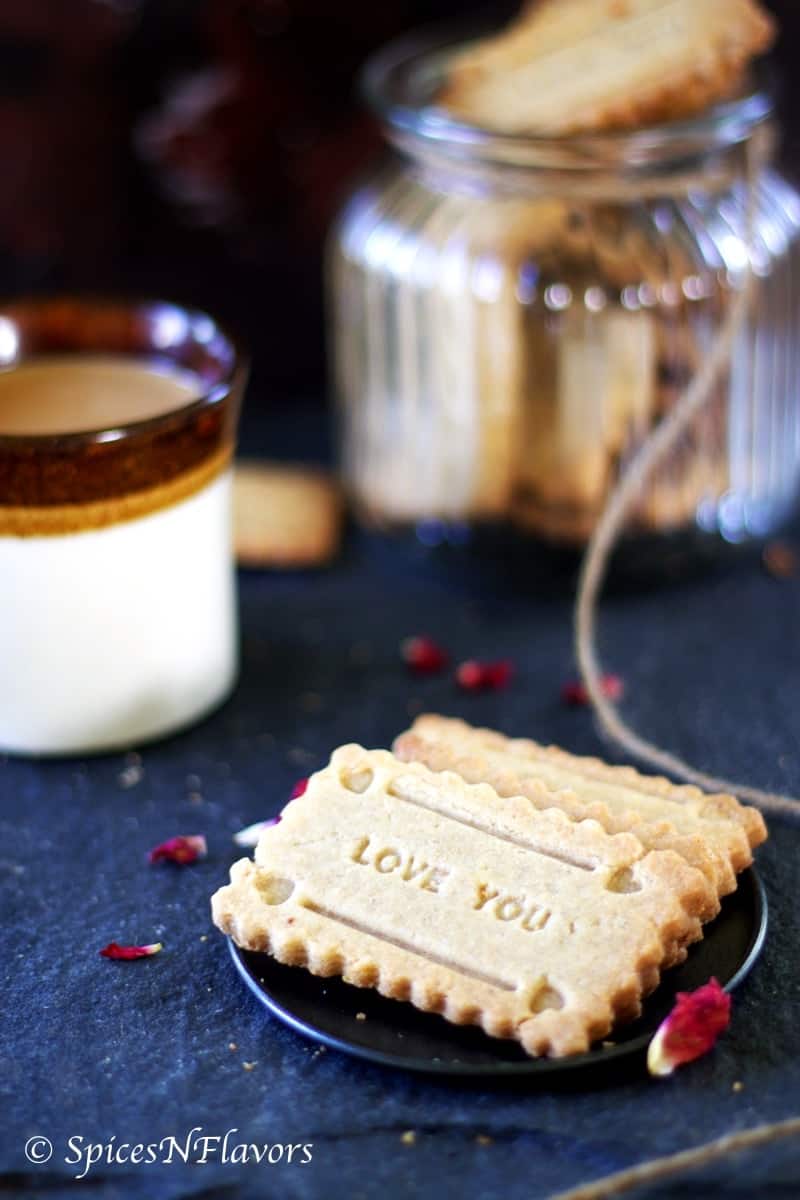 My love for baking is evident from all the posts that I share with you guys.. but if there is one thing that I can bake from day in to day out then it has to be cookies. (I also have an entire playlist dedicated to cookies on Youtube; you must check it out if you like cookies too..)
So why do I love it so much??
A. It requires just basic ingredients
B. Takes hardly any time to make and bake them
C. Hassle free and fuss free
D. Goes amazing as a snack (you can relate; if you are a mother too 😉 )
Ain't it simple.
I can make cookies even at 12 in the night.. 😉 What is the one thing that you love baking? Do let me know in the comments guys.. 😀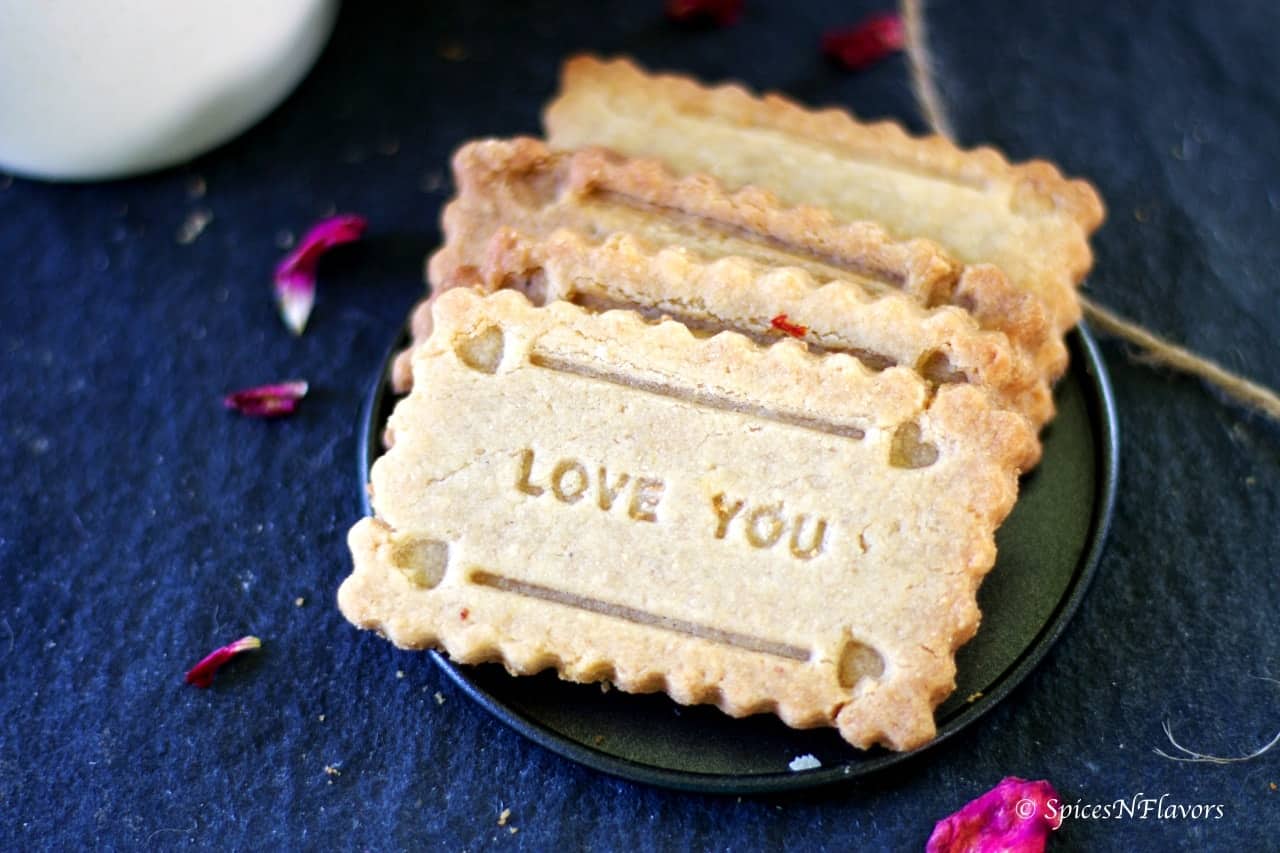 What is so special about these Atta Biscuits?
To begin with unlike many other cookie recipes; these Atta Biscuits are made using Ghee or Clarified butter. The ghee adds in an amazing taste to the biscuits and also makes it super aromatic.
And the addition of cardamom further enhances its flavour and smell.
I absolutely loved the addition of saffron in this, but you can skip this if you want to.
These biscuits can be flavoured with any spice of your choice like cinnamon, nutmeg or you can even flavour it with garam masala; would be a nice twist.
Sky is the limit when it comes to imagination right!!!
So lets see how to make these delicious Atta Biscuit recipe.
Liked this recipe?
Let us know by giving it a star rating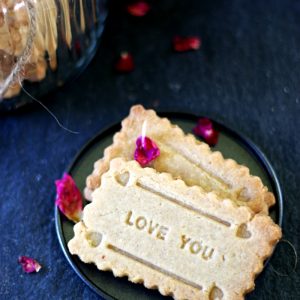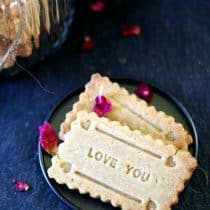 Print
Atta Biscuits
A delicious, crispy and crunchy Indian bakery style tea time biscuits made using whole wheat flour flavoured with cardamom and saffron
Ingredients
1/2

cup

Ghee or Clarified Butter

softened (neither thick nor melted)

1/2

cup

Caster Sugar

1.5

cup

Atta or Wheat Flour

1/2

tsp

Cardamom powder

Pinch of saffron

2-3

tbsp

Warm Milk
Instructions
Add the saffron to the warm milk, stir and let it infuse for at least 15 mins.

Start by creaming the ghee and sugar until light, fluffy and almost white in colour using a hand whisk.

Combine together the atta and cardamom powder and add it to the creamed ghee sugar mixture in 2 batches. Fold it until combined.

Finally using a tbsp of saffron milk at a time; add to the flour and combine it into a dough. (I used about 2tbsp of milk to form a dough).

Flatten it out, cling wrap and refrigerate for 15 mins.

Roll the dough evenly and cut out cookies of desired shapes. (To make it extra special use the cookie stamps to write a message on top.)

Bake in a preheated oven of 170°C for 10-12 mins or until light golden brown. Do check after 8 mins interval.

You can always re-roll the scraps, cut out the cookies and bake as above.
Did you make this recipe? Tag me today!
Tag me @spicesandflavors to get featured on my FB and Insta pages
Notes:
Sometimes once baked the impression on the cookie fades away so to fix that; once the cookies are baked and still warm that is straight out from the oven then using the stamp just run over it once again to make the impression clear and distinct.
Is it Valentine's Day? - No
Is it our Anniversary? - No
His Birthday? or Mine? - No
Definitely Daughter's Birthday - Nahi Baba
Just a humble attempt to make a regular day special. Making our Tea Time special with these cute little Love You Atta Biscuits. These small things that we do for our family is what brings a smile on our loved ones face. Don't you agree?
If you are looking for this cookie stamp then here is the link (affiliate link) : cookie stamp
And if you are looking specifically for Love You Stamps then I found this one on Amazon which is pretty decent: Love You Cookie Stamp
If you like my today's recipe then do let me know by tagging me, tweeting me or instagram me. I would love to follow you and your posts.
Pin it for later

I will see you soon with yet another one
Until then
Hugs
Sushma