No Bake Pineapple Cheesecake is a delicious cheesecake that does not need any baking and tastes amazing when served chilled making it perfect for Summers.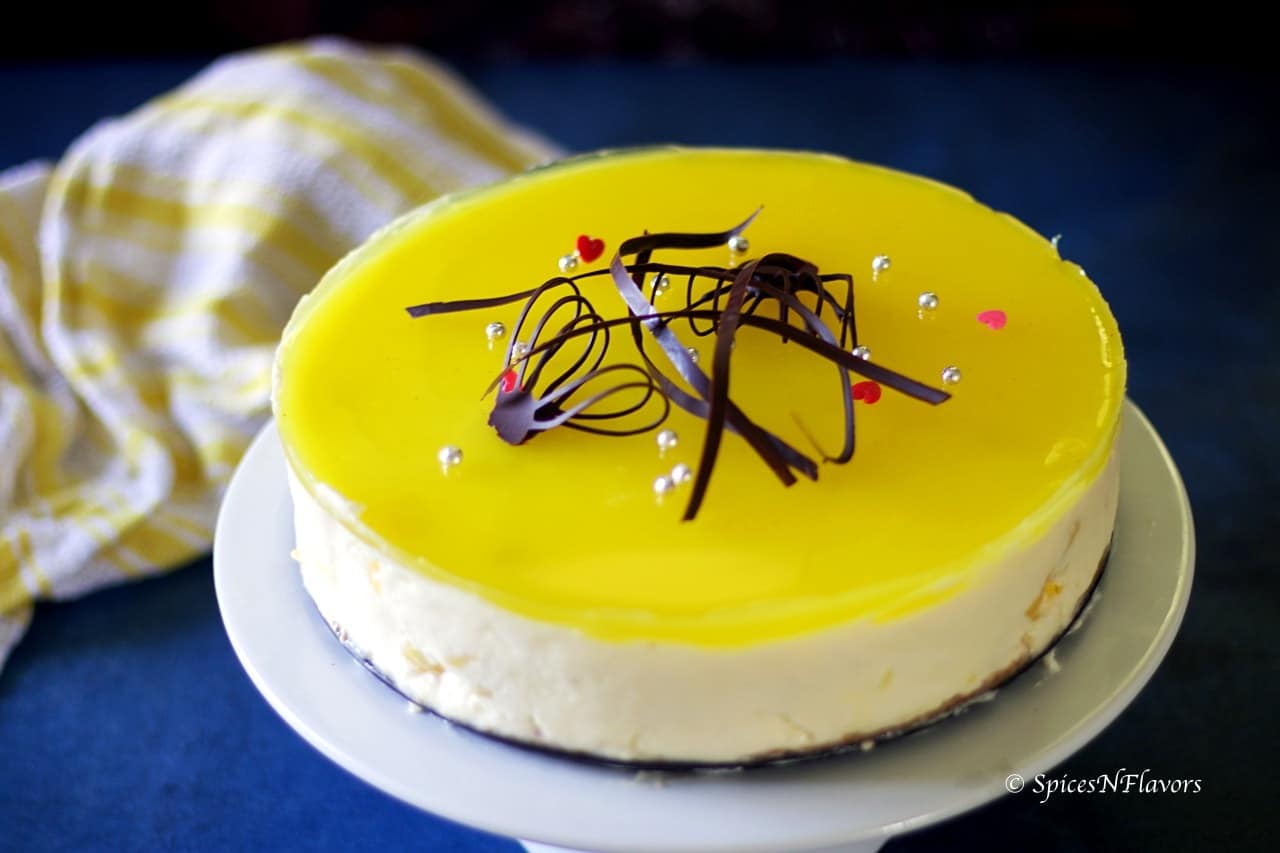 No Bake Pineapple Cheesecake is also commonly known as Pineapple Delight back in India.
What makes this No Bake Pineapple Cheesecake even more special?
1. As the name suggests it does not need any baking time and tastes amazing when chilled making it perfect for Summers.
2. The recipe does not call for Agar-Agar or Gelatin. (perfect right !!!)
3. Chocolate decorations on top make it look like straight out of a cafe counter.
4. Also sharing a simpler version of it in the notes section.. 😉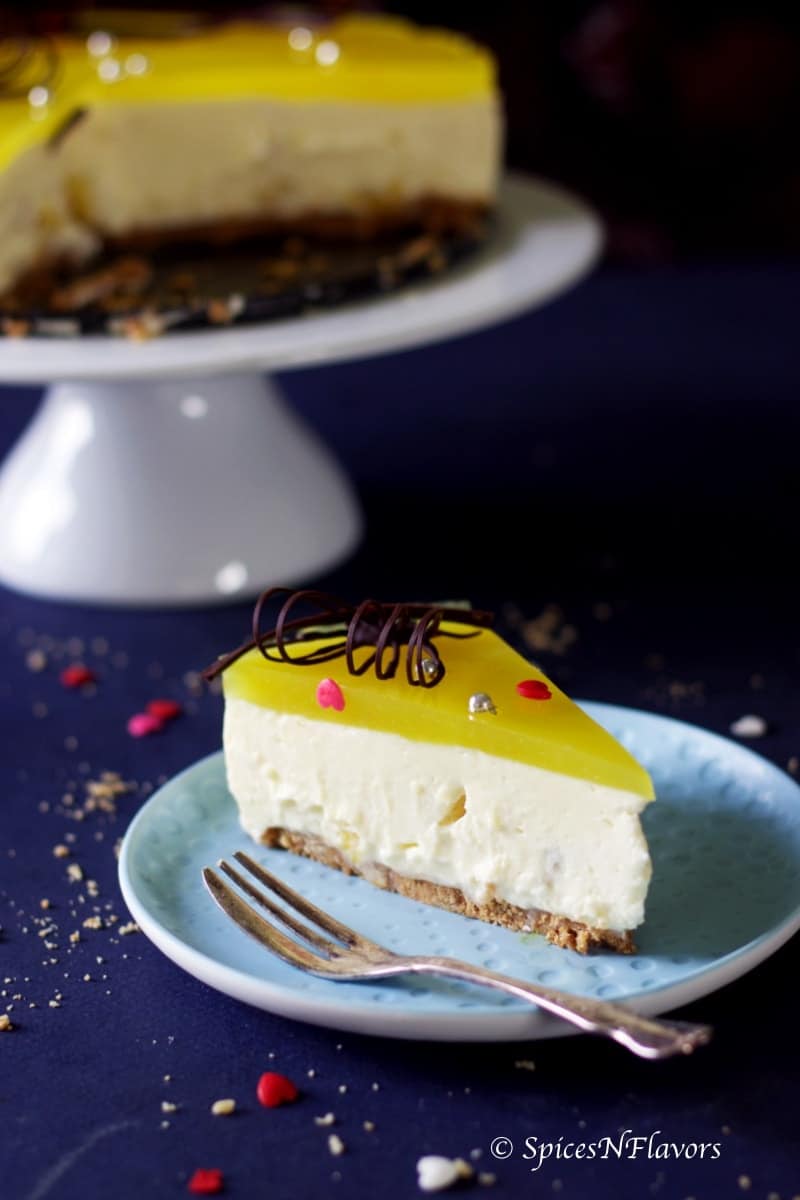 With this No Bake Pineapple Cheesecake I would like to apologize to each one of you for not uploading a post on the schedule.
If you are following me on Youtube, you might have known that I had been to India for 2 months vacation and that's the reason I could not post on time.
At the same time, a big heartfelt Thank You for sticking with me even when I was not posting regularly.
Let's bridge the gap with this gorgeous No Bake Pineapple Cheesecake.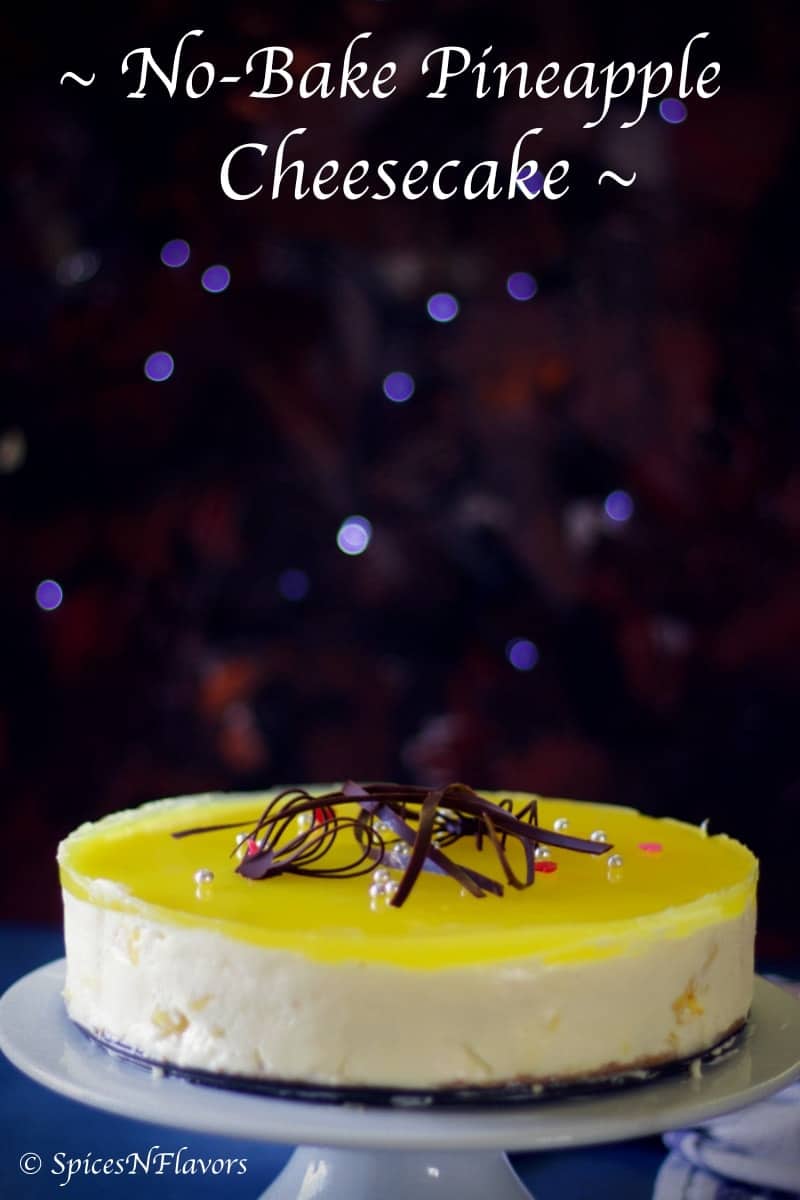 Yes, I understand that the title says No Gelatin or Agar-Agar and I am still using it in the jelly layer.
Well, that is because the jelly layer and the chocolate decorations are optional. These two additions, however, make the cheesecake look as amazing as the store-bought ones.
The actual base and cheesecake layer does not have make use of these. You can choose to decorate it with either desiccated coconut, some shredded chocolate or even caramel.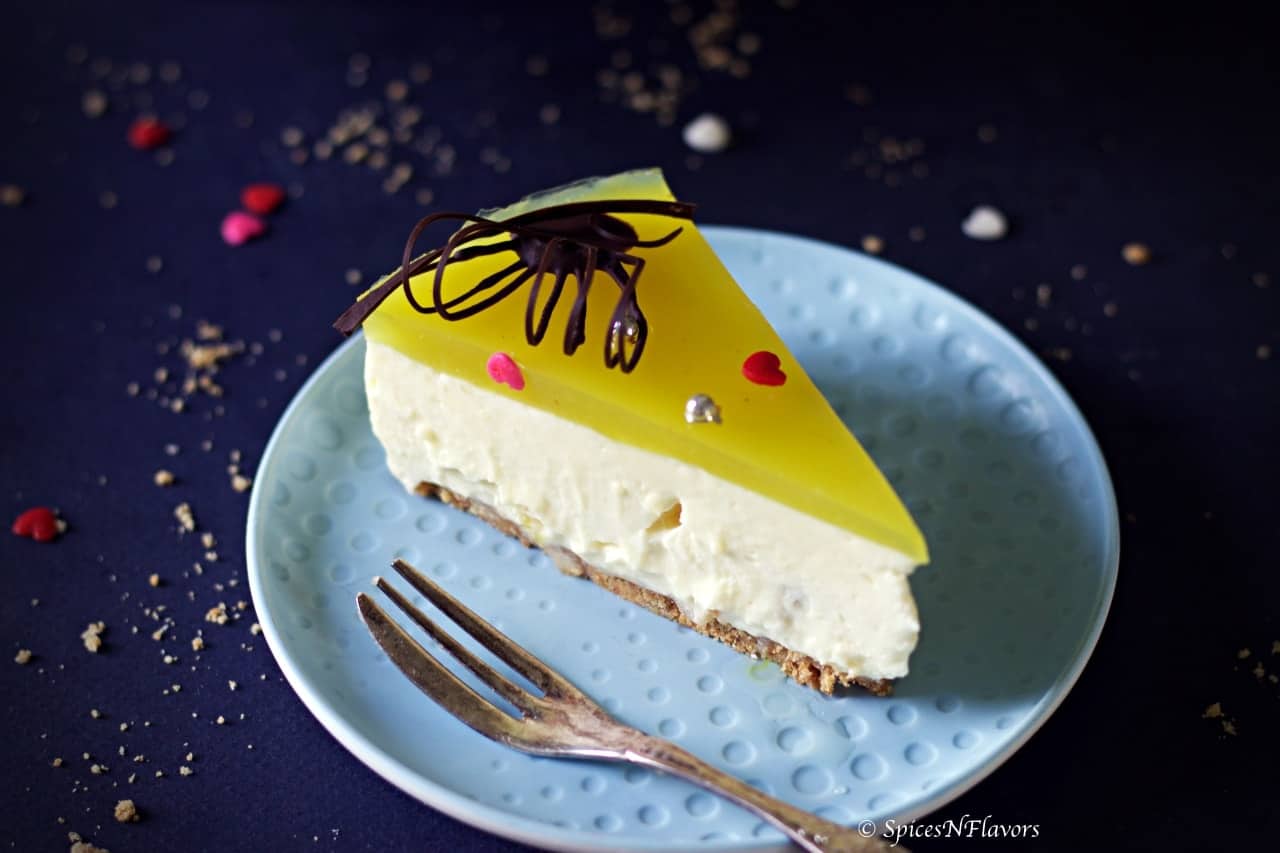 Coming to the texture and taste of this No Bake Pineapple Cheesecake.
To start with the texture, I really like the division in the layers. What I mean is the jiggly wiggly jelly followed by the smooth and creamy cheesecake layer with crumbly biscuit base is something that you must give a try for sure.
The taste is perfectly balanced. The sweetness is not overpowering at all. The freshness of the pineapples and the flavour from the pineapple juice is complimenting with the cream cheese.
And the Whipped cream makes it all really smooth.
In place of plain pineapples you can also choose to use air fryer pineapples which would further enhance the taste.
Since its Mango Season you can also use Mangoes in place of Pineapples here.
Here is the detailed recipe:
Liked this recipe?
Let us know by giving it a star rating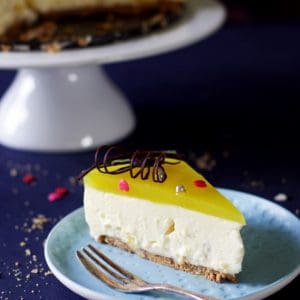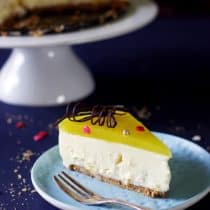 Print
No Bake Pineapple Cheesecake - No Gelatin or Agar Agar
No Bake Pineapple Cheesecake is a smooth, creamy and light cheesecake flavoured with pineapples. A no bake dessert that tastes amazing when served chill is a perfect dessert for this Summer.
Servings
1
20 cm springform pan
Ingredients
The Base
15-18

nos

Biscuits

(Refer notes)

2-3

tbsp

Melted Butter

(Refer notes)
For the Cheesecake layer
250

gms

Cream cheese

softened

3/4

cup

Caster Sugar

1

cup

Whipping Cream

1/2

cup

Pineapple Juice

1

tbsp

Cornstarch

1

cup

Fresh Pineapples

cubed
The Jelly Layer
1

cup

Pineapple Juice

3/4

tsp

Agar Agar

2

tbsp

sugar
Instructions
The Base Layer
Crush the biscuits in a food processor without adding any water until it resembles breadcrumbs.

Add the melted butter and combine to form a mixture that holds its shape when pressed in your palms. (Refer video)

Transfer it to a 20 cm springform pan and press it firmly until it coats the entire pan in a nice even layer. Place it in the fridge and let it set for 15 mins or until you prepare the cream cheese filling.
For the Cream cheese layer
Combine together the pineapple juice and cornstarch in a saucepan. Bring it to a boil and then simmer until it thickens and comes together.

Transfer to a small bowl. Cling wrap and refrigerate until it cools.

Meanwhile, whip the cream cheese and sugar together until creamy and smooth.

In a separate bowl whip the cream until stiff peaks.

Add the whipped cream to the cream cheese mixture in two stages and combine together.

By this time the thickened pineapple juice would have cooled down. Add it to the cream cheese mixture along with the pineapple cubes. Combine together until well mixed and our filling is ready too.

Transfer it on top of the biscuit base layer. Cling wrap and let is sit in the fridge for 6-8 hours or overnight.
The Jelly Layer
Combine together the pineapple juice, agar agar and sugar in a saucepan.

Bring it to a rolling boil until you see no specs of agar agar left in the pan.

Let it cool for 5-10 mins and then pour on top of the cheesecake layer.

Garnish it with chocolate decorations and you are good to go 😀
Video
Did you make this recipe? Tag me today!
Tag me @spicesandflavors to get featured on my FB and Insta pages
If you like my today's recipe then do let me know by tagging me, tweeting me or instagram me. I would love to follow you and your posts.
Notes:
1. I have used Atta Biscuits; that was left from my previous project as the base. You can use any biscuit layer of your choice like Graham Crackers, Oreos etc.
2. Since the Atta Biscuits already had lots of fat content in it, I needed about 2 tbsp of melted butter to combine it together. If you choose to use any other biscuits then you may need some more melted butter. Add 1 tbsp at a time and combine together.
3. Yes, the title of the recipe reads No Agar-Agar or Gelatin. I have not used this in the actual cheesecake filling layer. The jelly layer or top is just for decorative purpose and is optional. You can choose to simply use dessicated coconut, fresh pineapples or caramel to decorate the cake.
Update: I have now uploaded the video for chocolate decorations every home baker must know. Click here for watching it..
Variations:
If you do not find cream cheese in the place where you live.
Then simply skip it and follow the rest of the procedure. Then that particular dessert would be called as Pineapple Delight.
Do use praline to give a crunch to the delight and decorate the top with caramelised pineapple or caramel pieces.
Products that I have used to make this Cheesecake includes Springform Pan, Hand Blender and Cream Cheese ofcourse.
Pin it for later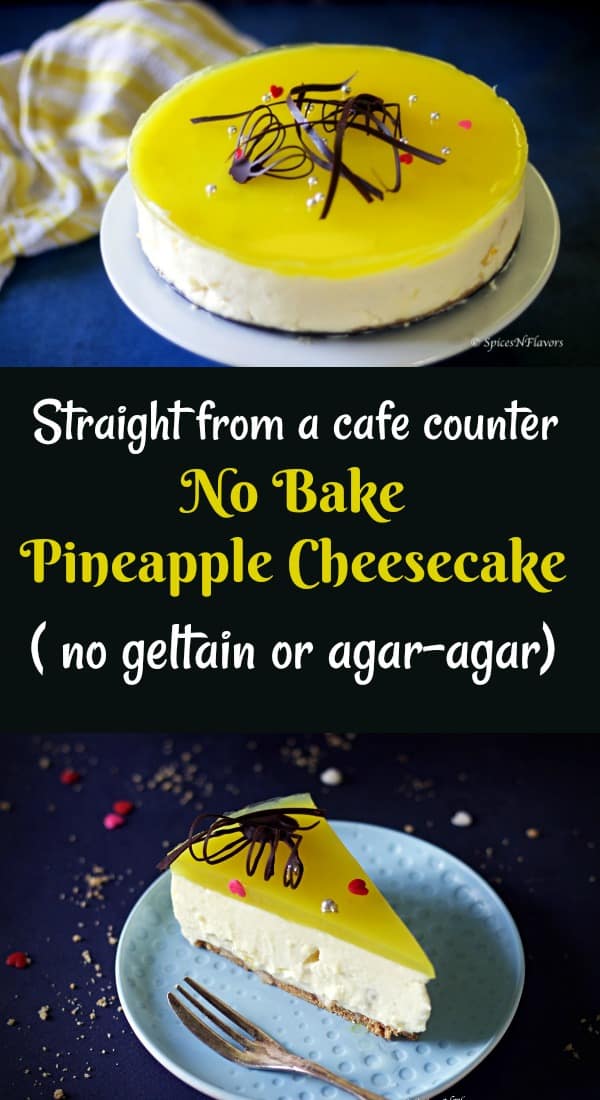 I will see you soon with yet another recipe
Until then
Hugs
Sushma