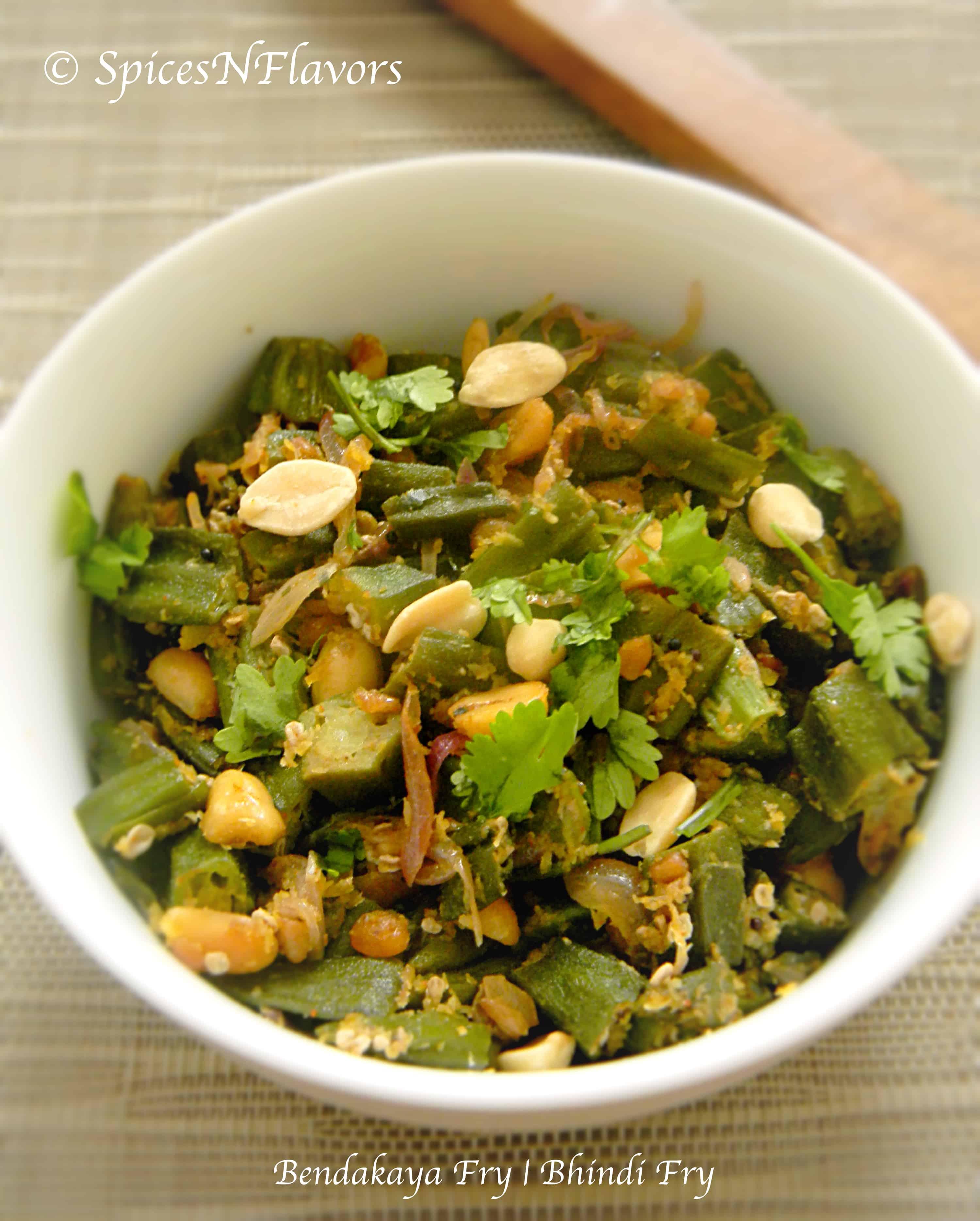 An everyday meal has to be simple, satisfying and easy to digest food. Basically what we call as one comfort food. No matter in which five star hotel we dine but our all time favourite food is Dal (Lentil cooked with a vegetable), steamed rice, roti and one stir fry vegetable.
A typical everyday telugu cuisine includes Pappu (Dal), Pulusu (A sour curry like stew), Vepadu (Stir fried vegetables), Pickles and Pachadis. Gojju and Rasam also forms a part of their everyday cooking.
Bhindi or Okra is one such vegetable which is loved by everyone. There are so many styles in which you can prepare this vegetable; today I have presented of course Andhra style Bendakaya fry (Andhra Pradesh special week.. :))
This is spicy and flavourful, served with roti or rice.
Here is what you will need to make this..
Prep Time: 5 mins            Cooking Time: 15-20 minutes           Serves: 2 people
Ingredients:
250 grams okra/bhindi/bendakaya/vendakai
1 onion, finely sliced
2 garlic pods, chopped finely
1 tbsp lemon juice
1/2 - 1 tsp red chilli powder (I have used 1/2 tsp spicy red chilli powder)
1/2 tsp coriander powder
1/2 tsp cumin powder
2-3 tbsp coconut, freshly grated (I have used 2tbsp desiccated coconut)
1/2 tsp mustard seeds
1 tsp urad dal/ullutam parupu/black gram split and skinned
1 tsp channa dal/ kadalai parupu/ split bengal gram
1/4 tsp hing/asafoetida
1/2 - 1 tsp salt or to taste
2 tbsp oil
Few curry leaves
Fistful of peanuts
Coriander leaves for garnishing
Method:
Wash and pat dry the okra with the help of kitchen towel and chop into small round pieces.
In a non stick pan, heat 2tbsp oil. Once hot, crackle mustard seeds, add in urad dal, channa dal, curry leaves, hing. Saute and add chopped garlic. Saute for a minute or two.
Add in the onions and peanuts. Saute for 2 minutes.
Add in the okra, Mix everything and add lemon juice. Cook it on a medium flame until the stickiness goes (Around 10-12 minutes)
Add in the remaining ingredients. And saute well until the okra is fully cooked.
Garnish with coriander leaves.
Tips:
Always try to use a flat pan while cooking okra. It helps in even cooking of okra avoiding stickiness.
Lemon juice is added to avoid stickiness. The idea is to use any sour agent in the preparation of okra. Tomatoes or aamchur powder(dry mango powder) can also be used instead of lemon juice to avoid the stickiness.
Always add salt once the okra is partially cooked. That is because, okra has a tendency to shrink while cooking so if you add salt in the beginning itself, there is a possibility that it would become too salty.
If you are using frozen bhindi, then thaw it in the refrigerator for 2-3 hours or on your kitchen counter for 1-2 hours and pat dry it well using kitchen towel until all the moisture goes. The more the moisture the more the sticky okra will be.
Notes:
If you are using roasted peanuts then you can directly add it in the end. But since I have used the normal ones I added it along with onions so that it would get roasted eventually. Split peanuts are preferred for this preparation.
Okra has to be cooked on low to medium flame always. (Don't ask me why.. my mom say so.. :P.. If you know the reason let me know too.. :D)
Enjoy your bendakaya fry with rice or roti..
By know you know its Andhra Pradesh special week. So I had made Hyderabadi Bagara Khana, Menthu Pappu Koora/Andhra style Methi Dal/ Bendakaya Fry and Andhra Tomata Pachadi yesterday for dinner.. 🙂
Happy Cooking!!!
Sushma..